Sharing Bedroom With Baby | Nursery Ideas For Small Spaces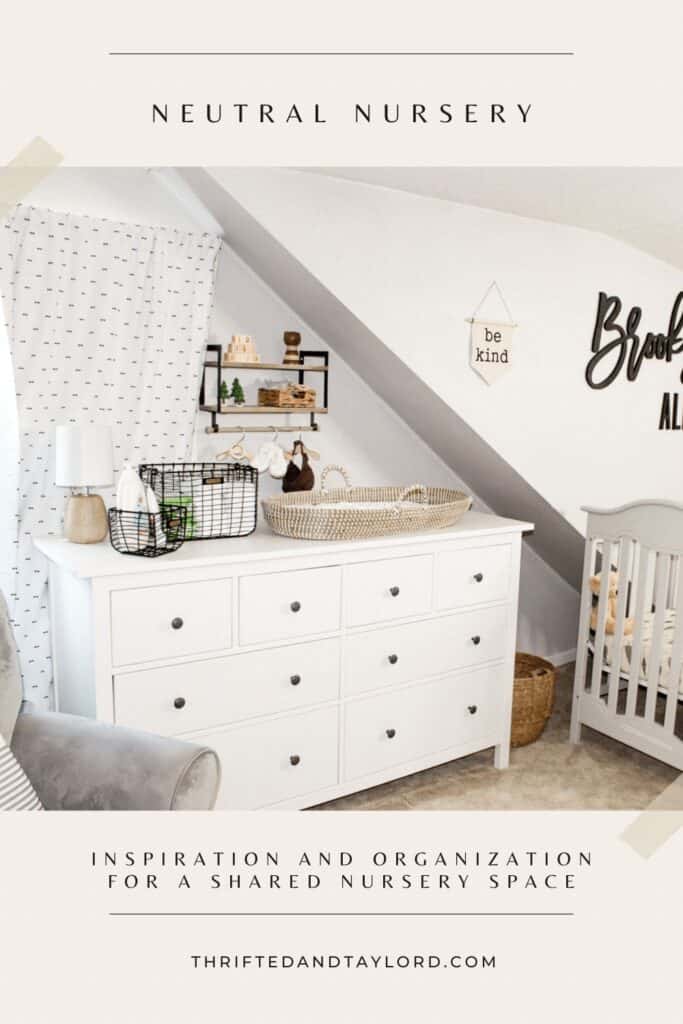 Hey Guys!
If you saw my last post on what's in my hospital bag, then you already knew this post was coming but I am so excited to share our newest family member, Brooks' nursery space. We are sharing our bedroom with baby so I have some great nursery ideas for small spaces.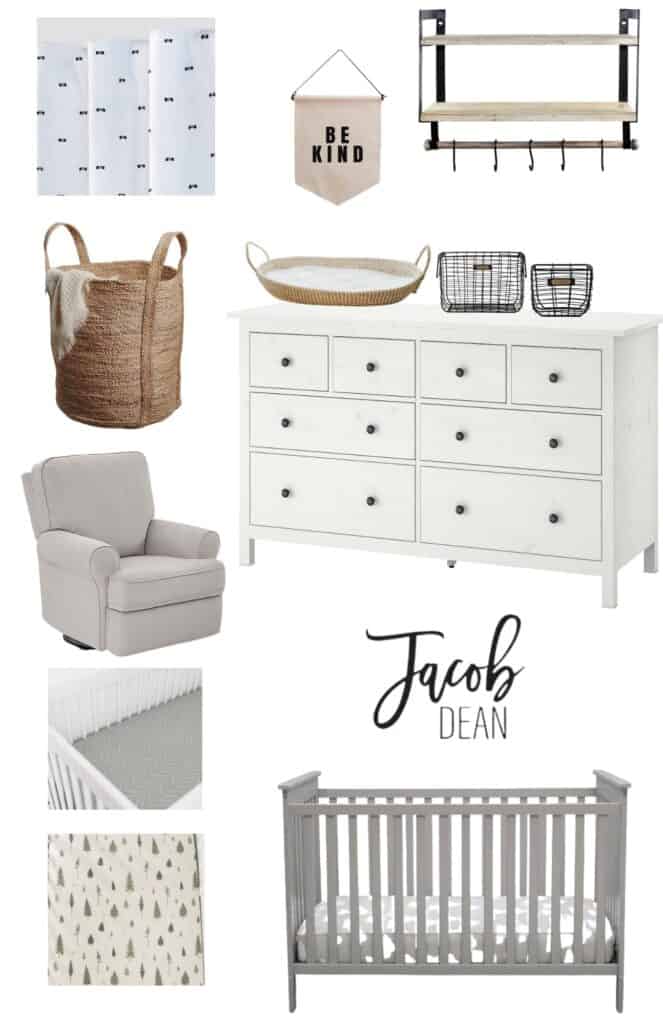 I wanted his little corner to be light and neutral so it would work well with the rest of our bedroom. I started by making this little inspiration board using the crib and dresser I already knew I would be using. It helped me visualize how everything would work together and where I might be missing something.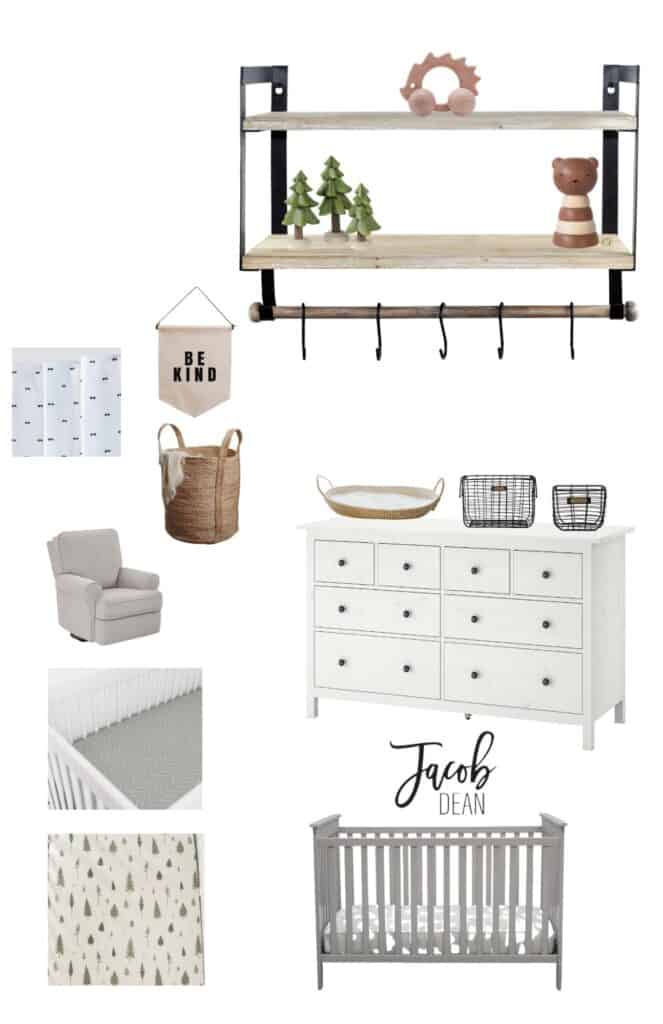 I added this second board where I could plan out what I wanted on the shelves. I had too many ideas for these shelves and I think I'm still not 100% sure I love what I ended up putting on them so who knows, I might change them up again. 
There was a small issue that popped up after I hung the shelf. More on that later but it was a real… learn from my mistakes so you don't have to yourself, kind of thing. Very easily avoided.
Tips and tricks for sharing bedroom with baby.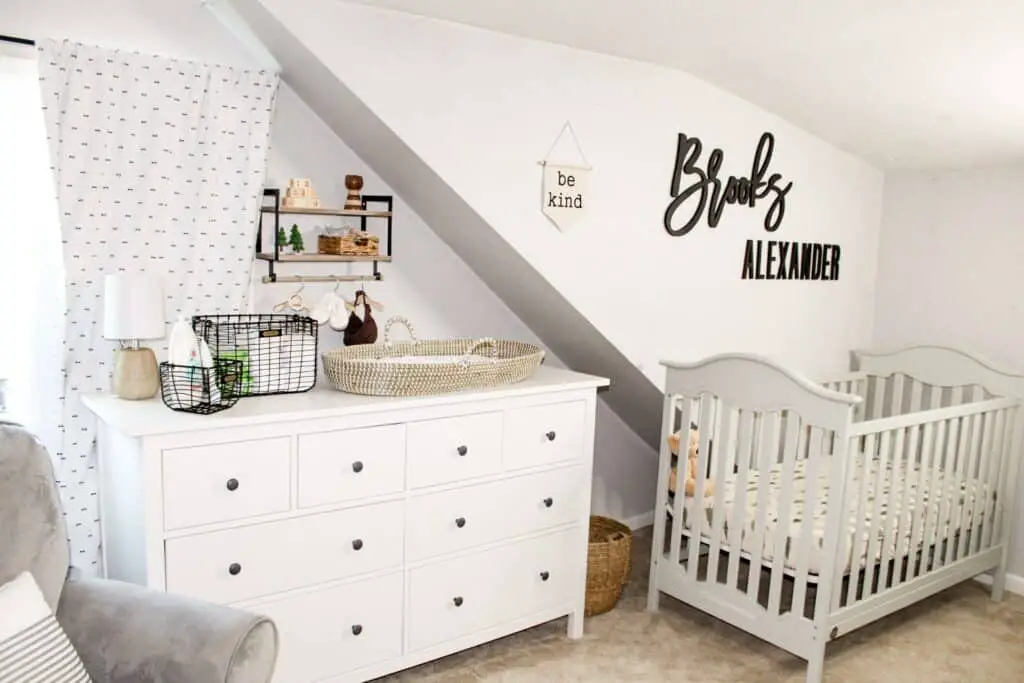 This post contains affiliate links for which I may earn a small commission if you purchase through them, at no extra cost to you. Learn more here.
1. Use furniture that saves space or that has lots of storage.
Welcome to B's little section of our room. We are fortunate to have a pretty large bedroom so there was a decent amount of room to include everything we needed.
This is his crib, from Fisher Price. It was actually from my parent's house, they no longer needed it and so they graciously gifted it to us! Thanks Mom and Dad! I bought 2 different crib sheets: this muslin tree patterned one and this muslin sage and white patterned one. 
His mattress is this one from Graco. I like that it has a removable cover that can be washed and is nice and firm for safe sleeping while still being comfortable for baby. And then I like to use these waterproof mattress protectors for an extra layer of protection against leaks and spit up. 
I knew I wanted to use the Hemnes dresser from IKEA from the beginning so that was a no brainer. I needed something large with lots of potential for storage. I also picked up several drawer organizers from IKEA which help out a ton. I'm a big fan of organizing, haha. I like to make things as easy to find as possible. 
We also already had the perfect small nursery rocking chair which used to be in my older son's room. It is custom ordered from Buy Buy Baby so this isn't the exact chair but this one is the base model and it's pretty darn close to the color and material of our chair. 
It is incredibly comfortable and it reclines so it saves the space a footrest would require. It also spins so it's easy to swivel and maneuver around. Highly recommend if you're in the market. And the little pillow on the chair I picked up from Target.
2. Organize as much as possible.
Let's take a look at some of the storage solutions I have. This is how I have his drawers set up. I had to use the drawers for several different categories of things so I used drawer organizers to keep them separate. I used this set of 6 in white as well as these white ones which come in 2-packs, both of which are from IKEA. So in this first drawer we have a space for socks, a space for extra pacifiers, and then at the back I have 2 organizers for all the burp cloths. 
In his other top drawers I have things such as swaddle blankets pictured above and then not pictured are his drool bibs and other accessories, and then his waterproof changing mats and sheets for his bed and the changing pad in his straw changing basket which are in the other top drawers. I did not use organizers for these items since they are larger. 
In one of the middle sets of drawers, which is not pictured, I have bulkier items like his towels, thicker blankets, and his sleep sacks.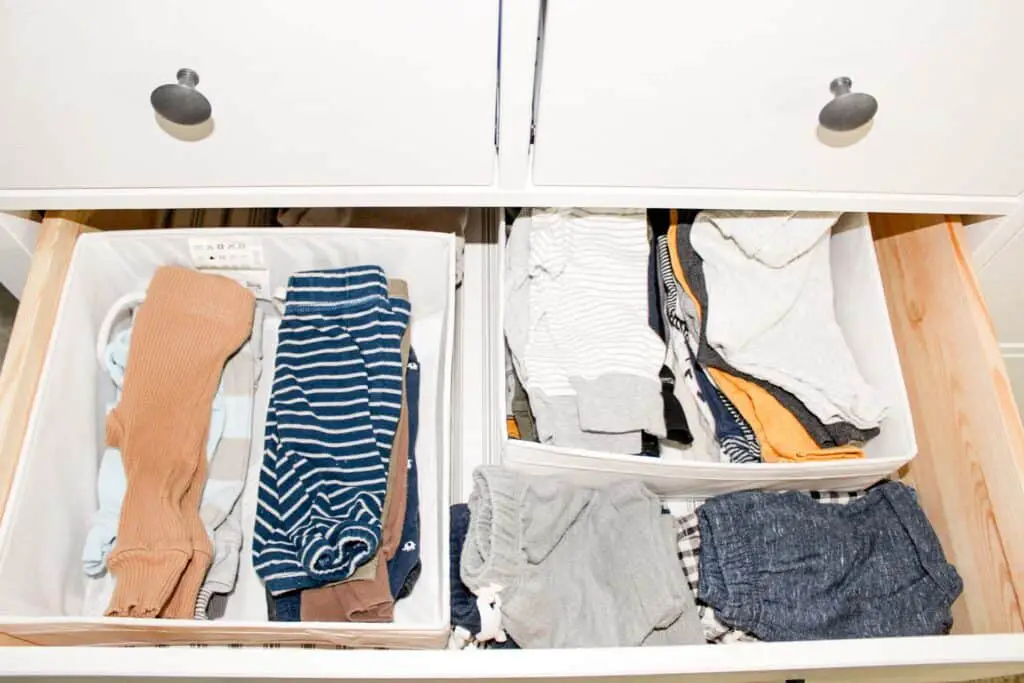 For the rest of his drawers I used some larger drawer organizers which stack on top of each other for things like pants and shorts, snap front shirts (these ones,) bodysuits which I separated by short sleeve and long sleeve, one piece outfits, sleep gowns, and pajamas. I put newborn size things on the top row and size 0-3 months and 3 month sized things on the bottom row. 
We also have him sharing some closet space with his brother so things such as sweatshirts, sweaters, and thicker one piece outfits are hanging up.
There is some room alongside these organizers where I put some extra things such as sheets for the pack and play and his winter car seat cover. 
Also not pictured, but under our bed I am using a clothing size and comforter size Chaos Cleared zip up storage bag to store clothes that are the next size up. These are so convenient for storage and I love that they are soft so they can fit in tight places. There is a ton of room in these too and the best part is they are super affordable!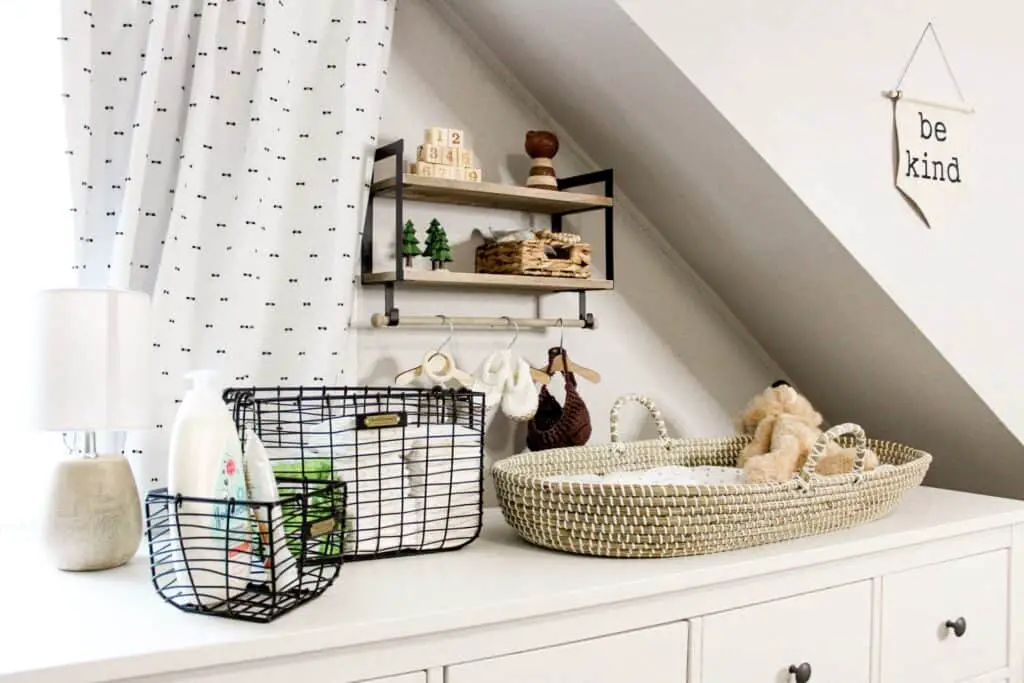 Part of the reason I chose the dresser I did is because it is very long and I knew I wanted to use the top of it as a changing station since we do not have the space for a separate changing table. I just love this little changing basket which comes with a waterproof pad. 
I got this set of 3 sheets for the changing pad and I also use these little waterproof changing pads on top of the sheet in case we have a breach of the diaper. I love the neutral patterns of these sheets. So cute.
To organize his supplies for diaper changes I got these black wire baskets from the Hearth & Hand line at Target. This is the larger one which I use for diapers and wipes and this is the smaller one which houses all his creams and things. 
3. Use some shelves and décor in the space.
Shelves are a great way to get some extra storage in a small space. Quite honestly, I didn't really need mine for storage but wanted to decorate his space so I chose to style them instead. These are the shelves I got, I wanted something with a little hang bar which I originally intended on hanging some cute little clothing pieces on.
 But, well, here's the other mistake I made. I measured to make sure the shelves would fit in this little nook but I greatly underestimated the amount of space I would need underneath for clothes to hang. Facepalm. 
I also ended up getting these hangers, which are made for dog clothes, thinking they would be great for little newborn clothes. Wrong. So wrong. Way too small. Haha. So I reassessed and opted for some cute accessories and this little wooden teether which is part of a set of 3. 
On the shelf itself I wanted a combination of wooden toys and accessories so I went with some wood number blocks, this little wood bear stacker toy (which I love,) these little wooden pine trees, and this little wicker basket from the Target dollar spot, which is currently housing the extra wooden hangers. I also decided to add Brooks' birth announcement to this shelf too after he was born. (You can see that in my previous post, linked above.)
Not pictured is our camera which we mounted on the wall but I definitely want to share it because it is so good. It is the Infant Optics dxr-8 pro and it is on the pricey side but in my opinion it is so worth the money!
The picture is so clear, it has great range, you are able to zoom in to be able to see baby really well, and its battery life so far has been really good. It even went all night without being plugged in and still had some battery power left the next day. These are just a few of the great features of this camera.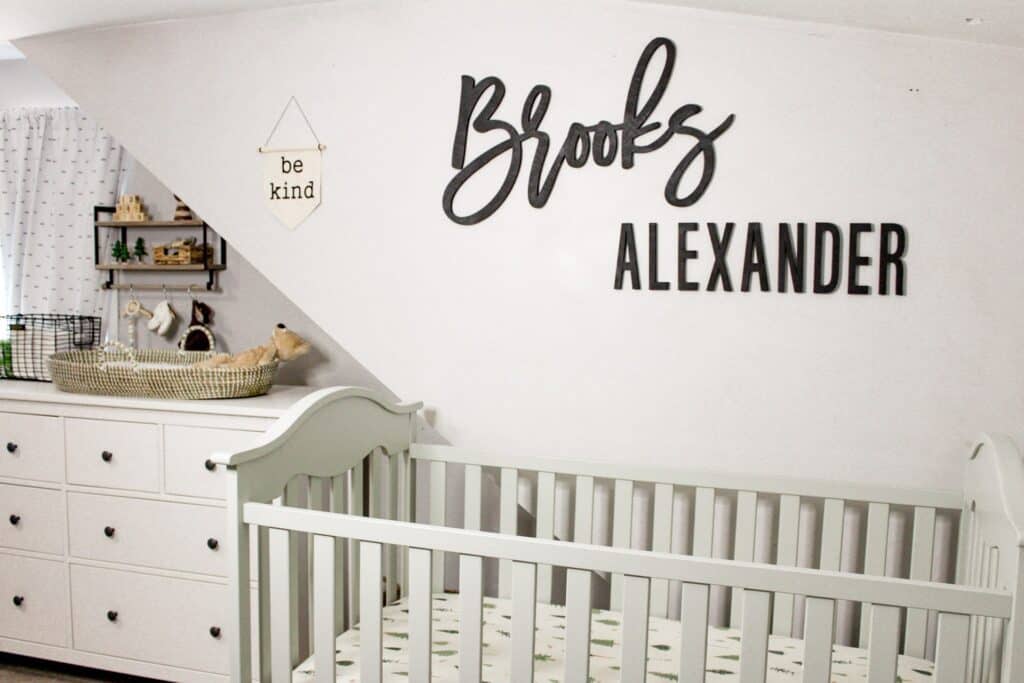 I really wanted something for the walls in here to really make this his space. So I found this beautiful wood cutout of his name on Etsy. I also found this adorable little "be kind" banner on Etsy, I always say this to my older son so I thought it was perfect for little man's nursery space. 
And then lastly is this little lamp I got at Target which is on his dresser, this woven basket I use for his laundry, and these white and black patterned curtains from Target which I love so much, I actually have them in my older son's room too. They are just perfectly neutral to fit most any space. Sadly, they no longer sell them.
That is our sweet little nursery space I just love for our newest little love. If you also are sharing a room with baby, I hope you find this useful and get some great nursery ideas for small spaces. If you have a whole room to work with, then hopefully you found some great items for your own space which come highly recommended by me! Let me know what your nursery theme is (or was if baby is older now) down in the comments! You can check out my first born's woodland theme nursery here. I will see you next time.