An Adventure Through The Woods | Woodland Themed Nursery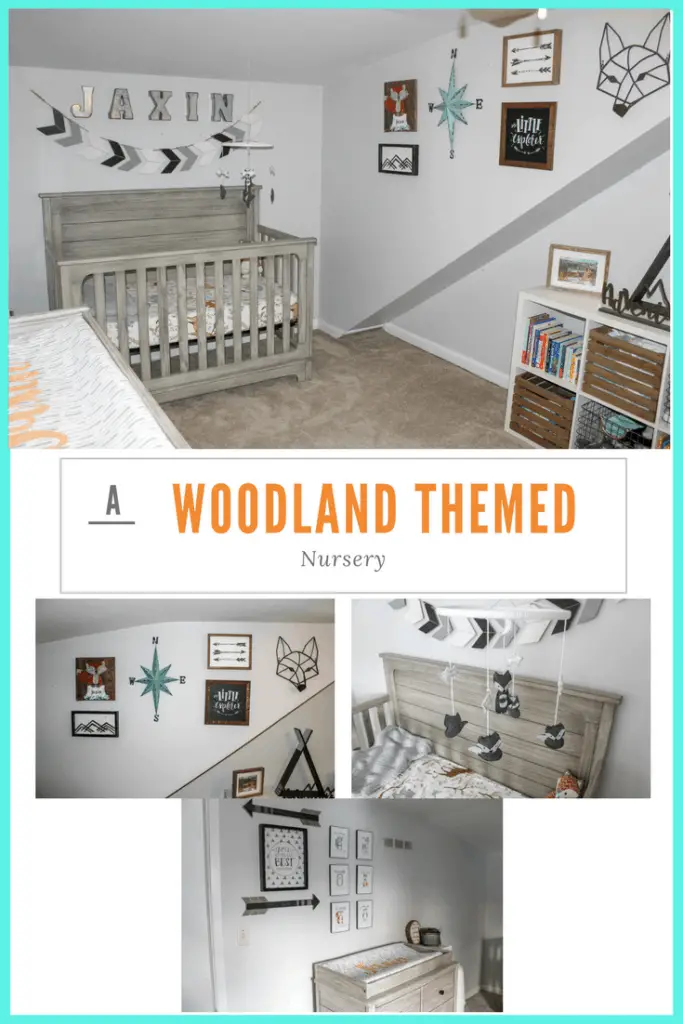 Long time, no see huh?! For those of you who might have been wondering where I've been… I had a baby! Baby boy to be exact. His name is Jaxin (Jax for short) and he is the most perfect, precious baby. You can check out my Facebook page or Instagram if you would like to get a peek at his sweet face. It has been a wonderful little vacation while I've bonded with my little babe and enjoyed my new role as a mommy. But I'm back! It feels great to be back at it.
Although I must admit, this is very different (and way harder!) to work on this post. As I sit here holding a sleeping baby in one hand while working with the other. Quite the challenge but hey ya gotta do what ya gotta do right? So anyways, I thought the perfect thing to talk about for my first post back would be his nursery. Quite fitting right?
So I have a confession to make. I have an obsession with foxes. Like, I would love to own an actual fox if I could. I've even looked into it. Yes. Really. So naturally I wanted to incorporate that into his nursery. I loved the woodland theme but also wanted to add in a touch of a little explorer theme into it. So I decided to call my theme an adventure through the woods. Catchy right?!
It consists of furry little woodland creatures, wood and metal accents, and all things adventure. Grey is my go to neutral color so that was the main neutral I used with some black and white also incorporated. The pops of color I went with were orange and a light turquoise color. I will try to list everything for you that I used if I can find them still. Ready to explore?!
(This post contains affiliate links. To learn more visit my about section.)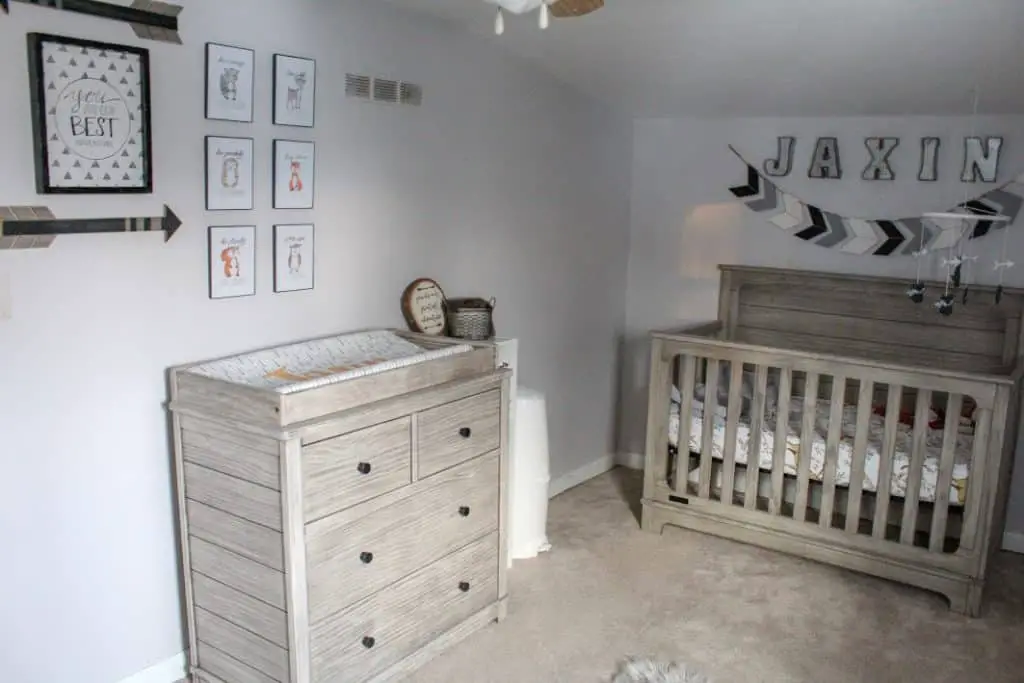 All his furniture except the chair is from Target and is still available. I loved the color wood of the crib and dresser. I wanted the bookshelves to be white so they would contrast nicely against all the grey. I went with these crates and these wire baskets also from Target. I love the look of those in place of the cloth bins you would normally use with these cube shelves.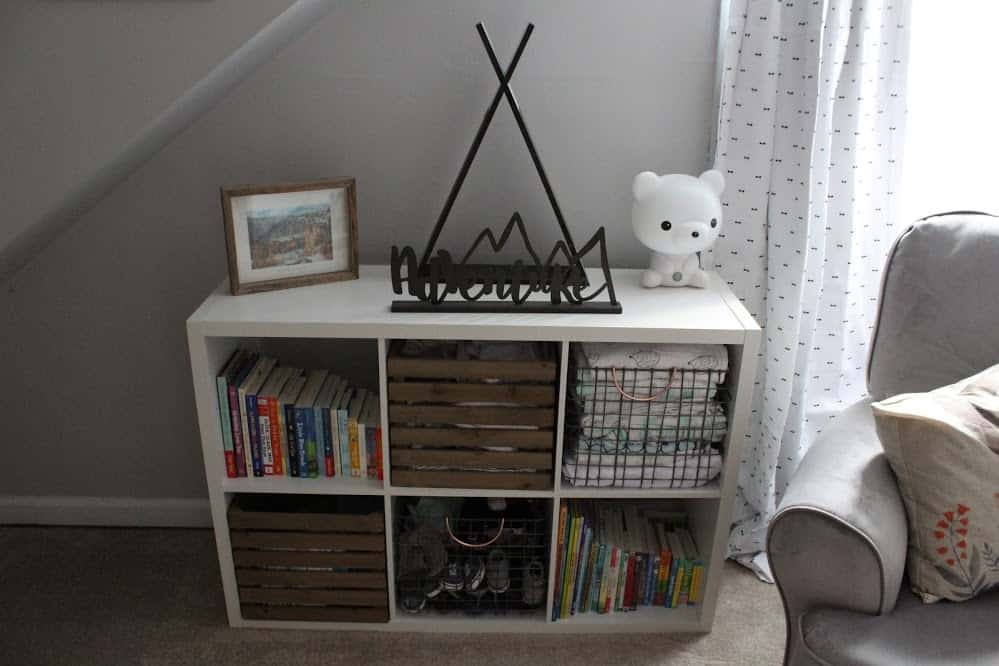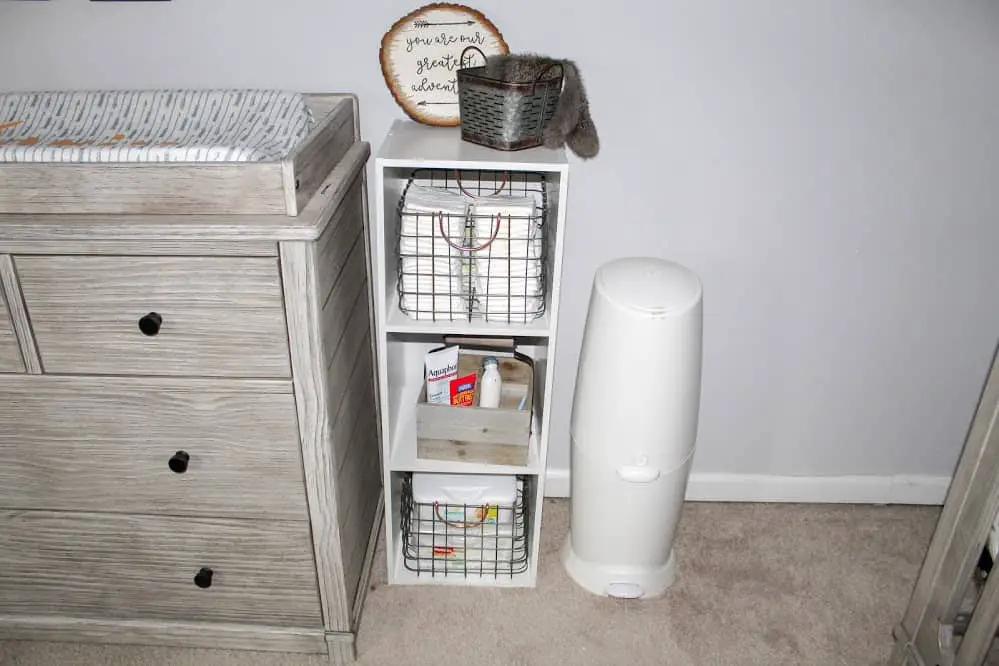 On top of the 6 cube shelf is a mix of thrifted and new items. That framed woods picture is a thrift find, the teepee and metal adventure sign are from Hobby Lobby, and that adorable little nightlight was an amazon find but it's no longer available sadly. Here
is an equally adorable one. On the 3 cube shelf is the handmade wood sign you saw at my baby shower. The little metal bin (similar) contains the start of a mini teepee making kit. I don't intend on him actually playing with that, it's just for fun. And guess what? It was actually my mom who helped come up with the idea!
We were shopping and I really wanted to incorporate that metal bin somehow and she came up with the genius idea to get a little fur pellet and make that bin a little gathering basket. What an awesome idea right??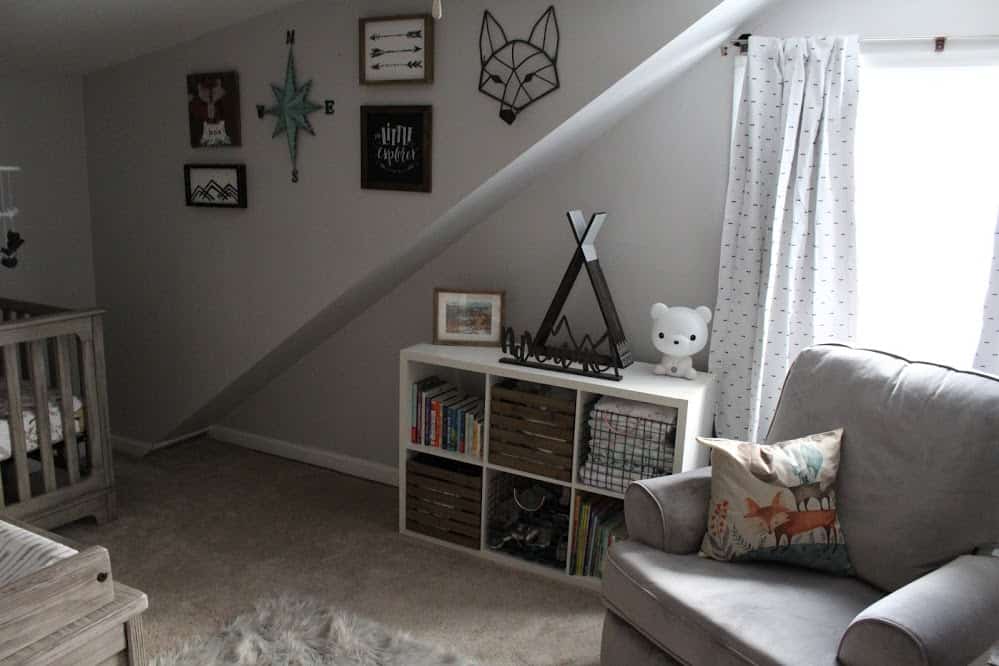 The chair was a gift from my parents and they purchased it at Buy Buy Baby. It was a customized chair but this is similar. I. Love. This. Chair. It is seriously the most comfortable rocking chair ever. And it reclines. I have definitely fallen asleep in it multiple times. Highly recommend this type of chair if you are on the hunt. I found that adorable pillow
on Amazon. The curtains are from Target, I love the pattern on them. Simple and the perfect accent to the room. Currently they only have the short version of the black and white ones but they should hopefully bring the long ones back in stock!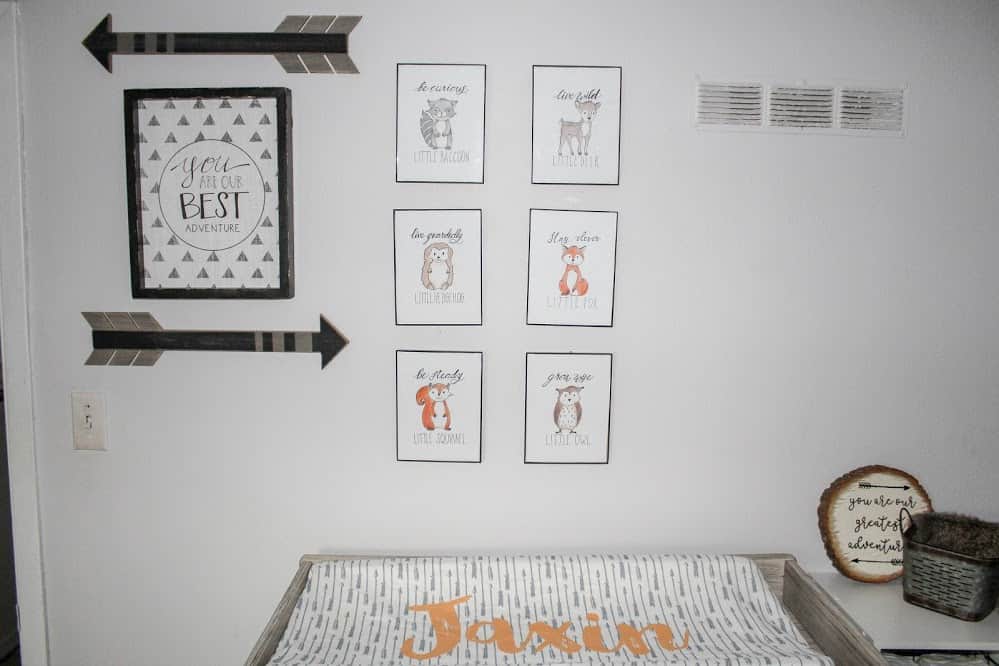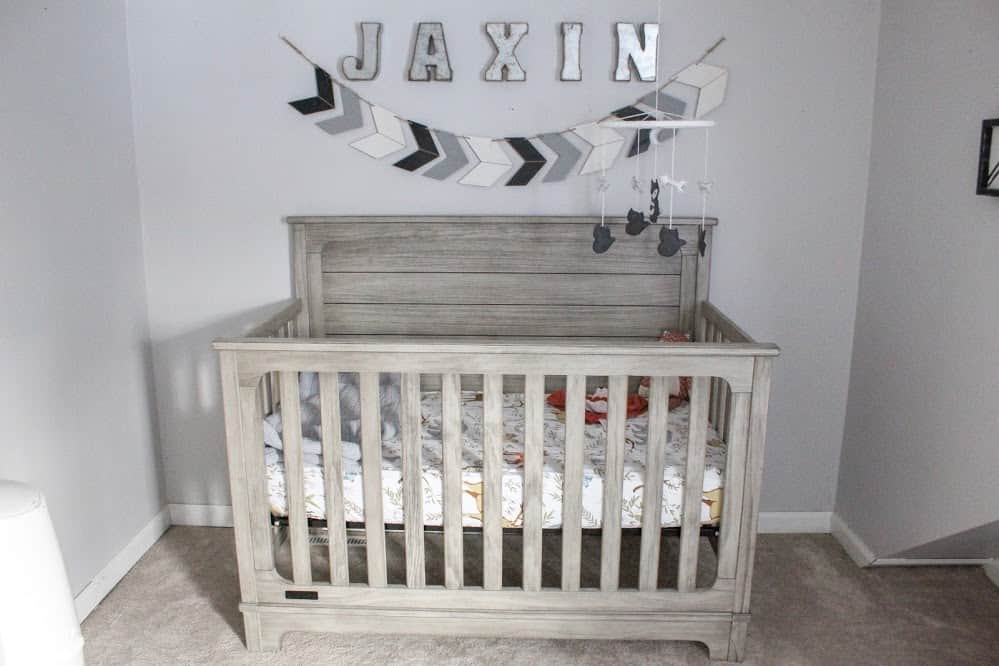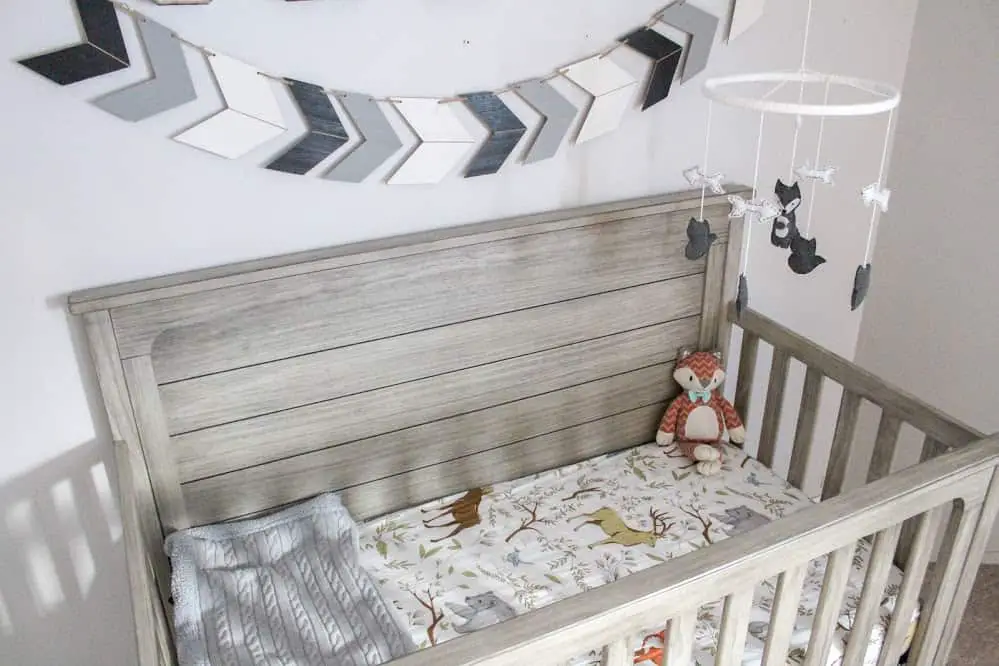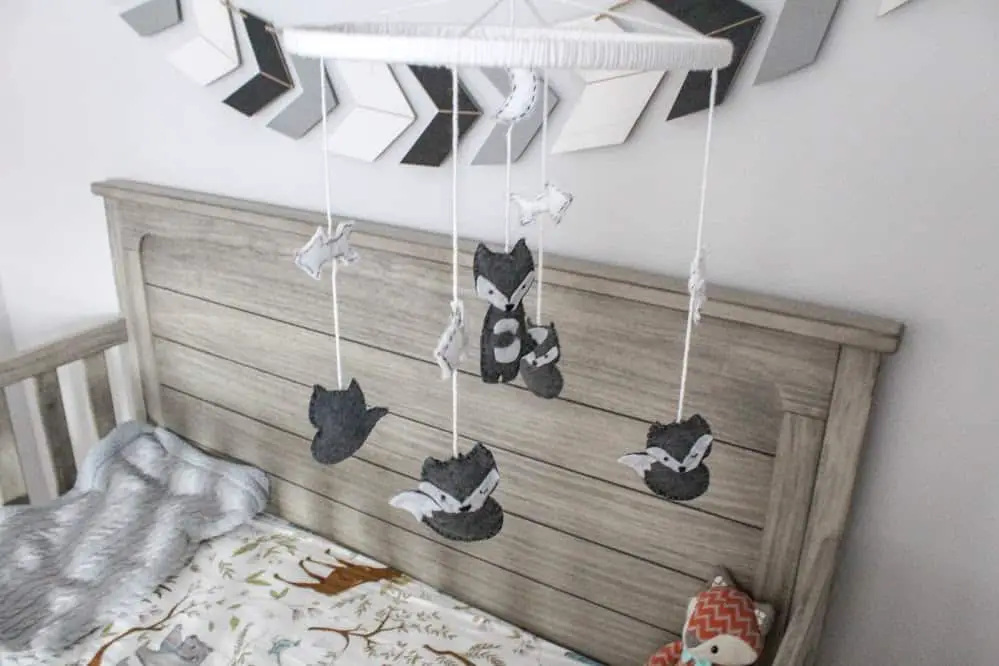 The crib sheets are probably my favorite thing. Look how precious those little animals are on there! I adore that little fox stuffed animal, perfect for snuggling up with. That knit blanket was a hand me down, but here is a similar one.
We need to take a moment to admire that mobile my sister made, which you also saw at the shower. I just love that she made that for Jax, it is perfect. The metal letters and arrow banner are both Hobby Lobby finds.
Are you sensing a theme here? Target and Hobby Lobby were my go to's for these awesome finds. What can I say, they're full of treasures just waiting to be purchased!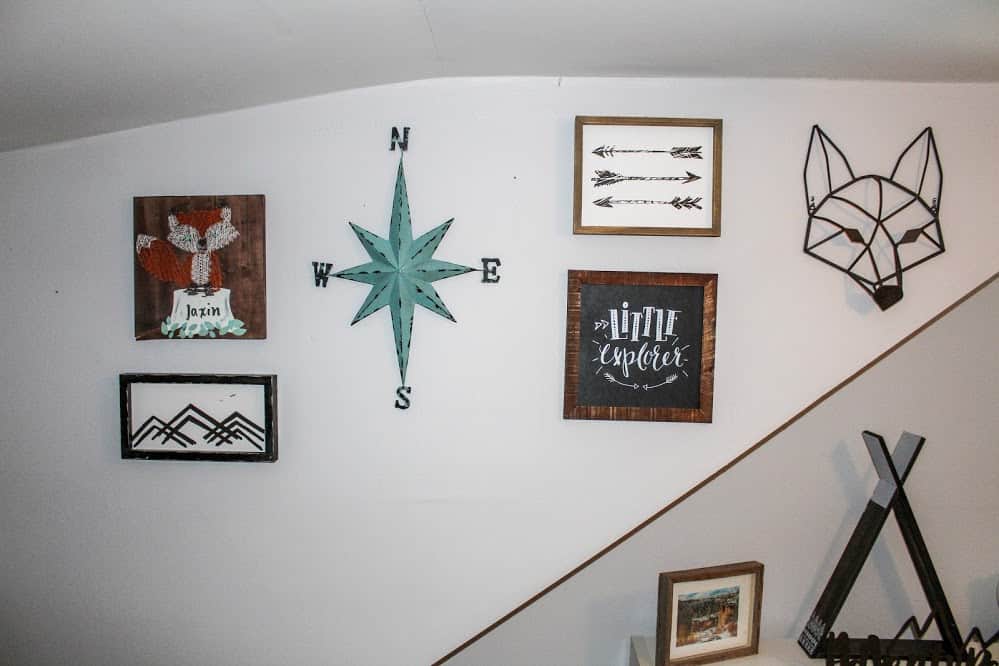 Lastly we have that awesome gallery wall. I worked hard finding all the right pieces to perfectly fit in that strange little section of wall. I think my favorite is that custom string art fox that is personalized with his name which I got off Etsy. Everything else is from Hobby Lobby. The fox head and compass are both metal, I think they're such cool pieces. Then I found the mountains, arrows, and "Little Explorer" wooden signs to bring in that natural wood element.
I love his sweet little nursery. It is a pretty small room so it was a bit challenging to be able to fit in all the things I wanted to and honestly, I couldn't. But once we move, hopefully next year, he will get a bigger space that we can add in the rest of my vision for his room. Until then, I hope you get some great inspiration from this adventure through the woods nursery. See you next time ☺
Don't forget to follow my social media for more inspiration, click down below!