Wild ONE Woodland First Birthday Party
It's official. My baby boy turned 1 year old. That was the fastest year of my life. But also the best. Being a Mom is the best feeling in the whole wide world and the amount of happiness my little babe brings our family is astounding.
We celebrated his birthday this past weekend and I worked so hard for about 6 months planning every little detail. He doesn't know that now but one day he will get to look back at his very first birthday and see how cool it was!
I thought I would share all these projects I did in case you need some inspiration for one of your little one's birthdays. The theme I came up with is "Our Baby Bear is A Wild ONE." It was kind of woodland themed with an emphasis on bears and a true rustic feel.
I am going to preface this by saying we rented a space to do his party and only had 30 minutes to set everything up so I was running around like a crazy person and now looking back realized I forgot to photograph a few things. Face palm. So I will add in a few fun details that were there, just not photographed. Let's take a look!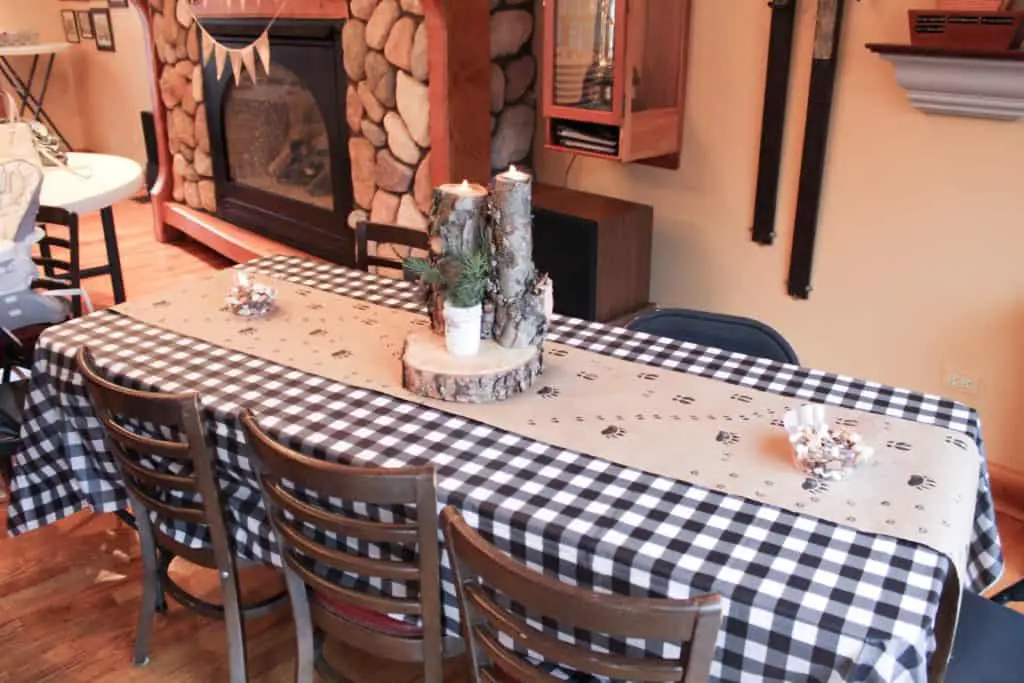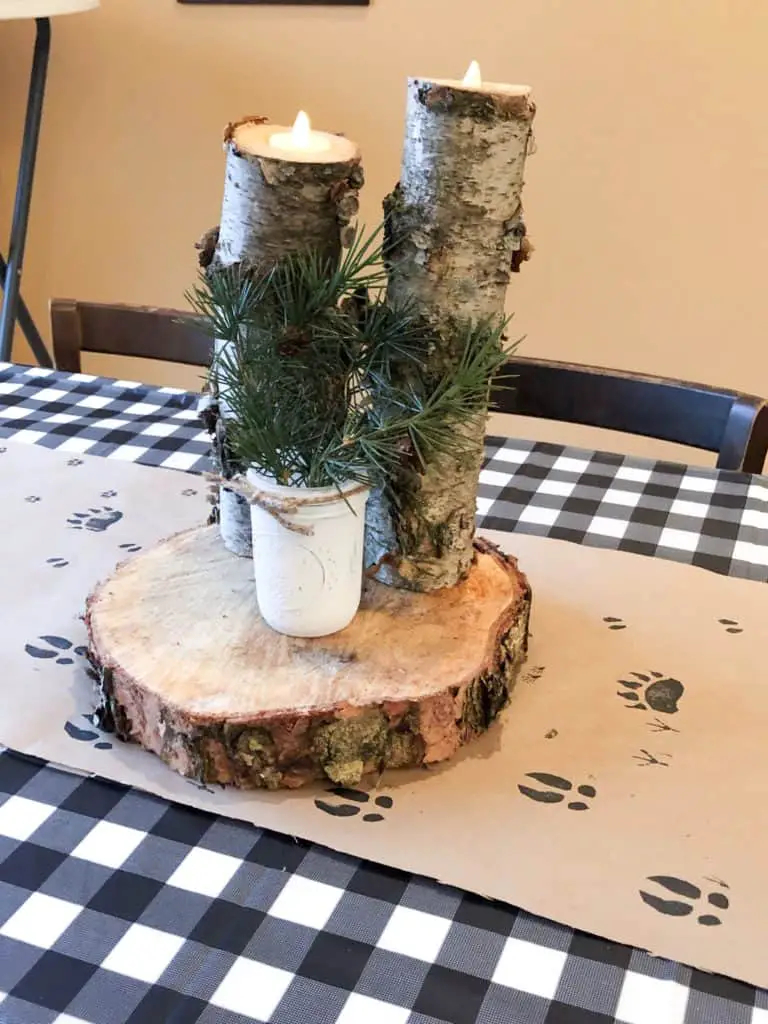 For the tables I went with these gingham table cloths, I love them! I made the table runners using kraft paper from the Dollar Tree and stamps. The bear print and deer print stamps I actually had to make myself because I couldn't find any! I absolutely love how these runners turned out.
For the centerpieces I am lucky to have my best friend's husband who was able to get all this wood for free through his job and who also cut everything for me! What a guy! Those birch tree candle holders are to die for, right?
The mason jars I painted and distressed, tied a little piece of hemp, and added a branch of faux evergreen with a couple little pine cones. I think I'm going to find a place to re-purpose those because I love how they turned out.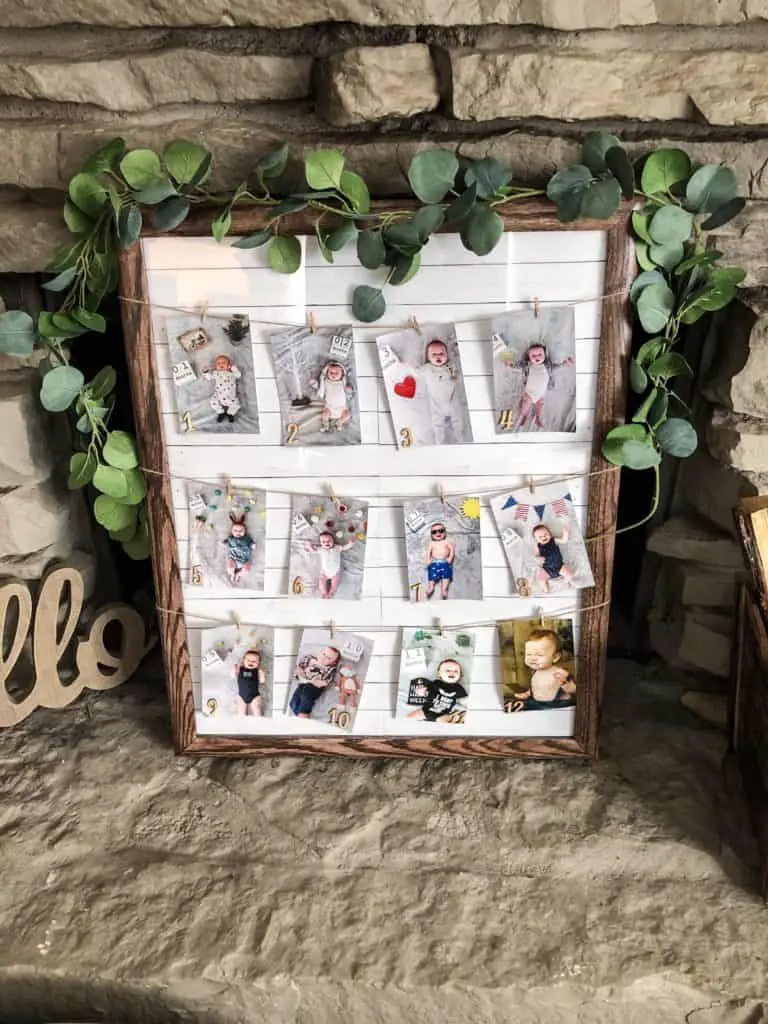 I love that this place had this awesome stone fireplace and knew I wanted to display Jaxin's monthly picture board there. I made that out of an old framed picture I thrifted. I just sanded and stained the frame, added some shiplap scrapbook paper, taped the hemp string to the back so you couldn't see it, and used little clothespins to hold the pictures on. I found these sweet wooden numbers that I added to each picture. To finish it off I added this faux eucalyptus garland. So cute!
To add a little décor to the mantle, I brought these little faux evergreen trees which are actually part of my Christmas décor. To finish it off I added these two burlap banners which I also made, to wish him a happy birthday!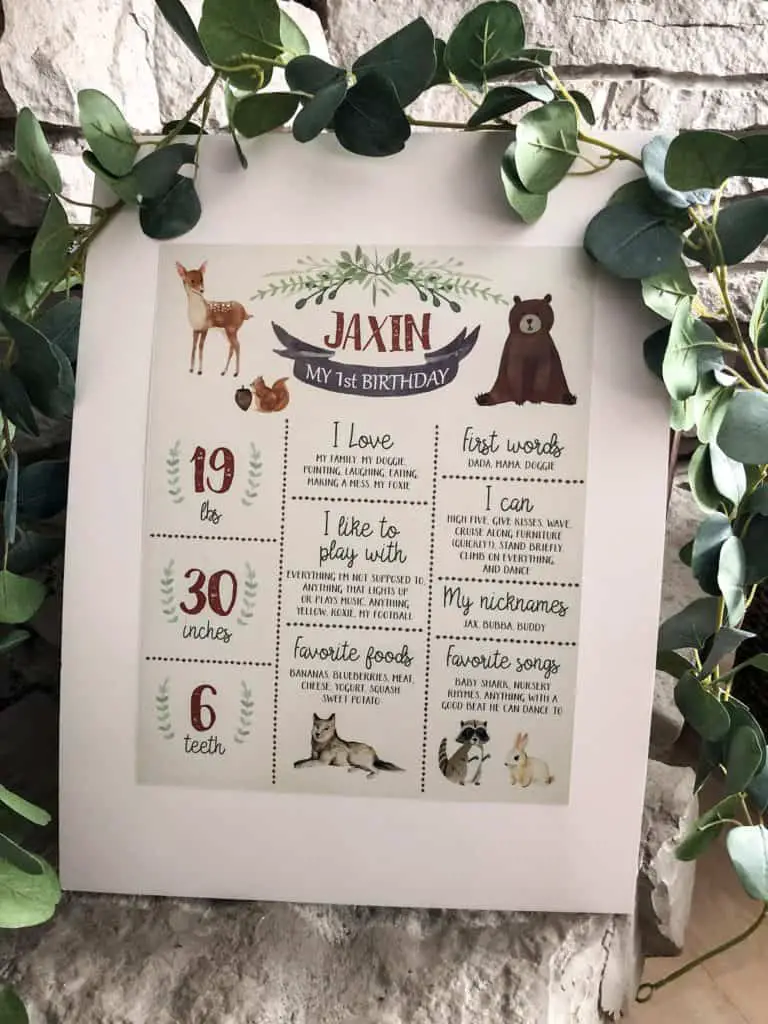 One of the tables I forgot to photograph was right when my guests walked in. It had this adorable birthday board which I got off Etsy. The goody bags were also here, in these really cute mini tote bags with a different woodland creature on the front of them. Lastly, I had a whole bunch of felt masks of all different woodland animals for all the kiddos to wear to the party. They were a hit!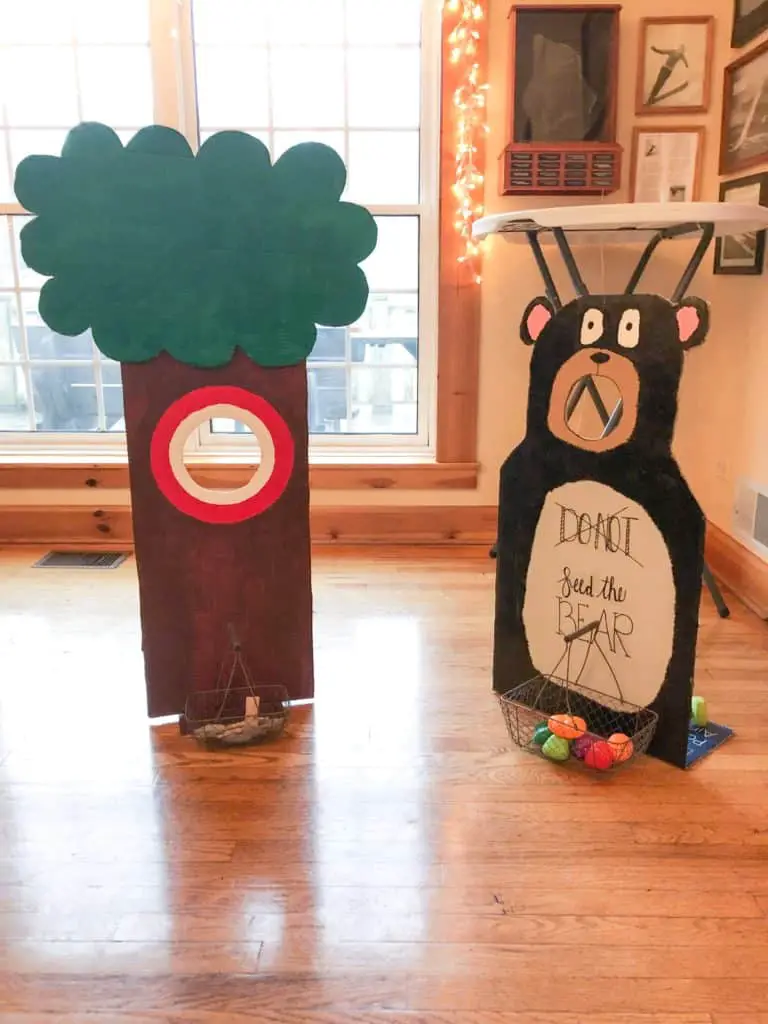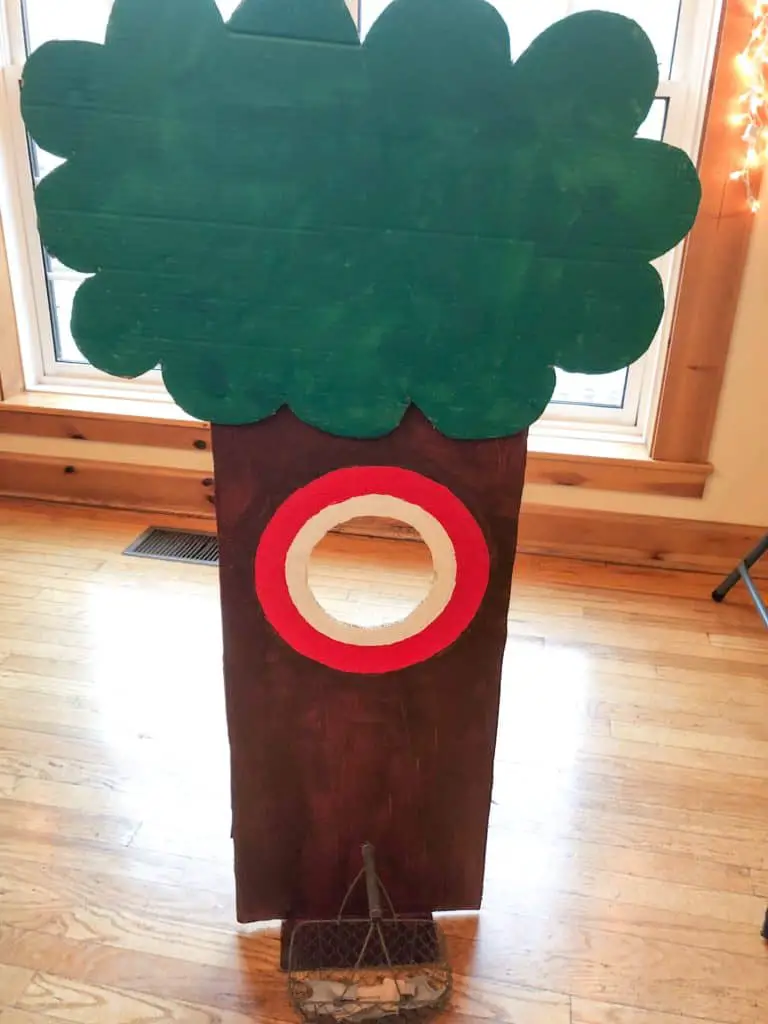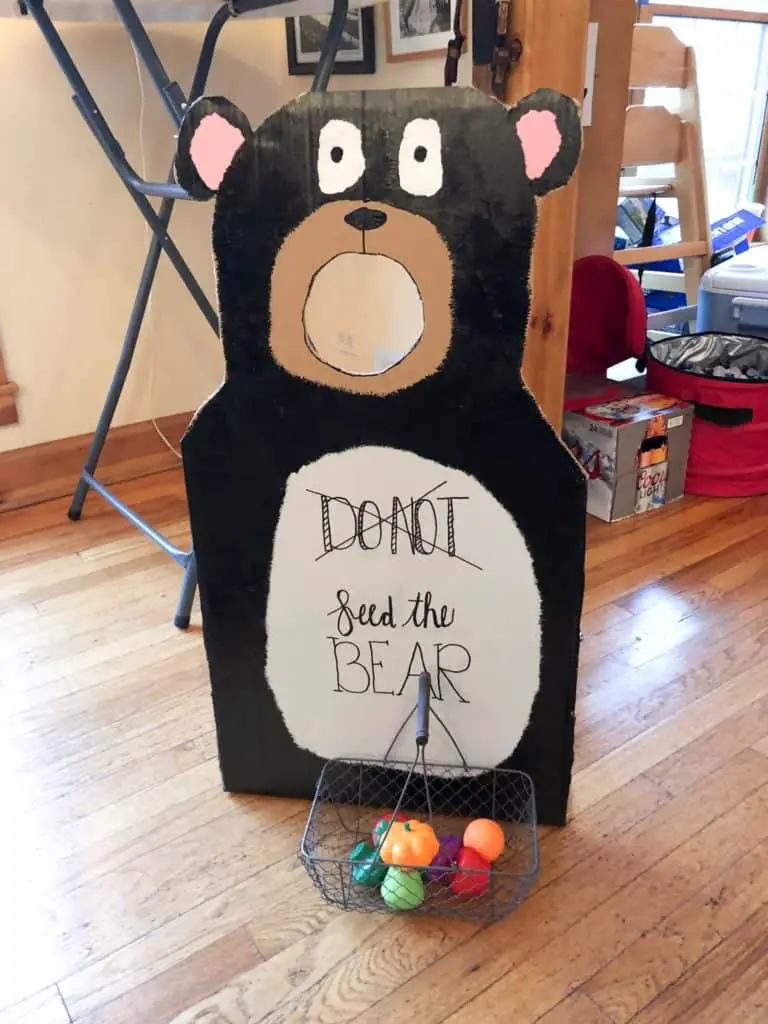 For some more entertainment I had set up a little coloring station and then I also made these really fun games. One was with a big tree and they had to try to toss the little felt axes through the center. The other was a feed the bear game with some fake food to toss in the bear's mouth. These were also a huge hit.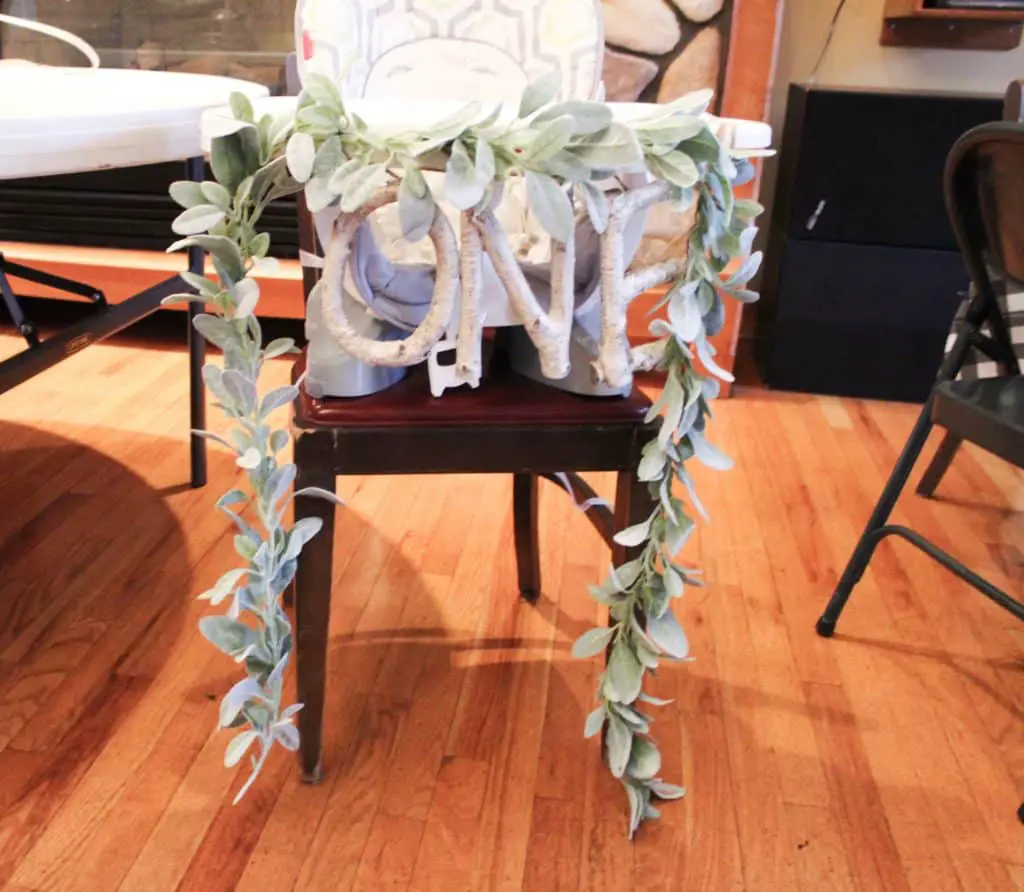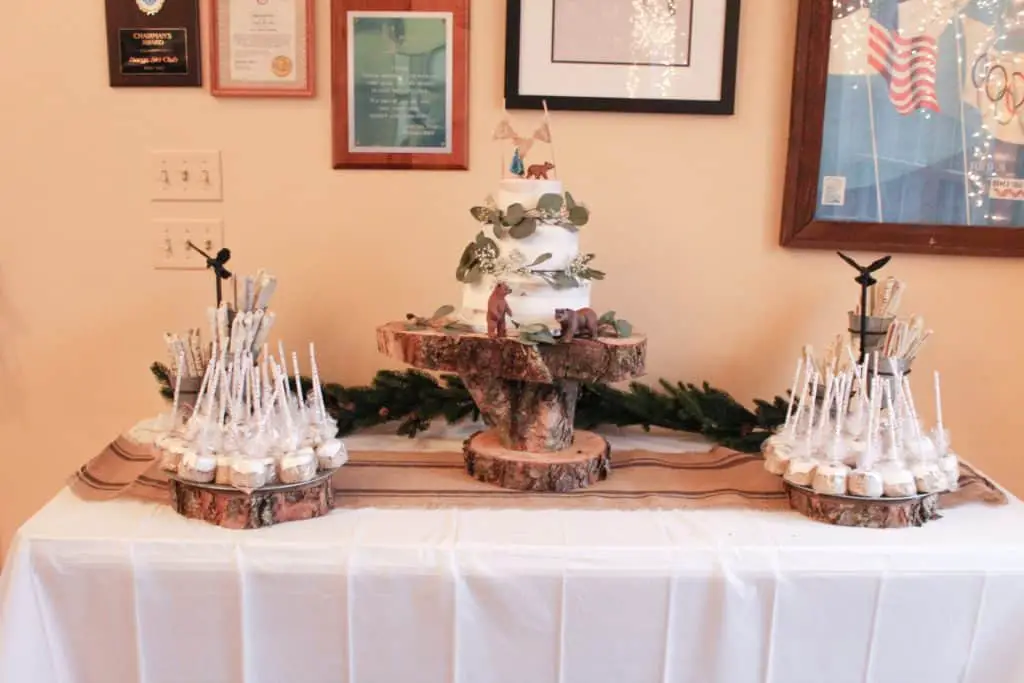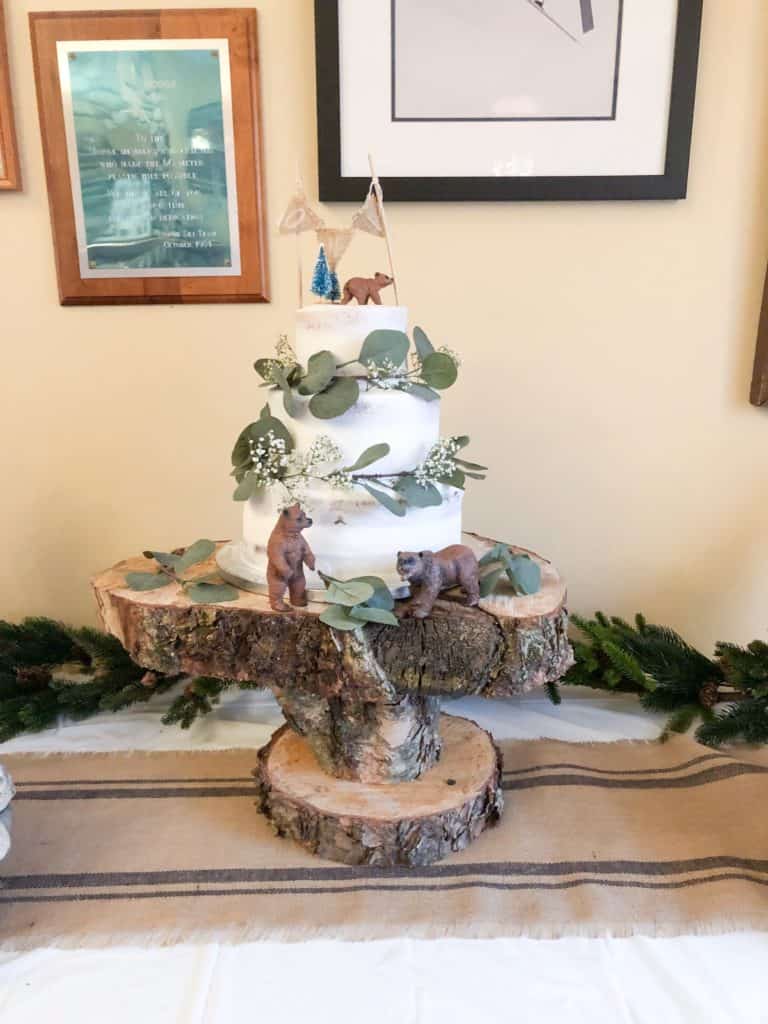 Last up was the dessert table. I had a whole vision in my mind of how I wanted this to come together and I think it turned out beautifully. To decorate the table I used this burlap runner and this faux evergreen garland. The cake was most definitely the standout item. How awesome is that cake stand? He did such a good job on that. The cake I actually decorated myself. For my first time decorating a cake, I'd say it turned out pretty cute!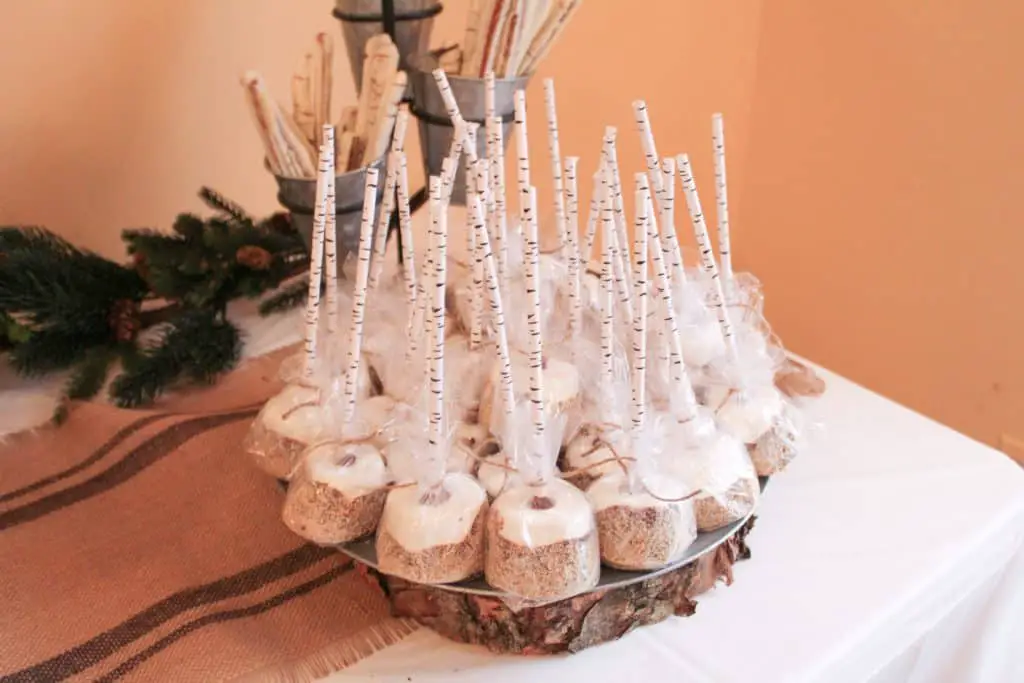 My Mom and I made these really yummy s'mores treats. They were actually really easy. We just melted some chocolate to dip the marshmallows in and then sprinkled on the graham cracker crumbs and put them on some wax papered baking sheets until they fully cooled. A little tip, I dipped the birch tree straws that held the marshmallows in chocolate first to help hold the marshmallows in place. Once the chocolate was hardened, I wrapped them in plastic and tied a little hemp around them. So adorable!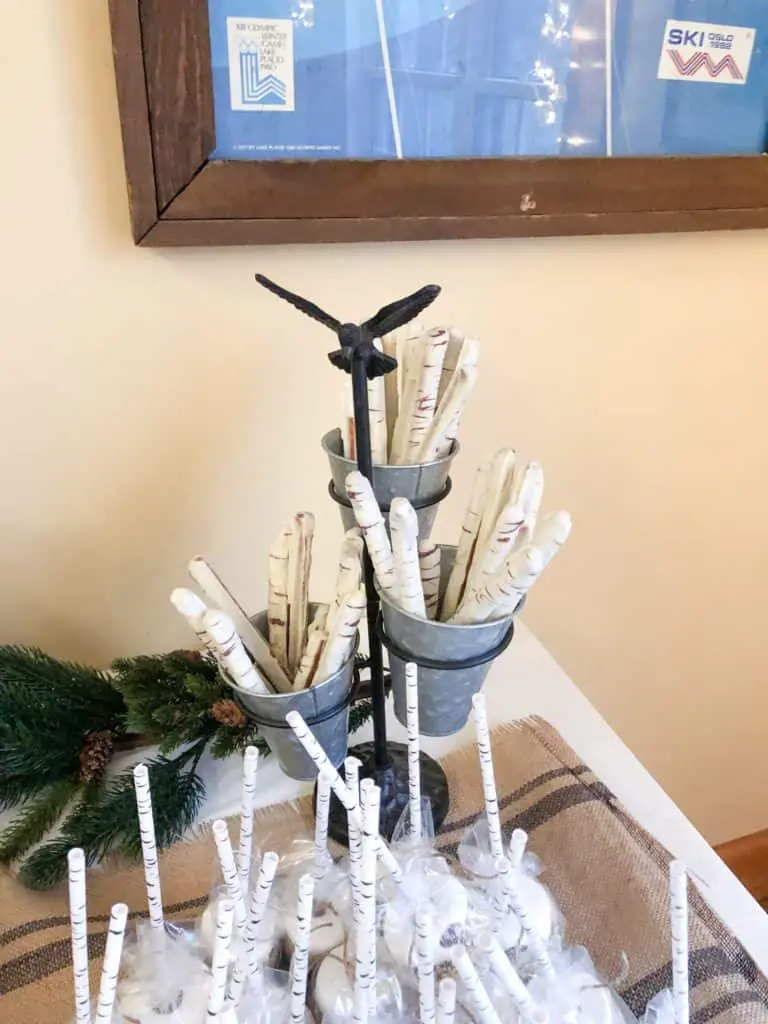 Then we have these super cute chocolate covered pretzels that my best friend made for me. What a gal, huh? They turned out so cute and were so yummy!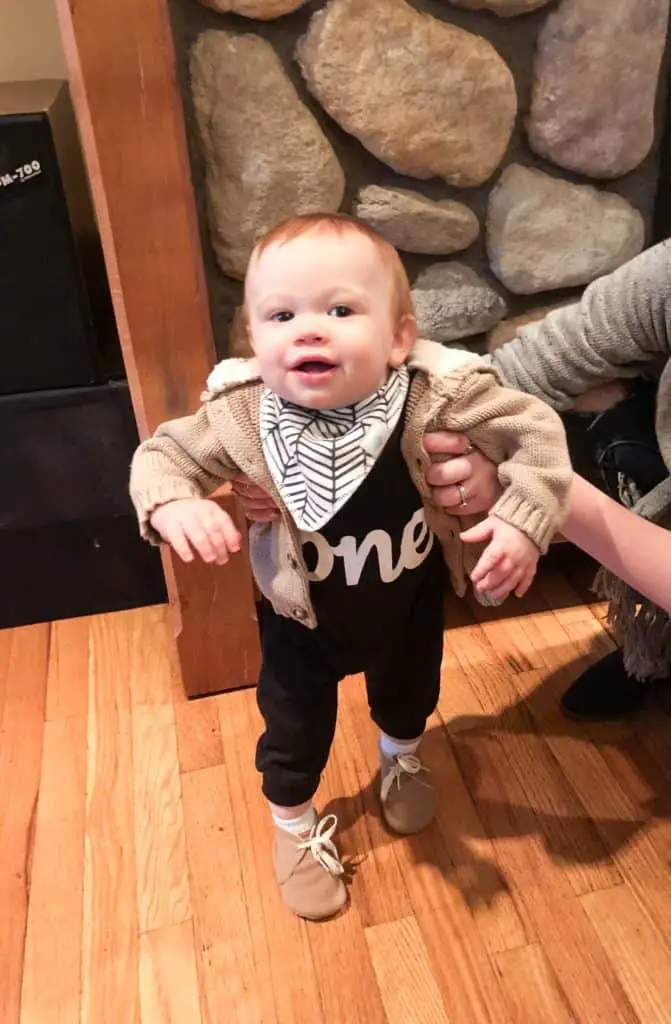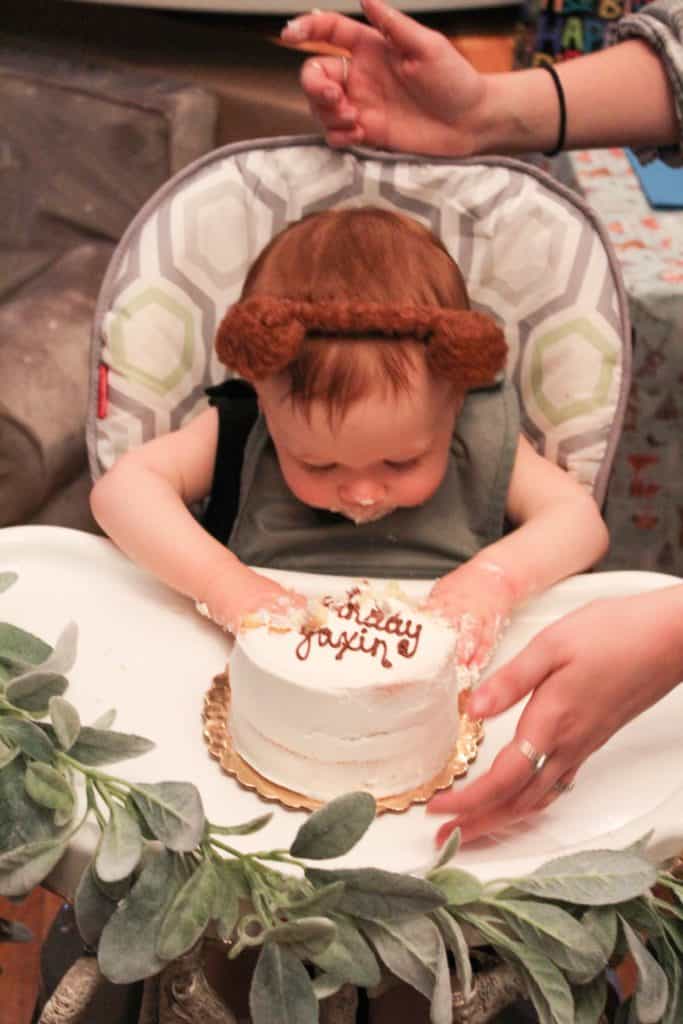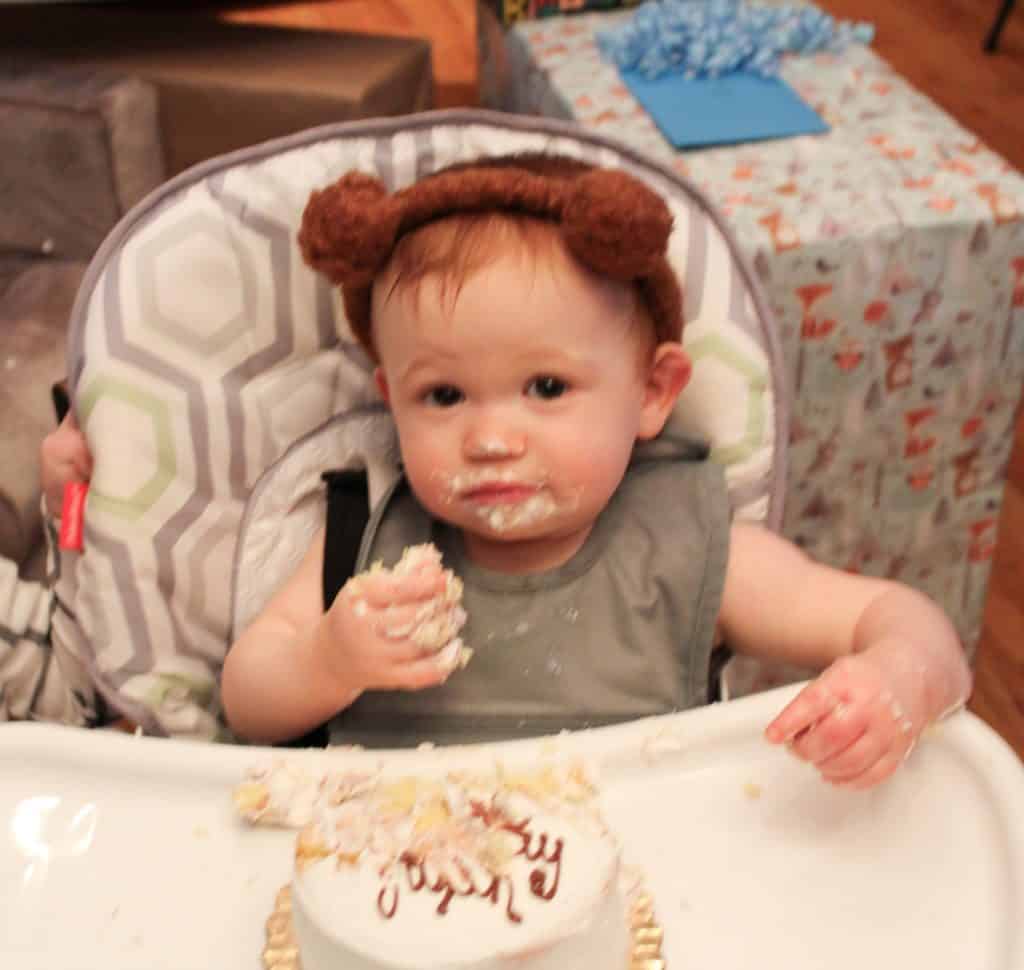 Jax sure enjoyed his party, he was so cute in his birthday outfit, the hood had a little bears face on it too which was so cute! He also thoroughly enjoyed his cake as you can see. One year down, and so many more to enjoy. Happy birthday my sweet boy.  See you guys next time ☺