What's In My Hospital Bag? | Packing For Mom and Baby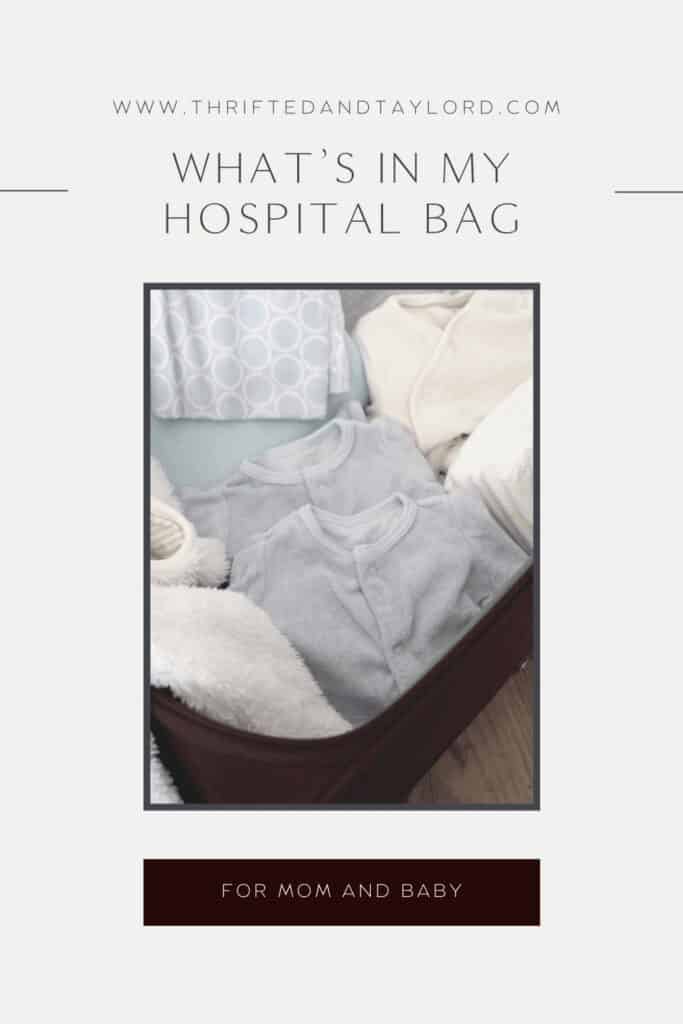 Hey Guys!
I'm back! Our second little baby boy arrived a little over 3 months ago and although this post was supposed to go up before he arrived, I thought it would still be helpful to share what's in my hospital bag for both baby and myself.
I had my lists made around 32 weeks but actually physically packed them around 36 weeks. I went into labor early with my first so they said there was a good chance I would this time as well so I wanted to be sure I was ready! 
And good thing I did because I had this little babe at 38 weeks, actually the day after I wrote this post! So it's a little late going up since I've been taking the last few months off as maternity leave but now that I'm back I still wanted to share this since other mommas-to-be might find it useful!
The rest of the post is what I wrote prior to baby arriving so if I'm talking like I'm still pregnant, well that's why, haha. And if you would like to take a peek at our newest family member head over to my Instagram or Facebook to meet him!
These lists I'm sharing are what I personally have chosen to use, there are different varieties of items you can include depending on your preference. For example, lots of women like having their own birthing gowns and/or robes. I have not chosen to include those in mine. I'm not a big robe person, I prefer comfy clothes with a zip up or cardigan for warmth. 
This post contains affiliate links through which I earn a small commission when you purchase through them at no extra cost to you. Learn more here.
What's in My Hospital Bag?
Postpartum Supplies
Some women prefer to use their own postpartum supplies versus what the hospital provides. I personally use mostly what the hospital provides, with the addition of a few other things, but I wanted to share all of the postpartum supplies I will be using in case you are looking for recommendations. 
This time around I am trying these Always Discrete disposable underwear in place of the mesh undies and giant pads for the first few days/week after baby is born. Then I switch to some black high rise undies and these Always Ultra Thin Extra Absorbent pads. 
I like to use these Tucks medicated cooling pads lined inside the underwear and then I also spray some of this Dermoplast pain relieving spray in there. My hospital does provide both of these as well just FYI, so check to see if yours does, too.
For cleaning purposes, I typically use the peri bottle they give you at the hospital but I may try this one from Frida Mom because I've heard the bent nozzle is way easier to use. I also like to have some cleansing wipes to help with cleaning up in place of toilet paper as things are healing. 
The hospital typically provides diapers and wipes for baby so I recommend using those while you're there but some women might be partial to particular brands and choose to bring their own. I personally am all for free diapers and wipes so I am perfectly happy using what is provided.
Nursing Supplies
My hospital also provides some nursing supplies like a nipple shield and some nipple cream which is really helpful. But again, if your hospital doesn't provide these things or if you have a preference on brands then that is something else to be sure to pack and I have included the nipple cream I like for reference. 
Also, somethings I haven't packed, but like to use for nursing are nursing pads, my Hakka which I use to collect milk from the other side baby as baby is nursing so none gets wasted, and these Medela Hydrogel Soothing Gel Pads which help heal your nipples in the beginning stages of nursing. Those things are amazing, let me just say. 
Some women also like to bring their breast pump if they want to start pumping right away or if they would like some help from the lactation consultant at the hospital. I will not be bringing mine as I find I don't need it until a few days in and by then I'm already home. 
So these items on my lists are what I recommend that I am actually using (with a few exceptions that I mentioned.) A lot of them are self explanatory so I won't go into much detail but let's go ahead and check out my checklist for my own hospital bag first.
Checklist for Mom
Comfortable outfit(s) for the hospital
Comfortable going home outfit
Nursing tanks
Nursing bras
Toiletries
Hair Dryer
Brush and hair ties
Flip Flops
Slippers
Socks
Long phone charger
Snacks
Lip Balm
Nipple cream/nursing supplies 
Postpartum supplies 
Pillow
Blanket
These are the outfits I'm bringing for the hospital, one to wear after I deliver and one for the day I go home. I love some high rise, flowy, soft pants so I have 2 pairs of them. These ones are still available at Target. They go up over my belly which is a lot more comfortable and since they're wide leg there's plenty of room for your fancy postpartum undergarment and pad situation. 
While I'm in the hospital postpartum, I will be just wearing a nursing bra and a nursing tank with a cardigan to keep me warm. That will be easiest while figuring out breastfeeding with my newest little family member.
I packed a little tank to wear home but still will be wearing a nursing bra (really until I am no longer nursing.) It will most likely be quite warm since we are in July so I don't want to be sweating when we leave the hospital. 
I definitely will want to shower after giving birth so I'm bringing all necessary toiletries plus my hair dryer, brush, and extra hair ties just in case. Is a hair dryer necessary, probably not, but I don't think I want to have to air dry my hair because I feel like I'm just going to want to put it up right away, so I'm bringing mine. I also like to bring some waterproof flip flops to wear in the shower because it just weirds me out to be barefoot, maybe I'm weird haha. 
I like to be cozy so I'm bringing socks and my slippers plus I like to bring my own pillow and blanket to have a piece of home (and to be more comfortable!) 
And then a few other items that I think are necessary are lip balm, hospitals can be dry so I found my lips got so chapped last time. Snacks, all of the snacks. I packed several of my most favorites for in between meals because breastfeeding makes you hungry. And last is a long phone charger so you can still use your phone while it's plugged in charging. The rest I talked about earlier, so let's move on to my hospital bag checklist for baby!
Checklist for Baby
Going home outfit for baby
Outfit for photos
Name Announcement
Baby blanket
Swaddle blanket
Burp cloths
Pacifier(s)
Diapers and Wipes (if you don't want to use what the hospital provides)
Car Seat
Nursing pillow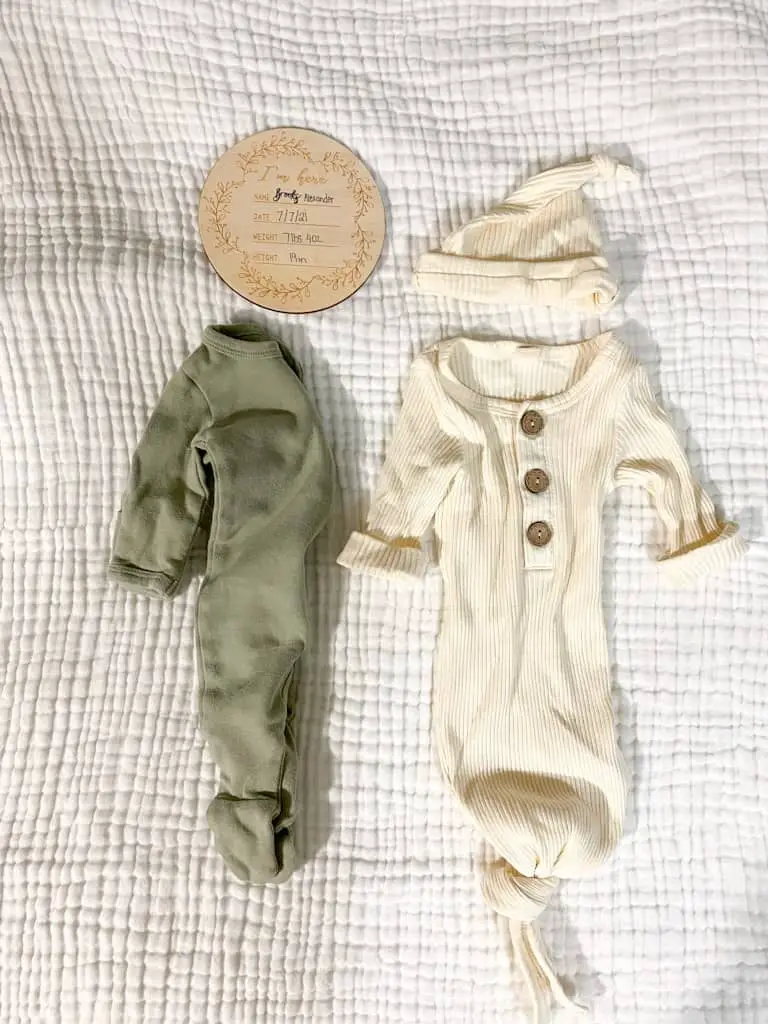 So you don't really need all that much for baby, a lot of these things are purely my preference and not necessities. I plan on doing my own fresh 48 style photography while at the hospital which is why I'm bringing an extra outfit for him but really they put baby in one of these snap front shirts, a diaper, and a swaddle while at the hospital so you don't really need anything other than a going home outfit for baby.
Also, the name announcement is something I am using for photos, obviously not necessary but part of my photos that I plan to do. This is the set I got, they're wooden signs that include the number of months old, some milestones, and an arrival announcement you fill in yourself after they are born. So I will be using these during his first year of life photos I like to do.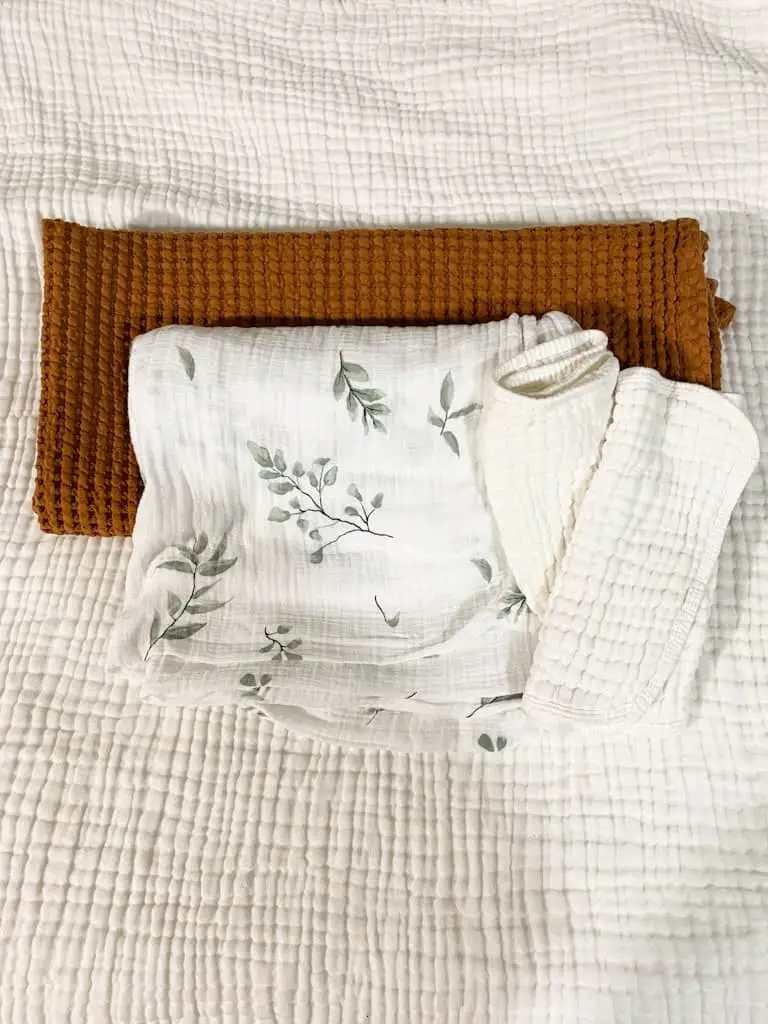 The baby blanket and swaddle blanket again are not entirely necessary since the hospital typically provides a swaddle blanket for you to use while there but if you are partial to a certain kind of swaddle or blanket then be sure to pack it. 
Again, the ones I'm bringing will mainly be used for photos but since I have them, I might use them to swaddle him as well. This is the blanket I am bringing for him and this is the swaddle.
Burp cloths are something I recommend packing. Chances are baby won't have a ton of spit up (if any at all,) but it's still nice to have just in case. I just packed 2 of these muslin ones which I love. 
I use pacifiers for my babies, they can potentially help to reduce the chance of SIDS and can help babies soothe and fall asleep. Not everyone chooses to and not all babies like them, but I am all for giving it a try.
I am trying these Itzy Ritzy Sweetie Soother Pacifiers in the early stages this time around, I used a WubbaNub with my first but later learned those aren't safe to use. They do make just the pacifiers without the little stuffed animals attached so you can grab those, but these ones I am trying out have amazing reviews so I want to give them a try.
I also use MAM pacifiers, especially once baby is a little bit older. These 2 brands are supposed to be especially good for breastfeeding babies which is a big reason why I chose them. 
I already touched on diapers and wipes, but don't forget to bring a car seat! Hahaha seems like a no brainer but you would not want to get to the day you're supposed to go home to realize you forgot your car seat. There are plenty of options, whether you go for a convertible seat that stays in your car or an infant carrier with a base which stays in the car and then you can remove the carrier to bring in with you so you don't have to take baby out of the car.
Ours is the Britax B safe infant car seat. I like being able to use the carrier in our stroller to make things much easier. You can just click it out of the car and click it onto the stroller and you're good to go without disturbing a sleeping baby. 
And last up I like to bring my Boppy nursing pillow. It just makes breastfeeding so much easier! It gives you the perfect laying surface to help hold baby while you are feeding them. And having that in the hospital while you're trying to learn (or refresh yourself) how to breastfeed, can be of help and is very welcome in my book. 
So that is what's in my hospital bag for both baby and myself. I hope this is useful for you if you are starting to plan out what you want to bring to the hospital. I will just say that you won't need nearly as much as you think you will so don't overpack because when you get home and have to unpack all that stuff (which you only used half of) you probably won't be too happy with yourself. I made that mistake the first time so learn from my mistake so you don't have to do it to yourself. 
For some other favorite baby products check out these baby shower gifts a new mom will actually use (myself included!)
Stay tuned for my next post which I am so excited to share. It is his little nursery area in our bedroom! So keep an eye out on social media  or sign up for email alerts in the sidebar or bottom of the page for his nursery reveal. See you next time.