How to Incorporate Farmhouse Style into your Home
I love the modern farmhouse style for my home. Think distressed wood, natural elements, simplicity, comfort, white or neutral colors, and porcelain. As you read in my previous article, I have 3 types of similar styles that I mix together to make up my personal type of style. A mix of farmhouse, modern, and a touch of vintage. With my love for thrifting are you surprised by what my style is? No, right? Well, you might be surprised to learn that I've only recently figured out that this is my true style. I struggled with figuring out what I wanted to do in my home for years! So I have been working hard to slowly redecorate my home to incorporate this modern farmhouse with a vintage twist style.
You would be surprised how easy and cost efficient it can be if you are not looking to renovate but would like to change the style of your home. For the purpose of this article I will focus on the one style. If you want to see how to incorporate farmhouse style into your home, just keep reading.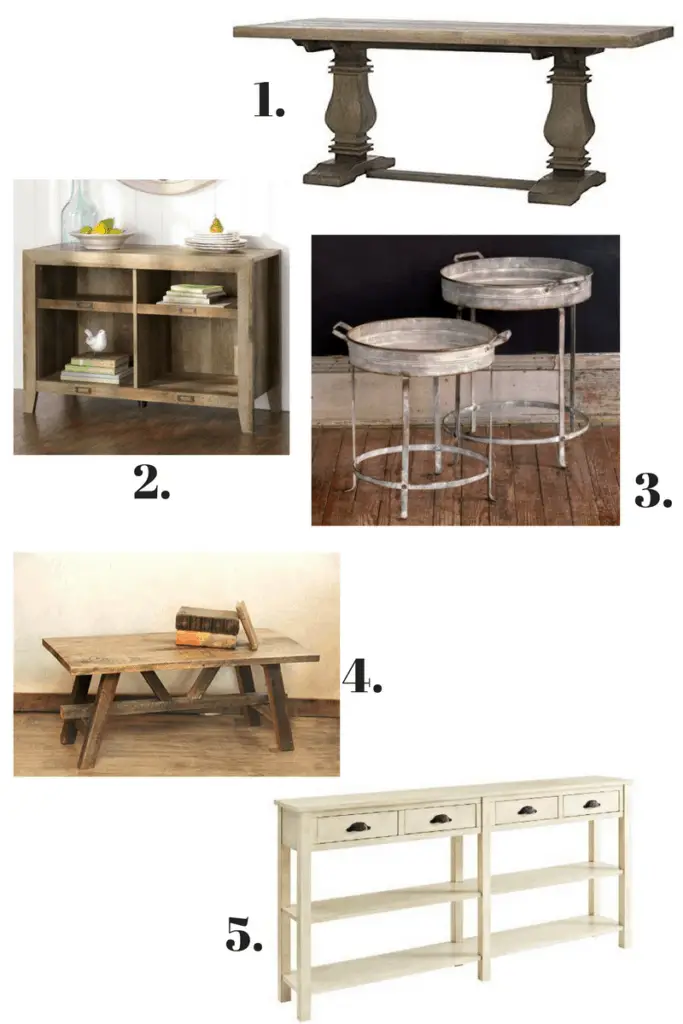 Let's start big. Furniture. It might not be the cheapest option but you don't need to go and purchase all new pieces for your home. Take a look at what you have and find the pieces that kind of stick out as out of place and those will be the ones to replace. Chances are things like your couches or dining room table can stay but you could find a new coffee table or tv console to better fit your new style. Pictured above are some awesome furniture finds that can really bring that farmhouse vibe to your home. 
So you are keeping that dining room table? Why not find a cute distressed wood plant holder for your centerpiece and maybe a burlap runner to bring that style into your home? You could add some farmhouse style décor to your bookshelf or fireplace mantle as well. I found some really awesome options above that are cost efficient and perfect touches to bring that style into your home. 
A great way to incorporate this style to your couches you don't want to replace is to add some new pillows. There are actually a ridiculous amount of options out there for this and many are super affordable. One tip which I often use, is to just buy new covers for the pillows I already have to save even more money! Pictured above are a few of my favorite finds.
Lastly, find some great art or quotes to hang on your walls. A big distressed clock on the wall would be a fun touch. You can easily distress the frames to give them that farmhouse feel. Quotes in typewriter print scream farmhouse to me for some reason. Also anything printed on wood! Above are a few favorites I found.
Next up I will be showing you how to incorporate the modern/ minimalist style into your home. Be sure to keep an eye out for that! I hope you enjoyed and don't forget to leave some comments down below with how you incorporate your favorite styles into your home.