The Best Rugs For Layering On Amazon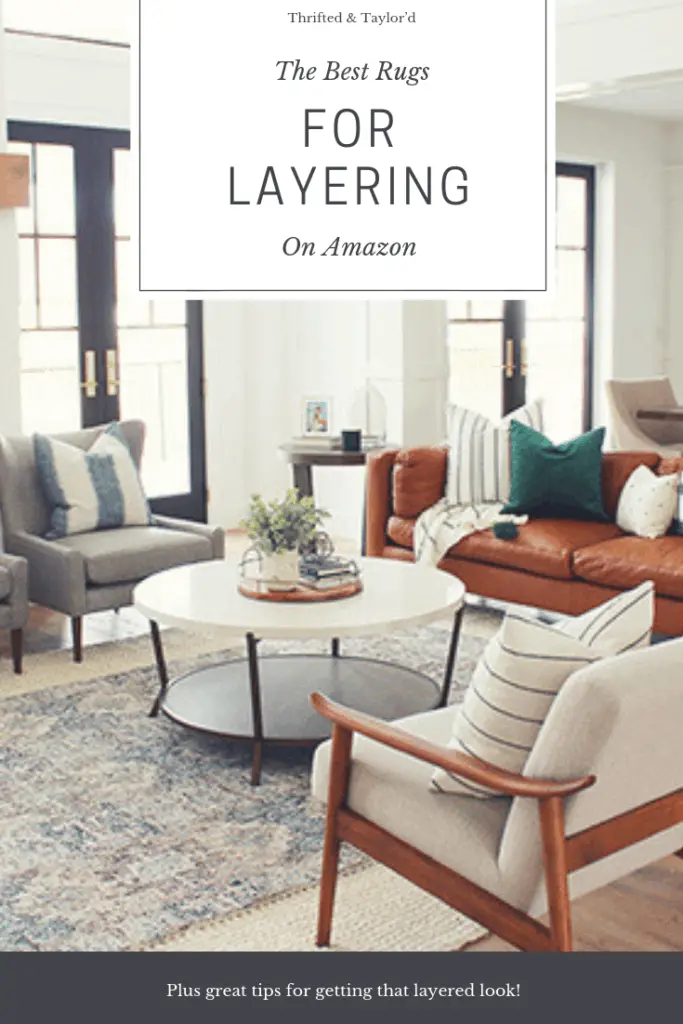 This post contains affiliate links for which I may earn a small commission at no extra cost to you. Thank you for your support! Learn More.
I am so ready to do a rug overhaul in my house. I have spent an obscene amount of time searching the internet for the perfect rugs and now I've ended up with way too many options. I also came to the realization that I might want to wait until we move (which will be in the next year) so I don't purchase rugs that end up not working in our new spaces.
But guys. The waiting game is so hard! I kind of hate the rugs I currently own. First world problems, I know. But that struggle is real. I know I'm not the only one.
I have a few different places that I love to purchase rugs from but an obvious favorite is Amazon, especially having prime since shipping is free. But it also makes the purchasing process easier and if something doesn't work out, returns are also painless. So these rugs are all from Amazon, let me know if you're interested in other places to check out.
So through my searching I realized I am totally into the layered rug look. In case you haven't seen this, it's exactly what it sounds like. Two rugs layered on each other to create a cool multi textured rug. Unsure how you achieve this? Check out these 5 combinations I put together that are perfect rugs for layering.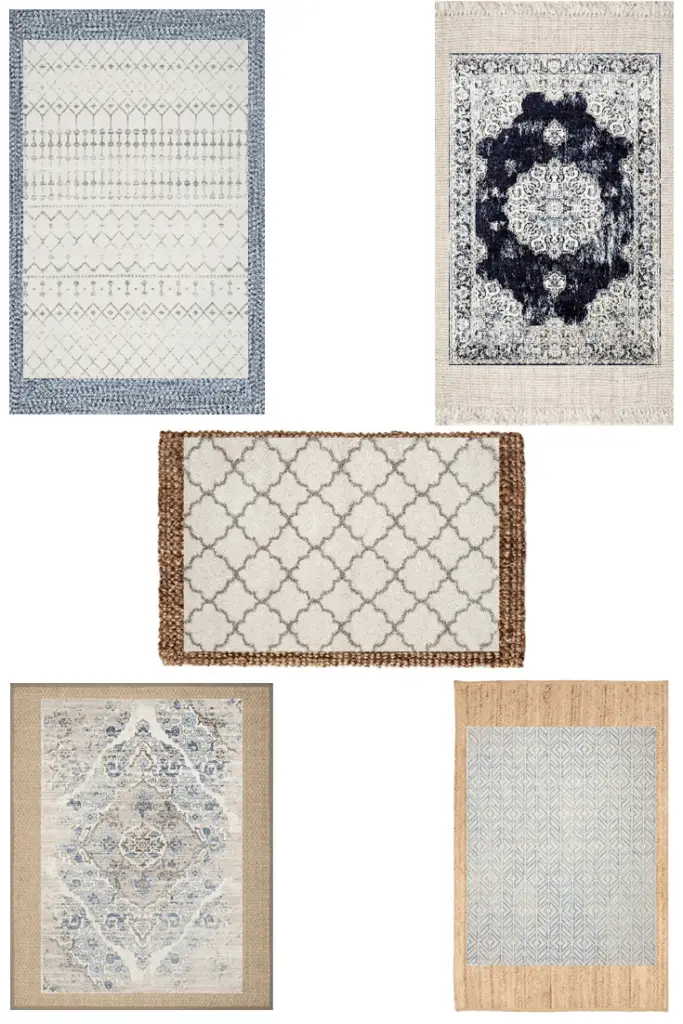 My favorite types of rugs to put underneath are textured rugs like jute, sea grass, or other natural fibers. They are typically woven or braided so it creates that great textured look. I love the different variety you can get in these types of rugs as well.
Some other fun options to layer on bottom are a simple pattern like a stripe or a solid color that compliments the top rug. If you have a thicker rug on top, such as a faux fur, then something light weight and colorful on bottom would be perfect.
The top rug can really be any color, pattern, etc. that you want. With so many options to put underneath you can find tons of combinations that will work for your space.
Let's talk specifically about the 5 I picked. These are all totally my style as I'm really into blues, whites, grays, and natural tones. This combo on the top left has one of my favorite rugs on top. There's a very real possibility that you have seen this rug as well as it seems to be super popular. I love the Moroccan pattern on it and the slightly distressed look it has to it. I went with this darker blue braided rug underneath. I love the little pop of color it brings.
The rug combo in the top right is kind of the opposite. It has the pop of color in this gorgeous navy blue rug paired with a light handwoven jute rug. I really love the tassels this jute rug has as well.
The set in the middle is another popular one. This is another Moroccan style rug with a diamond type of pattern. And it is one I see a lot and in many different stores. I love how fluffy it is. I paired it with a darker jute rug for some great contrast.
In bottom left we have the beautiful Persian style rug. I really love the muted color palette and distressed look of this rug. Underneath I went with this basketweave seagrass rug. I love how it has piping around the outside edges. The piping comes in a bunch of different colors as well so that is cool.
Last up is this combo on the bottom right. I thought the geometric pattern and color of this rug were really fun and different. The bottom rug I liked was this braided jute rug. I liked that it had a little variation in the color throughout the rug.
So there you have it, 5 really great rugs for layering and all on Amazon. Can't get any easier than that. Hope you got some good tips to try this out in your own home. Let me know down below which combo is your favorite! See you next time. ☺