Muted Fall Decor | How to Add A Touch of Color to Your Neutral Decor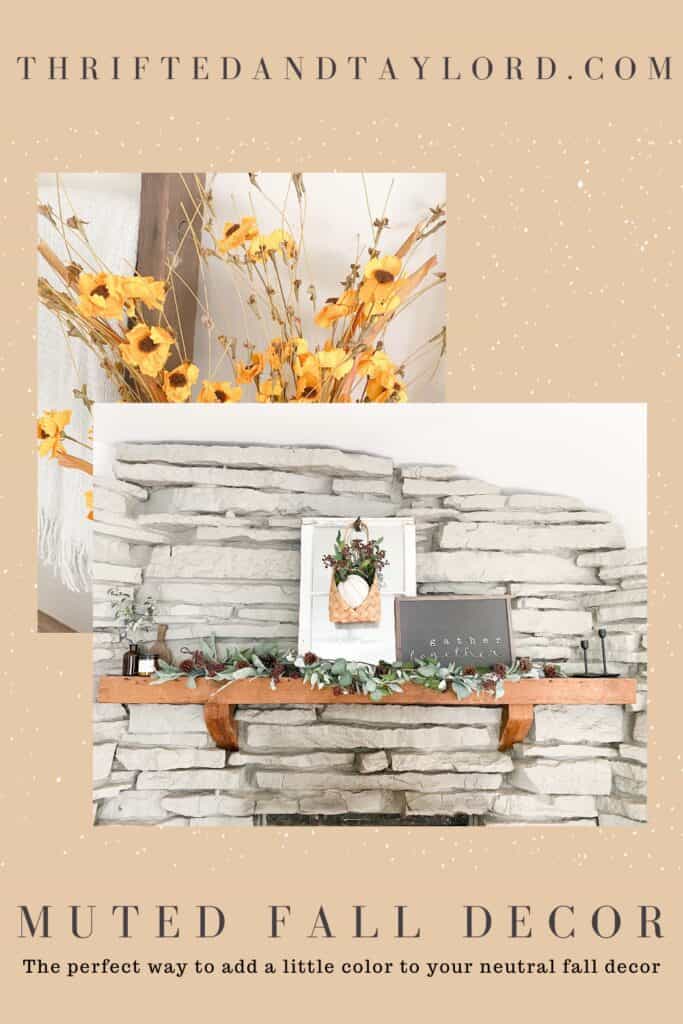 I have been changing and rearranging my fall decor for an embarrassingly long amount of time. So I decided it was time to just leave it be and share it with you! Better a little late than never, right? This year I went for some muted fall decor to add a little bit of color to my otherwise pretty neutral fall decor. Shocking, I know! 
I am a neutral home decor junkie. I just can't stop buying all the things that are neutral. But I love how the green from my garlands and stems and the browns from the wood pieces really pop against all the gray and white stuff.
You can check out my fall decor from last year to see what's changed this year, some stuff has definitely stayed the same because I just loved how I looked! I am all for reusing and not over consuming, so I don't go crazy buying a ton of new stuff every season to switch up my home decor.
I like to buy things I truly love or that have something unique or cool about them, especially if they are antique. I also love finding stuff at the thrift store to DIY and work into my decor. Check out this recent post on some fall DIYs I just did.
Ok, enough chatting, let's check out this muted fall decor!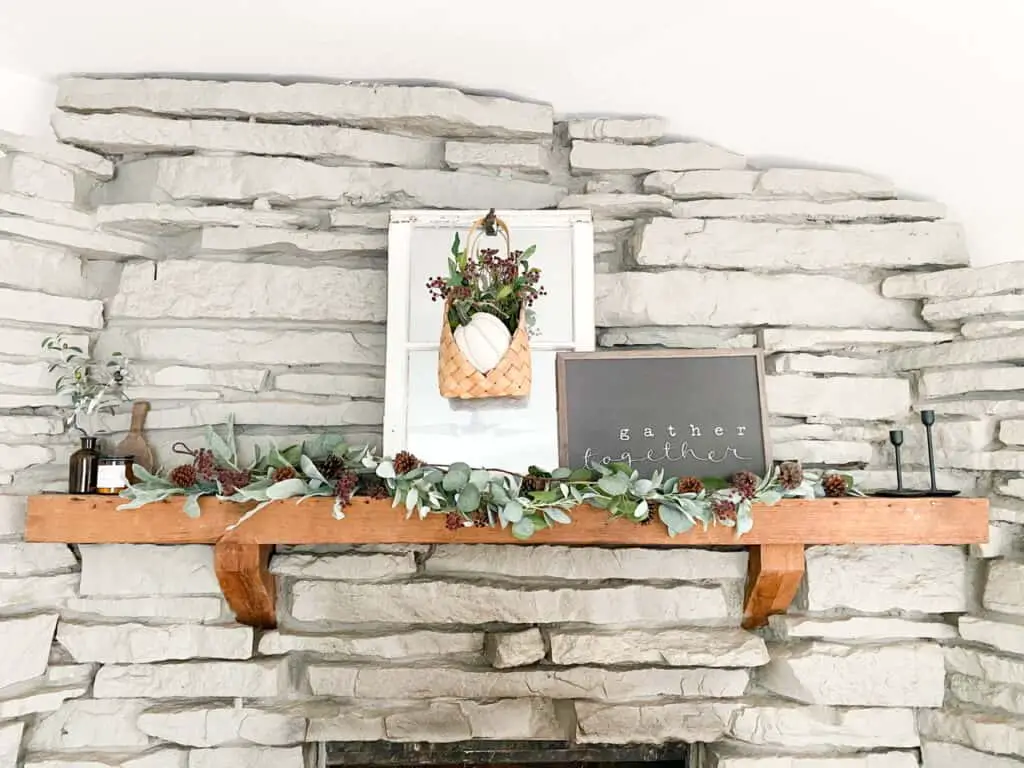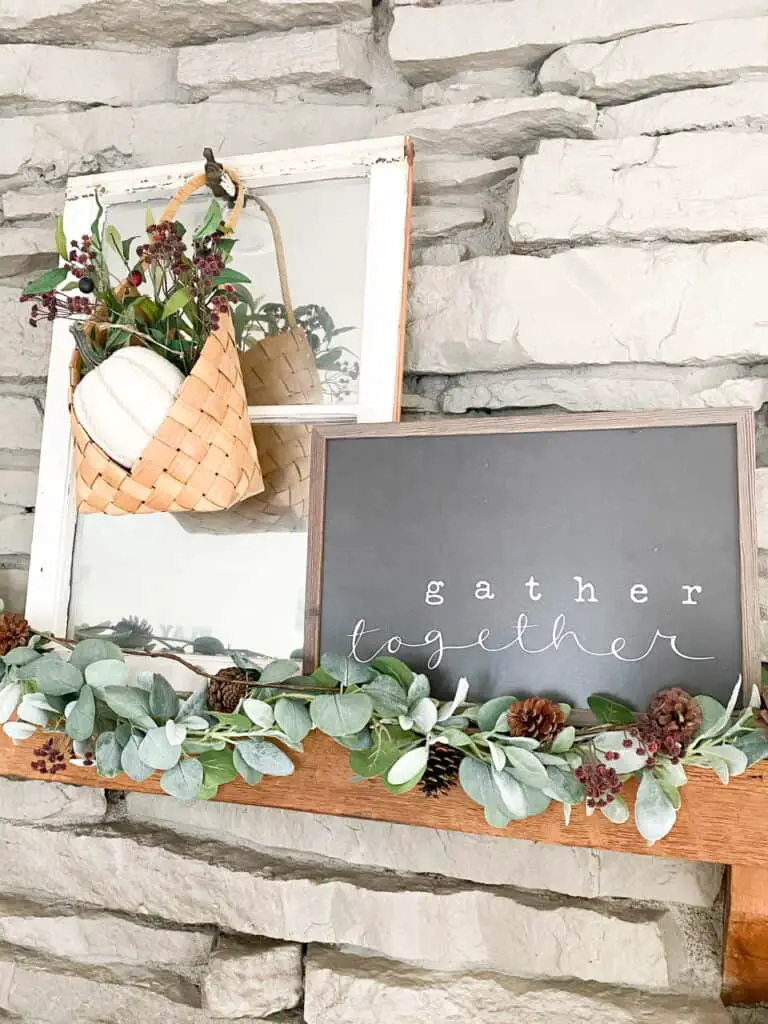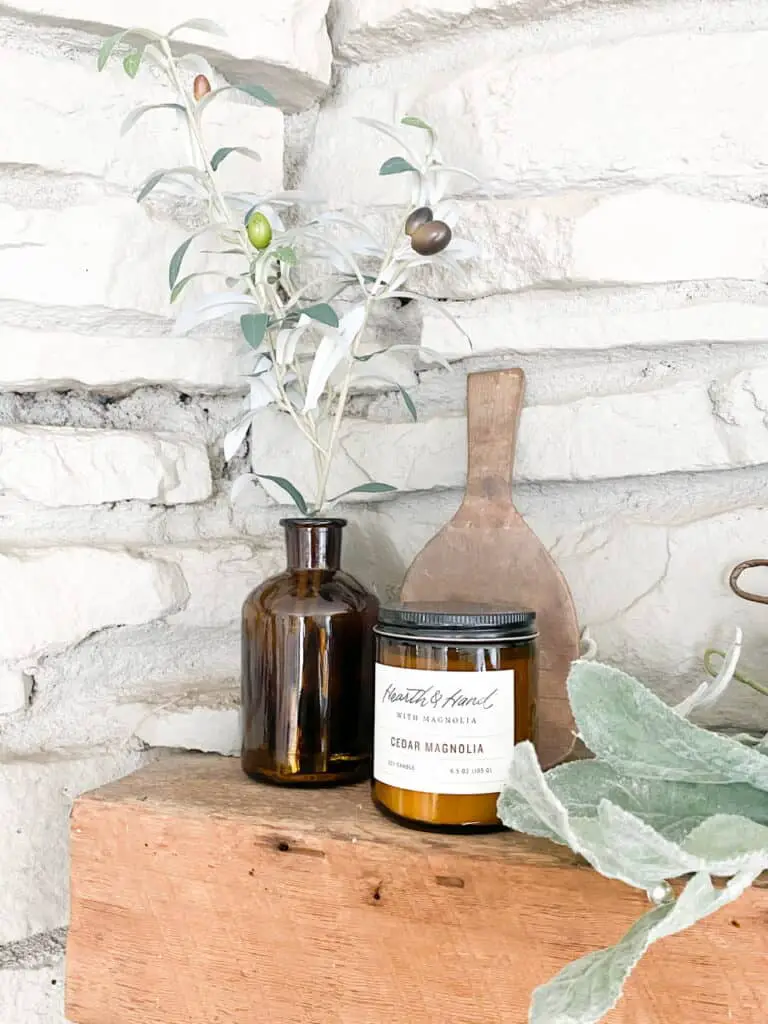 I know I say this every time, but I just love decorating our fireplace. It is just such a beautiful part of our home and it makes this part of our home feel so cozy. 
Starting with the mantel, I kept the same hanging basket from last year, just added a different pumpkin (this was one of the ones I added a real pumpkin stem too, see that post here,) and those little burgundy flower bud stems which I also popped into various spots of my garland.
I added this "gather together" sign, from Hobby Lobby last year, that I just love and think reflects on this time of year so perfectly. 
I also added some amber glass jars (the candle and the olive stem vase,) which were from the Hearth & Hand line last year and this cute little wooden spoon that I got at an antique mall. I have been hunting for some old books to put underneath these to give them a little height, but haven't found them just yet!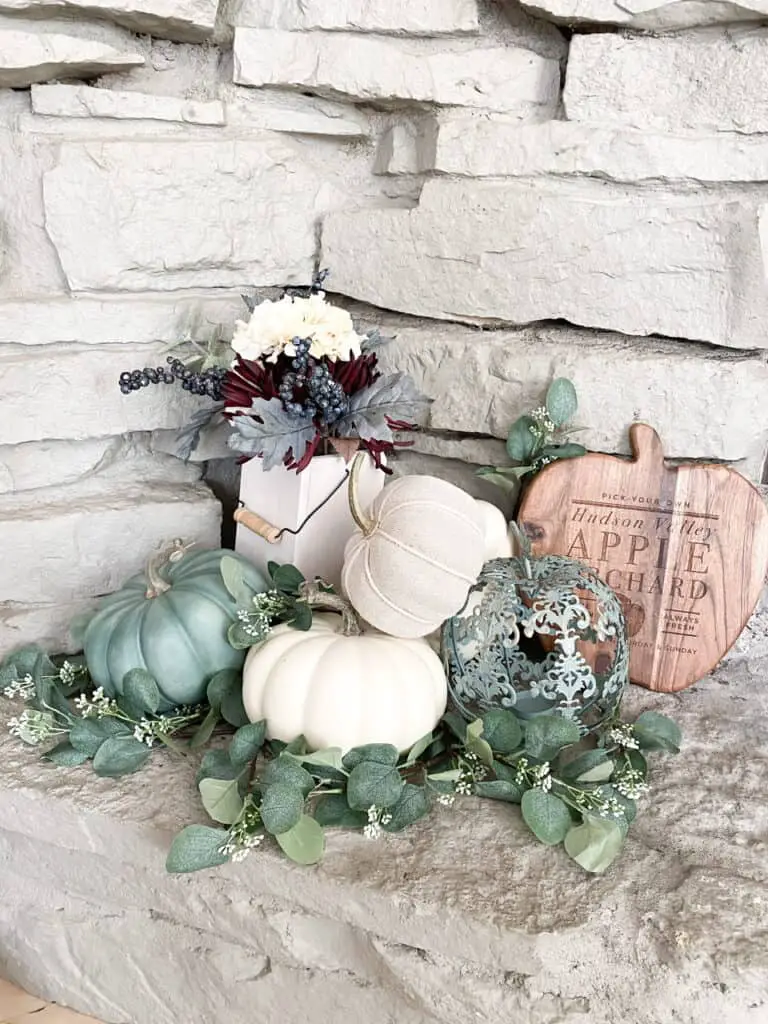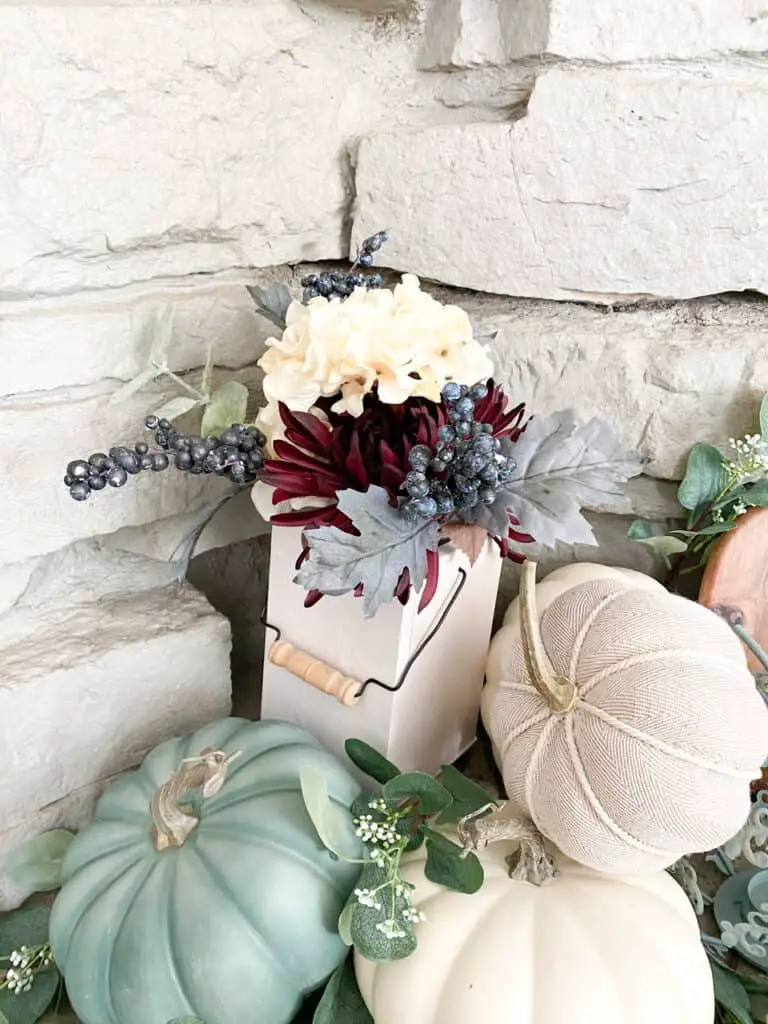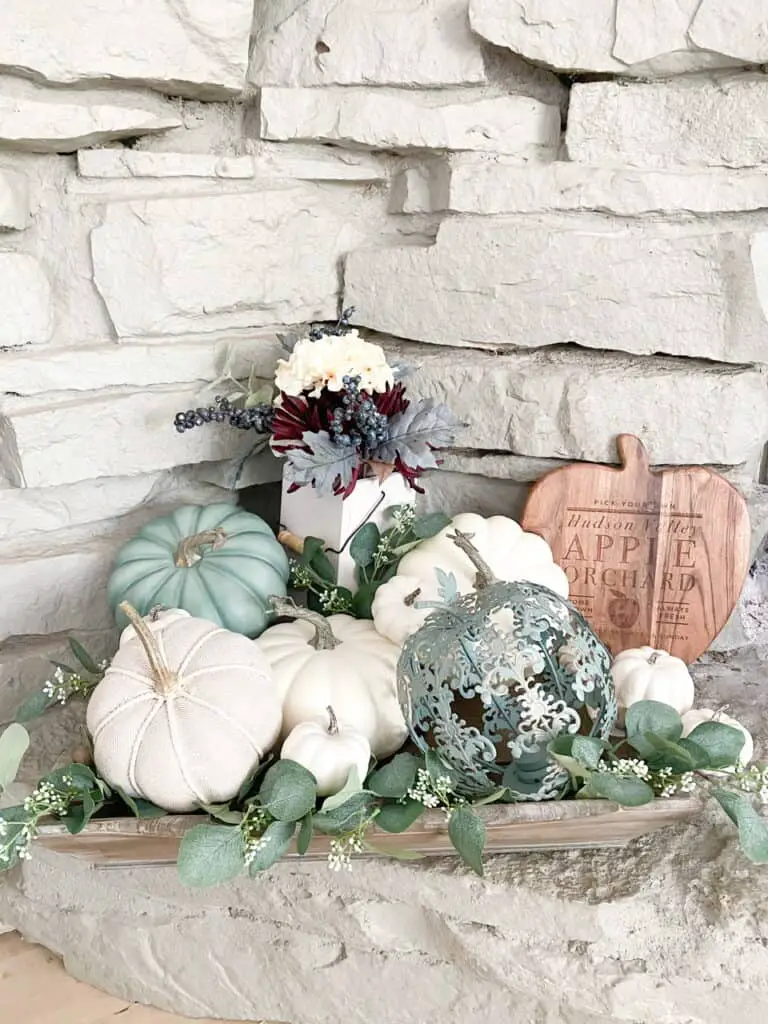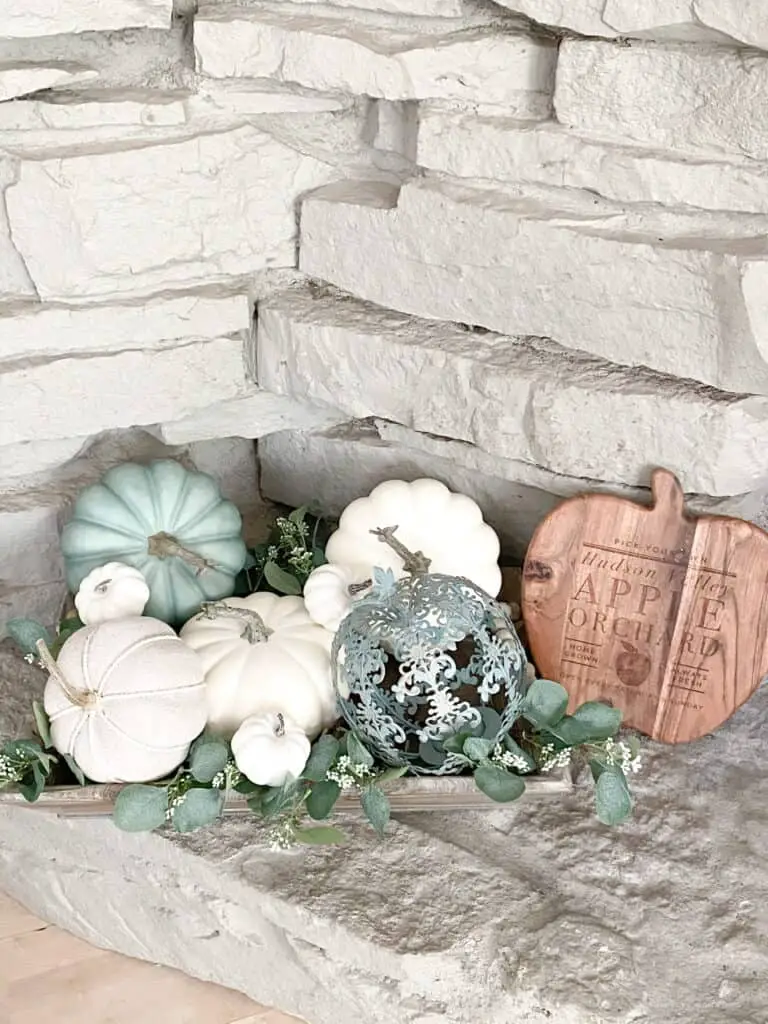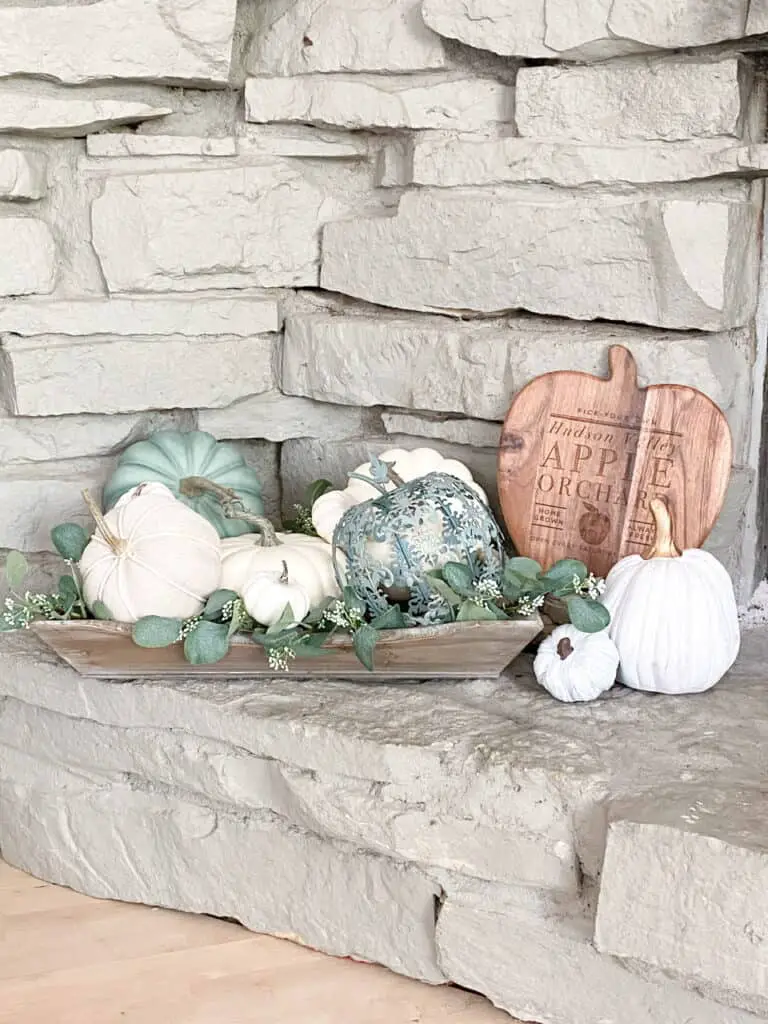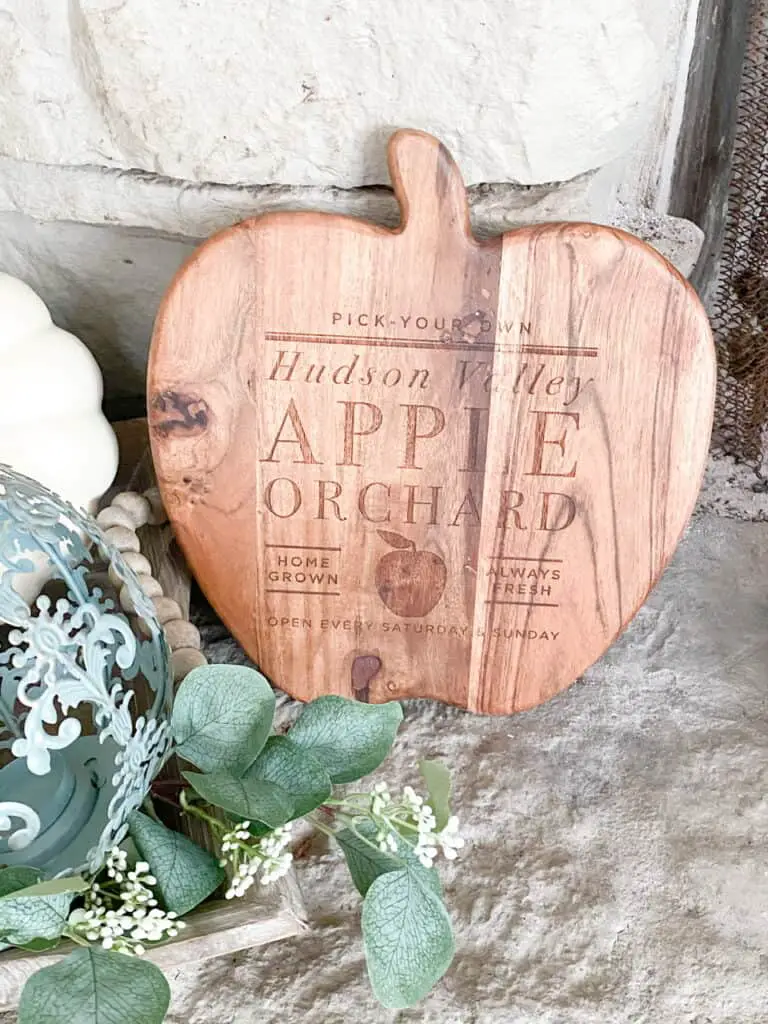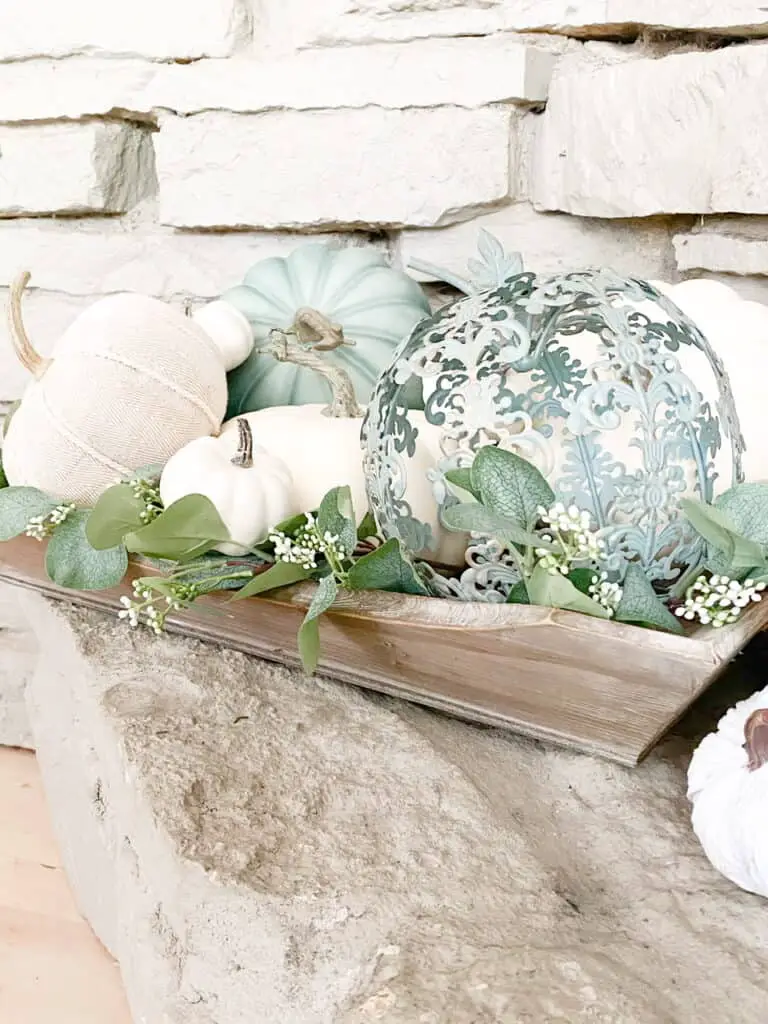 This spot. This is the spot I can't stop messing with. I'm just not satisfied with it. Face palm. This is the process I went through when trying to figure out what I wanted to do here. I thought you might enjoy seeing it. 
I started with all the pumpkins laying in a bed of seeded eucalyptus leaves, this adorable wood apple orchard sign, and this fall bouquet inside this wooden lantern from that fall thrift store DIY post I mentioned earlier. 
Then I thought the pumpkins would be cuter inside something. So I added this wood tray I got for 40% off at Hobby Lobby. 
But then I didn't like the bouquet there. I thought it was too much. So I moved it to another spot in the room. Then I thought it looked like it was missing something, so I added these 2 white pumpkins that had been in the spot where I moved the bouquet and lantern.
And I like it, but I think I need some height behind the pumpkins in the tray. And I love all the different textures of pumpkins in the tray but I might do a light white wash over the green pumpkin (the solid pumpkin not the metal, ornate one) because the green is darker than I want. So this is where I'm at. Haha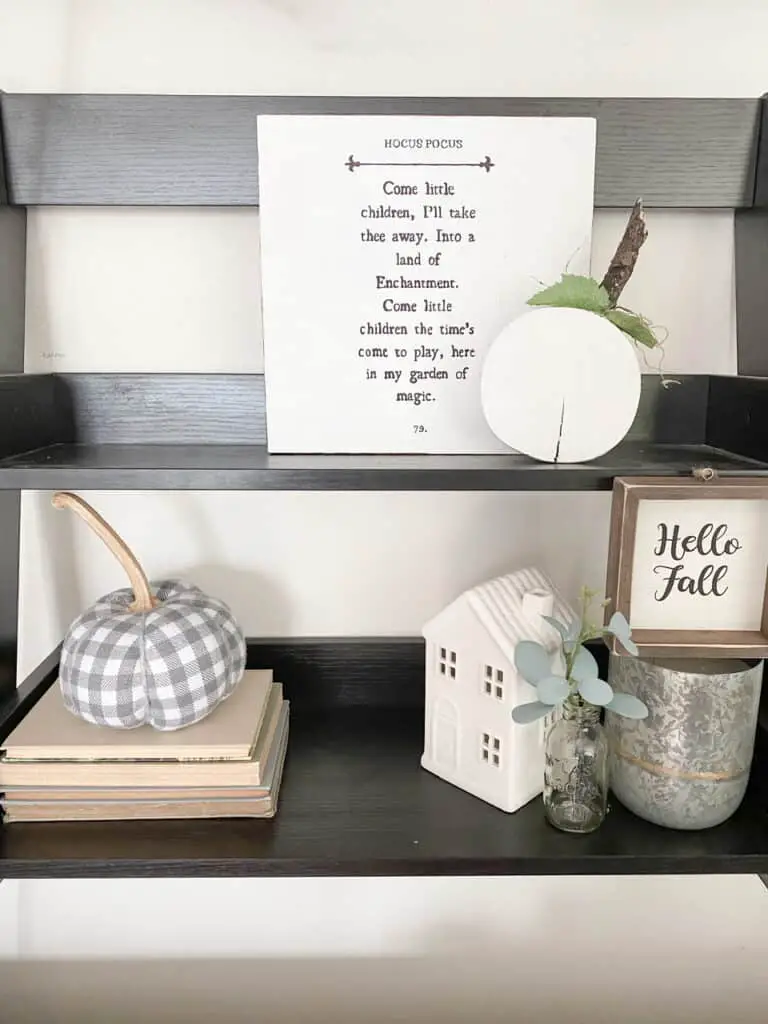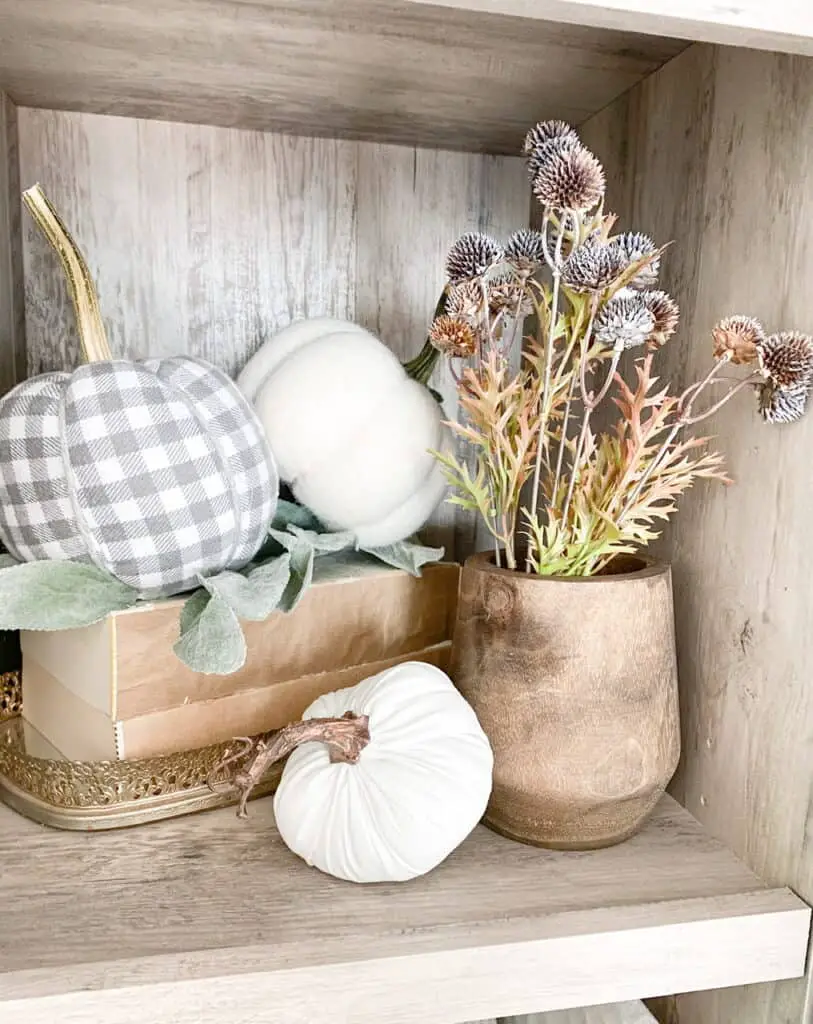 These are a couple little shelves that I have switched out. There isn't really a ton of color, per say, in these. They are definitely more of just some neutral fall decor. I kept them pretty simple, just added a few pumpkins, fall signs, and fall stems. 
The black shelf is on my list of things to eventually replace. I just don't love this shelf. But for now, I'm working with it!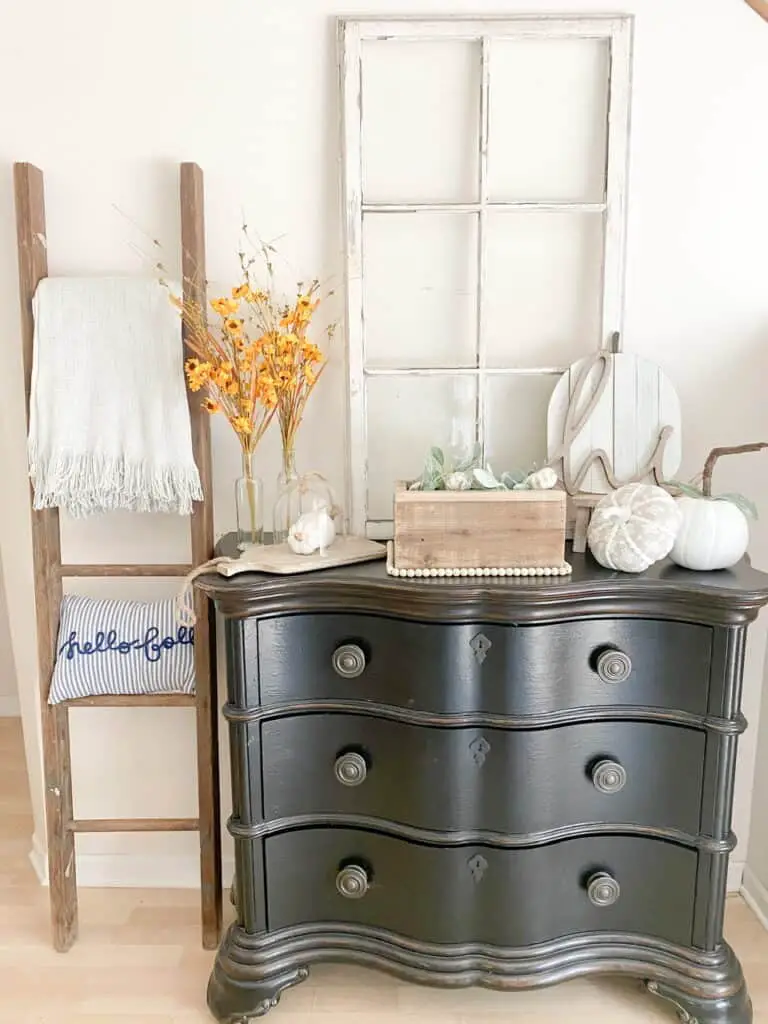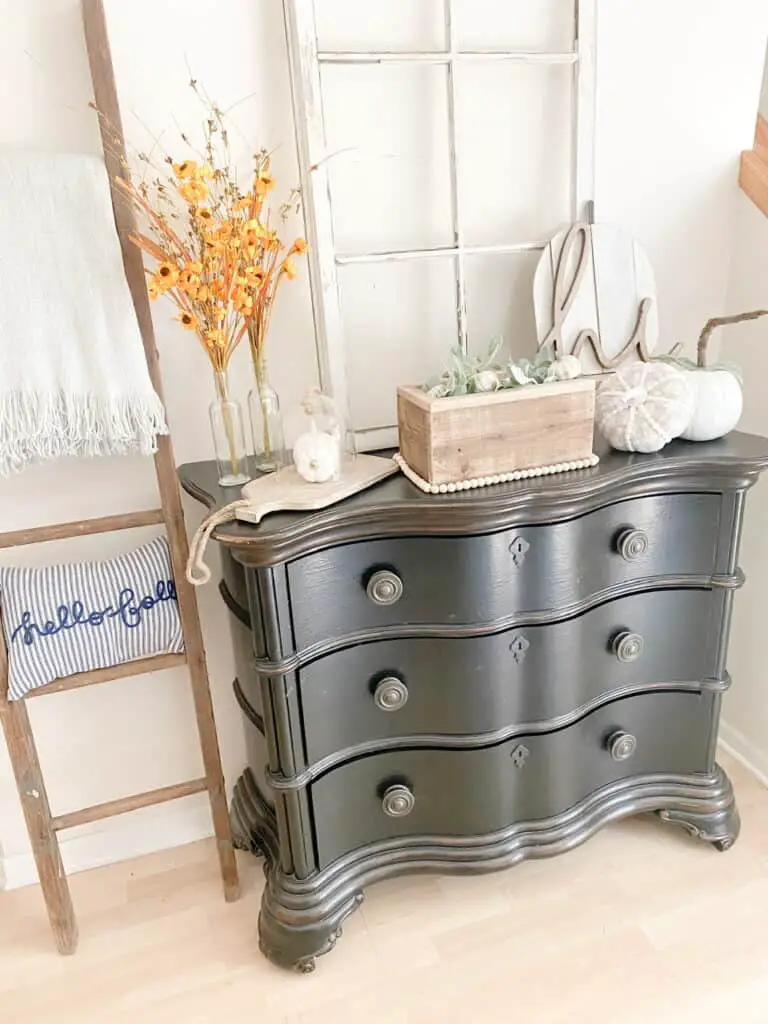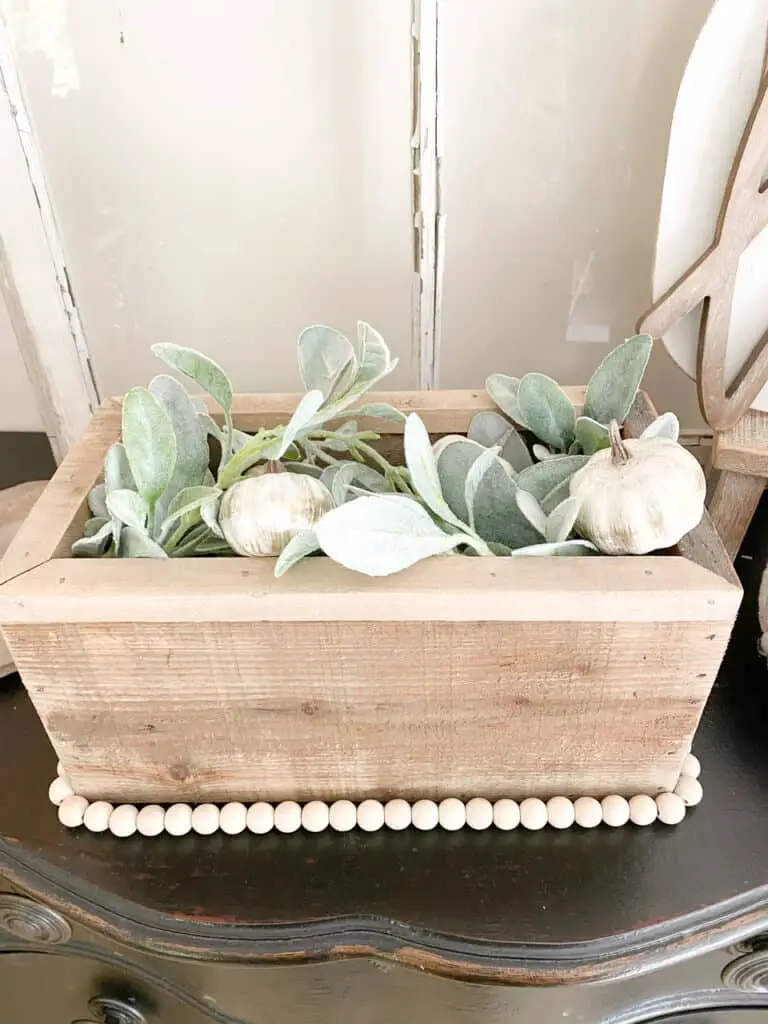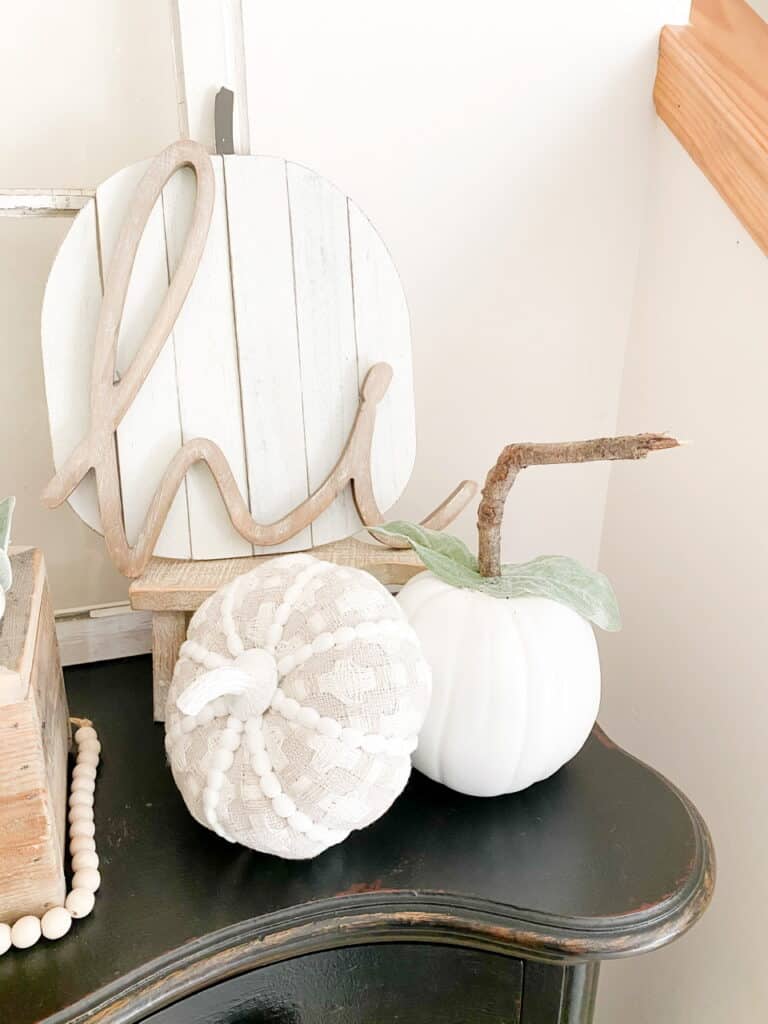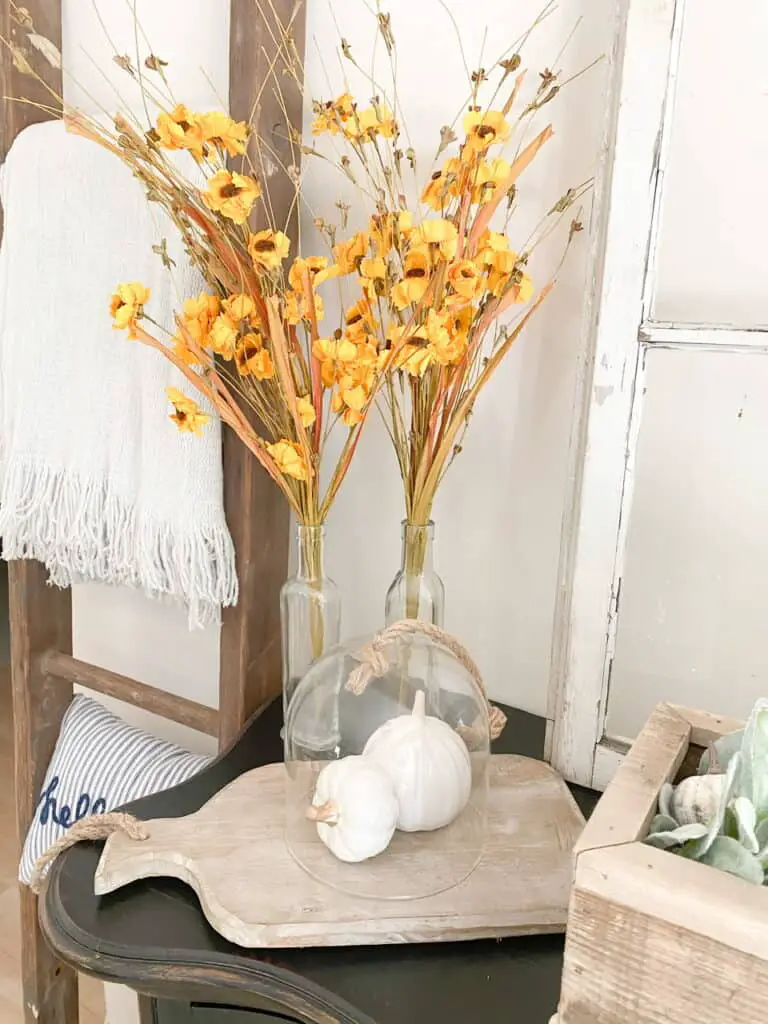 The last area I am sharing is my vintage looking (it's not actually an antique, bummer) dresser which stands in our front entryway. If you're not new here, you have seen this many times before. It is my second favorite spot to decorate. 
I really wanted to add some yellow in here so I found these really pretty muted yellow flowers that I'm pretty sure are paper, but man do they feel like real dried flowers. I got these from Hobby Lobby. They are sitting in some old glass bottles that I like to use as vases.
I added that little navy blue striped "hello fall" pillow to my antique ladder (that one really is old!) for another little pop of color. 
I added some mini white pumpkins to this wood box I already had on there. It reminds me of a little pumpkin patch. I decided to add this little wood bead garland around the box to act as like a little trim, just to try something new. 
Then I added some little white pumpkins under that glass cloche and this really cool gray and white patterned pumpkin from Hobby Lobby along side my DIY pumpkin from that same post I mentioned earlier. 
Behind those I reused this cute white wood pumpkin sign with the wooden "hi" in front from last year because I just love how they look together. I propped them up on this little wooden stool (I think it's supposed to be a plant stand) for some extra height.
I like to add little mini touches of fall in other areas of our home that I didn't include in this post. I just wanted to share my main spots to give you some ideas how you can use muted fall decor to add some pops of color to your otherwise neutral decor. It doesn't have to be bright fall colors to give you that fall feeling.
Check out what I have been loving on Pinterest for all things fall decor! Feel free to share your favorite fall colors to decorate with in the comments below or find me on social media (click below) and we can chat there! See you next time.