Trendy Casual Thanksgiving Outfits | Style and Comfort At The Same Time
Anyone else feel like time is melting away? Like Halloween has come and gone and now here we are in November with Thanksgiving fast approaching. Things will be different this year but I think the holidays are just what we need to bring some cheer to 2020. Since Thanksgiving will be a much smaller and more casual event this year, I put together 5 casual Thanksgiving outfits that will be comfortable to wear while still being stylish. 
Because even if it is just you and a small gathering of your immediate family members, why not look and feel cute? 
These outfits are made up of items that are usually pretty easy to find second hand so if you're looking to go that route then use these as inspiration while shopping. If you happen to fall in love with something you see, click the images in the sliders to shop!
Let's check out these stylish and casual outfits.
Casual Thanksgiving Outfits That are Stylish AND Comfortable
This post contains affiliate links for which I earn a small commission at no extra cost to you, should you purchase through them. Learn More.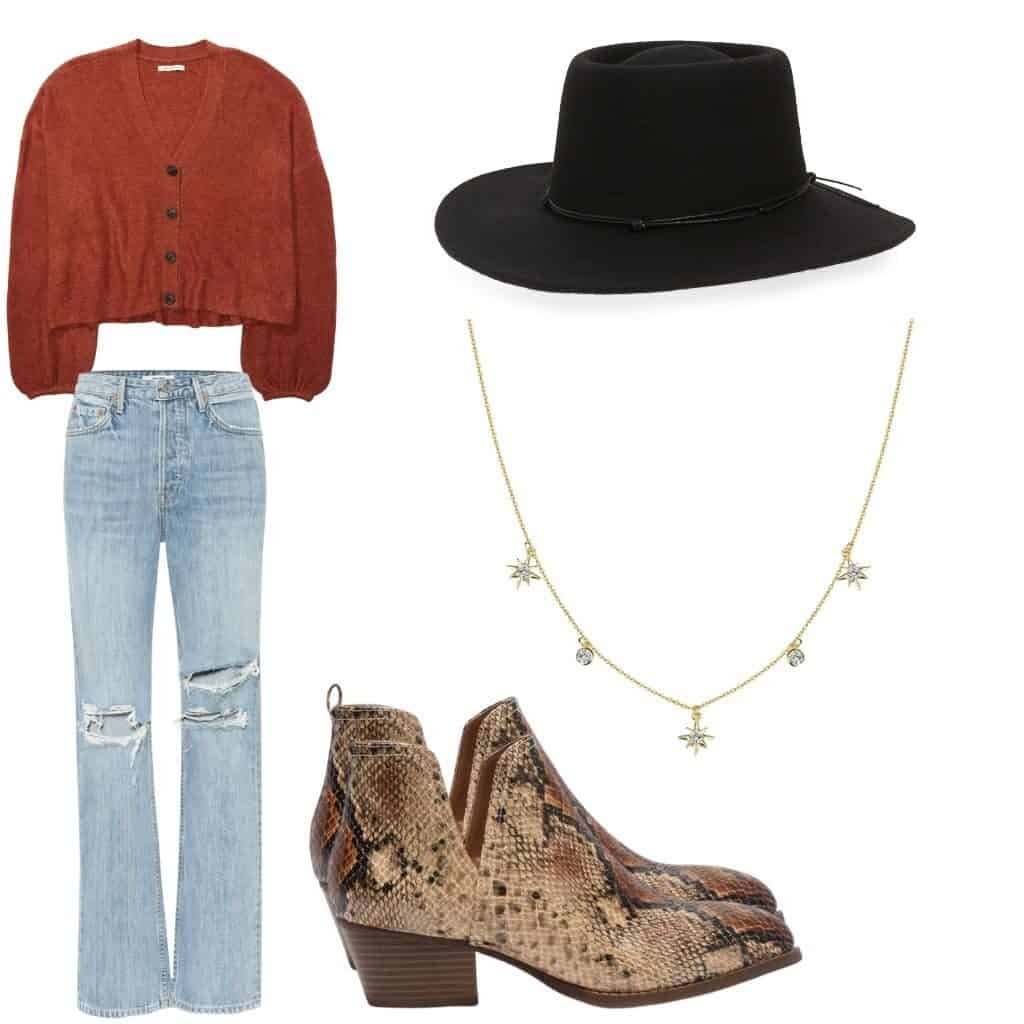 Starting off with a classic, sweater and jeans. You can try switching it up by trying a trendier style of jeans like these high rise straight leg ones and pair them with a trendy sweater like this cropped cardigan that you can wear closed as a top.
I love adding a hat to add more style to an otherwise basic outfit. I am all for delicate necklaces like this star one. It fills in that space on your décolletage perfectly. For a fun pop of print, I love these cool snakeskin boots with this outfit.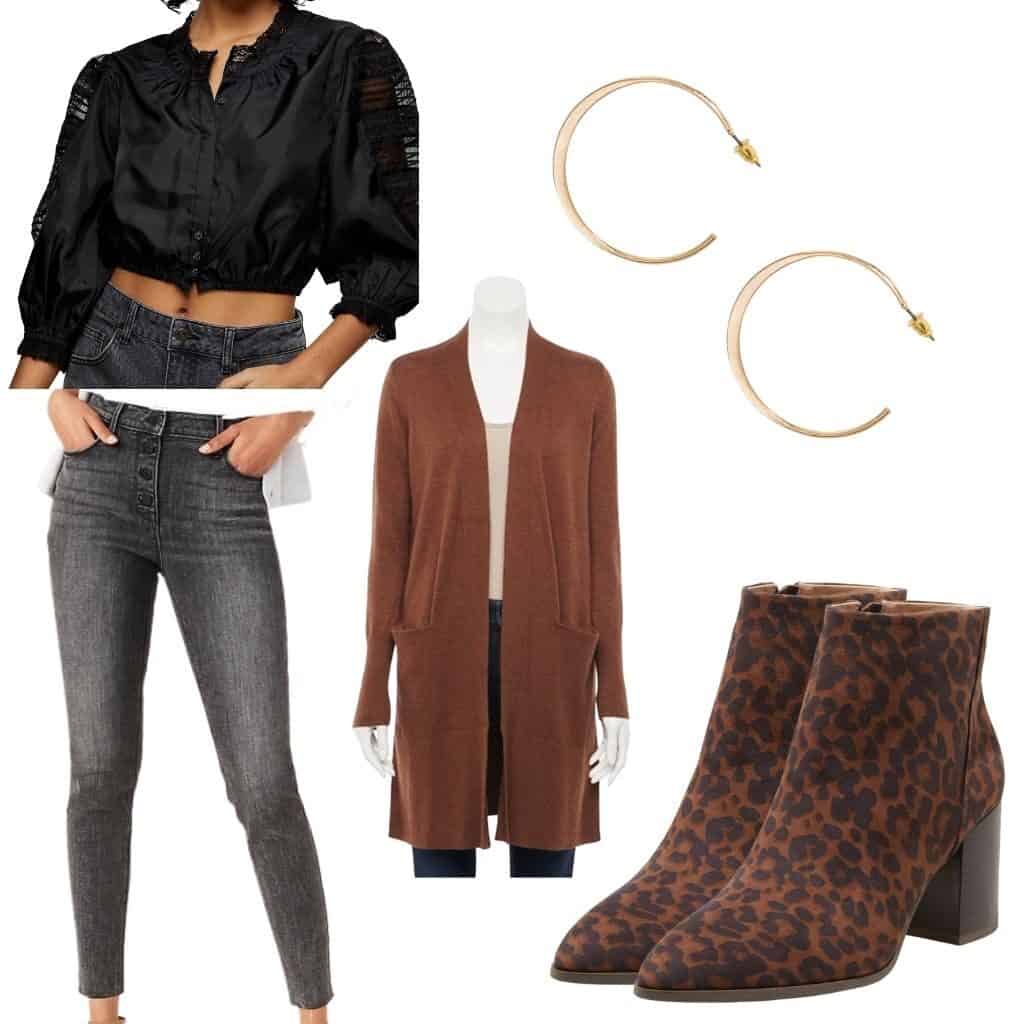 Outfits like this next one are a favorite of mine. Especially for things like this. It's casual with a duster cardigan and some cool faded black jeans (love the button fly on these) but by adding in a pretty, feminine blouse, it adds a ton of style.  
I really love the sleeves on this blouse so if you happen to live where it doesn't get too cold around Thanksgiving, you could just wear the blouse on its own. Maybe bring the cardigan with for when it gets chillier at night.
To accessorize, I would do some simple gold hoops and then add in a little more style with some leopard print boots.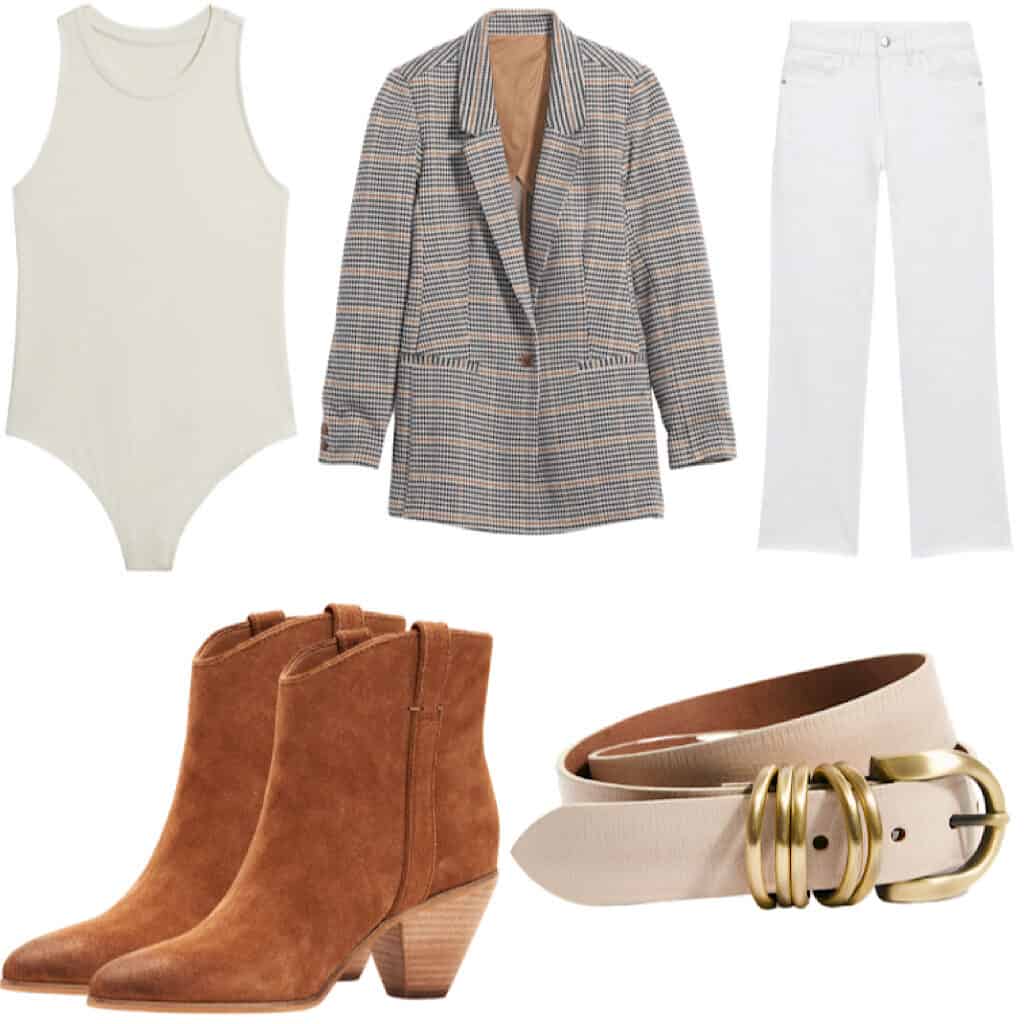 This third thanksgiving outfit is full of style! I love how this one came together. Go for a slightly tonal look by pairing a cream bodysuit with some trendy, white straight leg jeans. Add an amazing plaid blazer on top for a super sophisticated yet still casual outfit. (Check out another great outfit option for a plaid blazer in my thrifting fall basics post!) 
To accessorize, I love adding in another cream tone with this awesome belt. Keep the boots a little more simple to compliment the outfit without outshining it.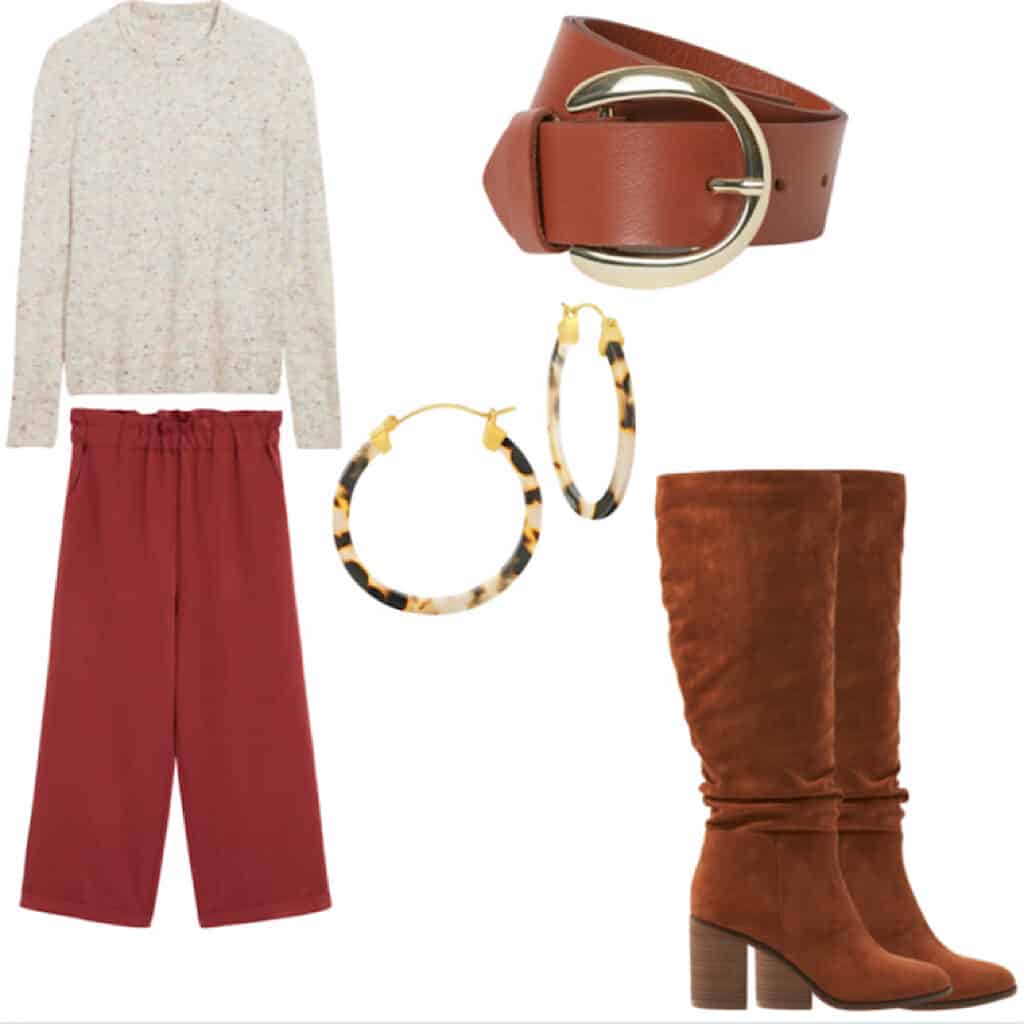 To accessorize, I love adding in another cream tone with this awesome belt. Keep the boots a little more simple to compliment the outfit without outshining it.
The next outfit, I would say, is the most trendy of them all. But again, remains super comfortable and casual. I paired this great sweater with like rainbow sprinkles basically with these cropped wide leg casual trousers. 
Pairing some slouchy boots with this length bottom is super on trend this season. I also love adding a belt to these trousers to define the waist a little more. You can do a little front tuck with the sweater. And lastly, I thought these great tortoiseshell hoops were just the perfect finishing touch.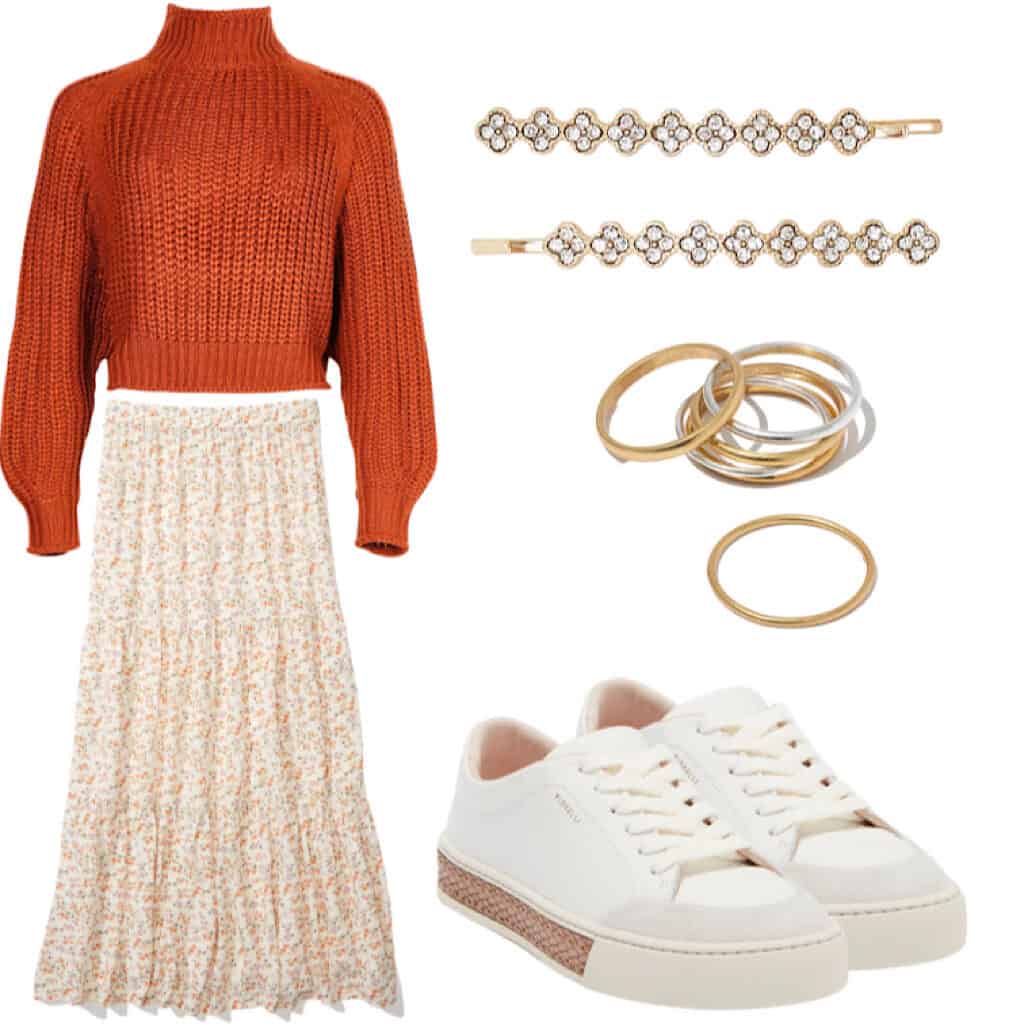 Last up is this feminine, casual look that is another favorite of mine. I just love pairing sweaters and skirts. This cropped orange sweater goes perfectly with this sweet floral midi skirt. 
For a little tip, if you have a sweater you want to wear with a skirt or over a dress but it's too long, try putting a belt over the sweater at the place you'd like your sweater to hit and then pull the sweater over top of the belt slightly to cover the belt and the bottom of the sweater to give it more of a cropped look. (See this post on ways to repurpose your clothes for a visual on this.) 
Keep this outfit ultra casual by pairing it with some sneakers. I like that these are still pretty feminine and not super athletic. Some simple feminine accessories like these stacking rings and these adorable hair clips are the perfect way to finish off this look. 
Those are the casual Thanksgiving outfits I came up with. Which one is your favorite? Feel free to check out what I've been pinning lately for even more outfit inspiration.
What are your plans for Thanksgiving this year? Let's chat down in the comments or find me on social media by clicking the buttons below! See you next time.