New Year's Eve Outfit Inspiration
How was your Christmas? We had a wonderful getaway to Mexico just a few days before Christmas. But let me tell you, traveling right before the holidays is kind of stressful! I had to make sure all my shopping and (most of) my wrapping was done before we left. On top of that there's all the outfit planning and packing that had to be done. It was a lot! But it was well worth it. We definitely enjoyed ourselves.
Christmas was lovely as well. It is my very favorite holiday to celebrate and this year was especially fun because Jax was able to participate more and he really enjoyed himself. There's something about watching kiddos on Christmas that just warms the cockles of my heart. Yes, every last cockle.
I always forget how fast New Year's sneaks up after Christmas is over. You go through all the hustle and bustle of Christmas Eve and Christmas and you forget that New Year's Eve is like not even a week later. So I went ahead and put together 4 adorable outfits to inspire you for this New Year's Eve celebration. I also included links in case something catches your eye and you wanted to pick it up. Let's check them out!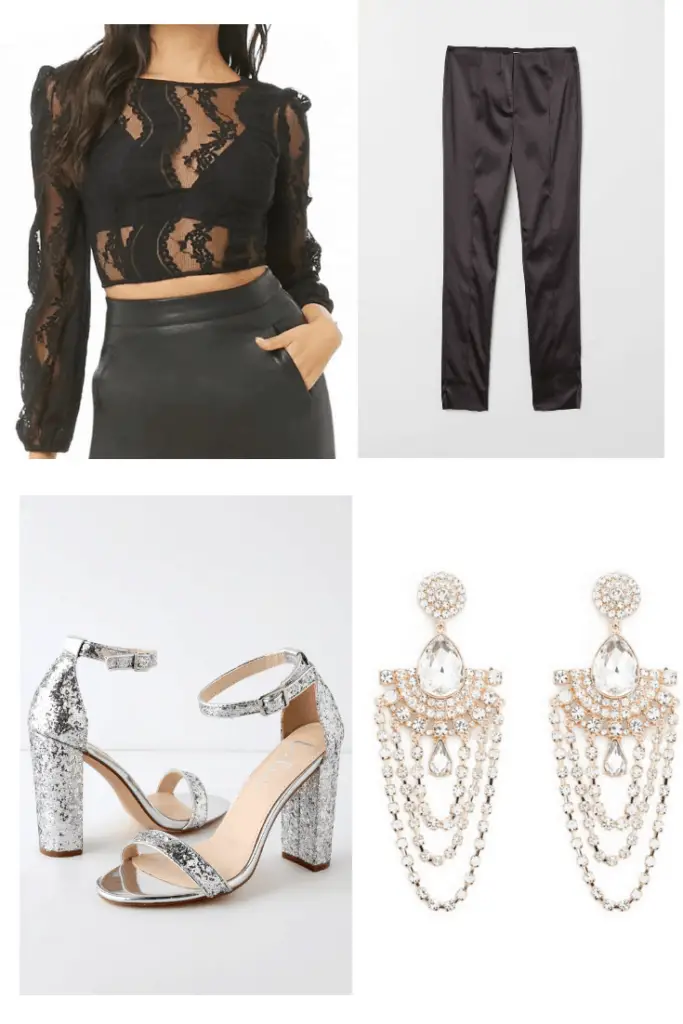 This first look is for you all black lovers out there. (I'm totally one of you!) I love that this lace crop top is sheer, toss a bralette under it and it is perfectly sexy. That, paired with these satin trousers  makes one amazing look. I think some big ole chandelier earrings would be bomb with this. And you can finish off this look with some gorgeous sparkly heels.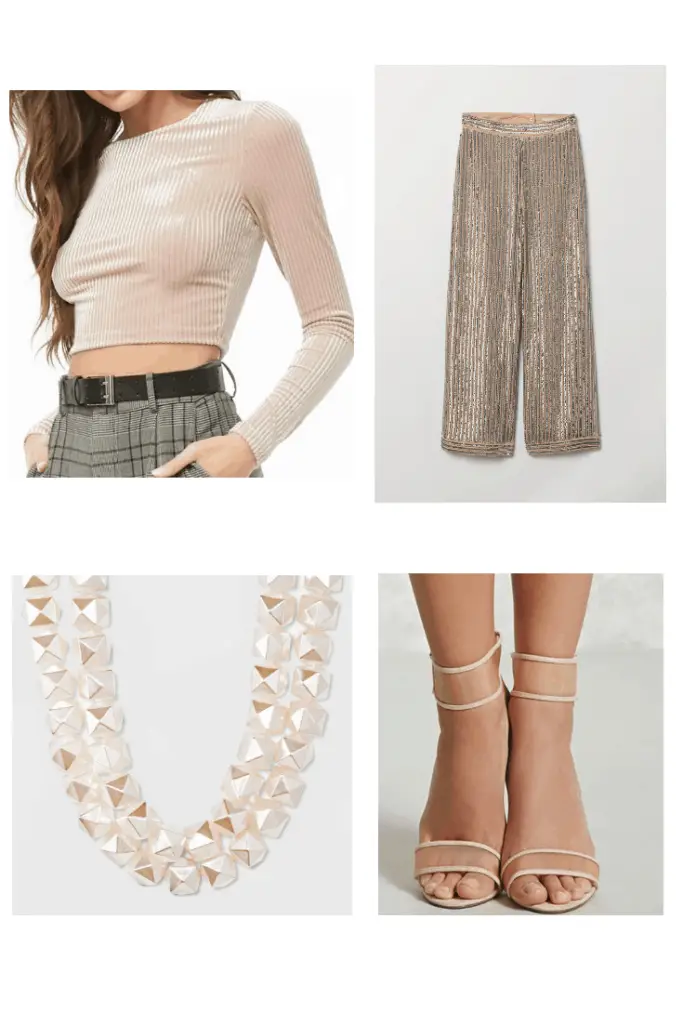 Next up I found these amazing sequin pants which I'm in love with. I kept this look kind of monochromatic by paring a similar color velvet top with it. Even the accessories go along with this one color scheme, this chunky necklace is really cool and I love these mesh nude heels.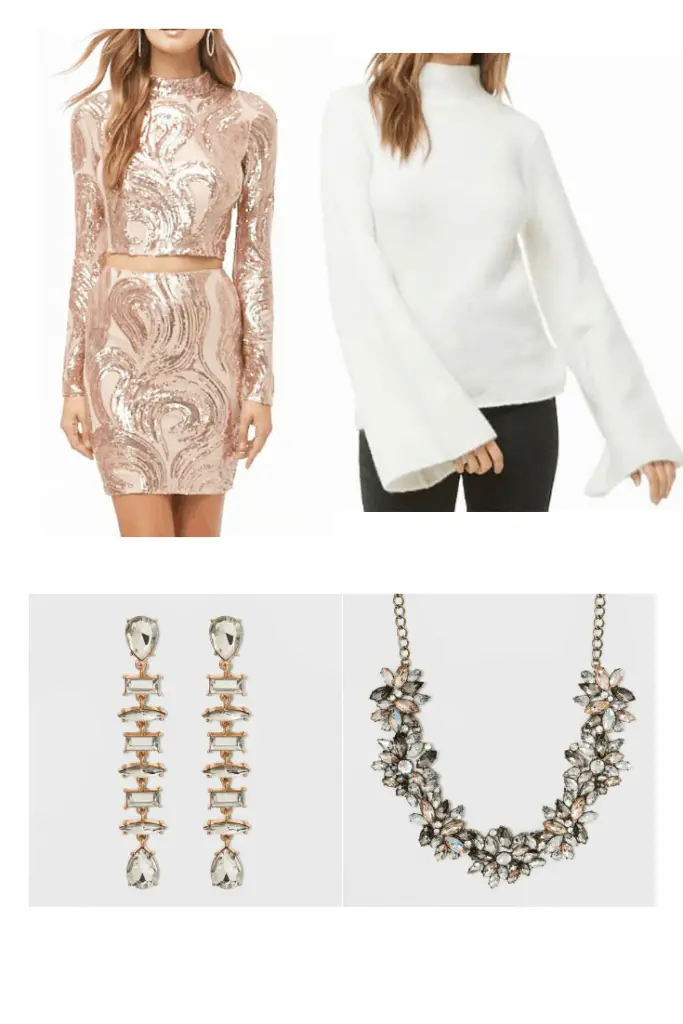 This next outfit you can wear as a 2 piece set as shown but I love the idea of pairing the skirt with a warm sweater, just tuck the front into the skirt. I love the bell sleeves on this one. I went with this beautiful crystal necklace and these crystal drop earrings to bring some sparkle to the sweater.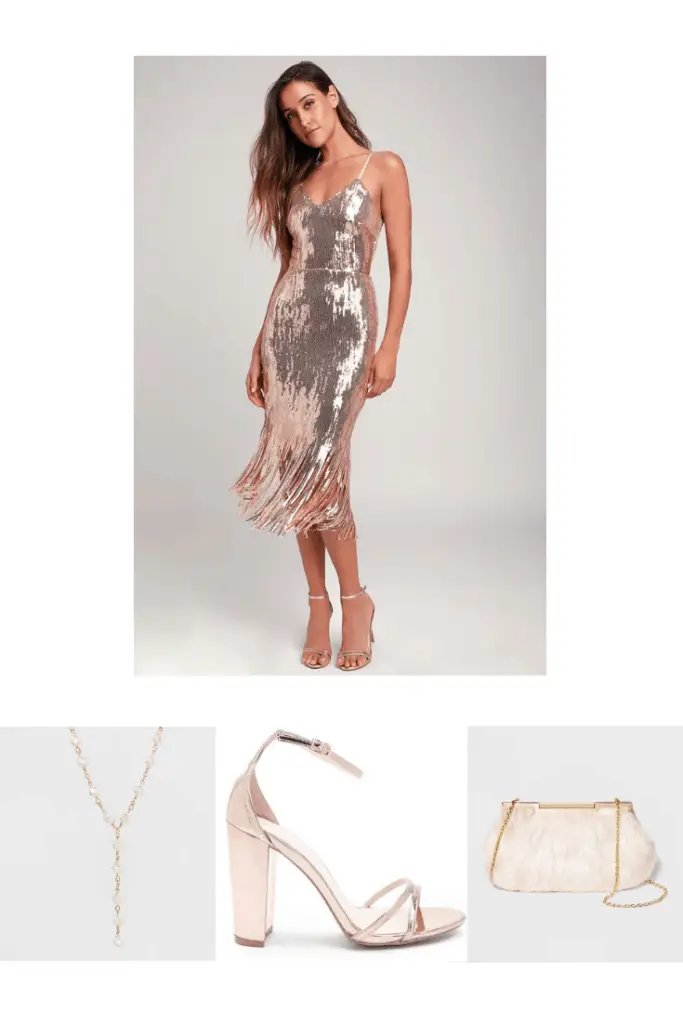 Last but certainly not least is this totally gorgeous rose gold dress. I love that it is sequin and tassels all in one, so fun for dancing! I found this really pretty and simple gold and pearl y-shaped necklace which will pair perfectly with this dress. I love this little faux fur clutch so much! I actually thrifted one very similar to it. And finally I put these metallic heels as the finishing touch.
I hope you have a wonderful New Year's, let me know what your plans are in the comments below! See you next time. ☺