Thrifted Winter Outfits That Are Oh So Cozy and Mega Comfortable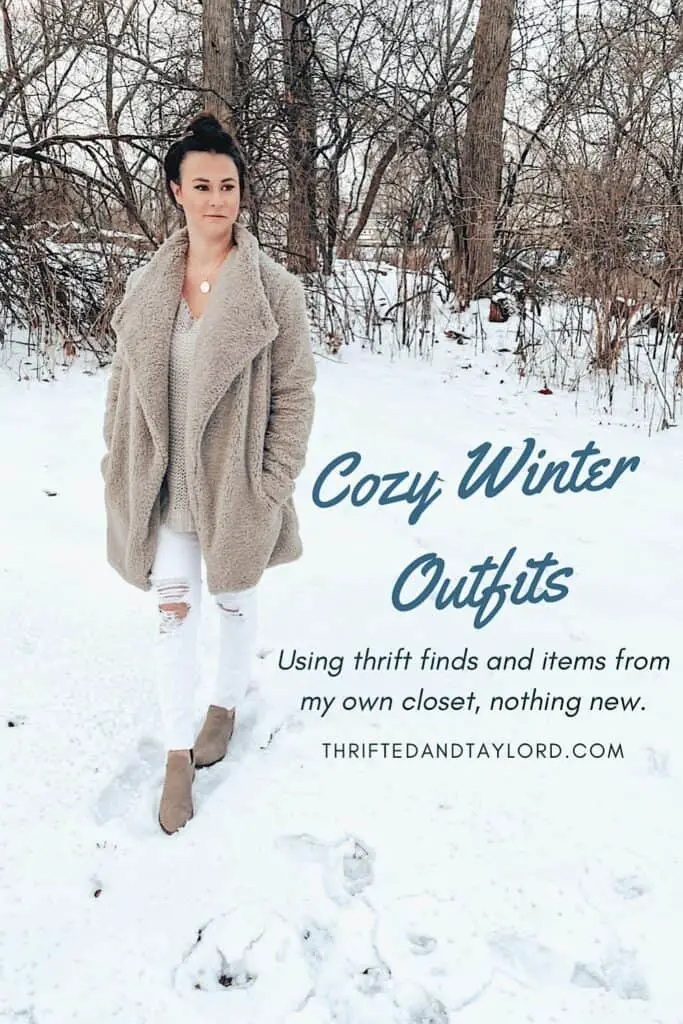 We are deep in the heart of winter up here in Illinois and I have been all about layers and comfort. So I put together 4 thrifted winter outfits to give you some inspiration for your own closet. 
These outfits are all made up of items I have thrifted or items I pulled from my closet. Nothing is new. I want to show you how easy it is to dress the way you want without spending tons of money (and without supporting fast fashion if that is something you feel passionate about.) 
If you saw last week's post on why I decided to shop second hand first, then you already know my commitment to consume less and to not support the fast fashion industry as much as possible. So I am hoping to take you along on my journey doing so, and sharing how I go about buying things I want/need and how I am still fully able to find the clothes I want to wear. That includes wearing (and rewearing!) the clothing in my own closet too. 
You might even recognize some of the pieces I'm wearing in this post, from previous posts. I have no shame in my rewearing game!
Let's talk about winter fashion. Because for me, where I live, it can be challenging. It gets very cold and is often snowy/slushy/wet. So that requires heavy outerwear and very often snow boots. But when I have somewhere to go (obviously not in this current time but pre/post pandemic) I don't always want to wear my big ole snow boots.
If I know I will be inside and will have little to no snow to trek through, I reach for some of my other types of boots which is what I'm sharing today. I also have a few warm coats other than my usual go to puffer winter jacket, so I used a couple of those in this post too.
Alright, let's get into these cozy thrifted winter outfits!
This post contains an affiliate link for which I earn a small commission at no extra cost to you, should you purchase through it. Learn More.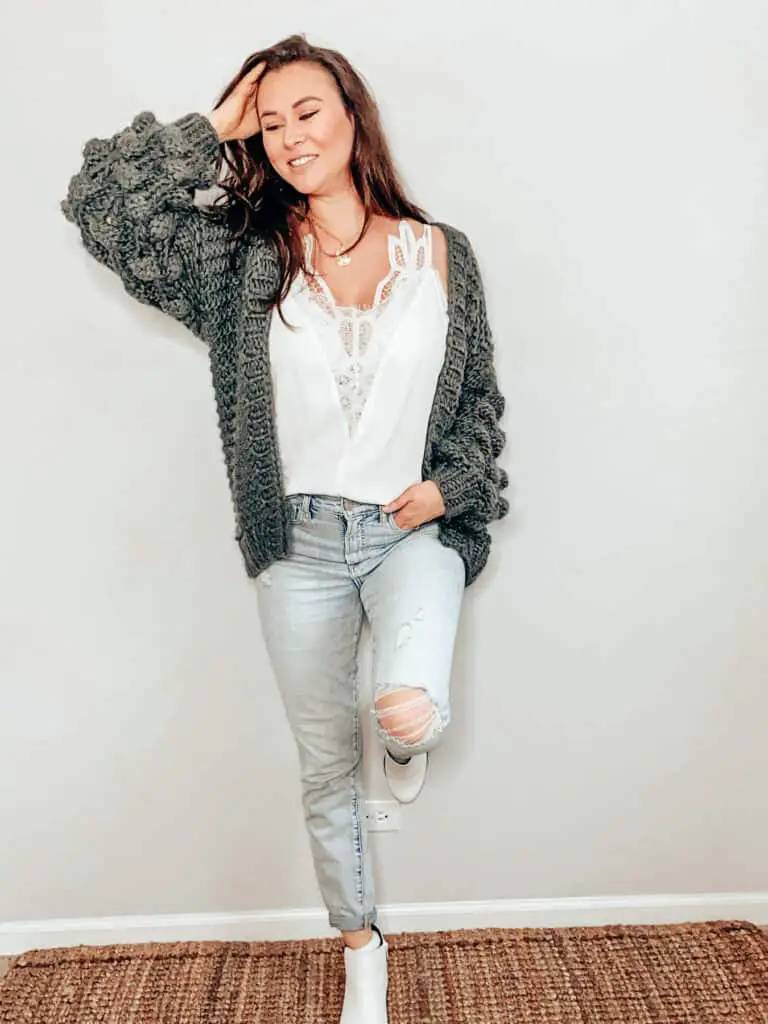 I'm all for layering up during these cold months so big chunky cardigans like this one are a necessity. I like pairing pretty, feminine tops like this white one, which is a thrift find I've had for several years, with big chunky cardigans. It is perfect for those days I want to wear something other than a t-shirt and jeans.
I went with one of my go to jeans, these high rise jeans are from Gap and although these ones are not actually thrifted, I have found several pairs of Gap jeans (they no longer fit, sadly) through the years I've spent thrifting. Gap and Levi's both fit me so well so I love finding them second hand. 
If there isn't snow I might even go with some sneakers for this outfit but since this is a cold, winter weather post I decided on these white faux snakeskin ankle boots. And yes, if you spotted them, those are in fact some mega warm, white fluffy socks that are peeking their way out of these boots. Because otherwise my feet would freeze. Just keeping it real here.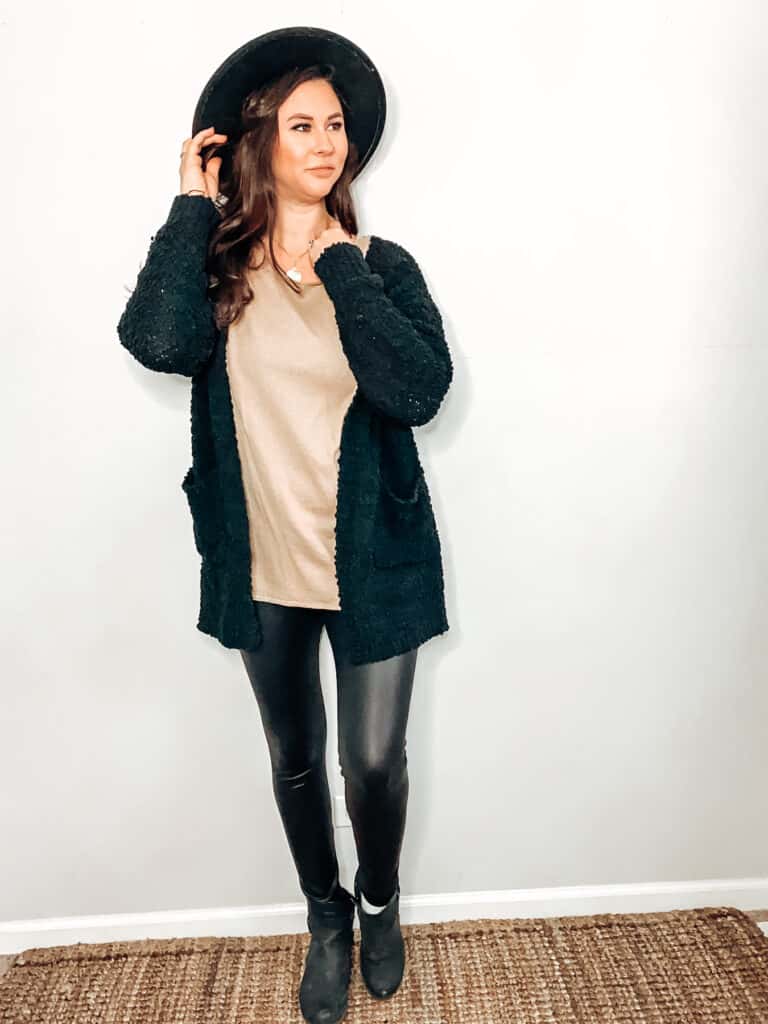 Next outfit is great for lounging around the house or if you need to head out of the house. To, you know, like run errands or something. Because that's about the extent of our activities these days.
But pretending we are back in a more "normal" world, this is ideal for a winter day or night out to some indoor activity. Obviously, you will have some form of outwear on while you are actually outside. But this is the outfit for underneath your winter coat. You get it.
This tan sweater is a cashmere blend Gap sweater I thrifted a while back, I love wearing this color with all black. So I paired it with this textured knit cardigan and these black faux leather leggings. Those leggings I have actually had for almost 10 years! Still going strong. I love the texture they add. 
To accessorize, I went with this wide brim black hat and some black ankle boots that have some straps and stud detailing on the back (which I now realize you can't even see… *expert blogger here*) I like how they toughen up the outfit a bit. 
I wore the same necklace for this whole post, it was actually a Christmas present from my hubby. It's this one from Uncommon James, which if you don't know, is Kristin Cavallari's brand. (Yes, I'm a K Cav fan, she is one heck of a boss B. I admire her work ethic.)
And yes, again, you might notice the socks. In all reality I would opt for black instead but clearly I couldn't be bothered to change them for this photo. Again, just keeping it real here.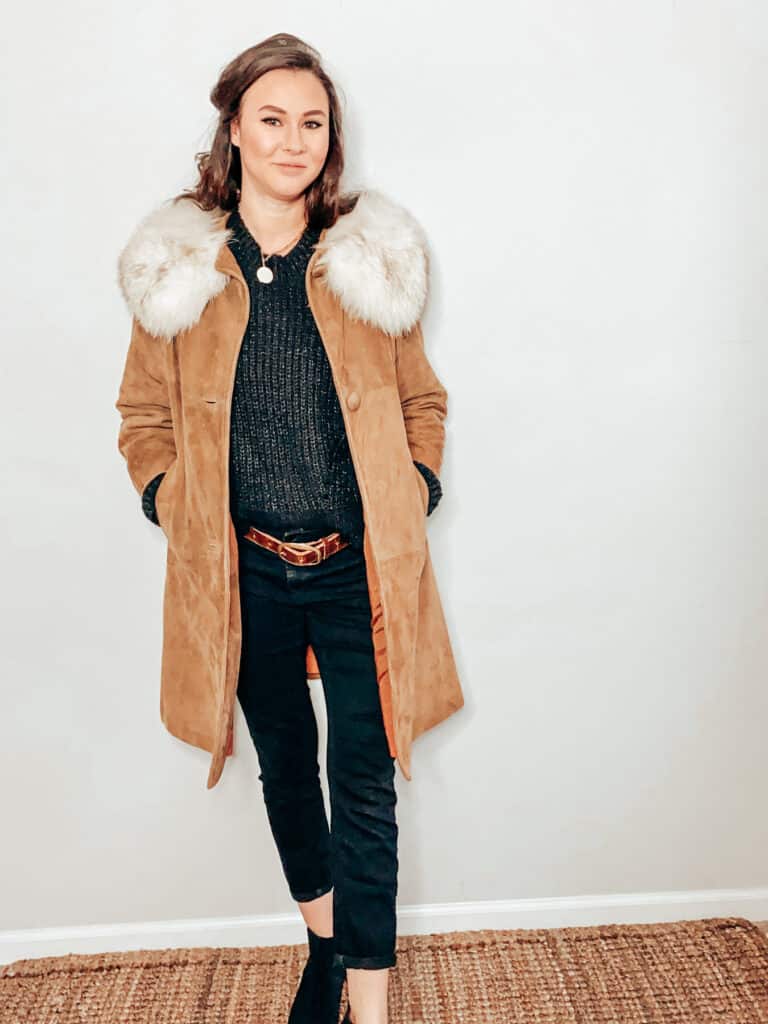 Moving on to a couple outfits featuring some thrifted outwear, this first jacket I thrifted about 4 years ago. I love this jacket. You can also see it in this post, a rather old winter lookbook post. Wow, what a walk down memory lane, from the beginning of this little blog of mine. 
I can't believe how much my style has changed even from just 4 years ago. Although, the outfit I'm wearing with this jacket is actually very similar haha. But I don't even own that sweater from the first outfit anymore (donated back to the thrift store.) And I sold that satin top from the last outfit and also donated those white jeans as well. The fit on those. Yikes. Don't love it. Anyways, major digression there. Back to recent times.
This suede and faux fur jacket adds so much style to any outfit. I love that it can be casual or dressed up depending on what you pair it with. Clearly, I love wearing all black with this jacket. I went with a little bit of a cropped sweater and these mid-rise black skinny jeans which I cuffed at the bottom. 
I tossed on this brown leather belt I thrifted years ago and wear so often. For shoes I just went with some faux suede black ankle boots.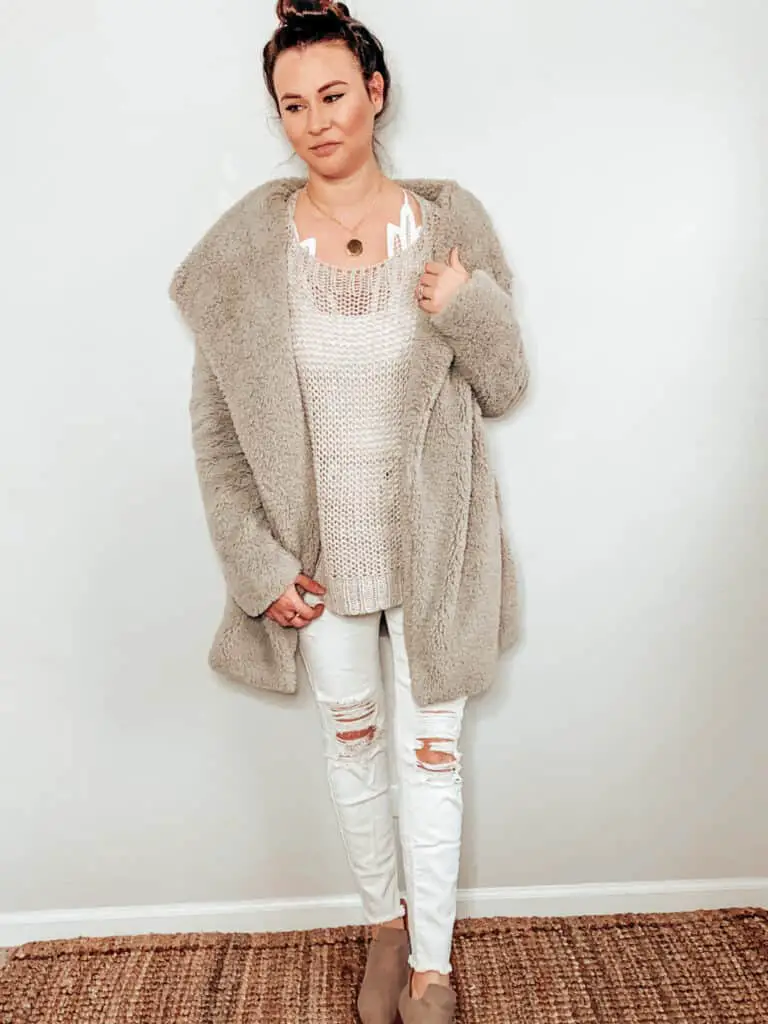 For this last outfit I went with this mega warm and cozy look. You might remember this teddy coat if you saw this winter thrift haul video on my Instagram. It is seriously so warm. I love this coat. 
I wanted to do kind of a neutral/tonal outfit for this one so I paired the jacket with this open knit gray sweater from this more recent thrifted fall basics haul. That is my favorite bralette from Free People peeking out from the sweater which I also had on under that first white top.
To keep with a similar color, I decided on some distressed white skinny jeans and these taupe booties. 
Use these cozy thrifted winter outfits as inspiration for your own closet and maybe hit up a thrift store or 2 and see what winter goodies you can find! Which outfit are you feeling the most? Let's chat down in the comments! For outfit ideas with winter boots check out this post. See you next time.