Casual Winter Outfits To Wear With Sperry Boots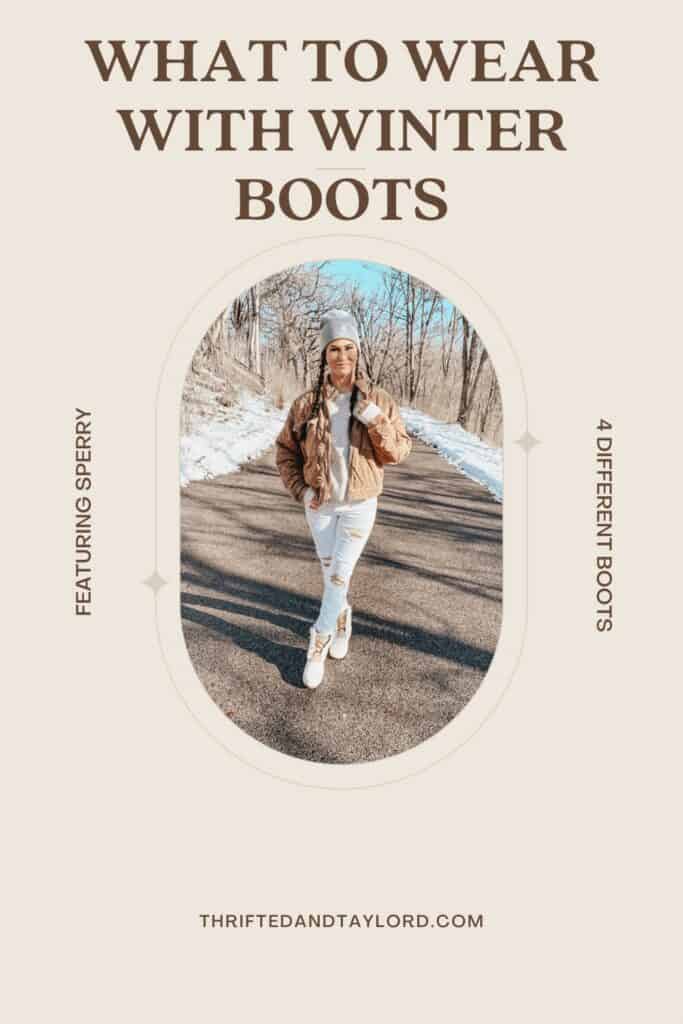 Hey Guys!
Winter is still here and I'm still layering up to keep warm. My toes need to stay warm too and I have been wearing nothing but Sperry boots to keep them nice and toasty. I am excited to share that I've partnered up with Sperry to share some of their amazing boots and how I've been wearing them. I am all about the everyday looks, so let's check out 4 of my go to casual winter outfits with Sperry boots. 
Casual Winter Outfits To Wear With Sperry Boots
As a mom of 2, a preschooler and an infant, I need outfits that are first and foremost, practical. But I also want comfort and style. One aspect of that is the right accessories, and shoes (or boots in this case,) are a big part of that. So I love that Sperry boots fit all of these categories. 
If you are wondering what to wear with Sperry boots then these should give you some good ideas for easy, cute outfits.
A special thank you to Sperry for sponsoring this post, as always all opinions are my own true thoughts and opinions. This post contains affiliate links through which I earn a small commission if you purchase through them at no extra cost to you Learn more here.
Shacket, Hoodie, Jeans, and A Beanie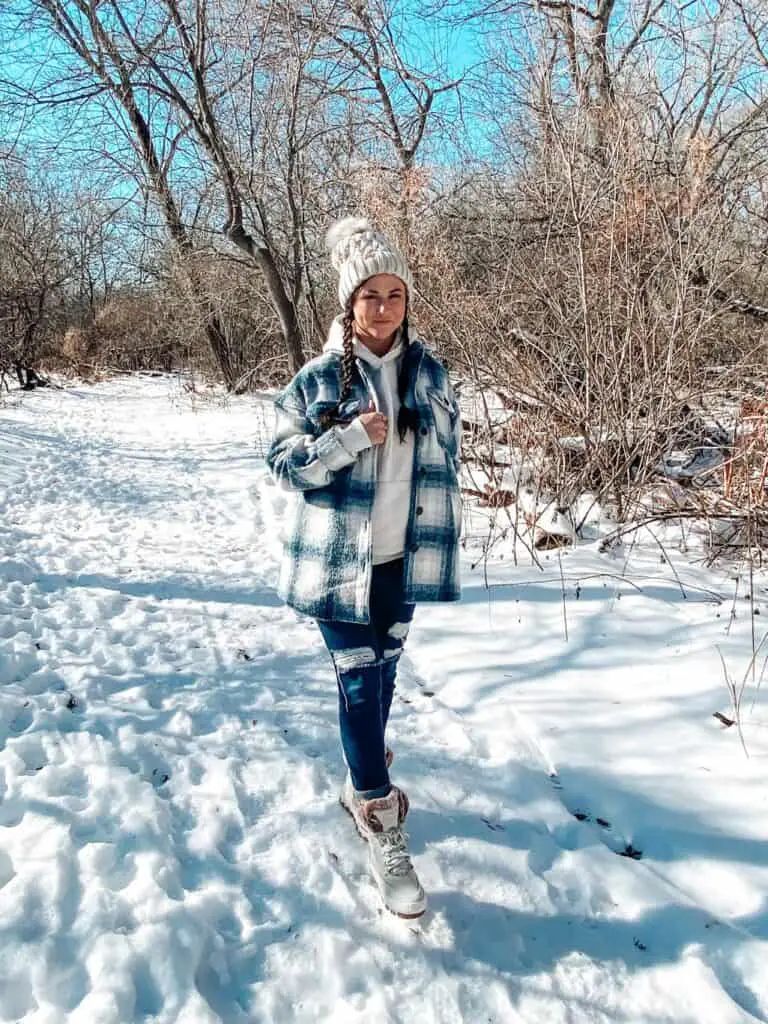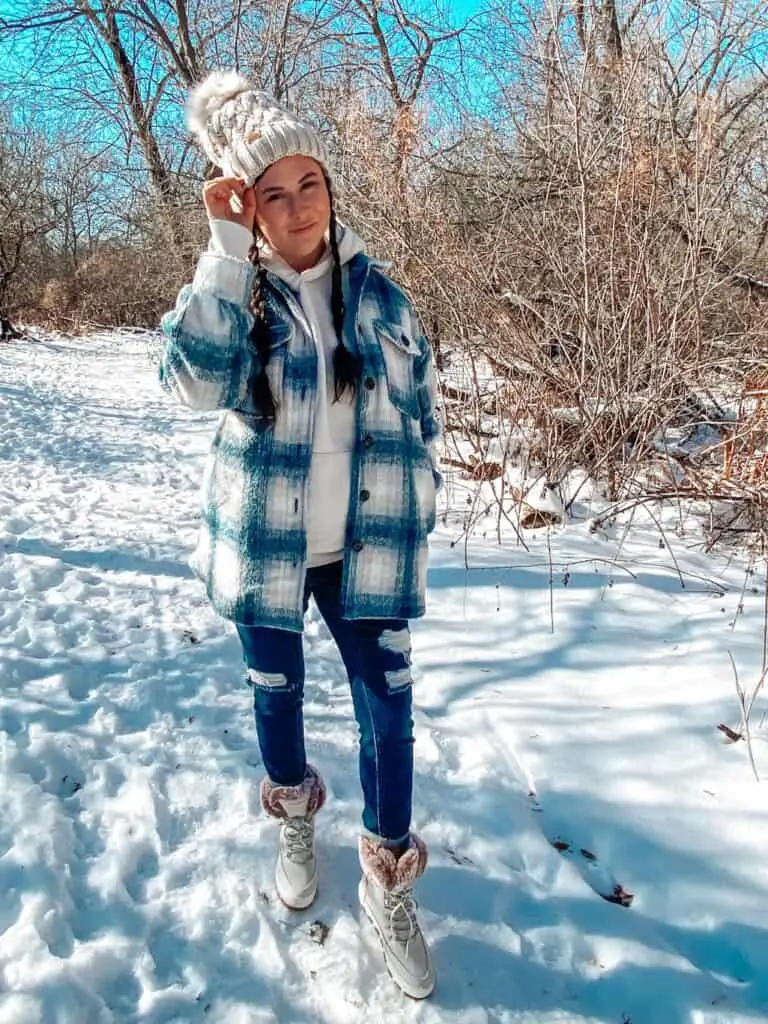 This first outfit is perfect for when it's chilly and there is snow on the ground. First up, let's talk about the boots. These are the Women's Torrent Lace Up Boot in the color Ivory. I love that these have a chunky sole for a more trendy look and the faux fur is not only pretty, it's so, so warm. 
Some of the main features of these boots are the premium waterproof suede upper which is necessary for the cold, wet snow. They have D-ring hardware and quick lacing for a snug fit, and a lugged outsole with Sperry's Signature IceTREAD for added grip.
The laces are gold leather which is a stylish touch, but in all honesty they aren't the most practical because I found that you need to double knot them or else they come undone. 
The outfit I have on is most definitely one of my most worn outfits during the winter, I change it up by wearing different jeans or a different hoodie or sometimes a sweater but some combination of these things is quite often on my body. 
I will link everything I can find here and you can also check out my like to know it shop here, where I will link other similar pieces in addition to everything I link here. Feel free to follow me on there, as I have been putting together shopping guides and will post other outfit inspiration photos from my Instagram, if you like those kinds of things. 
If you are not familiar with Like to Know It, it is an app (also a website) where you can shop the things I share, directly from the app. All the links for the outfit or guide are in one place so it's easy to find. Follow this link for Apple devices or this link for android devices. Or simply search "like to know it" in your App Store.
I love this plaid shacket (shirt jacket if you don't know that term,) I got from TJ Maxx last year, this one is similar. My hoodie is from Old Navy and I actually have it in 2 other colors as well. I got mine in a size medium for a slightly oversized fit and this color is currently not available which is a bummer so here is a different brand in a similar color. 
My jeans are actually maternity jeans, I don't quite fit into most of my pre-baby jeans yet, so this is a similar pair. And my beanie, which is fleece lined and so warm, is from Amazon.
Jacket, Sweater, Jeans, and A Beanie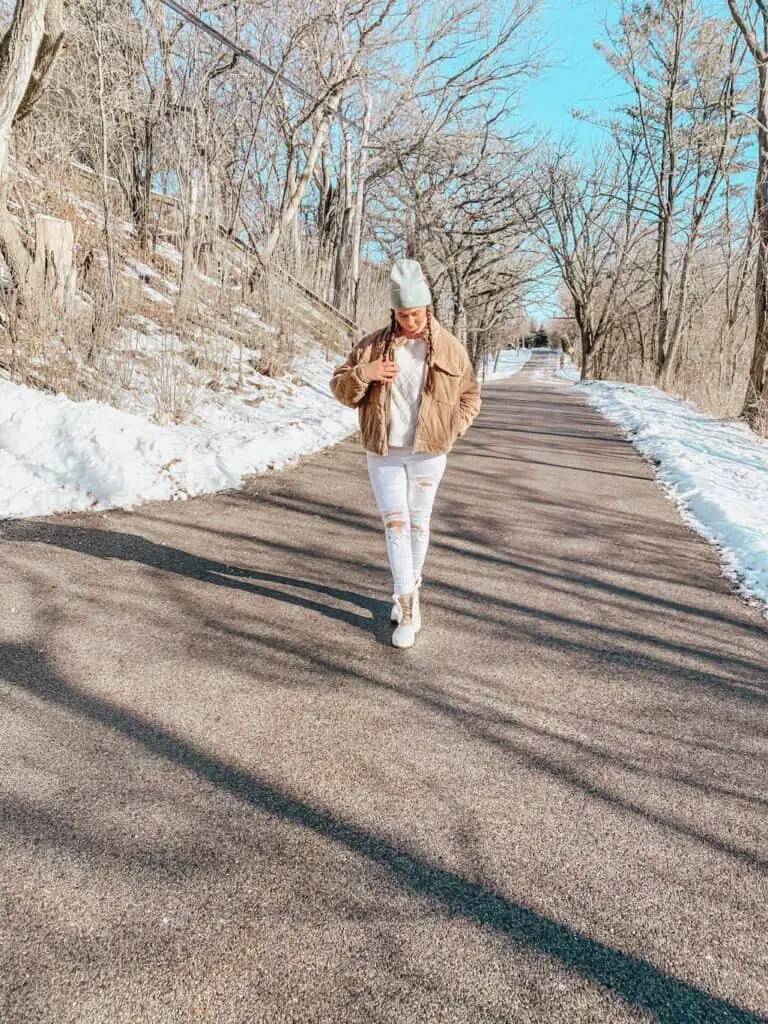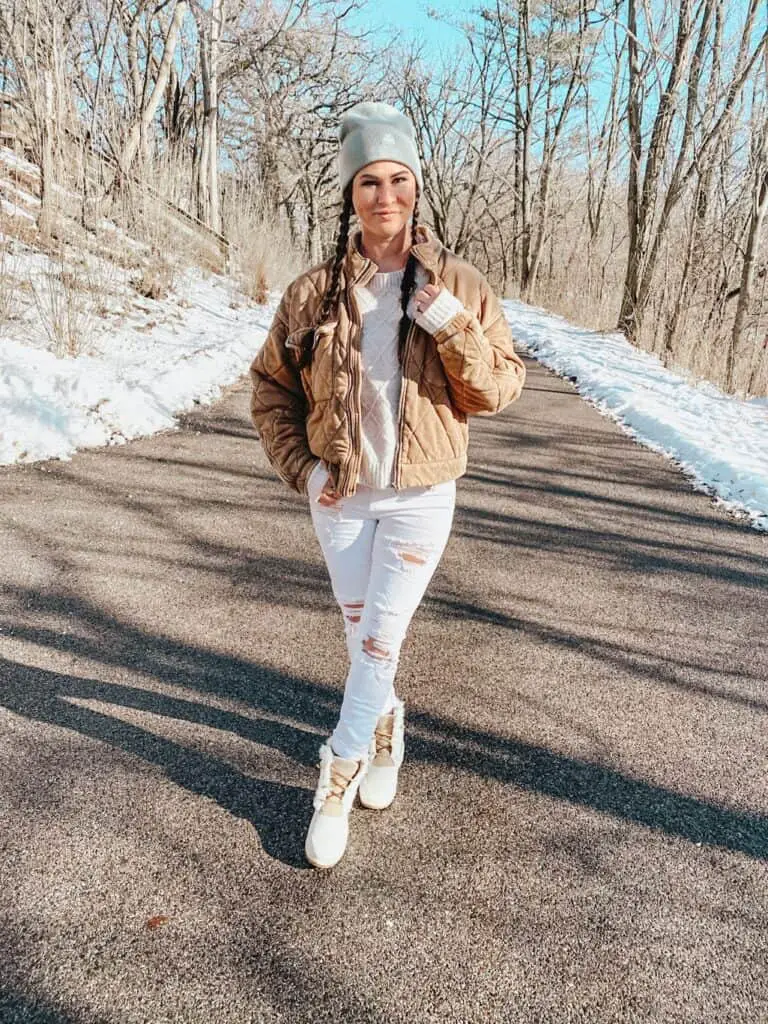 Sounds similar, but looks much different. This outfit works well on those not quite as cold days when the sun is out and there's still some snow on the ground. 
These boots are the Women's Maritime Repel Suede Snow Boot w/ Thinsulate™ in the color sand. They are another super comfortable and warm pair of winter boots. 
Some of the features of these boots are the water-resistant suede uppers with rubber shell and 200G Thinsulate. They are also fleece-lined for added warmth. Their waterproof construction features a non-marking lugged rubber outsole. I love the faux fur and metallic laces for added style. 
These laces are not functional, there is a side zip closure, so you don't have to worry about these laces coming undone which is an added bonus. Plus it makes for a really quick and easy on and off.
My outfit is a little more feminine than the first one and maybe a touch less casual, while still feeling very much like an everyday type look. This quilted jacket is one of my favorites, this color is no longer available but this style is incredibly similar (mainly just different pockets and a little bit longer) and comes in this color.
My sweater is thrifted, this one is similar. My jeans are from Target a couple of years ago, these ones are similar. And last up, my beanie is another Amazon find. I love the color of this one, my favorite shade of green to wear.
Puffer Jacket, Layered Sweatshirt, Leggings, and A Beanie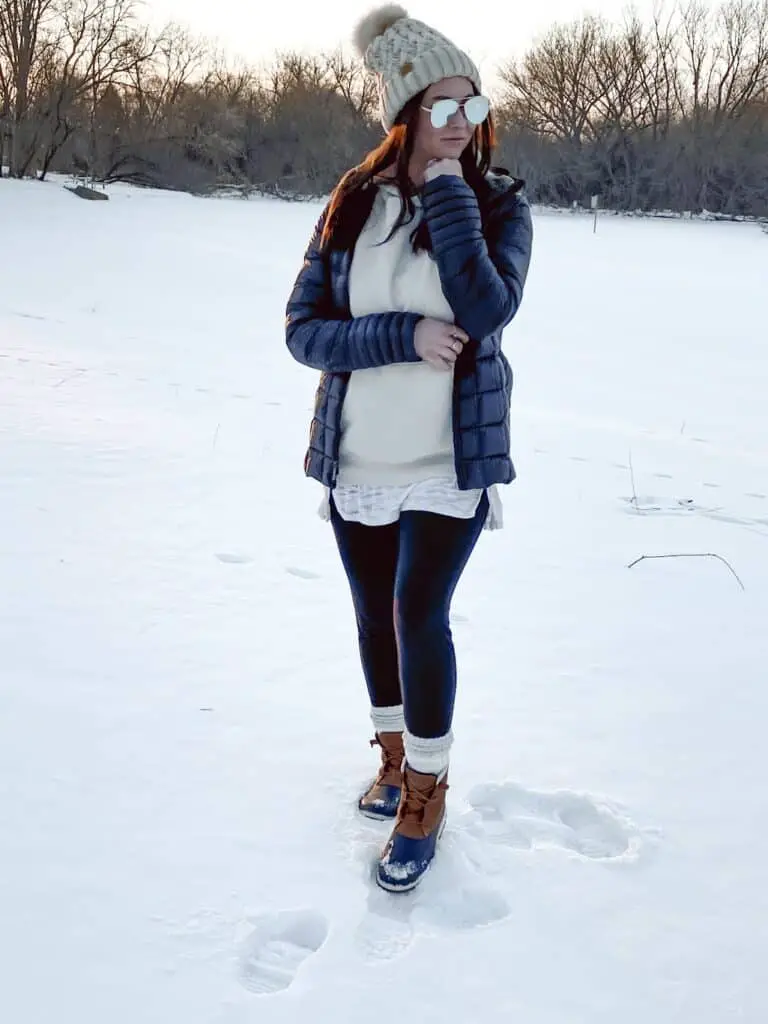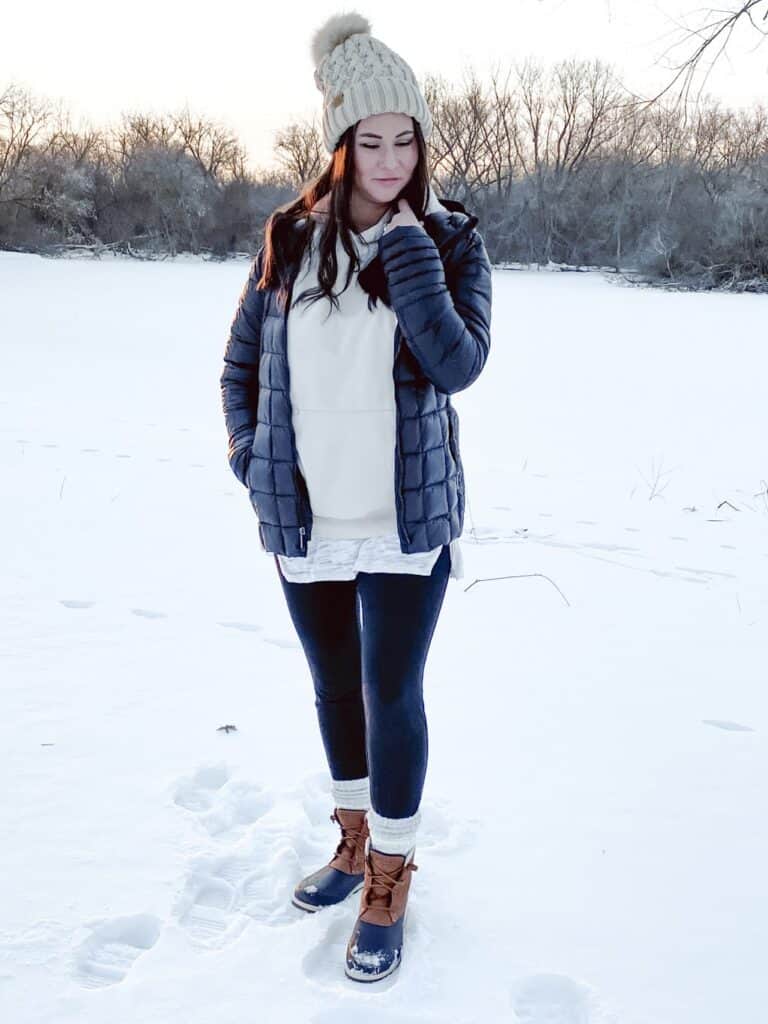 Lots of layers for chillier days and warm waterproof boots for the snow. These boots are the Women's Maritime Repel Snow Boot w/ Thinsulate™ in the color tan/navy. They are a new take on their classic duck boots but even warmer for the snow. 
Some of the features of these boots are the full-grain, water resistant leather upper with seam sealed waterproof rubber toe construction which keeps all the wet out of your shoes. These also have the 200G Thinsulate, cotton twill lining which keeps your feet nice and toasty warm on the coldest days. 
They also have a 1 ¼" heel which is a nice little boost that is hardly noticeable and totally wearable. Plus it has that rubber outsole which helps keep you from slipping on icy surfaces. 
I love these on super casual, might even double as pajamas, outfit days. Days like these, I go for yoga pants or leggings. These ones are one of my favorites from Aerie. 
I told you I love this hoodie. Here is another way you can wear it. I layered it over an extra long Free People top, this one is similar. Then I tossed on this quilted puffer jacket I have had for many years which I actually thrifted, but it's from Vince Camuto originally. Here is a similar one. 
For accessories, I popped on the same beanie from earlier. I put on some thick socks, for added warmth too, which I scrunched up and added some sunnies for a finishing touch.
Oversized Button Down Shirt, Sweater, and Leather Leggings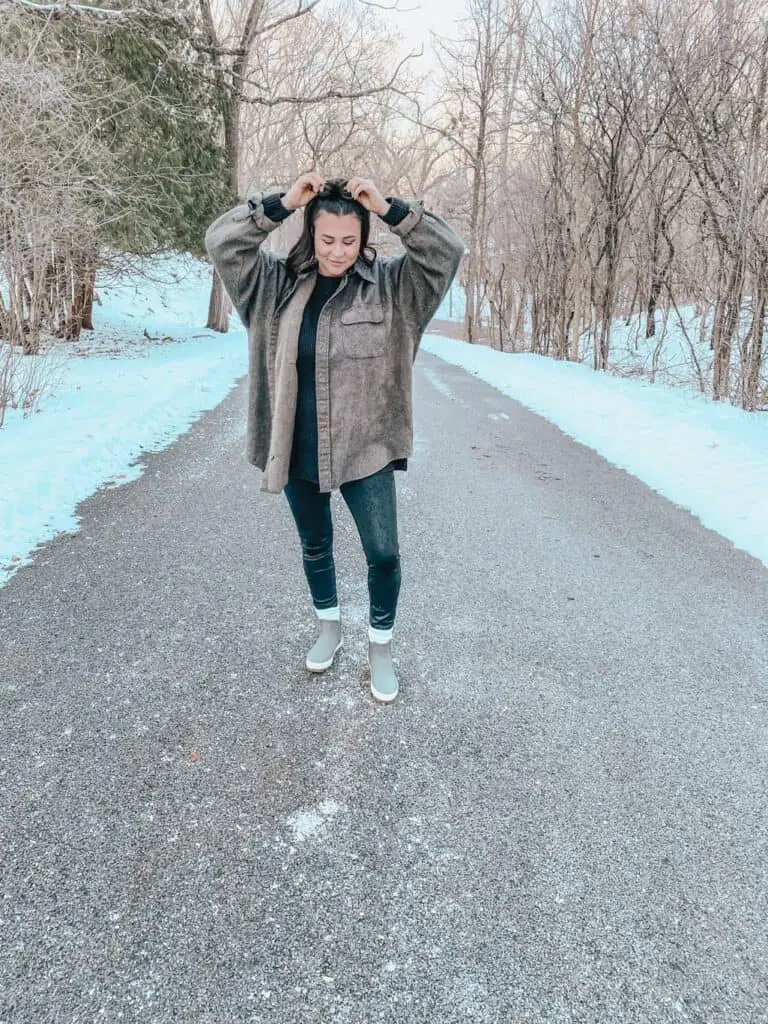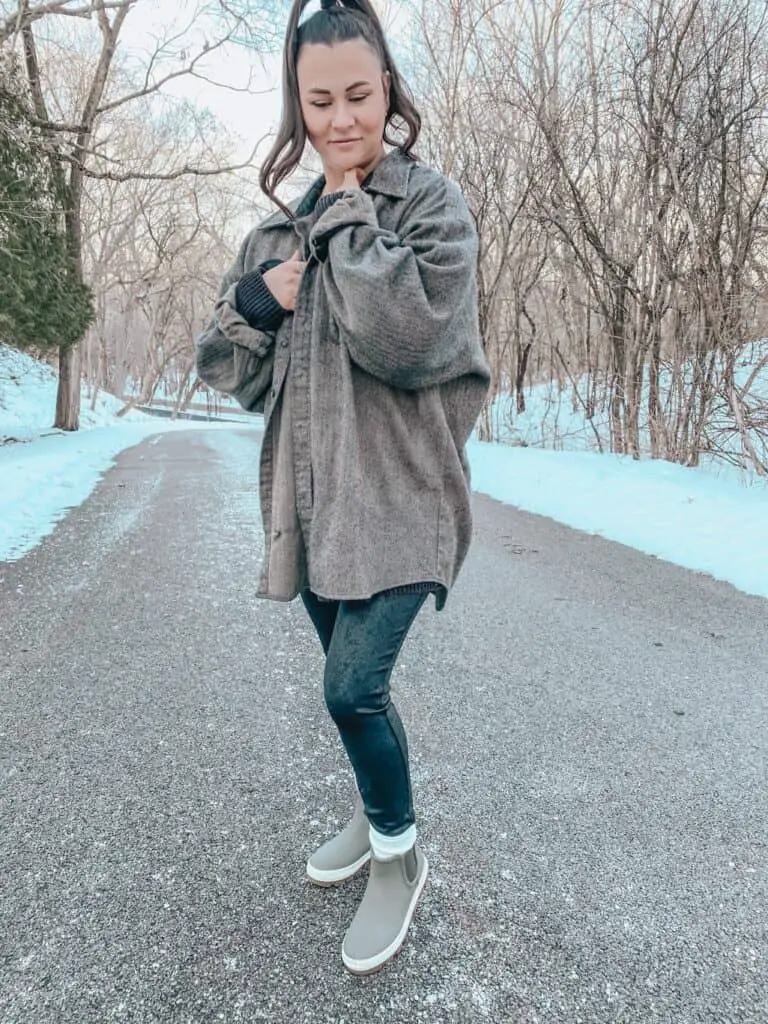 Something about wearing huge oversized clothes in winter somehow makes me feel cozier. On more mild winter days, especially if the snow is melting and there's lots of mud, I like to wear rain boots. 
Rain boots in winter sounds crazy, but these Women's Torrent Chelsea Rain Boots are made for colder weather. Mine are in the shade olive.
These Sperry rain boots feature a waterproof rubber upper, a functional heel pull and double gore construction for easy on/easy off. The micro-fleece lining adds warmth to keep your feet nice and toasty in chillier weather. 
It also has a lugged outsole and signature siping embedded throughout for extra support and traction. That is what creates the thick sole these boots have, like the first boots I shared with you. It gives these rain boots a trendy look which I love. 
My outfit is actually fully thrifted. My oversized shirt is a men's button down that is a super thick wool cotton blend. I wear this thing ALL OF THE TIME. It is so warm and cozy. 
Underneath is an oversized black sweater and then these faux leather leggings which are Spanx. I was thrilled when I found these. Spanx are not cheap friends! I paired some other thick, white socks for added warmth and style. I will try to find some similar items to link in my like to know it shop, if you would like to recreate this outfit. 
If you are in the market for some winter boots, I highly recommend trying out some Sperrys. There are many different styles and colors so even if these particular styles aren't for you, there is bound to be another pair that is. 
I hope these outfits gave you some ideas for what you can wear with your Sperry boots. You can also check out this winter outfit post for even more ideas Let me know which one is your favorite. See you next time.