Latest Thrift Store Finds | How I Wear My Thrift Finds
It's been a while since I've been able to get to the thrift store. Thankfully the hubby took Jax for some Daddy time so I could take a solo trip to the thrift. I went on a Sunday, which kind of isn't the best time to go. It was the end of a weekend and I went in the middle of the day because… baby.
So the store was pretty well picked over. But I still managed to find a few pretty great things, plus some basics that I somehow am always in need of. I was also on the hunt for some things to do some projects with, which I will be posting about in the not to distant future.
So I thought it would be fun this time around to actually style the stuff I found so you can get an idea of how I might wear it. If you aren't already following me on Instagram, you should. I will be posting some extra outfits on there with some of these things I found. So click here to go and follow me so you don't miss out!! And to check out my latest thrift store finds, keep on scrolling.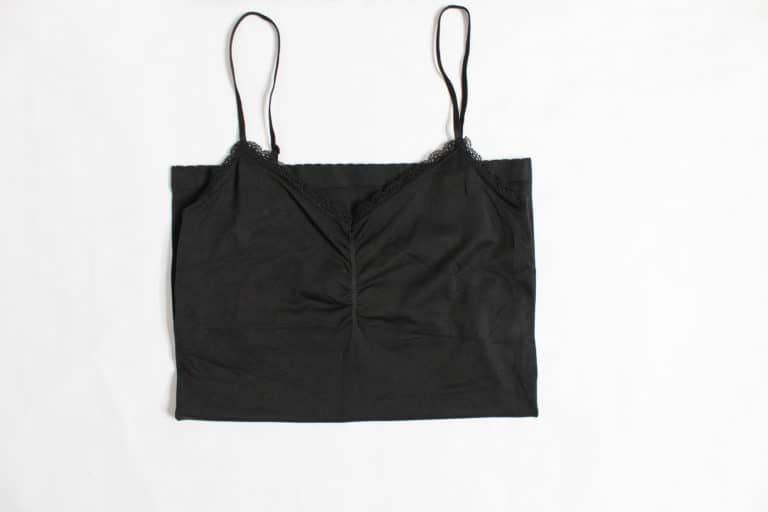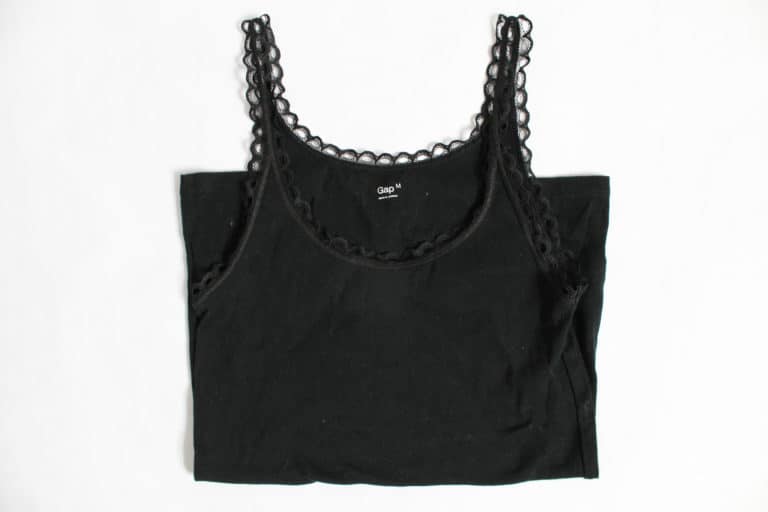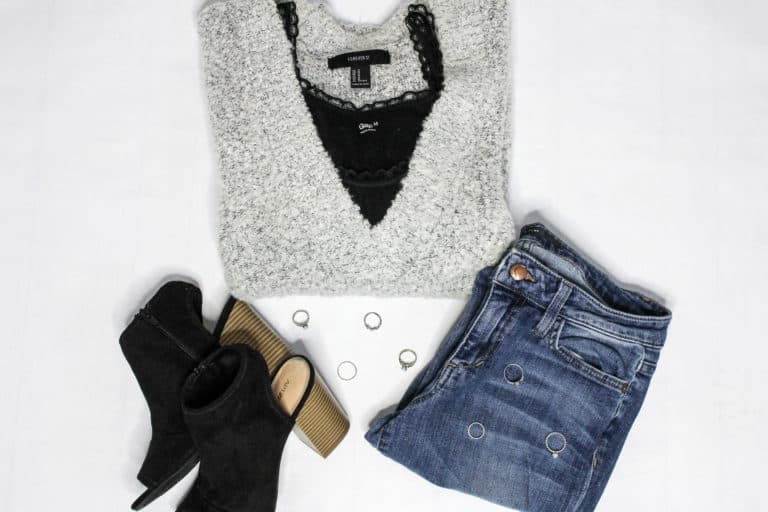 Ok let's start with the basics. I found these two tanks which are a step up from your average tank. I love the strap detailing of that Gap one, perfect for peeking out under layers like that sweater. I also like the little lace edge along the neckline of the second one, which is from Victoria's Secret. Both awesome brands to find. The Gap one was only $2.50 and the Vikki's one was a tad more expensive at $5.99 but it is one of those tanks that sucks everything in so I'm always willing to pay a little more for that.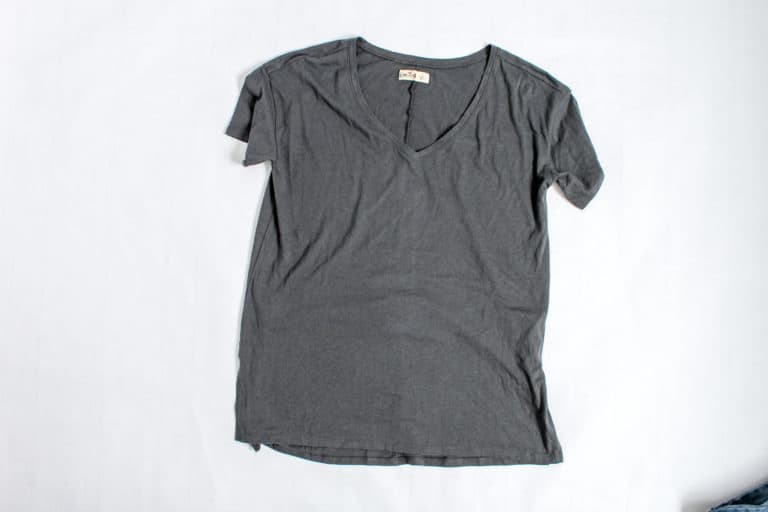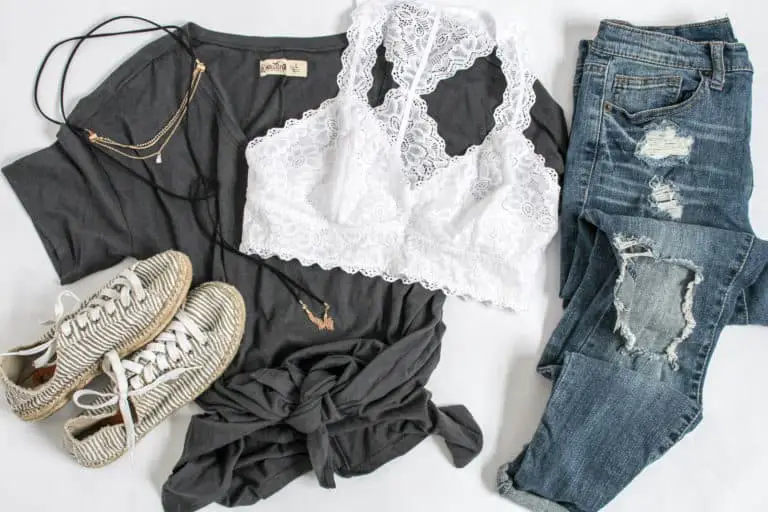 Then I found this big oversized T-shirt from Hollister. I was never really a big Hollister kind of gal but I know that it was kinda pricey so finding this for $3.99 was a win. There are so many ways I wear these big ole tees but this is one of my favorites. Pair it with a pretty bralette that peeks out and some ripped up jeans. A few choice accessories and you're good to go! I like to change the silhouette on these big baggy tees sometimes by tying up the front to make it more form fitting and a little more feminine.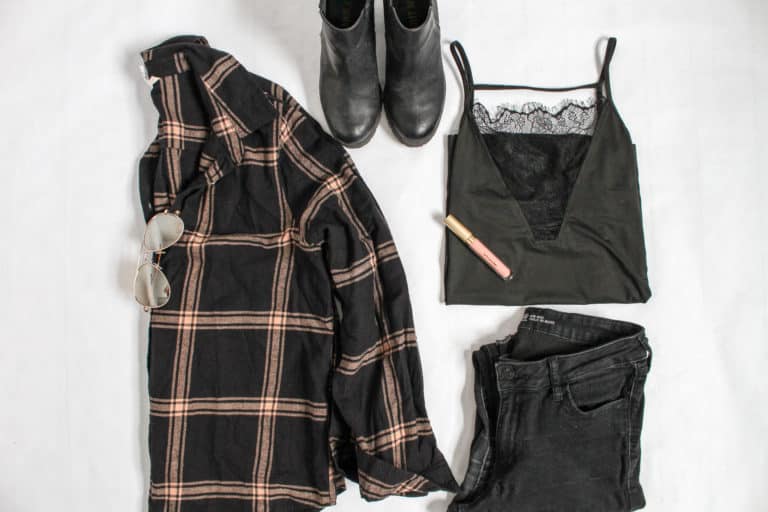 Next up I found this awesome black and tan plaid shirt which was brand new with tags. I love when that happens! So I thought this would go great with an all black outfit underneath. You can never go wrong with all black. I love how that super feminine top pairs with the plaid shirt too, gives it a little something unexpected.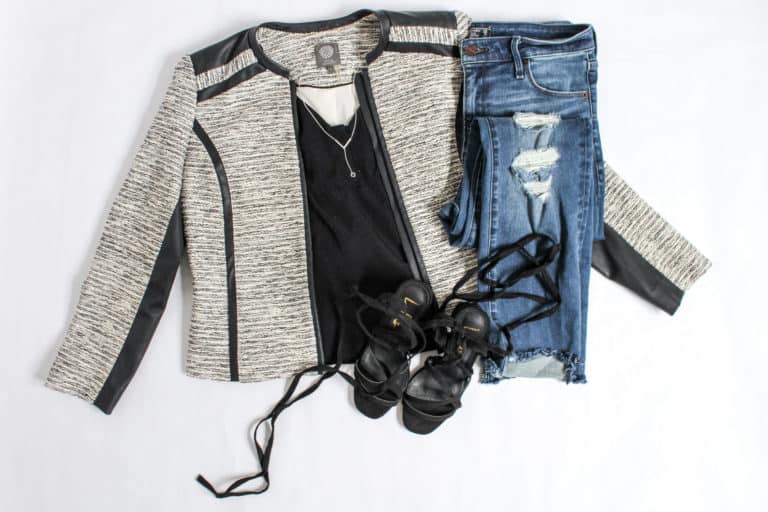 These last two I actually tried on together and loved how it looked so I decided to make a look out of it. These were probably my 2 favorite finds. Both amazing brands.
That little black top is from TopShop which is a brand I love, but it can be a little pricey. It has these tiny little snap closures near the neckline so you can wear it a little more open if you want which is cool. But I love how simple it is. It was probably around $35 new and I picked it up for $4.99, not too shabby.
Now let's talk that jacket. That, my friends, is a Vince Camuto jacket which probably originally retailed over $100 which I got for a whopping $12. It actually reminded me of this jacket, which is another one of my favorite thrift finds. Your girl can never have enough jackets! But I love the leather detailing and the cool texture on this one. You will see me rocking this bad boy often, fair warning.
Not the biggest haul ever, but I found some awesome pieces to add to my wardrobe. Stay tuned for those upcoming posts I mentioned involving the home décor I picked up. What was your favorite thing I found? Let me know down below! You can check out my other thrift hauls here, here, here, here, and here! See you next time. ☺