Fall Trends To Thrift | My Favorite Fall 2020 Trends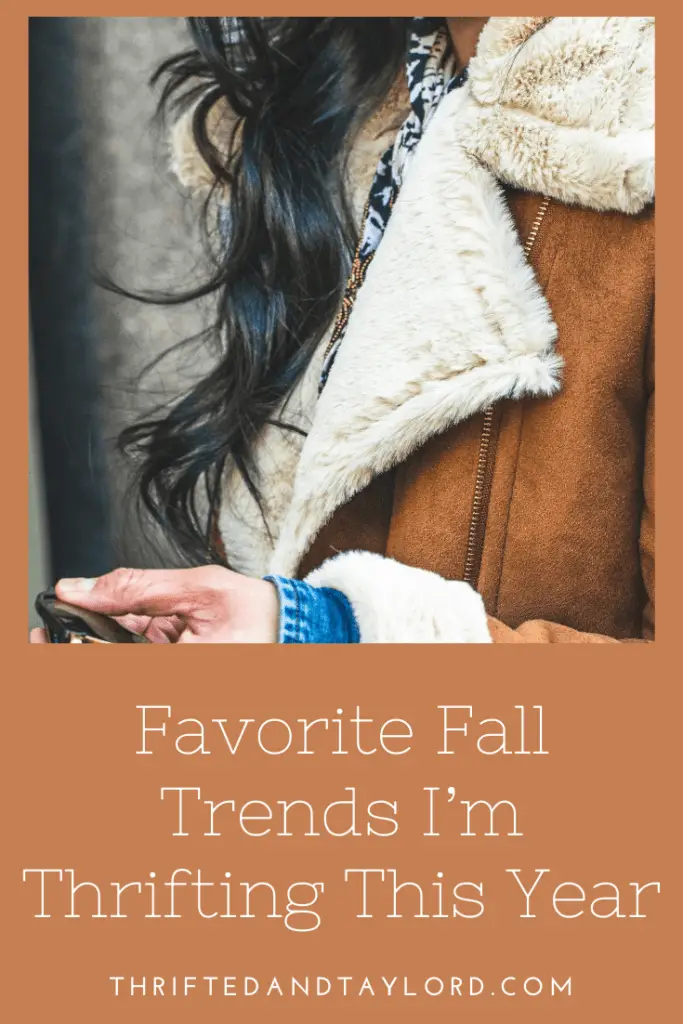 This post contains affiliate links for which I earn a small commission at no extra cost to you, should you purchase through them. Learn More.
Can you believe fall is only a little over a month away?! Have you started peeking at fall trends for this upcoming season at all? I have a thrift trip planned (my first one since the pandemic started!) and I have put together a list of what I'm hunting for, including a few fall trends to thrift.
There are tons of trends this season, as usual. Some are way out there and some are more wearable. The more wearable ones are typically my go to. The one's I'm talking about today just happen to be my personal favorites, but I will also briefly go over some of the other trends I saw in case you might be into trying one! I'll touch on those first and then we will get into the fall trends I am on the lookout for. 
Here is a list of the top trends for fall/winter 2020.
There are even more, but these are some that I kept seeing pop up time after time. I didn't include my personal favorites in this list so let's talk about those next.
My Favorite Fall Trends To Thrift This Year
My favorite fall trends to thrift this year start off with baby doll style dresses. These sweet style dresses are often giving off some major boho vibes which is definitely right up my alley. It's the perfect combination of feminine and boho in one dress. That's so my jam. There are many different takes on this style of dress. 
For fall this would be super cute with a jacket layered over it and some boots (slouchy boots, as you saw earlier, are super in but I'm partial to ankle boots.) You could also toss a cropped sweater over top for another cute outfit idea. 
Next up is drawstring details. I think I would most likely wear this fall trend in a shirt. But I saw some cute dress options as well! I particularly love tops with pretty details that are more feminine paired with some wide leg trousers or some high waisted jeans. These shirts would also pair really well with a high waisted midi skirt. You could add a cropped jacket for an extra layer, too. I feel like I see tops like these pretty often at the thrift store so I have high hopes of finding some good options!
Of all these fall trends to thrift, this next one might be the most challenging. At least for what I am looking for. The dress over pants trend. I saw this trend in many different versions. Sheath dresses over jeans as well as over trousers. Some Victorian inspired dresses, some patchwork, some floral. You can really make this trend suit your own unique style.
I personally am super into the shirt dress for this trend. I see shirt dresses a lot while thrifting, but not typically super long ones. Which is what I want for this trend. 
I particularly loved the maxi length shirt dresses over jeans. I am hoping for like a sheer floral shirt dress but I could totally work with something else too. I would button it to just above where my jeans start and then let the rest flow open. Maybe add a belt with a cool buckle. Let's keep our fingers crossed the thrifting gods have my back on this upcoming trip.
I actually have been really into the color rust since last year so I was stoked to see it was one of the big colors this upcoming season. I think this might be the easiest of all the fall trends to thrift. Colors are almost always pretty easy to hunt for since it's a pretty broad category. Unless it's a really out there color. But rust is not. So I have all the confidence I can find some cool pieces to add to my fall wardrobe. 
I do have a rust sweater I thrifted last year, check out my video of that haul here. But I kind of want to find another one, maybe more of a chunky knit. I also would love to find a top, I'm picturing some kind of satin camisole or maybe like a pretty, feminine blouse. I also would not be opposed to some bottoms. Maybe some wide leg pants or a pretty patterned midi skirt. I'm excited for all the possibilities!
Onto the next trend. Puff sleeves. This one has actually been around for a little while and does not seem to be going anywhere anytime soon. I have been hunting for some great tops but have not yet had luck.
The stuff I do find is either not my size, or not quite my style/what I'm looking for. So I know I'll never wear it. And like I mentioned in my thrifting tips and tricks post, I don't like to buy things just for the sake of a trend. I want to buy things I will love and wear over and over. So I am holding out hope for the perfect find (or 2…) 
I love the drama on these style tops. And they can totally be worn dressed up with some trousers or a skirt or dressed more casually with some jeans. Those tops are the best kinds of tops since they can be super versatile. 
Ok you made it to the last of my favorite fall trends to thrift! Last year it was Sherpa, this season it's Shearling. These kinds of jackets are pretty much a fall staple, they just switch up materials and styles to keep things fresh. It is actually pretty easy to find these kinds of jackets at thrift stores. But they're not always the style I like.
So that is where the challenge comes in. I see lots of super long, almost trench coat style jackets but I'm looking for more of a hip length motorcycle style jacket. So we will see what I can find!
Head on over to check out my Pinterest for even more inspiration and ideas on how to wear these trends and be on the lookout for my haul to see all the goodies I find! What trends are you excited to try this season? Let's chat in the comments below! See you next time.