7 Fall Must Haves To Avoid Those Nothing To Wear Days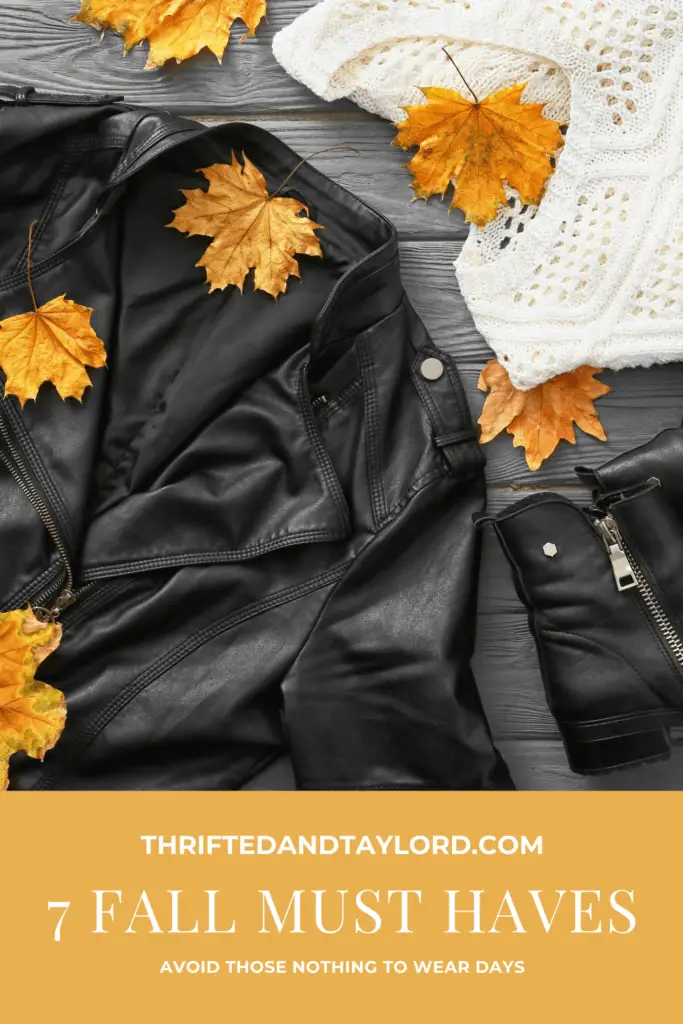 This post contains affiliate links for which I earn a small commission at no extra cost to you, should you purchase through them. Learn More.
Have you started thinking about your fall wardrobe yet? September is quickly approaching and we will be getting those cool, crisp fall days before you know it. In order to avoid the dreaded nothing to wear feeling, make sure you have these 7 fall must haves in your closet. 
Last week I talked all about my favorite trends this upcoming season, check that post out here if you haven't yet! These are more of your fall essentials. Items you can pair with all of the things and make outfit after outfit out of. 
These can be tweaked to best suit your personal style which is always a plus. They are also items that can totally be worn into winter so you can get tons of use out of these pieces. Let's get your wardrobe ready for fall.
Let's start off these fall must haves with a closet staple…. denim! Seems like a no brainer right? Well at least for all my jeans wearing gals. I know not everyone loves jeans so maybe this one isn't quite a no brainer for all. But these are one staple item that you can not go wrong having at least 1 pair of. 
If you are a fellow jeans lover then maybe you want to try picking up a pair that is more on trend such as a cropped flare leg or for something a little more classic but still trendy, a straight let. 
If you are not much of a jeans person but are wanting to invest in 1 pair to have, I would say go with a skinny. You can wear them casually or even dressed up a little, making them the most versatile.
Second fall necessity is a couple of jackets. You can't go wrong with leather, denim, and blazers. Those are my go to's. I have done a couple posts like this one on how to wear a plaid blazer and this one on how to elevate your casual outfits which will give you some great ideas on how you can easily make tons of cute outfits with these layering pieces. 
Whichever type of jacket best suits your style, pick up a couple different ones to give you options. Or if you're like me and your style can vary vastly (that's kind of fun to say lol) then grab one of each of these!
Next up is one that can totally be tweaked to best suit your style. Blouses. They could be feminine, classic, boho, super trendy, chic, menswear inspired. Seriously. The options are endless.
If you are looking to be on trend this upcoming season try a Victorian style blouse, something with big puff sleeves (reminiscent of the 80's), or big ruffles. You could also get a print or color that is on trend this season (see this post for some of the other big trends.)
The next of our fall must haves may not be something you first think of as an essential but trust me, having another type of casual bottom you can work into your wardrobe opens up so many more options for outfits.
Trousers are not just for the office. There are tons of casual trousers you can pair with your favorite graphic tee, sweater, or casual top. Go for a neutral, relaxed fit to be able to wear it casually.
I particularly love a high waisted trouser, cuffed at the bottom, paired with a form fitting cropped top. You could belt the pants and pair it with some boots. If it's a chilly day, toss on a jacket and you're good to go!
5. Midi Skirts and Dresses
If you are more of a girly girl, then maybe this next one is more your style. Midi skirts and dresses. I love this length on a skirt and dress. It is so classy and easy to wear. It's long enough to keep you warm but not too long that you're constantly tripping over it. It can be styled in so many ways too.
You can wear it to the office with a blazer and blouse. You can wear it for date night with a saucy little lace bodysuit. You can wear it casually with a tied up tee or cropped sweater. And that's just to name a few options. 
If you want to be super on trend this season, pick up a skirt or dress in a tiger print, a patchwork style, or in one of the colors of the season: wine red, orange, olive green, grey, tan, and rust to name a few big ones.
For something more classic, try a neutral color or a dark floral. You also can't go wrong with a leopard print. I almost think of it as a neutral sometimes even though it's a print.
Next up is one of my personal favorites. Sweaters. Who doesn't love being cozy and comfortable? I like to have a variety of sweaters. Cardigans for layering, lightweight for earlier in the season, thicker as we move towards winter, cropped sweaters to pair with all things high waisted. 
Lighter weight ones can also be great for layering as it starts to cool down more. Toss a leather jacket or even something thicker like a shearling or Sherpa jacket on top and pair it with your favorite jeans and booties for an easy and adorable outfit.

We made it to the very last of our fall must haves… Boots! Absolutely a fall essential! Boots come in all shapes and sizes so you are bound to find plenty to suit your style.
Slouchy boots are super in this upcoming season if you are looking to be on trend. If you want something more timeless go for an ankle boot or booties that you will be able to wear fall after fall.
What fall essentials do you have in your closet? Are there any that I missed which you consider a must have?! Let's chat down in the comments and I will see you next time.