These Are A Few Of My Favorite Things, Thrifted Edition
It's no secret that my favorite thing to shop for at thrift stores is clothes. It is rare I walk out without finding at least one cool piece. For those of you who have never shopped at a thrift store, I highly recommend you try it at least once. I was hooked after my first trip because I found not only great brands but unique and vintage pieces as well. In a future post I will go into more detail with some advice for thrifting.
So these outfits incorporate a few of my favorite finds and how I like to style them. I can't remember exact prices for them since these are pieces I have had for some time but I can tell you I did not pay more than $10 for any of them and most of the things I find are even under $5.
This jacket is one of my all time favorite finds and I wear it all the time. It is originally from H&M! This type of outfit is my go to for date night or going out with friends. A chiffon top, ripped denim, simple jewelry and black booties bring this look together.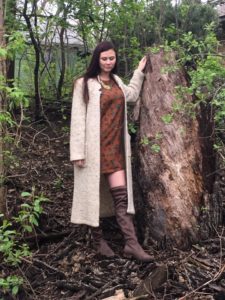 This long jacket is another awesome find. It is so perfect to toss over a dress to keep warm or can be paired more casually with jeans and a t-shirt.
This top is an open knit with beautiful crochet detailing on the back. I typically like to wear it off the shoulder with a lace tank peeking out. I wear it with my white jeans or some distressed denim and usually booties or flats. Since the front doesn't have much going on, a statement necklace goes great with this look. That amazing turquoise and silver necklace is one of the best jewelry pieces I have found. I love the detailing on the metal and the fact that it opens like a locket!
When I'm feeling a bit more edgy and casual, I love to toss on these jeans. Pair them with a cool graphic tee, leather jacket, and some accessories. They were brand new with tags BCBG Max Azria jeans that I got for $8! The zippers at the ankles are awesome and look cool both open and closed. The stitching on the knees gives off that edgy vibe, pairing perfectly with leather. I like how the clusters of rings with the detailing in the bracelet and the sharpness of the necklace all compliment this look.
So there you have it, a few favorite finds. Be sure to follow me on Instagram and Pinterest so you can stay up to date on posts and you can save them if you want to use them for inspiration!
Happy thrifting!