Must Have Spring Clothes On Amazon | All On Trend!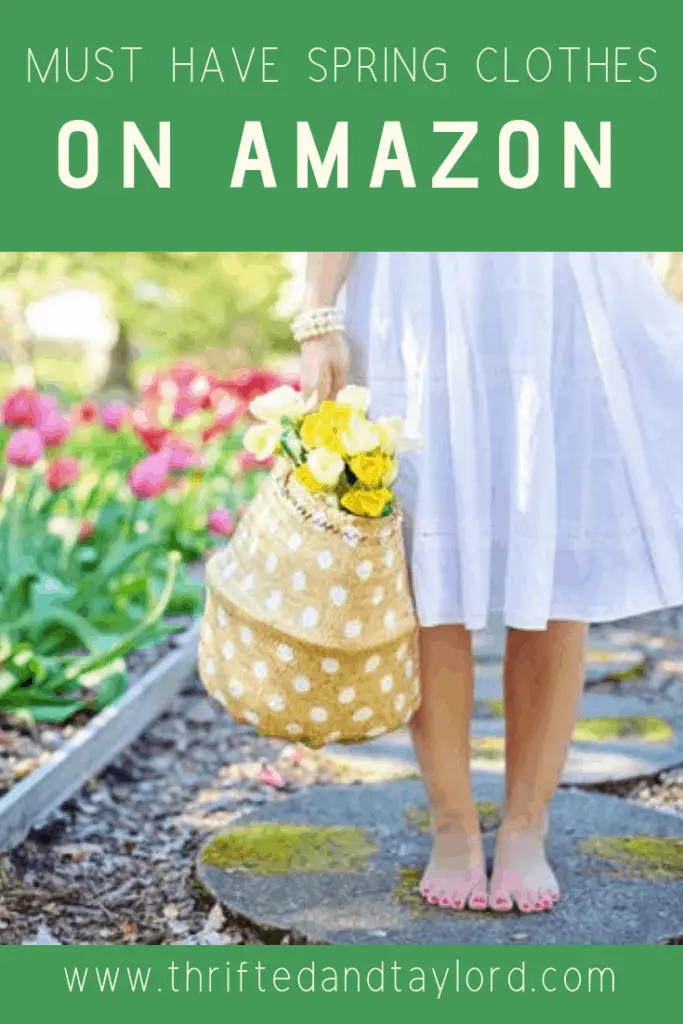 This post contains affiliate links for which I may earn a small commission at no extra cost to you. Thank you for your support! Learn More.
We finally are getting some actual spring weather this week! My level of excitement is kind of extreme. Longest. Winter. Ever. Not to mention the coldest. Glad to have made it to the other side. So naturally I was browsing my favorite spot, Amazon, and I found a ton of affordable spring pieces that are right on trend this season.
Of course I had to share them with you guys because I know how much you love a good Amazon find. Per usual, these all have 4 star or above ratings but as I always caution, read what people had to say in case you need to size up or just so you have a better idea of what to expect.
Let's just go right ahead and check out these adorable spring clothes on Amazon.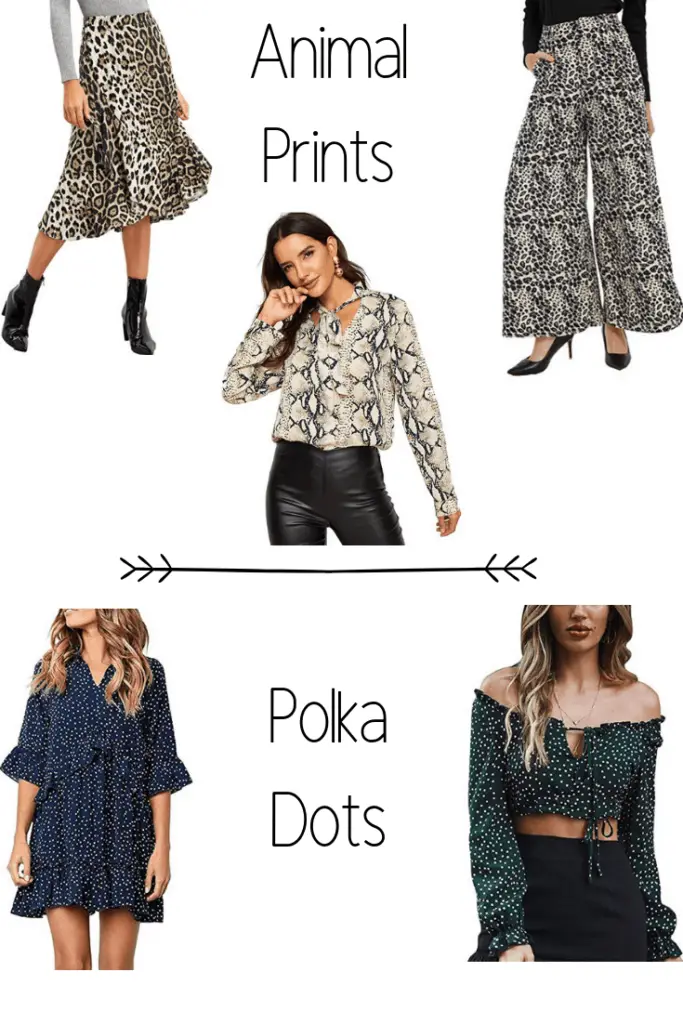 Animal print and polka dots are big this season. Well animal print has kind of been a thing the last couple of seasons. Plus I feel like animal print never really goes out of style. But snake skin and zebra prints specifically are very trendy this season. I found this gorgeous snake skin blouse. I love the tie neck. Very chic.
Leopard is basically a staple and so I found a couple more trendy silhouettes in this print. This midi length skirt  is totally adorable and this length skirt is super in right now. You could opt for these palazzo pants and even try rocking them at the office!
If I'm going to wear polka dots, I'm more of a tiny dot kind of girl. I thought this dress was so so cute and the style of the dress is more boho which is totally my vibe. I love the ruffles as well, ruffles are another big trend this season. This crop top is way cute too. Paired with some high waist jeans or trousers, this top would really turn heads.
There was a lot of fun texture on the runways as well. I already mentioned ruffles but crochet was another fun one. This crochet kimono comes in a few different colors and is really similar to one I already own actually. I love it and wear it all the time! I also found this white maxi dress which I thought was absolutely gorgeous. The crochet detailing on this is just amazing.
Another cool detail that is very in this season is the one cold shoulder. I'm sure you're familiar with cold shoulder tops, where the shoulders are exposed. Well the twist on that this season is that there is only one shoulder exposed.
I found this cool shirt which has polka dots, ruffles, and one cold shoulder so it's like the trifecta of spring trends. I also found this sweet little white tank which also has a big ruffle. Like I said, ruffles are big this season so you might be noticing they're kind of everywhere.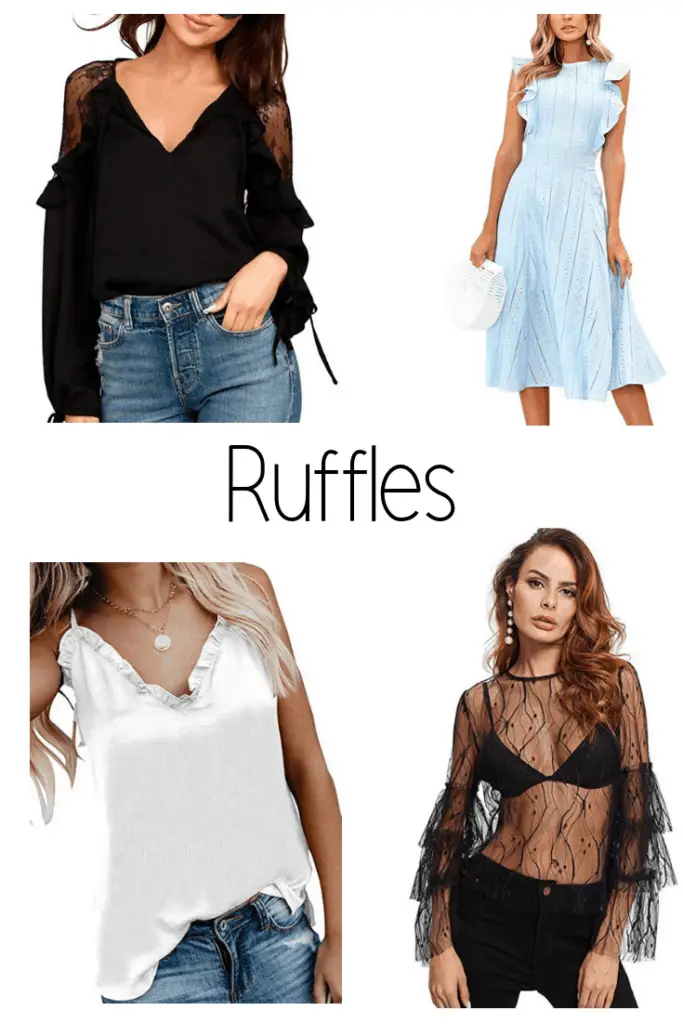 While we are on the topic why don't we just jump feet first right into it. The ruffles. All the ruffles. I found so many and had to narrow it down. These were my favorites. This black top with the lace shoulders and ruffled sleeves is so pretty and easy to toss on and go. The deep V makes it perfect for date night!
Another great date night option is this sheer ruffled sleeve top. You can totally wear a tank underneath if you don't want to show that much skin. I know I would. But this paired with some leather pants, tucked in, would be so sexy.
For a more casual top, I found this white satin-y cami. It has just a subtle little ruffle along the neckline and would be great paired with jeans. My go to choice is usually some distressed ones.
Then I found this sweet little blue dress. Light blue is one of the colors that is super in this season so this dress is right on trend. I love the ruffles along the arms. This dress just screams Easter to me.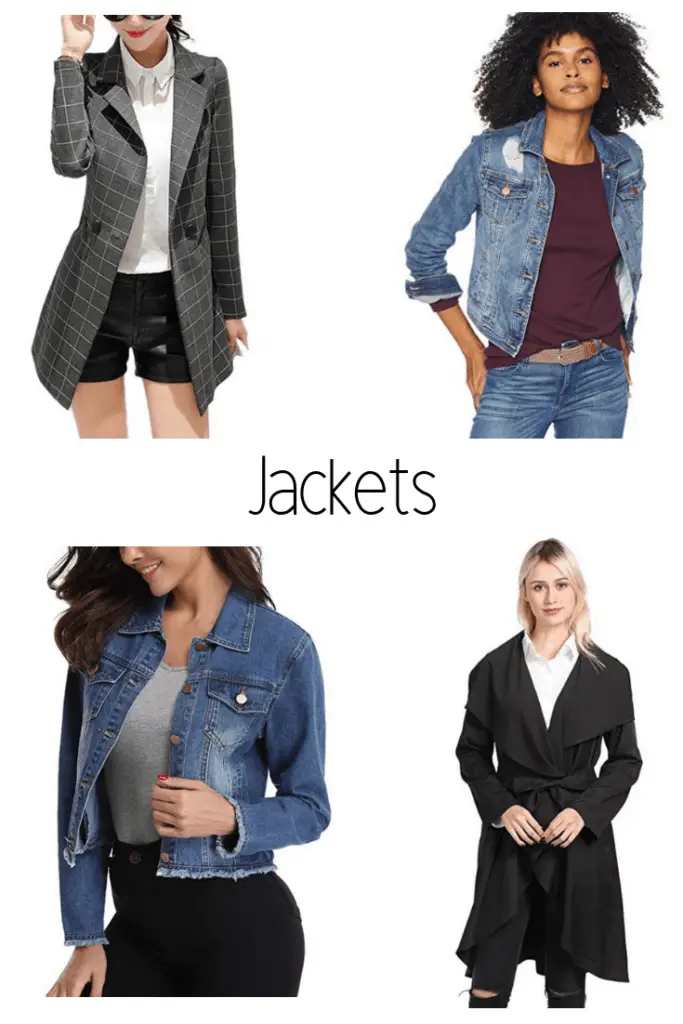 Jackets are a must have spring item. Whether you go with a trench, a leather jacket, or something like this blazer, you are good to go. I like the window pane print of this and the length. Great for spring. It comes in a couple other colors as well. I also really like the black one. Also, this is one of those things I would probably go up a size since it's Asian sizes. Double check against their sizing chart.
The silhouette of this black trench is unique and feminine. I love it! It's almost like a wrap style so I feel like it would hug you in all the right places and create a super feminine shape.
A denim jacket seems like a no brainer as it is a staple piece of the wardrobe. I found 2 different styles. One is definitely your pretty average denim jacket with just a bit of distressing to give it a little something extra. The perfect staple piece. The second one is a little more trendy and has this cool cut off with a frayed hem on the bottom and on the sleeves.
Those are my favorite spring clothes on Amazon. There's kind of a lot, I know. But they're all so adorable and would make a great addition to your spring wardrobe. Be sure to let me know what you pick up in the comments below! See you next time. ☺