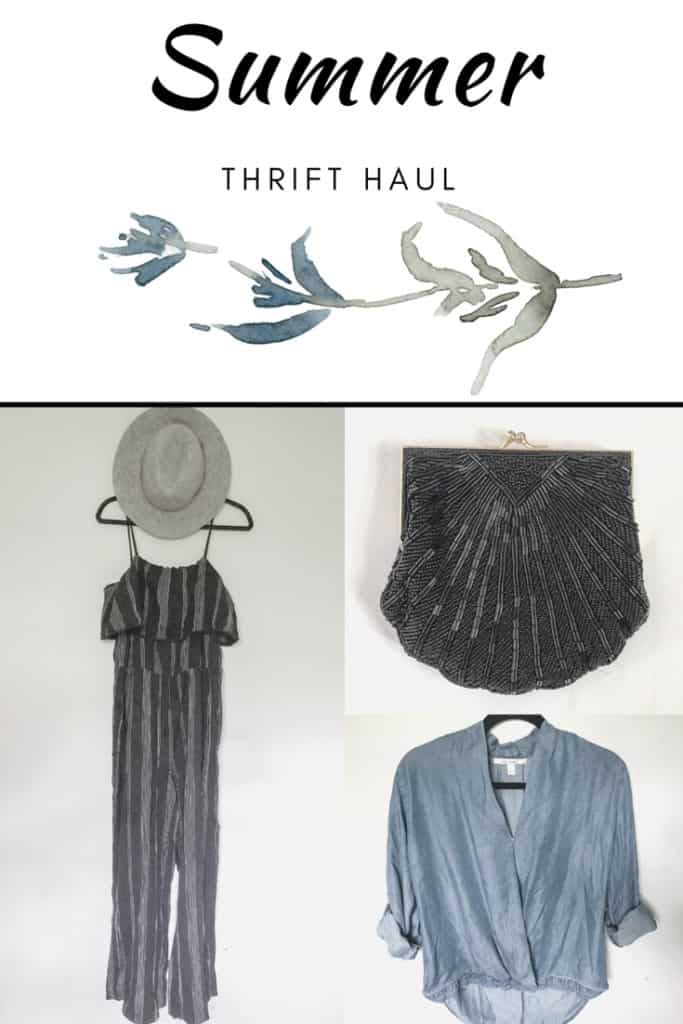 Who's ready for a summer thrift haul?! So I went on another trip to the thrift store and initially I found an entire carts worth of great things. I actually had a small inner panic moment that there was no way I should buy all the things if they fit. And how would I weed out what to put back? I would certainly pick the wrong things and then have some serious regret. Then I would end up buying all of the things for that very reason. Deep breath. A bunch of stuff looked horrible on, so I was saved.
I did however end up grabbing 9 items and only spent $36! What?! I was at Goodwill and they do a certain color tag every week is 50% off and this week was green. I had one item that had a green tag, whomp whomp. But I mean, one is better than none right?
The real winner was the 25% off I got because I'm a rewards member and it's my birthday this month. I did round up my change to donate as well but that isn't really breaking the bank.
I realized as I was going through everything that I got so. much. black. I didn't even realize as I was picking things up or trying them on. But to be honest, I had lots of other colors mixed in the stuff I tried on, like these light pink satin pants that I was so excited about. Then I tried them on, and they were terrible! There were two other pairs of pants, a white linen pair and a tan and cream striped pair which I was also very excited about. Then they had a similar fate as the pink ones. Plus tons of other tops that just didn't work.
So I have black and like three shades of blue. I do have some stripes in there so there's a little variation with a pattern. But yeah, a lot of black. Sorry. I'm a black clothes addict. Alright enough blabbering. Let's check out the goods.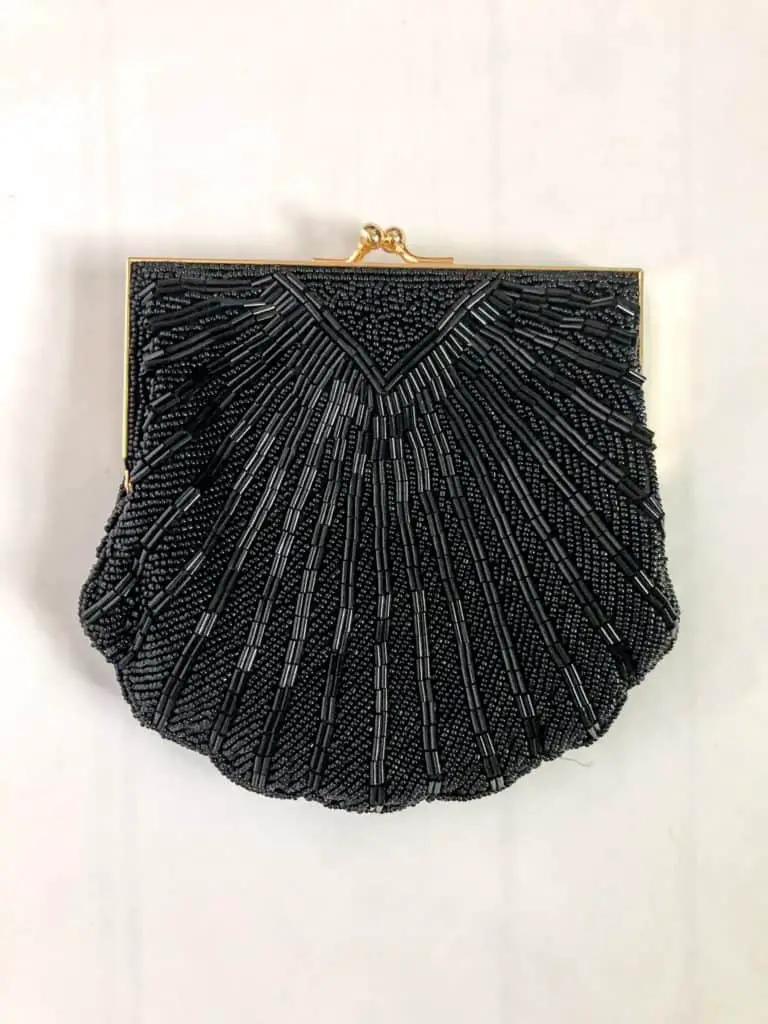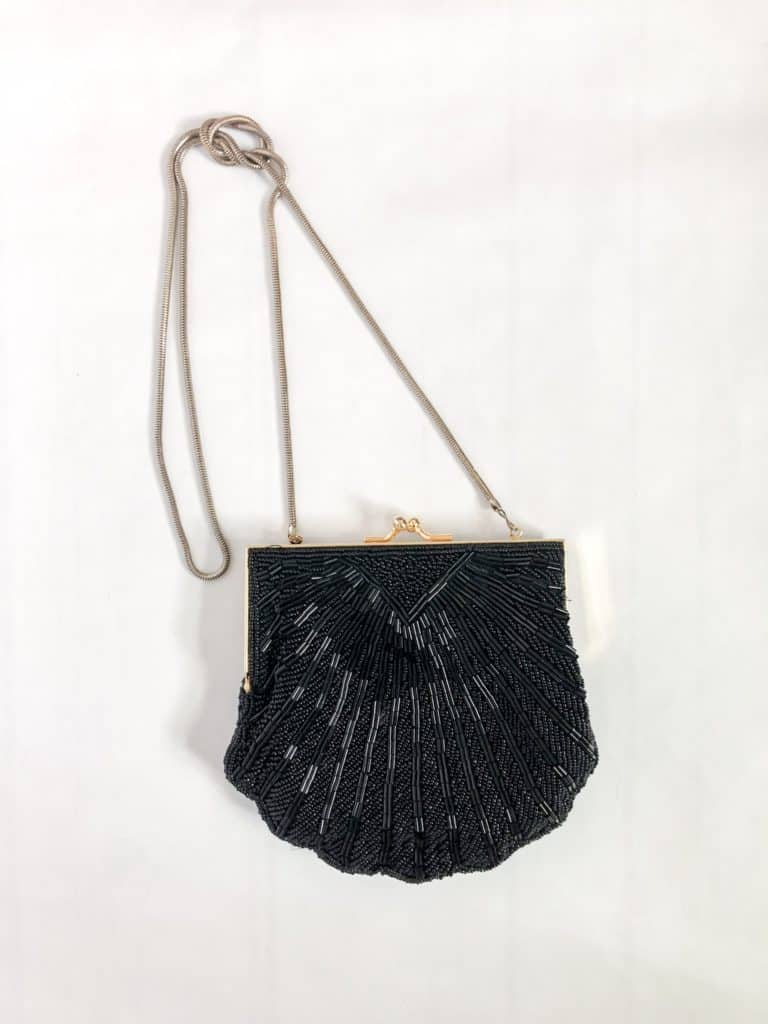 I only found one accessory even though I have a list of a few things I've been on the hunt for. But I found this gorgeous vintage black beaded bag and I am a sucker for bags like this. It was $3.75 after the discount. Amazing.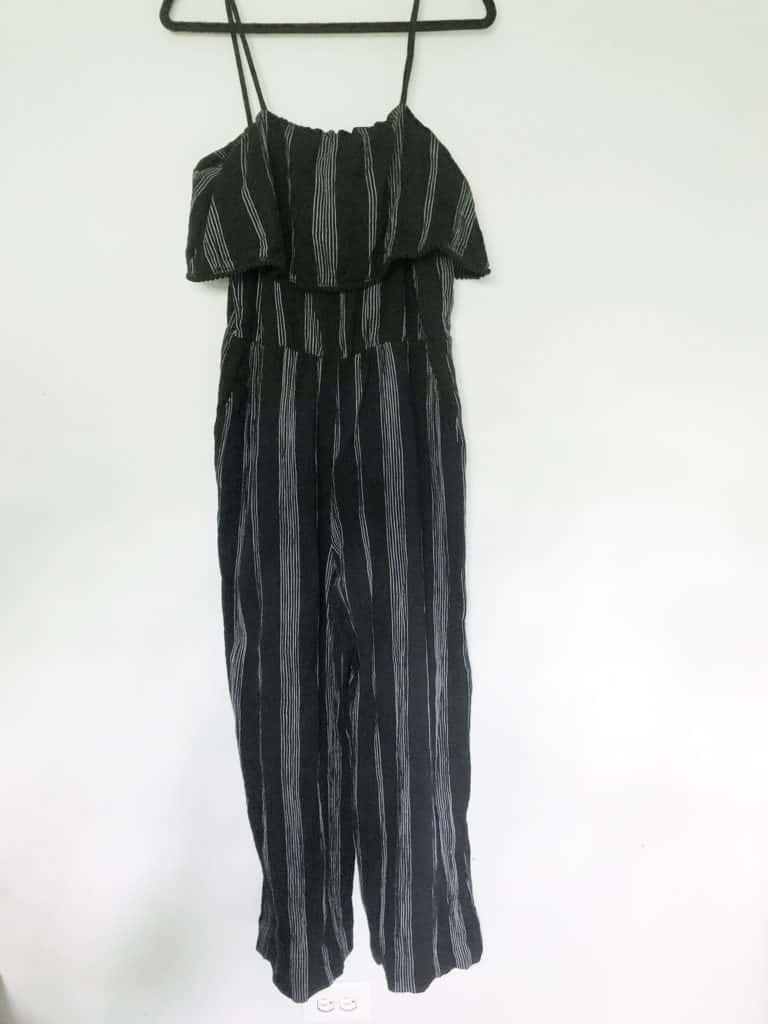 First clothing item and maybe my favorite thing from this trip, is this jumpsuit. Funny story, this is from Target and I actually tried this on at Target when it was full price and decided I didn't want to spend the money. You guys, it was meant to be. It is in my size and was only $4.50 after the discount. Done.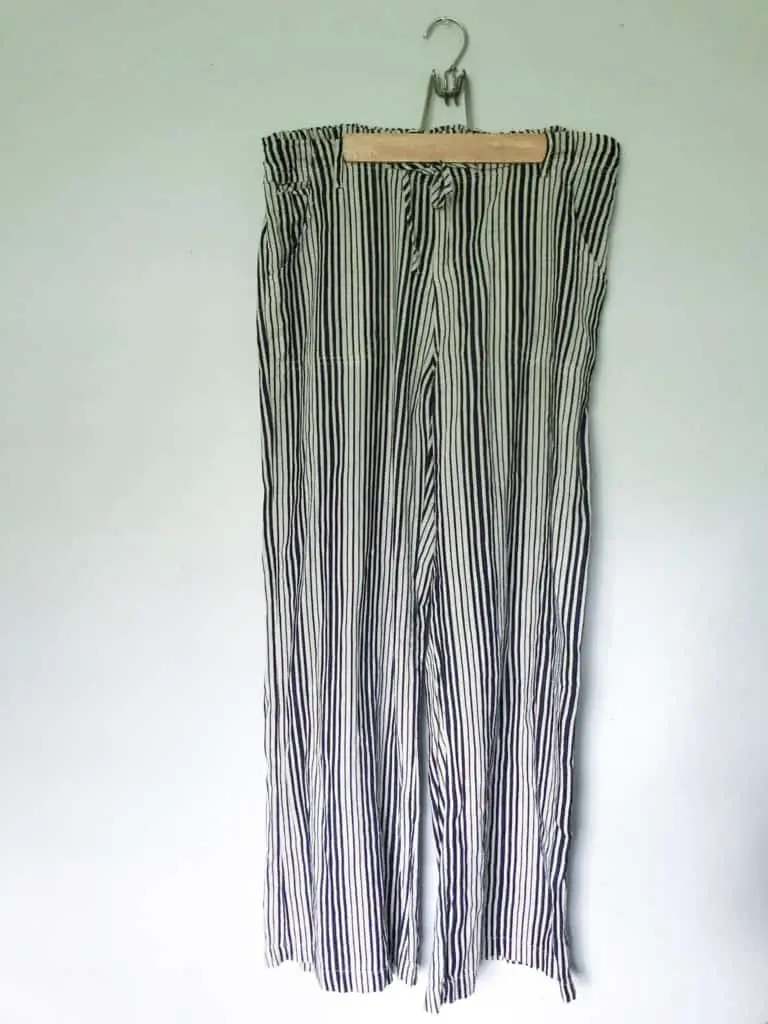 The one pair of pants that did end up working out for me were these navy and cream striped ones. I live for these comfortable cotton pants this time of year. They are perfect for hanging at home and being able to run out to the store or wherever if need be. These were also $4.50 (just FYI, from here on out all these prices are with the 25% off included).
They  are from the brand Just Living which is sold at Nordstrom Rack. I'm not sure if it is also sold at Nordstrom because I couldn't find anything online by that brand. But the shirt dress I found at Nordstrom Rack said it was originally $98 so I'm assuming these pants were probably pricey. Making my deal even sweeter!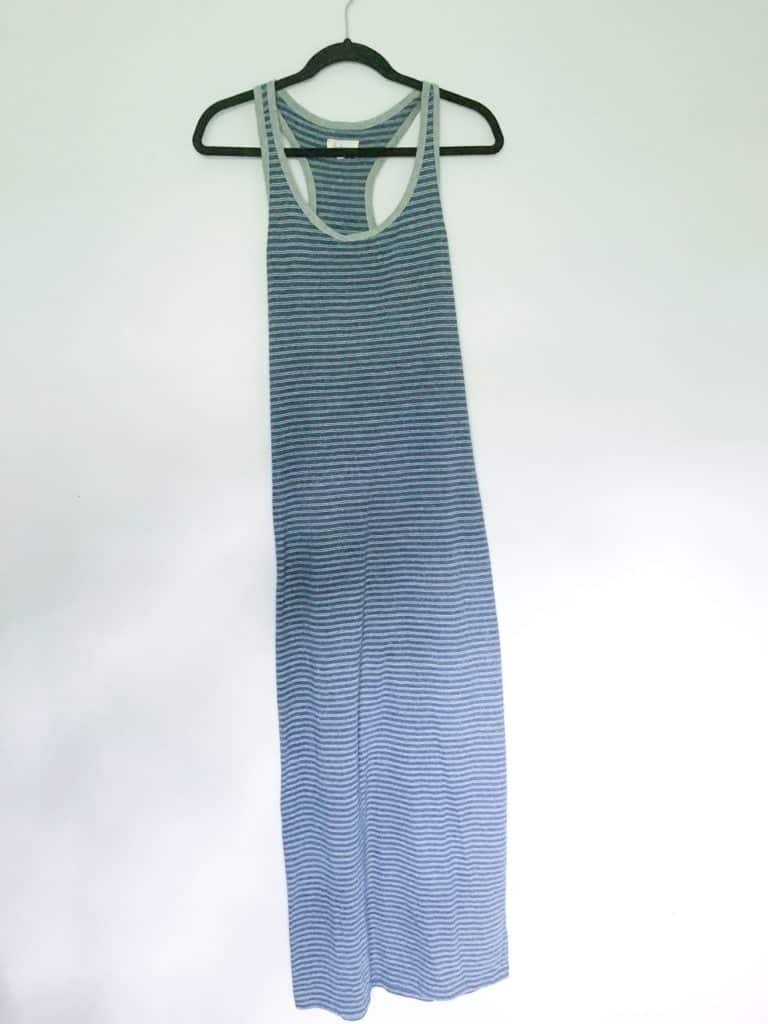 Next up is this really comfortable light blue and white striped maxi dress with grey piping at the sleeves and neck. It is so soft, I could actually live in this. It was also $4.50 and the brand on this one is a good one. It's Lou & Grey which I actually had never heard of but when I looked it up, you guys, it was pretty high end! Their dresses ranged from $70 to well over $100, so I was so excited for this find!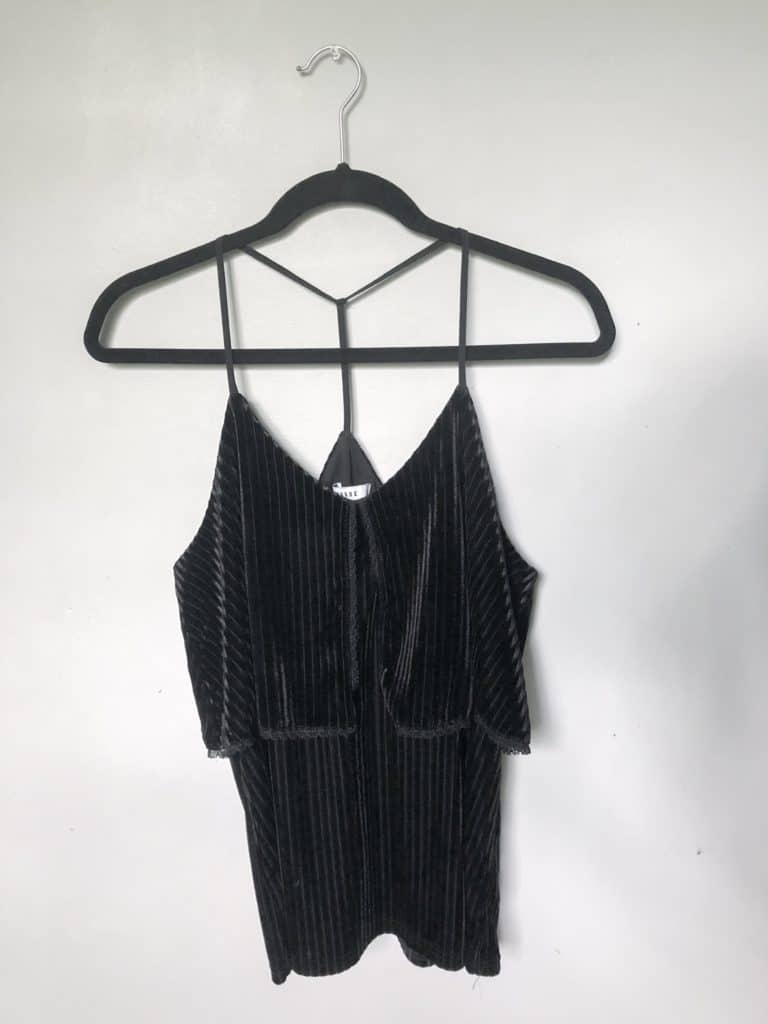 Everything else was tops. Starting off with this really cool black striped velvet tank. I loved the delicate lace detailing along the edges. Perfect for a night out. This was another score. It was only $2.99 and another good brand. This one is from Ro & De which is sold at Anthropologie and Nordstrom. It looks like their tops range from $60 to $90+ so another mega score!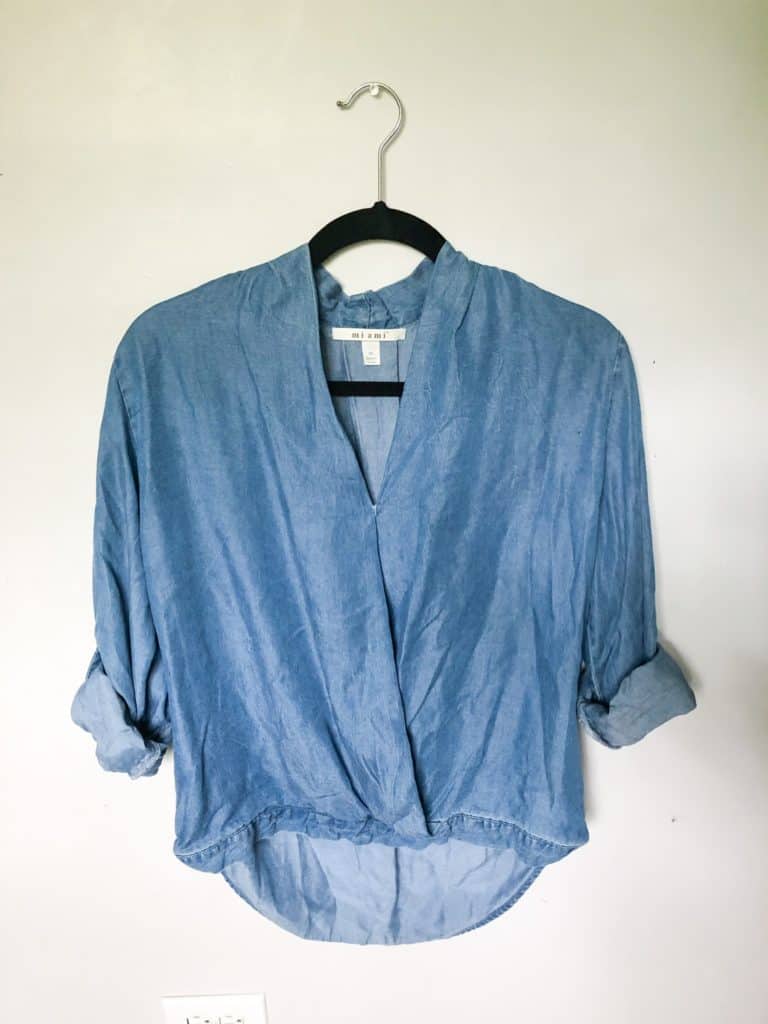 This denim top I was kind of on the fence about initially. I have a couple denim shirts that I hardly reach for but I think it has more to do with the fit. I really like how this one fits me and pictured it with any of my favorite cotton pants I mentioned earlier or even white jeans or shorts. I don't have anything like this so I wanted to give it a shot. This was my one green tag item so it ended up only costing me $2.50 so I was fine taking a little chance with this one.
It is by the brand Miami which looks like it is sold at Francesca's so nothing too exciting there. But it sure is cute!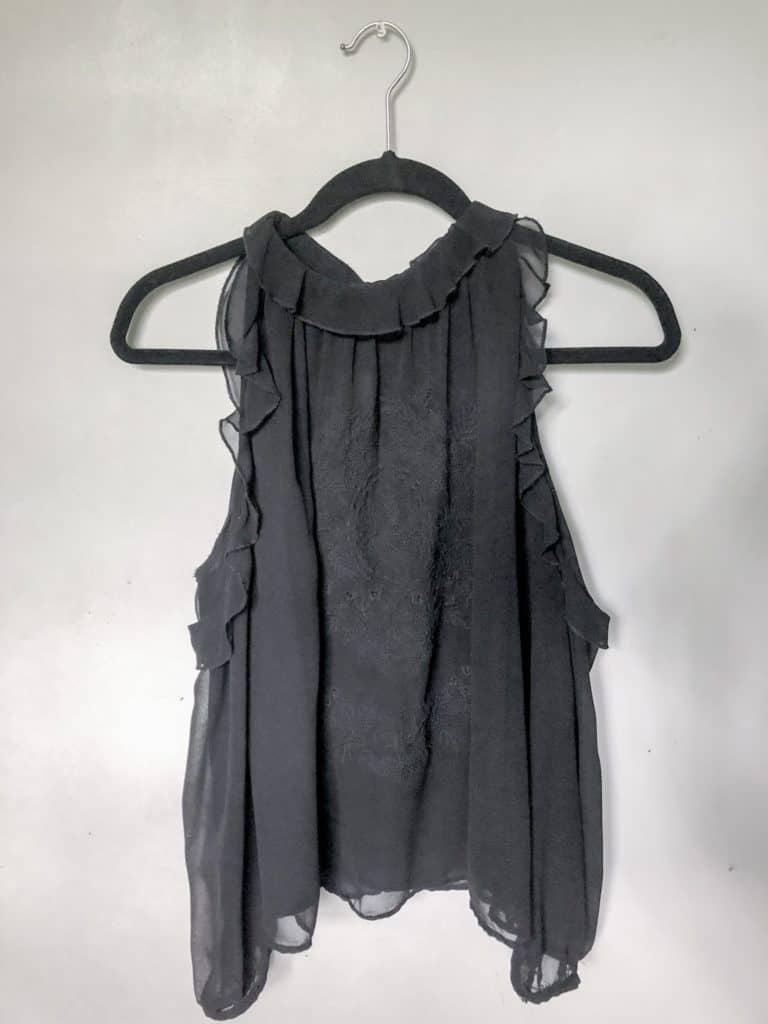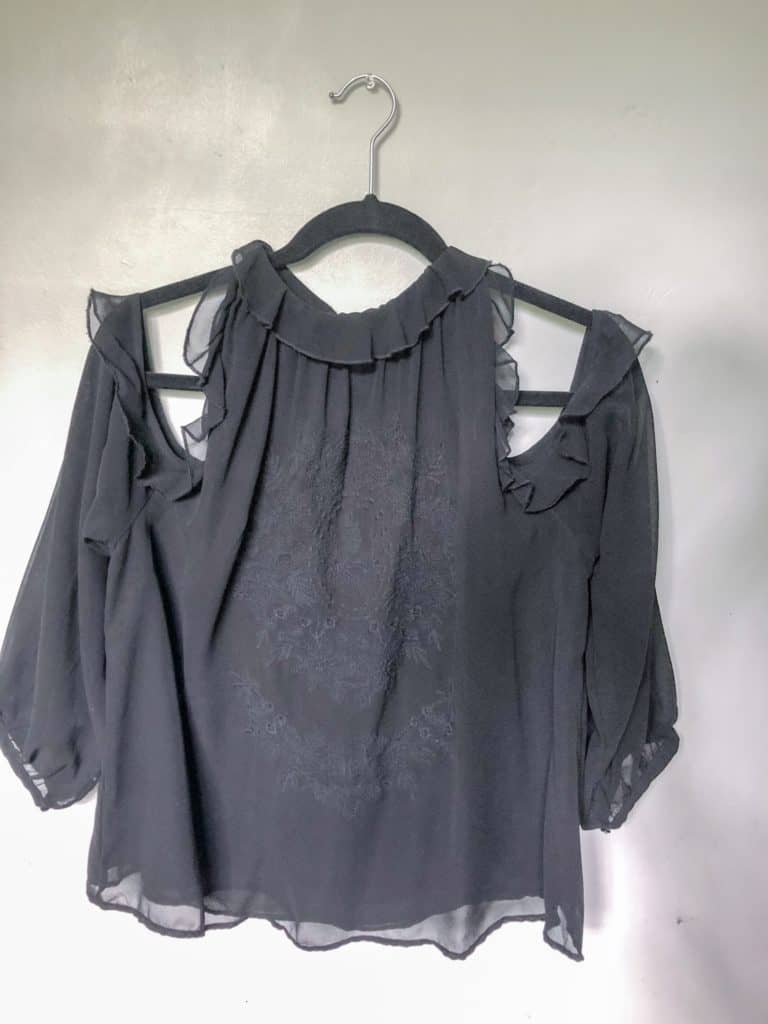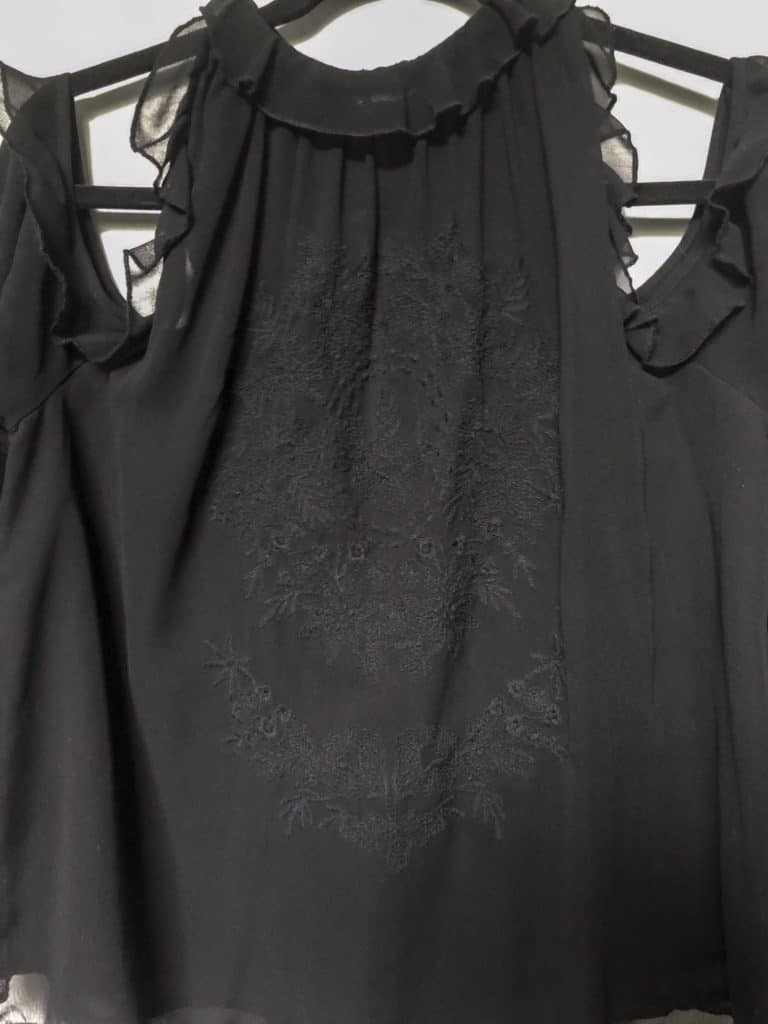 The ruffles on the sleeves and neck of this shirt immediately caught my attention. Then I saw the embroidery and already knew it was coming home with me. It's so romantic and girly which is not usually my style but I really love this top!
I tried to take a picture where you could better see the sleeves, but it kind of looks ridiculous, haha. Hopefully it at least gives you an idea of how it looks. I totally will be styling these on my Instagram so as always, be sure you are following me on there! (Shameless plug.)
These last 3 tops all ended up being $3.75. This one was from Zara which is a pretty good find! I love Zara and their stuff can be a little pricey.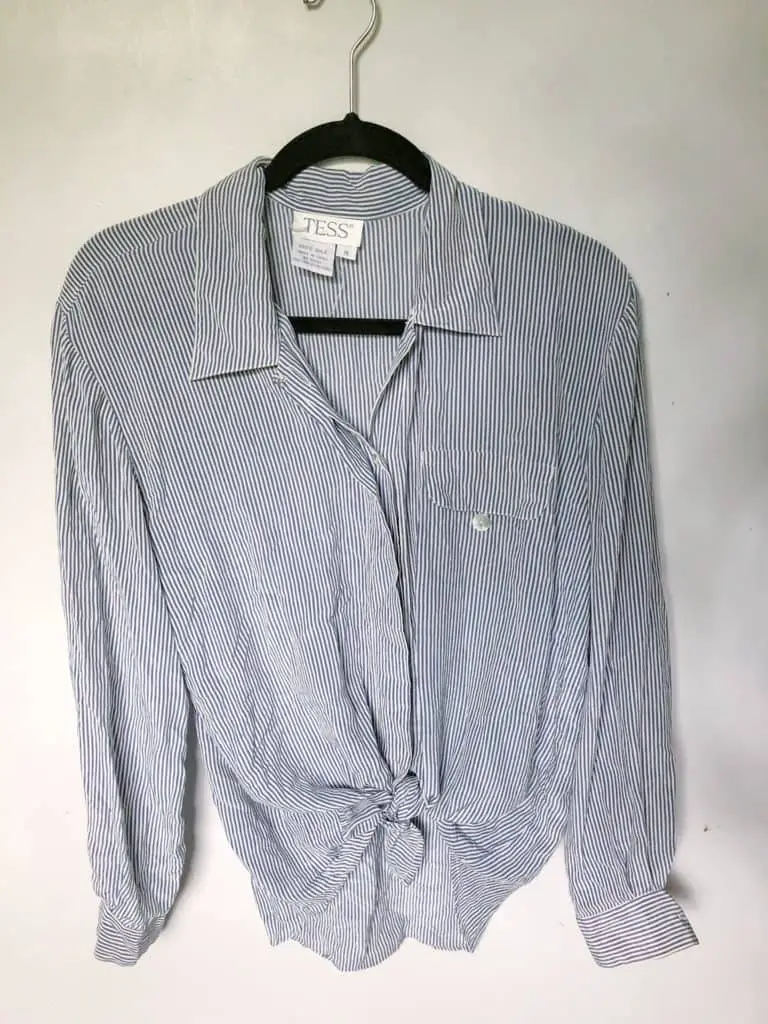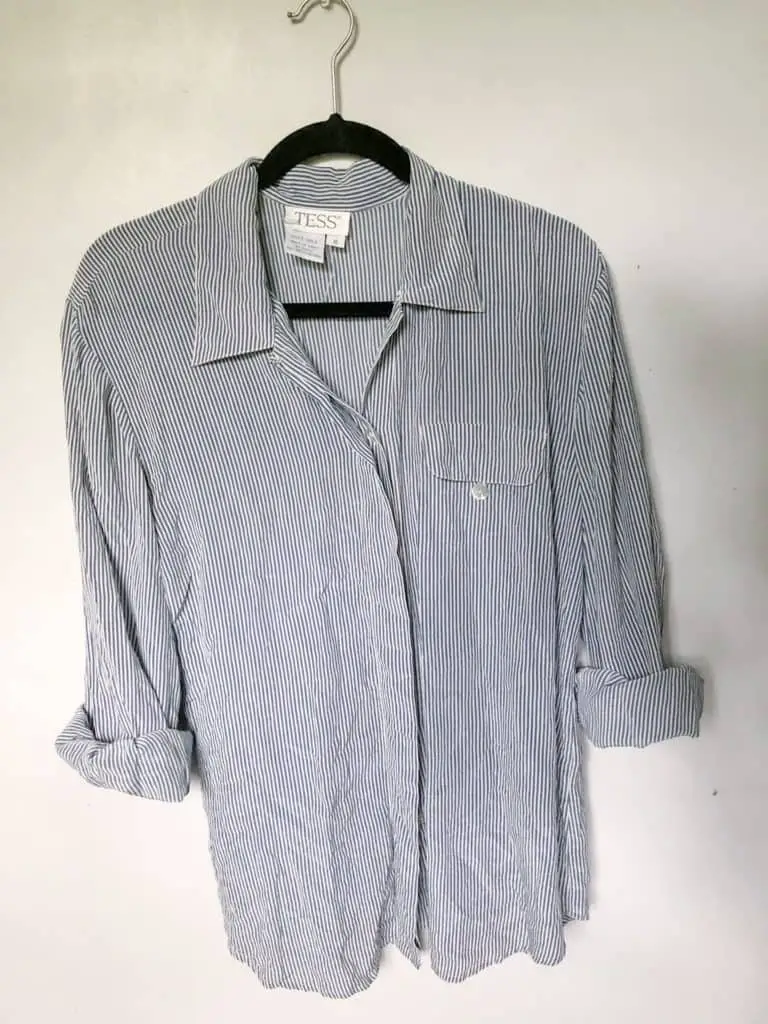 I have been hunting for something exactly like this blue and white striped button down. I have so many outfit inspiration pictures on my Pinterest with tops like this so I was so excited when I found it. The best part is that this is super vintage and 100% silk!! I also love the gorgeous mother of pearl button on the pocket. I would wear this tied up, loose, sleeves up, sleeves down. You name it. So many options. I can't wait to style this one!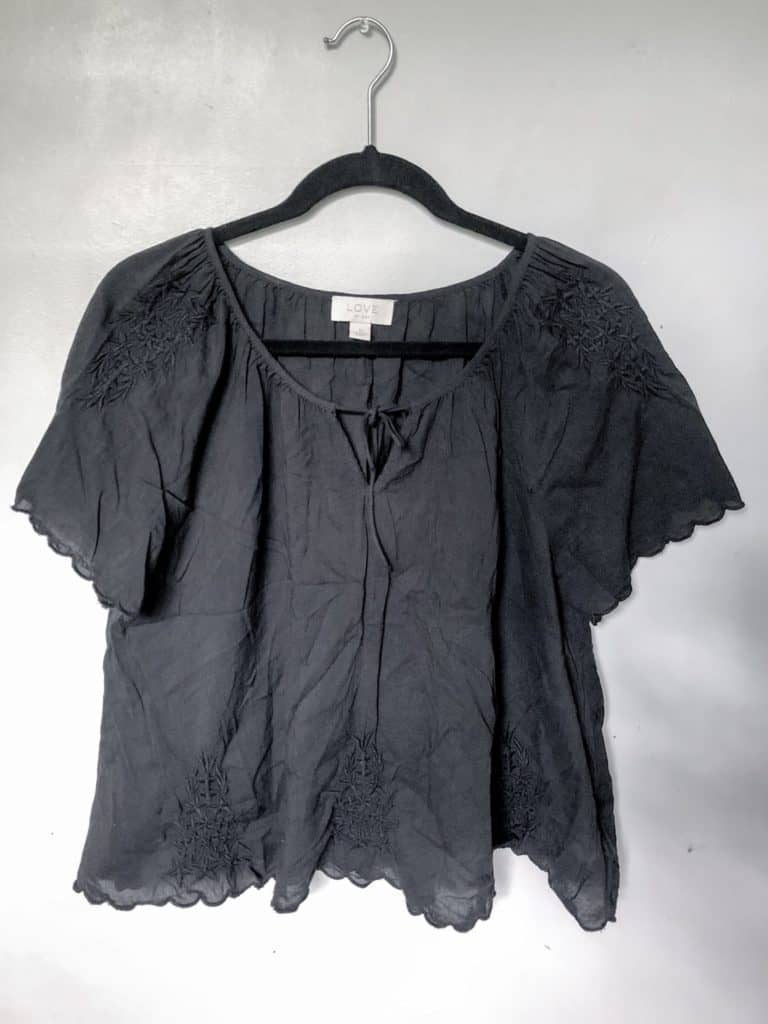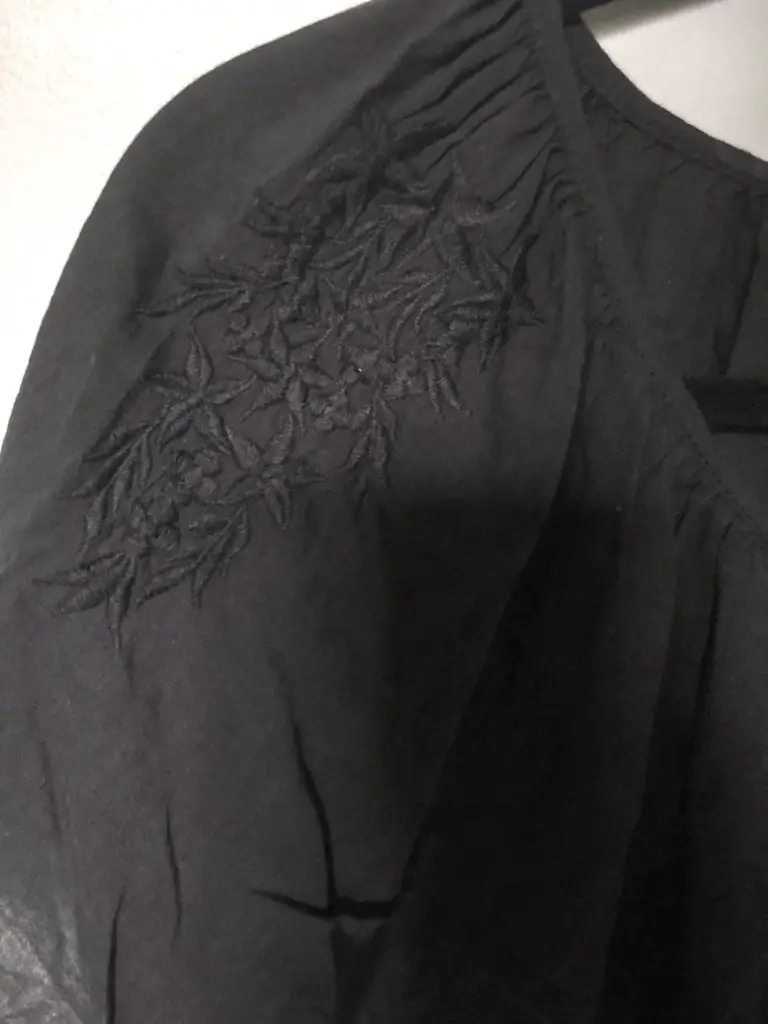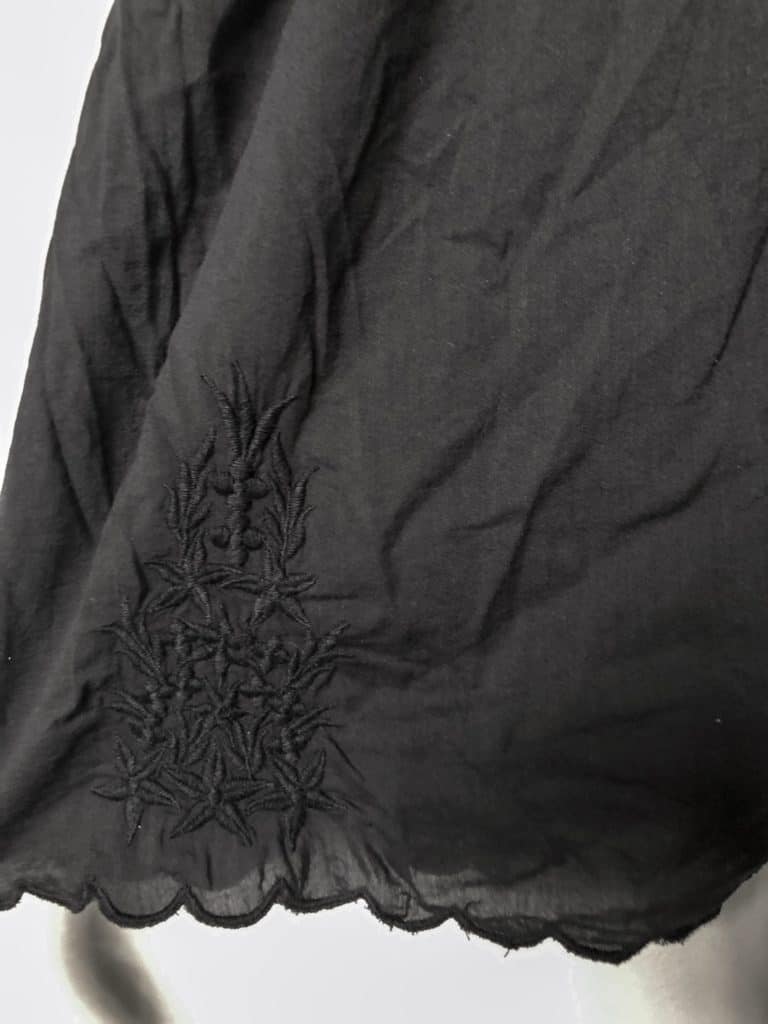 And last but not least is this summer ready cotton top with embroidery that is just so easy to toss on. I love the scalloped hems on this top and you already know I'm a sucker for embroidery.
It can easily go from day to night, especially for summertime events, so that is a bonus. It is from Gap which is another great brand to find at the thrift store, especially when it's under $4!
That is everything I got for this summer thrift haul. I still have some pieces I'm on the hunt for to add to my wardrobe since I purged a lot of items I just wasn't wearing. So stay tuned for more! See you next time. ☺