15 Dressy Flats For Girls Who Hate Heels
This post contains affiliate links for which I may earn a small commission at no extra cost to you. Thank you for your support! Learn More.
This one goes out to my girls who just don't like rocking heels. I get it! It's hard, uncomfortable, and takes some getting used to. Or there's also the chance that you just plain don't like them. Whatever the reason, rest assured, I got you. I totally get it. I am not one of those gals who can rock a 5 inch heel like it's nothing. I like to stick with more of a medium sized heel. And although I have plenty of heels in my shoe collection, I still love a pretty flat.
I like to find flats that are a little more of a statement because I think they look expensive and stand out. It makes them just as appealing as a super sexy stiletto. I try to stay away from anything too cutesie or juvenile, like basically anything with a little bow on the front. You know the ones I'm talking about. Save those for the young-ins.
I rounded up 15 pairs of dressy flats that are classy and statement pieces which are perfect for my gals who just say no to high heels. I will say I added in a couple pairs of super low heels just in case you feel like being a bit adventurous. These are totally manageable sized heels. They are all budget friendly too, under $50. Let's check them out!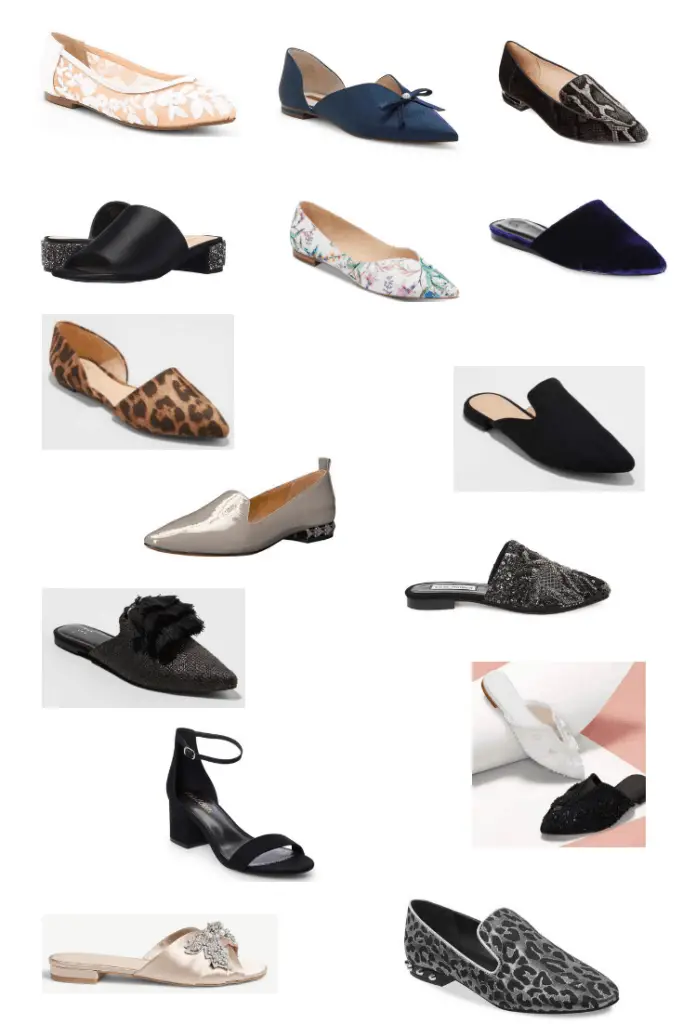 Let's just talk about these low heels since I already started. The taller of the two is that strappy black sandal with a block heel. It's like a 2 inch heel but since it's a block heel it is super easy to walk in. These will give you the look and feel of a heel. Or for something smaller those black satin ones with the beaded heel are so pretty! Those are closer to an inch, maybe an inch and a half but very manageable!
I really love mules. I think they are elegant and stylish. There are so many different kinds as well. So many of the shoes here are some form of mule. For something simple try those black suede ones.
Animal print is a great way to dress up a shoe. These classic leopard print split ballet flats are the perfect addition to your dressed up look. For something a little more trendy try these gorgeous velvet snakeskin shoes. These metallic leopard print shoes with the studded heel are way cool.
For more of a feminine touch you could try a floral print like these watercolor print shoes. I personally am a sucker for all things embroidered so those white floral flats are calling my name.
I also happen to be a sucker for beading. It's just so beautiful and adds so much texture to an outfit. I think my favorite is that pair which comes in both black and white. I couldn't decide which I liked more so that's why I decided to include both! I love the shape of the shoe and the way the beading really emphasizes it so well. I also found this black pair with the silver and black beading which are extremely pretty.
Speaking of textures I found several pairs of fun textured shoes. How about those black tassel shoes with the really interesting texture on the shoe? It's almost like a tweed. Amazing. And you can't go wrong with patent leather, it is a sure fire way to dress up an outfit. How about the killer heel on those grey patent shoes? Very cool.
Satin and velvet are also great textures to look for in a dressy flat. Those soft pink satin shoes with the jeweled embellishment are so pretty. And I can't get over the color of those navy velvet mules. For another pop of color I found those blue satin shoes with a small pearl in them. Simple yet elegant and again with a really fun shape to the shoe.
Ok. There you have it! 15 dressy flats for my gals who hate heels. They look expensive and sexy while being budget friendly and comfortable. Let me know which ones are your favorites in the comments below! See you next time. ☺