7 Outfits For Hot Summer Days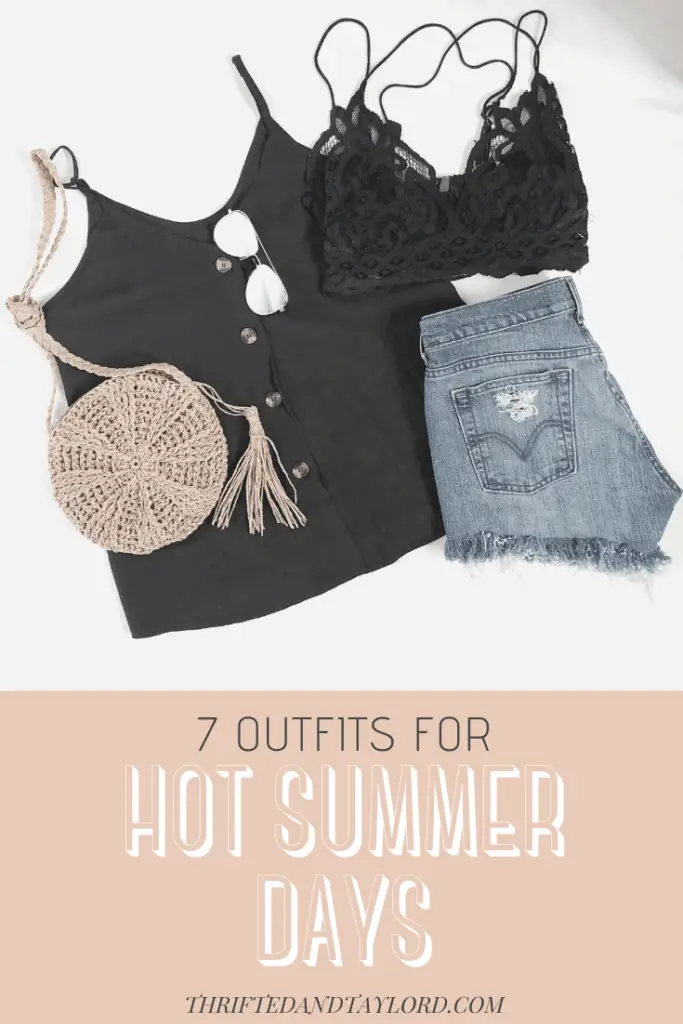 This post contains affiliate links for which I earn a small commission at no extra cost to you, should you purchase through them. Learn More.
How is the weather where you live? Here… It. Has. Been. HOT. So it can be hard to know what to wear because if you are spending time outside, but not like in a pool, you don't want to be sweating your butt off. So I put together some outfits for hot summer days that range from casual, to dressed up with somewhere to go. 
In doing these, it's kind of funny, I've realized just how much my style changes depending on what I might be doing that day. Because I would 100% wear all 7 of these and consider them all my style even though some are vastly different from each other. So that just goes to show you, you don't have to stick with just one style if different stuff appeals to you. 
Ok, I digressed, let's get back to these outfits. Use them as inspiration for items you already own or if you see something you love, I provided the links for everything should you want to purchase.
Outfits For Hot Summer Days

Starting off with some casual outfits, this first one is like my staple outfit in the summer. A t-shirt and some jean shorts. I typically like some kind of graphic like this cool band tee and I also like the texture of dome distressed shorts. 
I thought this cute little market bag would make a good tote for if you needed to run to the farmers market or grocery store or whatever other summer errands you may have. A cute pair of sunnies are a must for those sunny summer days and I love a slip on sneaker. Especially when they have a cool print like these ones do.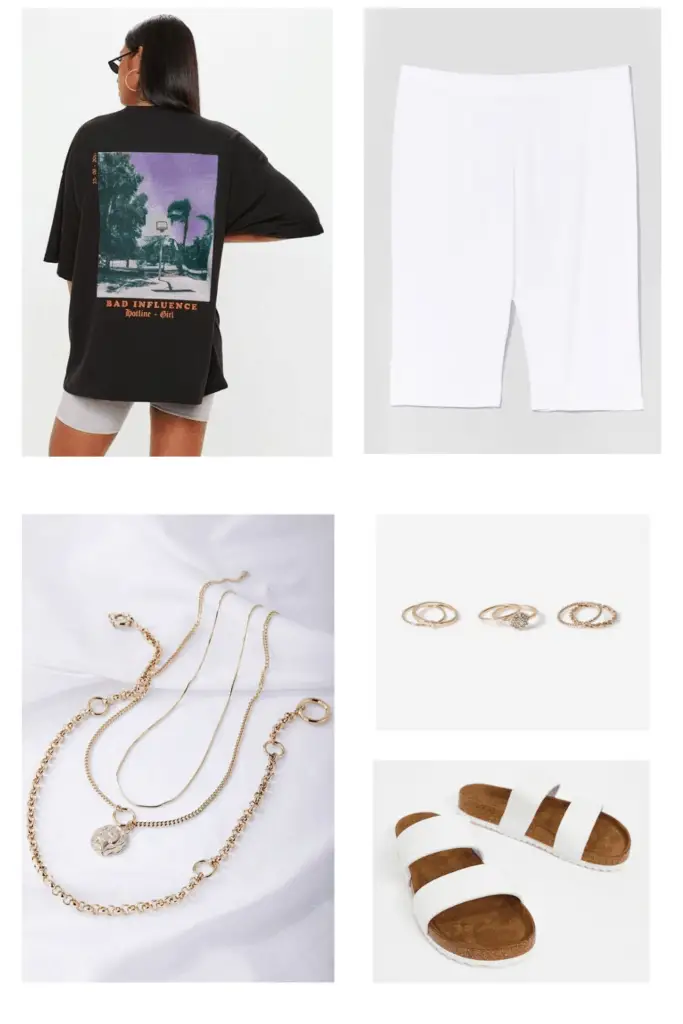 Sometimes jean shorts can even be too hot so I like to opt for bike shorts. I love to wear an oversized graphic tee or tank with them. Accessorize with some pretty layered necklaces and some assorted rings. I practically live in my slides (slip on sandals for those of you who are like what the heck is a slide? Lol) on hot summer days so these are a must have for me.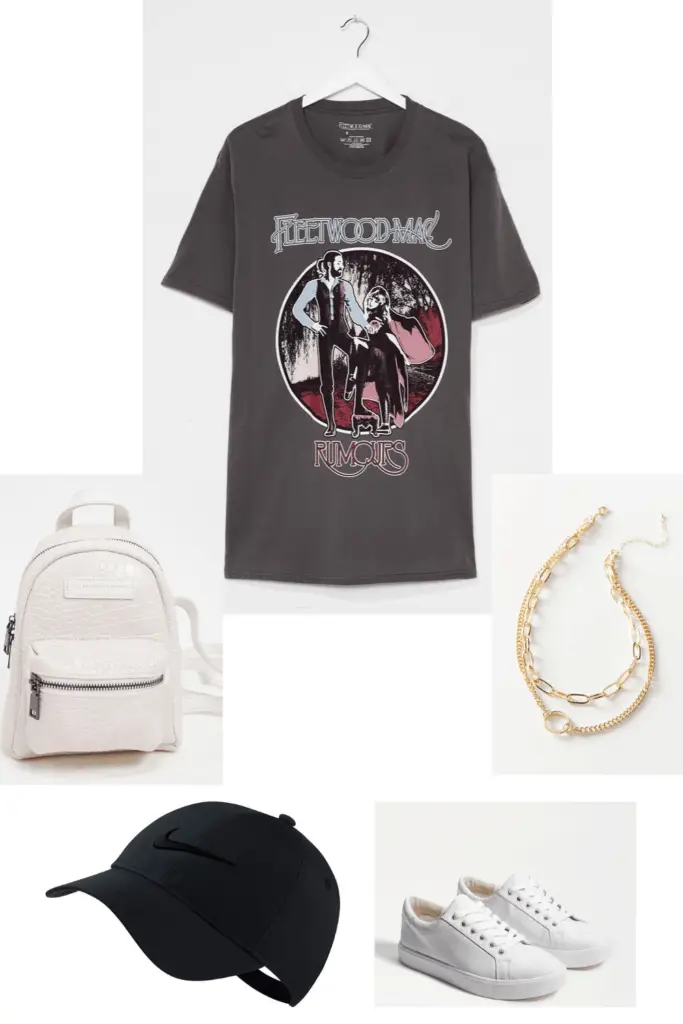 If it is especially hot then pant less is the way to go. I absolutely love t-shirt dresses for this. Again, a cool band or some other graphic or phrase is my usual go to but I also have a couple solid colored ones too. I like a sporty-ish kind of vibe with this so I paired it with a black baseball cap, this faux croc embossed mini backpack, some chunky necklaces, and these white sneakers.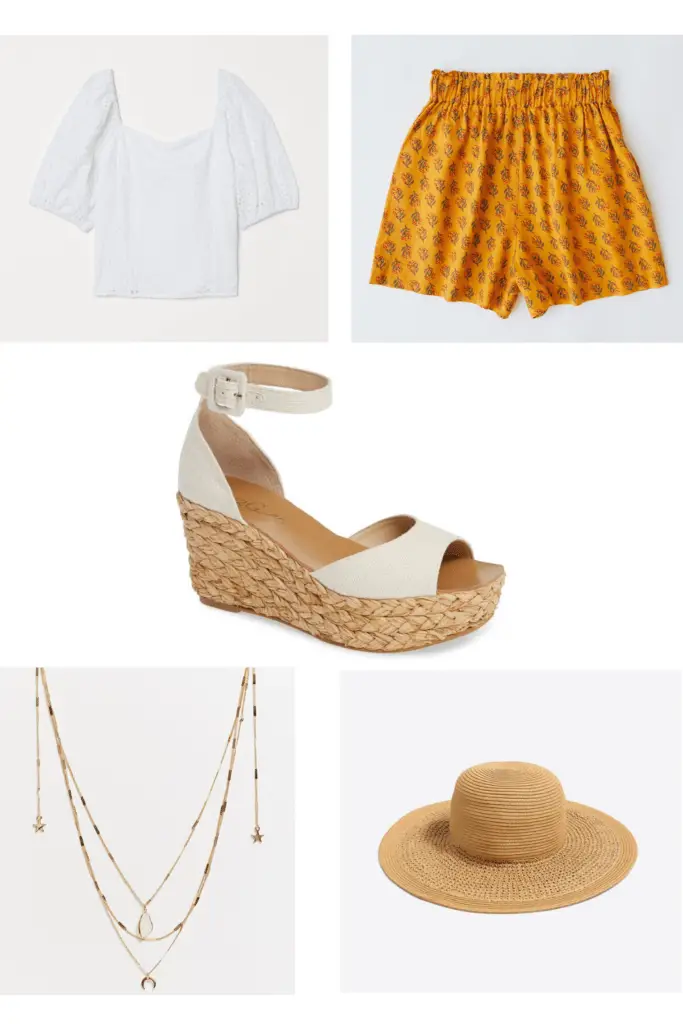 This next outfit is a good mix of casual and somewhat dressed up. It is like a mix of feminine and boho vibes. The alter ego to my edgy, band tee and leather wearing gal. Hahaha. I love this pretty eyelet, puff sleeve top paired with these high waisted floral linen shorts. 
This outfit is begging to be worn with a wide brim straw hat so I had to include that. Add a delicate layered necklace and some adorable straw and canvas wedges to finish off the look.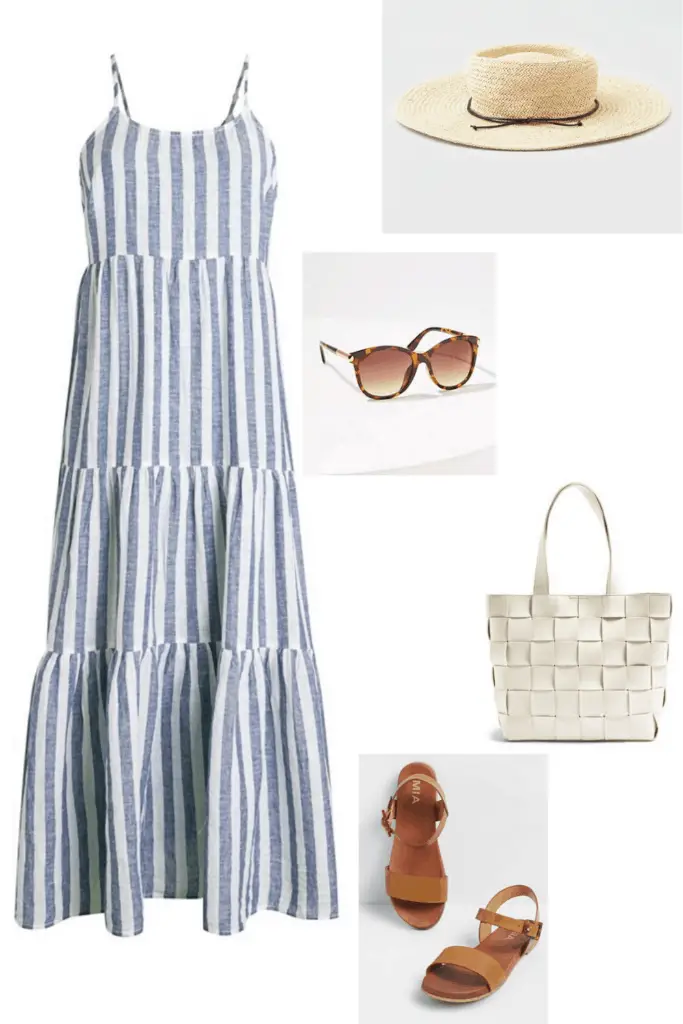 Kind of playing off the last outfit, this next one is another mix of casual and kind of dressed up. It's a maxi dress, which is another one of my go to outfits for hot summer days.  They are so easy to wear and with a few accessories like this cute hat, these pretty sunnies, this cool woven bag, and these camel colored sandals, you have an instant outfit.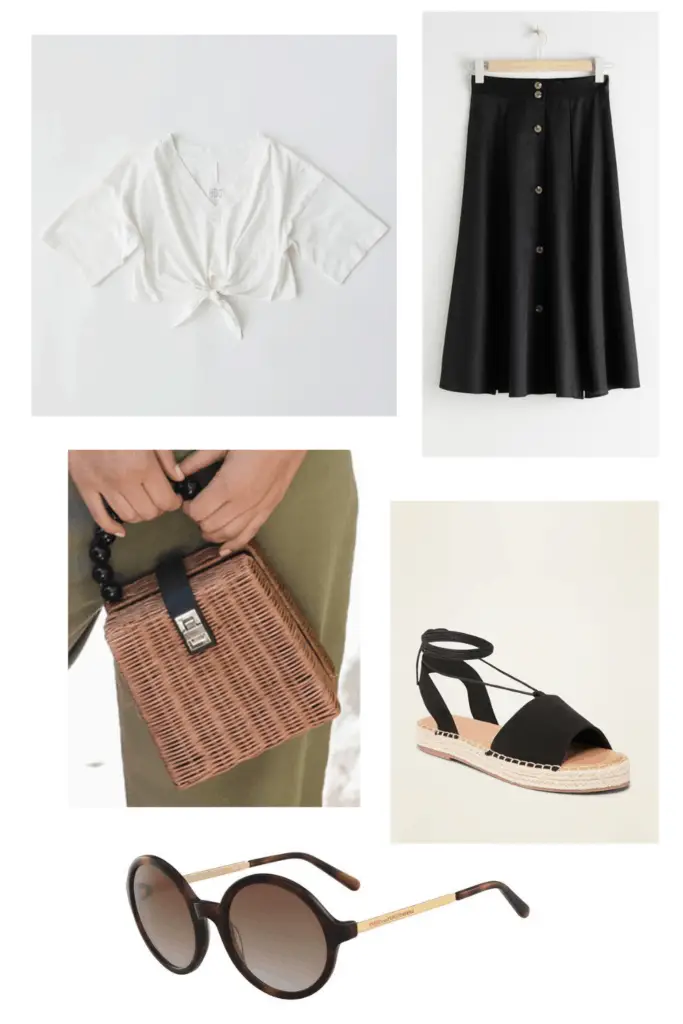 This next outfit can totally be worn to any summer event (although there aren't too many of those this year unfortunately,) or it can be casual enough to wear for any other typical summer day. By pairing a cropped t-shirt that ties (or wearing a regular t-shirt which you tie up yourself,) with a high waisted skirt you can really make this as casual or dressed up as you need it to be. 
To accessorize try some girly sunnies, a cool bag like this amazing straw one (how cool is that handle?!), and some pretty lace up espadrilles.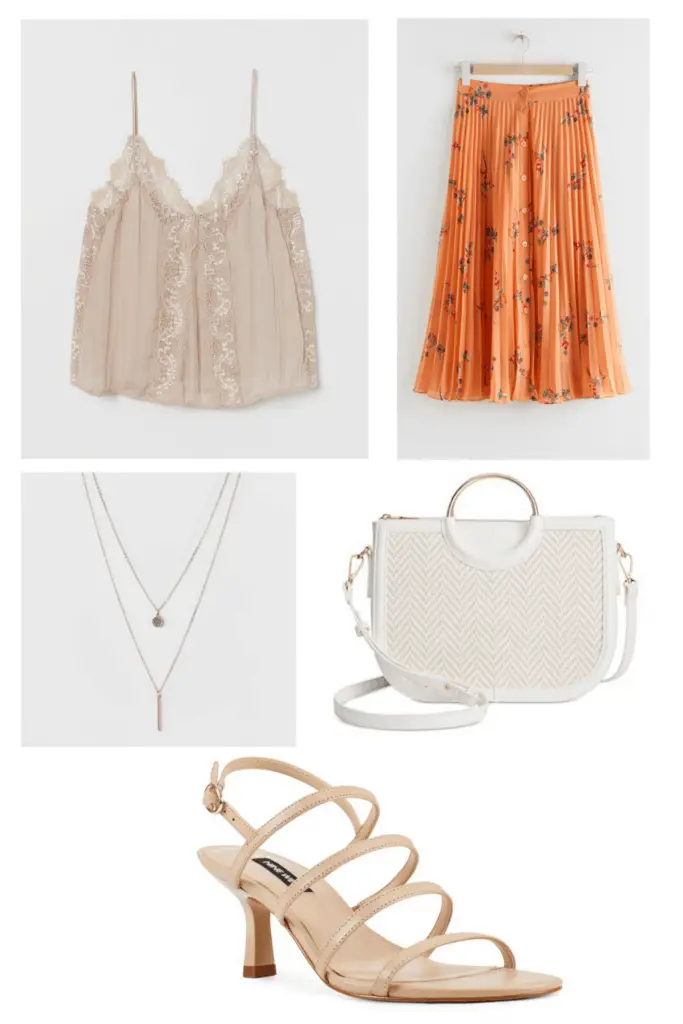 To finish off all of these outfits for hot summer days, I went with something much dressier that you could wear for any summer events that may (still) be going on. I know some people are still doing outdoor parties and showers so this would be perfect for those. 
I just love this gorgeous camisole. I think it pairs so well with this beautiful floral pleated midi skirt. To dress it up even more I added this dainty layered necklace (which I actually own and wear all the time!), this amazing white woven handbag, and these strappy heels. 
So whatever you may (or may not) have going on this summer, there is an outfit here that will work! You can use these as inspiration and alter it to better match your style if need be too. For even more summer outfit options check out this post, they're all under $50 too! What are your favorite types of outfits for hot summer days? One of these, or maybe something I didn't think of?! Let me know in the comments below and I will see you next time. ☺