Thrifted Fall Basics | Plus Some Cute Fall Outfit Ideas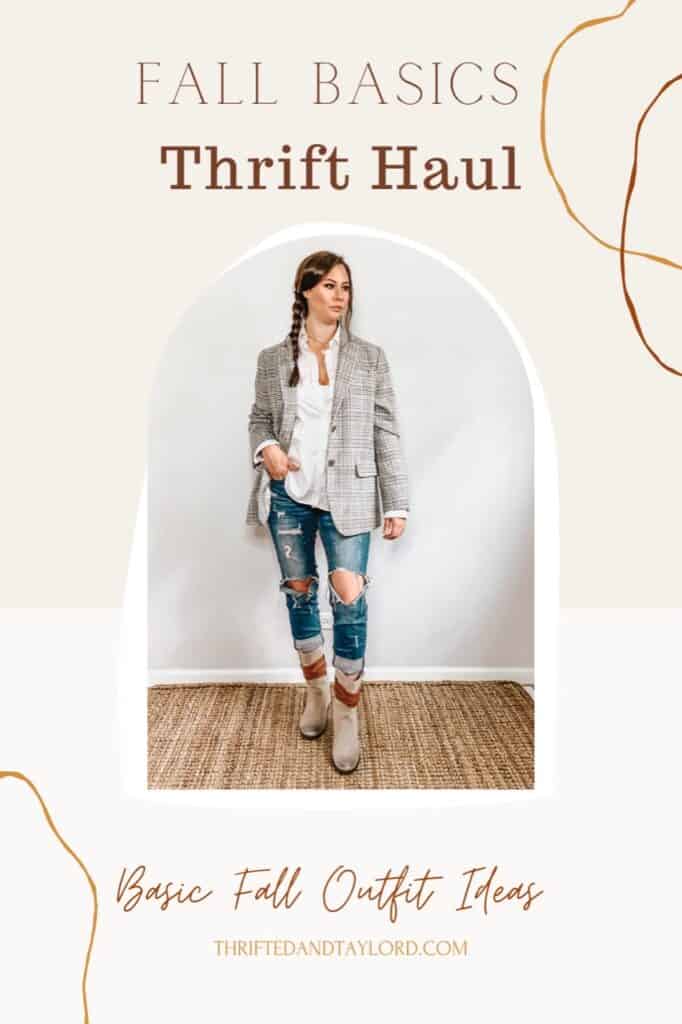 Well, we are full into the fall weather around here. Although we have had a few beautifully warm and sunny days mixed in! I haven't had the chance to make it out to the thrift stores much but the last time I went, I found some great pieces that I think would be perfect to share! These thrifted fall basics are staple pieces that I can wear many different ways.
I put together some quick and easy fall outfits with the stuff I picked up to give you some inspiration for your own closet. Or maybe you feel like checking out your own local thrift stores to try to recreate some of these! I also tried to reuse some things so you can see how much wear you can get out of an item. 
I am all for wearing things over and over to try to reduce the amount I consume, that's also why I love thrifting. Keeps things from being tossed in the landfills and helps the environment by not buying new all the time. So let's check out these basic fall outfits that are equally easy to wear and stylish. 
Thrifted Fall Basics And Outfit Inspiration
This post contains affiliate links for which I earn a small commission at no extra cost to you, should you purchase through them. Learn More.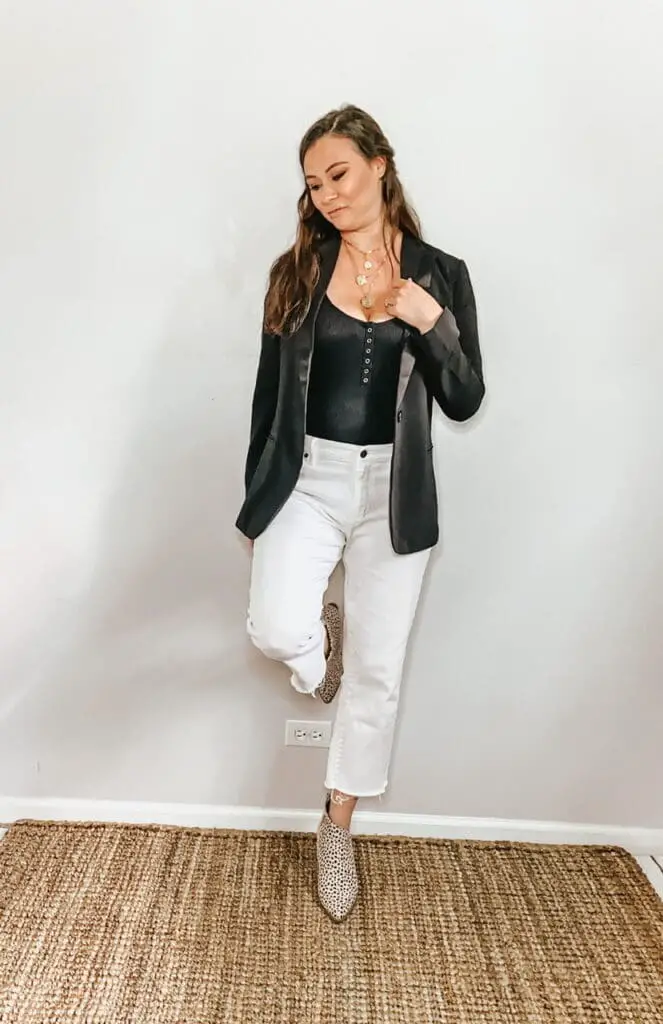 These white Ralph Lauren straight leg jeans are a find! I have been on the hunt for some straight leg jeans, and although I still am looking for the perfect blue jean pair, these white ones will easily be one of my new favorites. And yes, before you even have to ask, I will just say it, YES you sure can wear white after Labor Day! Check out this post on all my other favorite fashion rules to break.
I will say, they are a touch big on me, but I like the relaxed fit that gives. I can always pop a belt on if I want them to stay higher on my waist.
These were $9.99 which is probably a bit more than I typically like to pay at the thrift store, but considering the brand, I was ok with it.
These also were not always a cropped, raw hem. They hit me like just above my foot, which looked… weird. I wanted this style anyways, so I just gave them a little chop and then after washing them this is how they turned out!
For this fall outfit, I paired the jeans with this adorable black body suit from Target, a fitted black blazer, these leopard print ankle boots (similar), and my favorite layered coin necklace (similar).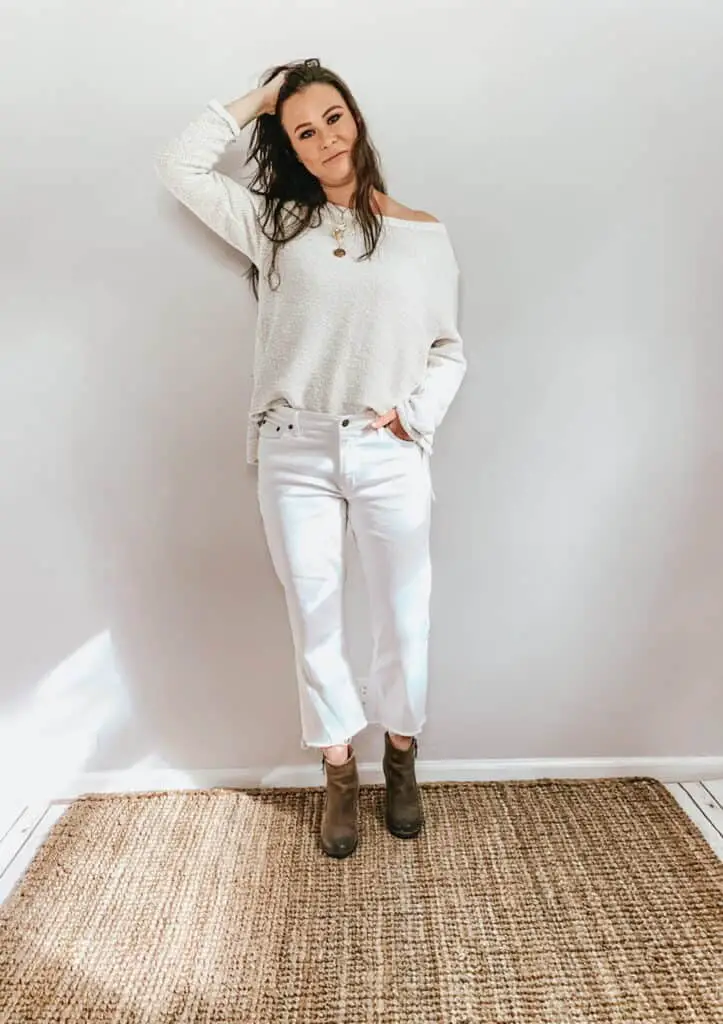 This white textured sweatshirt is one of the types of shirts I reach for almost every day. This one is originally from H&M and cost me only $3.50. I don't normally love to pick up brands like this but this one was in fantastic condition (it looked nearly new) so I decided to get it.
I really liked the texture on it and the rolled sleeves. I love tops that have extra little details like that. I also loved how oversized it it was. Perfect for that slouchy, casual vibe.
I paired this with the same white jeans and necklace, and went for some low heeled ankle booties. (similar)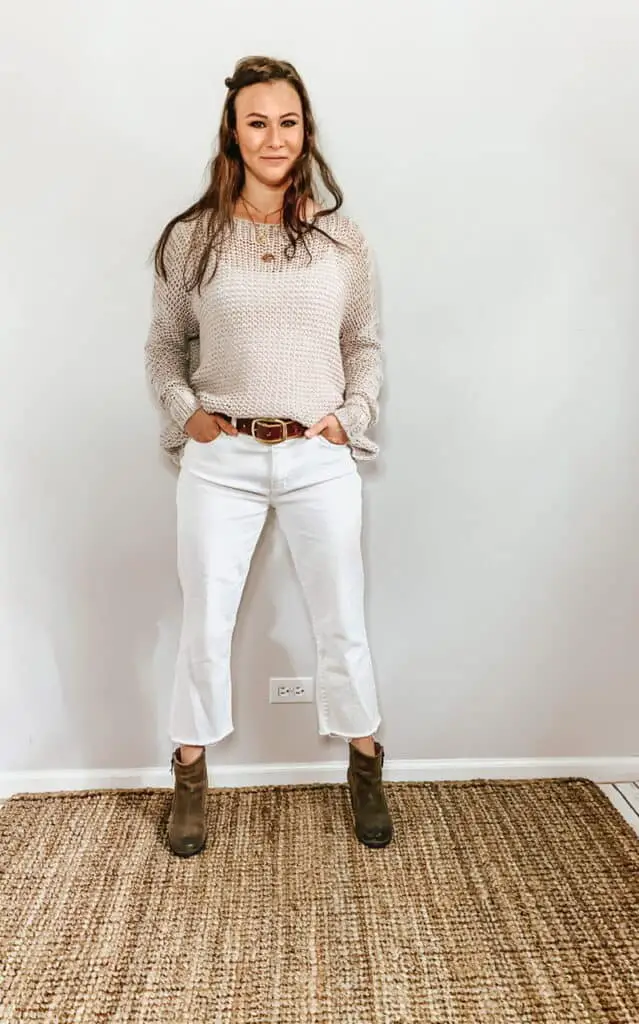 The other item I regularly reach for during this cooler fall weather is a sweater. So that is something I am always looking for this time of year at the thrift stores. 
This one is just an Old Navy sweater, again in super good condition and it was only $2.50 so I was not going to pass that up!
I loved the open knit and how it had a slightly oversized fit. This gray color is amazing, I need more things this color! I really like how it looks on me. 
You can see it is virtually the same outfit as the previous, I just added the belt and (obviously) changed the sweater.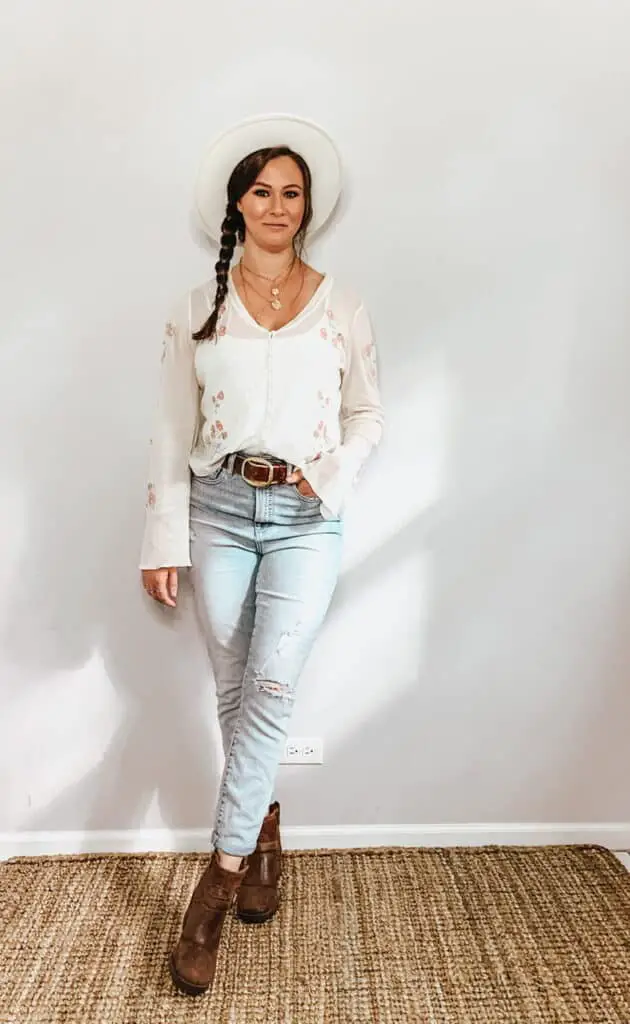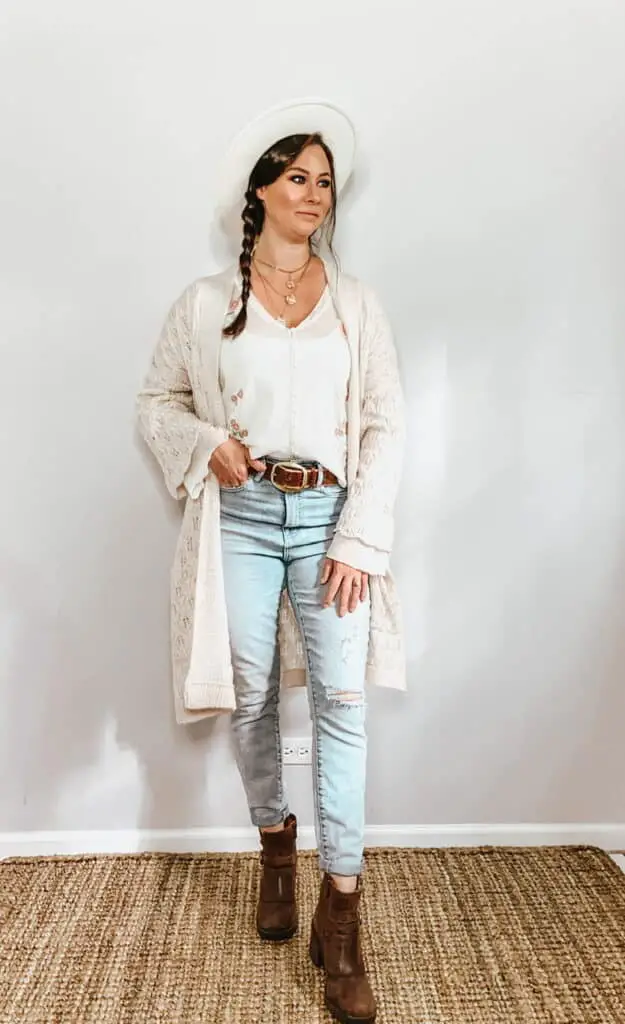 Ok, so maybe this top (and entire outfit) miiight be more spring than fall vibes. But I would (and will) 100% wear this in fall. There's a cardigan, there's boots, there's a hat. C'mon. That's fall!
I saw the embroidery and the bell sleeves on this beauty and was hooked. I loved the delicate buttons and material. It is a brand I haven't heard of, and the tag looks older so maybe from the 90's or early 2000's? I got this one for $2.50 as well!
So obviously you can wear this on its own during those much warmer summer to fall transition days, but as it gets cooler, toss on a cardigan for added warmth. I love how the sleeves stick out of this cardigan. I paired it with these high waisted light wash jeans from Gap, this cream wide brim hat, the same belt and necklace from the last outfit, and some brown booties (which are also thrifted.)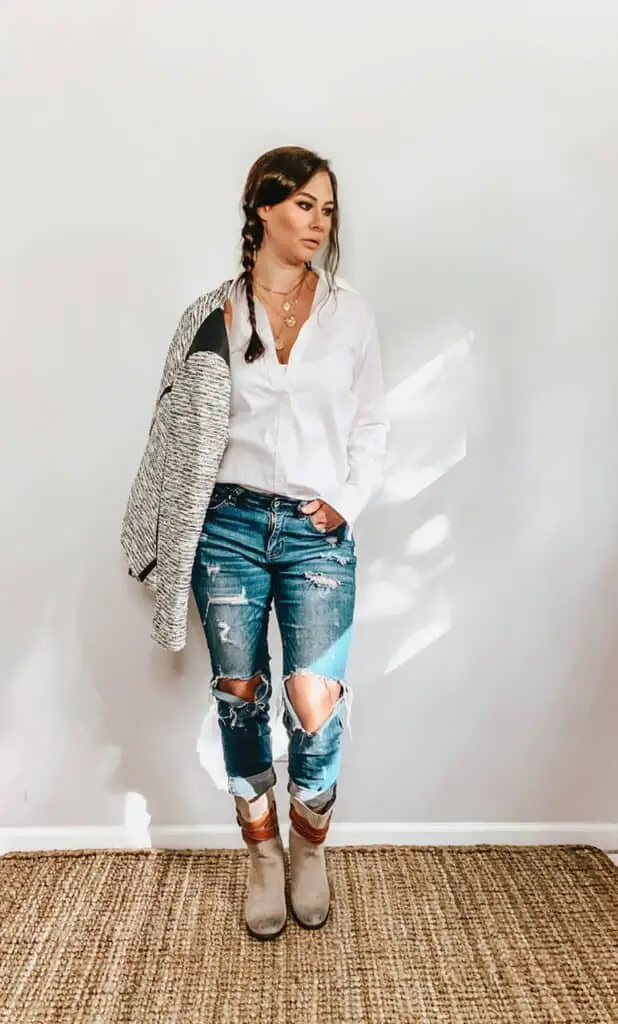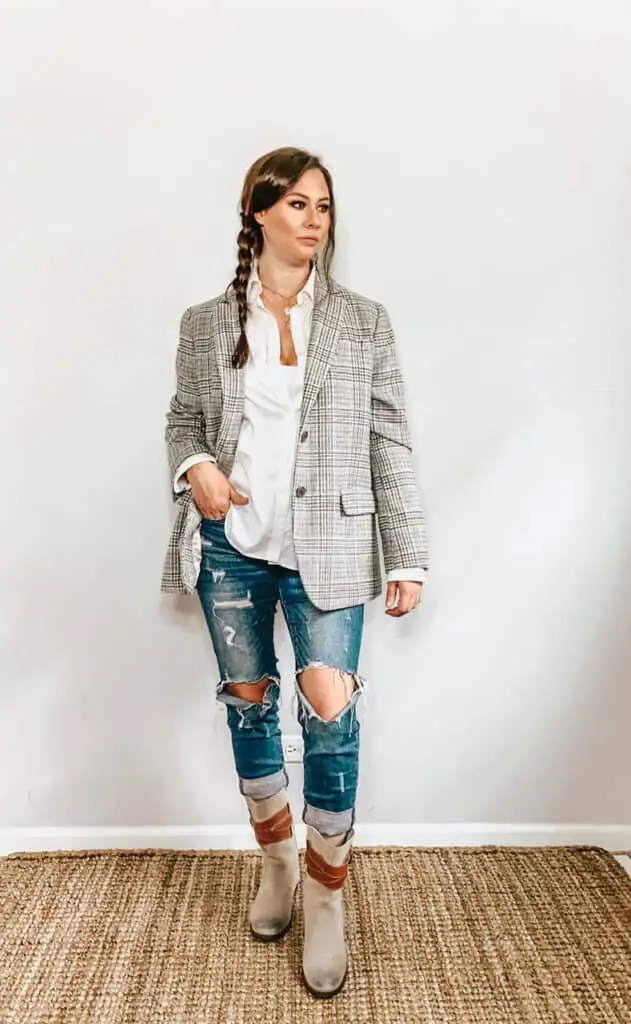 I finally found it. The perfect white button down top. I have been hunting for one second hand for quite some time and either they didn't fit quite right, were terrible quality, or had some sort of mystery stain or discoloring that I was not willing to chance in the wash.
And I'm glad I held out. Because I found this Ralph Lauren (yep another one, different stores too!) and it fits me perfectly. It is so well made and it literally looks like no one ever wore this. And with white clothes, especially, you can usually tell if its been worn a time or 2. I snagged this one for $5.99!
I styled this 2 different ways, both still casual, and just the slightest difference, using mainly the same pieces. The first outfit I tucked the shirt in and paired it with this Vince Camuto jacketed I thrifted here, my very favorite ripped up jeans (similar), the same necklace, and these cool grey boots.
For the second outfit, I left the shirt untucked and traded the jacket for this plaid blazer (another thrift find from last year.) Same necklace and boots.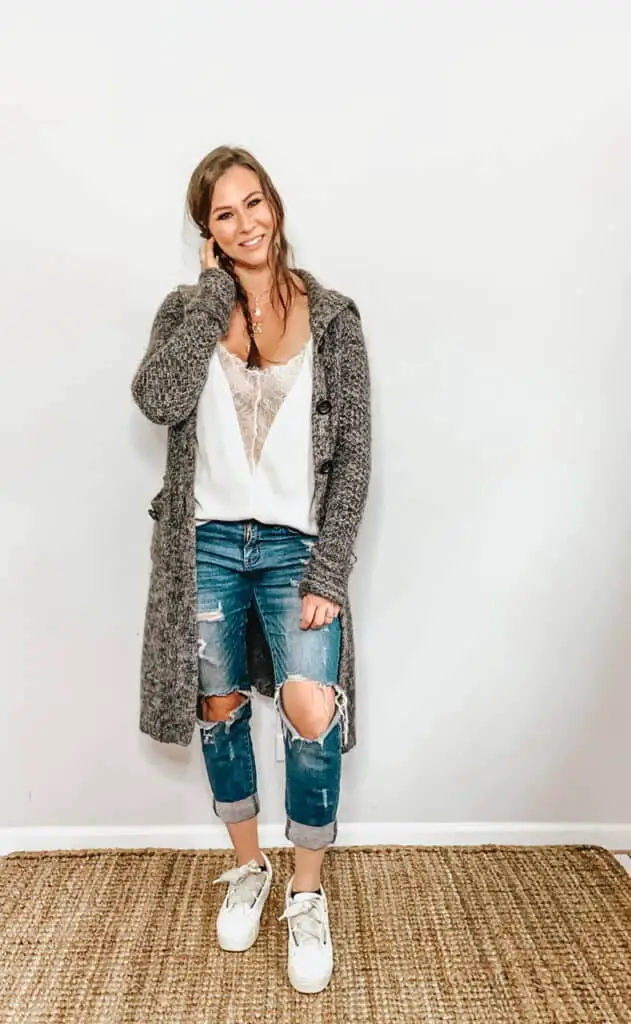 The last fall basic I thrifted is this long cardigan, it is from Moda International which is sold at Victoria's Secret. I decided I want to change the buttons out on this (they are currently on their way so keep an eye out on my Instagram and Facebook to see how it looks with the new buttons!)
I love cozy sweaters like this for when it starts to get really chilly out. I love the marled knit that gives it this cool two toned color and the chunky rolled sleeves.
It originally had 2 buttons at the neck that were sewn on so you couldn't unbutton them and it made the collar stand up really weird. I hated it haha, so I cut those ones off and like it much better.
It also has belt loops but did not come with whatever belt it originally came with so I am going to cut those off as well. I got this one for $4.
For this super casual fall outfit I paired it with this pretty, feminine top (similar), the same ripped jeans and necklace, and my white sneakers. (similar)
I am still hoping to get out and thrift a time or 2 to find a few more basics as well as some of the fall trends I talked about here. But these thrifted fall basics are a great start and the perfect addition to my wardrobe. Which outfit is your favorite? What kind of fall items are you hunting for at the thrift stores? Let me know down in the comments or find me on social media and let's chat! See you next time.