Modern Farmhouse Thanksgiving Tablescape | Here's How To Get It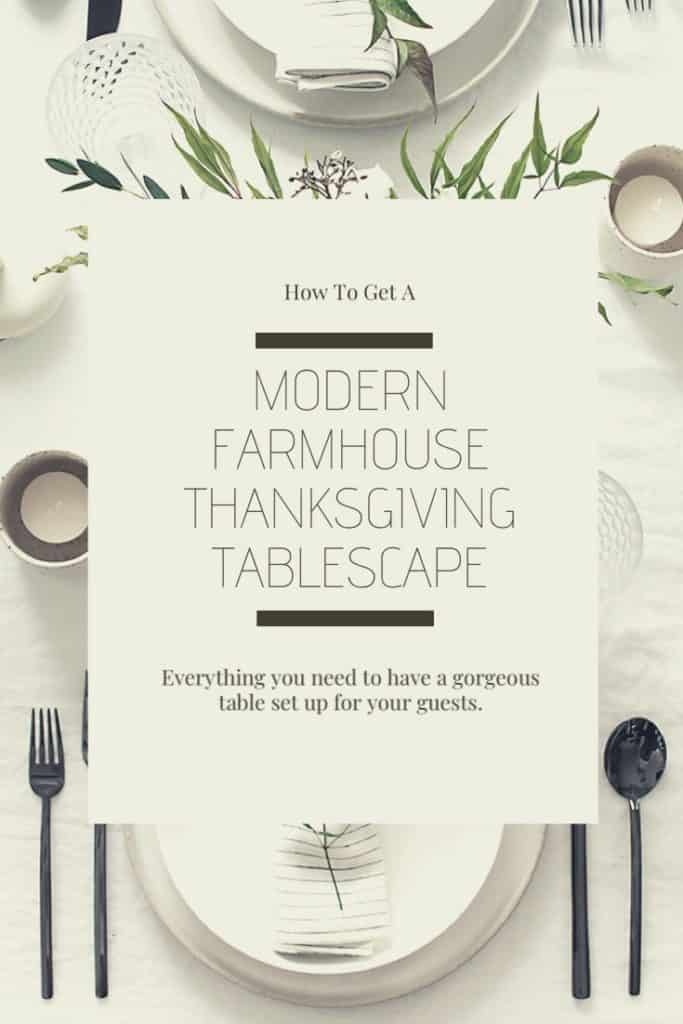 This post contains affiliate links for which I may earn a small commission at no extra cost to you. Thank you for your support! Learn More.
Well November is here. And even though Christmas décor is in full effect in stores, we can't forget about Thanksgiving! I have been super into tablescapes lately, even though we aren't actually hosting any holidays. They're just so pretty and inspiring! So I thought it might be fun to put together a modern farmhouse Thanksgiving tablescape for you to be able to use in your own home. 
It can sometimes be a little daunting to set up an entire tablescape so I thought this would be a super easy way for you to do one yourself, without having to put much thought into it. To make it even easier, I found everything on Amazon.
If you happen to already own something similar then that's even better. And of course, this can totally be switched up to better suit your decorating style, or merely just used as inspiration for you to come up with your own.
If you're no newbie to my blog you know my love for all things modern farmhouse. But this can easily be changed up to suit many styles. Maybe use different dishes, different foliage, different place mats or table runner, etc.
These items I found fall within my specific decorating style, so this is for my fellow modern farmhouse/ rustic/ boho loving friends. Ready to check out this Thanksgiving tablescape? Let's go.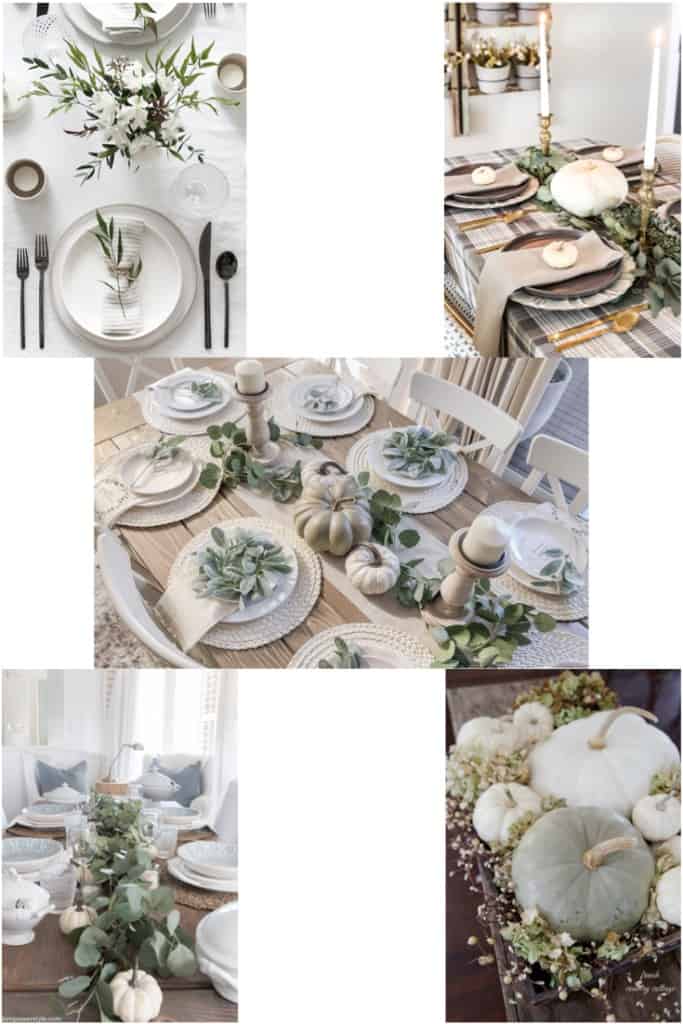 These are some of the photos I've used as inspiration. I love the neutral colors and abundance of textures. I love the idea of using pumpkins and chunky candle holders with mixes of foliage as the centerpiece. A mix of different kinds of dishware with textured placemats or chargers is a fun way to switch up your more traditional place setting. Here is what I found to get a similar modern farmhouse Thanksgiving tablescape on Amazon.
My Modern Farmhouse Thanksgiving Tablescape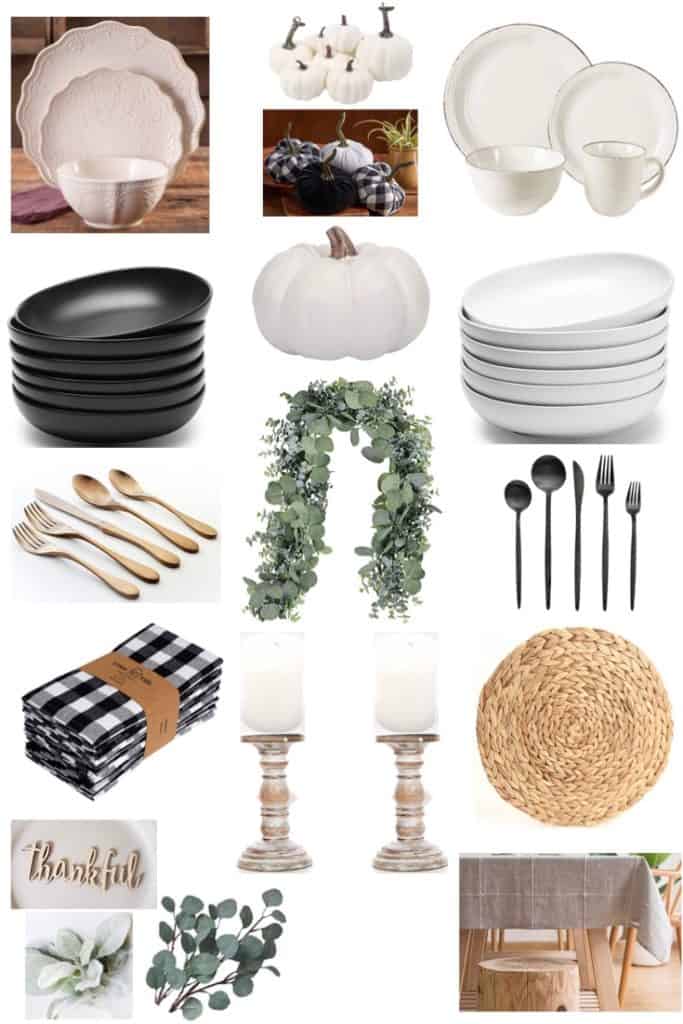 Let's start off with dishes. Ok, so I know it's not super realistic to be like "hey, go buy a whole new set of dishes for Thanksgiving!" But if you don't happen to have a set of dishes and silverware for when company comes, I highly recommend it. Especially if you like to entertain often. I found two different place setting options, because I couldn't decide which I liked more. 
The first set is these beautiful white dishes with a gorgeous lace design, from which I would use the large plate. Then I found this set of matte black dishes which I would use on top as the salad plate. I love this antique copper silverware with this setting and I like the idea of using patterned napkins such as these cute black and white buffalo plaid ones. These napkins come in a ton of other patterns and colors too so you have lots of other options to choose from.
For the other setting, I found this more rustic, farmhouse vibe dish set. Again, I would use the larger dinner plate on the bottom and then on top I used that same salad dish set only in matte white. I love this set of black silverware. The shape of the silverware is super unique and gives off total modern farmhouse vibes. To add some texture I found these woven place mats and this subtlety patterned cotton/linen blend tablecloth which I love! 
To decorate the place settings, I love the idea of doing a sprig of greenery with either some lambs ear or eucalyptus and this wooden "thankful." You could also fold the napkin on the plate instead of having the greenery and place the "thankful" on top of the napkin. Or you could just use the greenery on top of the napkin or plate, without using the "thankful." 
You only need a small portion of the greenery, so you can just cut apart these larger stems and most likely won't need to purchase more than one since the eucalyptus comes with a set of 3 large stems and the lambs ear comes with a set of 8. It will really come down to how many place settings you have.
For the center of the table, I found this amazing garland which you can place in a waving motion down the center of the table. You can place a candle and wooden candle holder at either end. Then you can place this larger white pumpkin in the center and scatter these smaller white pumpkins and these velvet and buffalo check fabric pumpkins throughout the rest of the open space. 
There you have your very own modern farmhouse Thanksgiving tablescape! Now I kind of wish I had something to host so I could do this on my own table! What did you think of this tablescape? Anything you would do differently? Let me know your thoughts and ideas down in the comments and I will see you next time. ☺