6 Must Have Tupperware Products Your Kitchen Needs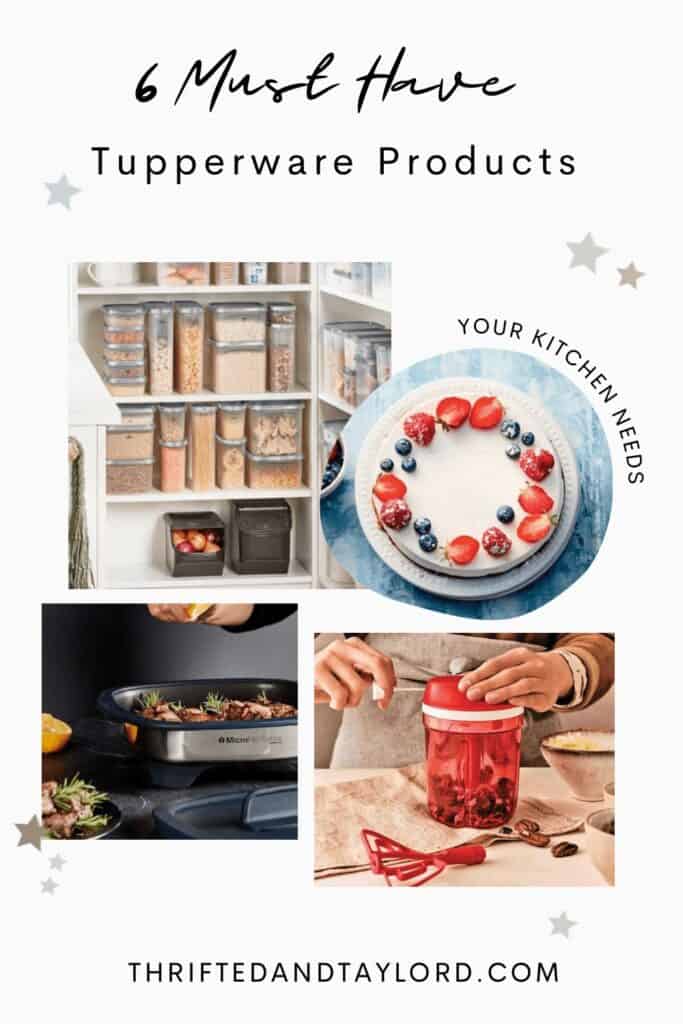 Hey Guys!
I am all for anything that makes working in the kitchen faster, easier, and more organized. So when I was given the opportunity to try out some Tupperware products, you better believe I was a hard yes on that! And after trying them out, I can definitely say, these are the 6 must have Tupperware products you have no idea how much you need. 
Tupperware makes high quality kitchen products that solve some of the most common problems, such as wasting food, making quick and healthy meals to save you time, and saving space / being organized. You can put Tupperware in the microwave, they even have a grill that goes in the microwave (read on to learn more about that!) Best of all, they come with a lifetime warranty and all Tupperware is BPA free.
I had the opportunity to work with Ellie Johnson who sells for Tupperware and she introduced me to some really great products that I am excited to share with you today. Plus she will be hosting a giveaway for one of these products which you can enter at the end of the post. So be sure to read to the bottom and enter using the link provided. 
To check out these products as well as everything else Tupperware has to offer, visit Ellie's website and get in touch with her! Let's check out these products.
Must Have Tupperware Products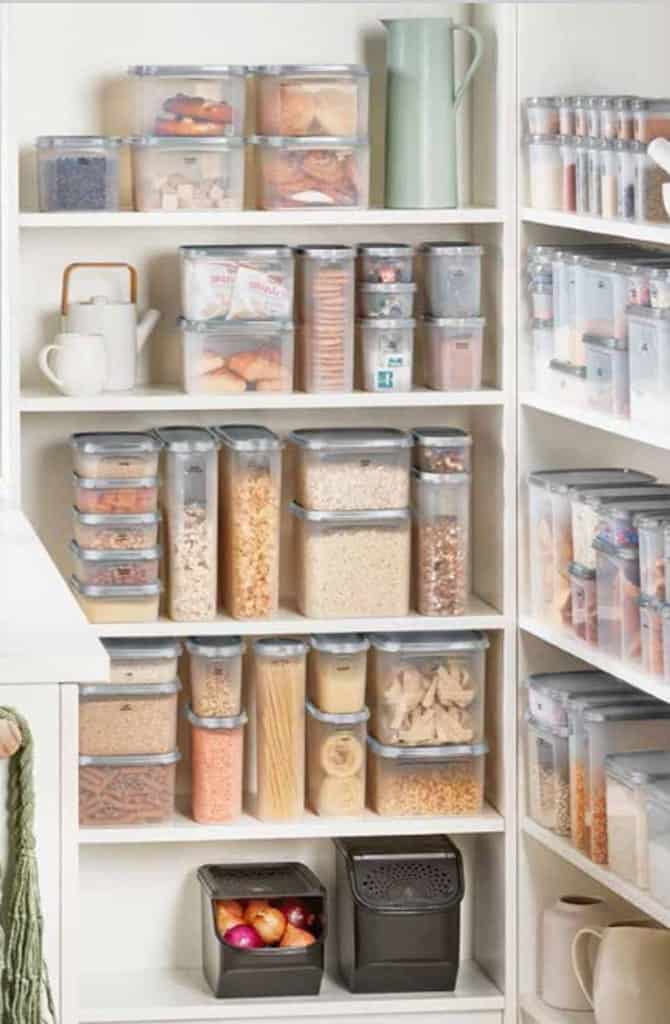 Thank you to Ellie from Tupperware for sponsoring this post, as always all opinions are my own. Learn more about my sponsored post disclosure here.
1. Modular Mates
Features
Let's start off with what they're best known for. Food storage containers. These are called the Modular Mates and they come in a variety of shapes and sizes. They classify them as rectangular, square, oval and super oval. 
Modular Mates also come in a variety of heights, which are categorized as 1 (shortest), 2, 3, 4, and 5 (tallest). The ovals and super ovals are for items you would pour out of the container, so you can also get a Pour All Seal which has an opening in the lid to make for easy opening and pouring. The rectangular and square containers are for things you would scoop out of the container, like flour. 
These containers are made for organization. Their vertical shape takes up less space and takes advantage of vertical space that often goes unused. For example, all the negative space above a bag of chips or box of crackers. You can use that space by stacking the containers on top of each other.
They're clear which makes it easy to see when you're getting low on something which is super convenient when it comes time to make your grocery list. You can easily look through your perfectly organized pantry to see what you need more of.
You can also use them to organize closets, pet supplies, pet medicine, craft supplies, kids toys, camping gear, fly fishing supplies, and more!
Ellie does offer custom pantries where you can work with her to map out your pantry and determine which Modular Mates will be best for you. Just reach out to her through her website linked at the beginning and at the end of the post. She can also let you know what size Modular Mate you would need for specific items.
Modular Mates are air tight, to keep your food fresher longer. They are liquid tight so if anything happened and you had a spill or a leak, your food would be protected and stay fresh. They are also bug and rodent tight, so if you ever have an ant problem or mice problem your food would stay safe and fresh.
Check out this video to learn more. Do note that they only currently offer these in the clear container with black lid.
Pros
We actually do not have a pantry. So being able to save space in our limited cabinet space is huge. Having a variety of sizes, including the vertical containers makes it easy to use up as much space as possible. You can put anything in them to clear up clutter from chip bags, cracker boxes, bags of cooking and baking staples. 
The clear container makes it really easy to find what you're looking for and to see when something needs to be replaced.
They're easy to use and clean. The lids are not particularly hard to get on or off and having the lids with the Pour All Seal makes it even easier to pop it open and pour out the contents. I love being able to give my little one some independence, so the fact that he can pop open the lid and pour out his own cereal or snack is wonderful.
I received the rectangle 1, square 2, super oval 3, oval 4, Pour All Seal, and a small flip top container. I used the square 2 for my large Costco bag of oatmeal, the super oval 3 with the Pour All Seal for cereal, the oval 4 for snacks for my son, and the rectangle 1 for pasta. The smaller container with the flip top lid I have been using for my son's snacks. He loves flipping open the lid to get his snacks out and then popping it back closed. 
cons
I don't really have cons. I think the only thing I would say is that I wish they had these in glass as well. I do love the durability of plastic and the fact that they're kid friendly, but I do see glass as more earth friendly than plastic. You can check out the Modular Mates on her site here.
2. MicroPro Grill and Pro Ring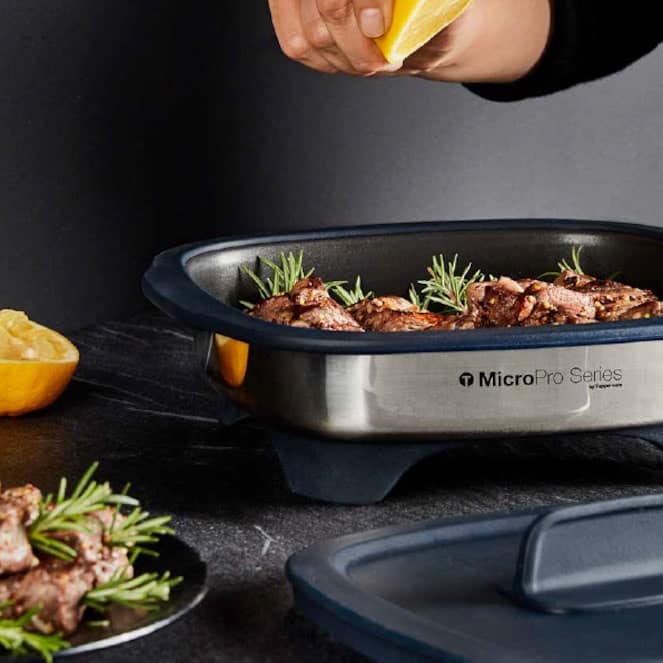 Features
This next product I am thrilled to share with you is a grill that goes in the microwave! Say what?! Yes you read correctly, it goes in your microwave! Making for super quick and easy dinners that taste like they are fresh off the grill or out of the oven. 
You can reheat leftovers and also bake things using the Pro Ring in both the microwave and oven. Plus there is a huge virtual recipe book for both of these items.
You just preheat the grill (if cooking meat,) then put whatever you want to cook in it, and put it back in the microwave to cook – that's it! To preheat, just put anything inside it (bread, veggies, etc) and put it in the microwave for 3 minutes.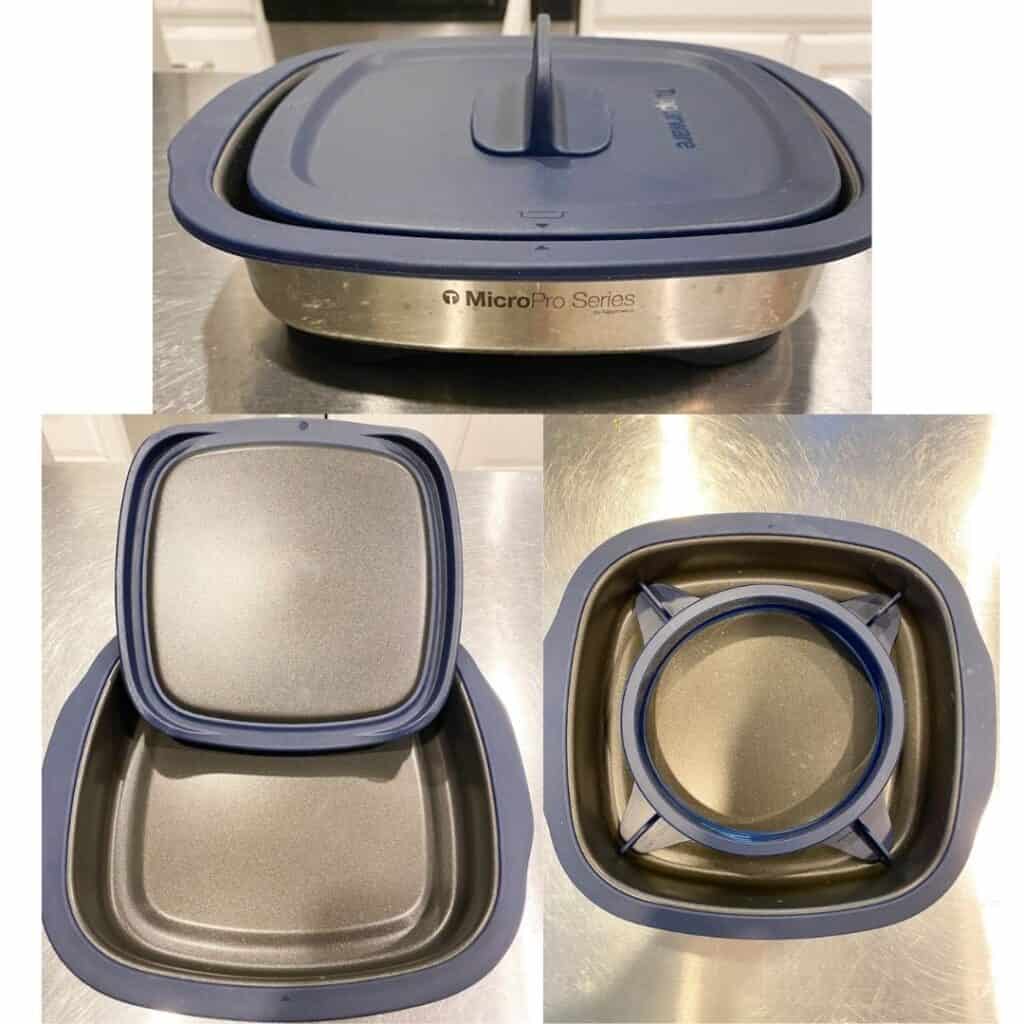 The Grill has two settings where you change the direction the lid is facing to choose your setting. So you can set the lid on top of your food (horizontally)  to grill both sides, or set the lid on top of the grill (vertically) to just cook from the bottom. It is super non-stick and easy to wash, but do note that it is hand wash only. It is small making it really easy to store as well.
With this, you can easily grill in the winter without having to worry about losing heat every time you open the grill outside. And need I mention not having to freeze your buns off? 
The Pro Ring makes it possible to BAKE in the MicroPro Grill! Things like Apple Pie, Pound Cake, Chocolate Cake, Cornbread, Frittatas and more!
Check out this video for how to use the product and this video for more information.
pros
The variety of things you can grill, cook, bake, and reheat is unbelievable. The recipe book that comes with these products has seriously hundreds of recipes. 
I tried cooking veggie burgers, grilled veggies, bacon wrapped asparagus, which was from the recipe book, and heating up my leftover pizza. Everything came out amazing. I could not believe it.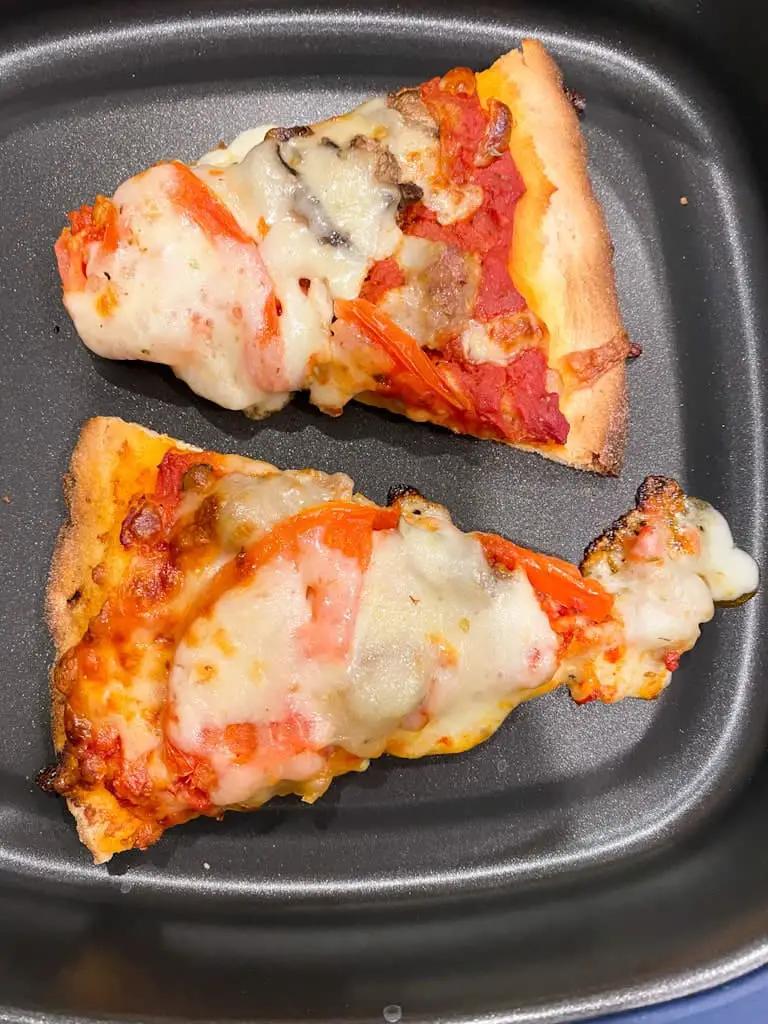 I was especially impressed with the reheated pizza. You know how microwave reheated pizza has that kind of soggy texture and then the crust starts to harden if you don't eat it right away? Not with this. It literally tasted like I had just made it. 
It was SO easy to remove the food from the pan with the non-stick surface. Even the melted cheese didn't stick. This also made for a super easy clean up.
With the preheat time (for the burger) and cooking time, it still was quicker to cook these things than if I had done them in the oven or on the grill. Time is everything when you have a preschooler and an infant and are trying to make dinner so that was a big plus for me. 
I want to try some of the meals like a casserole or something, which they have in the recipe book, because those can be super time consuming. 
I used the Pro Ring to try to bake my husband's birthday cake in the microwave and, well, it didn't quite work. I think it was largely my own fault because I filled the entire ring with batter instead of filling it ½ or ¾ of the way and making 2 cakes. So it ended up leaking out the bottom of the ring and I had to cook it twice to get it to bake and then the bottom got burnt. 
I'm not a new baker, guys. I have no idea what I was thinking, filling it full. You never fill anything you are baking full. It needs room to rise. So this was one giant fail. 
I do think, had I done it correctly, it would have turned out perfectly and being able to bake a cake in 10 minutes is actually incredible so I'm still calling this a pro. There are so many recipes included with the pro ring which is awesome (and necessary in my opinion, read more on this in the cons.)
con
My main issue with this is that if you aren't cooking something from the recipe book, it can be challenging. There aren't very clear cooking instructions for things not included in the recipe book or for leftovers so I was left to guess on my own how long I needed to cook the cake, my leftovers, the veggies (other than the asparagus,) and my son's veggie burger. 
The package for the burger says to cook it for 1 minute in the microwave but I found that to not be long enough. Obviously you can't go off the cook times for the cake because they are all far too long. So for these items I based my guesses off of similar recipes that were in the book and the burger came out just fine. 
And as I mentioned, I do think the cake would have turned out fine too if I hadn't used as much batter. But according to all the recipes, it says to pour all the batter into the ring (with no mention as to how full the ring should be.) So I just assumed the same would be true for this batter.
So having some sort of general guideline for commonly cooked items would be very helpful.
My only other issue is the size. Although it is compact and makes for easy storage, it has to fit in the microwave and so you can't always fit a ton in there. So if you are cooking for a larger family, you won't be able to cook everyone's meal at the same time which is inconvenient. For example, you can only fit 2 burgers in there at the same time. 
It also would not make a big enough casserole or similar dish to feed a larger family.  But it is great for sides, leftovers, or desserts. 
You can check out the MicroPro Grill here.  And the MicroPro Grill Pro Ring here.
3. SuperSonic Chopper Tall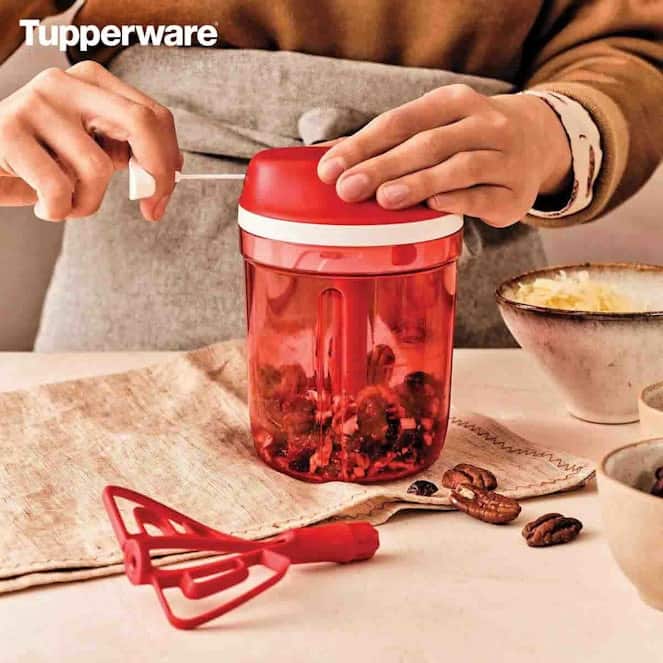 features
The SuperSonic Chopper is the most efficient food processor; it blends, mixes, emulsifies, and chops with just the pull of a cord. Saving time in the kitchen and making cooking easier because it dices and mixes up everything so quickly and easily.
You can dice up anything but ice. You can make ice cream in it. You can make recipes from a virtual recipe book that comes with it (ex: salsa, dill pickle dip, smoothies, pudding, a cake mix, etc). You can shred your meat in it; and chop up bacon.
The blades and whisk attachment store in the base for safety and to save space for easy storage. Plus, the parts separate for easy cleaning. Everything but the actual pull cord part is dishwasher safe.
 For videos on how to use the product, check out this video for the Power Chef (which is now called the SuperSonic Chopper Extra). It does the same thing, but with the SuperSonic Tall you will have to do smaller quantities or you won't be able to dice everything up / mix everything up, just because it is a smaller product.
And this video. Please Note: They just changed the name of this product from the Smooth Chopper to the SuperSonic Tall. Just in case you see or hear the old name; it is the same product.
pros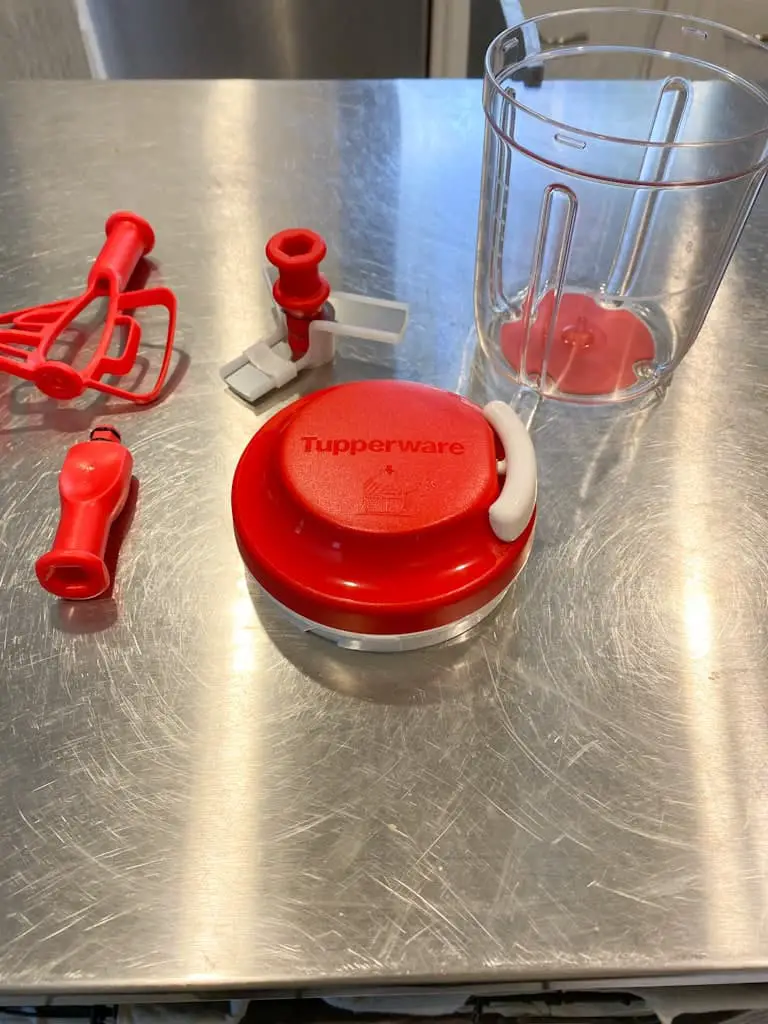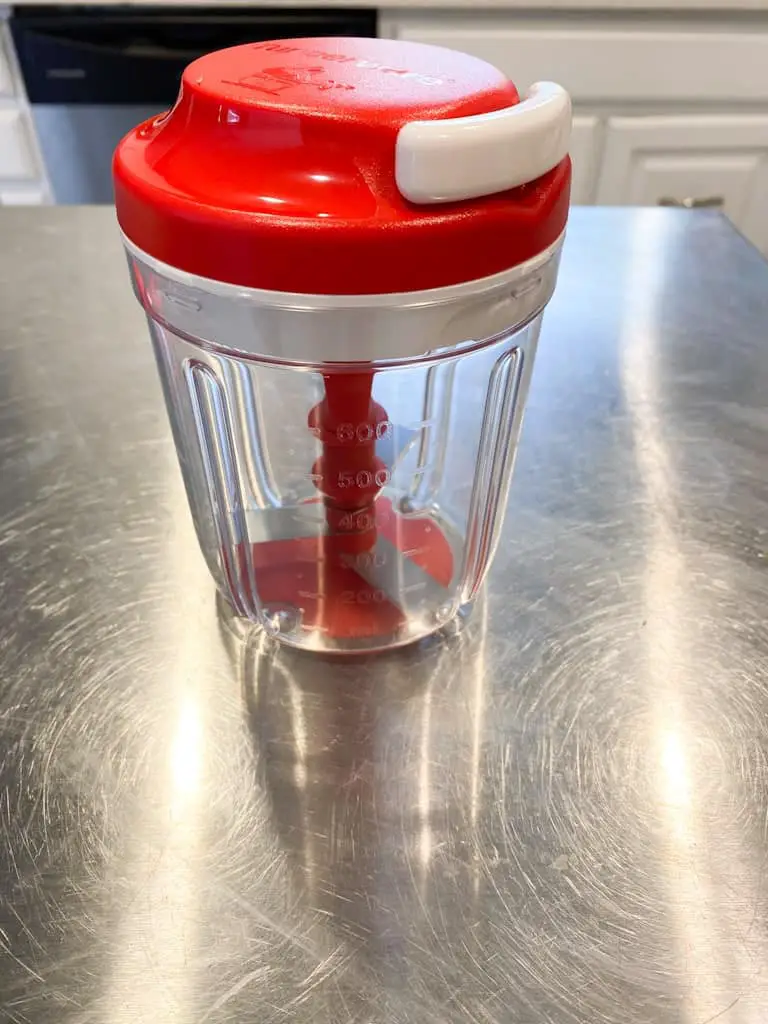 First of all, let me just say that I'm a huge fan of this. Assembly is very easy, just snap the 2 inner pieces together, put it into the device, add your food, put the lid on and lock it in place.
I fit about ¾ of an onion in there, I probably could have fit a little more though. I started off with 3 pulls of the pull cord which resulted in a rough chop, then another 4 pulls which got them closer to a diced chop but more of a coarse dice.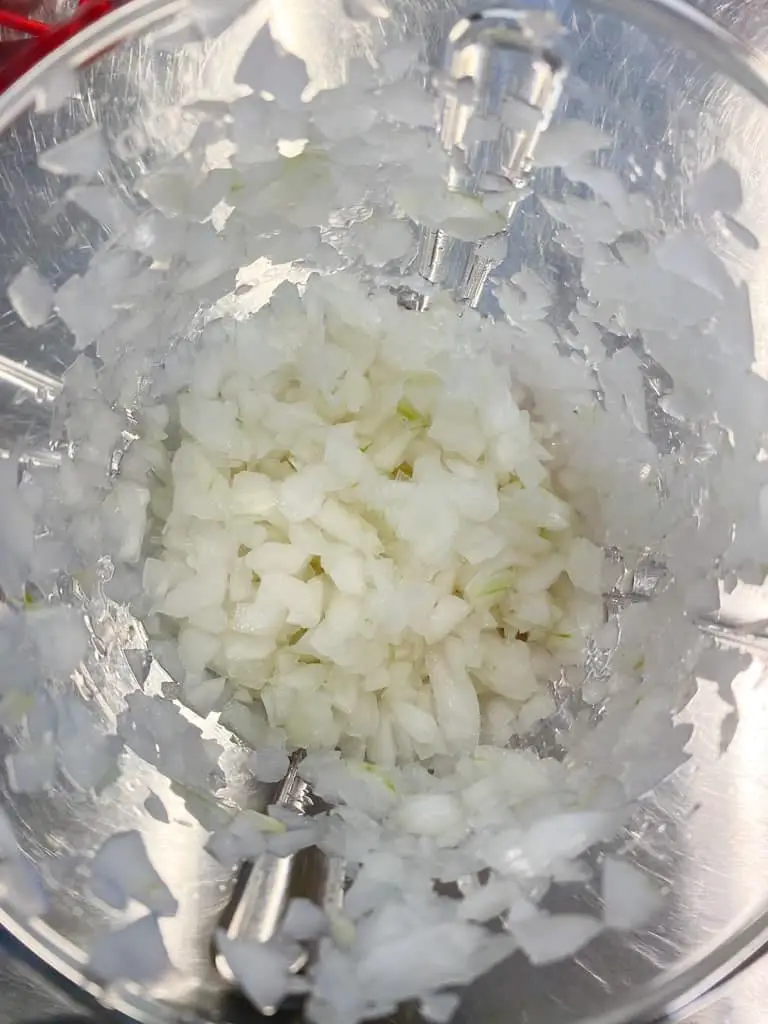 Then, just to see how small I could get them, I tried another 3 pulls and there were still some pretty big chunks mixed in so I did 3 more pulls and got them all diced up pretty fine.
Some things I noted, shake it up between sets of pulls to get all the pieces chopped up. The pull cord is just a touch hard to pull the first couple times just because the pieces were pretty big that I put in there. After the first 3 pulls, however, it was incredibly easy. 
The bottom is rubberized so it won't slip on the counter as you are trying to chop. It is just as easy to take apart and clean as it is to put together, and has clear instructions on how to do so. 
Overall, for the amount of time, work, and literal tears it saved, this is WELL worth it. 
I have not yet tried a smoothie but it is on my list of things to try so I will keep you updated on that!
cons
There are very few cons. The only things I noticed are that you don't get the most uniform cuts so if you're looking to dice something that will then be cooked it might not get an even cook. 
It also isn't great for a larger chop. We tried using it to make tomato cucumber salad and just after the first 2 pulls, the pieces were far too small. So for something like a salad, where you'd need bigger pieces of veggies, it isn't the best tool. It's better for things such as salsas or food that requires diced versus chopped veggies. I am curious if the larger version might yield better results.
You can check it out here.
4. Master Grater Base and System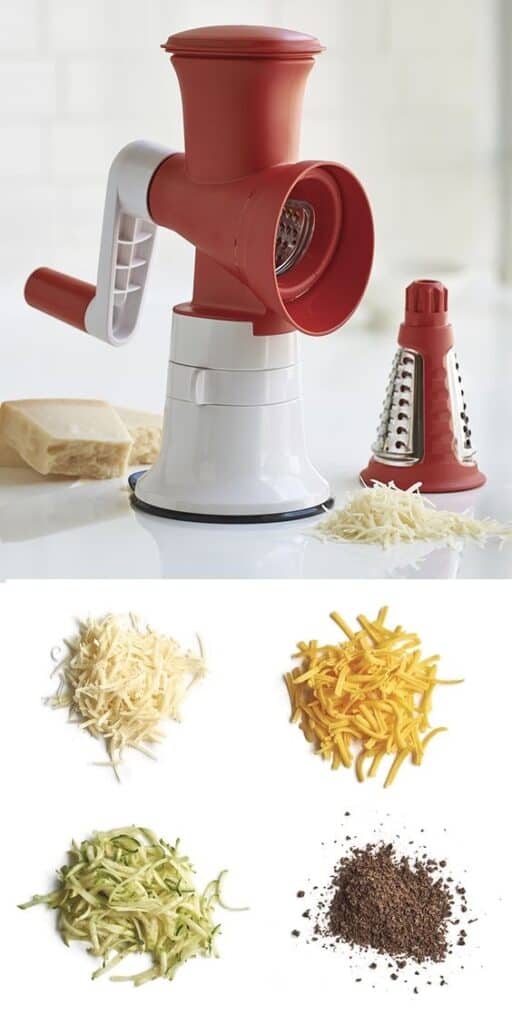 Features
The Grate Master allows you to easily grate anything like cheese, zucchini, potatoes, and more. You simply put the item in the top, turn the handle, and it grates!
No more sliced knuckles from manually grating. It is so easy to use, my 4 year old can do it (and he thinks it is the coolest!) Plus, the grater comes with 2 different size cones, a large grate and a small grate, and you can purchase 3 more cones to allow you to slice veggies, shave ice, and grind crackers, nuts and chocolate.
Once you have the Master System Base you can add on a mincer and/or a spiralizer easily! They all use the same base so you just have to buy the base once.
Here is a video on how to use it. And check out this video for more information.
A tip to note, when locking the Grate Master to the counter (and locking the top to the base) make sure you are on an actual countertop for the best suction.
pros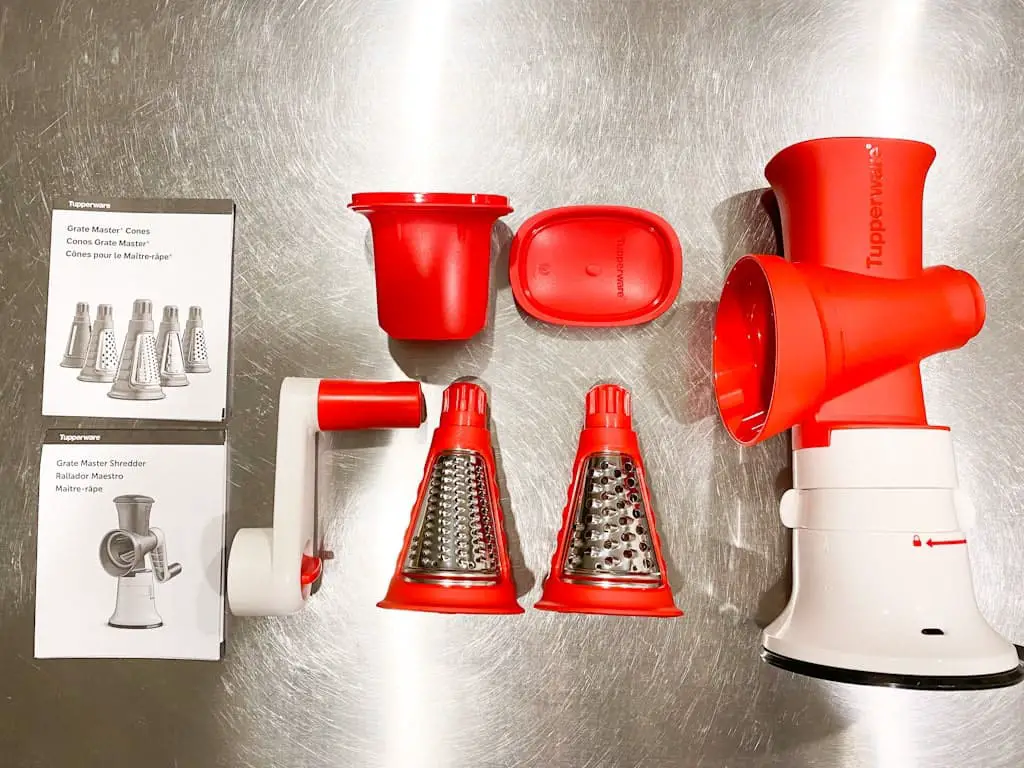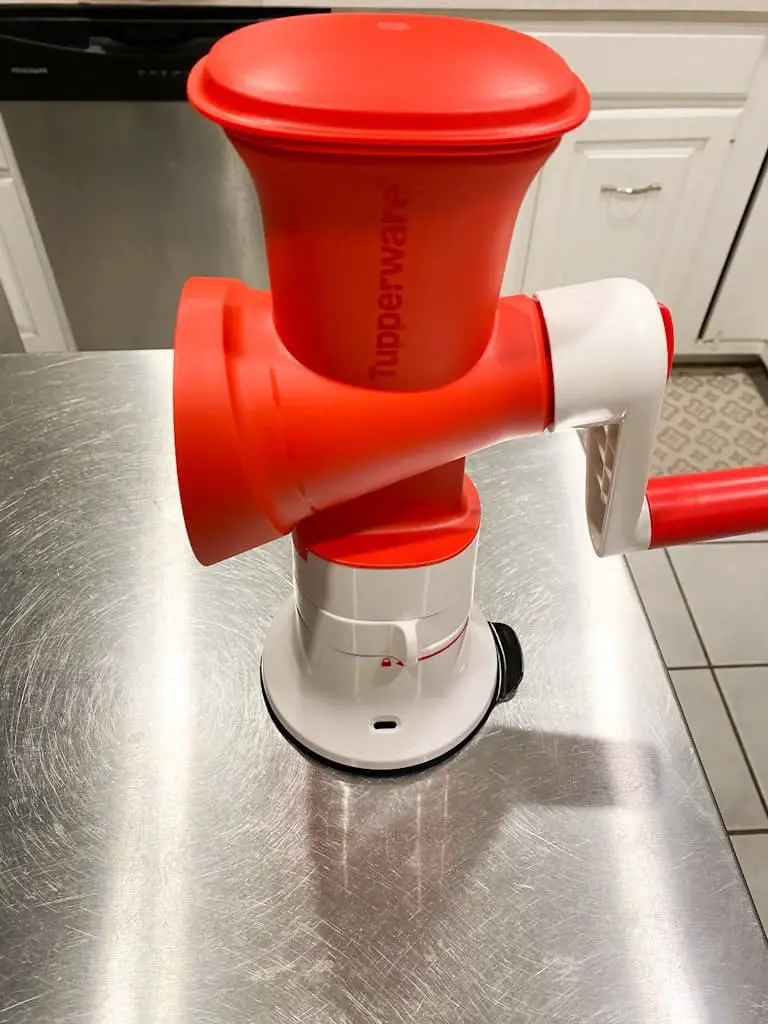 Again, this is very easy to assemble and comes with clear instructions on how to do so. It is as easy to take apart and all pieces except the base are dishwasher safe. 
You just lock the base to the counter, stick your grating cone inside the opening, pop the handle onto the other side which will click into the cone piece and then you put the top on the plunger and stick that in the top of the base.
We tried grating cucumber for a taziki sauce. You cut off the ends of the cucumber and stick it in the top of the grater, lightly push down while turning the handle and out comes the grated cucumber. As you get lower down on the cucumber you can use the plunger to push it down. It's that easy. 
It is great that it comes with 2 size options for a fine grate and a coarse grate. This is how it looks with the fine grate. Perfect for tzatziki.   
I was very impressed with how easy and quick this works. No more sore hands from grating things myself! I also love how many other attachments there are for this. You could save a lot of space by just using this to replace graters, grinders, spiralizers, etc.  Another great Tupperware product that is a kitchen staple and I highly recommend. 
cons
The only cons I could see is that at first, the cucumber kind of stuck to the inside of the cone and I had to pull some out with my fingers. But as I kept going, it started coming out on its own. It really wasn't that big of a deal, just something I noticed. 
It is kind of bulky so it might take up quite a bit of storage space compared to a flat metal grater. But the fact that it has other attachments you can get to replace other products and honestly for the amount of time and work it saves you, it's well worth the space it might take up. You can check it out here.
5. FridgeSmart Containers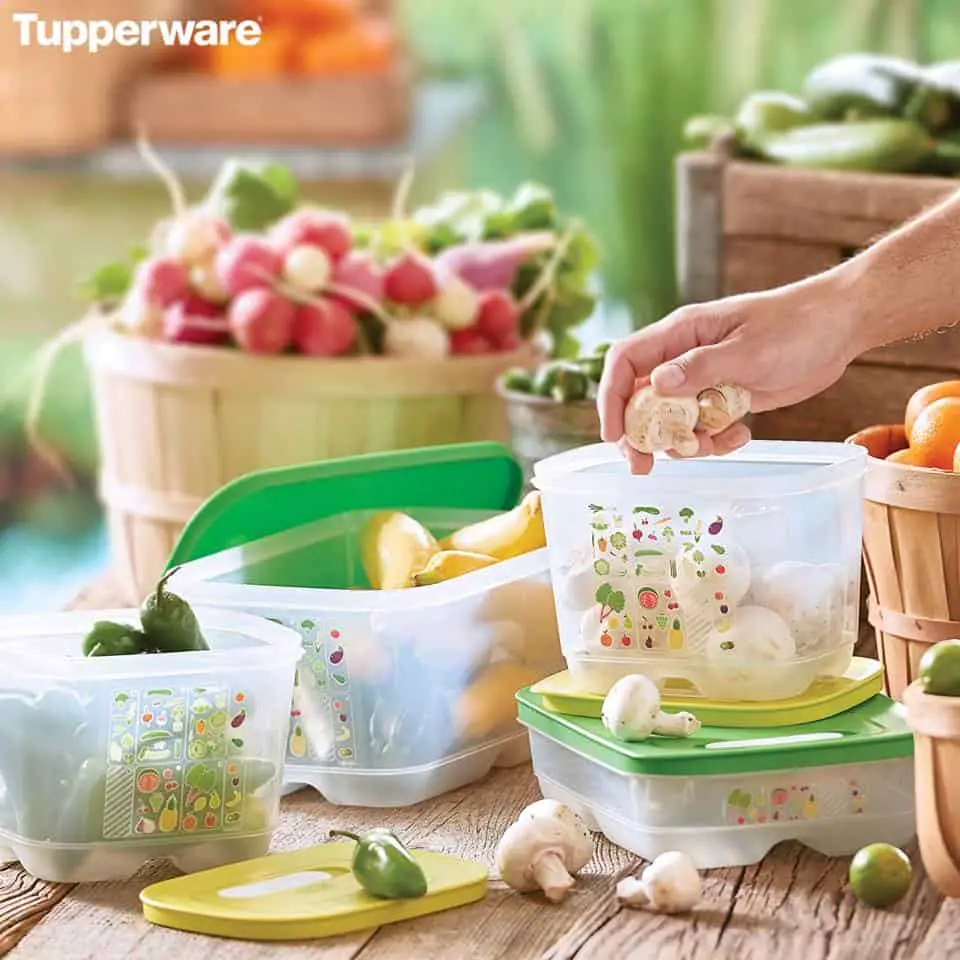 Features
FridgeSmarts are proven to make produce last 2-3 times longer and retain 80% of their nutrients. They change the air circulation in the container based on the fruit/vegetable in the container, which is how they keep produce fresh for so long.
FridgeSmarts save you money; we throw out approximately $1,500 in food every year. By keeping your produce fresh longer, you eat your produce instead of throwing it out.
They can store fruit, vegetables and herbs and keep your produce from bruising thanks to the hard container. They nest for easy storage and are modular for easy fridge storage.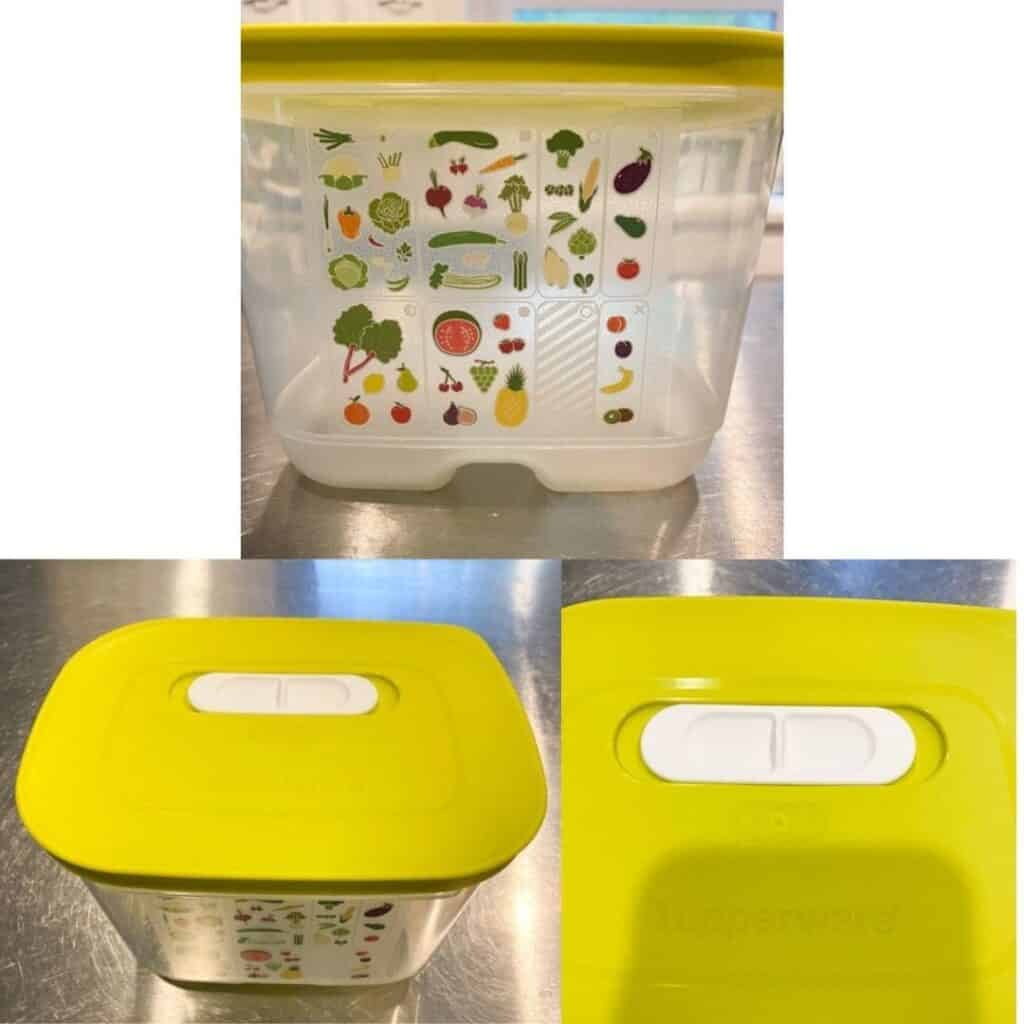 There is a chart on the outside of the FridgeSmart showing how to filter the container for each fruit/vegetable. It is printed between two pieces of plastic so it will never wash off. There is also a QR Code on the side of the FridgeSmart you can scan to get additional information on what setting to store other produce and herbs that are not listed on the chart printed on the actual FridgeSmart due to space.
FridgeSmarts have a lifetime warranty, are BPA free and dishwasher safe.
Here are some produce lifetime examples when using FridgeSmarts:
Strawberries (all berries): 2 weeks
Broccoli: 6 weeks
Onions: 6+ weeks
Mushrooms: 2 weeks
Lettuce / Spinach: 2+ weeks
Bell Peppers: 3 weeks
You can put anything in FridgeSmarts, these are just a few examples!
For videos on how to use these check out this one and this one for more produce information.
pros
I was given the FridgeSmart Small Deep, which is what you have a chance to win in the giveaway (make sure to enter through the link at the end of the post!) I want to start off by saying that I have tried several containers to try to keep my strawberries fresh. 
We like to get a large container at Costco and that would typically last us for about 2 weeks if I had the proper container to keep them that long. It is much more cost efficient to buy this container than the smaller ones at regular grocery stores. 
However, up until now, it has been impossible to keep them that long. Which stinks. I hate throwing away food. The closest I have come are my other airtight storage containers, but the strawberries end up getting this weird almost fermented taste to them after the first week and I don't love it. 
I have another set of containers that are made for produce and have a venting system, but my berries went bad in just days. I was so disappointed. Huge waste of money.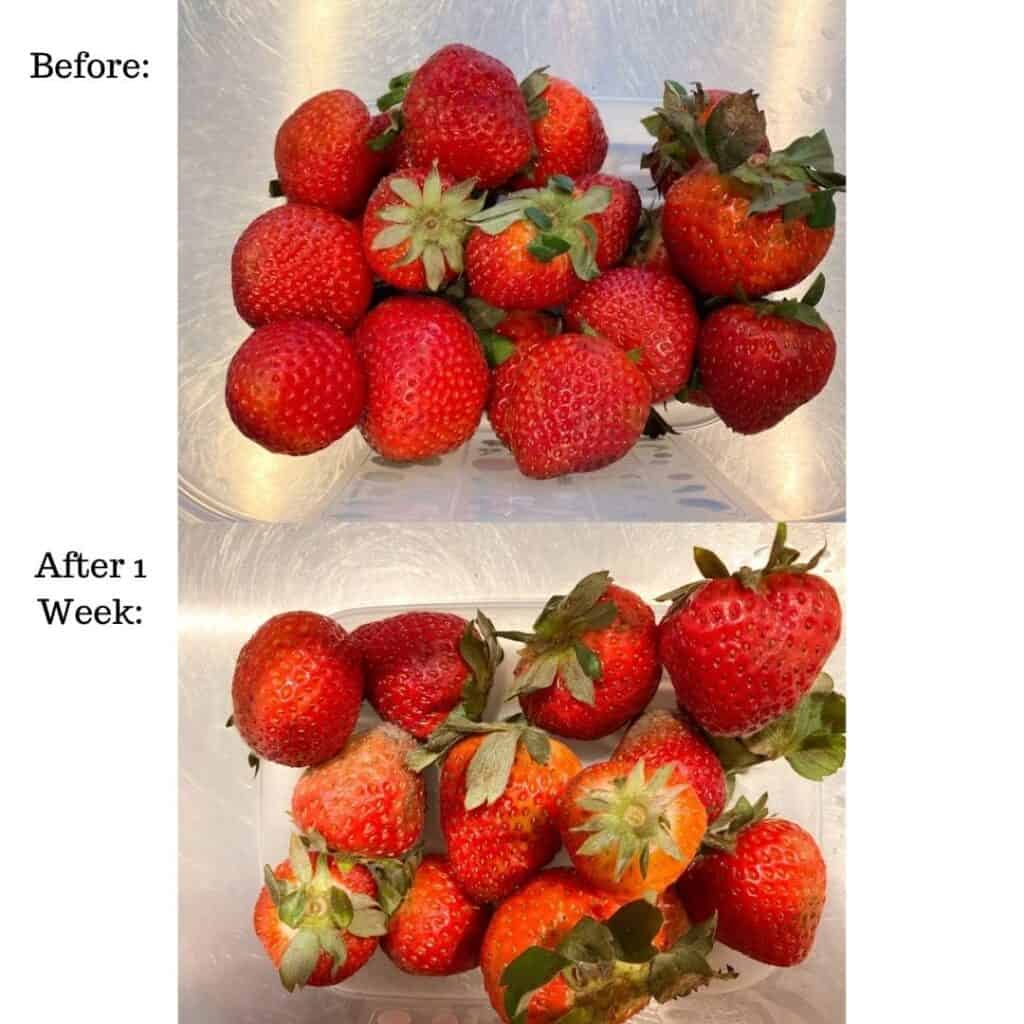 With this container, we started out with these beautiful looking strawberries and here is how they looked after 2 weeks. I did have a few berries at the bottom of the bin that started to grow mold. But the rest were still good!
I must say though, I think the issue is my fridge. It's not the greatest. We have a hard time keeping anything fresh for a long period of time so I think it has more to do with our fridge than these containers. The strawberries that were still good did not have that weird fermented taste my other container caused which is awesome!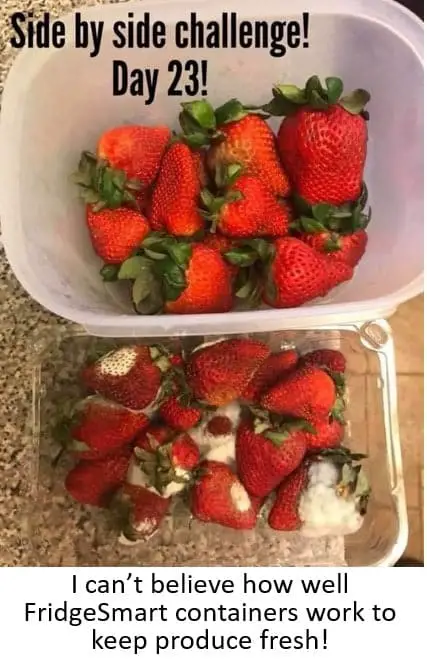 You can check out this set of pictures from another person's test where they kept their strawberries fresh for 23 days! I also know other people who use and love these containers and I trust their opinion of them. I will be repeating my own test in my mom's fridge to test my theory that it is just our fridge, and I will report back!
I love the guide on the side of the bin that makes it easy to know how much air flow to allow using the little switch on the top of the lid. It is either entirely closed, half way, or entirely open. 
The bin is very easy to open and close and clean. It is also dishwasher safe which is nice.
cons
I still want to do some more tests on other produce and retest the strawberries but from what I have learned, and the fact that the strawberries I did test still stayed fresh for a decent amount of time, I don't really have any cons for these, they're unique and pretty awesome. I think they are well worth giving a try! Check them out here. And don't forget to enter the giveaway to win one, at the end of this post.
6. Measuring Mates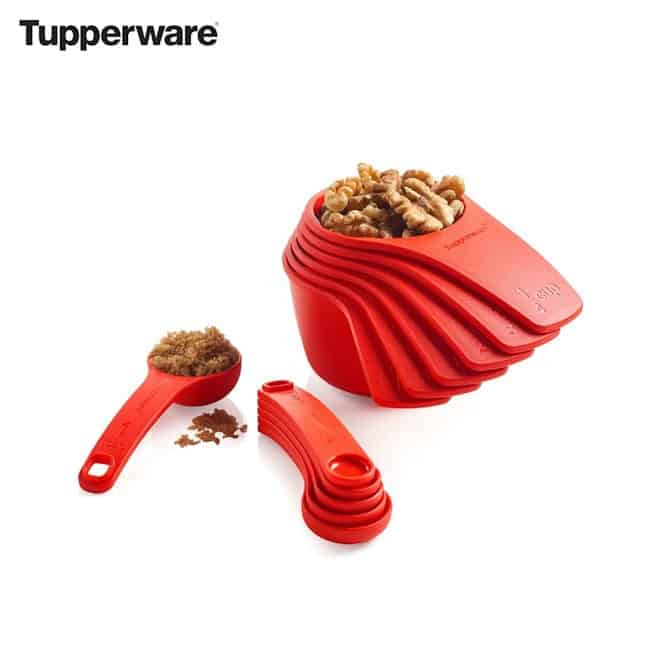 features
Last, but certainly not least we have the Measuring Mates. A set of nesting measuring cups and measuring spoons. Their set includes a 2/3 cup and a 3/4 cup measuring cups, and a 1/2 tbsp and 1/8 tsp measuring spoon which is very unique!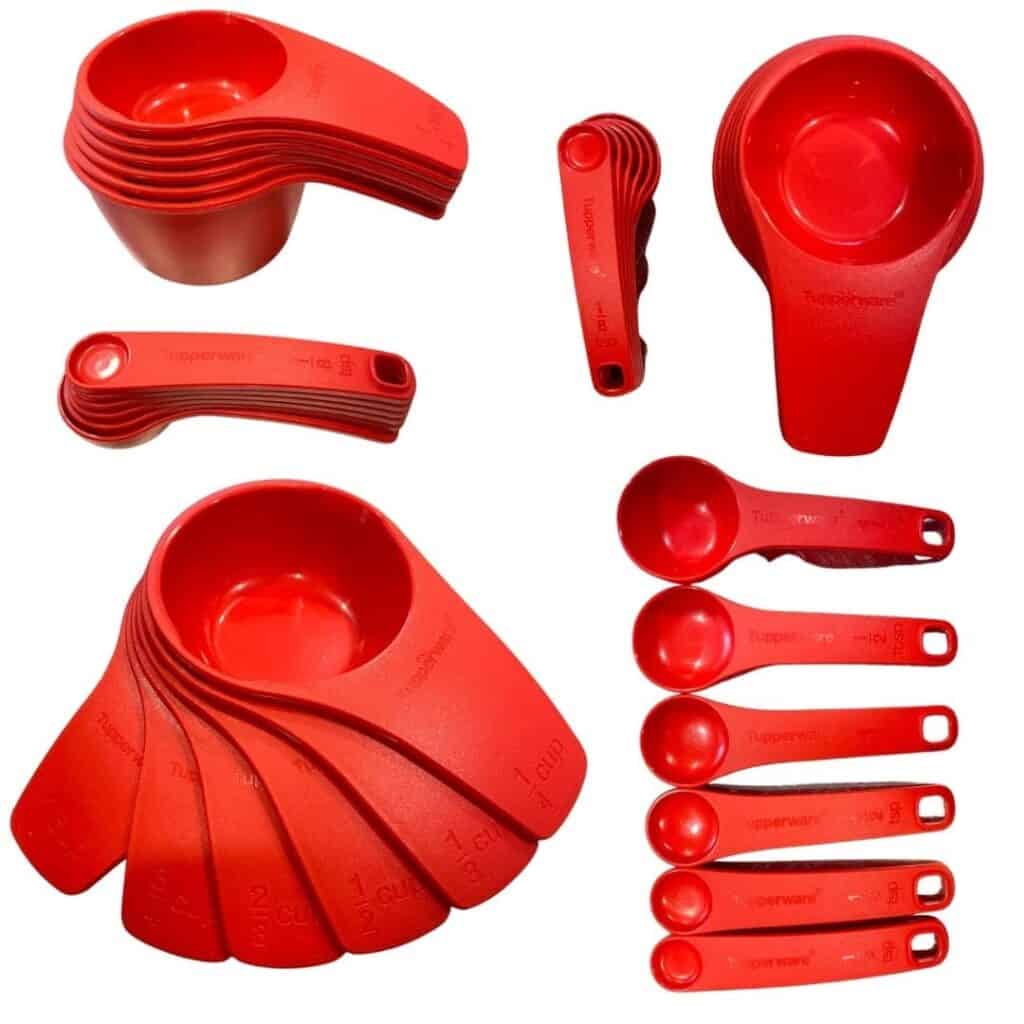 The measurements are engraved on, so they never wash off. They nest for easy storage. They have pour spouts for right and left handers. The spoons snap together instead of having that annoying ring around them. They sit and lay flat so you can pre-measure liquid ingredients. And they come with a lifetime warranty.
pros
What I loved the most about these was how they sit flat and how they nest into each other and therefore don't need the rings. I hate having to try to pour something into a measuring cup that is moving around because 4 other cups are flopping around on the ring next to it. Or trying to scoop something out with a teaspoon and the other spoons are all clanking into it spilling stuff everywhere.
Infuriating.
Not to mention how much easier it is to clean or just pop into the dishwasher.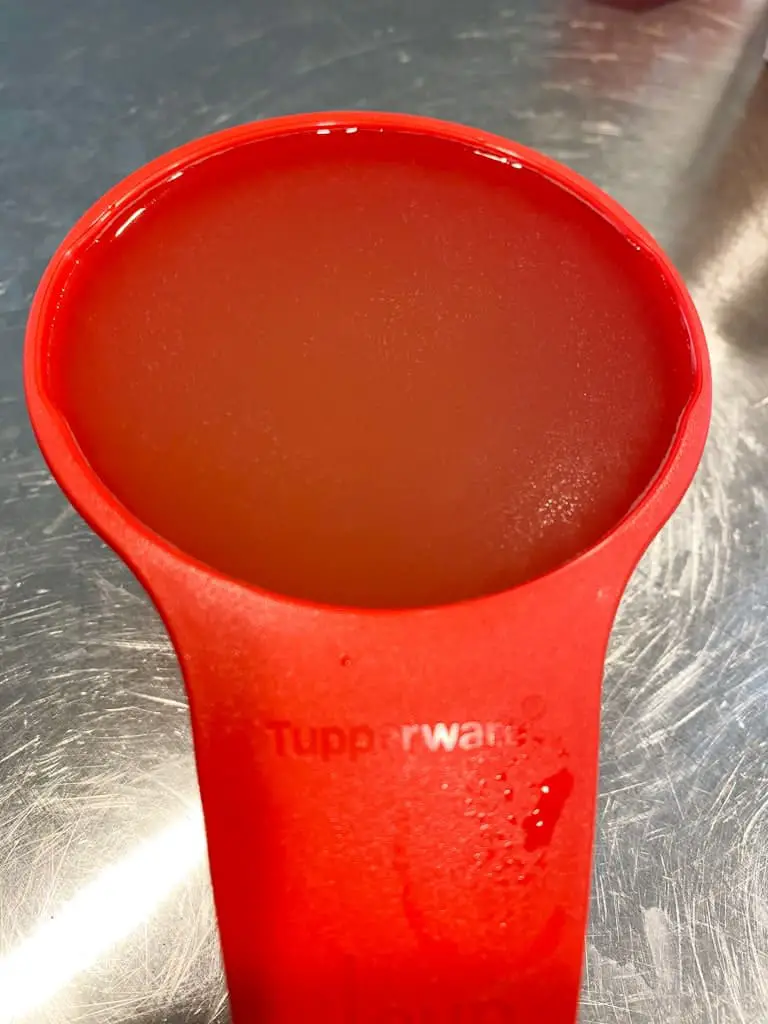 I also love that the cups have pour spouts so you don't have to worry about spilling liquid ingredients. There is nothing worse than getting oil all over the place as you try to move from the surface you poured on, to the pot or bowl you are pouring in to. 
It is also a great feature that the measurements are engraved versus printed because how annoying it is when you can't read the measurements on your measuring spoon and accidentally overdose on chili powder. No fun guys. No fun.
cons
The only con I can think of is that I wish they snapped in place just a touch better. I found the spoons to easily detach and then spill over in the drawer, making it a little bit challenging to find them. If you don't have a deep drawer (like I do) then this probably won't be an issue for you. You can check them out here.
Final Thoughts
I really love all 6 of these must have Tupperware products, they come with a big ole stamp of approval from me. If you are in the market for some organization in your kitchen, something to make dinner a little quicker and easier, or just some kitchen basics, then I highly recommend checking out these amazing products and everything else Tupperware has to offer on Ellie's Tupperware catalog website. You can also get in touch with her by joining her Facebook group here. 
And now for the giveaway! If you would like to enter for a chance to win a FridgeSmart Small deep then follow the instructions here. The giveaway ends Friday 11/26/21 and the winner will be notified by Ellie. 
Let me know if you end up getting any of these products and what you think of them! See you next time.