How to Add Warmth to A White Room and Make Your Home Cozy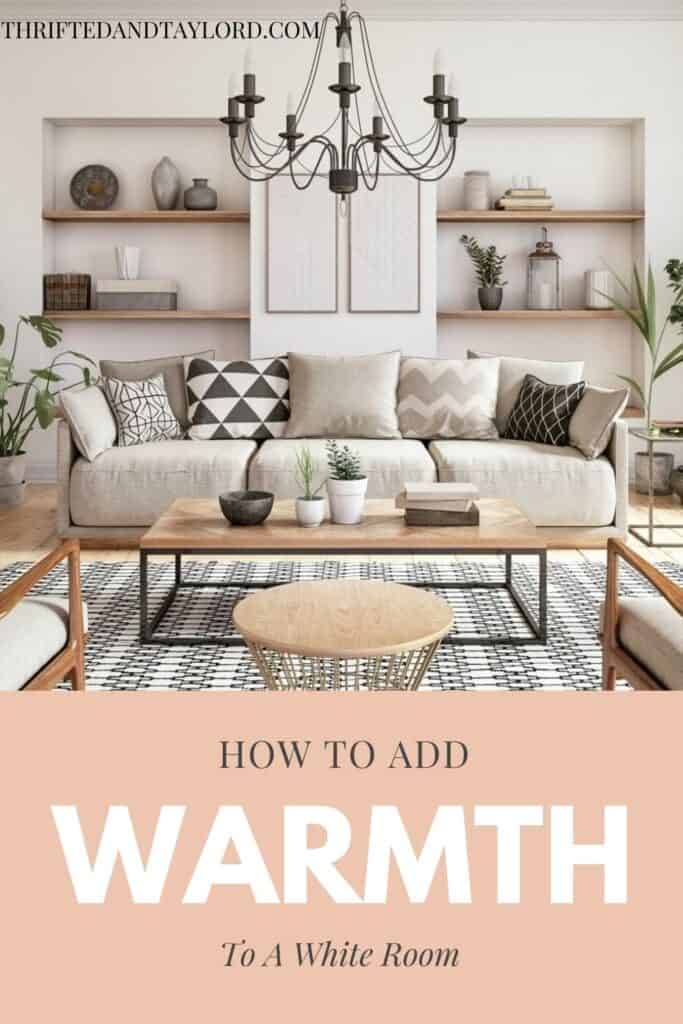 Hey Guys!
It is no secret if you have visited here before that I am a big fan of white, neutral, bright spaces. But I also aim to add warmth to these spaces to keep my home cozy and inviting. So today I'm going to share some of my favorite ways to add warmth to white rooms so you too can create a cozy home.
I actually have a lot of gray in my home which, similarly to white, can sometimes come off a little more cold and not quite as inviting. So adding warmth to these areas is the key to keeping them from looking too sterile. Adding texture is another way to keep the rooms in my home from feeling too one dimensional and uninviting. 
Many of the items I like to find for my home come from thrift stores or antique shops and malls. You can find some truly unique and very cool home décor items at places like that. So keep that in mind while reading through these tips since many of these involve using items you could find at those types of shops.
Make your home cozy by using these tips to add warmth to your white rooms
1. Add wood elements
This post contains affiliate links for which I earn a small commission should you purchase through them at no extra cost to you. Learn More.
This one is probably my favorite and most versatile tip. Adding wood pieces to your home will instantly warm it up. It could be furniture, wood beams, frames, shelving, or even small décor items. I just love the look of some antique natural wood furniture mixed with a little more modern décor pieces like chairs or couches, decorating accessories, or lighting. 
Some smaller wood items I like to find are things like wood vases, cutting boards, candlestick holders, stools, trays, old kitchen utensils, bowls and little odds and ends.
2. Use warm toned neutrals
Add some warm toned neutrals to your white spaces to keep it from being too one note. Beiges, tans, and grays are some perfect examples. This could be a piece of furniture, some pottery, candles, throw pillows or blankets, old books that have yellowed pages and warm tone color covers you can use to add height, or other décor pieces. 
It could also be paint. Try painting your door and wall trim a light neutral color. It will really pop against your white walls. Maybe update a piece of furniture by painting it. You could try adding an accent wall to your white room. It could be solid or you could do a pattern such as herringbone.  
You could add some wallpaper. If you don't want something permanent, then try some peel and stick wallpaper. If you have a room with beadboard or wainscoting, you could just wallpaper the top portion of the wall for a smaller statement. 
3. Have some warm toned color accents
This I have kind of touched on, but for this one, try adding décor pieces that are in warm tone colors to help make your home cozy and not too white. I tend to go for greens and blues with warmer undertones. 
Some things you can look for are candles in a colored glass jar, textiles such as throw pillows, blankets, bedding, or towels, bowls, a colored ceramic pot for a plant or indoor tree, painted ceramics, or anything like that. 
This helps spread the warmth throughout your room and can easily be mixed and matched with your other décor pieces. And this can be applied to any room from the kitchen to the living room and bedrooms.
4. Add warm toned artwork
Artwork is a wonderful way to add warmth and interest to your home. This is especially important if you have lots of white walls. You want to break up some of that white space. You could add photos, signs, prints, or painted artwork. 
I particularly love watercolor prints and vintage botanical prints. You could put them in a wood frame for even more warmth.
5. Use wicker baskets and décor pieces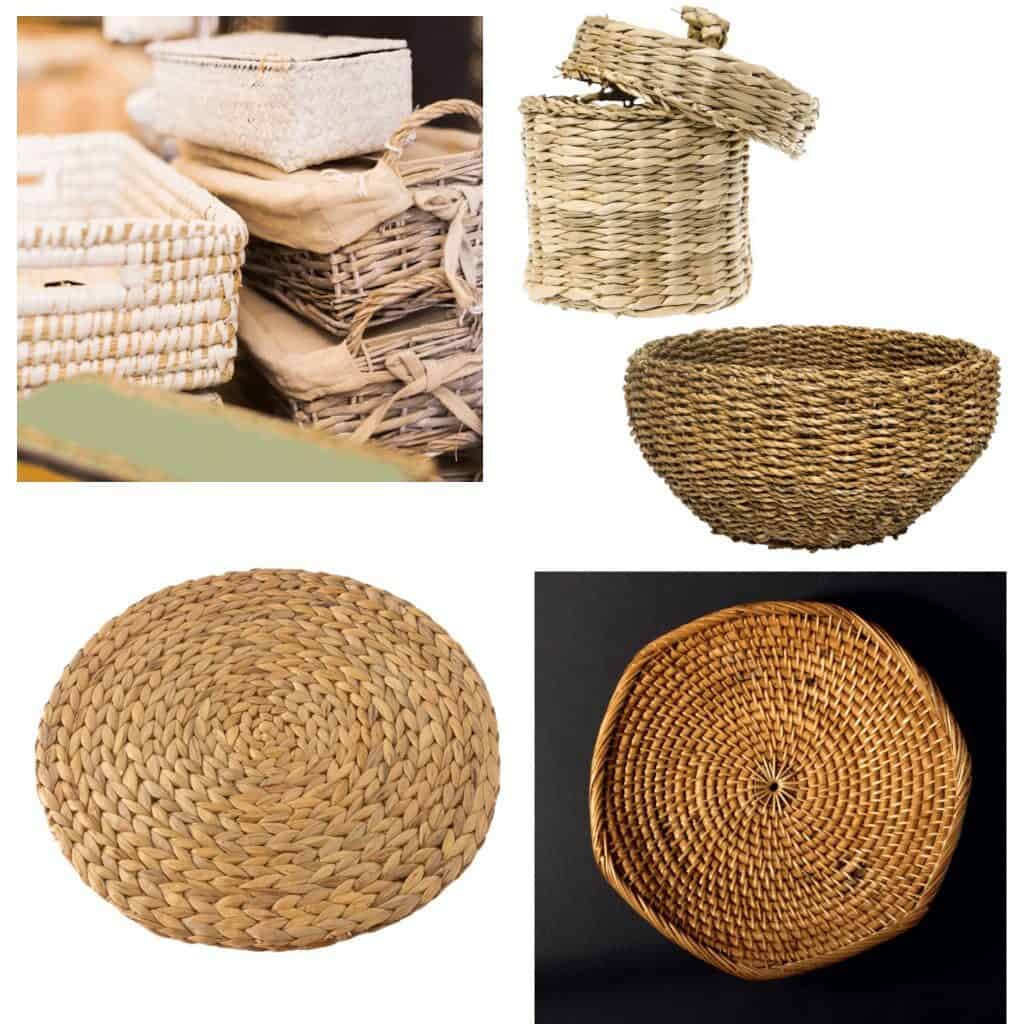 Wicker is almost always a warm tone, making it perfect for a white space. You can use baskets for all kinds of storage, hanging baskets for flowers, wicker trays, wicker chargers for place settings, wicker laundry baskets, or jute rugs. 
I love using jute rugs as a bottom layer with a patterned rug on top. You can check out these great rugs for layering if you are on the hunt for some new rugs or to get a better idea of what I mean. 
I use wicker baskets all over my house. It is such a great way to hide the clutter and to keep things organized.
6. Add flowers and plants
What better way to add some warmth to your space than with flowers and plants. Adding life to your space instantly creates a beautiful and inviting home. They can be fake if you are not much of a plant person. 
You can get colors that work with your space, or warm tone neutrals. Having that touch of green will be the pop of color you need to break up the white.
I like to find pretty and unique pots and vases to house my flowers and plants. I recently made my own artificial tree which I put in this amazing textured ceramic pot. Another fun alternative to a pot is to use a round basket to house a larger plant or indoor tree. 
Wreaths and garlands are also great options. You can change them out seasonally too which is a fun way to make subtle changes throughout the year.
7. Use area rugs
Area rugs can make a big change in the overall feeling of your space. I mentioned layering rugs to get even more texture and warmth into a room, but rugs on their own can work just as well. 
You can choose how much or how subtle of a color and pattern you want. There are also some really cool neutral rugs that have some great texture to them, which stand out beautifully on wood floors. 
There are so many patterns and colors that there are plenty of options that will work perfectly for your home. And again, these can be used all over the house.
Take those beautiful white rooms and add some warmth!
Make your home cozy and inviting while still keeping your white, bright, and airy rooms throughout your house. If your decorating style is similar to mine, then these tips will be perfect for you! For more inspiration, check out what I've found on Pinterest lately. 
Are you all about decorating with light colors and neutrals or are you more into bold color? Let's chat down in the comments and I'll see you next time.