What Is My Decorating Style? | How To Find Out And Create A Home You Love
What is my decorating style? That is a question I struggled with for a while until I finally started taking the steps to figure it out. Today I am going to share my process to show you how to determine your decorating style to be able to create a home you love.
When it comes to home décor, I don't fall into one perfect category and I think many people feel the same way. And guess what, that is totally ok! It took me a while to figure out what I truly like. I found a lot of inspiration by looking at other people's homes and deciding what it was I liked about them and started to see the similarities. 
Once you have figured out what kind of decorating styles you like, you may be interested in some of the following articles I put together on how you can incorporate 3 types of popular styles into your home. They are farmhouse style, contemporary/minimalist style, and rustic style. 
What Is My Decorating Style? Let's Find Out...
So like I said, you don't necessarily need to fit perfectly into any one category. The types of decorating styles I pull from include a little modern farmhouse, some bohemian, some coastal, some vintage/antique, some Nordic, and maybe a small touch of modern traditional. See, a huge mix of styles.
The things I find I am the most drawn to are a mix of white and neutrals with wood accents, pops of greenery, and a mix of modern and antique décor pieces. I love baskets, woven rugs, ceramic, antiques, wooden décor items, anything cozy and inviting, soft patterns. 
So I found I like a bright and airy space that is warm and inviting. 
But as I said, it took me quite some time before I realized this. Let's talk about the steps I took to figure it out.
1. Find Inspiration Photos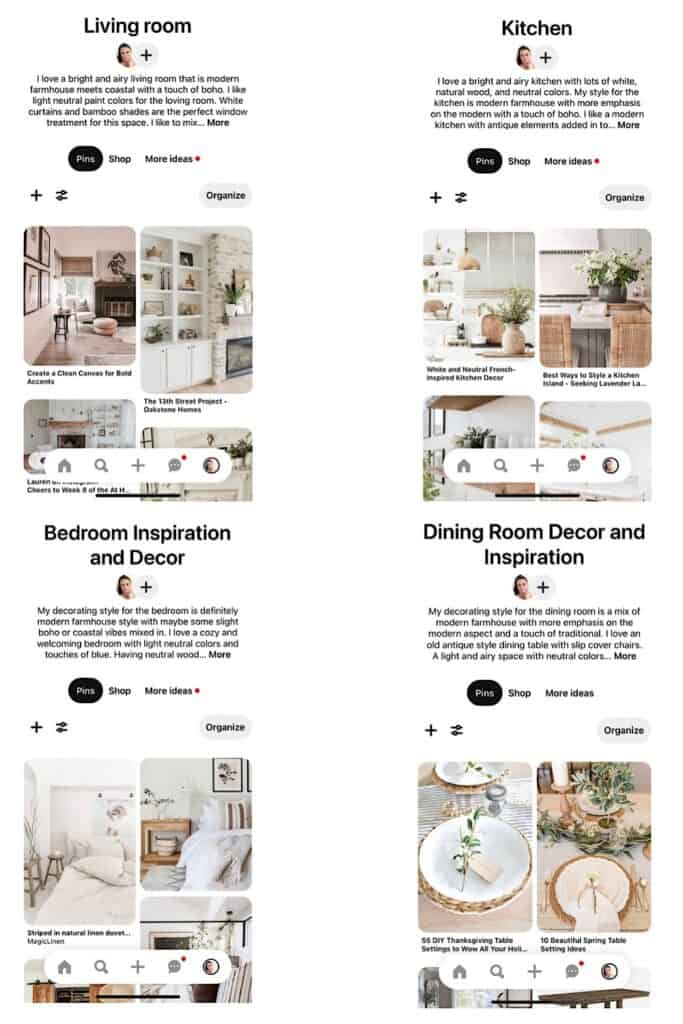 The first step I suggest is to browse Pinterest, Instagram, or even flipping through magazines. Start saving things that stand out to you. You will start to notice a pattern of what you do and do not like. I strongly suggest trying Pinterest if you haven't already because you can create an inspiration board for each room of your home, saving things you like to each board. You can check out mine here to get an idea of what I mean.
2. Narrow Down Your Favorite Styles
Once you discern what you do and do not like you can start to narrow down the categories your style falls into. What do you have the most of? That style would be best to use for the biggest fixtures in your home. So couches, tables, chairs, shelving, cabinets, etc. 
Things you have less of are great to incorporate through accessories. Things like lighting,  pillows, vases, frames, artwork, odds and ends, rugs, etc.
Also pay attention to what it is you like in each photo and style you like. Is it the colors, the materials used, the patterns? You will start to notice a pattern of these types of things you like.
If you are a list person, it might be helpful to list out the commonalities you are finding in your inspiration photos.
3. Make These Styles Work Together
Let's move on and talk about how to make these different styles work together. As I mentioned in my own example, I have a ton of different styles I draw inspiration from. The best way to keep these styles from looking like a mish mosh mess is to stick with similar color palettes and materials.
I mentioned some of my favorite colors to use are whites and neutrals. I also like a small touch of blue and get some color pops from using greenery with my décor.
The materials I am drawn to, again, are wood, ceramic, and glass for the most part as well as some touches of wicker or jute in things like baskets and rugs. 
So I can find an old ceramic pot and put a plant inside that will still mix well with a stack of old books that are kind of more of a farmhouse style and a glass jar candle that is more modern on top of a more boho style wicker tray. 
I also recommend you try to style your entire house with the same feel so that it has a nice flow and nothing will seem like it doesn't belong. I know many people might have different themed bathrooms for example but to really have a clean cohesive space, it is best to stick with a similar style throughout the home. 
4. Start Finding Items You Love To Decorate With
Once you have narrowed down your style or styles, you can start looking for items you love to incorporate into your home. Don't feel like you need to find everything all at once. Buy things because you truly love them, not just because you need to fill space. That will help make your home a place you love. 
If you aren't looking to renovate your whole home there are many ways you can add this new style into your space. I go more into depth with this in those posts for the 3 style groups I mentioned earlier so make sure to check those out for ideas on how to incorporate a specific style into your home. 
You can also check out this home decorating tips post for more ideas, too.
I hope you found this information useful, feel free to leave any questions you might have down below. And let me know the answer to that "what is my decorating style" question! See you next time.