Hearth and Hand Fall Line Favorites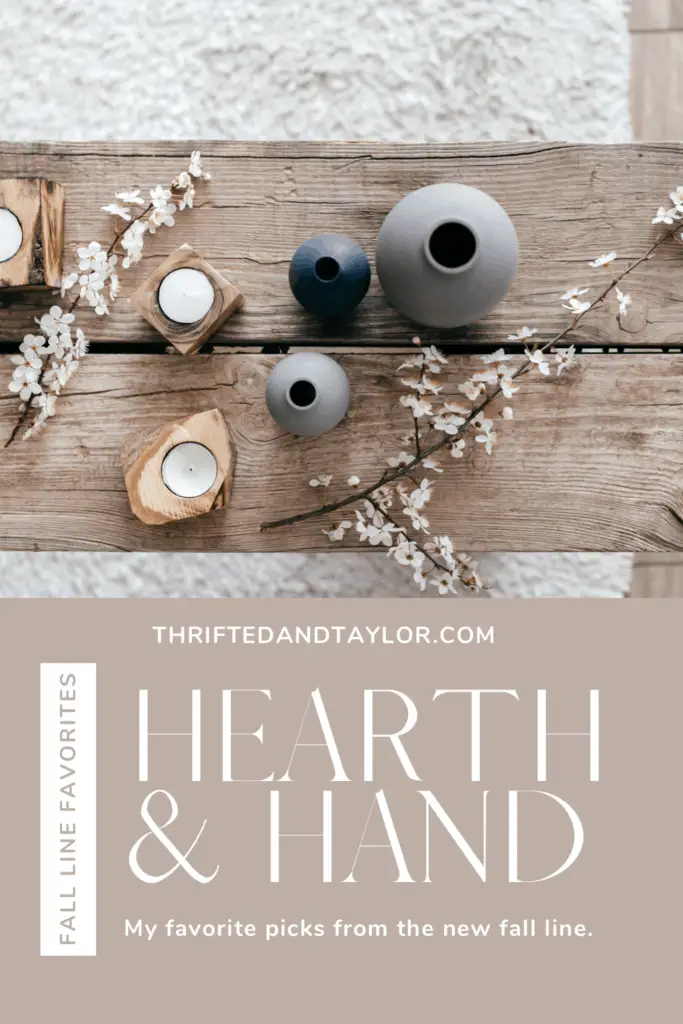 This post contains affiliate links for which I earn a small commission at no extra cost to you, should you purchase through them. Learn More.
This cooler weather has me feeling all the cozy fall vibes. I have not yet let go of summer though. I have not yet begun the fall decorating process, but soon. I have started browsing around for some new fall décor items to add to our home. 
Naturally the Hearth and Hand with Magnolia line at Target was my first stop. Per usual, so many amazing new fall décor items! It was too hard to select just a few to share with you so instead I broke it down into a few categories with a few items in each. 
Take a peek at my Hearth and Hand fall line favorites and let me know which ones are your favorites too!
Hearth and Hand Fall Line Favorites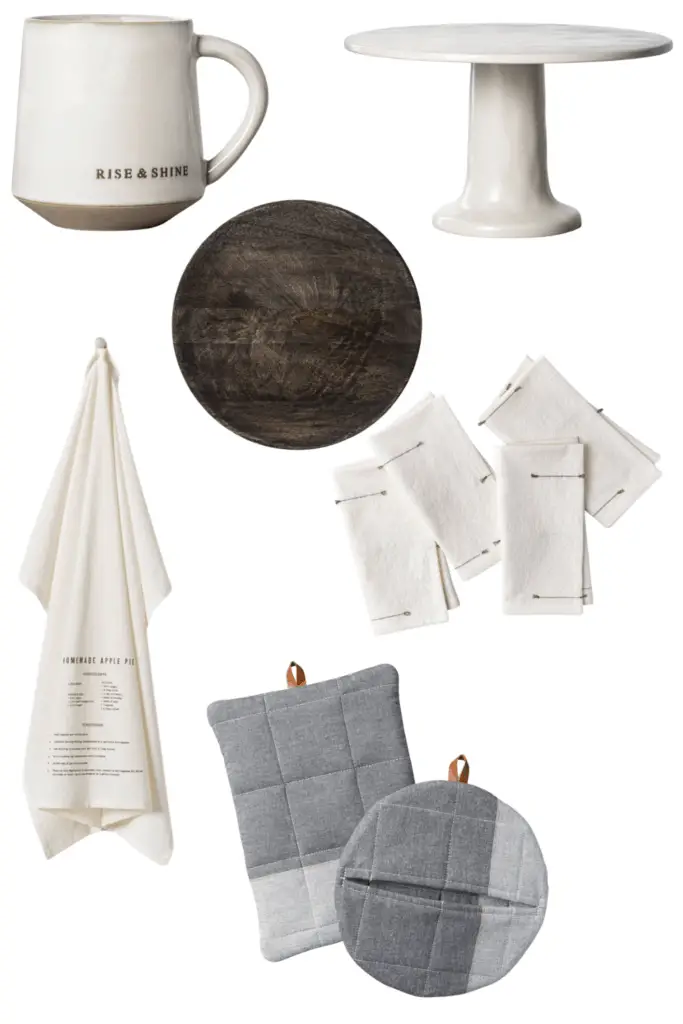 Let's start off with the kitchen items. Because nothing screams fall more than the scent of fresh baked apple pies and cool crisp air coming in through the kitchen window. 
Speaking of apple pie, how cute is this flour sack kitchen towel with an apple pie recipe printed on it?! I just love it. Bake that apple pie and set it on display on this white ceramic cake stand. Or in this case, pie stand.
I love the deep color on these wood charger plates, they are perfect for a fall table setting! Helllllo Thanksgiving! And you can add these dash textured napkins right on in there as well. Love that they are simple but still have a little statement to make. 
I don't know about you but I feel like we are constantly needing to replace our pot holders, why is that? I love the 2 toned gray on this set and the little faux leather straps to hang them. 
Are you a coffee or tea person? Do you have a cup (or a few) every day? I do drink both, probably tea more often than coffee (caffeine and I are not friends unfortunately, so I can only drink decaf coffee which is why I don't drink it as often.) But I do love a cute mug. This rise and shine mug is so perfect. A happy reminder to wake up and be the best you possible!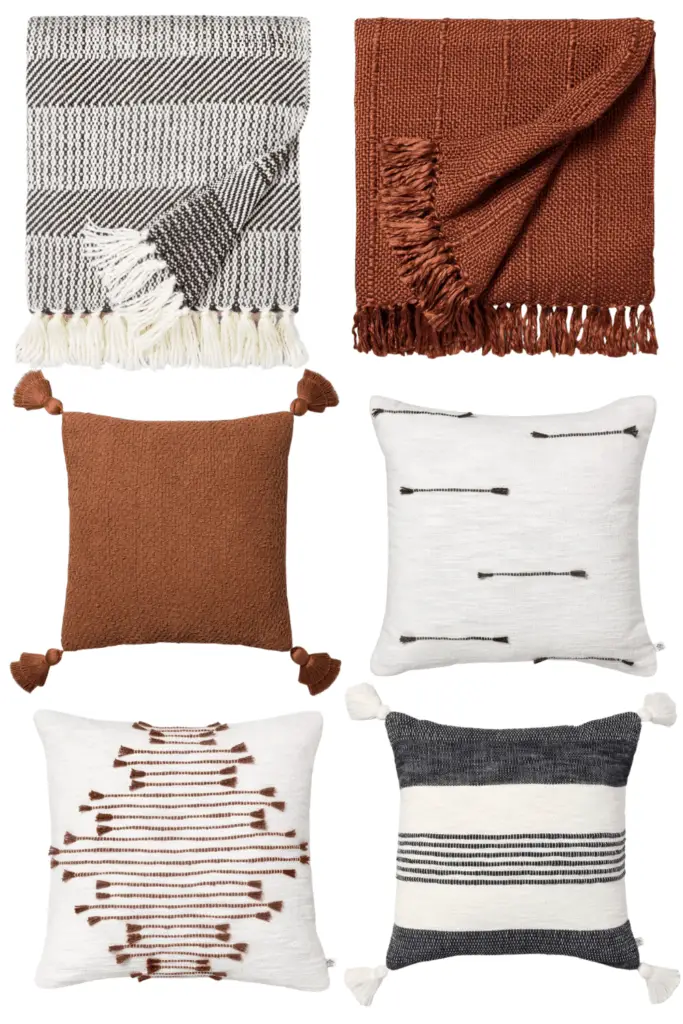 Moving on to cozy up the living areas. These items are so necessary as we move into the colder months. There is not one person who doesn't like snuggling under a blanket. Even you big burly men out there. You can't deny it! 
As you can tell I'm super feeling this rust color this year. Not sure if I'll incorporate it in other areas of decorating or not but both clothing items and these cozy items are just calling my name in rust this year.
I love the subtle texture of this rust blanket, it is definitely more lightweight so perfect for those kind of not so cool but also certainly not hot, summer to fall transition days. 
This gray and cream striped blanket seems a little more cozy, but still a nice lightweight throw. I love the tassels on both of these.
I also love the tassels on this rust pillow and this striped pillow that just happen to work well with both of these blankets! And I am loving this cool dash texture on this rust pillow and this sage green pillow.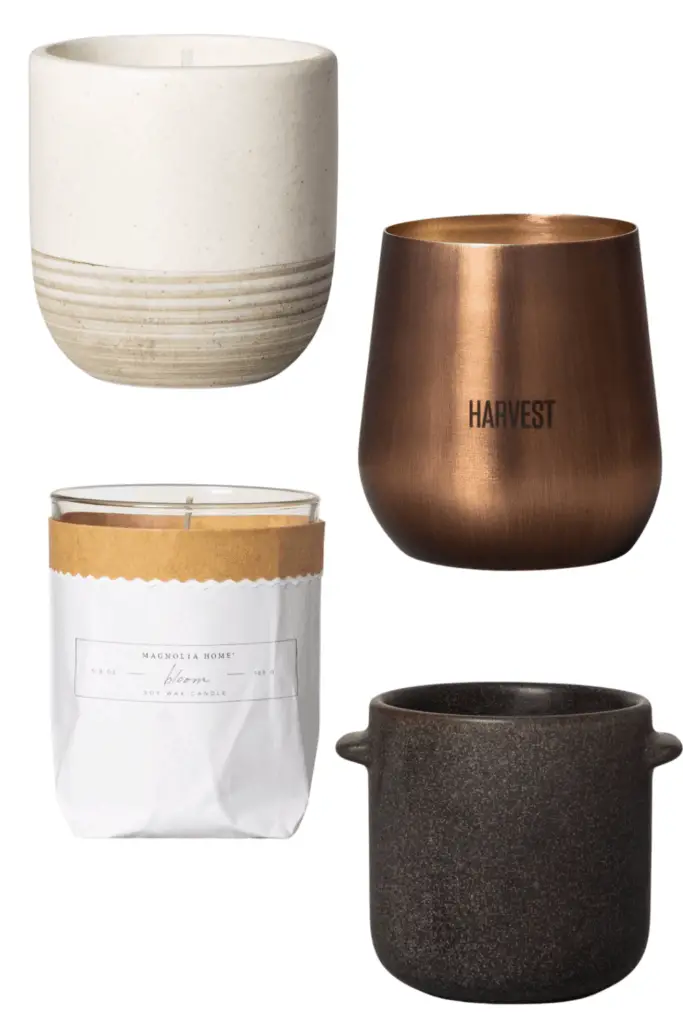 Candles. Who doesn't love candles? And the Hearth and Hand fall line was full of them. Talk about getting the smell of fall into your home. There are seriously so many options to choose from, these 4 were my absolute favorites. 
This cream colored ceramic candle with the tan stripes fits so perfectly with my home décor, this one is in the scent fig. This glass jar candle with the little bag over it is just so cute. It would also be a perfect fit in my home. This one is in the scent bloom. 
How cool is this copper one?! A great way to add a nice pop of fall color to your space. This one is in the scent harvest (as you can probably already tell.) This last candle, I just love that it's a black ceramic jar with those cute mini handles. This one is in the scent bookshop. Intriguing scent, I'm curious what it smells like.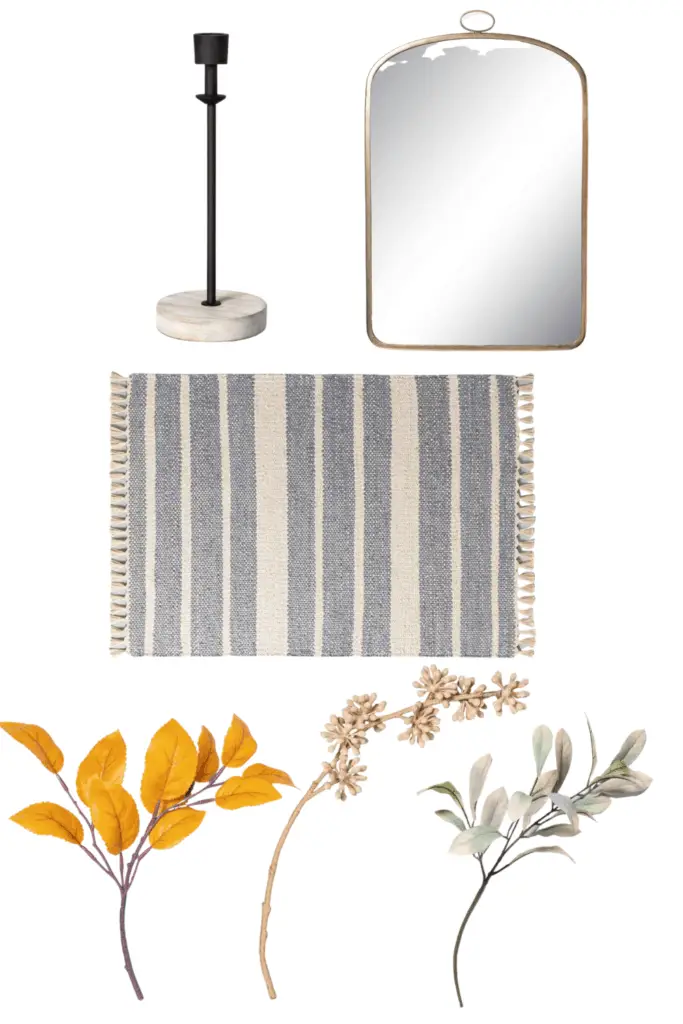 Next up are just a few random décor items that could be used anywhere really. Starting off with this striped rug. It comes in a couple other colors too that might be a little more "fall vibes" but I just really was drawn to this blue color. It is a great way to add some texture to your home.
Uugghh this mirror! I'm dying over this mirror! So gorgeous. And a really reasonable price too! I feel like I need this… I have been wanting to switch up a couple areas that I typically keep the same old thing. We'll see. 
I thought these candle holders were really cool too. I love that they're wood and metal. Cool combo. 
Using foliage throughout your home is a great, easy way to add some fall colors. This yellow leaf stem is so rich in color. If you are (like me) more of a neutral fall décor person try this berry stem or even this dusty leaf stem for just some subtle color.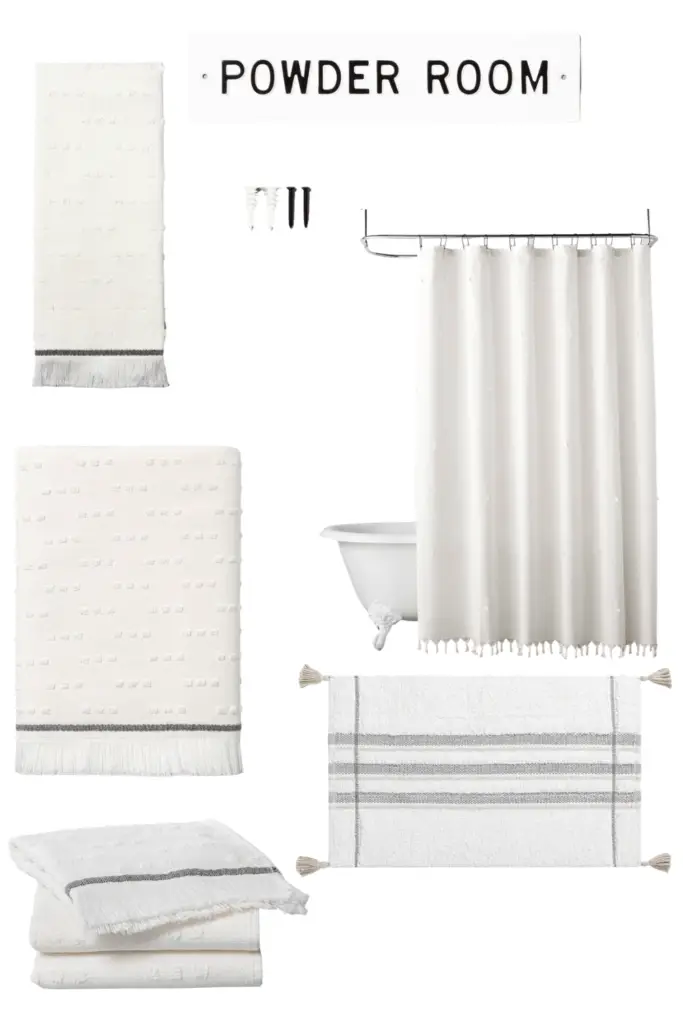 Last but certainly not least in my Hearth and Hand fall line favorites we have bathroom items. These don't really SCREAM fall, but they're new. And I liked them. So I'm including them. 
I am a white bathroom accessories person. Shocking! I know. I just feel like it looks so crisp and clean. Plus you can always bleach it if need be. So the first thing I saw was this pretty shower curtain with some subtle texture using those dashes again. Can you see a pattern here? I'm all about these dashes. Then I saw this cute little bath mat with the tassels. 
The bath towels, hand towels, and washcloths all come separately but don't they make a cute little set? And then I thought this little powder room sign was just too cute. Now you won't have to keep telling your guests where the bathroom is! I also feel like this whole group would make the cutest bridal shower or housewarming gift basket. Maybe toss in one of those candles too. 
Those are all my Hearth and Hand fall line favorites. Make sure to go check out the rest of the line too, it's so pretty! Time to let me know down in the comments which items are your favorites! I will see you next time.