Maternity Second Hand Clothes Haul | Pregnancy Clothing Hacks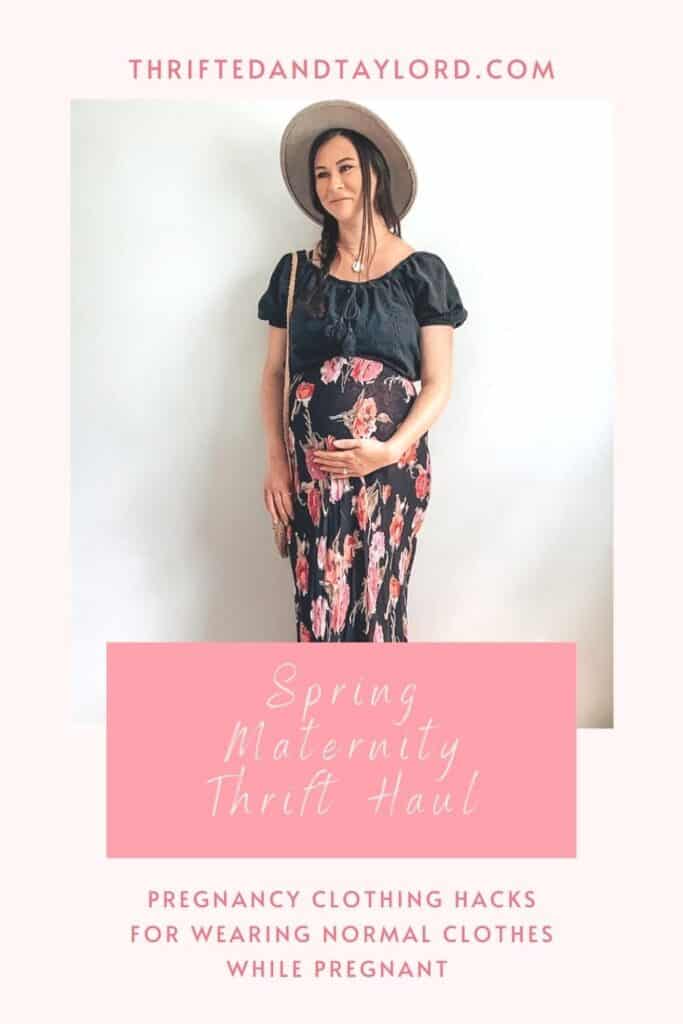 Hey Guys!
Welcome to this maternity second hand clothes haul! Part 2 of my spring thrift haul series, check out my first haul and how to dress during pregnancy post from last week if you haven't already. 
This week I am back with more pregnancy clothing hacks for wearing normal clothes while pregnant. After learning what types of clothes you can wear during pregnancy from last week's post, this week I have a few new ways to wear those same kinds of clothes. 
These spring maternity outfits are a great way to avoid maternity clothes, if you aren't looking to spend a bunch of money on clothes you will only wear for a short period of time. Dressing for pregnancy can be really fun and easy with the right pieces of clothing. So let's check out these hacks.
Maternity Second Hand Clothes Haul and Hacks
1. Pair skirts with cropped shirts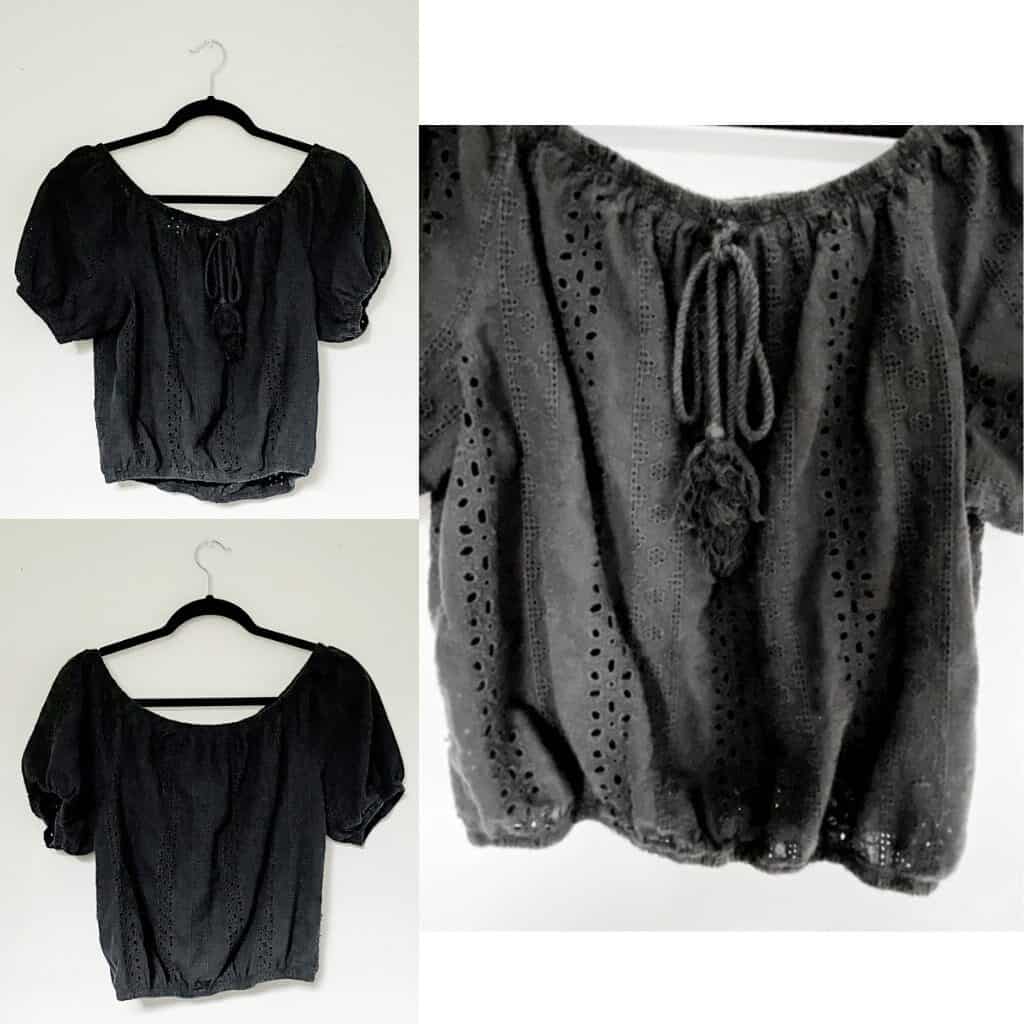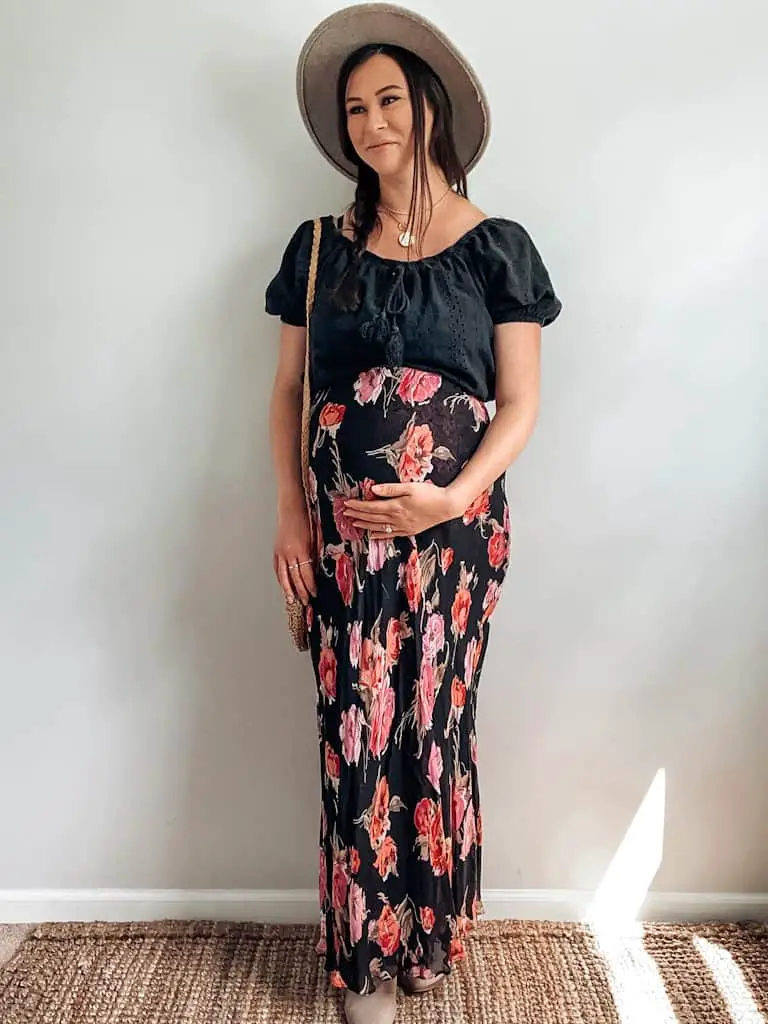 I thrifted this really cute black, eyelet cropped shirt which unfortunately had the tag cut out so I'm not positive where it is from. But my friends, you do not have to avoid cropped shirts if you're pregnant! In fact, I encourage you to give them a try. Pair it with a long skirt that you can pull up over your baby belly which will accentuate your bump and look adorable. 
I paired this top with this black floral skirt which is also thrifted (see 5 other ways to wear this skirt too!) For accessories, I have on 2 of my favorite gold necklaces from Uncommon James (the links are in last week's post if you're interested.) Then I went with this oatmeal wide brim hat, a straw shoulder bag, and some taupe ankle boots.
I love the details of this top from the pretty eyelet design to the puffed sleeves to the little tassel at the neckline. This top was half off so I got it for only $1.75! Major deal. Love when that happens.
2. Tuck your top into some high rise pants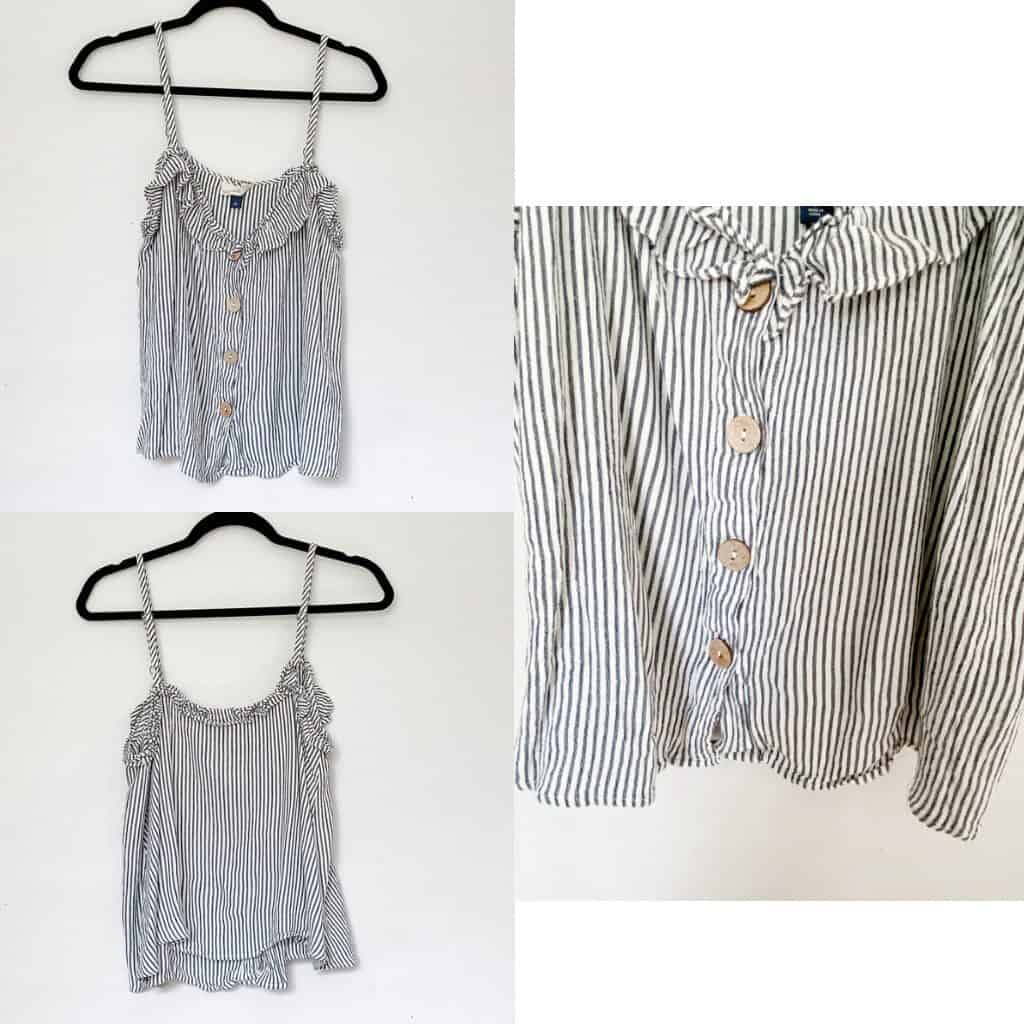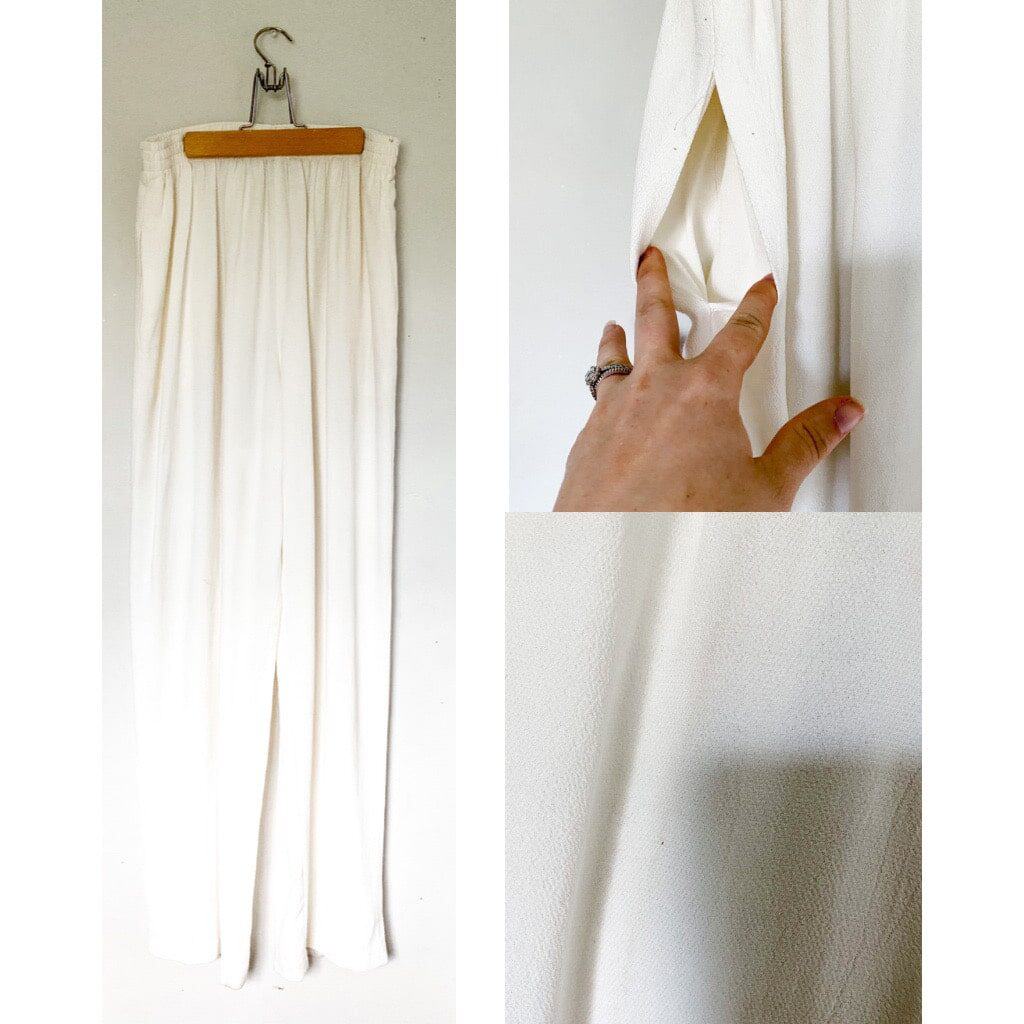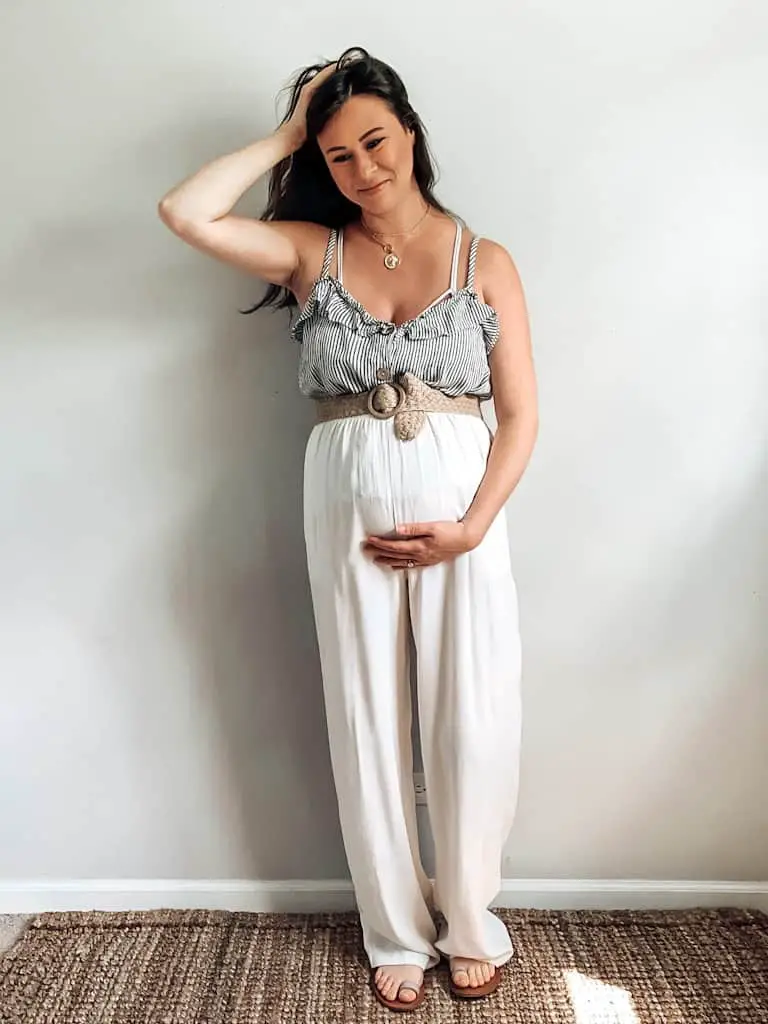 You might remember these cream pants if you saw last week's post, but if not, I got these second hand from an online consignment store called ThredUp. It's convenient for when you're looking for specific things or higher end brands, but don't want to take tons of time sifting through thrift stores to find them. 
But the prices are not typical thrift store prices, so take that into consideration when shopping there. They take the time and use their resources to find the "good stuff" so it's more of a curated selection, and much like brick and mortar consignment shops, prices are higher because of this. Plus they are buying people's clothing to sell versus getting donations, so prices also need to be higher because of this. 
I love pants like these for pregnancy because the stretchy waistband and high rise allow them to be able to be worn and still accommodate a growing baby belly. Try tucking in your shirt and adding a belt just over the bump for a super cute and casual, yet stylish maternity outfit. 
To accessorize I wore my same gold necklaces (I wore them for all the outfits actually,) this woven belt, and some sandals to really keep this feeling casual.
The shirt is also a thrift find from my more recent trips. I love the buttons on this top and the muted stripes. The little ruffle adds some femininity as well. This one is from Universal Thread which is a Target brand and I got it for $4.49. 
3. Pair casual trousers with cropped shirts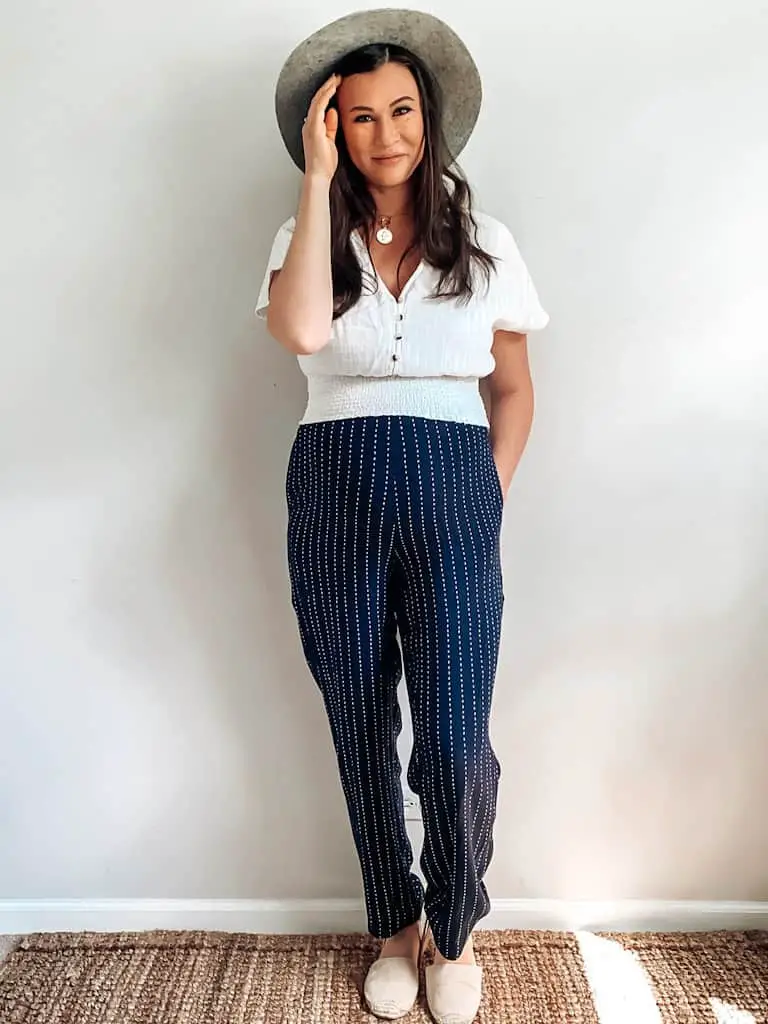 Another way to wear cropped shirts is with casual trousers. Similar to the cream pants, these navy and white striped pants have a stretchy waistband and are high rise enough to go up over the bump. This white top I found is the perfect length to hit just above the bump and meet the trousers, which were a thrift find from this end of summer thrift haul post. 
This white top stuck out to me because of its subtle checkered pattern in the fabric, the cute buttons, and the gathered waistband. This one also did not have a tag so I'm not sure where it is from but I picked it up for $4.99. 
I kept the accessories simple again with these cream lace up espadrilles and this gray wide brim hat. If you follow me on Instagram, then you might have already seen a sneak peek of this outfit.
4. Tie up a t-shirt over a jumpsuit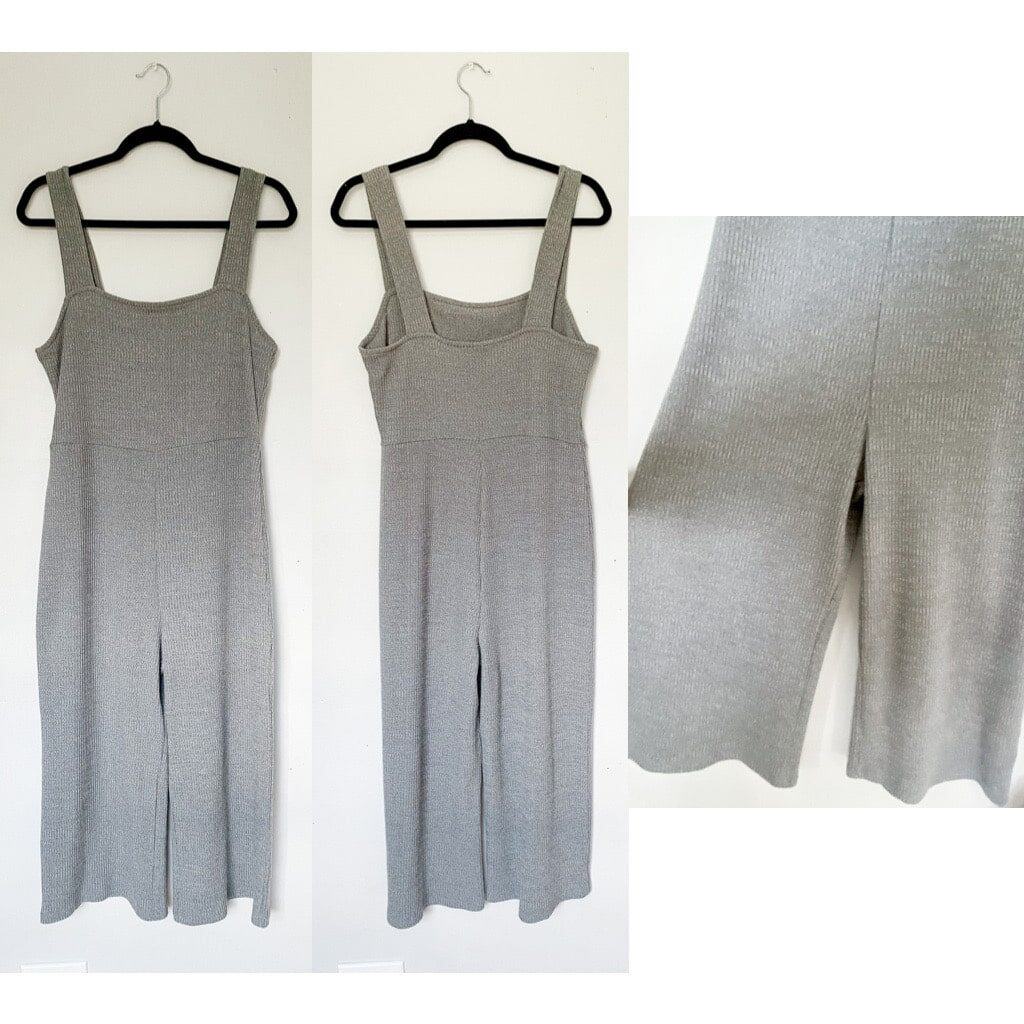 Jumpsuits are so great for pregnancy, especially stretchy ones. This knit jumpsuit can be worn on its own but I also love to wear a t-shirt over it and tie it up just over the bump. It makes the jumpsuit more casual and adds some interest to the overall outfit. Plus it gives you more ways to wear the jumpsuit to switch it up and get more wear out of your clothes. 
I went with my absolute favorite white sneakers and this really cool white wicker bag which was actually a thrift find from this fall thrift haul post. It's casual while still looking styled and put together. 
This jumpsuit was actually brand new with original tags still attached from the Wild Fable line at Target. It was $30 at Target and I got it for $8.99 second hand. Pretty good deal if you ask me!
5. Wear oversized overalls with a fitted top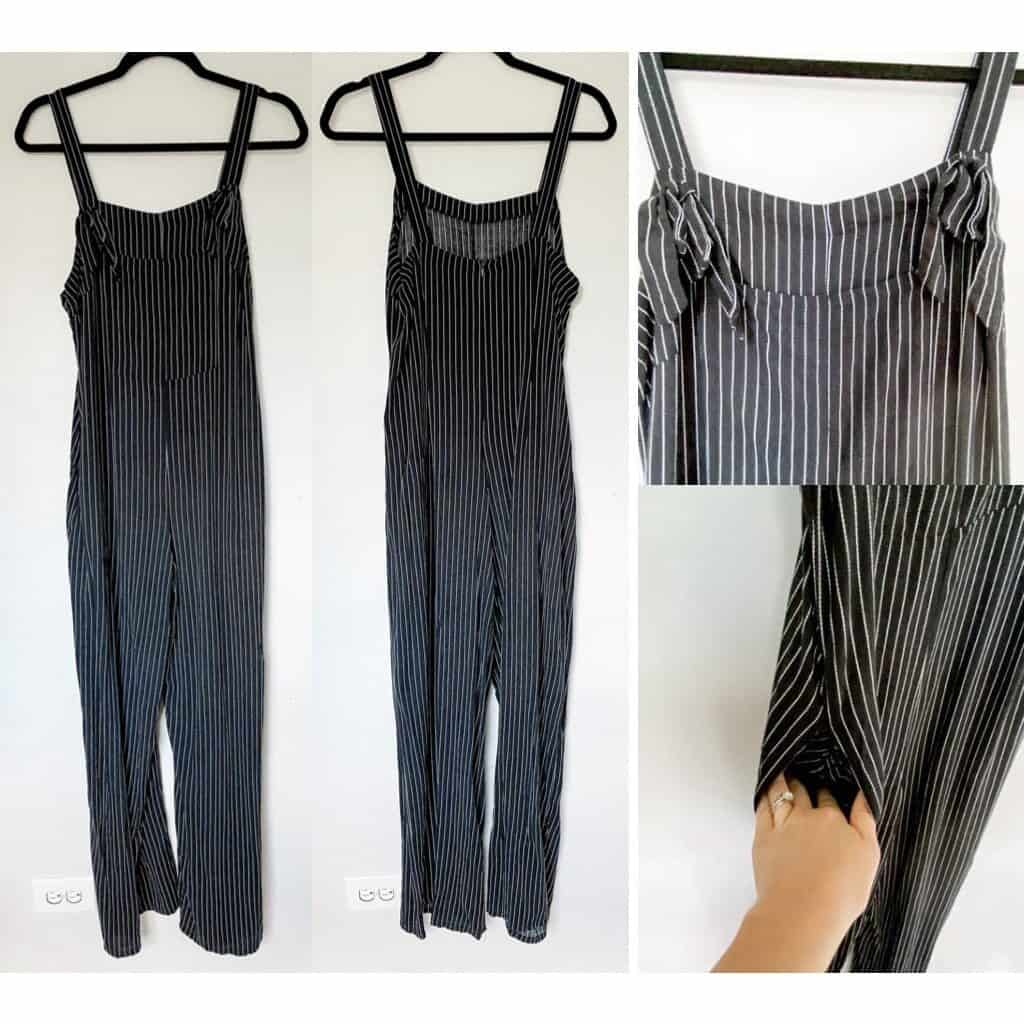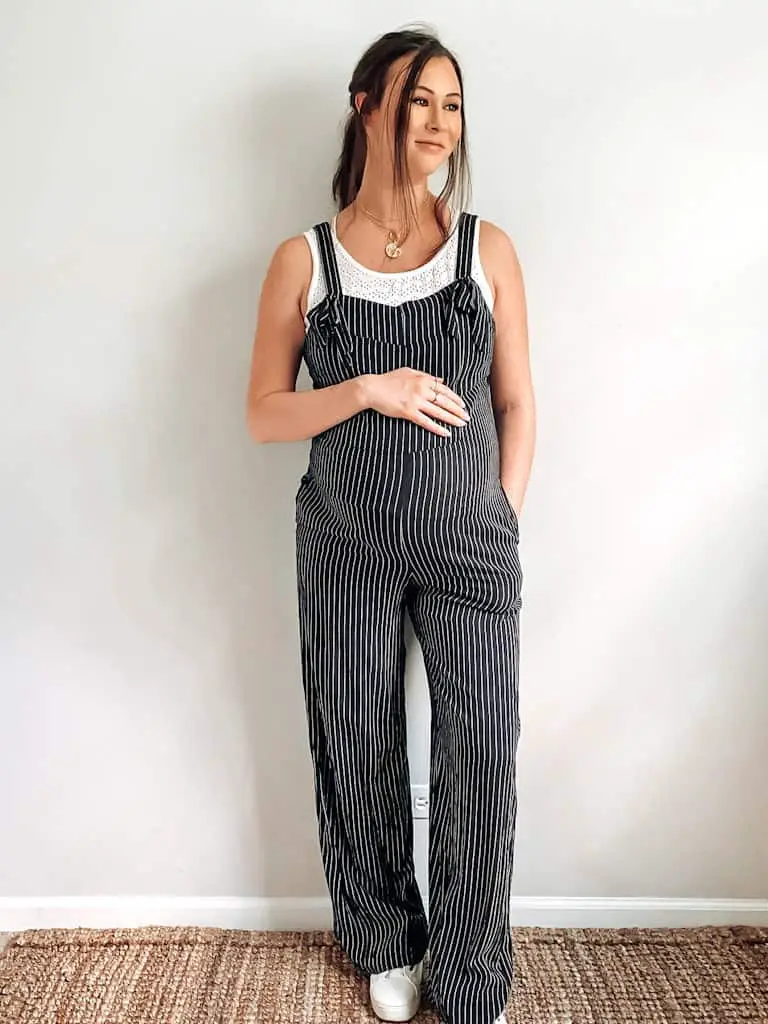 Cotton overalls with a relaxed fit are so perfect for pregnancy. I find it most flattering to wear something more fitted underneath. I have shared my favorite white slouchy overalls on Instagram, which I wear constantly. Well now I have these black ones too!
I like to keep these really casual so I pretty much always wear my sneaks with them. This sweet little eyelet tank is a thrift find from winter to spring thrift haul post and is actually Ralph Lauren. I can't wear it with just jeans because the bottom half of my bump hangs out and I'm not going for that look, lol. But paired with these overalls, I love it. The extra texture it adds to the outfit is cool. 
The overalls are from the brand Gypsies & Moondust which I'm not familiar with but I found items from this brand sell at Tilly's and this was probably $35-$40. I got mine for $6.99.
6. Wear dresses with a button down top knotted in front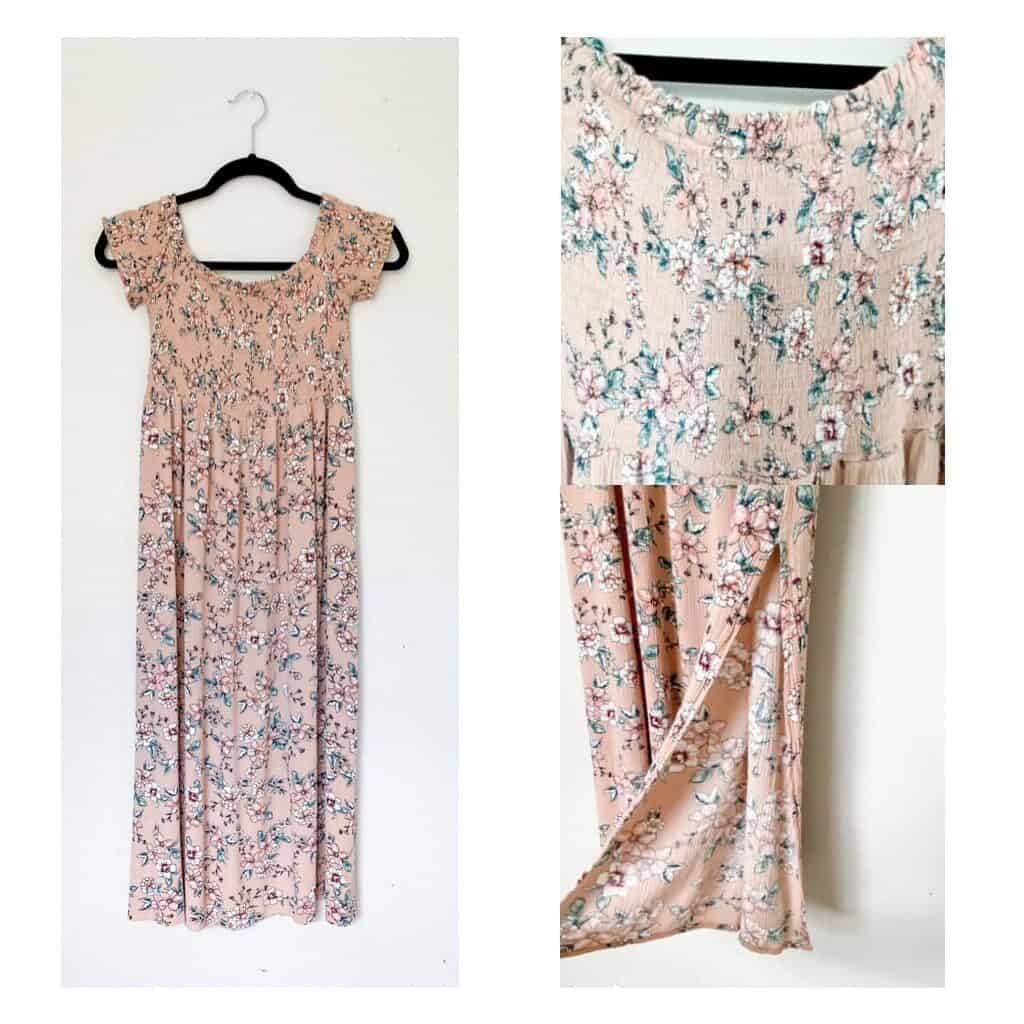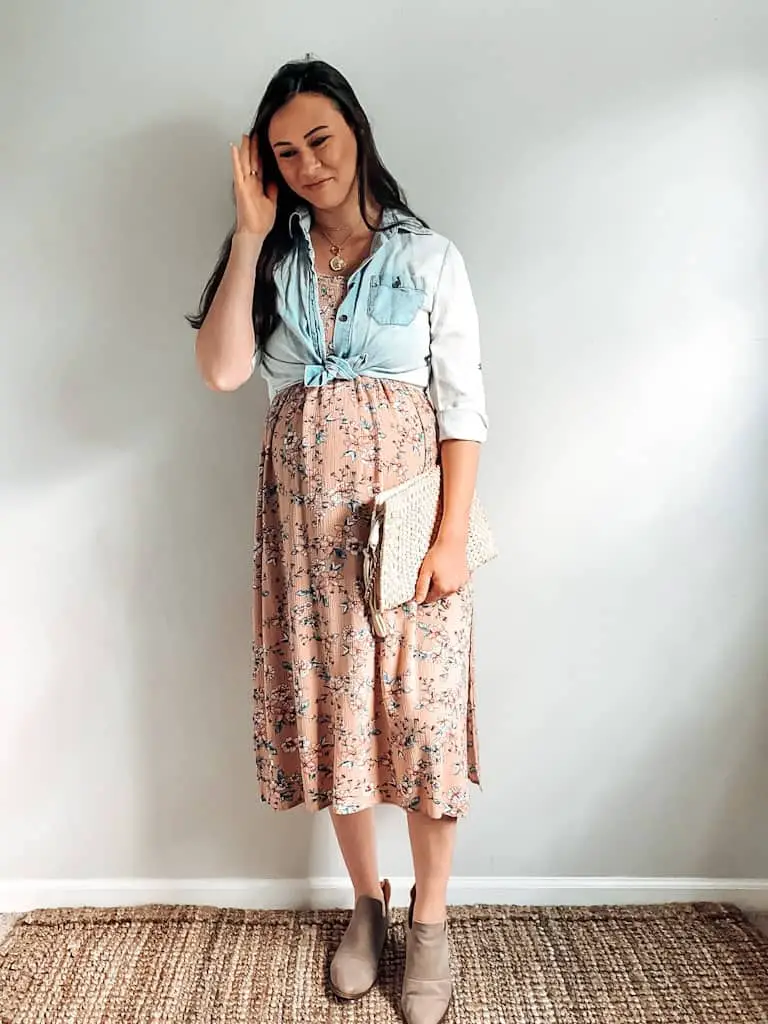 Dresses are kind of a no brainer for non maternity, pregnancy clothing. The looser the better. I love switching up my outfits with dresses by adding a top. One of my favorite ways is to take a button down top like this chambray one, wear it open and then tie it up so it rests just over the bump. (Are you seeing the trend here? Over the bump is the way to go. It highlights the slimmest part of your waist while also showing off that bump.)
I like wearing these kinds of outfits with all different kinds of shoe options. Here I am wearing these taupe ankle boots but I also love this with sneakers, sandals, or any other flat slip on style shoe. 
For this outfit, I chose this straw shoulder bag. It is another thrift find from many years ago which I added this gold chain strap to so it didn't have to be worn as only a clutch. 
The dress I thrifted is so perfect for this time of year. I am such a sucker for a pretty floral. I love the ruched top and how it sits slightly off the shoulder but can also be worn on the shoulder. 
It is from Aeropostale which I actually don't know that I've ever shopped there, interestingly enough. Similar styles are selling for around $50 and I got this one for half off of $6.99 so it was only $3.50. 
Thanks for checking out part 2 of my latest thrift store finds!
I hope you enjoyed checking out this maternity second hand clothes haul and got some useful pregnancy clothing hacks to use. You don't need to buy a whole wardrobe of maternity clothing, take these tips to the thrift store and pick up some clothes you love that can be worn well after you bring your sweet babe into the world. 
Let me know which of these hacks you want to try out, and which thrifted items are your favorite! See you next time.