10 Summer Accessories to Buy Now
Summer is still in full swing and I have been loving the accessory trends this season. I rounded up 10 of my favorites that are must have accessories for summer. Let's take a peek at what I found for you.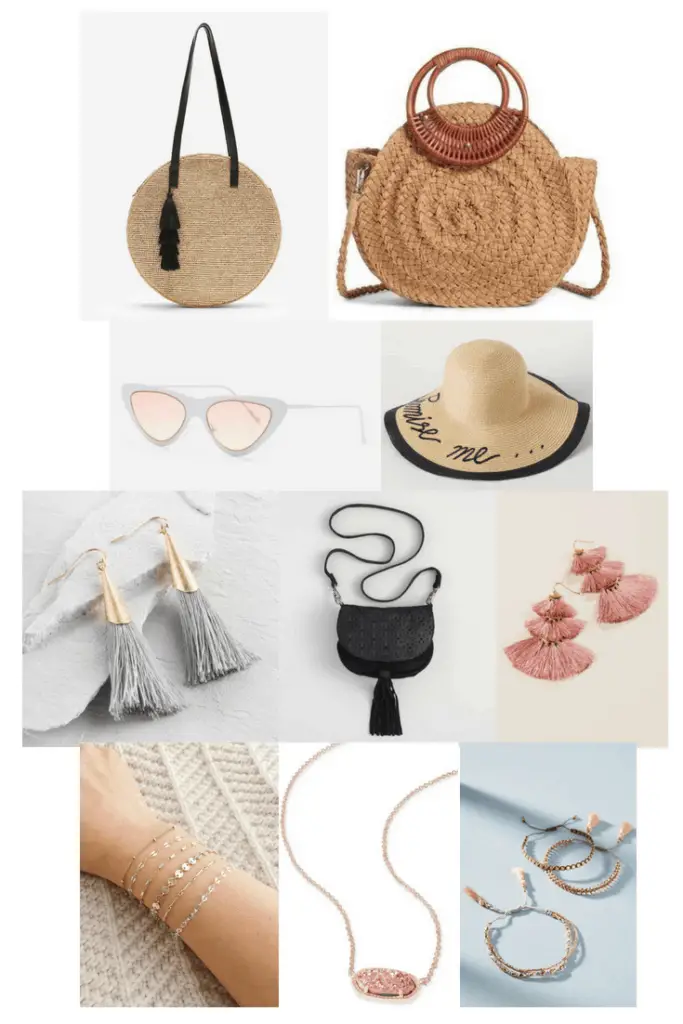 Straw accessories are everywhere this season. The fun thing about these is that you can find lots of them at thrift stores! I always see straw accessories when I'm thrift shopping. They also have them in most any store so you can totally pick up a new one too. I love the dark handles on that larger structured bag. I thought the black was a nice contrast on the smaller bag and I absolutely love the tassel on it.
Straw hats are another big one. You can get a plain one or one that has some sort of saying like this one. Those totally make me ready for a vacation.
Speaking of tassels, tassel earrings have been a big trend through spring and summer. I love them. I'm kind of obsessed with these grey ones and wait until you see the price! If you want a pop of color try these beautiful blush ones.
These pointy sunglasses are all over right now as well. I love the white color of these. I think the shape of these is unique and would be flattering on basically anyone. They're different and totally cool.
Saddle bags are making a big comeback, especially for fall. So get a jump start on that trend and pick up this gorgeous black suede one. It's another jaw dropper in the price department. Go check it out.
Layering bracelets are perfect for summer. They're lightweight and colorful. You can grab some dainty ones like those silver ones and mix them with these pink ones.
I have been obsessing over these raw stone kind of necklaces. I love this rose gold one and how sparkly the stone is. So gorgeous and easy to wear. You can definitely layer this up with some other necklaces too.
And there you have it, 10 summer accessories to buy now. They're all really great prices too so well worth checking out! Which one is your favorite? Let ya girl know down below. See you next time. ☺