Perfect Gifts for Dad | Father's Day Gift Guide
Does anyone else feel like it was just Mother's Day this past weekend? Time just flies by sometimes. Well Father's Day is just a few short weeks away so have you started thinking about what to get the special dads in your life? I have the important task this year of my husbands very first Father's Day gift. I'm still trying to come up with the perfect thing. Any ideas would be much appreciated, leave them in the comments down below! Let's check out these gift ideas.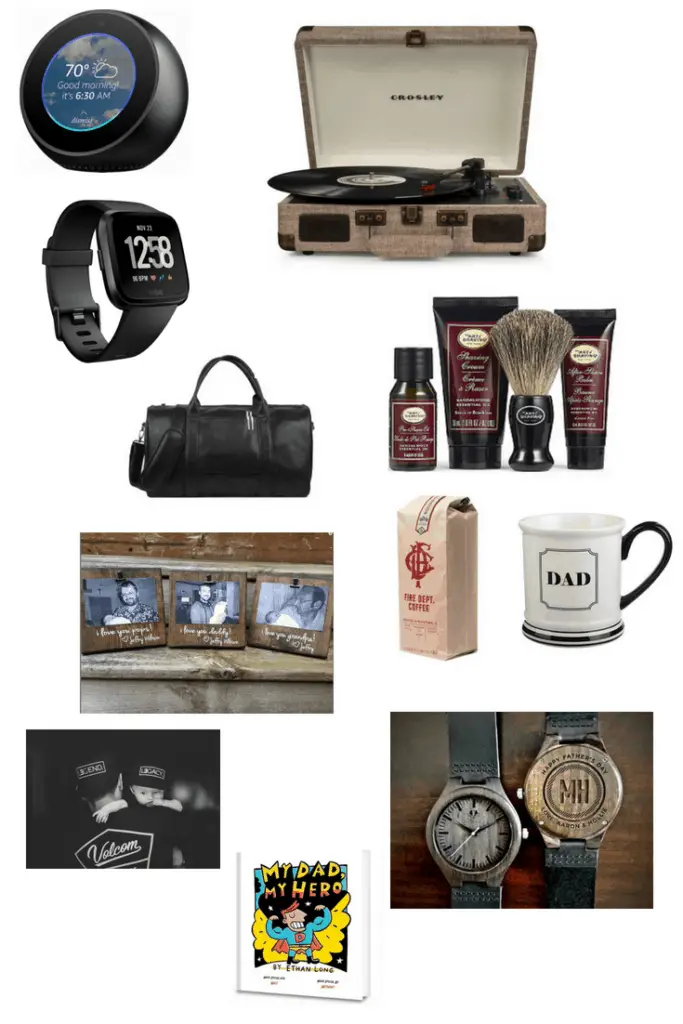 To start things off, a couple great gift ideas for the tech loving dads out there. The Fitbit Versa is like the upgraded version of the original Fitbit. It would be great for any dad who is (or needs/wants to be) conscious about their fitness. I think the new Amazon Echo Spot is also so cool! Being able to use your voice to video call, keep track of your calendar, keep shopping lists, find out about the weather, and so much more all in one spot is super convenient.  
For any old fashion dads I found a couple cool things. How about an updated record player for your dad to be able to listen to all his favorite records with amazing sound quality? I'm sure there are dads of all ages and generations who would really like this gift. I think any guy loves a good shave. I found this awesome shave kit to get that old fashion shave every day.  
If the dad in your life travels a lot or maybe works out before or after work, this leather duffel bag would be a great option for him. It is sleek and fashionable while also being very useful and functional. Speaking of work, maybe he could use something for his desk. I love this wood picture holder with a personalized message. It is sure to bring a smile to his face throughout the work day.  
If he loves coffee and also loves a good cocktail, this spirit infused coffee would be the perfect gift for him. It comes in a few different options so you can picked based on his favorite drink of choice. This Dad mug would be a great accompaniment to it. Simple and masculine.  
If he likes to accessorize check out this really cool personalized watch. It is pretty awesome that it is wood, super unique for a watch. I actually really love this, might be a good contender for my own hubby. Hopefully he isn't reading this… I also think these Dad and Son hats are kind of amazing. Also super cool looking.  
I really love these personalized books. I think they're adorable and so fun. It would be a great gift if you have older kids who can help you make it for their dad. This one in particular about dad being a superhero is so sweet. I love it. 
I hope this gives you some great ideas. Maybe you even decided to pick up one of these for the dad in your life, be it your husband, your own dad, whom ever it is! Don't forget to leave me some ideas for my own hubby down below! See you next time. ☺