End of Summer Thrift Haul | Perfect Transition Pieces
I'm so sad that the end of summer is coming. And at the rate time has been flying by, it will be over next time I blink. To cling onto these last few weeks of summer I thought I would share this end of summer thrift haul with you!
So I went to the thrift store (2 actually) for the first time since the pandemic started and I was looking for fall pieces (see what I was hunting for here.) But I was shocked to see that there were almost no fall items out yet.
I was thinking maybe they are trying to clear out some of the product they had stored up before having to close? Not sure, just a guess. 
I did pick up exactly 3 items for fall but I am going to save them for another post, hopefully with a few more items from the next time I thrift. But I also found some great end of summer pieces that will transition well into fall. So those are what we will be checking out today. 
I wasn't able to try any of these on so that was a bit of a scary gamble to take, but I'm happy to report everything fit! Well except one top that fits mostly, but is a smidge tight in the girls. You'll see what I mean. 
I went ahead and included some try on pictures too so you can see how they look on and styled up a little bit. I didn't really full on style them, but kind of gave you an idea of how I might wear it while it's still warm. 
Let's check out this end of summer thrift haul!
End Of Summer Thrift Haul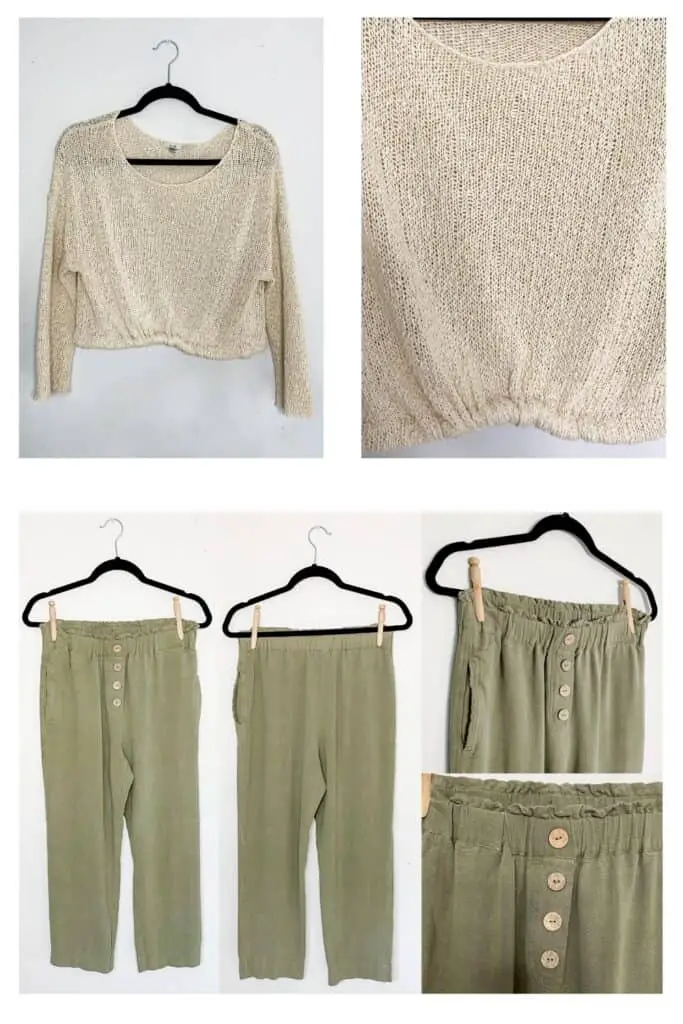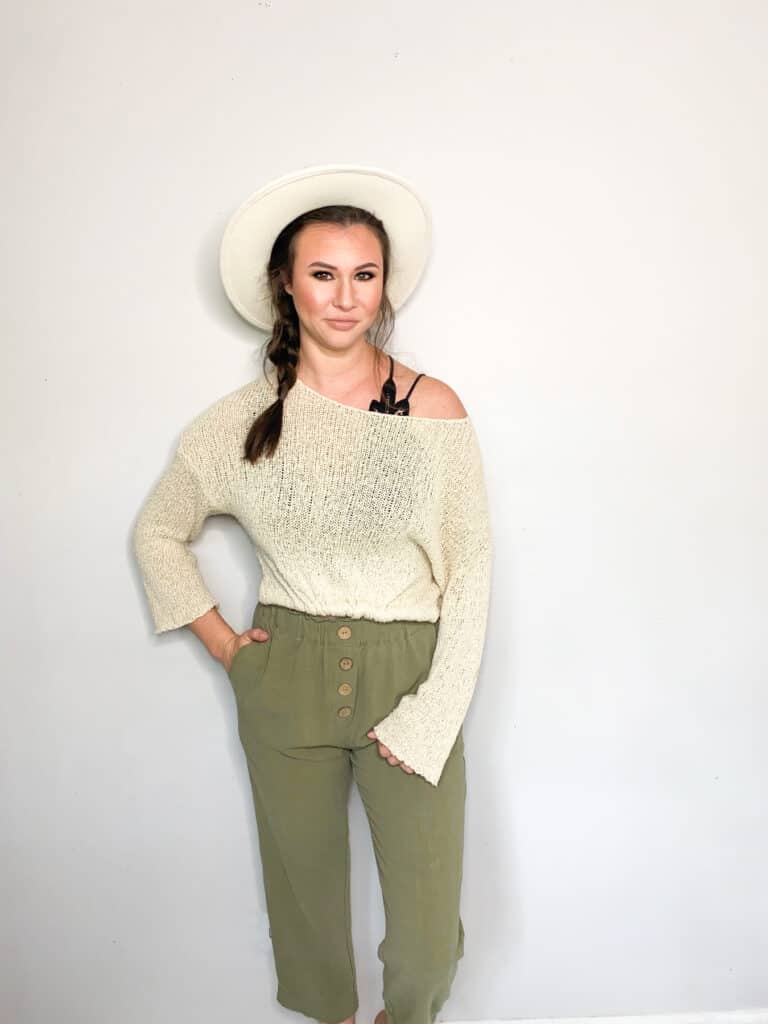 I'm going to start off with these 2 pieces because I actually love them together, as you can see. This cropped sweater is from the brand Ecoté which is sold at Anthropologie and Urban outfitters so it was probably pretty pricey originally, I paid $4.99. I love how light weight it is and think it will be great to layer under a jacket as it gets colder.
These trousers were actually brand new with tags which is always exciting. They are from the brand Very J which is a boutique brand but from what I could find, it doesn't seem super high end. But they are 100% cotton and I love the cinched waist and wood buttons on them! I got them for $4.50.
Ready for a funny story about these pants? They started out as full length pants. Any guesses what happened? Sigh… I shrunk them by accident.
I was SO good about pulling out everything else that needed to be hung up to dry but somehow I missed these. And now they're capris. But in all honesty I kind of love them as capris. I was originally going to roll up the bottoms anyways to make them a relaxed, cropped fit so I feel like I'm still getting a similar look.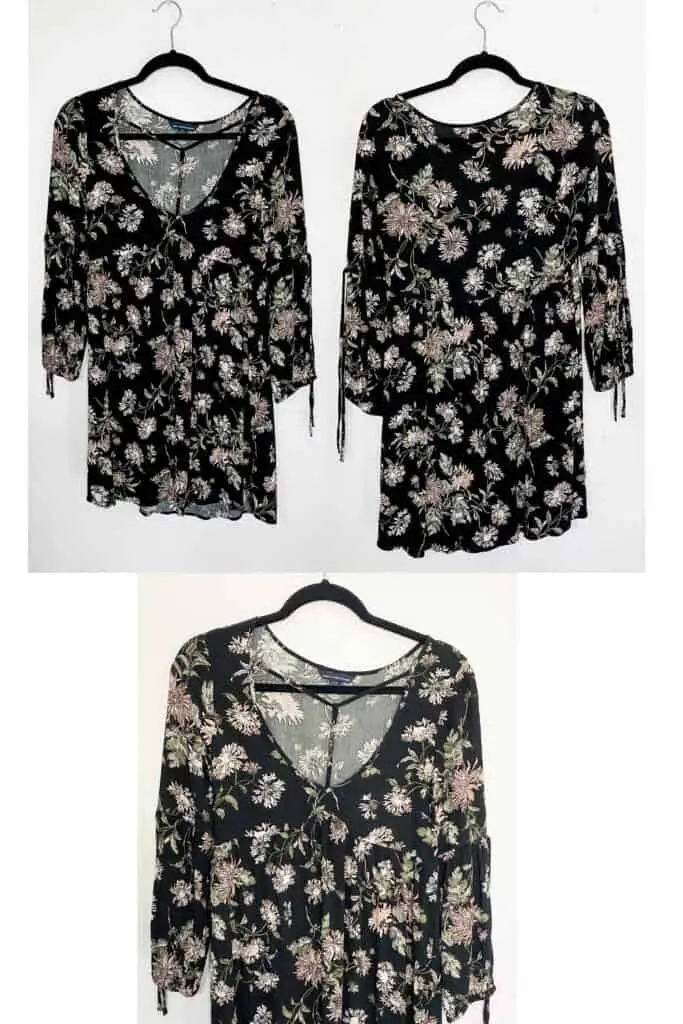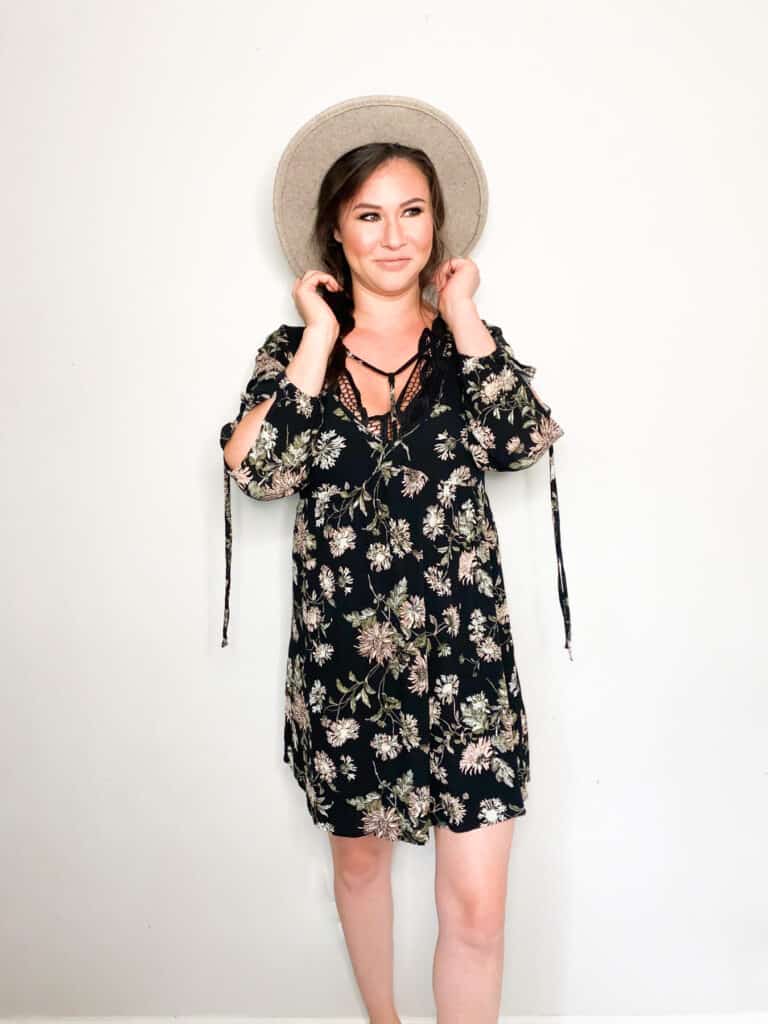 Next up is this great dark floral dress. I love that it has long sleeves so I can totally wear this with some over the knee boots into fall. It has a pretty revealing neckline so I popped my favorite bralette underneath and love how it looks! 
This dress is originally from American Eagle, which isn't super high end but I do like a lot of their clothes and it's above average quality. It was $7.99 which is maybe a little more than I would like to pay, but I did have a 20% off coupon so it ended up being $6.39 so it was a pretty good deal.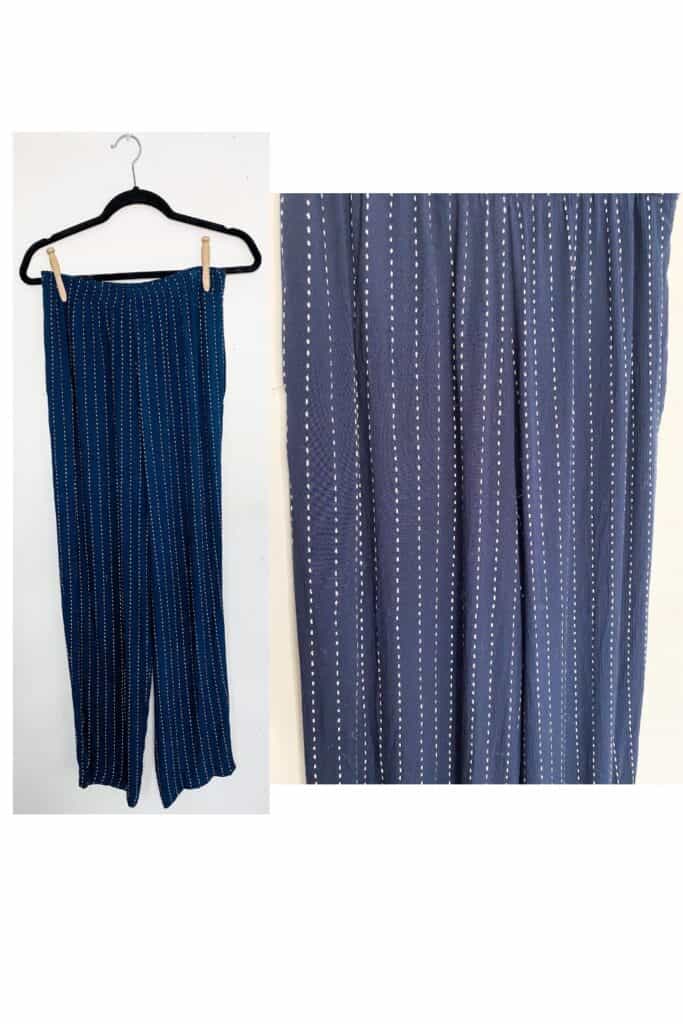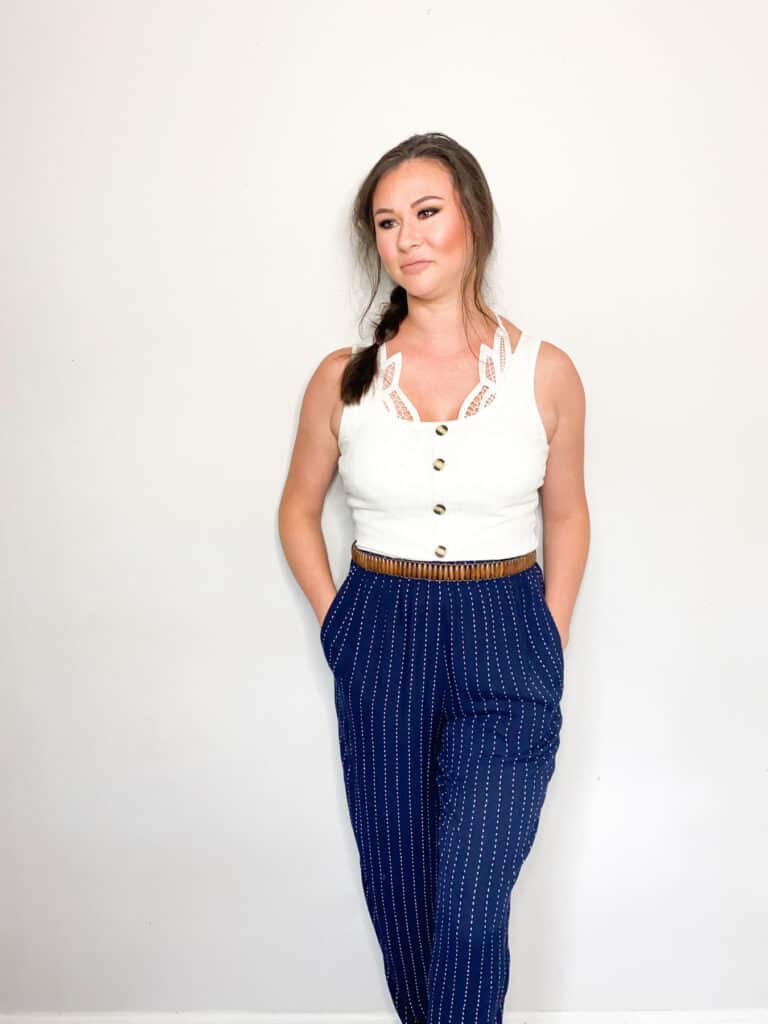 Next up in this end of summer thrift haul are these navy and white trousers which are from a 90's brand; Carole Katz. I love the way these are patterned, not super in your face but enough to be noticeable.
I love pants like these for both summer and fall. They are so comfy and are a nice change from my usual go to, jeans. I paired these with a simple white tank and this cool wood bead belt which was also a thrift find from this trip. 
These would be great with a cropped sweater for fall.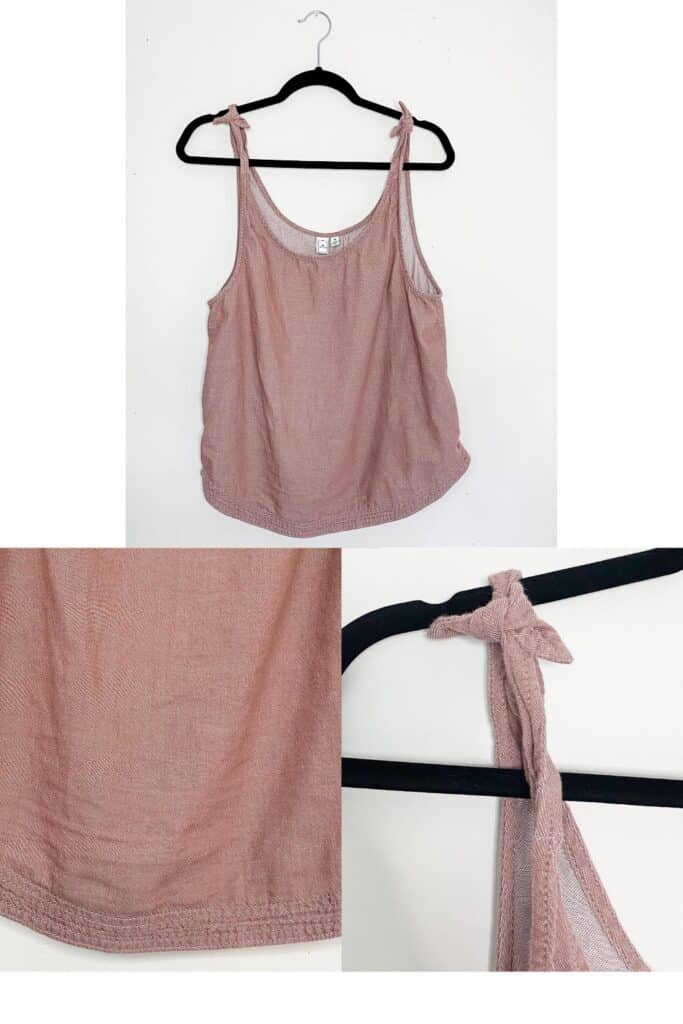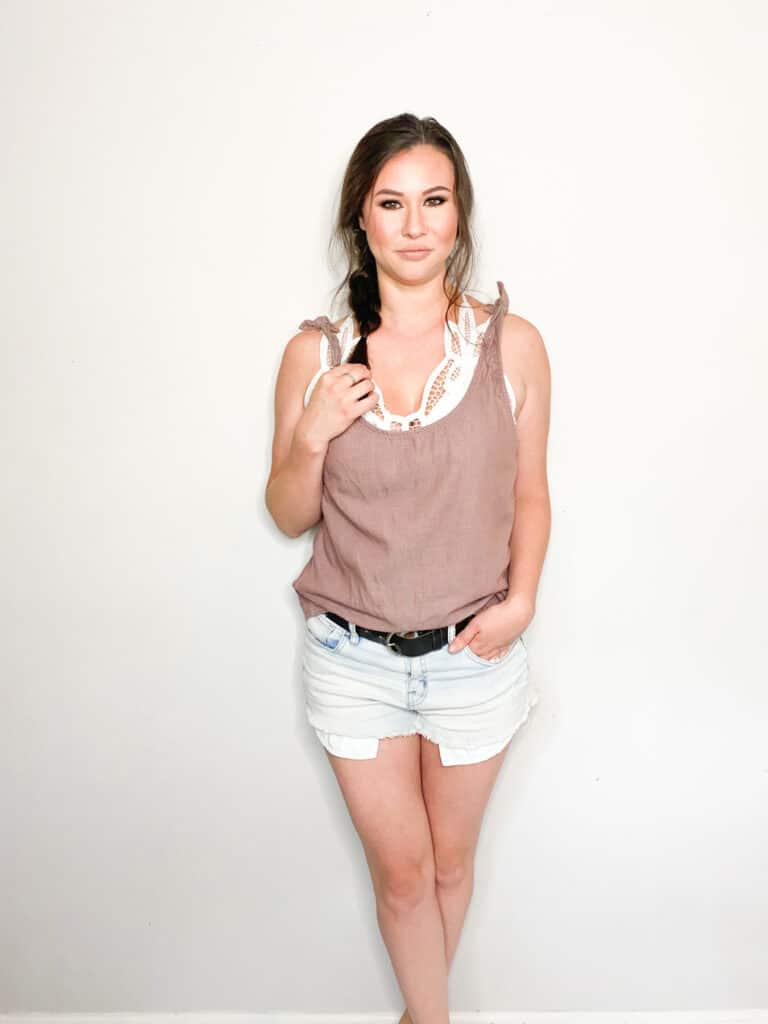 Moving on, this cotton tank is one of the few colors I like to wear. I don't know why but I'm just not a color person. I like muted colors and the occasional fall hue like rust or burgundy but most often it's either mauve, olive green, or a muted blue. I think cool tones work better on my skin tone.
And I just realized that this thrift haul is basically all of the colors I like to wear. Nice work there, Katie.
So I love that this tank has these cute tie straps, it is totally adjustable this way so I can make it more fitted if I want, or a little looser like I have it on here. Paired with some jean shorts and again, my go to bralette, this is a super easy (and comfortable) toss on and go summer outfit. 
It is from the brand Susina which is a Nordstrom Rack brand, nothing super high end but it is 100% cotton and was made very well so I'm happy with it! This was $5.59, not bad. I actually found 2 tops on this trip from this brand which were at 2 different thrift stores. So I guess I like this brand, haha. 
This top can easily transition into fall by adding a jacket on top and pairing it with some jeans and boots. I think a denim jacket would look super cute with this!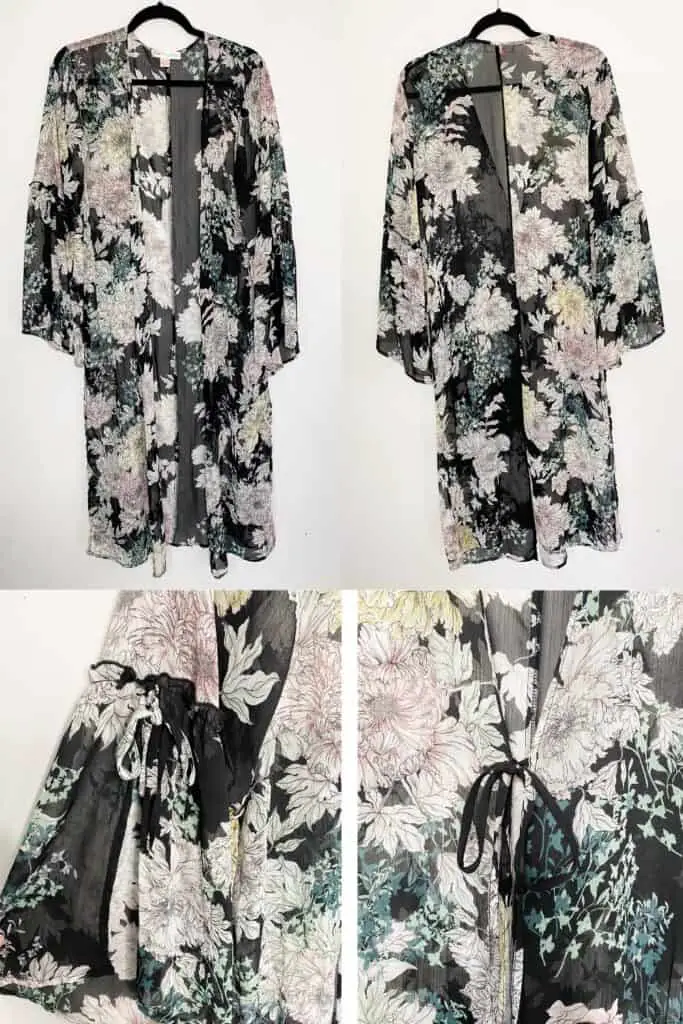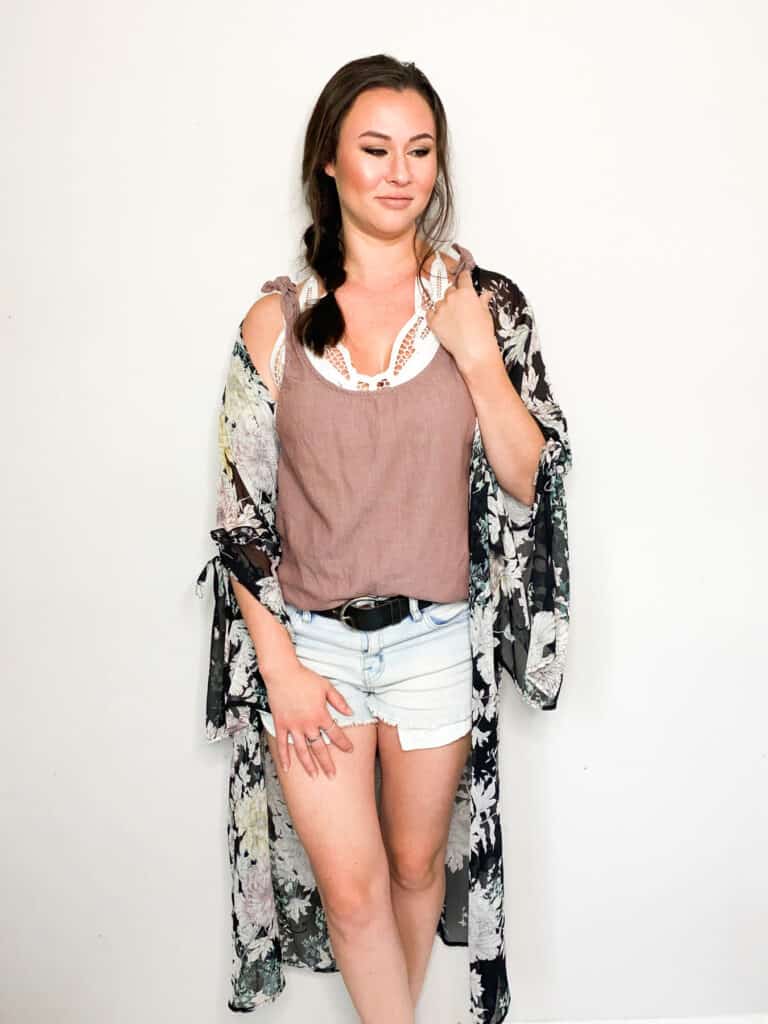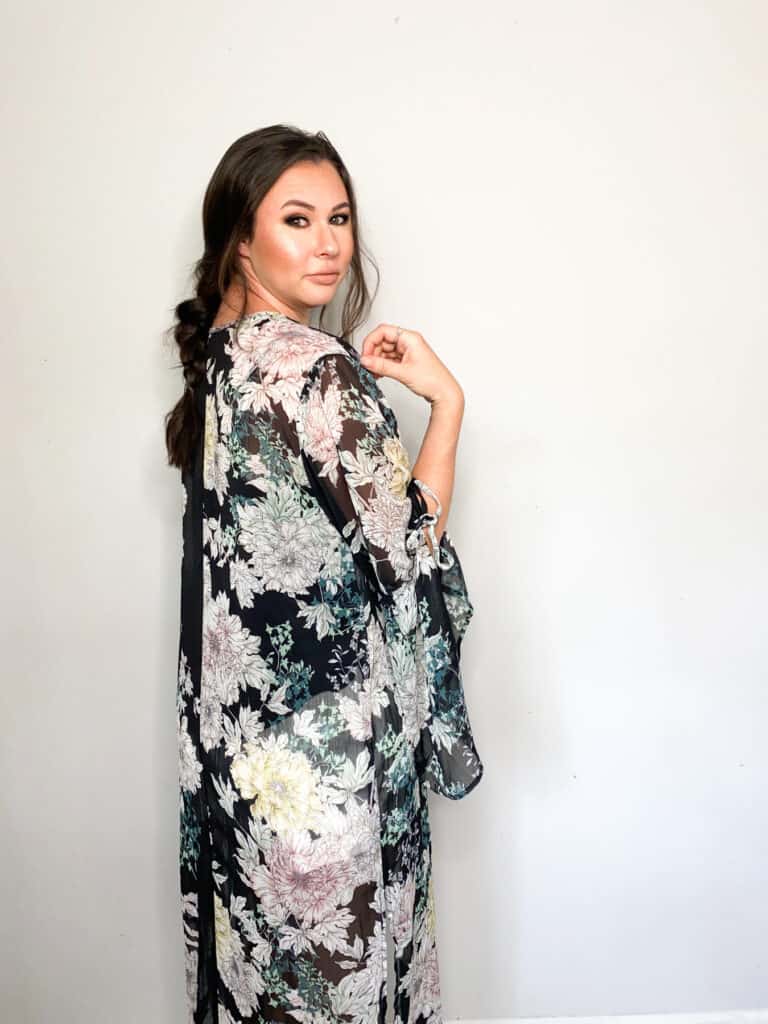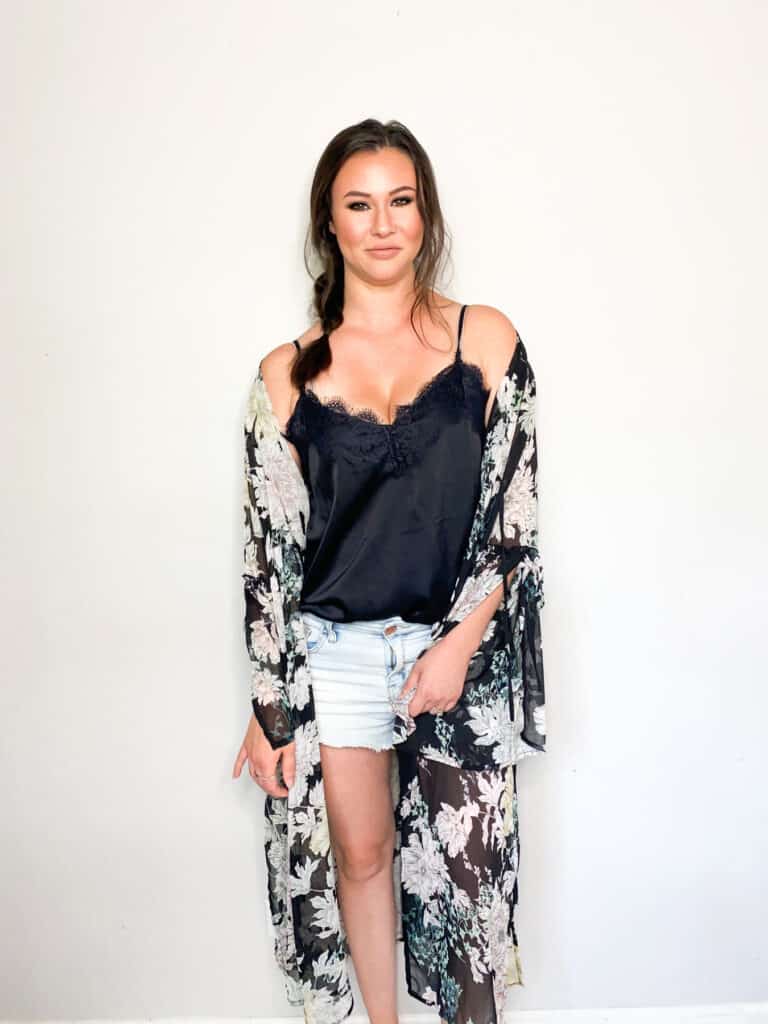 This one, oh man, I'm such a sucker for a pretty kimono. I loved the sleeves on this so much. I spotted it on one of the racks of clothes they had just brought out to be put on the floor and snatched it right on up. I love wearing these through summer and fall. I also like that this ties so it can be worn closed as a duster which is fun! 
I tossed it over that previous outfit to kind of step up that casual look and then I also like it paired with something just a touch more dressed up like a satin camisole (which is also a thrift find from a little while back.)
This can easily layer over a thin sweater and some high waisted jeans for a really cute and easy fall outfit. I also love layering these over dresses, a midi dress with some boots would be perfect for fall.
This is from the brand Band Of Gypsies which is sold at stores like Nordstrom and Revolve. Similar items were going for $98 on their website so the fact that I got it for $6.39 is pretty awesome!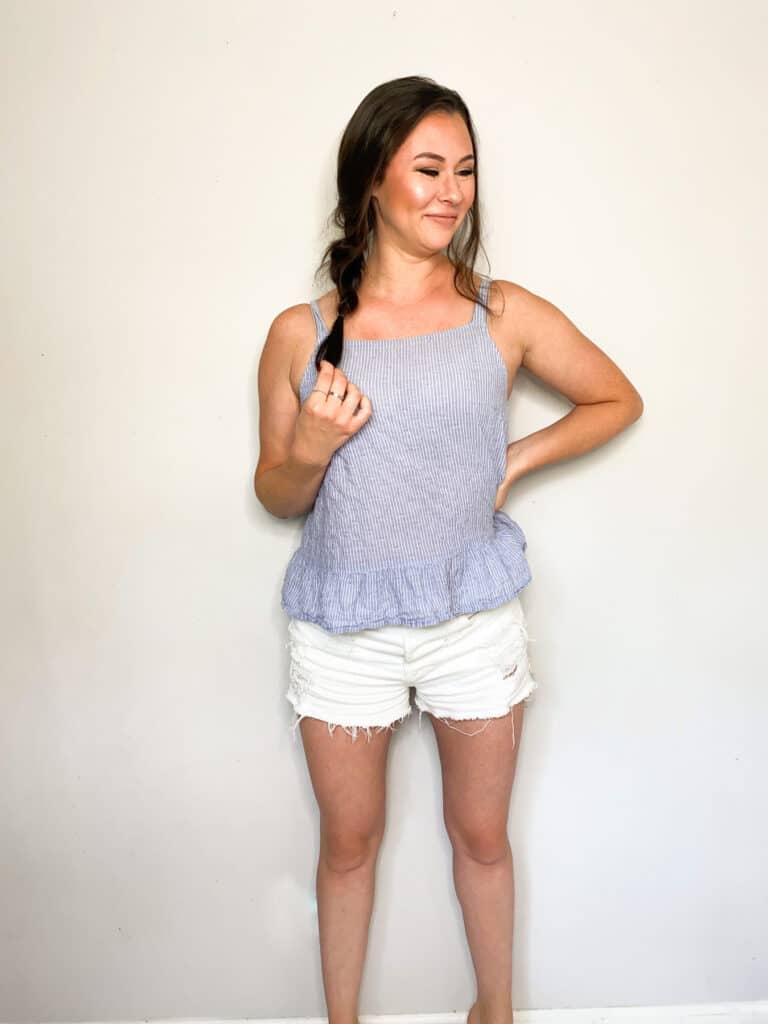 This next top is the other Susiana brand top I found. Another great top for tossing on with some shorts without having to put much thought in and still looking cute. I love the subtle stripe and the cool stitching detail on this top. The peplum bottom gives off a little girly/flirty vibe which is fun. This top was only $3.99, great deal!
These kinds of tops can totally be worn into fall by tossing a chunky cardigan on top and switching out shorts for jeans. I totally wear white well into fall and winter (see what other fashion "rules" I love to break here) so I would still pair this with some white jeans, a grey or tan cardigan, and some ankle boots.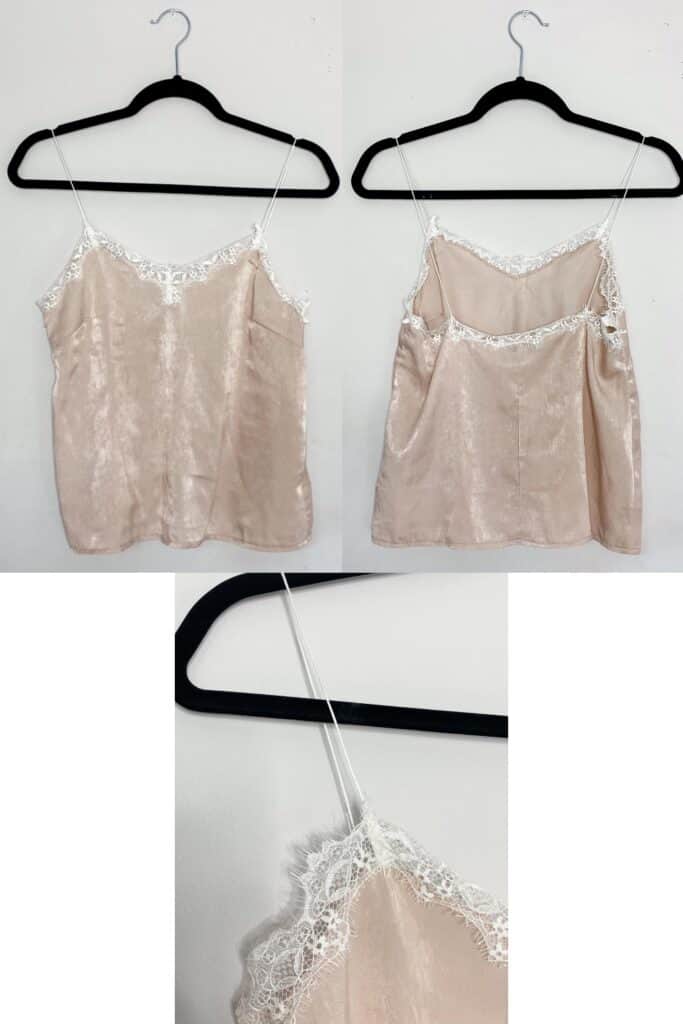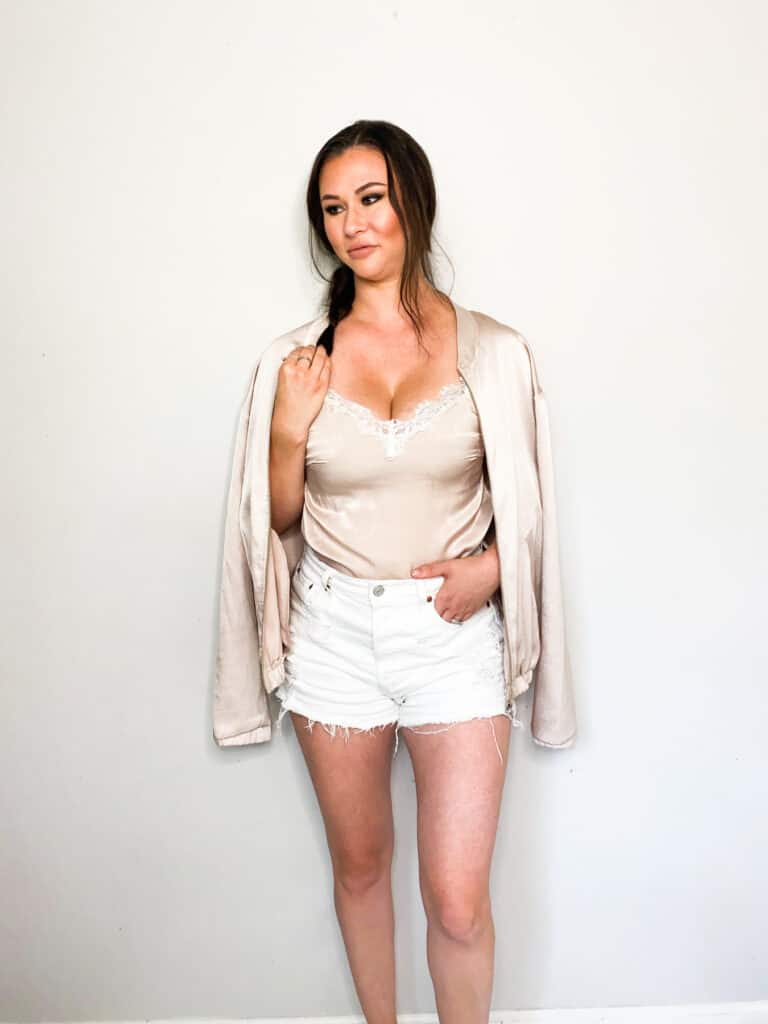 To finish off this thrift haul I picked up this gorgeous soft pink, satin and lace camisole. This is the top I was talking about in the beginning that is just slightly tight in the boob area but I love it so I'm making it work, haha.
The straps on this are so thin and delicate and paired with the eyelash lace (my favorite!) at the neckline, I just love everything about it. 
I paired this one with some white denim shorts so it could be worn a little more casually, and then this satin jacket I have which is nearly the same exact color as the top. I love these paired together! You could easily pair this with a dressier bottom too, so this top can be really versatile which you know I love. 
To wear this into fall, I would put it under a light colored leather jacket tucked into some white trousers for a dressier look or with an oversized chunky knit cardigan and some distressed jeans for something more casual.
This is from the brand Showpo which is kind of mid range price wise. It was probably between $35 and $40 originally and I got it for $3.99 so that's a good find in my book!
That's my end of summer thrift haul! I've mentioned this before but I have been trying to be more intentional about my purchases and not buy things just for the sake of a trend or just to buy it. I only want to buy things I know I will wear (and wear more than once!) So these items will be getting lots of wear.
Be sure to let me know your favorite item I picked up and hopefully I will be back soon with a fall thrift haul. See you next time.