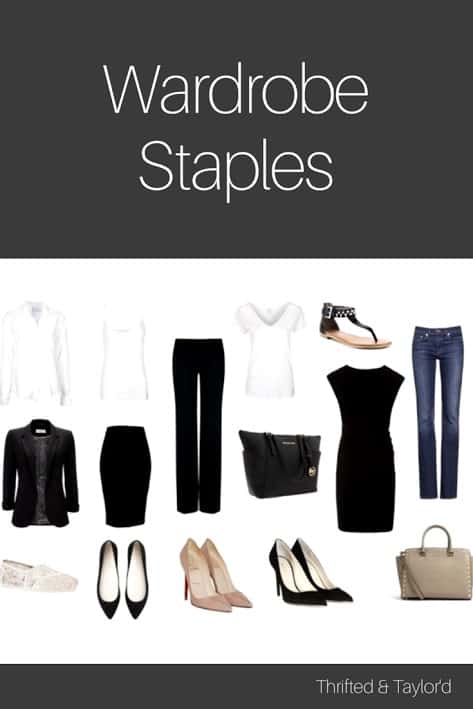 Hey Guys!

Since we just reorganized our closets I thought I would take this opportunity to talk about key wardrobe staples you should have in your closet. Staples not only stand the test of time because they are classic pieces, but they make outfit selection much easier because they are the base of an outfit. Wardrobe staples are one thing that are well worth investing some money in, however if you know what to look for you can certainly stay on a budget while finding these pieces to add to your closet. A couple main things to look for are good material, quality construction, and good fit. If you find those things in a lower price item, snatch that baby up! I know I have definitely saved some money that way. Also, these are great items to check out thrift stores for, you kind find high quality pieces for a fraction of the cost and that are usually still in amazing condition. Obviously that is where plenty of my pieces have come from, I have included pictures of some of my own staple items and I will also provide links so you will be able to purchase any items you may be on the hunt for. To find out what wardrobe pieces are essential staples, keep reading!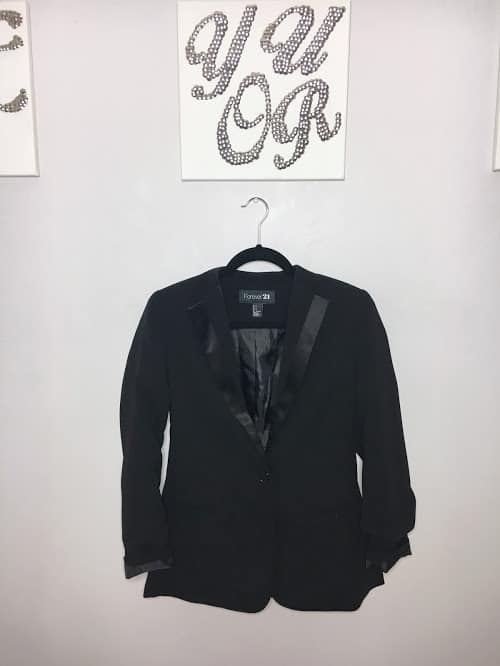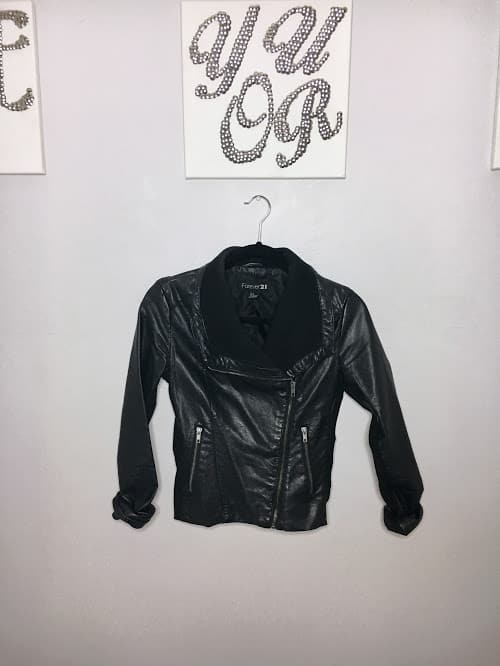 A leather jacket is one of my go to pieces for completing an outfit, I actually have several because I may or may not have a slight obsession. But one great one is all that you really need. Again, opt for a neutral color, black is best in my opinion because it truly goes with everything and a classic style. You can find a couple awesome ones here and here (this one is on sale currently).
A white button down that fits well is a must have. It will never go out of style and can be worn in many ways including ways you might not think of such as over a dress and tied at the bottom or open with a cool graphic tee under it and with some ripped up jeans. I have some slightly dressier versions which you can see here, but I recommend a 100% cotton version which is actually something I am still in the market for! If you want to be a little adventurous you could get a simple patterned button down like a light vertical stripe, a small polka dot, or a geometric pattern like mine. A couple good examples can be found here and here (this one is on sale right now).
This seems like a no brainer but you would be surprised how many people don't have go to basic tops! This is definitely something you want good quality in because otherwise they can start to fall apart quickly and you will wind up spending more money over time replacing them than you would have by just initially investing in better quality. I love more of an oversized or baggy fit in my basics so that is the look I usually go for but whatever look suits you is what you should aim for. I also have a couple tops with a little extra detailing like lace or in a non neutral color which gives your basics a little something extra. A couple good stores for basics are Gap, American Apparel, and Mango.
Most people have several sweaters in their wardrobe as this is one of those staples that you will want to have more than just one. You can certainly get trendier versions at cheaper prices in fast fashion stores like H&M and many times they will still be pretty decent quality. For your staple sweaters you still want to pick more classic styles but since you will have more than one feel free to grab some color in this category. I again tend to go for a slightly looser fit and I adore a marled look like the grey one pictured. I also have an amazing baby pink cashmere sweater that I thrifted, major score, which I love. Some options I really like can be found here (on sale currently) and here (also on sale and comes in multiple colors.)
Denim is an absolute staple and I recommend having a pair in blue, black, and white because that will give you a well rounded denim selection. White and black as well as a dark wash denim can be dressed up and can also be dressed casually thus making it a great staple. The wash may vary depending on your preference but I typically be sure to have a dark wash as well as a lighter wash for more casual outfits. Denim is one thing I do not recommend buying cheap unless it is a trendy pair of jeans you don't intend on wearing often. My favorite brand is Joe's jeans but I also really like Levi's and Gap jeans and this is also a category you can absolutely find an abundance of at the thrift store if you want to save some money. My favorites find for each color can be found here (on sale currently), here, and here.
A black skirt is the next staple. For this I highly recommend a pencil skirt as it is a classic and timeless piece but if that is not your thing you could also opt for a midi length skirt or a skater style for more volume. Again, this can be worn to work or for a night out and believe it or not it can also be worn with a graphic tee and denim jacket for a daytime appropriate look, so it is versatile! You can find some great options here and here.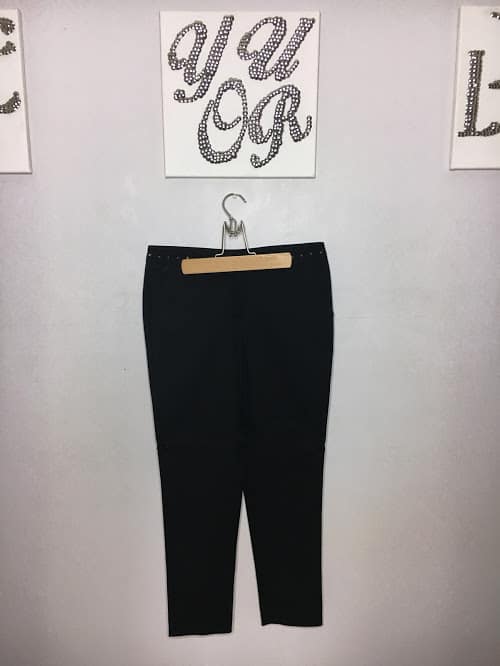 Trouser pants are not just for the office, they can be so chic to wear out to dinner or even just worn casually with maybe a denim shirt tucked in and some sneakers. That is the beauty of staple pieces, you use your creative mind to build unexpected looks with them! Choose a color and style that are timeless and you are good to go. A couple I really like can be found here and here.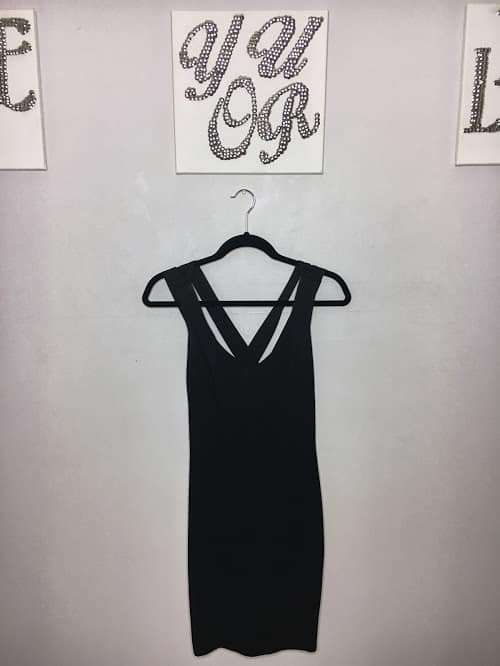 The LBD, need I say more? The little black dress is a must have for every closet, you need to have your go to "I know this fits perfectly" dress. The style of the dress can vary depending on the type of fit that best suits your body and in most cases, so long as it isn't super trendy, it won't ever go out of style. A couple timeless styles that flatter most every body type are A-line and wrap dresses. A couple I think would be perfect can be found here (on sale currently and similar to mine) and here.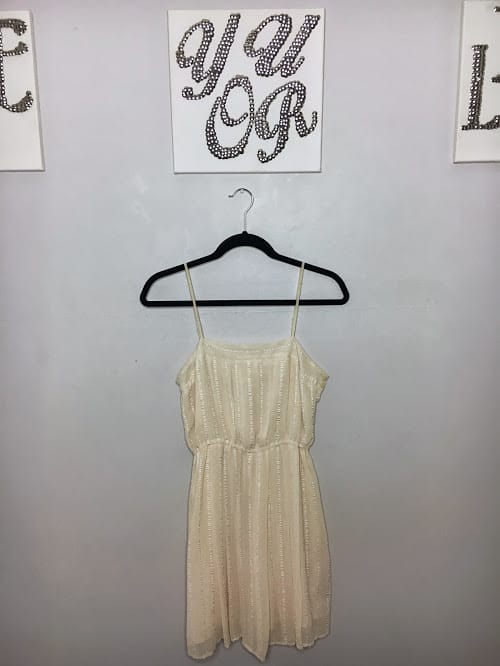 A simple sundress is great to have for those days in the summer when you just don't know what to wear. When choosing a dress I would still stick to more classic silhouettes but feel free to grab a pretty print or color that you know looks great on you because this type of staple should be able to stand on its own if need be! You can find a couple I think are so cute here (on sale currently) and here.
That about covers all the wardrobe staples I think every woman should own. Now this is not meant to be your entire wardrobe, this is meant to be the foundation of your closet. Once you have these staples you should mix in some trendy pieces, get some pattern and color in there and don't forget to get some statement jewelry to really amp up your closet and make outfit selection a much easier process. Let me know if you would be interested in an accessories version of this in the comments down below. Thanks for stopping by and please don't forget to share with your friends!
FTC disclaimer: This post contains affiliate links.