Bridal Shower Outfit And DIY Gift Basket
So I went to one of my good friend's bridal shower this past weekend, it was beautiful weather! It was indoors but the place we were at had a beautiful view of outside. But I thought I would share my outfit I wore as well as a peek at the gift I made for her. I am standing up in her wedding so as a shower guest I wanted to be sure I wouldn't be dressed too casually. Plus I figured there would be lots of photo opps as a bridesmaid so I wanted to be sure to dress the part. I will try to find similar items in case you are interested in purchasing anything you see here, links will be included as usual. If you want to see my bridal shower outfit and DIY gift basket, just keep reading!
I opted for a maxi dress, my legs aren't quite ready to see the sun just yet so they were screaming "cover me please!!" I love how the lining is shorter so you can still see my legs but they are somewhat covered. This dress is one of my favorites, I love the chiffon material and the shape of the dress. I like that it cinches at the waist to give my body some shape, I had on a thin gold belt at my waist which I now realize I didn't get a very good picture of!
For accessories I went with my black lace up heels, this amazing flower statement necklace, and my black quilted cross body bag. The black heels looked great and were the perfect height for the dress so it wouldn't drag on the ground but also wouldn't look too short. How beautiful is that necklace? It went perfectly with my makeup and was the finishing touch to the overall look. I love the gold chain on that purse, definitely helps dress it up making it perfect for occasions such as a bridal shower.
I didn't get a great close up of my makeup either, I know 2 fails in one post Katie?! My apologies. I did a baby pink and dark grey smoked eye and a little liner with nude lips, one of my favorite to date.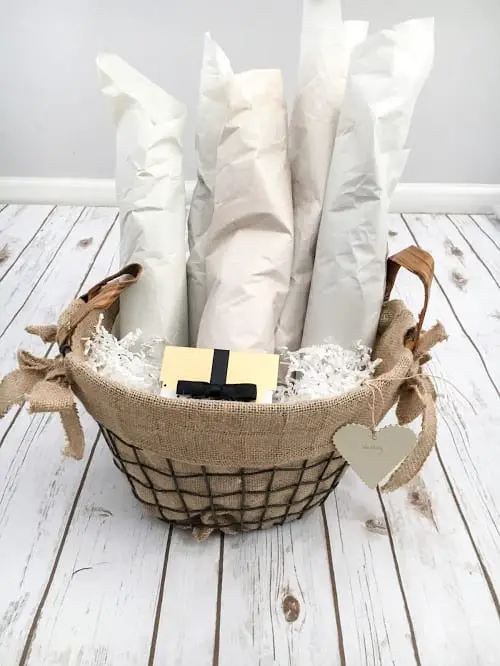 Here is her gift basket. In addition to a gift card, I found these adorable wine bottle labels
for certain first big events as a couple such as first baby, first Christmas, first anniversary, etc. I wrapped the bottles in some paper and placed them in that adorable basket. I added the little wedding tag for a perfect finishing touch. It is totally right up her alley and she loved it. I just really enjoy trying to personalize gifts like that whenever possible so I'm glad she liked it and I love how it turned out.
So there you have it. My bridal shower outfit and DIY gift basket. Super easy to do but filled with sentimental value. Hope you guys enjoyed this post, what kind of gifts are your favorites to give?
FTC Disclaimer: This post contains affiliate links.