Amazon Gift Guide | For Him, Her, & Home
Happy holidays! My very favorite time of year, as I'm sure is many of yours too. I feel like I've been the jolliest of elves this holiday season. Just dancing around humming and smiling all day long. Ok maybe not really, but I'm like extra happy for the holidays this year.
Maybe because it's our first Christmas with non newborn Jax. Technically last year was his first Christmas but he wasn't even a month old so sleeping was high on his list of priorities. This year he will be so much more involved and so fun to watch! Exciting stuff!
We've (and by we I mean me) had Christmas music on repeat while I sing and dance around and Jax does some version of stare, do a little butt bounce, dance a little, stare. I determined he loves it.
So, with gift giving season fast approaching it's time to break out the gift guides! This time around I'm starting off with our favorite place to find all the things, Amazon. And it's budget friendly of course. With gifts for him, her, the home; you're bound to find something that will be perfect for your loved ones. Let's check it out!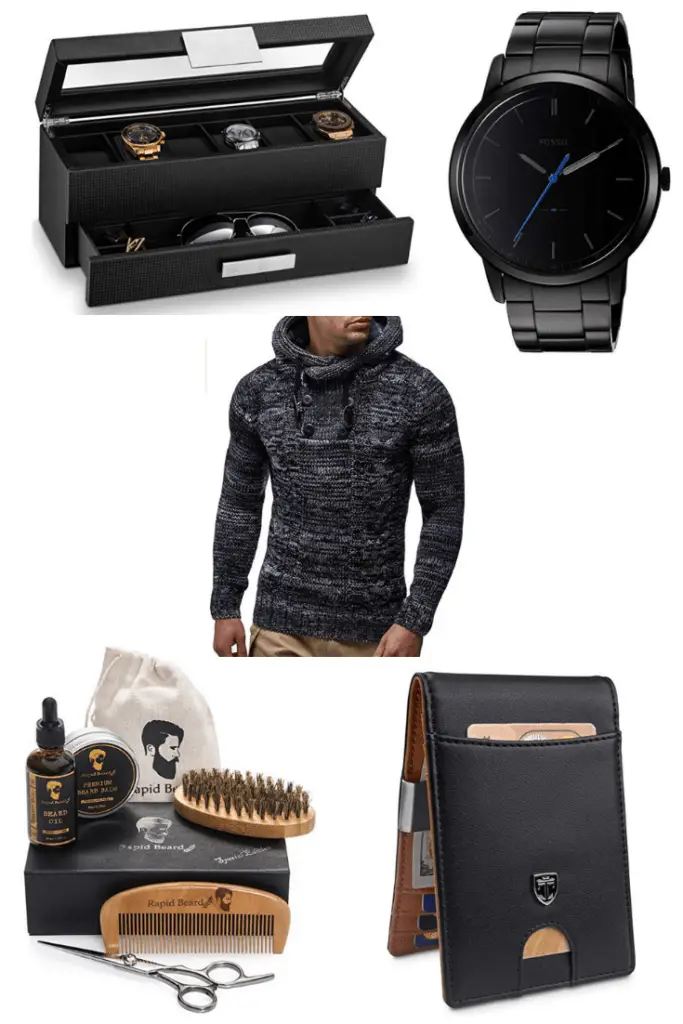 Guys are typically pretty easy to shop for in my opinion. You can always get them something related to their favorite hobby or sports and it will be a win. I found a few more generic things that any guy would like.
I love sweaters like this that have a cool neck, the marled black and grey color is really cool too. It comes in a few other colors as well.
Watches are another one of those things that I think nearly every guy owns. I actually got this black Fossil watch for my husband for his Father's day gift last June. I had it engraved on the back with a special message from Jax and he loves it. I also found this cool accessory box in case your guy could use some storage.
A cool wallet. So easy and also practical. I love the two tone look of this with the sleek black outside and rich tan inside.
Last up I found this really cool beard grooming kit if your gift recipient happens to have a beard in need of grooming. I've talked to several men I know who have a beard and they all take pride in having very well kept beards so I feel like this would be a hit.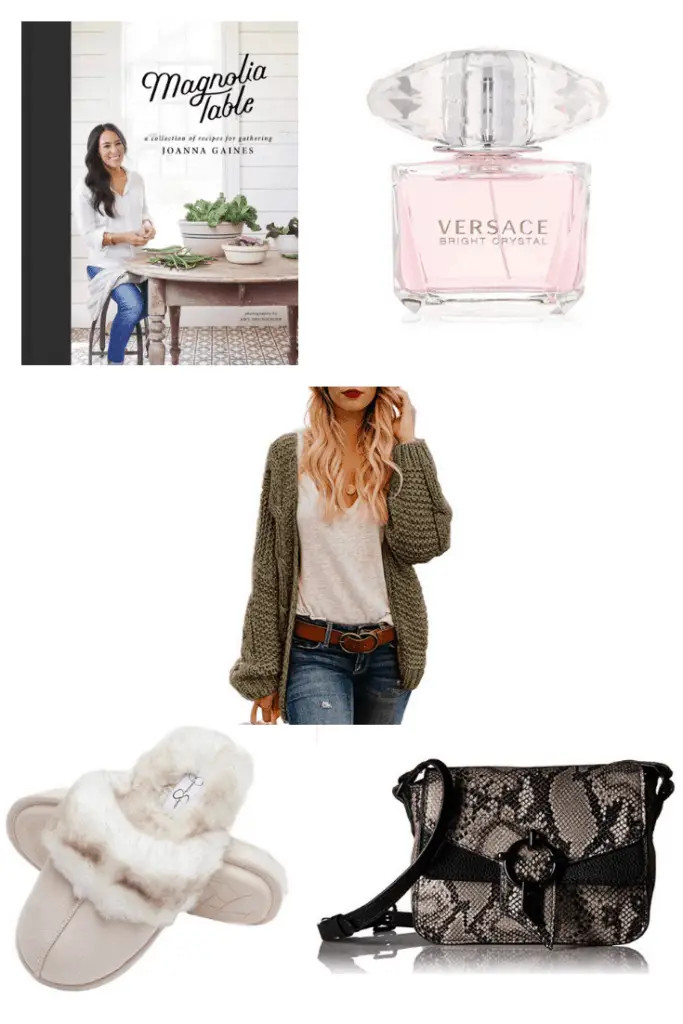 Ladies, on the other hand, can sometimes be a little tricky to shop for. I think partly it's because the market is saturated with products for women so there's way too much to chose from. Plus, women have more of a tendency to be picky so that can be challenging as well. I went with categories in which I think you could find the perfect thing no matter the lady you're shopping for.
I started off with Joanna Gaines' cookbook, Magnolia Table. I'm a huge Gaines' fan so I am all about basically everything they do. I think most anyone would enjoy thumbing through these yummy recipes!
Perfume is great because you can figure out what scents they like and pick something similar. Or if you know what perfume they wear you can always just grab them a new bottle. This one by Versace is one I really like.
A big cozy sweater is definitely something that I think most any gal would love. Who doesn't love feeling like they're wearing a warm blanket on those chilly days around the house. I love the color of this olive green one.
To go hand in hand with that, I added in these amazingly comfortable looking faux fur slippers. I may or may not have added these to my own wishlist. I always have my slippers on when I'm at home so they tend to get worn out. Hence the need for a new pair!
Last up is a handbag. Again, you can cater the style to suit the gift recipient which makes this a great idea. I really love this snakeskin bag, it's right on trend for this season.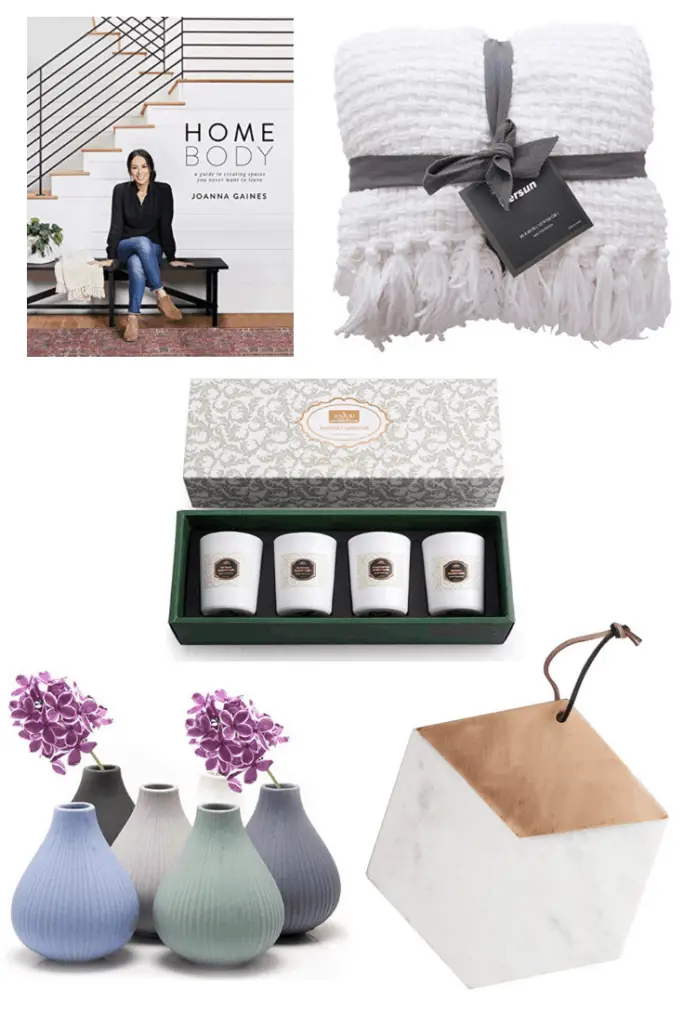 If you want to go another route, I always love gifting home goods. A lot of times these are things people don't think to buy themselves. Or other things that they don't want to buy themselves. Little extra touches that can spruce up the décor in their home.
A good coffee table book is a wonderful gift idea. Big surprise, it's another one of Joanna Gaines' books. And this is one that I also have my own wishlist. Homebody, is a guide to decorating your home. I love her decorating style so I would love to learn all her ways.
A warm, cozy throw blanket is something I think anyone would welcome with open arms. You can get something neutral like this white one so it will match their décor no matter what.
Scented candles are a must in my opinion. There's nothing better than filling your home with a delicious aroma. This 4 piece set comes in a beautiful box and gives them several different scents. I love the simple white glass jar the candles are in. The candles themselves are awesome too. They're made with biodegradable materials which is pretty cool.
I love these little vases. They come in a 6 pack of varying colors. Your gift recipient could place them in several different places or keep them clustered together as a table centerpiece. They're so pretty.
Last up is this gorgeous marble and copper cutting board and serving tray. It is something that could also be displayed in their kitchen when it is not in use. 
I hope you got some great ideas and maybe even picked up a few of these things to check some people off your list! Let me know down below if you did! See you next time. ☺