Upgrade Your Loungewear | With These Comfy and Cute Pieces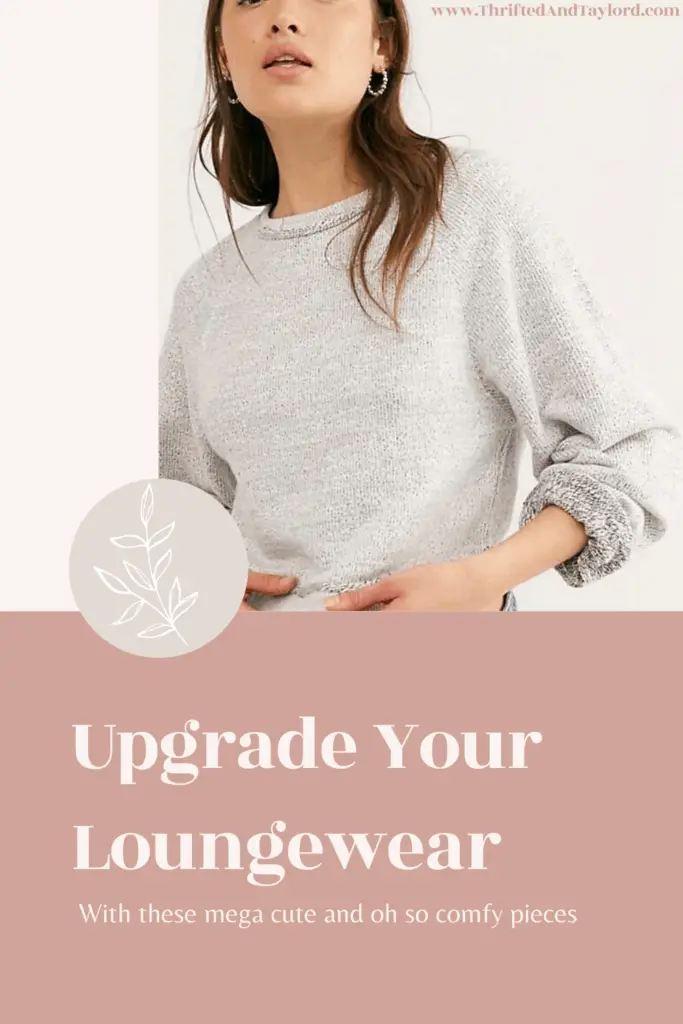 This post contains affiliate links for which I earn a small commission at no extra cost to you, should you purchase through them. Learn More.
I don't know about you but one thing I've certainly come to realize during this time is that I need to up my loungewear game. I mean I love a good old comfortable t-shirt and sweats. But I've found that it brightens my mood and makes me feel like being more productive when my comfy clothes are cute. 
I know that many people are home working, taking care of kiddos, working on house projects, etc and it is a lot. Anything you can do to give yourself a little mood booster is worth doing right? Why not treat yourself to a few new pieces of loungewear so you can be comfortable and look good at the same time? 
I did a little browsing and found tons of cute and comfortable loungewear pieces that are just what you need for that little boost. Let's take a peek and maybe pick yourself up something while you're looking.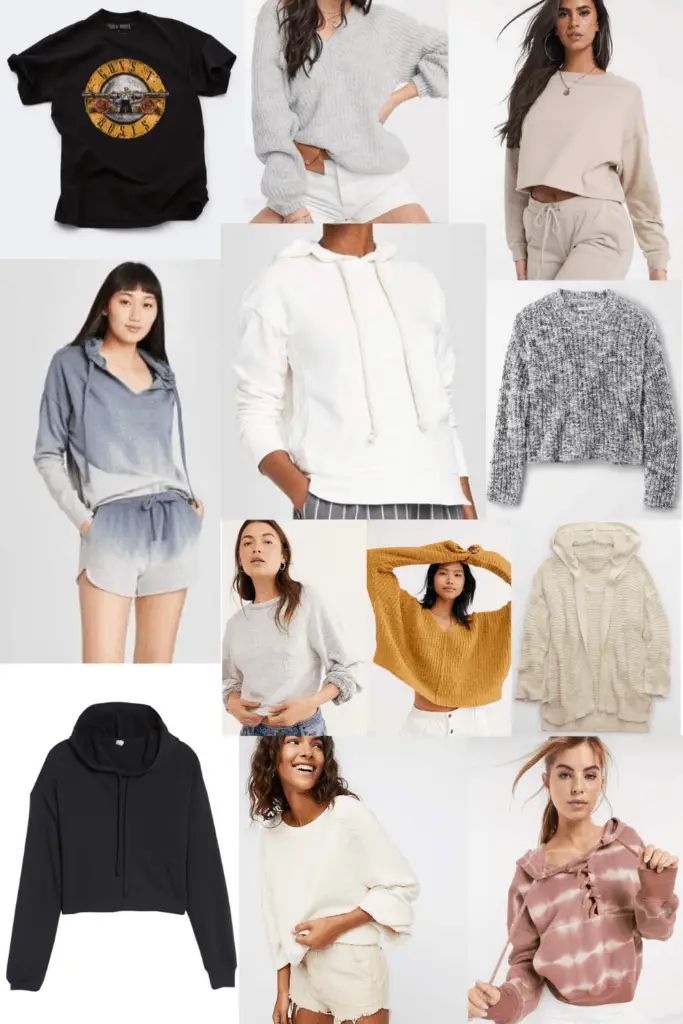 My favorite tops to lounge in are hoodies and oversized sweaters. I also love a good t-shirt, cardigan combo too. So a band tee like this Guns N' Roses tee paired with either a thick chunky cardigan or even something more lightweight like that cream hooded cardigan plus some yoga pants or bike shorts would be perfect.
As far as sweaters go, I love chunky oversized ones. This light gray v-neck and this marled gray crew neck are perfect examples. I also like to wear cropped ones like this yellow one or the gray one next to it which is kind of a sweater/sweatshirt combo. 
Moving onto sweatshirts and hoodies. These are probably what I reach for most often. I think it is fun to try out a patterned one like this mauve tie dye one or this blue dip dye one. But you can't go wrong with something more simple like this white one. 
If you like cropped styles to wear with high waisted leggings or sweats then this black one or this beige one are perfect. I love the texture on this cream sweatshirt which is basically like an inside out sweatshirt.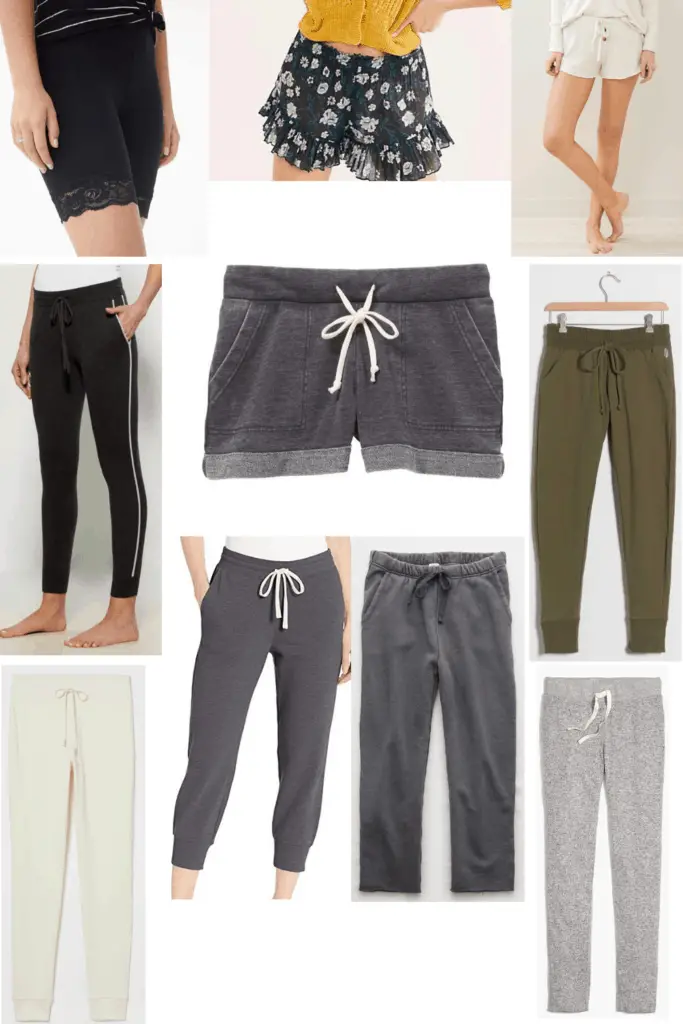 Ok now you need some bottoms to pair with these top options. I am a hardcore yoga pants lover. But I also love a cool pair of joggers or sweats. I've never been big into shorts because I tend to get too cold haha. But I found a combo of things to share because different people like different things! 
So let's just start it off with the shorts. If I do wear shorts it would be some biker shorts like these black lace trim ones (I actually have these in white!) I also love something delicate and feminine like these floral shorts from Free People. There's actually quite a few different Free People pieces in this list, I just love their loungewear.
Moving on to these cream shorts, I love the ribbed texture and little buttons on them. And you just can't go wrong with some French terry shorts.
I guess it's fairly obvious what my color palette of choice is seeing all these bottoms that are mainly cream or gray. Guilty. I always gravitate towards these neutral colors, gray in particular. But some of these bottoms I've shared do come in other colors too so check them out if you like them but maybe want a different color!
Most of these are joggers, I figured yoga pants or leggings most people already have so it wasn't worth sharing some. I love the cream piping down the side of these dark gray ones and I actually really love this olive green pair. That and like a mauve or light pink color are my two branching out colors for the most part, haha. 
The cream pair and the light gray marled pair are both more of a lightweight jogger which is nice as the weather gets warmer. The dark gray with a cream drawstring are a great pair of classic jogger sweats from Amazon. I like the thicker waistband on those.
That last pair of dark gray sweats is cool to me because they're a little cropped and have a raw edge on the hem. They're thicker too and also have a nice chunky waistband which I like. 
Are you ready to upgrade your loungewear? Pick yourself up a few new pieces and see how it gives you a little mood booster, you deserve it! Hoping you all are staying well and doing ok through this. Feel free to reach out if there's any posts you'd like to see from me. I will see you next time. ☺