How To Get A Fixer Upper Kitchen Without Renovating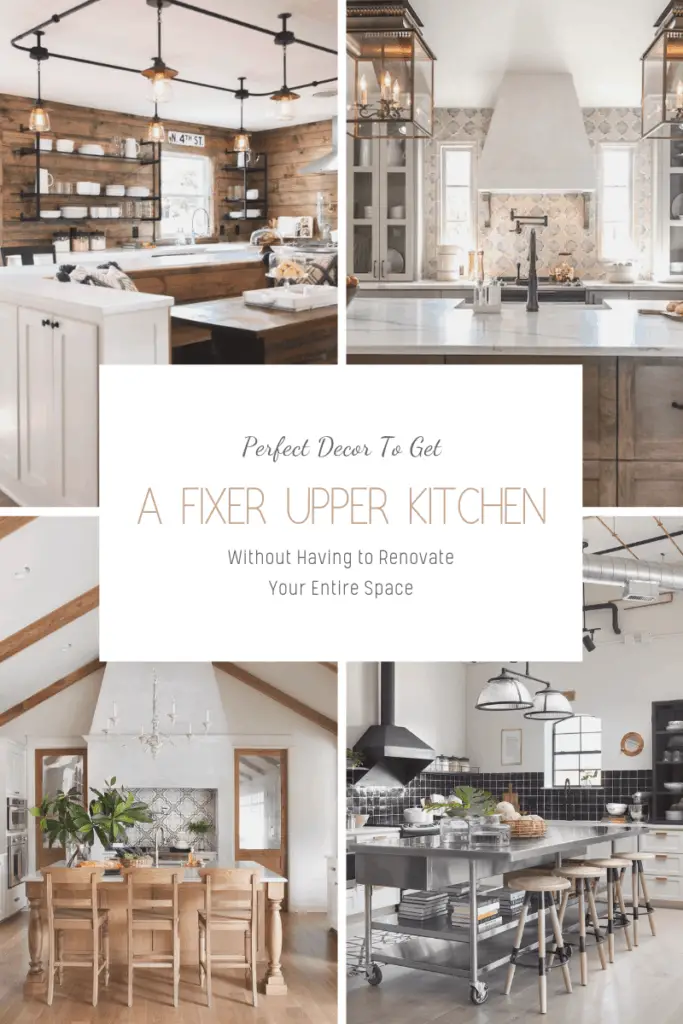 This post contains affiliate links for which I may earn a small commission at no extra cost to you. Thank you for your support! Learn More.
I don't know about you but I dream about a fixer upper kitchen. But sometimes an entire kitchen renovation is just not in the budget. That doesn't mean you can't get that fixer upper feel in your kitchen. There are plenty of low cost ways to fake it! 
I, for one, sincerely hope that "fixer upper" style will always be a thing. I don't think I will ever grow sick of it! Plus there are so many different styles they incorporate, depending on what their customer likes. So you can really tweak it to your own style. I think many of these different types of style have a classic feel about them while also being trendy. It will stand the test of time.
I love how Joanna has perfected mixing different styles to make people's styles come together as one new style. It goes to show you that you don't have to commit to one style if you like a little of this, a little of that. That really helped me realize my own personal style. I always had a hard time pinpointing what my style was, but now I realize I like a mix of a few things which make up my own unique style. 
The kitchens that have appeared on Fixer Upper over the years have grown from just that typical white on white, subway tile, modern farmhouse style kitchen. There are mid century modern, rustic, French country, industrial, Moroccan, modern, and even traditional styles and more. All mixed in with one another to create entirely unique kitchens that are all equally amazing. 
I pulled 4 different kitchens from the show to use as examples of a few different styles. I have found some pieces you can use to get that fixer upper kitchen feel without spending a ton of money. It is mostly in the accessories, but even doing some painting can make a big difference without spending thousands on an entire renovation. Paint the walls or paint the cabinets even! You'd be surprised how big of a difference a little paint can make.
Some other quick and cost effective changes would be changing out the drawer and cabinet hardware, changing the lighting, or changing your faucet. For something a little more grand but while still being cost efficient, purchasing some new furniture would pack a big punch.
Let's take a peek at our inspiration kitchens and see what I've found to get a similar look in your own home!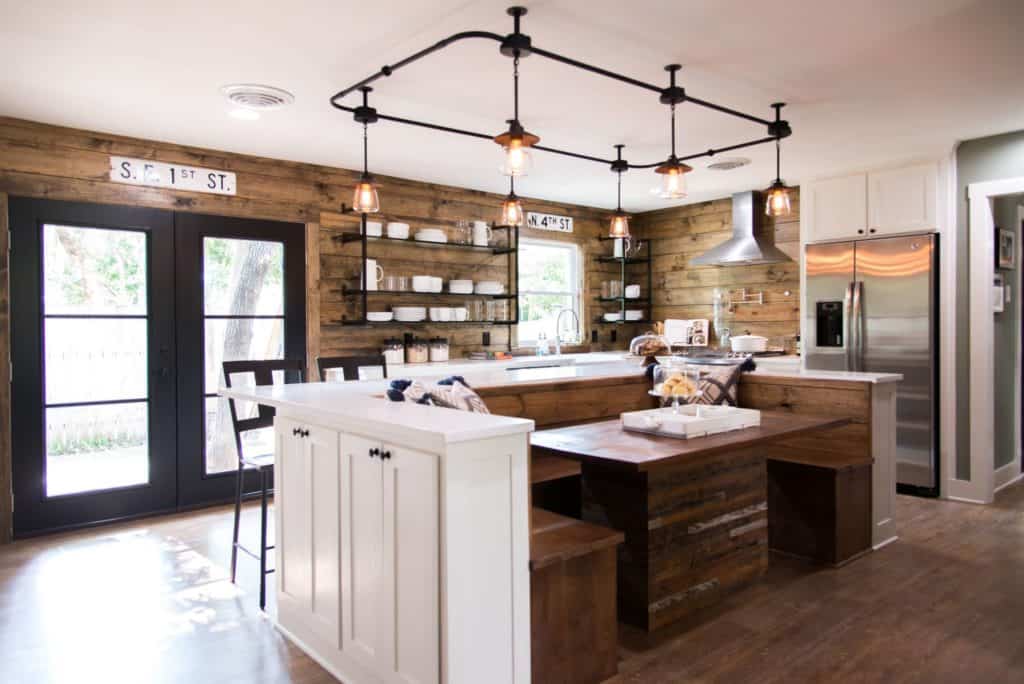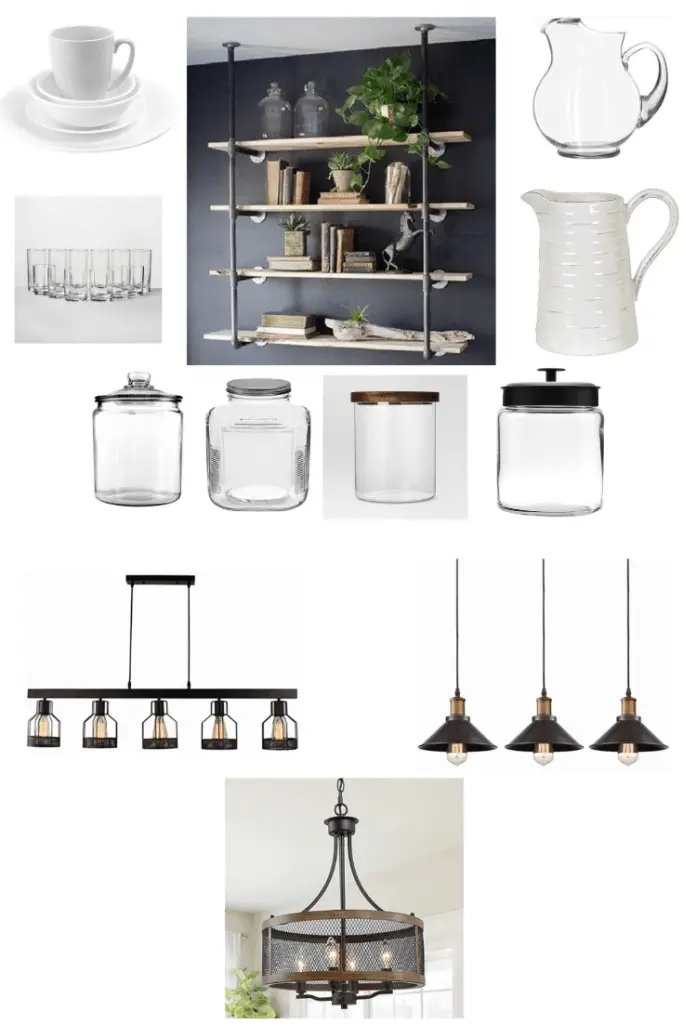 First up is this mix of a rustic and industrial style kitchen. The mix of warm wood and cool metals makes a super space. Open shelving is something you will find quite often in a fixer upper kitchen, whether it's floating shelves or glass door cabinets. Here they used metal and glass open shelving to add to that industrial feel. If you don't have wood accents in your kitchen like they have on these walls, you could also go for some metal and wood shelves instead. 
Side note: that shelving system does not include the boards but is much cheaper, you can easily go to Home Depot and get boards (they can cut them to whatever size you would like as well) and stain them yourself to save some money. For another option that comes with boards check out this one.
Using white dish ware mixed with clear glassware makes for a clean display on these shelves. Mix in some pieces like a glass pitcher or a white pitcher and some storage containers like this all glass one, this one with a metal lid, this one with a wood lid or this set of 2 with the black lid which are very similar to the ones used in the picture. You can also pop in some colored pieces if that's your thing! 
Books are always great to decorate with. You can use a variety of cookbooks, find books that are all in a certain color scheme, vintage books, or any books you may already own. Stack them up to add some height or set them on display like you see near the stove. I love thrifting for books to decorate with. It would be awesome to find some vintage cookbooks to use in the kitchen!
The lighting here definitely helps add to that industrial feel. There are tons of different metal lighting options that would work. You can use track lighting like this, which is similar to what they used in this kitchen. You could also go for a singular chandelier type light or hang 2 or 3 pendant style lights in a row. It really depends on what works for your kitchen. 
If you have an island then track lighting or a row of lights would be cool. If you have a smaller kitchen then a single chandelier type light might be a better fit.
Some other small touches you could add are metal signs and other glass/ metal/ wood kitchen décor pieces like a glass jar with wooden cooking utensils, a wood cake stand with a glass cloche to cover it, wood cutting boards, black and white patterned hand towels, and glass soap bottles.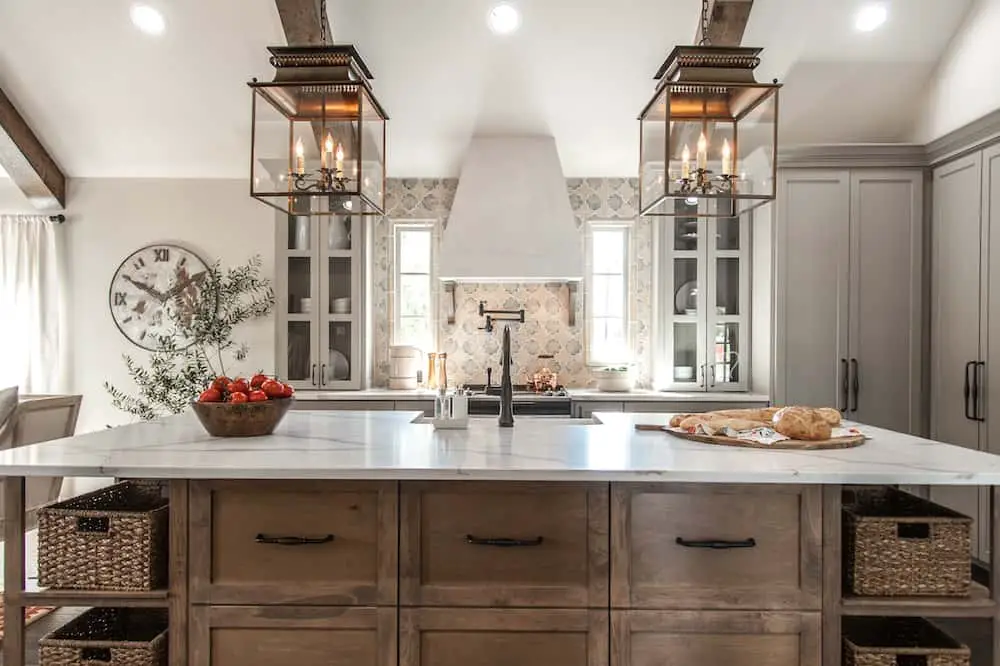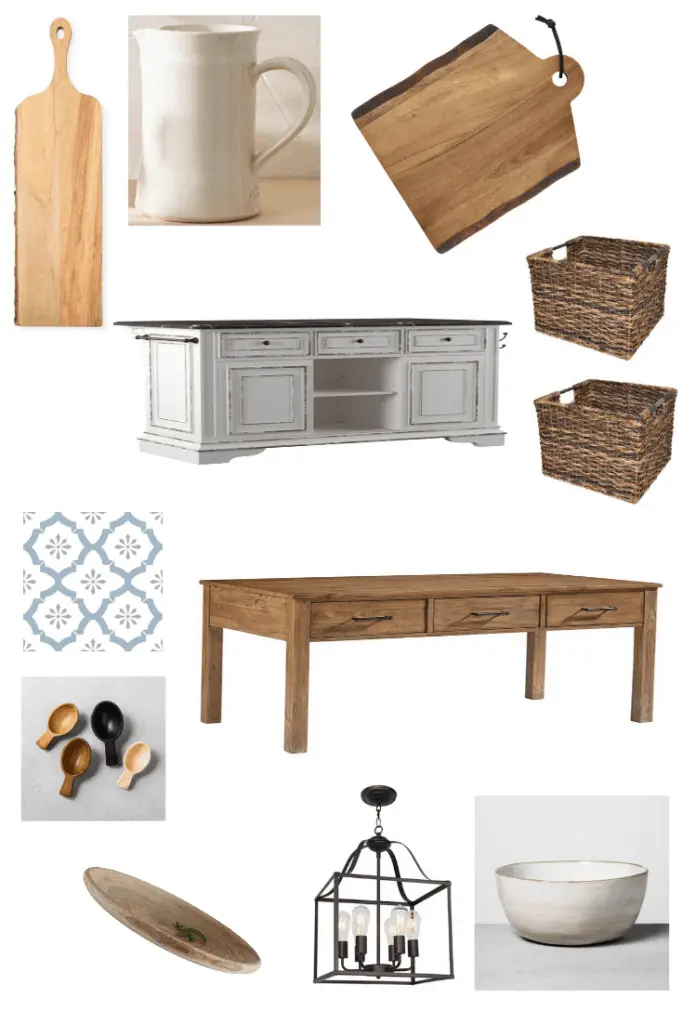 Let's move on to this old Italian with some traditional and farmhouse touches kitchen. This one is one of my favorites. The tile work is gorgeous and I love the light grey cabinets with the wood island. This is a great example of how some paint could really transform your space. The tile work in here is really stunning but would be expensive. Did you know they make peel and stick back splash tiles?! Well I found these ones which would give you that amazing wow factor for a fraction of the cost! I love the little pop of color it adds.
If you have a large enough kitchen to add a non permanent island, that would add some great interest to your kitchen. You could do a larger one like this white one with that amazing stone counter. It has some open shelves that you could style or use some baskets for extra storage, as well as cabinets for even more storage. For a smaller space, you could do a thinner, table type island. 
For decor find things like wood bowls, spoons,  serving platters or cutting boards and antique looking ceramic bowls and pitchers.
As for lighting you could do a couple larger lantern style lights to get something similar to what's shown in the photo. You could also do a singular chandelier type light in a smaller space or if you prefer 1 larger light to multiple light fixtures. Or if you have ceiling lights then perhaps you might also prefer a single light. A row of lights across the island would also look great!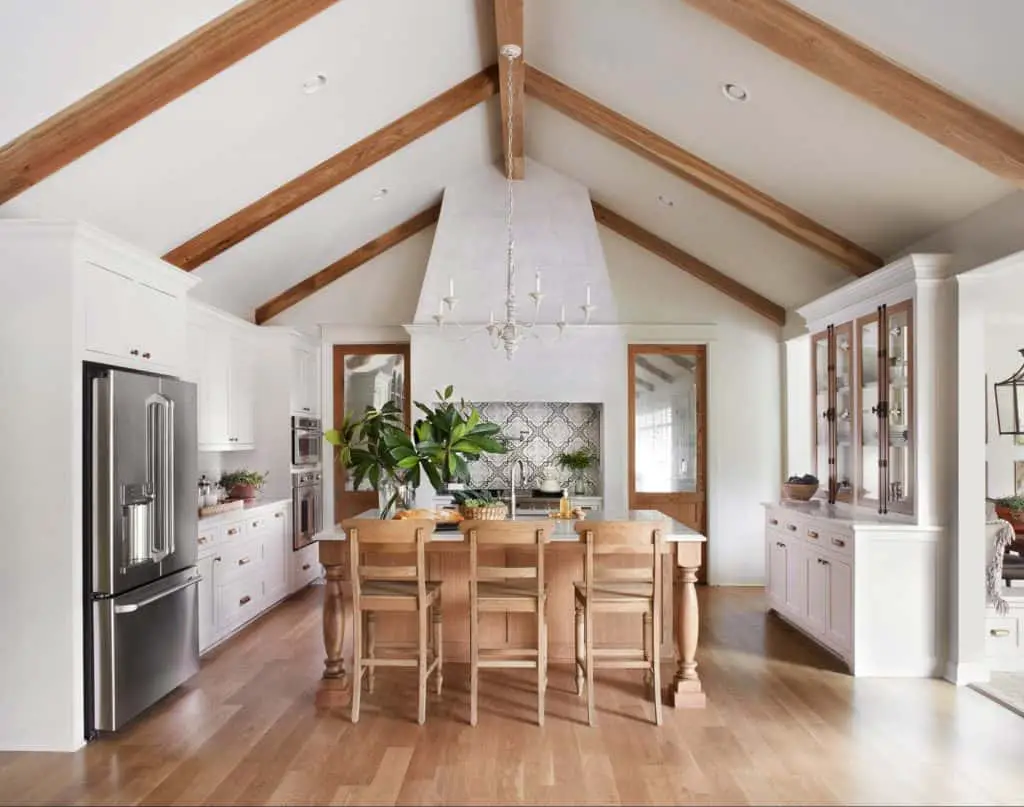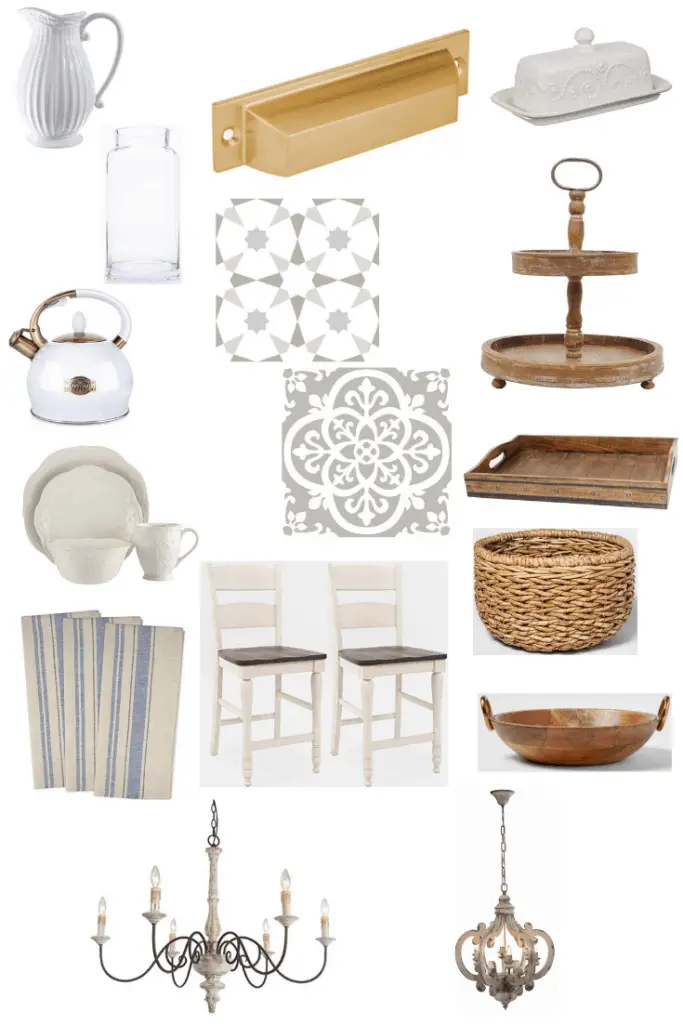 The third kitchen is a mix of French country and traditional. She also added a touch of Moroccan flair with the stucco vent hood and hand painted tiles, which are really the focal point of this space. Perfect example of mixing several styles in one space. Painting cabinets and switching out hardware to something amazing like these similar brass pulls, would go a long way in emulating this space.
I love all the greenery in this space. That is a super simple way to add texture and some color to a more neutral space. Simple glass vases would be great in this space. It would also be cute to use a French country style pitcher to house some flowers. 
Adding some of those peel and stick tiles just in the area your stove is housed is another great way to get a big bang for your buck. I love this multi neutral pattern, and this grey and white pattern I think they both have a very similar feel to the actual tiles used. 
If you happen to have an island then switching out your bar stools might be a great way to get this fixer upper kitchen. Something traditional like this two tone chair would be perfect! 
To accessorize you can try wood bowls like this one which has brass handles to tie into the drawer pulls, wicker baskets as bowls would also add some great texture to the counters, wood trays, either flat or a two-tiered tray would also be great to add some height, white plates with a French country pattern would be cute on display in open shelves or glass cabinets, I love the white teapot on the stove, this one has more of the brass accents to tie into the drawer pulls, a cute little ceramic butter dish would be a great addition, and a simple patterned hand towel would add some color and texture to the space.
Last up let's talk lighting. I absolutely am in awe of the gorgeous chandelier they used. I found this similar one which would be perfect. Similar to the other kitchens I've talked about, you can also opt for 2 or 3 smaller lights over the island as well. I really love the style of this pendant light I found.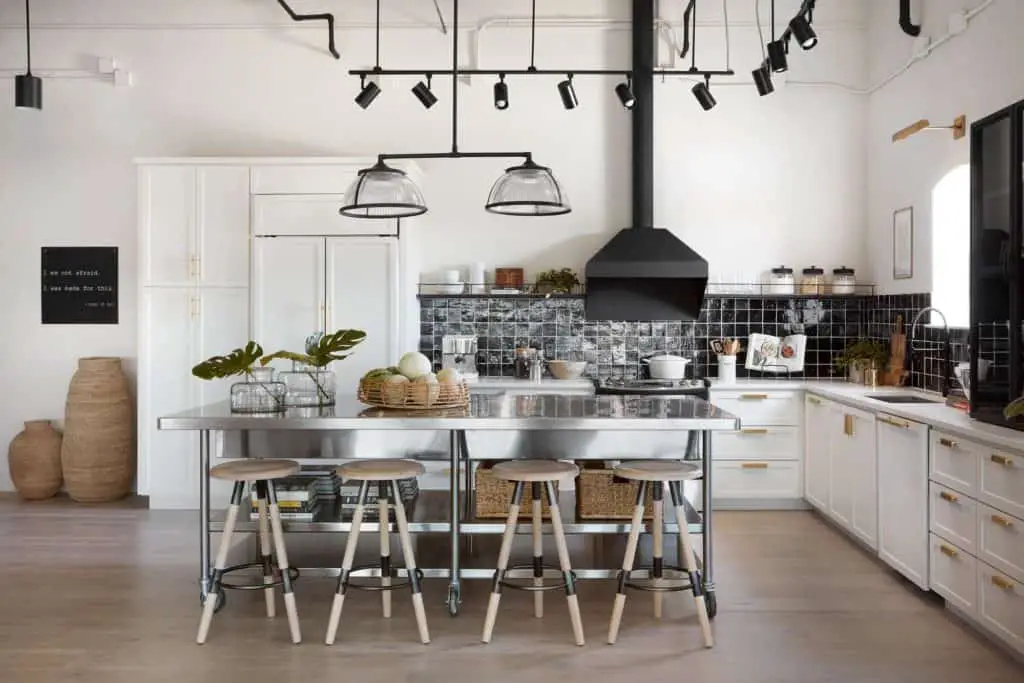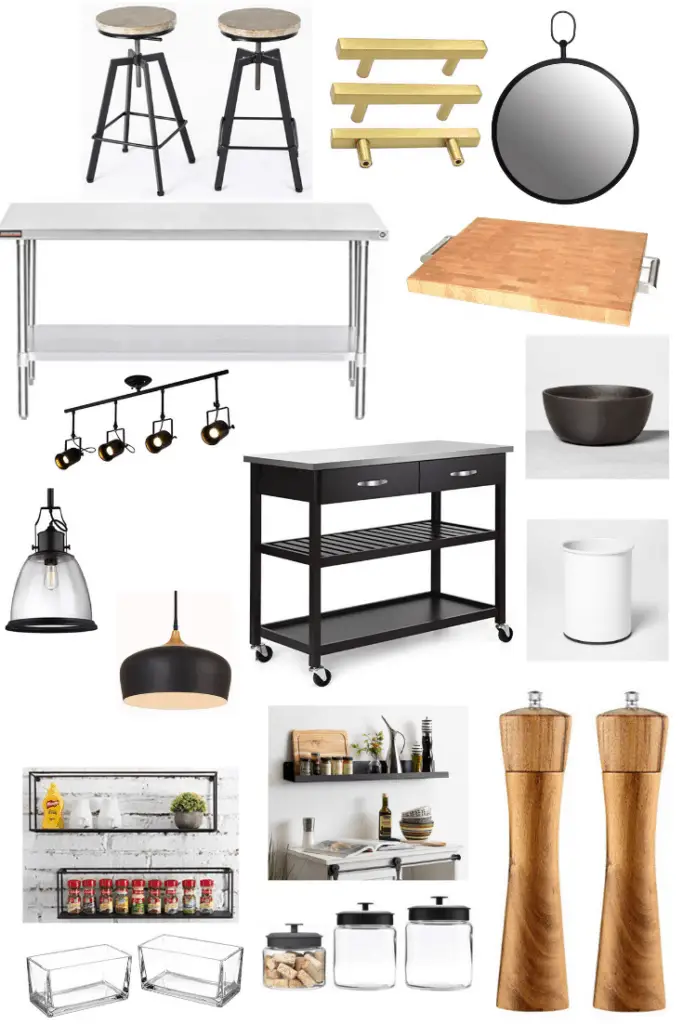 The last fixer upper kitchen is this ultra cool modern industrial one. Stainless steel and a sleek black and white color scheme are the main factors of this style kitchen. That is super easy to get on a budget. As with the other spaces, paint would make a big difference here. Paint your cabinets white and pick up some modern gold drawer pulls like these.
I think the easiest way to start off, should your kitchen space allow, is to find a stainless steel island. If you have room for a larger one, this one with these really cool wood and metal bar stools would be perfect. If you need something smaller you could opt for something like this cart which is on wheels and can be easily moved out of the way if necessary. The black would tie in nicely. 
You could add some metal floating shelves and house different décor pieces like clear glass vases with plants, wood kitchen accessories, some cookbooks, wood salt and pepper grinders, other seasonings, glass and metal storage jars, or any other décor pieces that speak to you! 
I found 2 different styles of shelves I love equally! This first one comes in a set of 2, one is slightly smaller than the other and would be perfect for a little spice rack. You can even pick up more than one set of these because they're a great price! I love the style of them.
The other one is a little more of a simple design and is larger than the other but only comes as a single shelf so you will probably want to buy another one. This would be great if you have larger items you would like to display. 
As for lighting, some industrial track lighting would be perfect. You could also do 2 of these awesome glass and metal pendant lights. I also love this black and brass fixture for a cheaper option!
For some finishing touches you can add some other kitchen accessories like cooking utensils in a cool container like this white and black stainless steel one, a butcher block cutting board, a stoneware fruit bowl like this black one, and you could find some cool elements to hang on the walls such as this awesome black mirror. There are other things you could change or add such as the faucet or new hand towels and other accessories that would really get this modern industrial feel into your kitchen.
See how easy it is to get a fixer upper kitchen without actually renovating your whole space?! You'd be surprised what a few changes can do. These are just 4 of the many, many kitchens the Gaineses have done which you can use as inspiration for your own space.
Don't forget that you can mix and match more than one style to come up with your own personal style. If you aren't sure what styles you like, check out this post on determining your home's style to get some ideas! Let me know which of these kitchens is your favorite and if you have any other easy DIY ways to change up a kitchen, please share down below! See you next time. ☺