Adorable Spring Farmhouse Decor On Amazon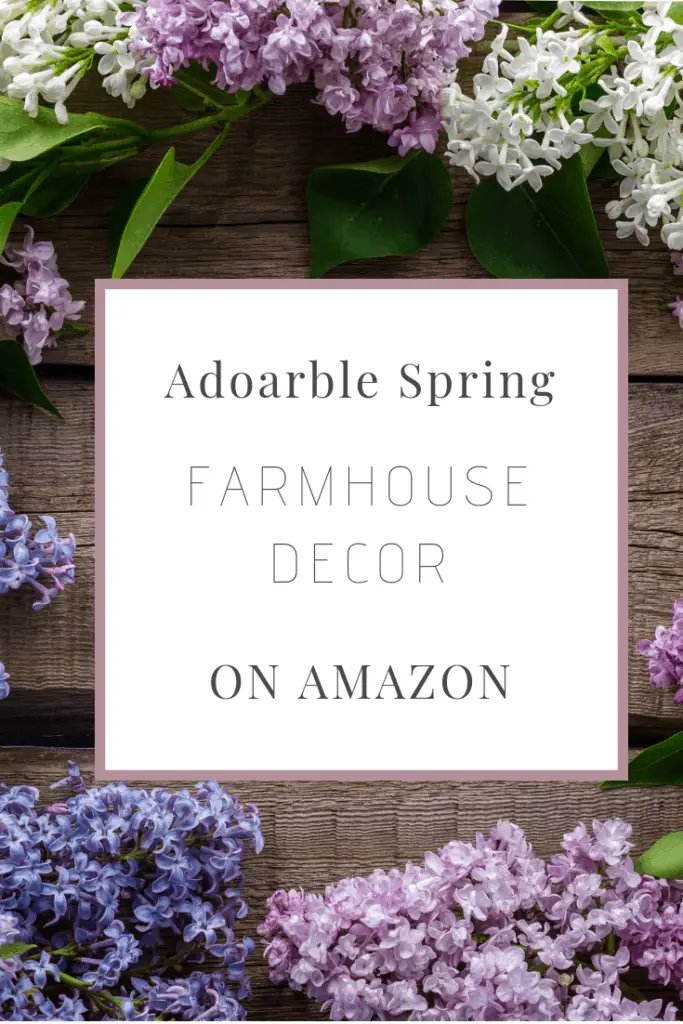 This post contains affiliate links for which I may earn a small commission at no extra cost to you. Thank you for your support! Learn More.
Depending on where you live, spring may or may not be around the corner. Here in the Midwest we tend to get a tease of spring followed by another round of winter. But to remain optimistic that spring is in fact, just around the corner I went browsing for some new spring décor on Amazon. And I found so many seriously adorable things. You might very well end up buying all of these because, well just go check it out for yourself.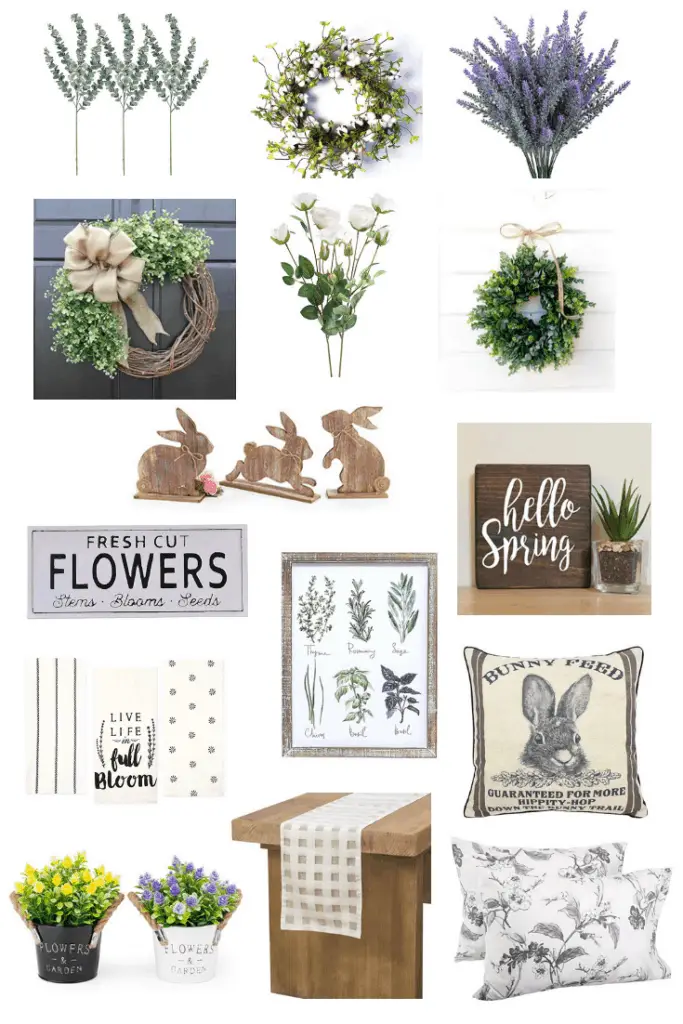 Let's just start off with all things floral. Flowers and greenery are like the epitome of spring. It's when everything comes back to life, so obviously you need to bring back those flowers and plants to replace all the evergreens and other winter stems you currently have out.
Some of my favorite faux stems to use are sliver dollar eucalyptus and also smaller eucalyptus like those ones up there. I also love using lambs ear stems so those are must haves for me.
But I also found these lavender stems which I think are so pretty and a great way to incorporate some color. Faux flowers like these roses are also great to incorporate in your space. These also come in other colors if you want to add some color. There are other flowers I love to use as well like peonies and hydrangeas. For smaller vases, I love using little budding types of flowers.  
Little potted plants and flowers are also something I like to use everywhere. Look how cute the pots are that hold those purple and yellow flowers!
Wreaths are another great way to break out the spring florals. You can hang a large one like this one with the bow on your front door. I love the combination of cotton and green vines on this one which would be so cute hung on a mirror. If you want something smaller, then something like this simple boxwood wreath is just what you need.
Spring signs are fun to add in here and there to switch up your décor. They don't even necessarily need to be on a wall. I love using little wood signs like that hello spring sign, on shelves or counter tops.
I'm in love with this fresh cut flowers sign, it could go on the wall or you could even use it on your fireplace mantle or ledge. Just lean it up against the fireplace. This framed herbs print adds some greenery to your walls! It would be so cute in the kitchen.
For another shelf or tabletop decoration, how cute are these wooden bunnies? I love them so much!
Textiles are another great way to bring in some spring décor, and it's a super easy switch. Add this adorable gingham table runner to your dining table with a cute spring centerpiece. Switch out some pillows for this really sweet bunny pillow or this gorgeous floral print pillow. That floral one would be perfect on a bench! Add this set of really cute hand towels to your kitchen and you're all set.
I also found tons of cute smaller items to style shelves, trays, tables, etc. so if you're interested in another post on that stuff make sure to let me know in the comments down below! See you next time ☺