17 Thrifting Tips and Tricks to Shop Like A Pro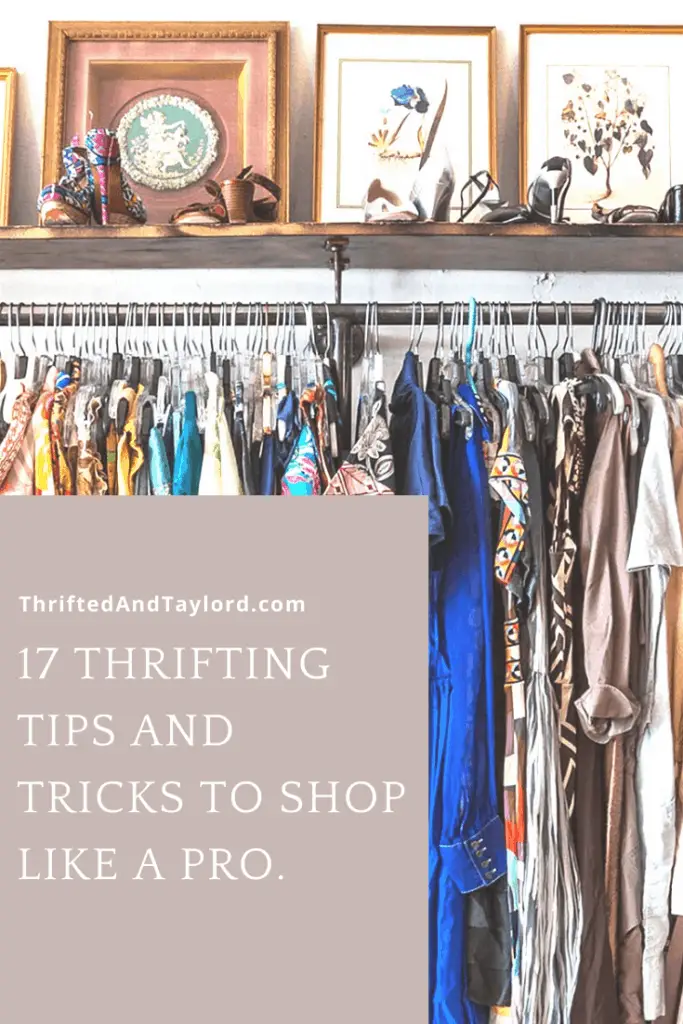 Ready to thrift like a pro? I've come up with all the thrifting tips and tricks I can think of to have you scoring every time you go. These are all things I personally do when I go to the thrift store and I find them all very useful. It took me some time to get "good" at thrifting. I have definitely bought things I later was like, "why did I get this?" Insert face palm. 
Some of my trips are quick, I know exactly what I'm trying to find and they either have it or they don't. Some trips are very long, I want to browse all my favorite sections and see what goodies I can find. Sometimes I'll go to several stores in one trip, sometimes just my one favorite. 
Each trip is different. Sometimes I find all the finds and have to (painfully) narrow things down, sometimes I find 1 or 2 things, and sometimes I walk out empty handed. But these thrifting tips and tricks I've acquired along the way have gravely helped make most of my trips successful. I might not use each tip every time, but there is a use for each of them. So let's check them out.
Clothing Thrifting Tips and Tricks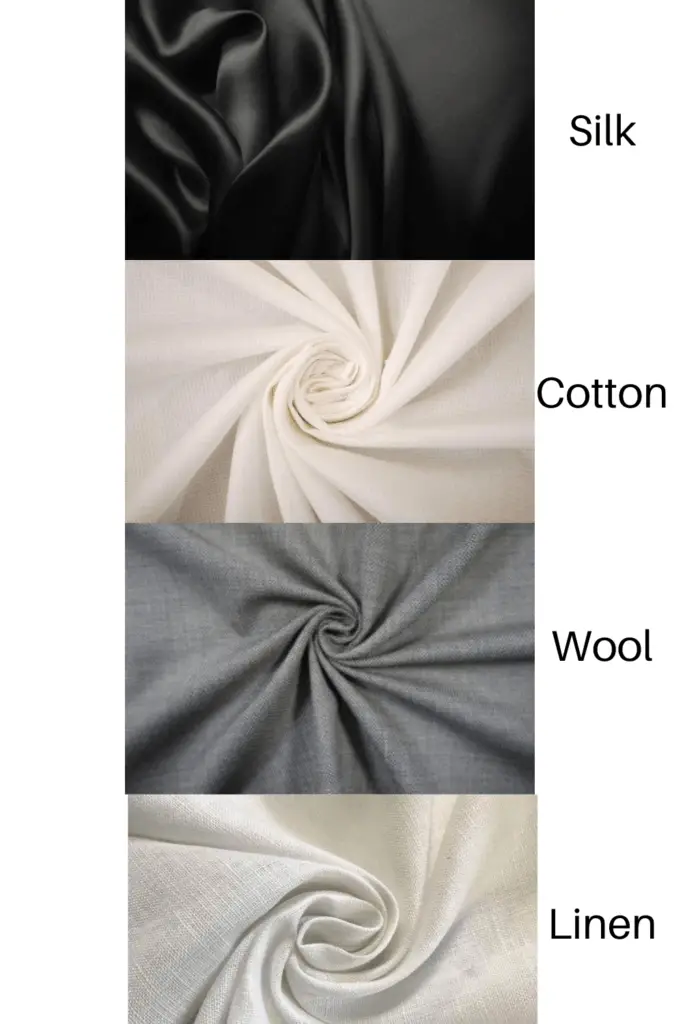 1. Look For Quality Materials
Natural fibers like cotton, silk, linen, wool, etc. are the best and will last. Sure, you might find a blouse you love and it happens to be acrylic or polyester and that's fine to grab since you know you will wear it. Just be prepared for it to potentially not last as long. 
I also like to find real leather and suede second hand. I used to not support the leather industry because I was uninformed on where these products came from. Check out this [really old] post on leather to see what made me change my mind. That being said. Leather and suede are expensive. So being able to find them for a fraction of the cost is amazing.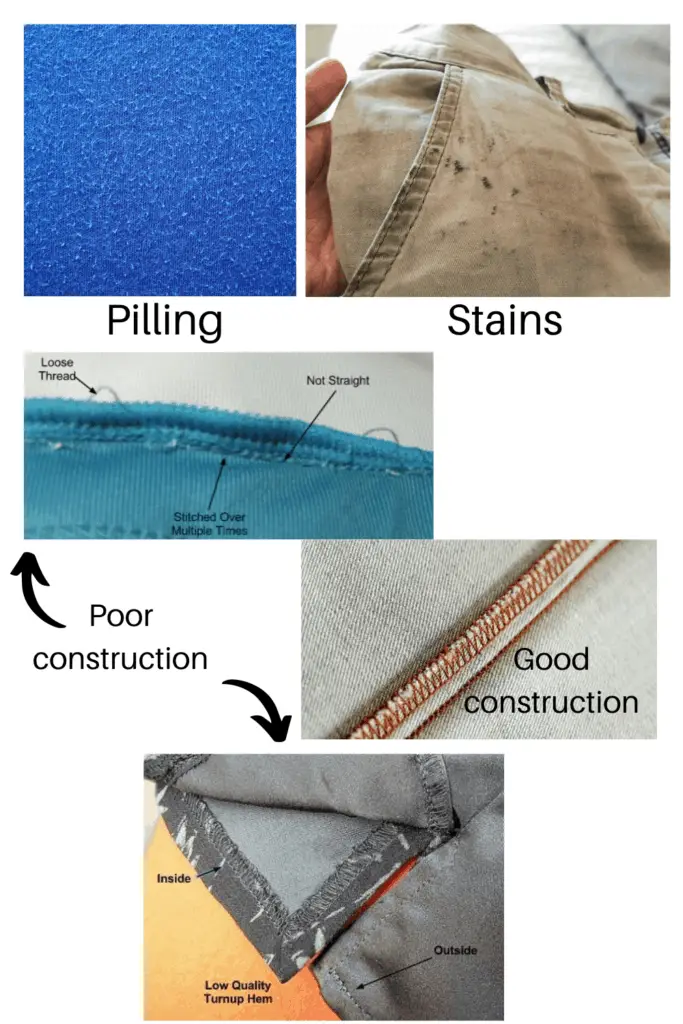 How well has it held up, is the stitching done well? Is there a lot of pilling? Are the colors faded? These are all things to check for so you can gauge the quality of the piece and how much longer it might last.
3. Always Check For Damage And Stains
Obviously you want to purchase items that are free of stains and damage. But there very well may be a time you find something you love and the thought of leaving it behind will haunt you. Then you find the stain… Nooooo! If it looks like it may come out in the wash, maybe it's worth taking a risk. If not, leave it there. 
As far as damage goes, is it repairable? Is it something you can repair yourself? Is the item worth paying for to have it repaired? These are the questions to ask yourself.
Are you ok with purchasing an item that is hand wash or dry clean only? If not, reconsider purchasing those items. Also note if it needs to hang dry or can go in the dryer. These can all be contributing factors to if you choose to purchase or not.
5. Look For Reputable Brands
This thrifting tip might seem like a no brainer. Look for brands you know and love. Brand name items are (usually) good quality items. The higher end the brand name, the better the quality will be. It might also be worth it to look up some brands that stores such as Nordstrom and Anthropologie carry so you can keep an eye out for those. They are known for great quality pieces. 
I personally don't typically pick up fast fashion brands, such as Forever 21, at the thrift store because they usually aren't in great shape and I know they are usually pretty poor quality.
The exception to this rule is if it is brand new with tags or appears as though it was never (or hardly ever) worn. And that it is something I really really love.
And some of those brands do have decent quality pieces from time to time so going back to some of the earlier tips, I will check the quality of the item's construction, what material it is made out of, and it's current condition.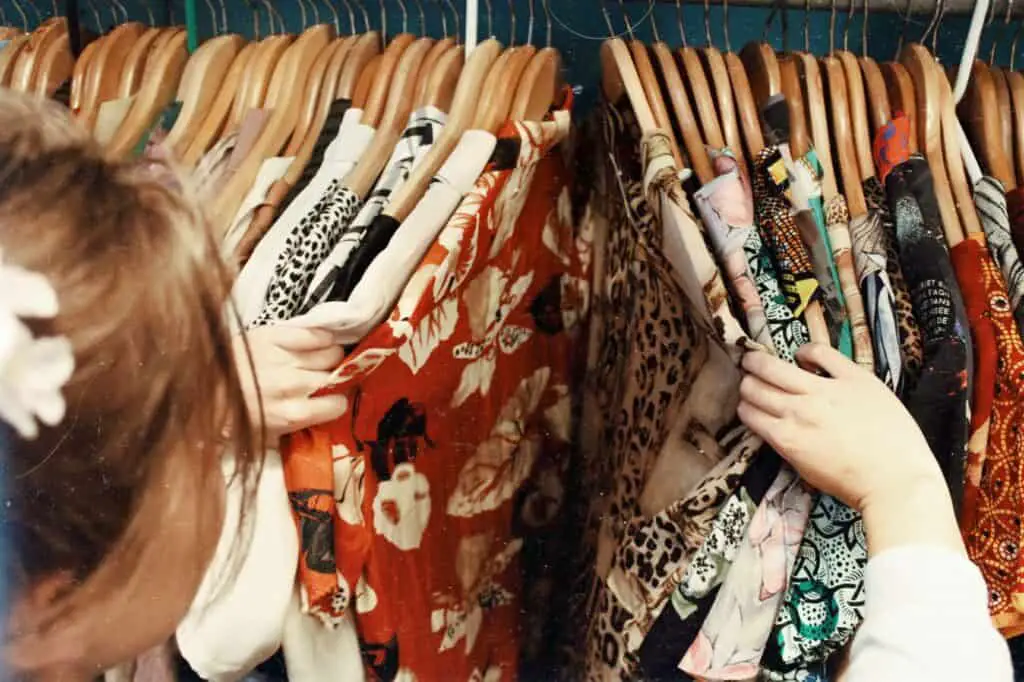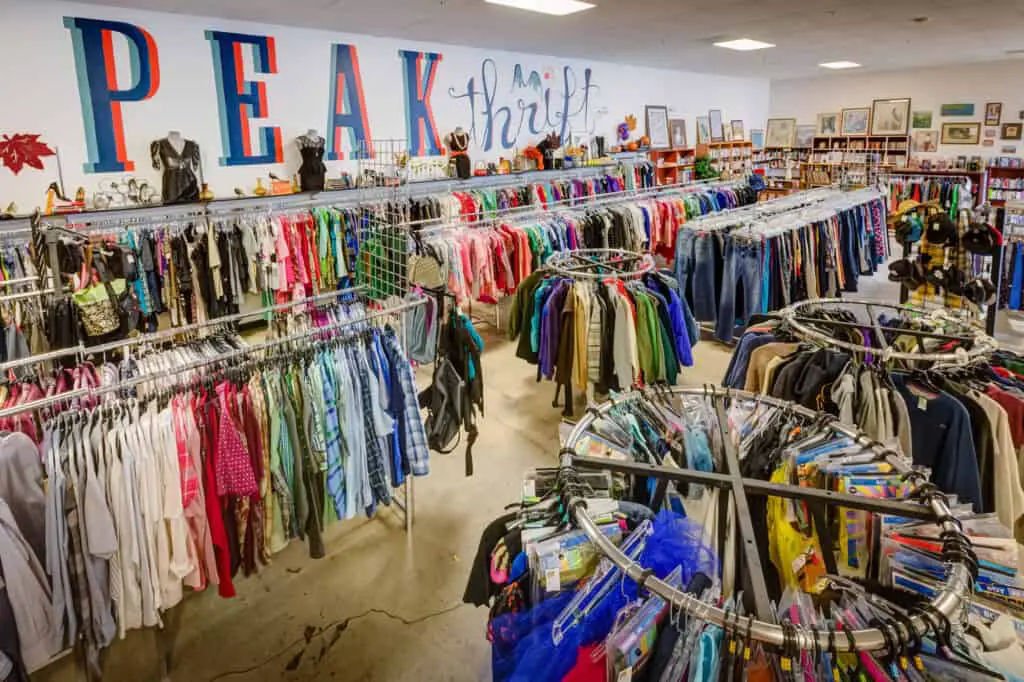 6. Look For Items That Jump Out At You
Look for colors you love to wear, interesting or pretty detailing, and patterns that stand out to be able to browse more quickly. I love when thrift stores are organized by size and color because it makes my shopping that much easier. I can go straight to my size and skip over the sections of colors I never wear. 
When that is not the case, I find it is easiest to scan the racks quickly, only stopping to look at an item which sticks out because of its color, pattern, or detailing. I always gravitate towards floral prints, subtle stripes, lace, crochet, cool sleeves, interesting textures, and satin/silky pieces.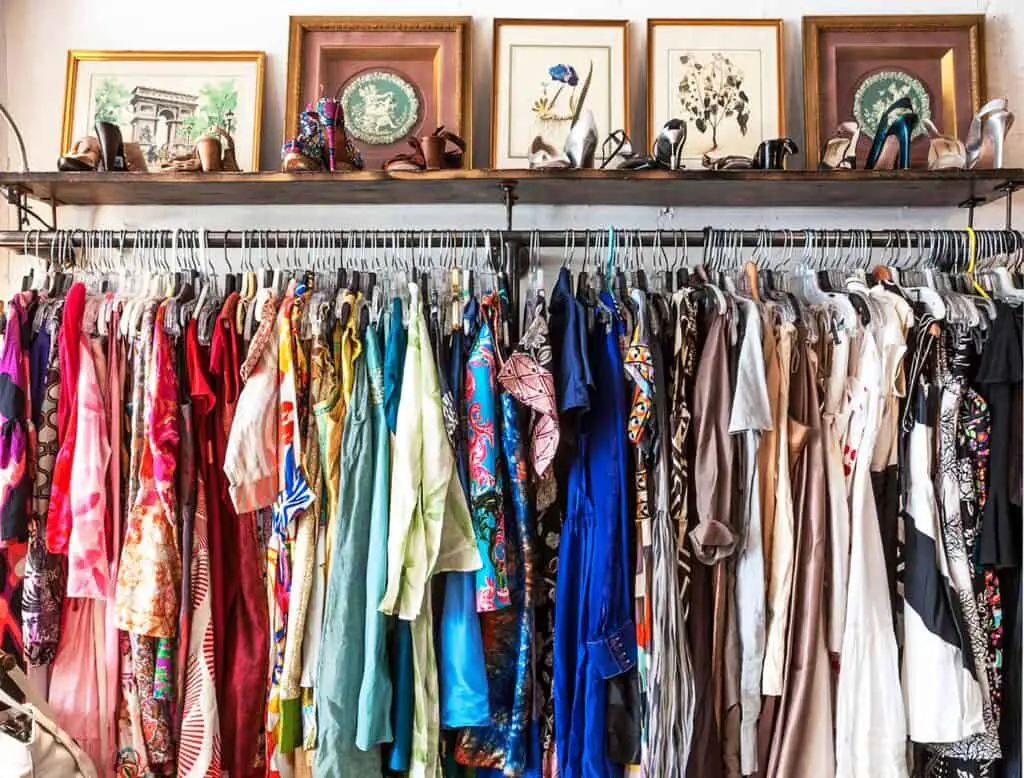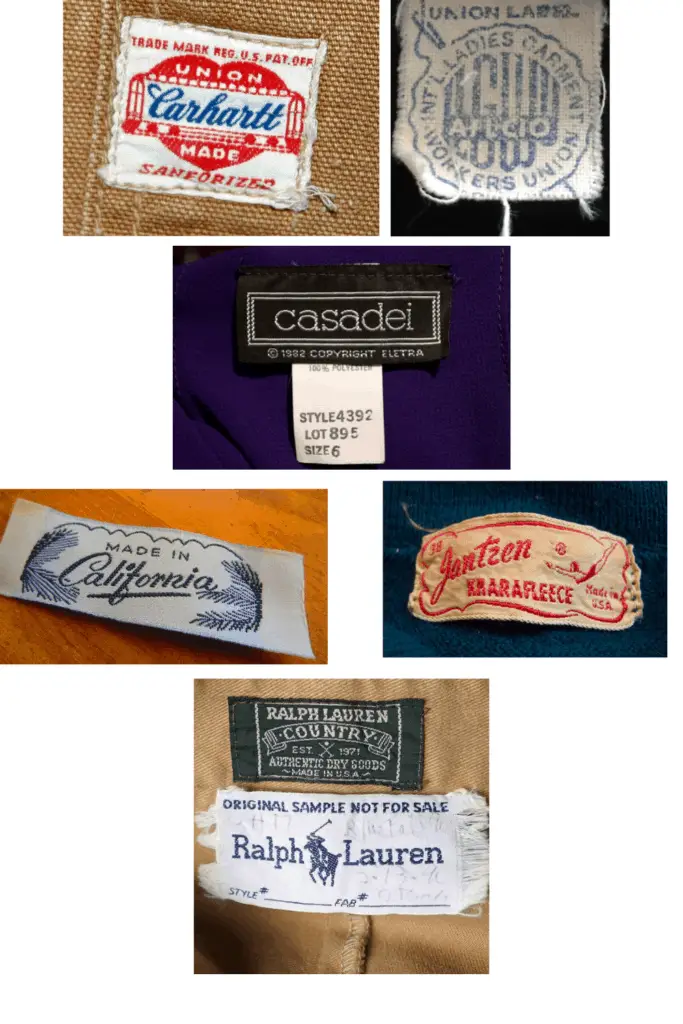 7. Keep An Eye Out For Vintage Pieces
This is one of my favorite thrifting tips. There is nothing much cooler, than finding vintage items while thrifting. They are usually such good quality and they are so unique since they're no longer available to buy. 
You can generally tell a garment is vintage by it's tag. Anything with a union label in it was produced before 1980. Garments with a one size fits all tag were predominantly made in the 80's so chances are good the item is vintage. 
Other things to look for include: tags that have lot and style numbers, labels that note the city or area of where it was made, items that were made in the USA, items made in countries that no longer exist, old labels of current brands, items with original price tags that have handwritten or typewritten letters and numbers, and items with over designed labels
This is a great thrifting tip, if you are up for a challenge. Don't shy away from something just because you don't love it the way it is. Keep an open mind to try to see the potential for what something could be.
You can check out my clothing repurposing post to see a bunch of different ways you can make something you don't love into something you'll wear all the time. A lot of them don't even require sewing skills!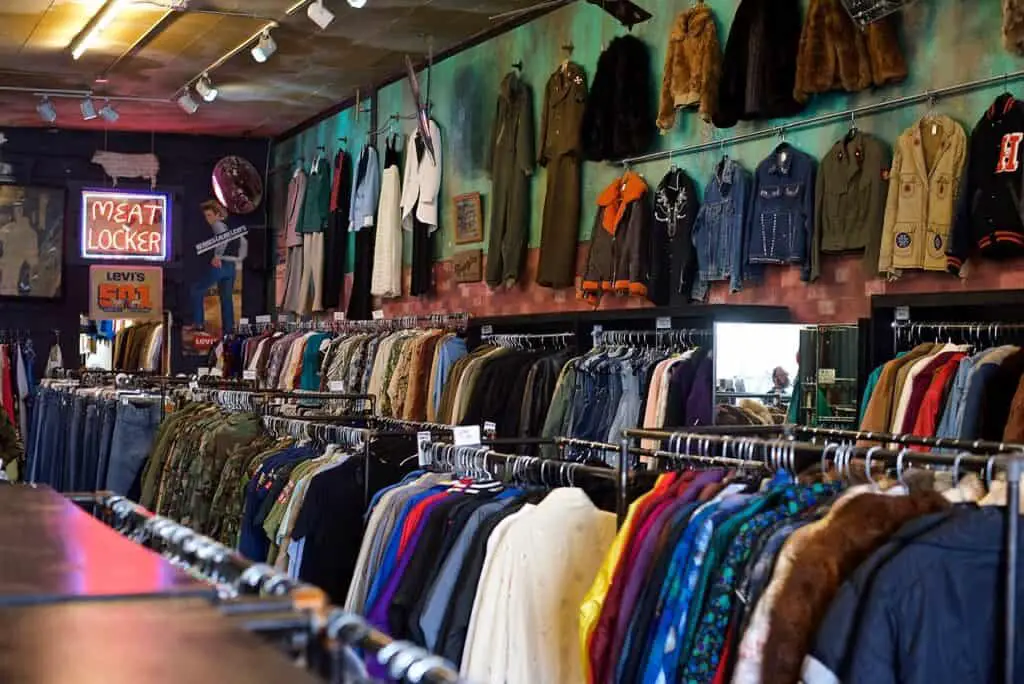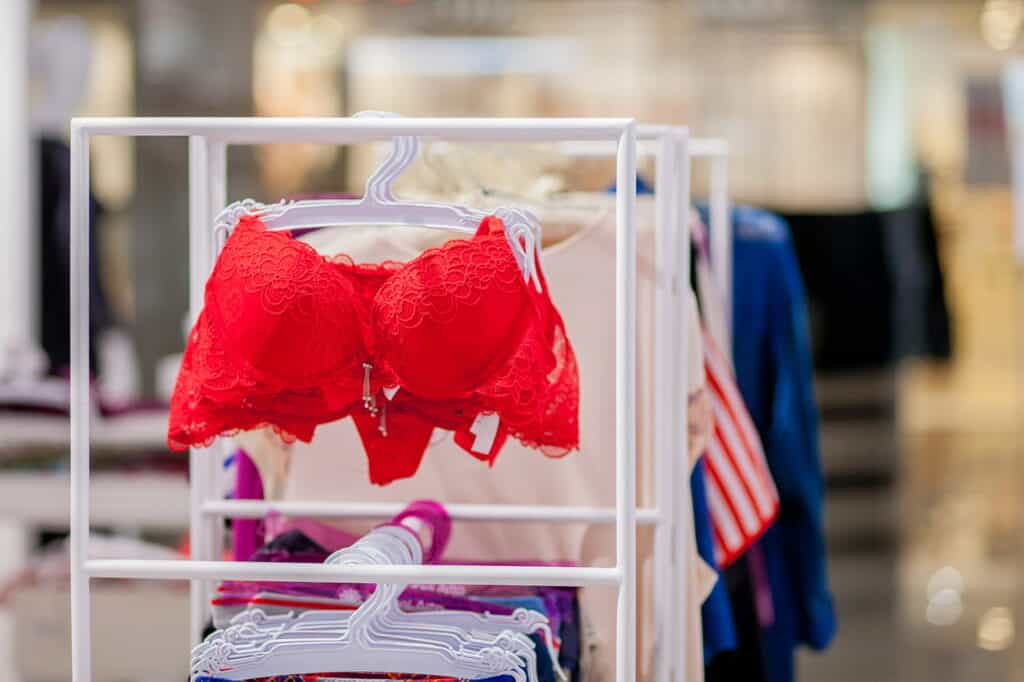 Browse the men's section for oversized graphic tees, jackets/blazers, and jeans if you want a looser fit. Check the lingerie section for kimono style layering pieces (a lot of times you can find cool robes to wear as a layering piece) as well as slip dresses and camisole or corset tops. 
You never know what you might find in an unexpected place.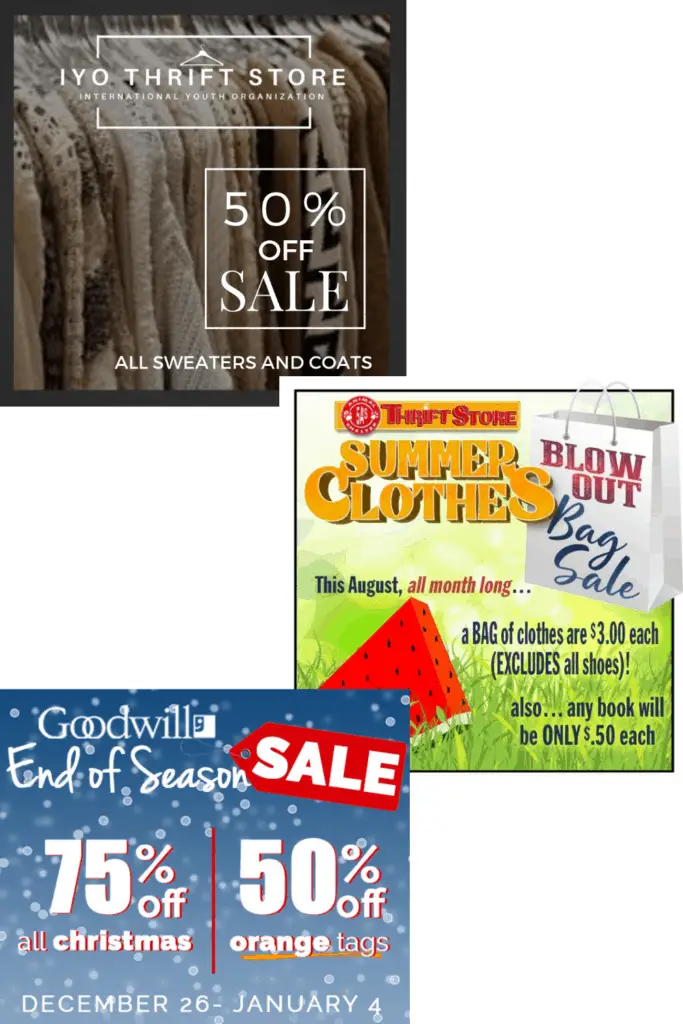 10. Shop Off Season For Even Better Deals
Many times off season clothing is on sale or is marked cheaper than in season clothing. It's a great time to find amazing jackets at really good prices since sometimes jackets can be a little pricey (for a second hand item.) And there might be a better, less picked over selection since not many people are shopping for those items. 
This also means that you might not want to shop holiday items during holiday time. Many stores love to jack up prices for things like Halloween costumes and ugly Christmas sweaters when it is that season.
I like to try to find costumes in the regular sections where they are still normal prices versus shopping in the curated sections they typically have up front.
11. Have Some Idea Of What You Would Like To Find
This is one of those thrifting tips that might not apply every trip. Sometimes it can be fun to sift through each aisle, until something pops out at you. But having some kind of list of specific types of items you need can help save time by only shopping in the areas that house those items. It also can help you not feel super overwhelmed if you are in a larger thrift store and/or are newer to thrift shopping.
You could keep a running list of items/outfits you have saved on Pinterest that you want to try to find, trends you want to be on the lookout for, basics you are lacking in your wardrobe, or whatever else you might be on the lookout for.
12. Don't Forget About Basics
Speaking of basics… As fun as it is to shop for trendy pieces at the thrift store, don't sleep on the basics! You can get some great quality wardrobe staples that you'll be able to wear time and time again.
I have found some high quality t-shirts, some of my favorite jeans (a couple I actually turned into shorts), and a couple dresses I have worn many times, at the thrift store. I am currently hunting for the perfect denim jacket but I just haven't found it yet! 
13. Don't Buy It Just Because It's A Trend
Don't buy something just for the sake of a trend, unless it is a trend you truly love and will wear (more than once.) This is one of the thrifting tips it took me a little while to figure out.
 I love to find trendy items at the thrift store because they're so cheap so if I end up not loving it, I don't feel as bad. But I've come to realize that it is still wasteful consuming because I never end up reaching for it. 
So I've started buying trends I know I really love and will wear several times. I, personally, am not a super trendy dresser. I go for more wearable trends and trends that oftentimes come back around. So I can even hold onto many of my trendy pieces knowing that they will come back in style sooner rather than later. 
But for those of you who want to try out some of the more out there trendy items, the thrift store is the place to pick those up!
Home Decor Thrifting Tips and Tricks
I absolutely love finding home décor at the thrift store. You never know what you might find, including amazing antiques. I have a few thrifting tips and tricks for shopping home décor, too, so let's get into those.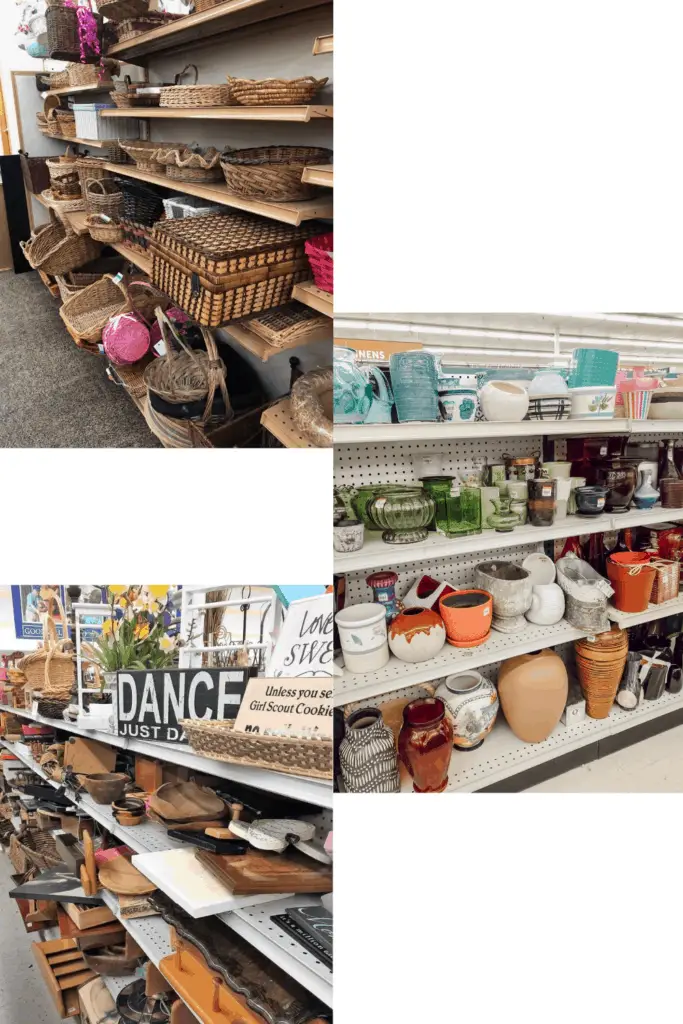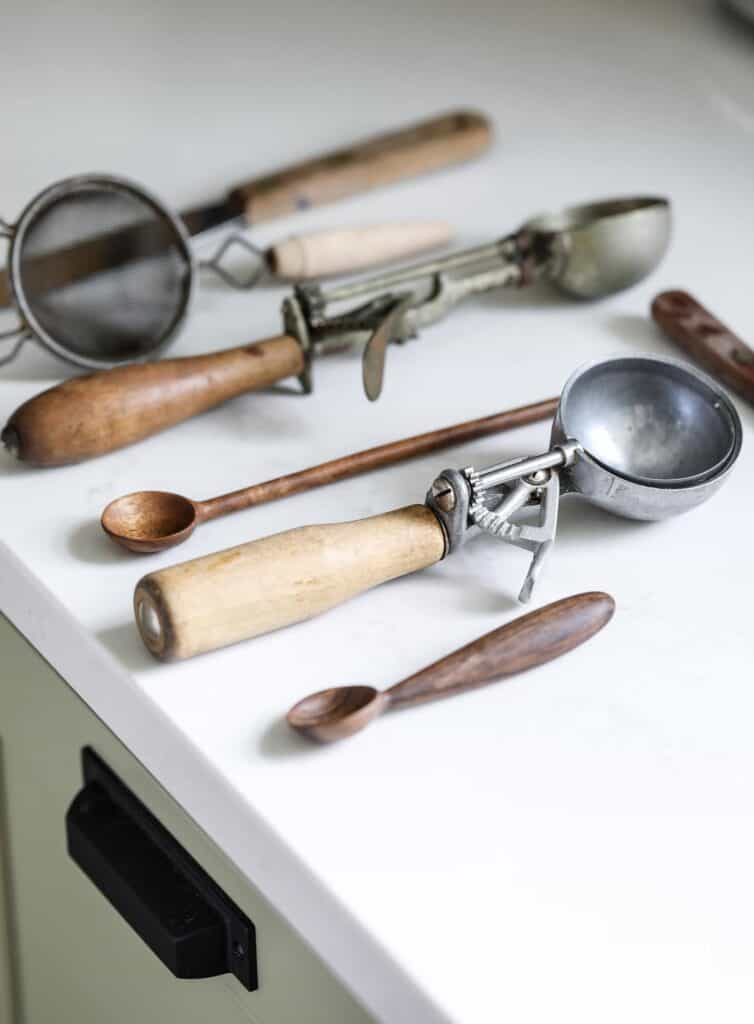 14. Check All Home Decor Sections
Sometimes they have cool gems hidden in random spots. If you are into antique kitchen items, check the appliance aisle. There have been some really cool antique kitchen tools hiding in there. 
I love shopping the wood section, baskets, frames, and floral/vase aisles the most. I am all for a good upcycle! Don't forget you can always paint items (see a post on that here), or upcycle them into something completely different (check out these wood signs I completely transformed and these thrift store items I upcycled.)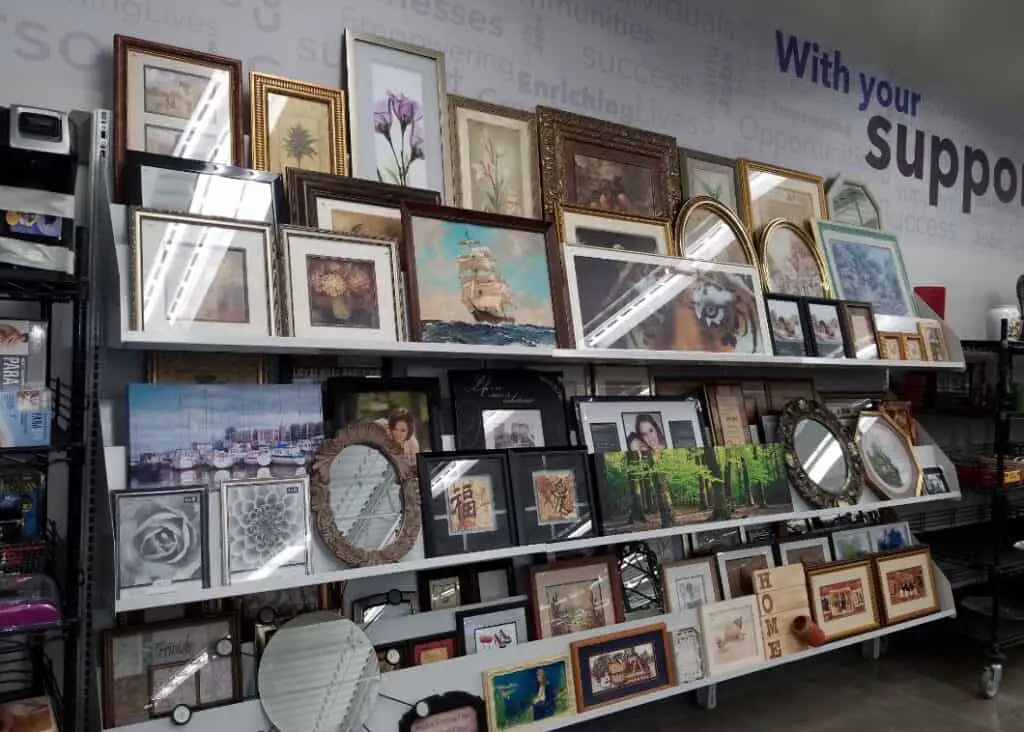 15. Always Check The Frames
If nothing else, always take a quick browse at the frames. You can find really cool mirrors, amazing artwork, or even just use the frames and switch it out for your own photos. Again, don't forget you can always paint them! Frames can be really expensive so finding them at the thrift store will save you so much money.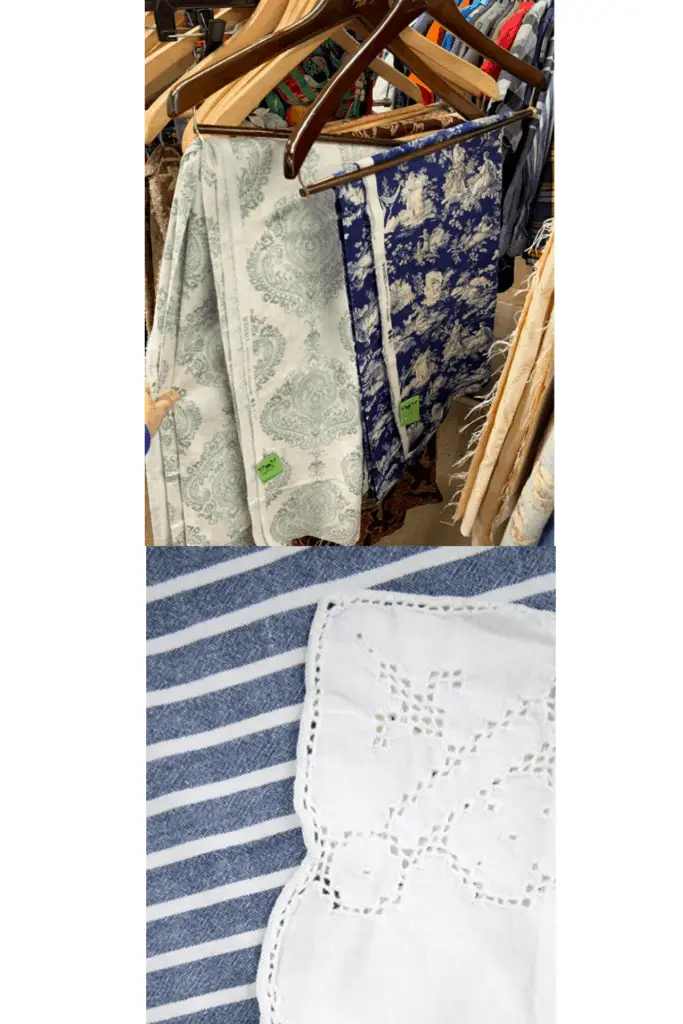 16. Check The Bedding And Curtain Sections
This is a great place to look for fabrics you can use to make new things. If you are especially good at sewing you can make entirely new pieces of clothing. Or use them for more simple projects like pillow covers. One thing I like to look for is pretty lace that I can use for smaller DIY projects like adding lace to the neckline of a top.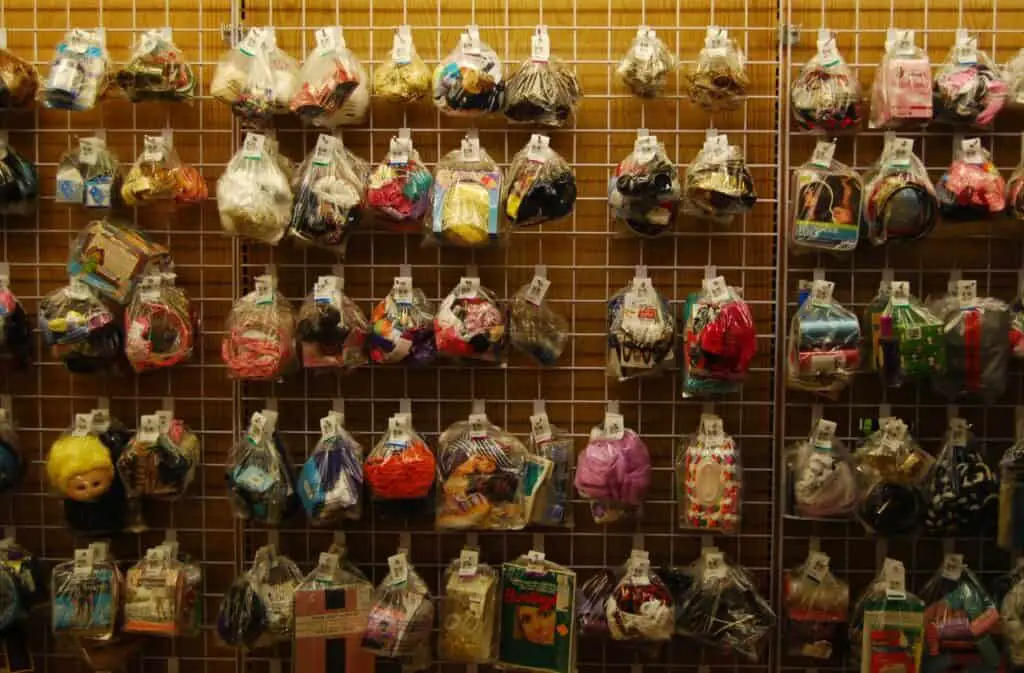 17. Check The Knick Knacks
If your store has a section of bagged items check for buttons! You can switch out some run of the mill buttons on a shirt for some really cool vintage buttons to add a ton of character to your top. There are also lots of other cool little trinkets they put in these bags so I always like to check them when I'm there. 
That's all I've got for you. My whole list of thrifting tips and tricks that I personally use to find amazing pieces (nearly) every time I go. It's been a while since I have been able to go thrifting, soon though! Until then, check out my most recent thrift trip here.
Are you a thrifting newbie or an old pro? Which of these do you find the most helpful? Let me know in the comments below. See you next time.