How To Redecorate On A Budget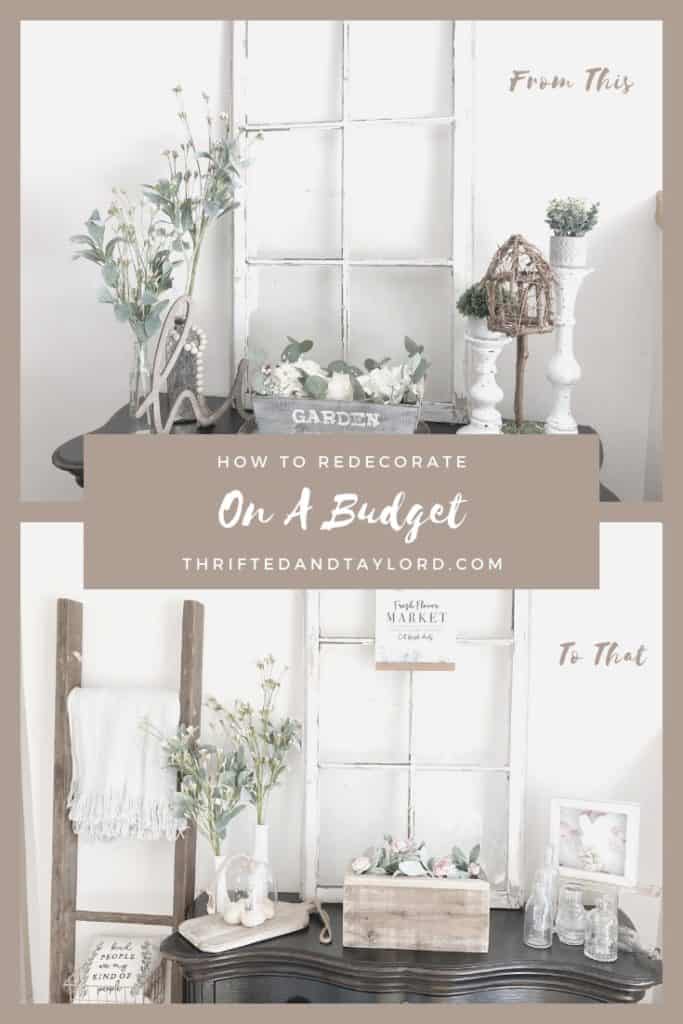 This post contains affiliate links for which I earn a small commission if you purchase through them, at no extra cost to you. Learn More.
If I told you it was actually quite easy to redecorate on a budget, would you believe me? Because it really is! You can even do some redecorating without actually having to purchase anything at all. I am always on a budget when redecorating our home so I'm always hunting for sales, thrifting items, or finding new ways to use things I already own. 
I put together some side by side pictures to show you how I've redecorated a few areas of my home, time after time. I love trying new set ups each time I am redecorating to make it feel like a whole new set of home décor pieces. 
Let's get into some more details on how exactly to redecorate on a budget.
Redecorate on A Budget by Shopping Sales and Second Hand
First off let's talk about shopping. Because sometimes it is inevitable that you need to purchase some new items. Especially if you don't have a lot to choose from already or if you are trying to change your decorating style.
Start off with thrift stores. You can find some really amazing and unique pieces there. You might even find some really cool vintage or antique items. Don't forget that you can always paint things. If you love the look of something but not the color, paint it!
If you still need more items then try places like Hobby Lobby, who always has many items marked 40%-50% or more off. You can especially find big sales as we get close to the end of a season. 
HomeGoods is another favorite of mine, they always have beautiful things at really great prices. Target, of course, is also a great budget friendly option. If you like to shop online, Wayfair and even Amazon have tons of great options. 
As I go through these photos I'm sharing to show you how I redecorate on a budget, you will see that I have picked up some new pieces over the last year which I have incorporated into my décor. I have really fine tuned my decorating style and have come to realize what I like as far as home décor. So I did a lot of redecorating to better reflect my new style. Ok, let's now move on to ways to redecorate using things you already own.
Redecorate on A Budget by Shopping Your Home
Start off by shopping your home. When I decorate for the next season I always take down everything I will no longer be using because they are the last season but I will leave out generic items. Things such as candle holders, wooden boxes or décor pieces, old books, vases, candles, and other things like that. 
I clear off whatever space I'm focusing on to start with a clean slate. Take a look at what you have around your home already that you might like to move to a new spot and set those in an area to shop from. Then start decorating one area at a time.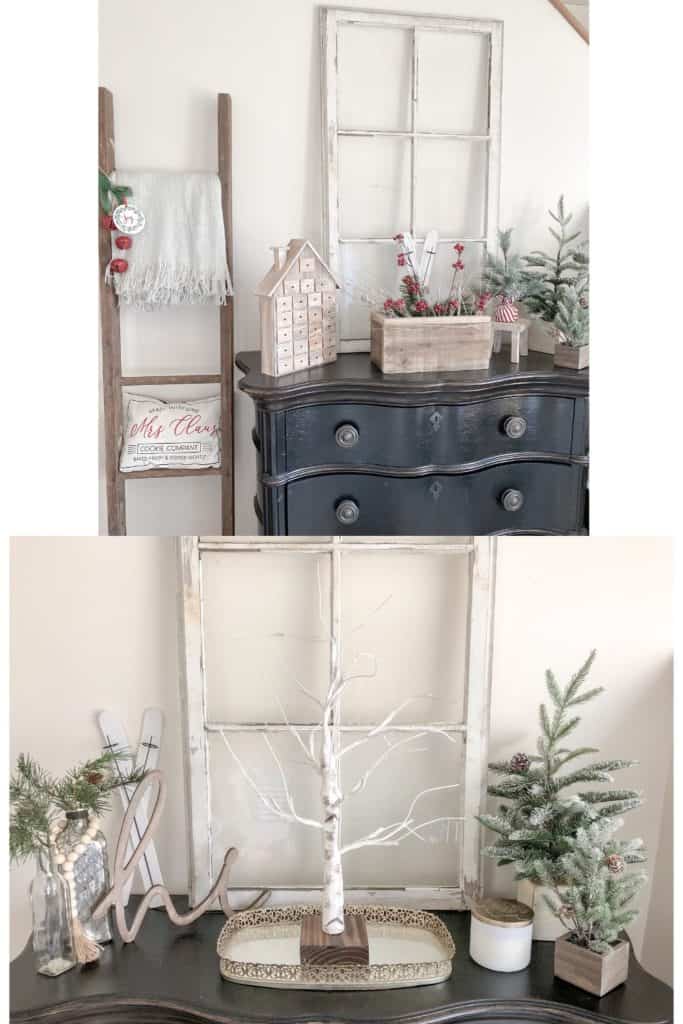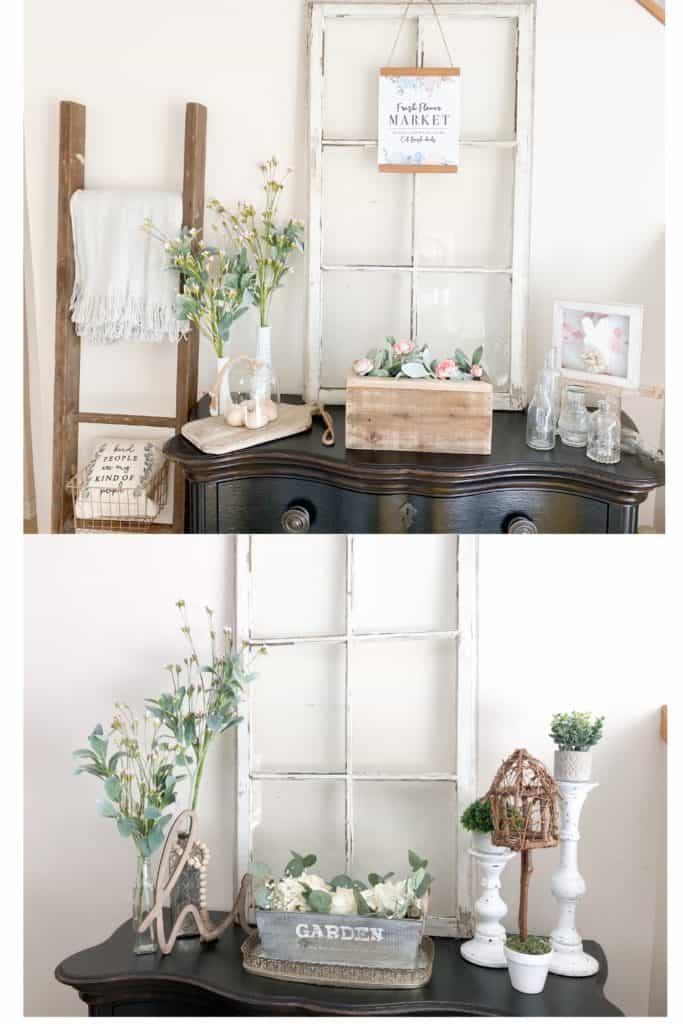 I always like to pick a focal point first. In this example of my entryway table you can see how different it looks for both spring and holiday time from this year versus last year. This year on top, last year on bottom. 
I switched out that mirrored tray and white tree for this cool wooden box which was a huge score at 80% off from Hobby Lobby. Inside I put some winter stems. For my spring décor I switched out that grey wooden box and flowers and kept the same wood box from winter, in which I switched out my winter décor for some different spring flowers and greenery. The flowers and greenery I already owned and just moved from a different area. 
That ladder is another "new" item I picked up from an antique mall and was under $15. I keep that up year round now and just change out the decorations for the seasons. The window is another antique which I have had for a few years and always stays in that spot.
My next step after getting my focal point set is to figure out what I want to use around it. I'm not going to lie, I probably switch this up 10 times before I'm satisfied with the end result. But if you have the same few decorating pieces which you love to use in the same spots, then this will be much less of a challenge for you. If you're up for a challenge, try rearranging things to try something new!
I'm not going to get super detailed on my actual decorating process, you can check out this post or this post for decorating tips. I'm just going to compare this year to last year so you can see what I reused and talk about where the other items came from. 
Let's start with winter. I reused the two wooden box pine trees and those cute white wooden skis. The white candle and greenery from the bottle vases I used elsewhere and everything else I packed up in storage.
As for new items, that amazing wooden house advent calendar I got on sale at the end of the holiday season last year so it was over 50% off, I just don't remember exactly how much. The little wooden stool was also from Hobby Lobby and was 50% off.
The Mrs. Claus pillow and the stripe cloth pine tree were both from the Target dollar spot and were each under $5. I also bought a couple new stems to use in the wooden box, the red berries and the white branches. They were both 50% off at Hobby Lobby. The rest of the faux pine stems in there I already owned. 
My spring set up was another big change. The only things I reused from the year before were those little pink flowers and lambs ear stems. I switched out the glass bottle vases for these milk glass vases I already owned.
The "hi" sign, that grey wood box with flowers, wood bead garland, and the 2 small potted plants I moved to new spots. I boxed up the glass bottle vases, the mirrored tray, the candle holders, and the birdhouse for storage. 
As for new items, the wooden eggs I got, I believe, last year in the Target dollar spot for under $5. The glass cloche and wood spoon tray were both 80% off from Hobby Lobby. All of those glass bottles were a mixture of Hobby Lobby and thrifting.
The flower market sign was a diy project as well as the little bunny sign which was actually a thrift store diy, you check both of those out here.
Redecorate on A Budget by Repurposing Items You Already Own
Another great way to redecorate on a budget is to repurpose items you own but don't love so they're sitting in storage. Can you paint it? Depending on your level of craftiness, you can try making something entirely new out of old items. I love doing this with old signs. I have a great post on that if you want some ideas.
Or it could be as simple as using the item in a different manner than it was originally intended. An example would be using a cake stand to display a vignette instead of a dessert. This is key to redecorating on a budget because you can use things in a whole new way that were otherwise sitting unused, saving you money.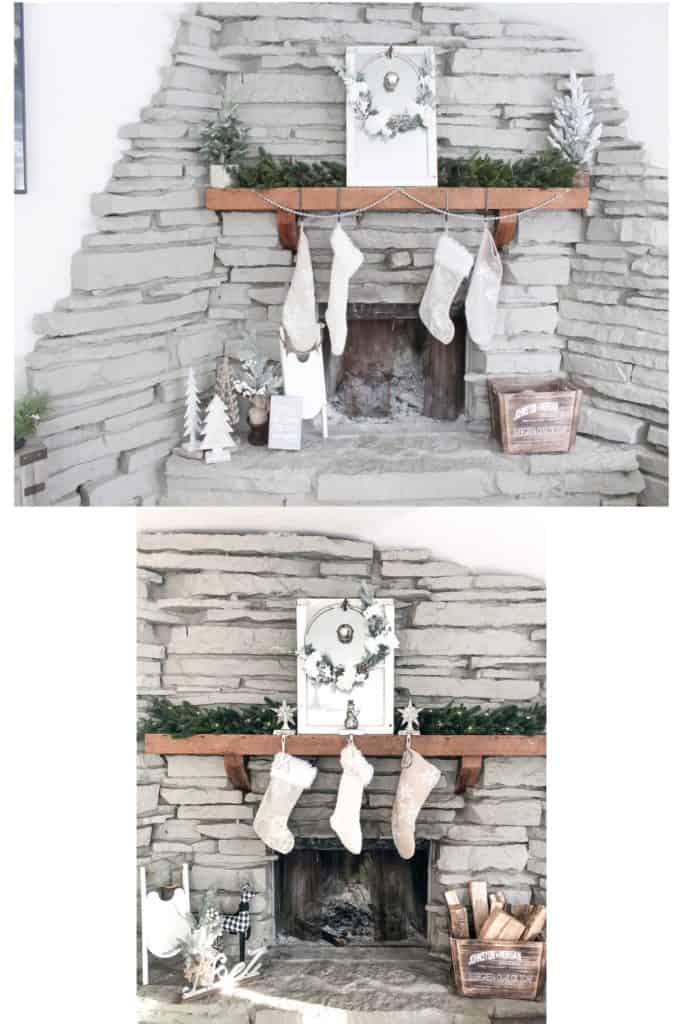 A good example of this is on our fireplace. One of my favorite spots to decorate. I have that antique window which I repurposed and made into a mirror (see that super old post here.) I keep this up year round as well as that big wood box which typically holds our wood for the fireplace. Everything else I change out for the seasons. 
Let's start out with winter. I reused the same wreath and gold bell on the window, pine garland and lights, stockings, burlap wrapped pine tree, and that little white sled (which was a thrift store item I painted white, check out how it looked before here). 
I pulled the two pine trees on the mantel and that little wood riser under the pine tree from other areas. I packed up the Noel sign and the reindeer for storage and donated my old stocking holders. 
The new items are the stocking holders which are from Amazon, the grey wood bead garland which was a few dollars from Walmart, the grey cement sign which was also from Walmart and was under $10, I believe, the 3 wooden trees which were all 50% off from Hobby Lobby, and one new stocking from Target.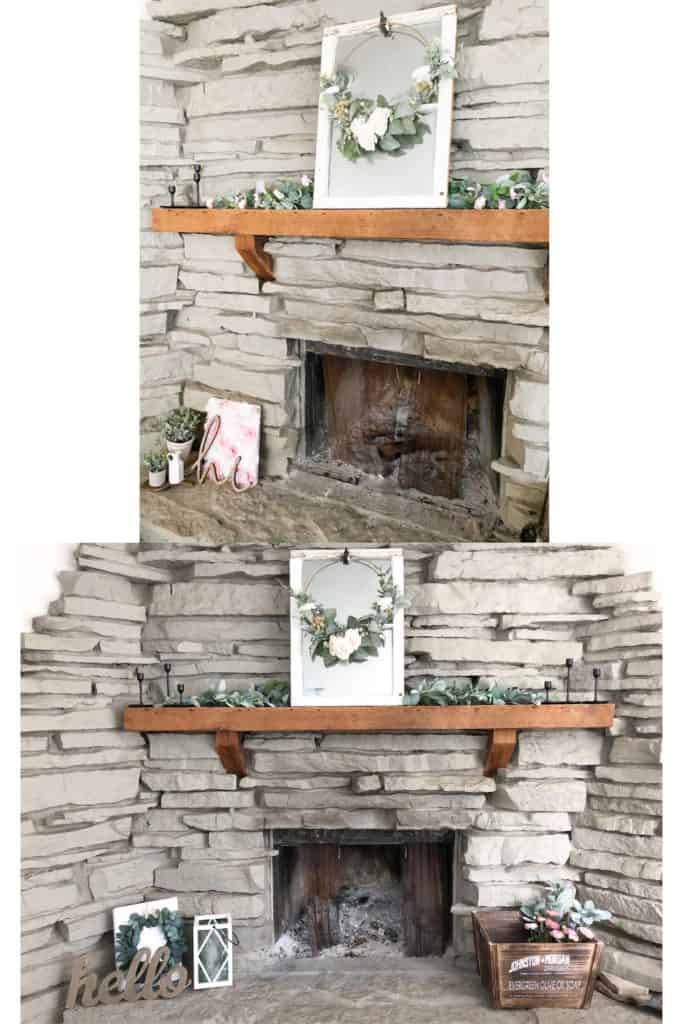 For my spring décor I reused the same wreath, garland, and candlestick holders. I added some flowers which I already had,  to add some color to the mantle. I hung that shiplap and wreath sign on my gallery wall, which was one of those sign repurpose projects I mentioned earlier. The lantern I put back in storage for now and the hello sign I moved elsewhere.. 
You can see that "hi" sign I moved to here as well as those potted plants which were in other areas of the house. The new items are that little wooden spoon which was from that antique mall I mentioned earlier, that small white pitcher which was thrifted, and that flower display which I made from another old sign (you can see that diy here.)
Ok, I feel like you probably have a pretty good idea at this point. I don't want to keep rambling on so I'm just going to share a few more before and after photos of  a couple other small areas I have redecorated. I won't go into detail with what's from where since I think you get the point. But I wanted to give you a little more inspiration on how you can easily redecorate little nooks and areas of your home. Again, the top photos are the more recent photos.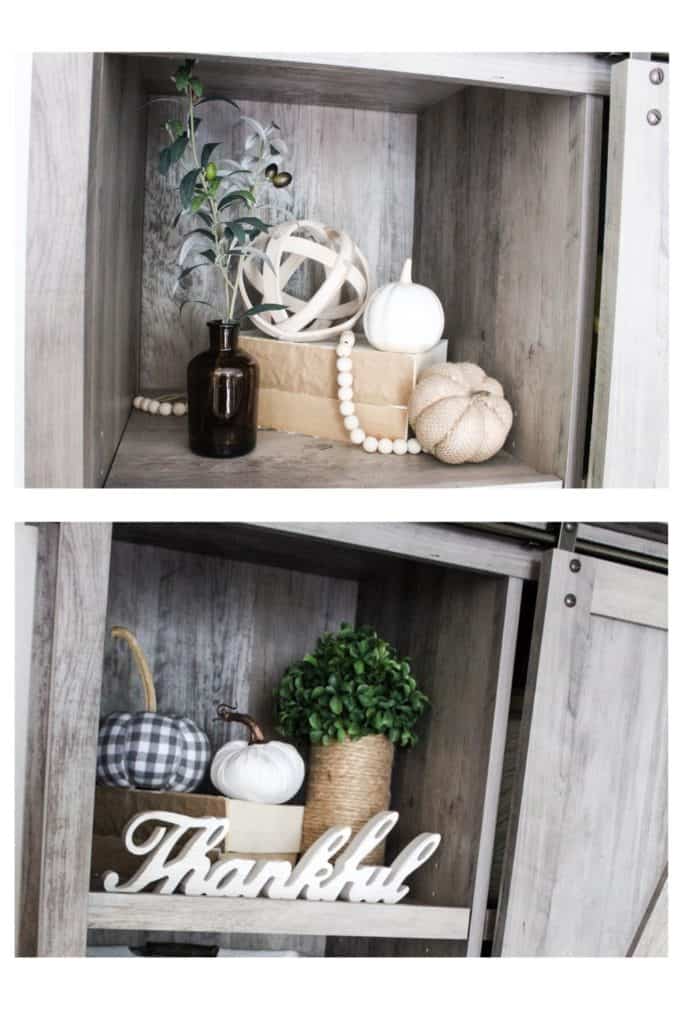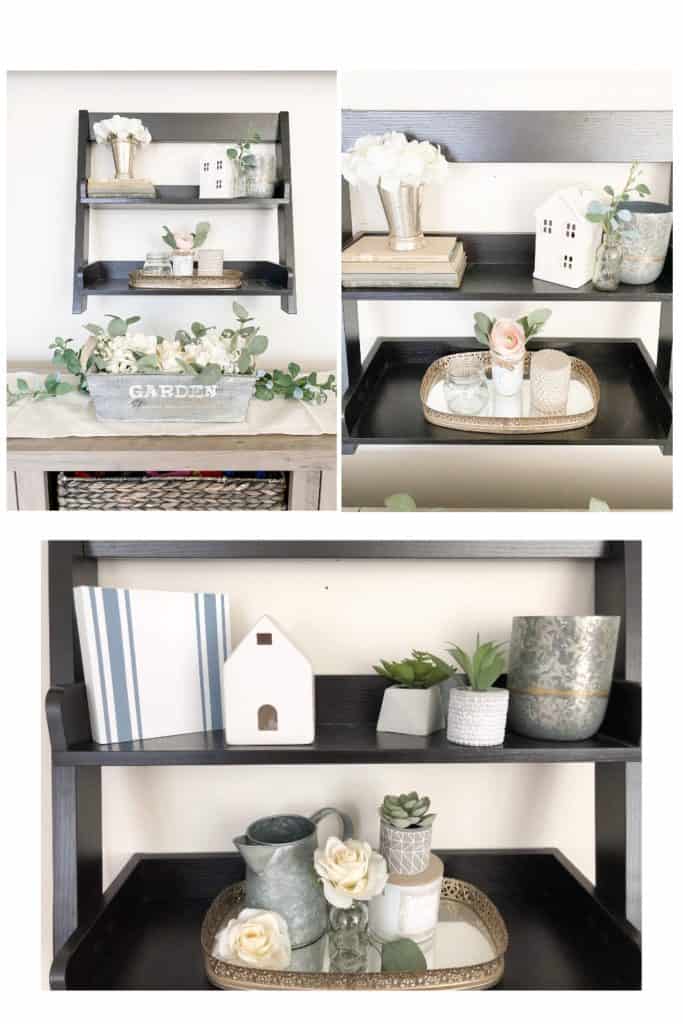 So what do you think? Pretty easy to redecorate on a budget when you shop deals, thrift, repurpose, and move around items you already own. Right? How often do you redecorate? Do you switch everything out each season or just your seasonal décor? Maybe you don't do any seasonal décor except your winter holiday stuff? I'd love to hear your process, let me know down in the comments or on social media and I will see you next time. ☺ 
Shop Some Great Budget Friendly Home Decor Pieces