How to Wear Lingerie As Outerwear | A Spring 2020 Trend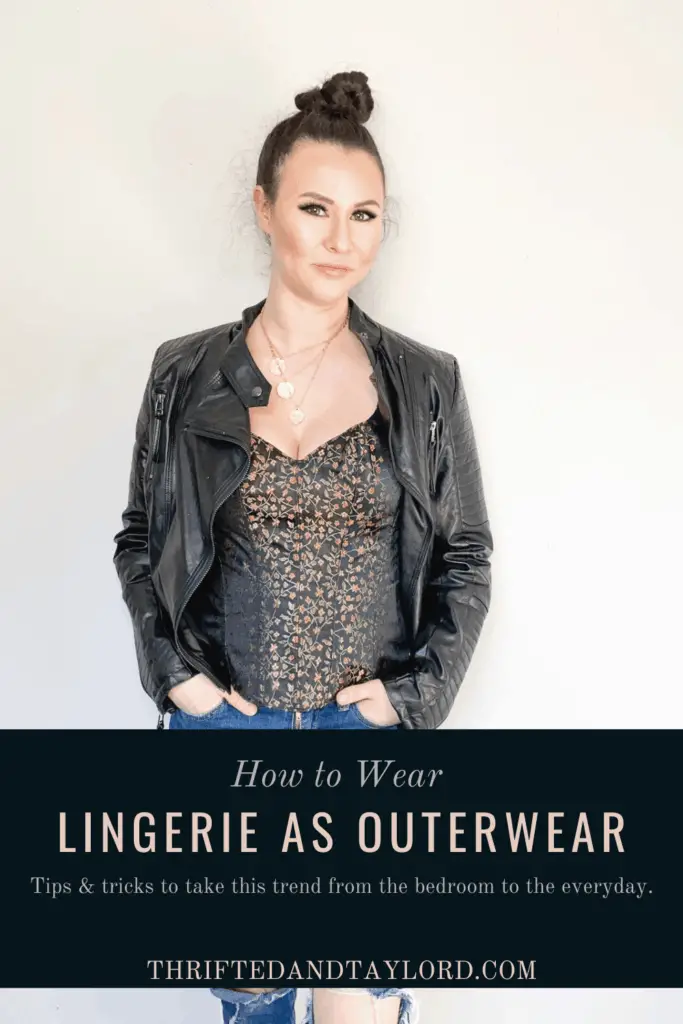 Lingerie as outerwear has once again graced many of the runways for this season. I for one, am here for it. I am already a regular in the lingerie aisles of the thrift store. It might sound gross. It might sound risqué. But I assure you, when done right it is neither of those things.
I mean, you can totally take it there if you are down for some serious sex appeal, hello date night! But there are definitely ways to do this trend tastefully and a little more daytime appropriate. 
I noticed this season there were a lot of corset or bustier types of tops on the runway in addition to the slip dresses we've been seeing. I totally want to try to find a cool corset or bustier to add to my wardrobe. I love finding pretty camisoles as well. Those are so great to toss on and instantly make your outfit look pretty or sexy. 
Another thing I saw a lot of, which I personally don't have the guts to wear, is bras as tops. That was a huge trend on the runways, but it takes some serious balls (for lack of a better term lol) and confidence to rock this one. I am not that kind of person, I can fully admit it. 
I went ahead and put together 3 (well technically 5, you'll see what I mean) outfits to give you some ideas how you can rock lingerie as outerwear without batting an eye. As I mentioned, the thrift store is a great place to find some lingerie to try out this trend or if you already own some, even better! 
When purchasing lingerie from the thrift store I love finding brand new with tags but that's not always an option so I steer away from anything that looks like it's in rough shape or has mystery stains. (Gross.) But things that look barely used, especially if it's just a top, I will grab.
I wash all my thrifted clothing with this laundry sanitizer or have it dry cleaned if need be, so that gets rid of anything that might be lingering on there. I also steam them which is a great way to kill off anything that might be on there.
So let's check out these looks to give you some ideas on how to wear this spring trend!
Lingerie As Outwear | A Slip Dress
This post contains affiliate links for which I earn a small commission at no extra cost to you, should you purchase through them. Learn More.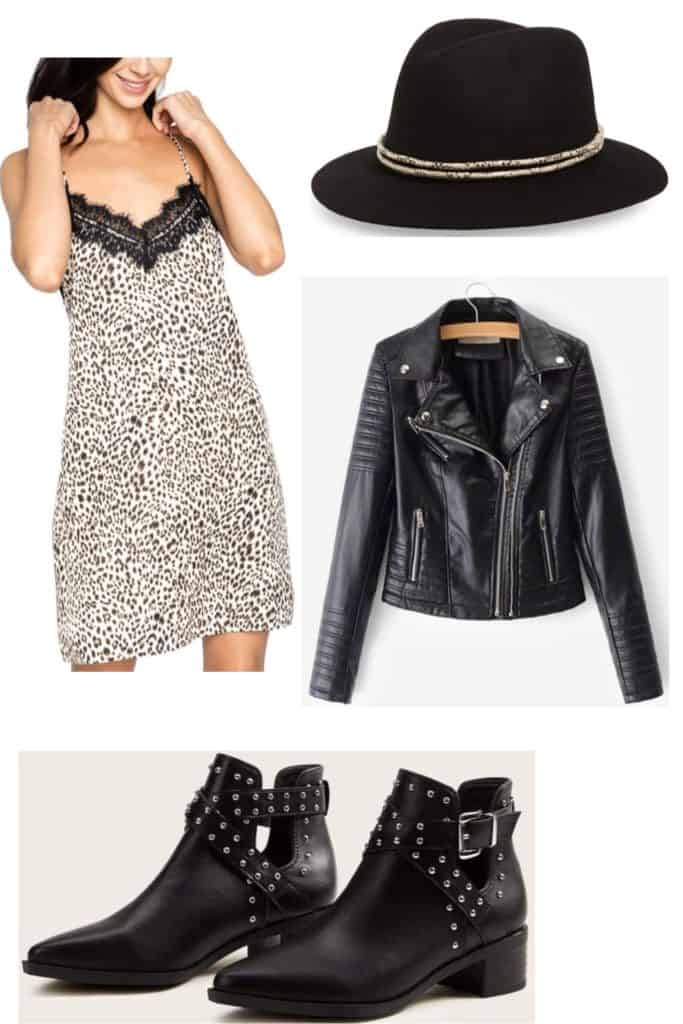 Slip dresses are a super easy way to try out this trend. I actually have a leopard slip dress which I thrifted that is pretty similar to this one and this is exactly how I love to wear mine. Pair your slip dress with a leather jacket, some edgy boots, and a cool hat to get this look. I would toss on a coin necklace like this one to finish off the look.
Lingerie As Outwear | A Corset or Bustier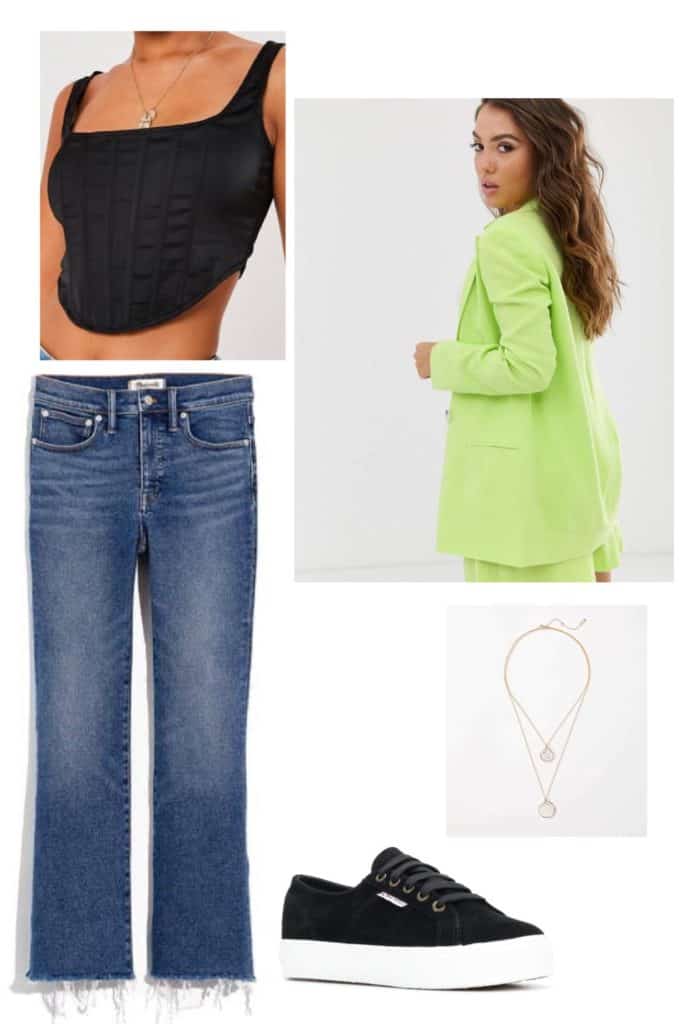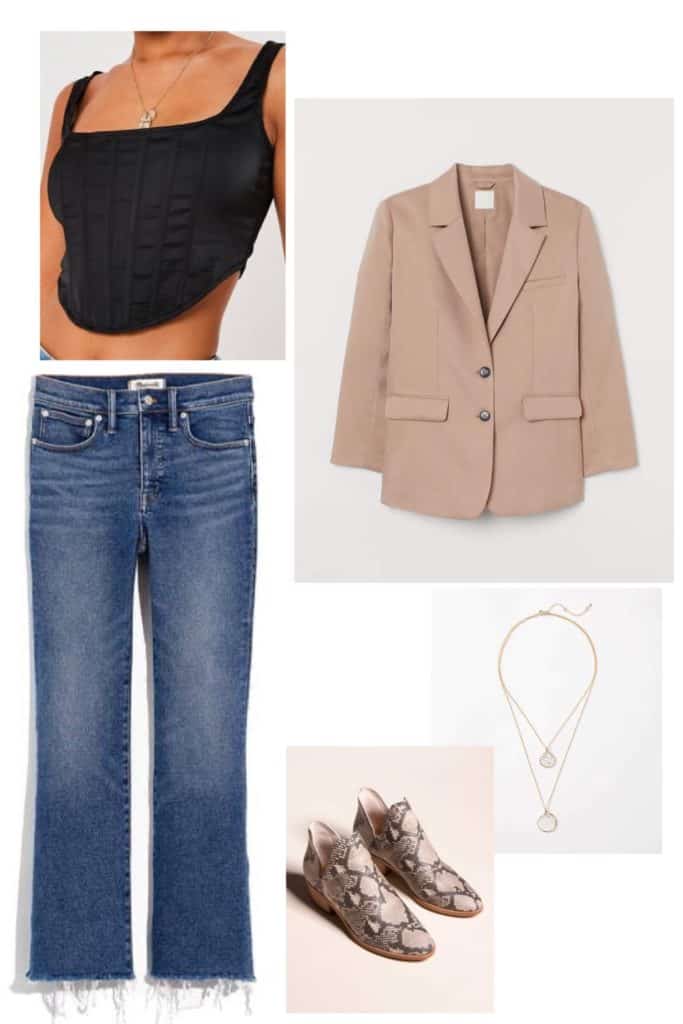 So now you kind of get why I said 5 outfits instead of 3, these 2 outfits are using many of the same pieces but are totally different vibes. Both of which I really like and couldn't pick between. Hence, 2 looks.
Corsets and bustiers are great for wearing lingerie as outerwear because they wear just like a top. They can be dressed down like this first look or a little bit more classy like the second one.
This corset top acts as a great basic which can be spruced up by adding a lime green blazer (another big trend for spring.) I would pair it with some cool raw hem jeans, these ones have a super subtle flare at the bottom which I love.
Then to accessorize you can toss on a pretty layered necklace (these kinds of necklaces are almost all I wear these days.) And I am a sneakers kind of gal so I love these black ones with this look to give it a cool and casual vibe.
For something a little more classic or dressed up try switching the blazer out for more of a neutral color and trade the sneakers for some snake skin boots.
Lingerie as Outerwear | A Camisole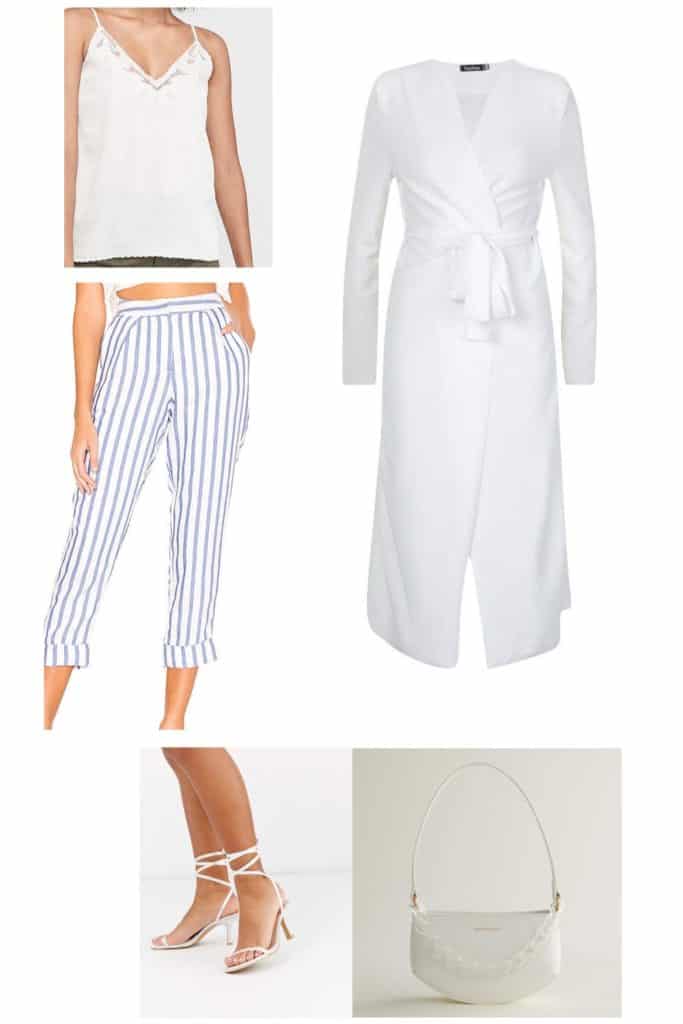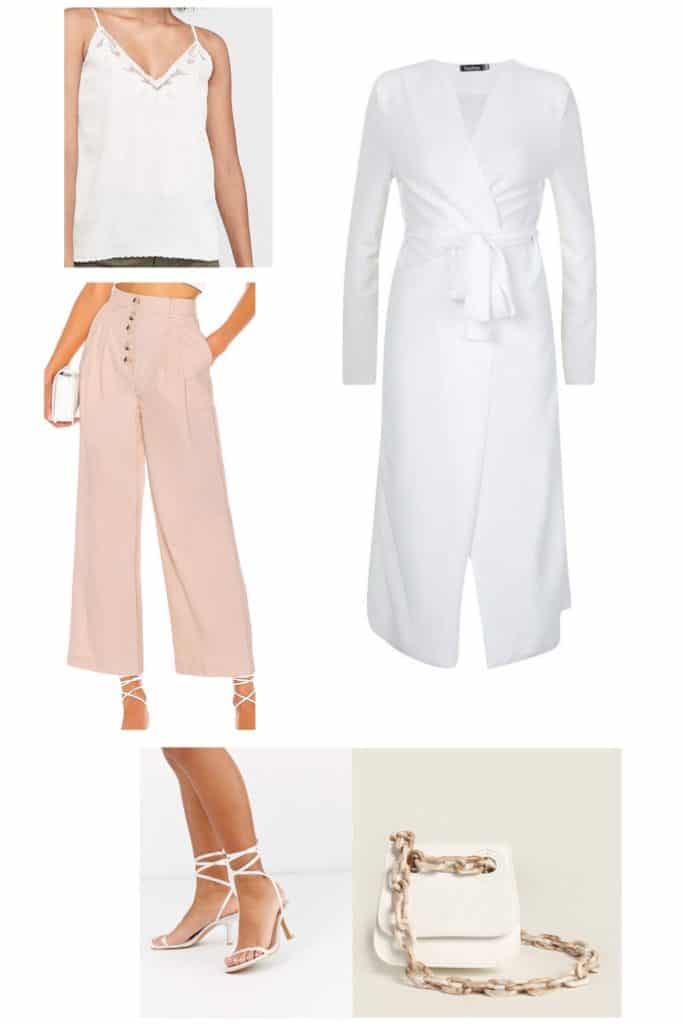 Camisoles are probably the easiest way to wear lingerie as outerwear. Silky, lacy, these tops are so gorgeous and they have become much more than just sleep wear. You can already find these kinds of shirts sold in most any store as regular tops but they did originate as lingerie and you can 100% find a wide selection of these in the lingerie section of the thrift store.
Much like before, I really loved both of these options for this last look so I had to share them both. They both have super similar vibes but I think the second one could be slightly less casual than the first.
I love the delicate lace trim on this top, I would tuck it in to both the blue and white stripe pants and the blush pants. You could toss on this white duster jacket if it is cool outside. I love these strappy heeled sandals with both of these outfits and I think a small white handbag works so well with both of these.
I wanted to switch it up just a bit so I found 2 slightly different bags. The clear chain goes perfectly with the first look and I love how the second bag has just a touch of color which compliments the pants.
So what do you think? Are you ready to rock some lingerie as outerwear?? I hope you got some great inspiration from these looks, let me know which one you would most likely try down below. I will see you next time.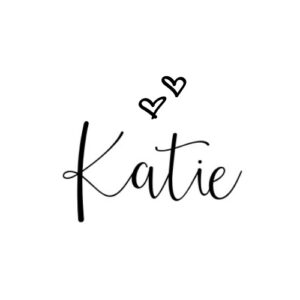 Edited 9/27/20 to add: Check out my thrift haul where I found that amazing corset top in the photo at the very top of this post and this thrift haul where I found and styled 2 beautiful camisole style tops! I have also updated links for items that are no longer available so some links are for similar items.