Perfect Decor To Get That Fixer Upper Mantel
This post contains affiliate links for which I may make a small commission. Learn more.
If there's one area that I love to change up it's my mantel. I've learned a lot along the way (thanks Joanna Gains) as to how to get that less is more feel. I love the clean, crispness mixed with homey, coziness in her decorating style. Truly a modern farmhouse style that feels timeless.
I love how she mixes in vintage finds from antique stores, flea markets, and thrift stores. That is totally up my alley. 
So I rounded up some perfect décor pieces for 2 different versions of that Fixer Upper mantel you've been dreaming about. You can totally find a lot of these in thrift stores, sometimes they might require a little paint or a new print for a frame. 
You can DIY some fun stuff to use on your mantel like I did with my mirrored window or milk jug vases. Also check out this post on some painting thrift store DIY'S, this post on some upcycled thrift store finds, and this post on some Spring themed DIY's to give you an idea of how you can change things you find at the thrift store to make them better fit your decorating style.
I always switch up my mantel each season, see my most recent setup in this post. I also love to incorporate vintage pieces I've found through different thrifting and antique shopping adventures. So my mantel never really looks the exact same from one year to the next since I am always finding new ways to incorporate my finds along the way. 
Anyways, I fell off track for a second there. Dreaming of antique and thrift shopping. Ok, let's check out these perfect Fixer Upper mantel décor pieces!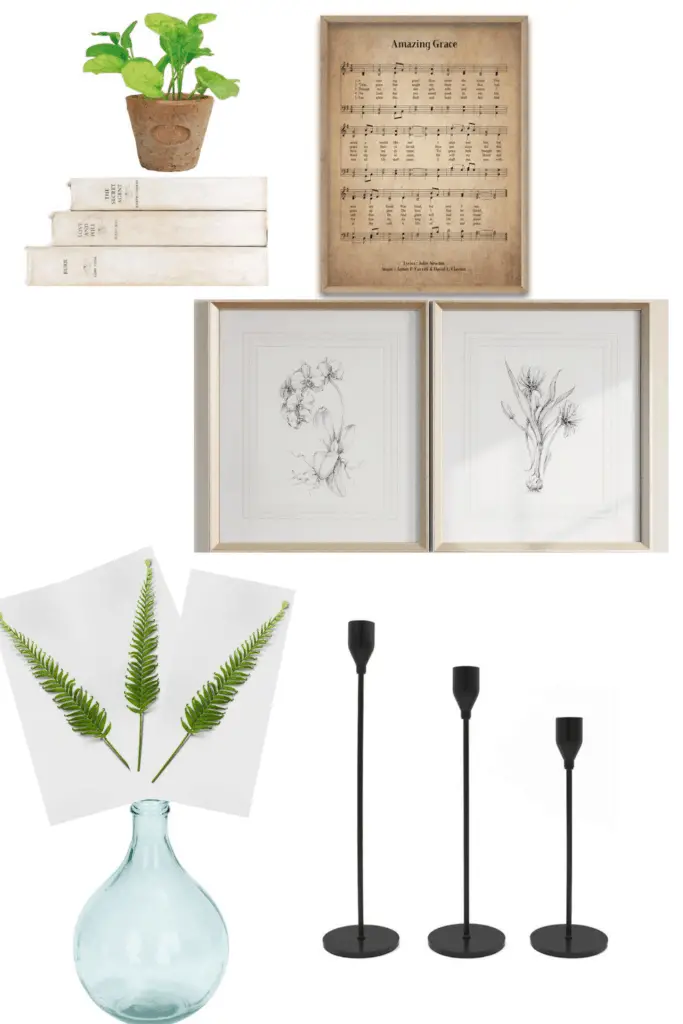 This first setup is a take on the decor in the photo above. Since the center of your mantel is what you want to be your focal point, try some beautiful artwork like one of these botanical prints. I love the idea of stacking frames, so I think it would look great to layer this smaller framed vintage sheet music off to the side of the print, just slightly overlapping.  
Candlestick holders are kind of a no brainer. I love the look of this black metal set, I have actually been on the hunt for some of those, but like true vintage ones.  You could pick up 2 of these sets and either just use 4 of the 6 to emulate the setup above, or use all 6 and do 3 and 3 instead of 2 and 2. 
Something else you will always see on a Fixer Upper mantel is some form of vase with flowers or greenery. I love these large bottle vases, anything super vintage would fit perfectly. You could pop a few of these faux fern stems (or real stems too!) 
I am all about finding old books to use within my decorating. I tend to go for neutral colors. Sometimes I'll pick up some super cheap books from the thrift store and remove the cover.
Using stacks of books, as she did, is a great way to add some height. You can stick a potted plant on top for another pop of green. I just love the texture on that aged terracotta pot.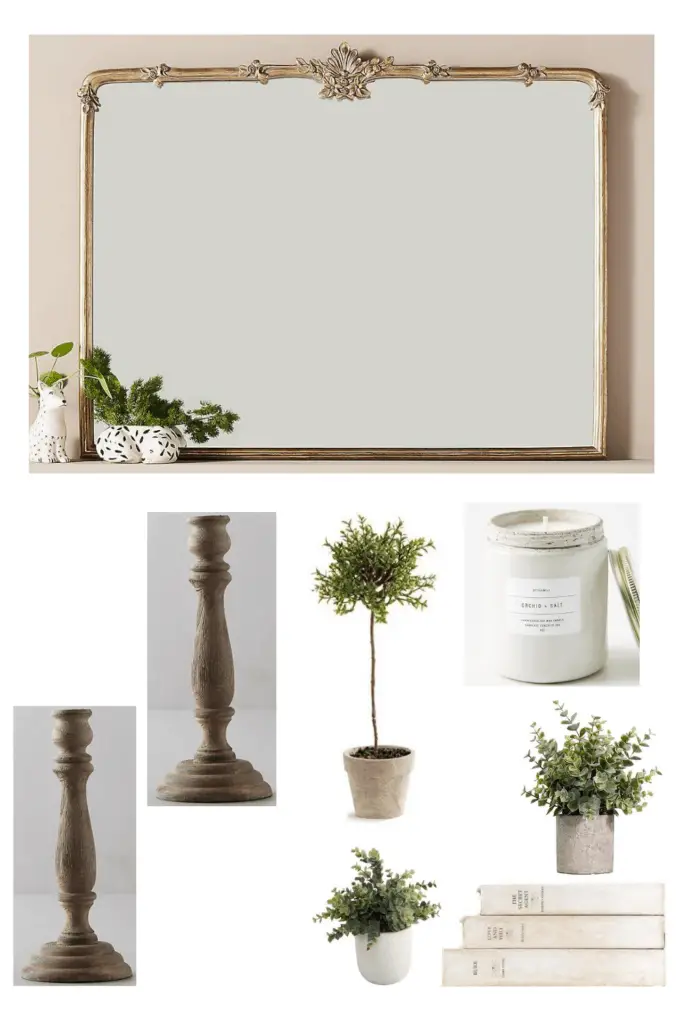 Moving on to this second Fixer Upper mantel setup. I have to start with this mirror. It is from Anthropologie and I just love it so much. It is a pretty penny,  but pieces like this are well worth the investment in my opinion. It is such a statement piece. They have several different styles and sizes in these mirrors to choose from which is nice.
Keeping things a little softer and more feminine, I added these wood candle holders. I like the lighter wood tone with this setup. Next to them, I would do a stack of old books with a plant on top and then another one sitting on the mantel. 
On the other side I would keep it simple and do something like this topiary style potted plant and a white jar candle. 
And there you have it. 2 great examples of how you can get that Fixer Upper mantel of your dreams. And don't forget to check out thrift stores, flea markets, antique malls and shops, or anywhere else you might find some old treasures. Channel your own inner Joanna. 
I have also adopted her idea of incorporating things that have some special meaning or memory attached. To celebrate our anniversary and my birthday, my husband and I went away for the weekend. And one of his surprises for me was to take me antique shopping at a few vintage markets. It was amazing. What a guy, right?! 
I picked up quite a few amazing pieces like an old ladder, some vintage books, a few old glass medicine bottles, this really cool old pencil sharpener which was still in its original box, and a few other things. So now when I see them around the house, I am reminded of that fun weekend away. 
So adding unique vintage finds to your mantel is another great way to get that Fixer Upper feel. As I mentioned, old books are a great thing to pick up. I actually saw some old sheet music books while we were shopping but I didn't pick any up and man do I regret it! Don't pass up on the finds people! I would have loved to frame one of those. Next time. There's always hope for next time. 
There are plenty of other super cute things you could add to your Fixer Upper mantel, these are just a few of  my current favorites. Be sure to let me know what you love to use to decorate your mantel in the comments below! See you next time.