Spring Home Tour | Neutral Vintage Inspired and Thrifted Home Décor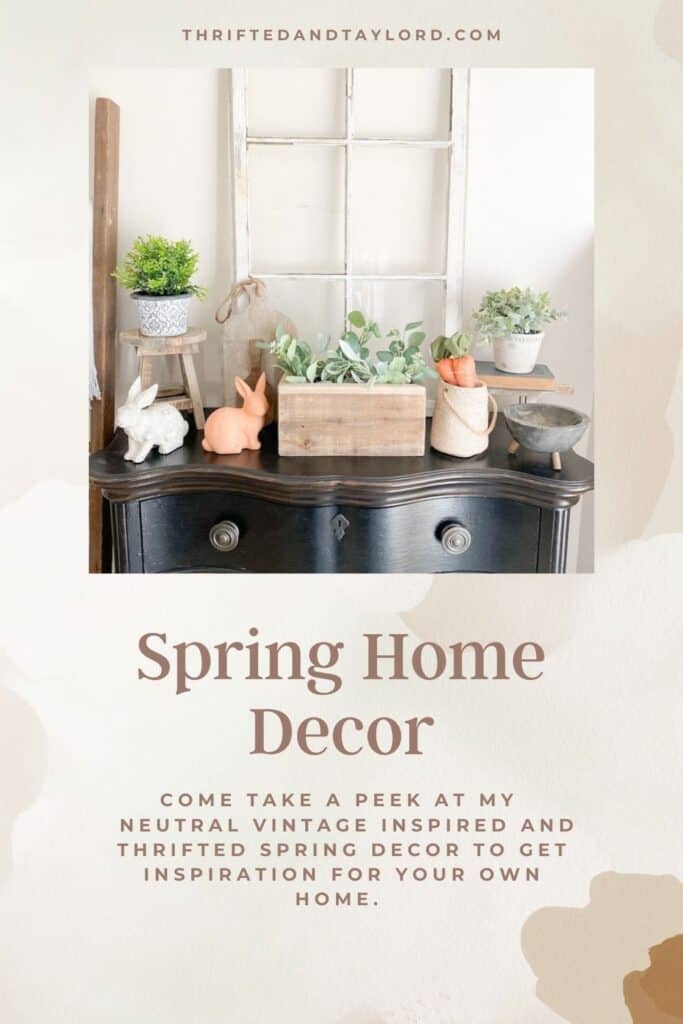 Hey Guys!
Spring has arrived and I am so ready for warmer weather and all the flowers and greenery to come back to life. What better a way to welcome spring here on the blog than with a spring home tour? I found some great antiques and vintage inspired pieces and of course some thrifted home décor mixed with other spring touches that I'm excited to share with you.
I hope to inspire you to learn how to bring spring into your home with the perfect mix of neutrals, small touches of color, and lots of great texture. If you are new here, feel free check out this post on how to determine your decorating style to get a feel for my decorating style and to learn a thing or two about figuring out your own, if you aren't quite sure.
It is no secret around here that I love thrifting home décor. There are some really unique things in thrift stores and you can't beat the prices. Antique shops and malls are another of my favorite places to go for home décor. 
I have been on a few thrifting trips recently and also have visited a couple great small shops which sell a variety of antique items and vintage inspired home décor that are full of items that fit so well with my decorating style. Let me tell you, the struggle is real when it comes to sticking to a budget in these stores. I want it all. 
But I managed to practice restraint and only picked up a few of my top favorites, one of which I have been hunting for for a long while so stay tuned for that. 
Most of my other décor is a mixture of Hobby Lobby, Target, and HomeGoods. I will provide links to anything that is still available as well as similar items in case you'd like to pick anything up for your own home. 
Let's start this spring home tour!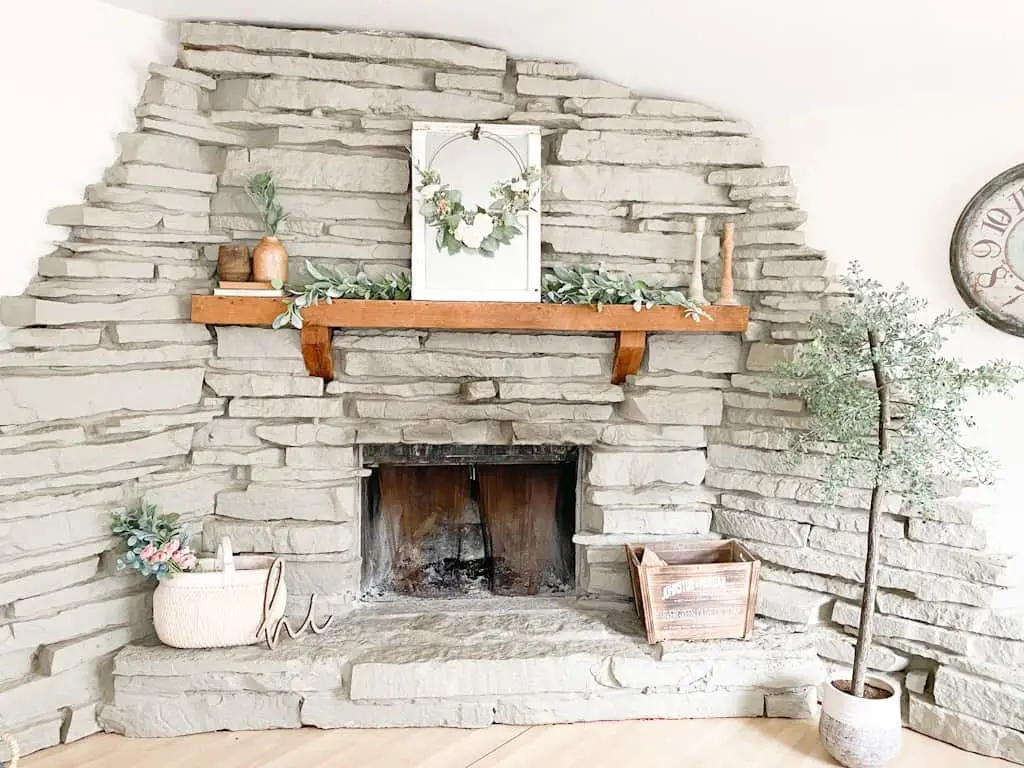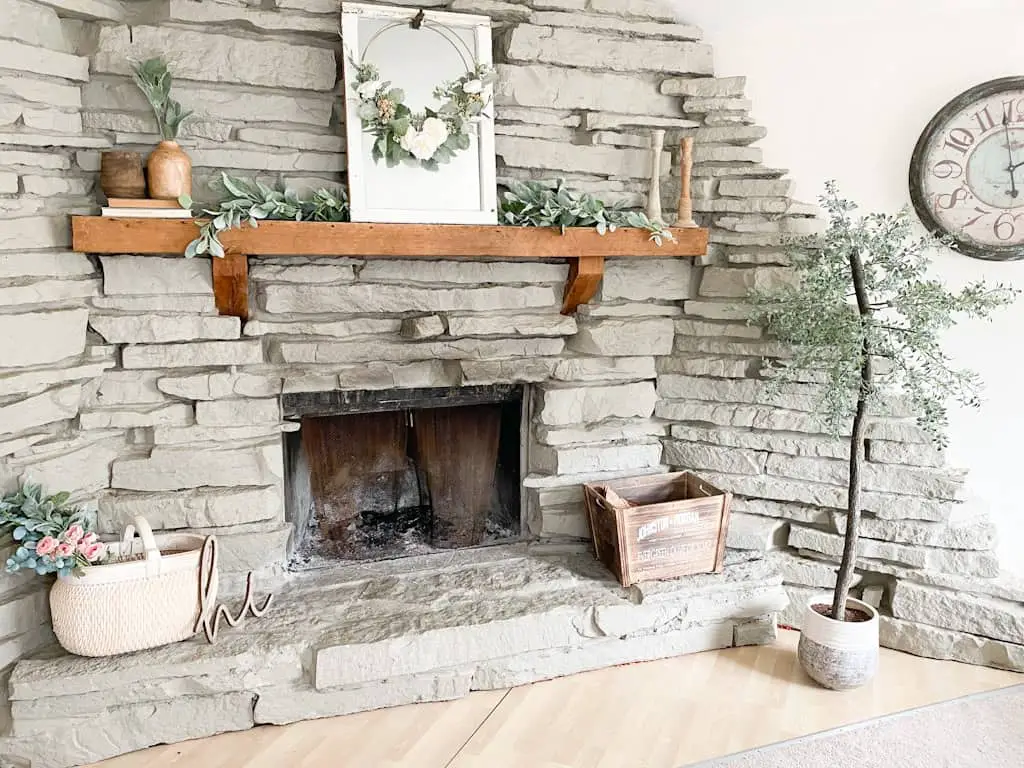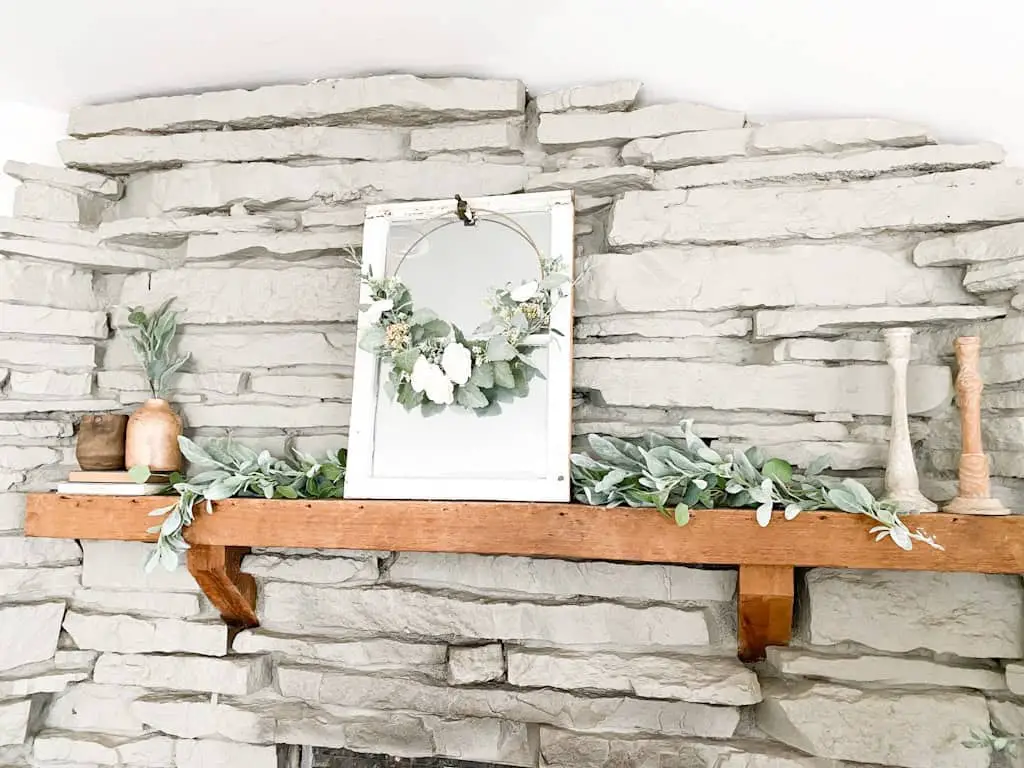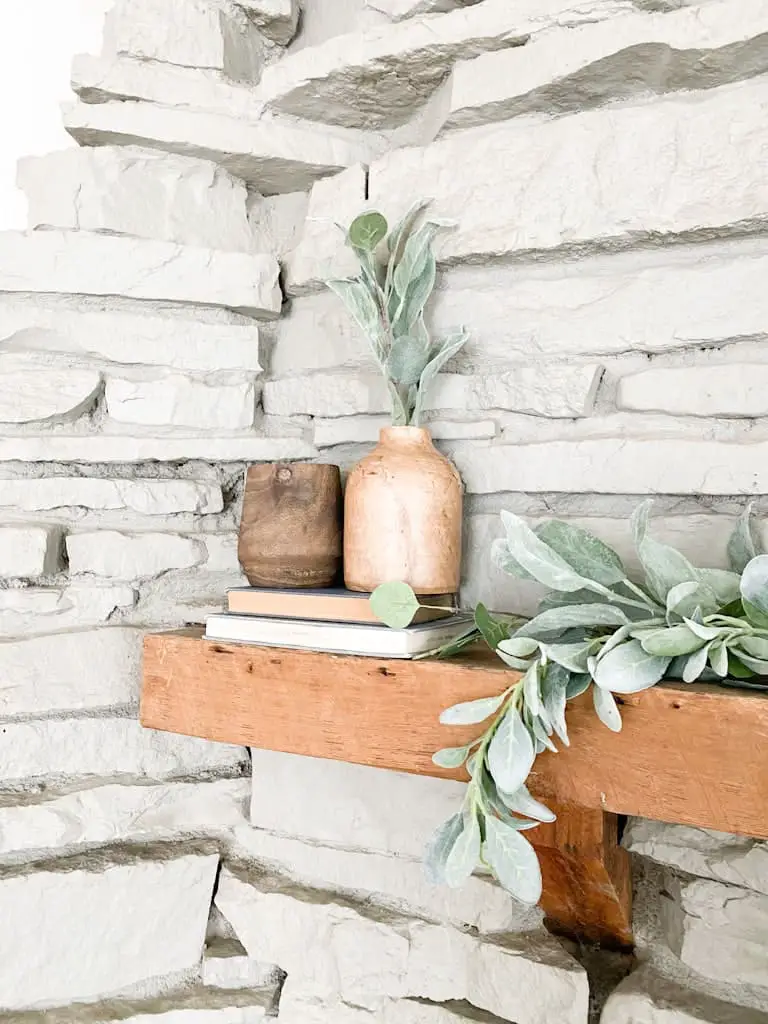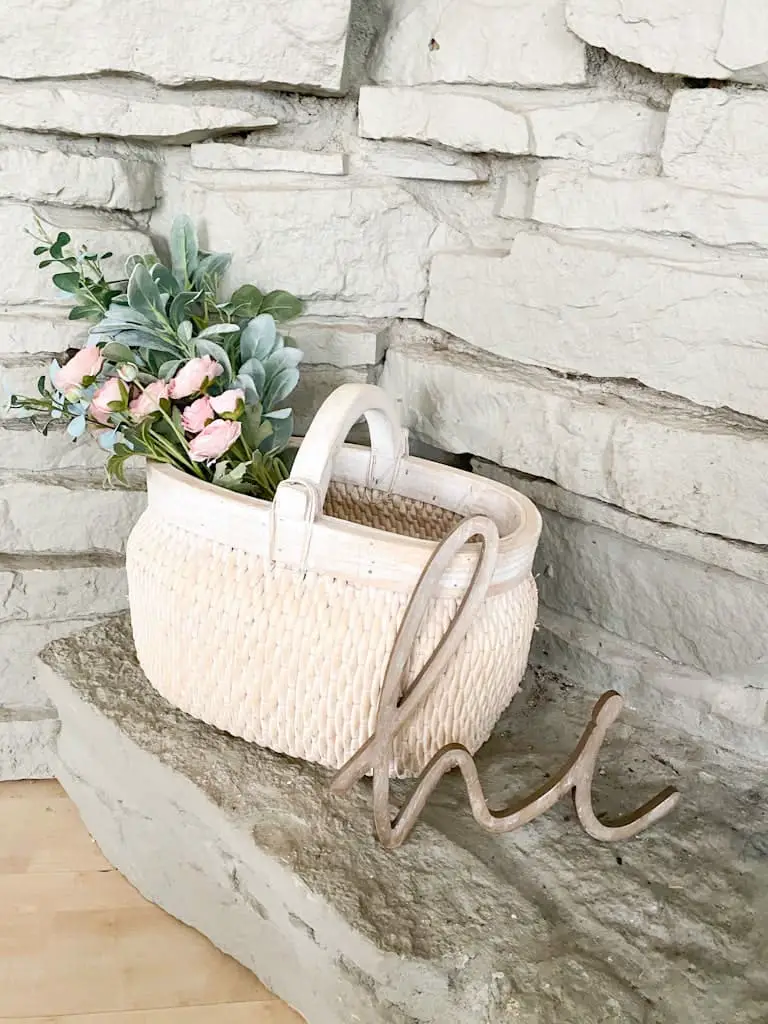 This post contains affiliate links for which I earn a small commission if you purchase through them, at no extra cost to you. Learn more.
There is something about decorating mantels for spring that I just love. I wanted to keep things a little more simple this year so I used a mixture of eucalyptus and lambs ear for a garland and this spring floral hoop wreath (which I reused from last year) hanging from this old window I thrifted and then made into a mirror. 
On the right side of the mantel I just did a couple different wooden candlestick holders that have that vintage feel but are actually both from Hobby Lobby a couple years ago. The lighter one is still available here.
For the left side I stacked some old books from an antique mall and on top I put these 2 wood vases. The darker vase is also from Hobby Lobby but unfortunately is no longer available and the other vase is from one of those small shops I mentioned. 
On the ledge of the fireplace is a wood box we usually use for firewood and that giant basket on the other side was a recent thrift find that I love. I popped a small mixed bouquet of flowers and greenery inside the basket for a little pop of color. And leaning up against the basket is this wooden "hi" sign still available at Hobby Lobby here. Off to the side is my latest DIY project which I am obsessed with how it turned out. My artificial tree I made that I think totally looks real. You can check out that link to last week's post to see how I made it.
SHOP SIMILAR ITEMS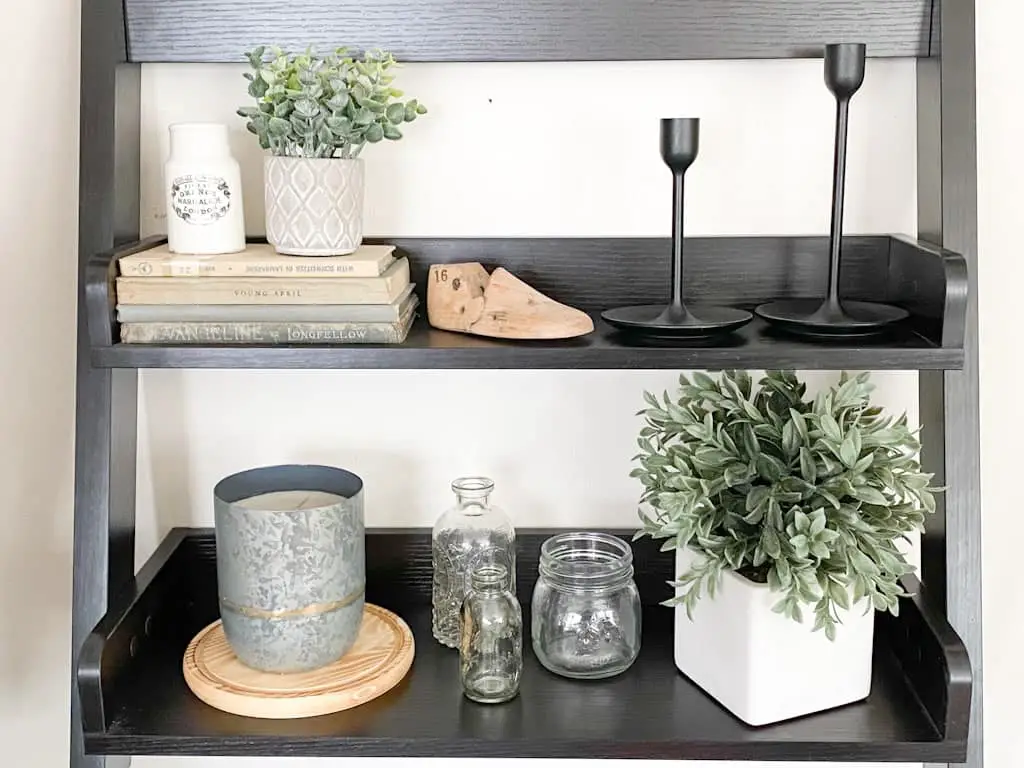 Also in our family room, is this little two-tiered shelf which I decided to keep fairly neutral other than some color from the green plants and wood items. 
The top shelf holds the item I mentioned earlier that I have been hunting for and it is that little antique English advertising pot. The one I got is an old orange marmalade pot. It reminds me of my dad because he absolutely loves orange marmalade. I love finding pieces that give me that warm fuzzy feeling that memories can bring.
 I have also been looking for a large antique stoneware crock and deeply regret passing up a couple of them I found 2 years ago on an anniversary trip with my husband. You can find them online but they're usually pretty expensive, so I'm holding out with the hope of finding another one at an antique store or mall where they're usually much more reasonably priced. 
The other antique item on this shelf is that adorable antique wooden shoe form that is just so sweet. The stack of books are also vintage, from another antique shop. The candlestick holders are part of this set from IKEA and the little plant is from HomeGoods.
The bottom shelf houses a candle which was actually a gift from a friend. I put it on top of this wood disc which actually is the bottom of a glass cloche I just repurposed. This little collection of glass jars are a mix of antique and thrifted finds. And then another plant, I believe from Target. 
SHOP SIMILAR ITEMS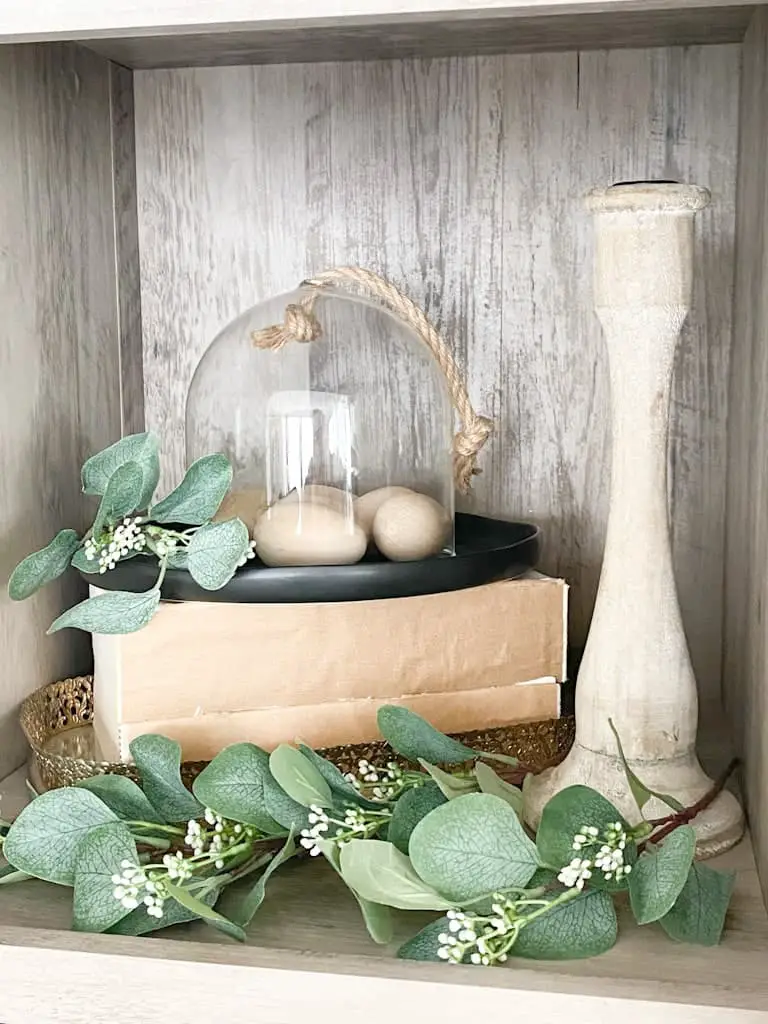 Last area of the family room I am sharing today is this little nook which is the top shelf of a bookshelf that is mainly used to house my son's toys. I wanted at least one space to be able to decorate on this shelf! 
So here you can see the glass cloche I mentioned which has some little wooden eggs inside and I sat it on top of a black ceramic plate. These are on top of a set of thrifted books from which I removed the covers and then a mirrored tray which was also a thrift find from several years ago. I added another wood candle holder that is just the smaller size of the one on the mantel from Hobby Lobby and then I just spread some seeded eucalyptus around.
SHOP SIMILAR ITEMS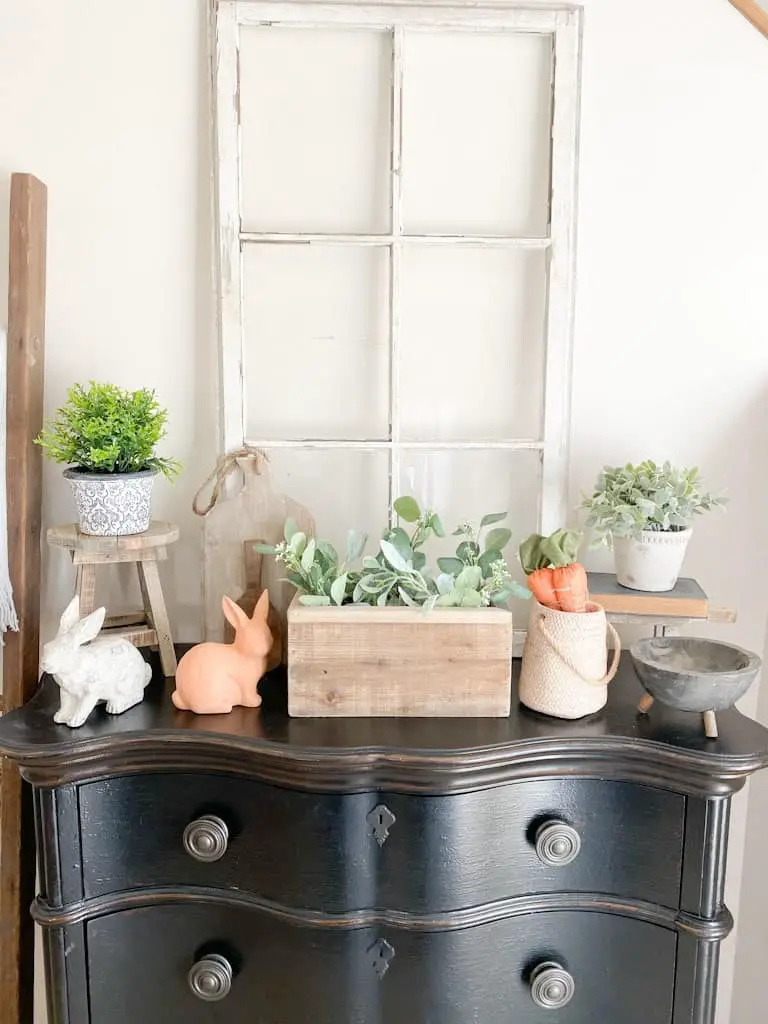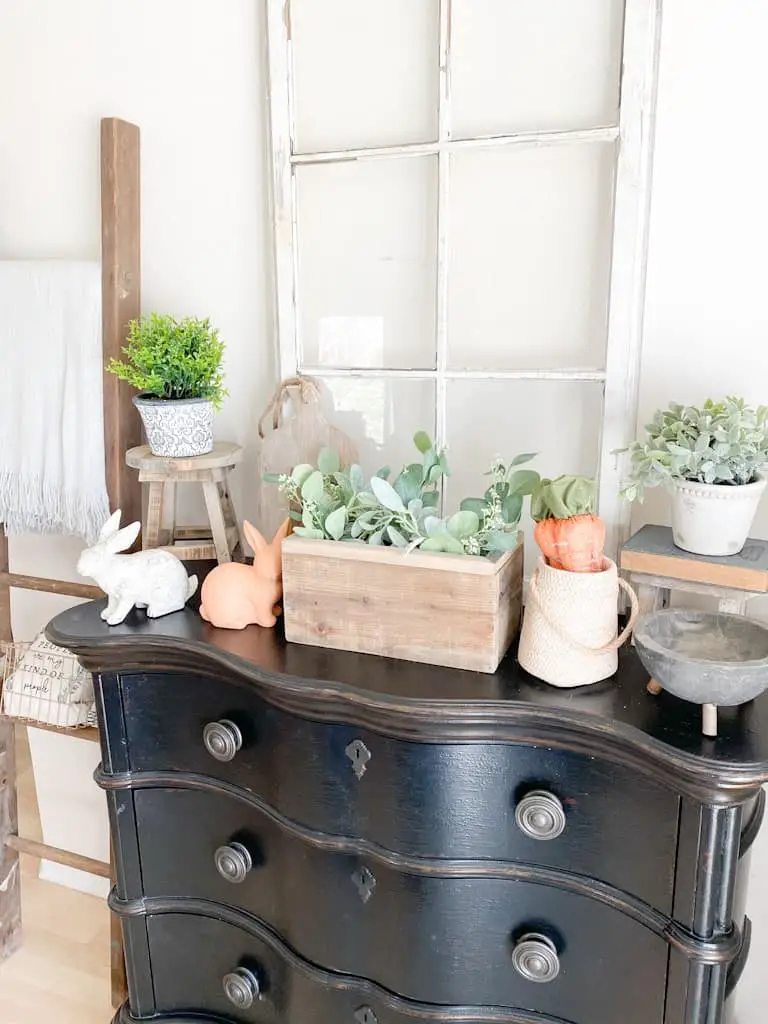 Moving on to our entryway/front room. It's so hard to describe this space haha. It's the room you walk into when you enter our home which acts as an entryway as well as a little play space for my son. Anyways, the main area I decorate in here is this antique looking dresser which I use as a table.
Next to it I have this old ladder from an antique mall that has so much character. I just have a throw blanket on there and then a little wire bin with an adorable pillow inside that says "kind people are my kind of people." 
On the table you see I have these 2 just adorable little bunnies. The white one is a carved wood bunny from one of the small shops I mentioned, the other is a terra cotta bunny which is from Target a couple years ago. 
Behind the bunnies is a little plant on top of this cute little antique looking stool which I actually found at Hobby Lobby and is still available here. I love the texture of this pot. I think it adds so much character to this vignette. 
Next to that is a vintage inspired cutting board which I got at Hobby Lobby a couple years ago as well and it is still available here. In front of that is this antique wooden spoon I found on that same anniversary trip I mentioned earlier. 
In the center you see this amazing wood box which sadly is no longer available at Hobby Lobby, they do have some similar ones you can check out though. Inside I just put a mixture of lambs ear and seeded eucalyptus. This sits in front of my large antique window I got from a garage sale a few years ago. 
And on the other size of the box is this really cool woven pot that is actually cement which I found at Hobby Lobby and is still available here. Inside is a little set of fabric carrots which I believe I found at Target a few years ago. Next to that is this amazing wooden bowl that 100% looks old but I surprisingly found at Hobby Lobby. Unfortunately it is currently out of stock online (here is the link in case it comes back ) but it may still be available in stores. 
Behind these items is this little mini stool plant holder which is also no longer available, unfortunately. On top of it is another antique book I found and then this potted plant that just has the best worn texture to it. I believe this was a HomeGoods find. 
SHOP SIMILAR ITEMS
I hope you enjoyed this little spring home tour full of some great antique finds and thrifted home décor pieces. These probably are my favorite finds to date! I love bringing spring into my home, it is a constant reminder of the beautiful weather to come and it makes me smile.
What area is your favorite? Let's chat below or you can also find me on social media by clicking the buttons below and I will see you next time.