Neutral Christmas Decorations That Aren't Lacking Color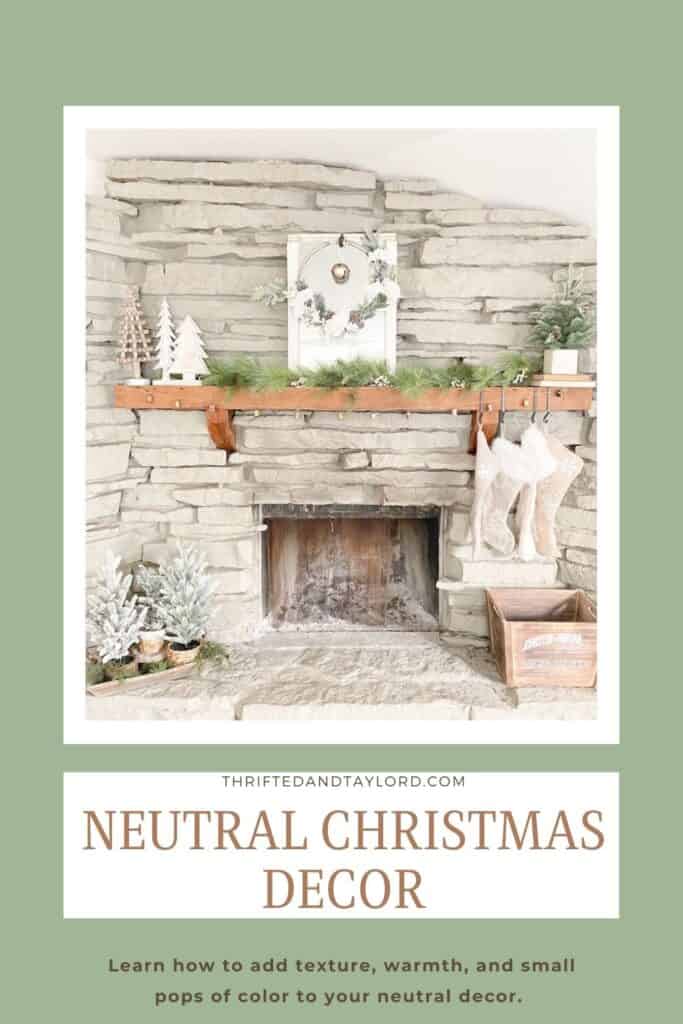 It's beginning to look a lot like Christmas… Oh man am I in the holiday spirit! I am so ready to welcome the holidays with wide open arms. Confession, I've had my Christmas decor up for like 2 weeks already but I know I'm not the only one. So today I'm sharing my neutral Christmas decorations with you.
If you've been here before, you probably already know that I'm all for muted and neutral Christmas décor (click to check out last year's décor.) I have come to realize I enjoy adding texture, warmth, and small pops of color to my neutral décor using wood pieces, greenery (typically various faux pine garlands and mini trees), and materials like ceramic and metals mixed in as well.
I am always hunting for unique, special pieces to add into my Christmas decorations at thrift stores and antique shops. This year has been hard because I'm really avoiding unnecessary trips out to shop so I did pick up a few things from a recent trip to Hobby Lobby, but I still have some things in mind that I just have not yet found!
Nevertheless, I worked with what I did have and switched up my décor to try something new without actually having to buy all new things. Check out this post on how to redecorate on a budget to see my process when redecorating a space in my home.
I also have a fun little Christmas décor DIY project I am working on for next week's post, so stay tuned for that!
And without further ado, let's get into the holiday spirit and check out my Christmas décor this year.
Decorating For Christmas With Neutrals and Muted Colors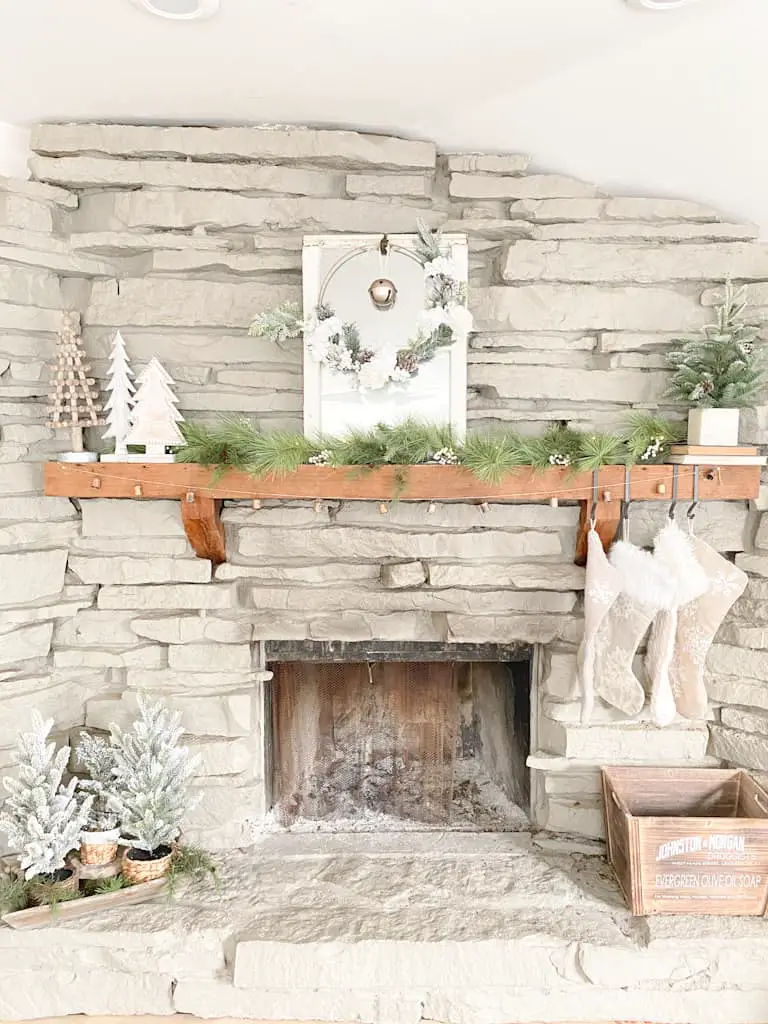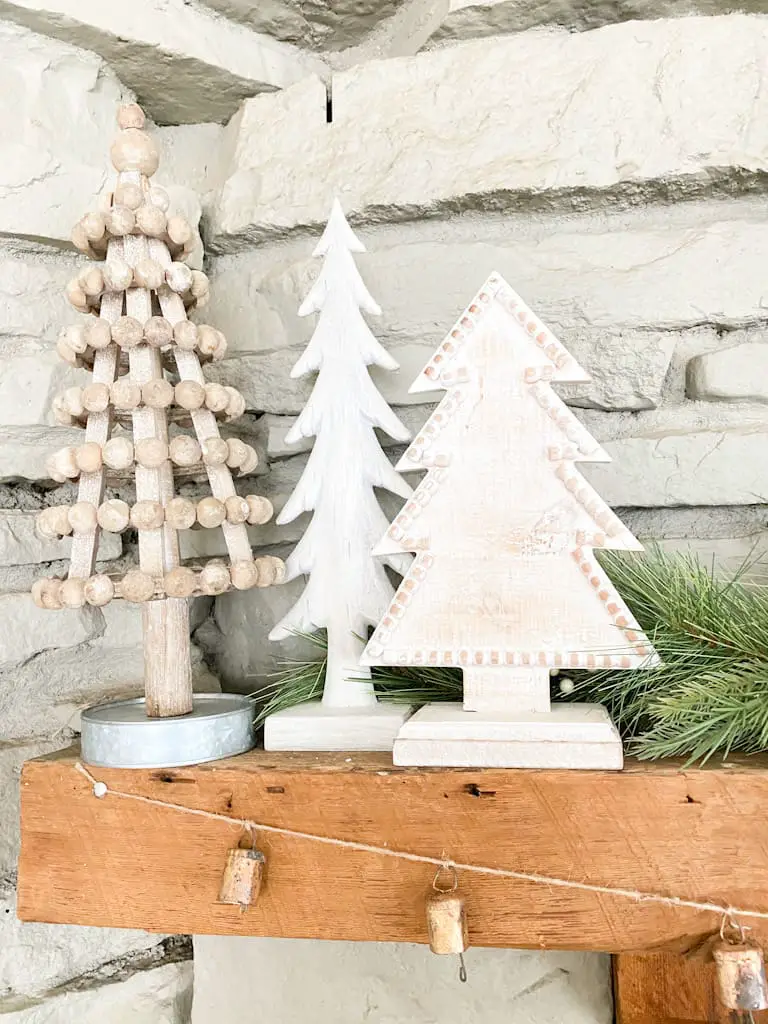 Our first floor has 2 main areas I like to decorate, so I will start there and then add in a few other small spots I like to decorate as well.
Starting off with the mantle and fireplace. Because Christmas mantle décor is like a standard. I have mentioned this many times before, but our fireplace is my favorite part of our home. It is such a statement and just beautiful. 
This year I tried a new garland that had previously been used elsewhere. This one is a little shorter so it made the perfect openings on either side for this collection of wood trees and a little pine tree in a cute wooden box on top of some old books I picked up at an antique mall last year.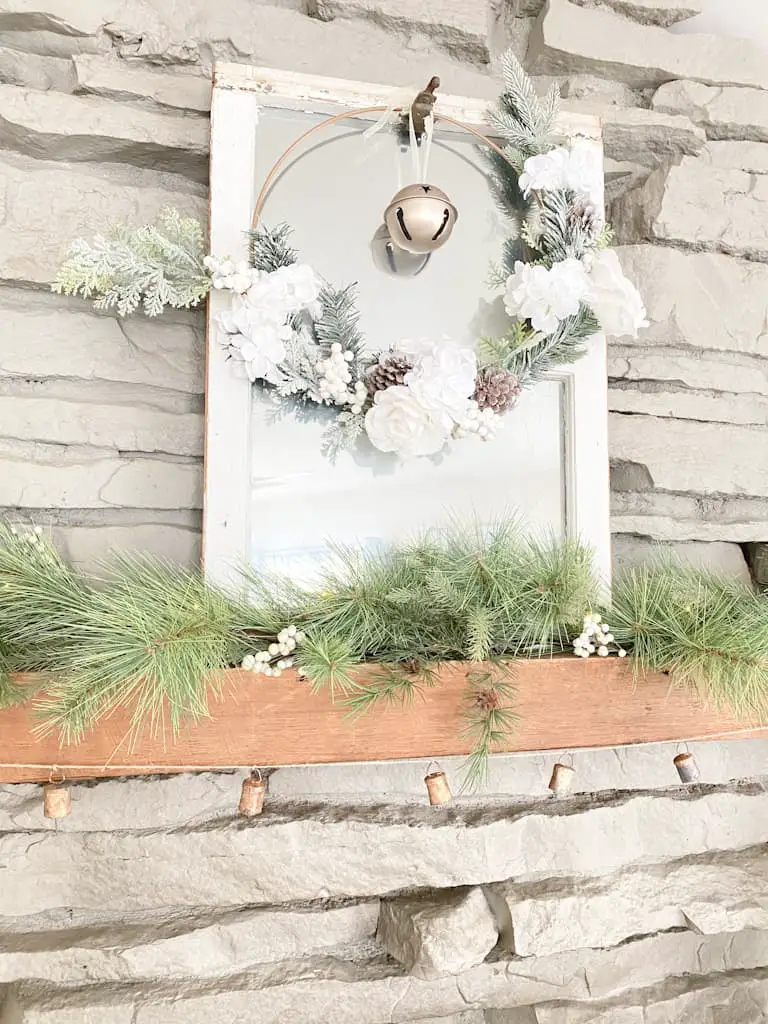 I love this hoop wreath on my antique window turned mirror and the little vintage bell I thrifted. This setup is the same from last year. If it isn't broken, don't fix it, right?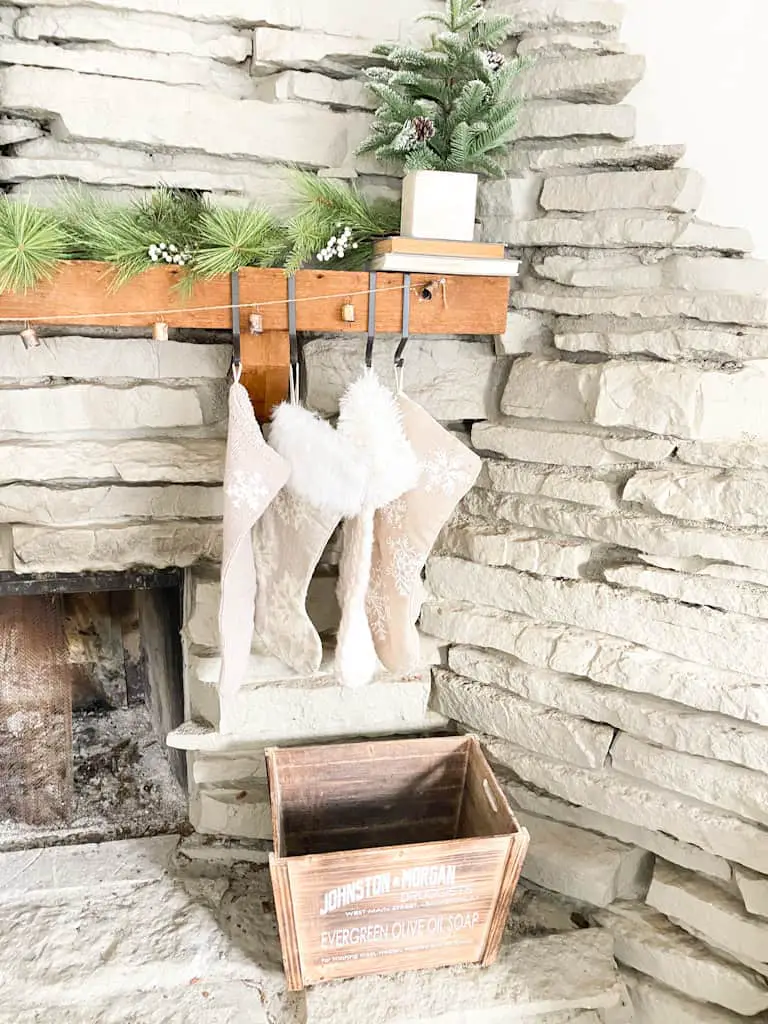 Another familiar view is our stockings and those amazing black iron stocking holders I got last year. This year, however, I moved them all off to the side. I wanted to make room to hang this antique bell garland I made. Plus, I kind of love the look of them being off to the side. 
That cool wood crate typically houses our wood for the fireplace (it's an actual wood burning fireplace!) We have not yet picked up our wood for this winter so it is currently empty. But it's still a cute addition.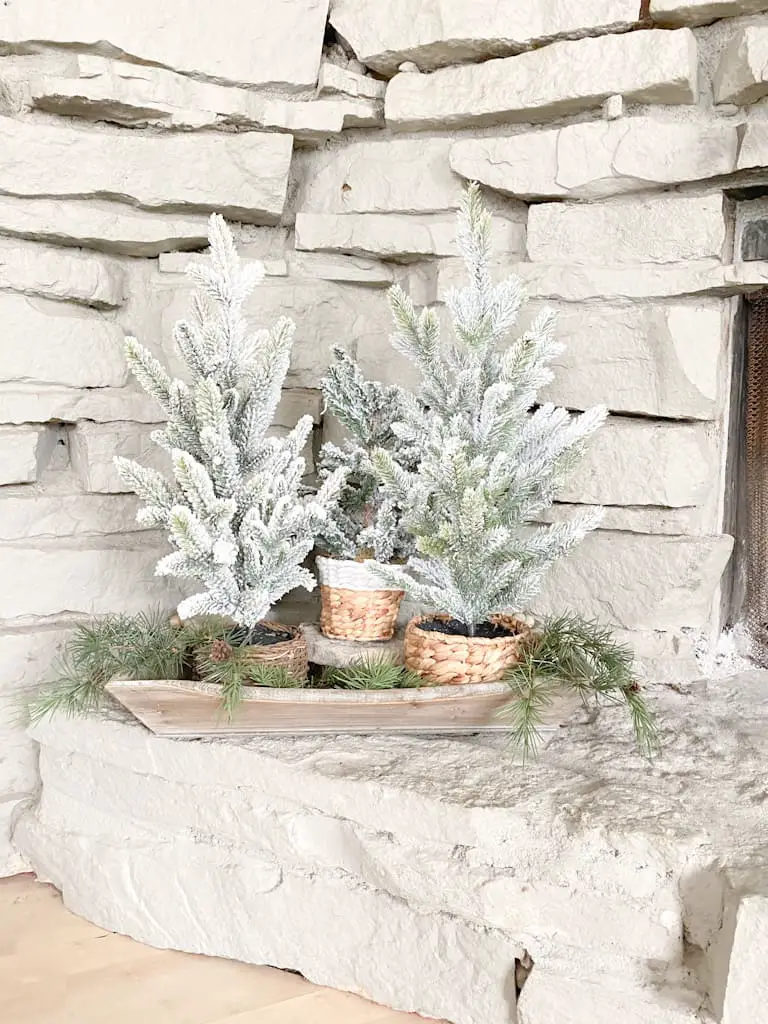 On the other side I decided to try a little collection of flocked pine trees in assorted wicker baskets. I put them in this pretty wood tray with some spruce stems pieces sticking out here and there. 
I did add some small twinkle lights to the garland, but I think I might need one more to make it stick out more. I like how this area is kind of simple but has plenty of texture and is not super symmetrical but still appeals to the eye.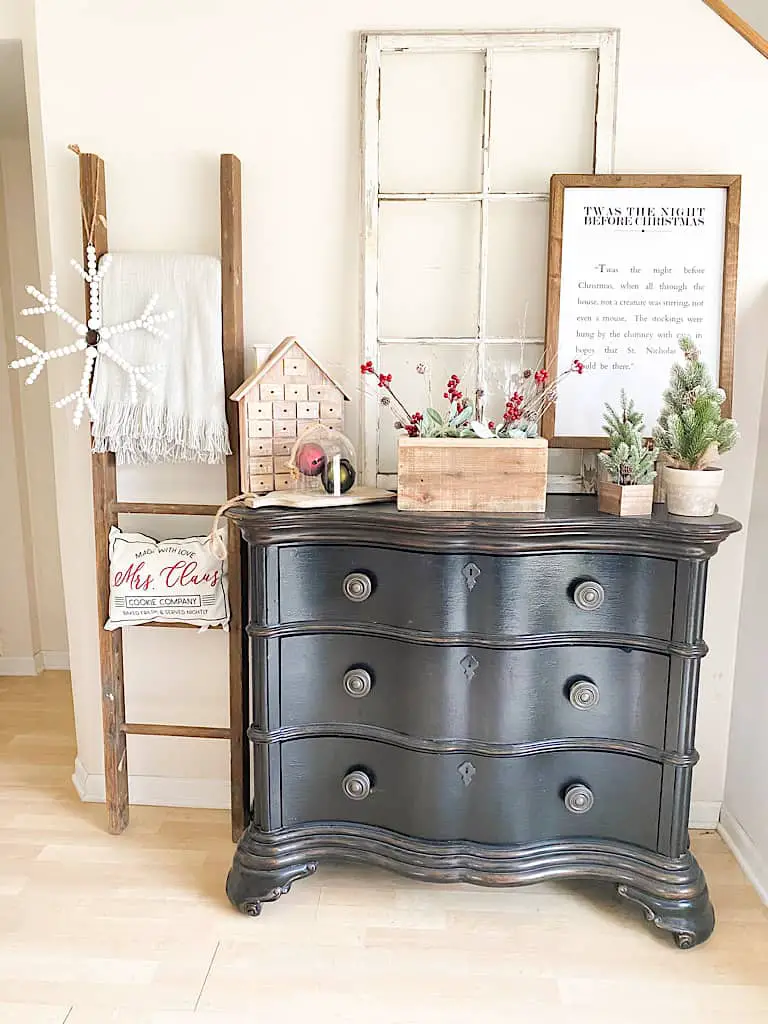 Moving on to the other larger area I typically decorate. This vintage looking dresser is used as an entryway table. That antique window I picked up from a lady who was having an antique sale out of her home a few years ago. Such a great find. I decided I wanted to stack this Night Before Christmas sign with the window and I really love how it looks together.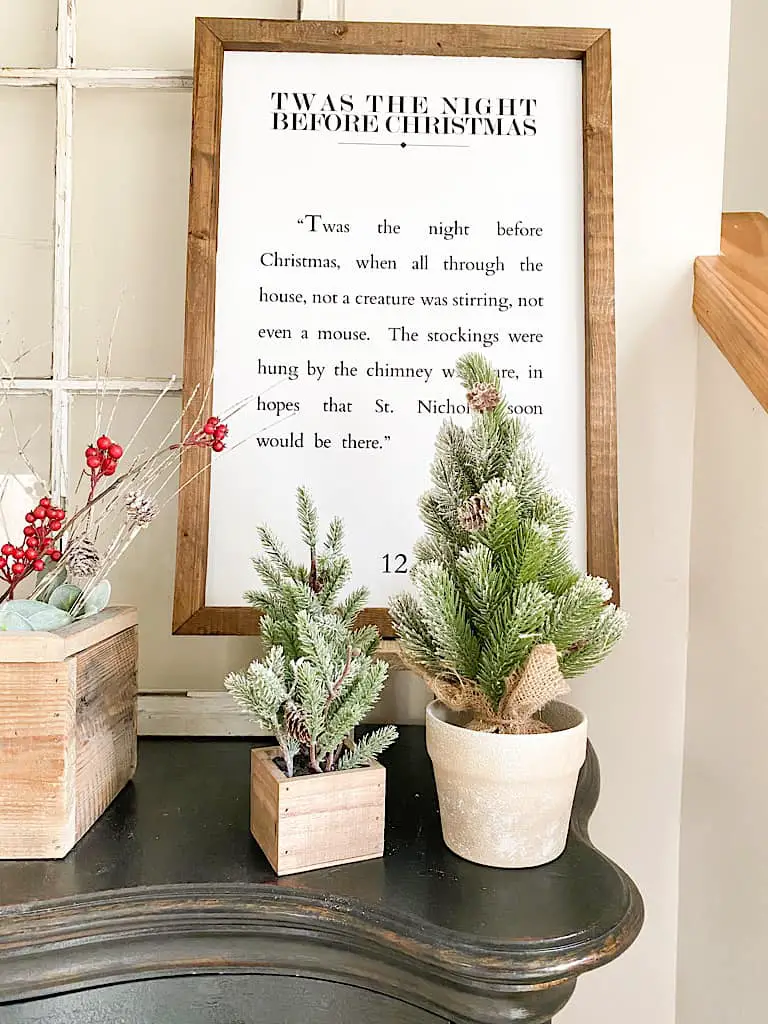 In front of the sign you can see I just did a couple faux pine trees. I tried to find mini trees in wood boxes this year but they were nowhere to be found. So I might just try to find some cool old wood boxes and pop some of my trees I already own in those instead.
I also used this little pot which I tried painting and texturizing to make it look like a super old piece of pottery. I'm not 100% pleased with how these (I painted 5 of them) turned out so I'm going to keep tweaking and once/if I'm pleased with the results, I will share my process in a post. But from far away I think it looks cool.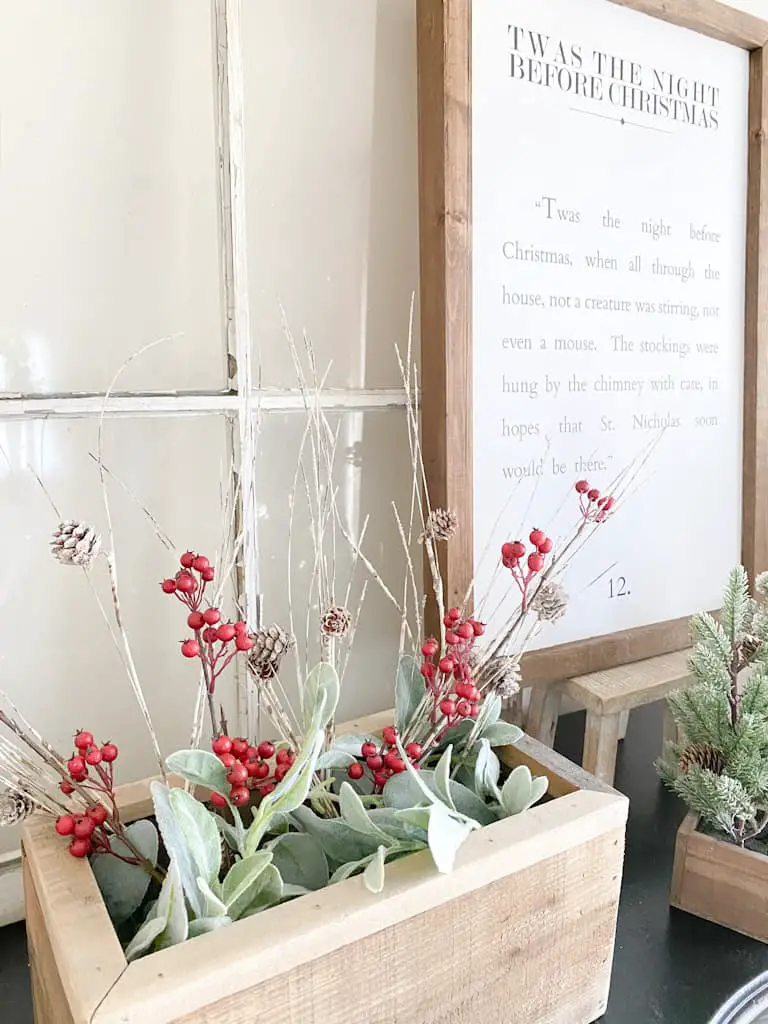 That cool wood box houses some lambs ear, red berries, and mini pinecone and birch tree branches. I typically use some kind of pine stem in this box but decided to switch it up this year and try the lambs ear. It's a little more muted and soft. I love it paired here.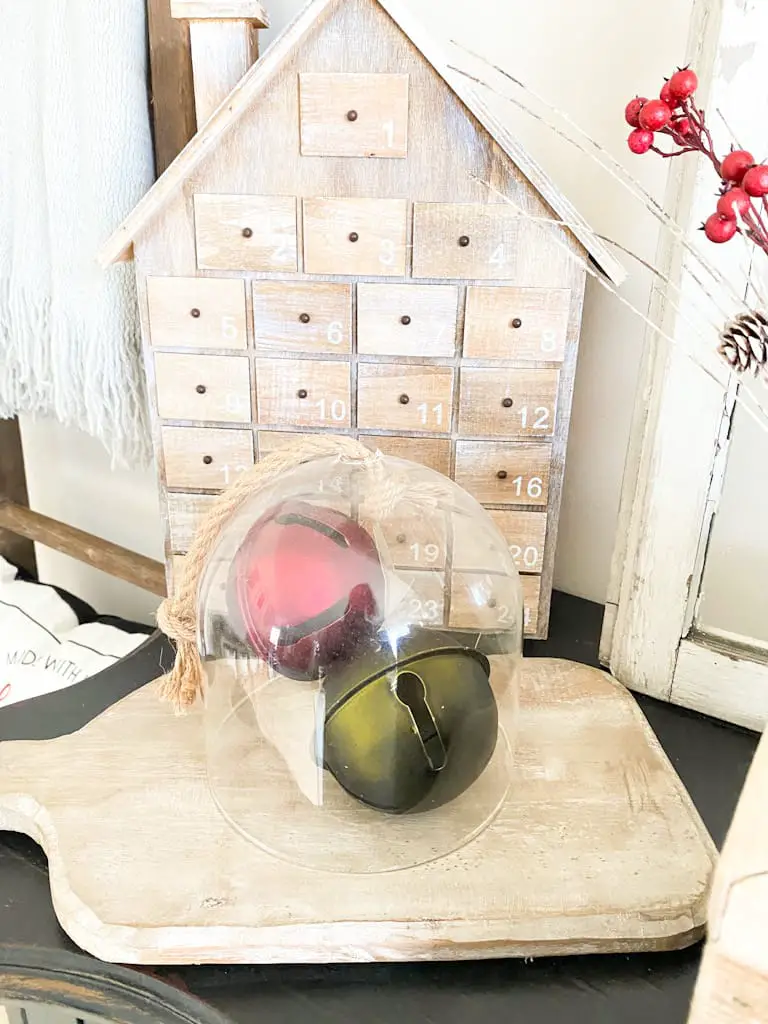 On the other side I just kept this cute little vintage looking cutting board and glass cloche but switched out the pumpkins that were in there with the rest of these old bells I thrifted.
Behind that is my wood house advent calendar I use every year. This is the first year my son, Jaxin, can really participate and understand what it is, so I'm excited for that!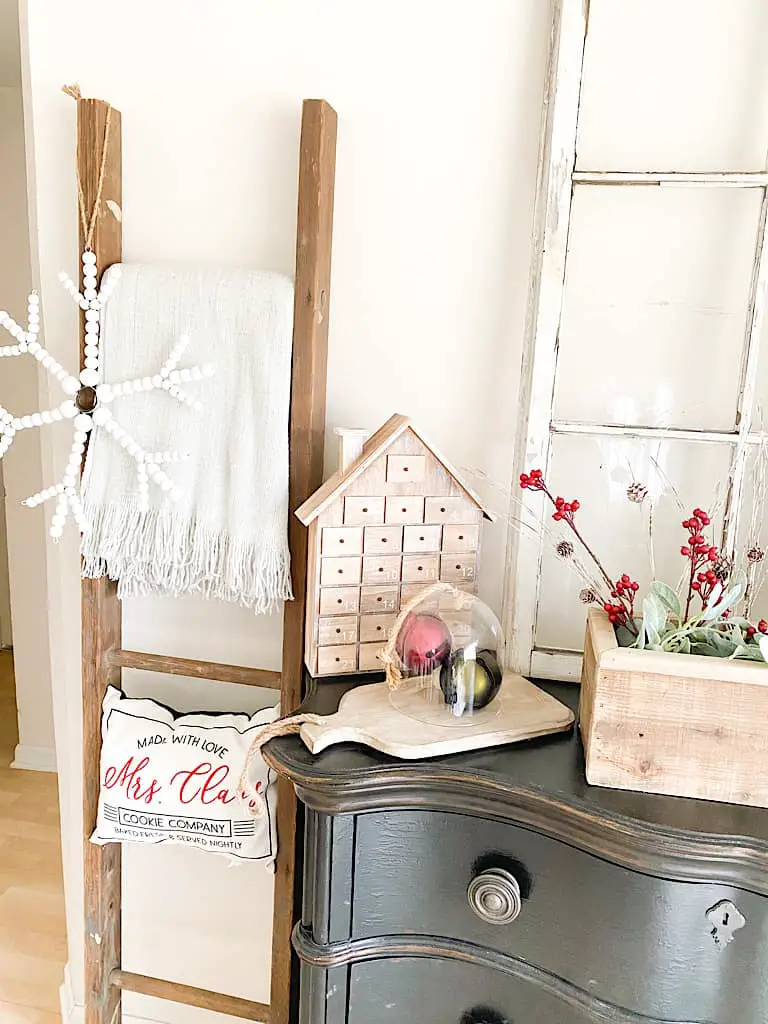 And then on my old ladder there I just kept my same throw blanket, switched out the pillow to this Mrs. Claus pillow, and added this really pretty wood bead snowflake I grabbed from Hobby Lobby this year. 
Let's check out some other little nooks that also got some holiday cheer.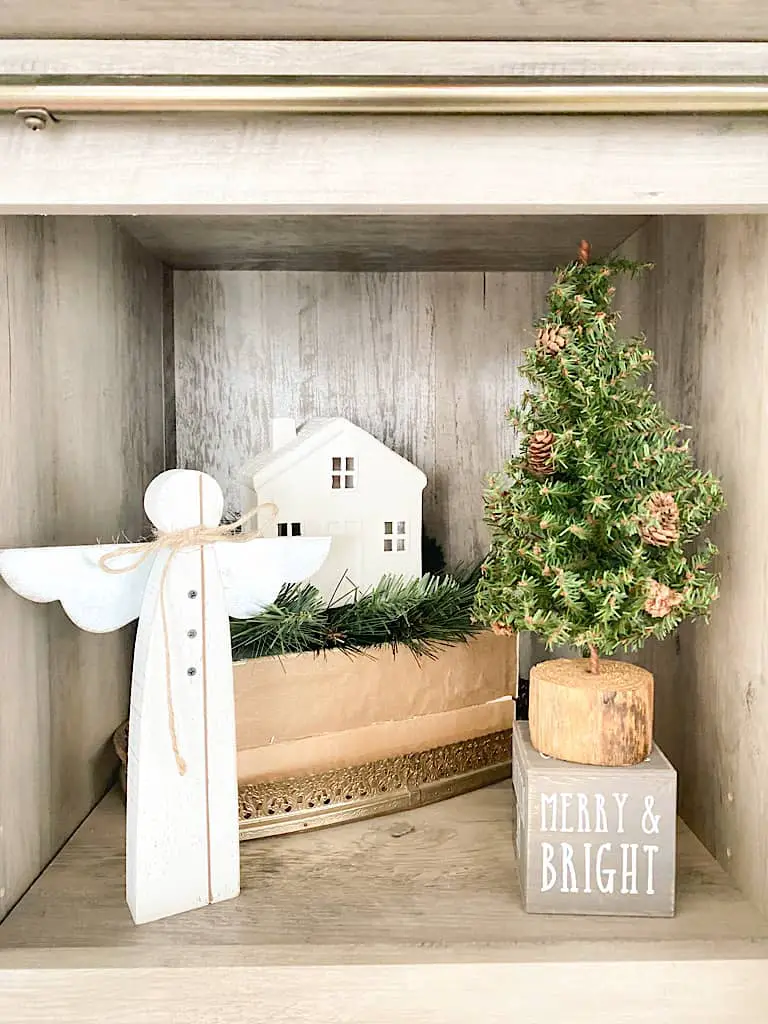 This little shelf on our bookcase is the only shelf I decorate because the rest house baskets for all the toys and other child related items that need to have a home.  
I have this old mirrored tray I thrifted so long ago with a stack of books and then some greenery and this cute little ceramic house on top. In front of that is the sweet little wood angel I got from Hobby Lobby this year as well as this cute little wood block that has various Christmas sayings on it. 
That cute little pine tree my mom actually found for me, how sweet is she? Mom's are truly the best. I had been looking for something to put on this cube while we were shopping together but couldn't find what I was picturing. She happened to find this when she was at this little shop and picked it up for me. And it's perfect!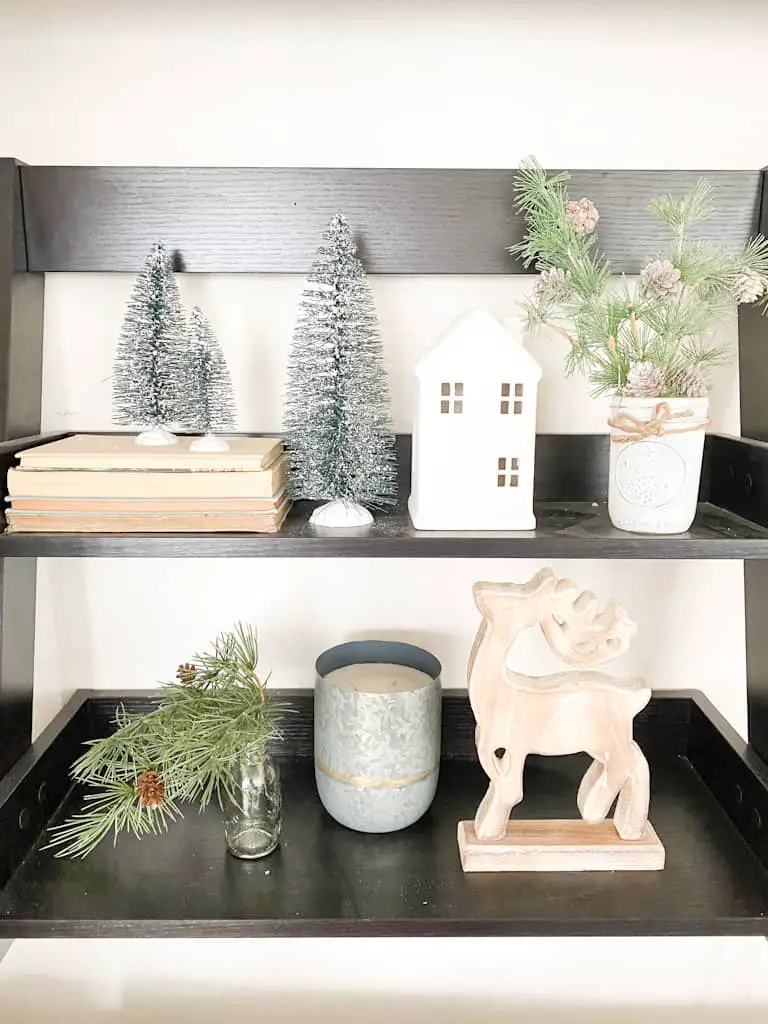 On the next shelf, well shelves, I decided to just do a little vignette of some Christmas decorations that play well off each other. The top shelf has this cute ceramic house with some bottle brush trees and stacked books on one side and this little mason jar with some flocked pine stems sticking out.
The mason jar was actually a DIY project from Jaxin's first birthday party that I found a new use for.
The bottom shelf I kept simple and just used this cool candle in a metal holder, this small glass bottle from an antique mall with a little greenery sticking out, and this adorable wood deer that I also grabbed at Hobby Lobby this year. I love how all the colors play well together and complement each other.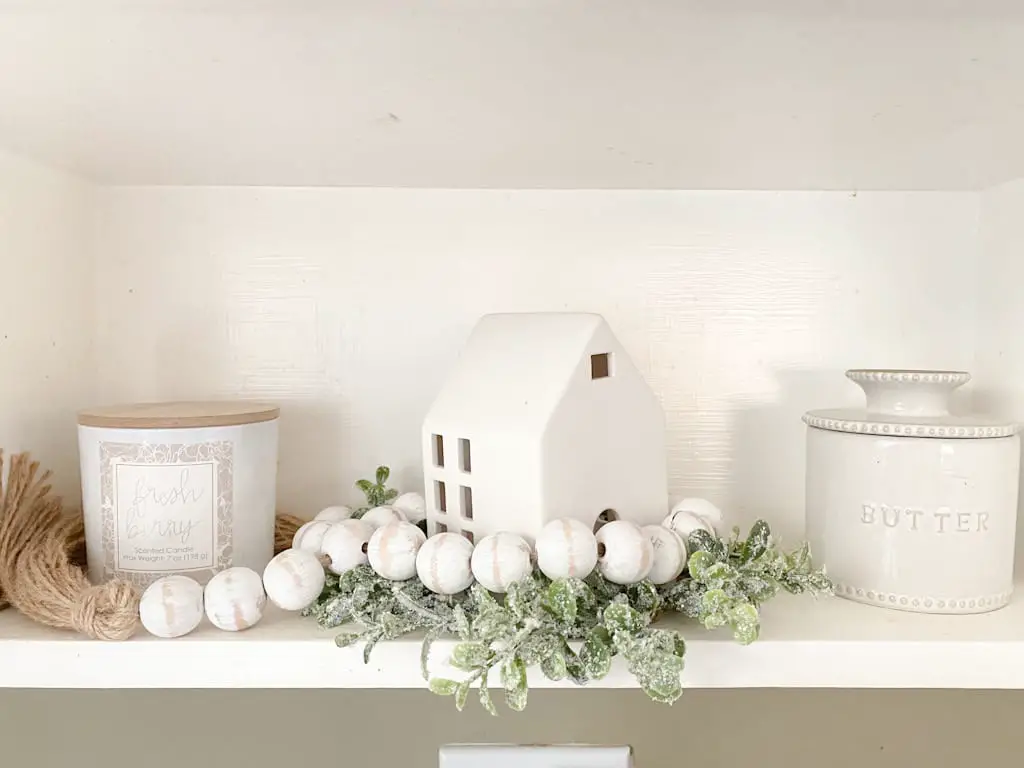 This last little shelf is in our kitchen. I think this might actually be the same set up as last year. What can I say? It's cute just the way it is!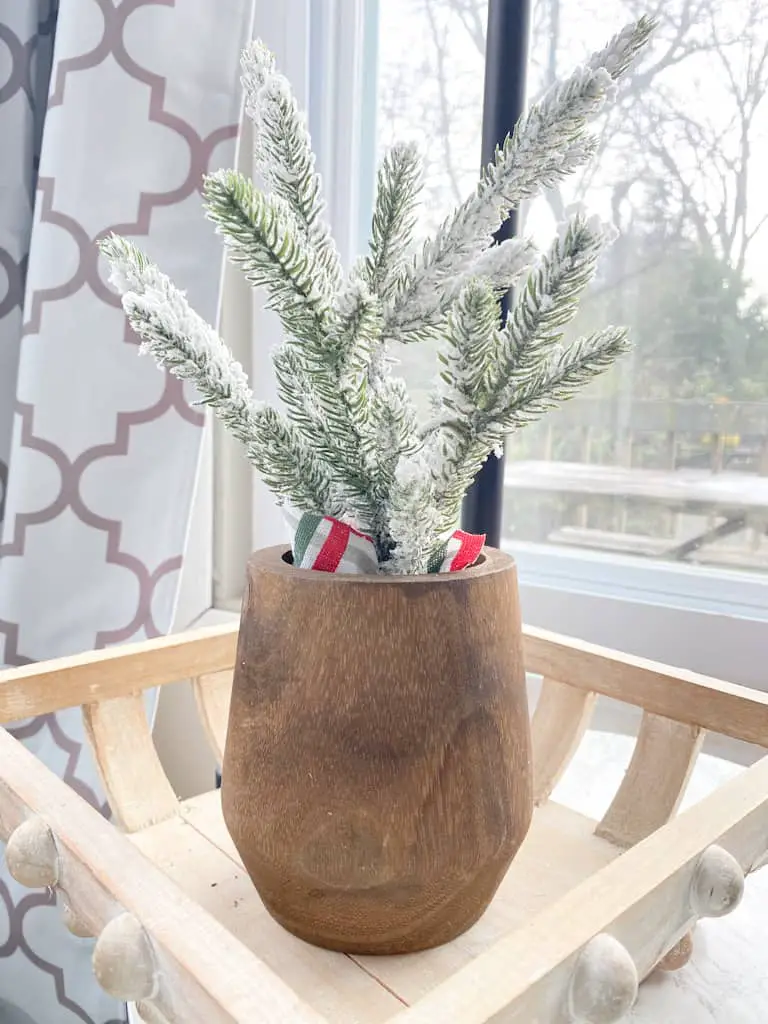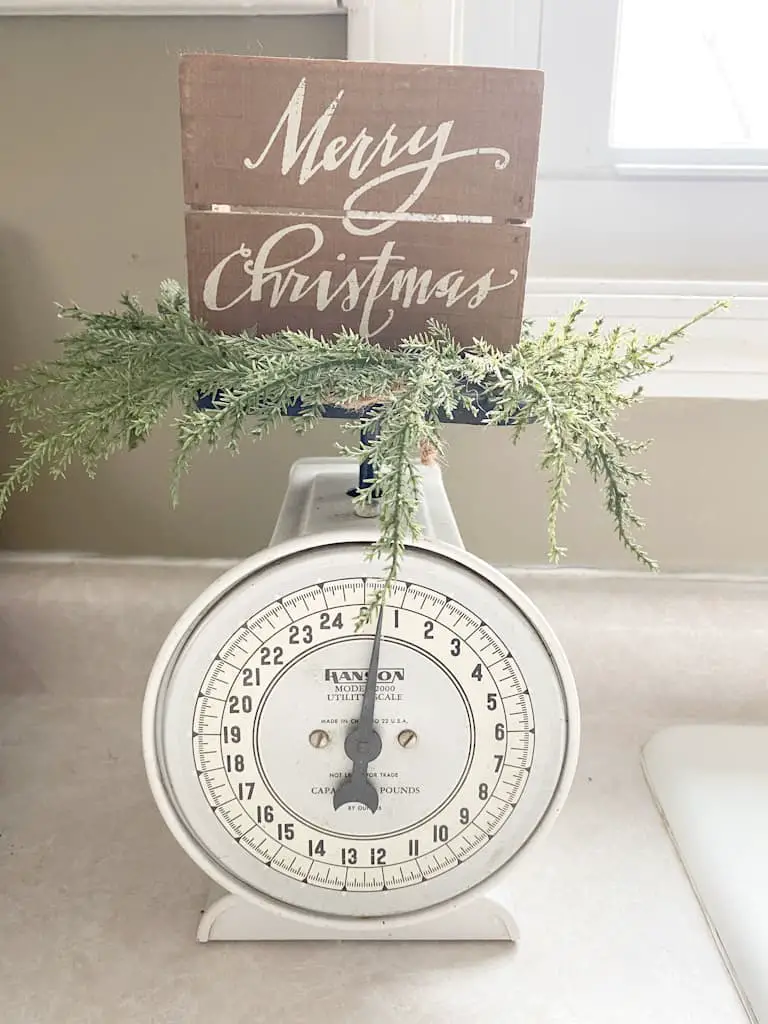 These next couple things are simple little decorations. This really cool wood vase houses this little pine tree. I like how there is a little peek of color from the fabric that the bottom of the tree is wrapped in. 
And last, but certainly not least, is this little antique scale I picked up at an antique market. On top I just have a mini pine wreath and this cute little wood Merry Christmas sign. 
That's all I have to share with you today. Feel free to check out my Christmas décor inspiration board on Pinterest for even more decorating ideas. Do you also like to use muted or neutral Christmas decorations or do you love the bright bold colors? Let me know down in the comments, see you next time!