Neutral Fall Decor | Modern Farmhouse Style Decorating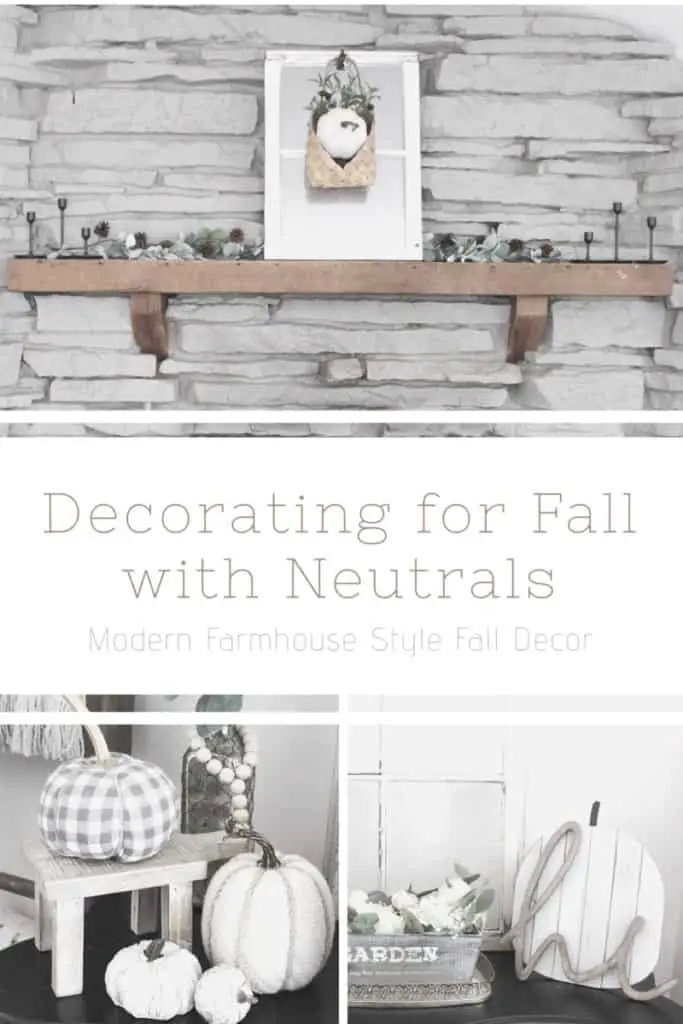 This post contains affiliate links for which I may earn a small commission at no extra cost to you. Thank you for your support! Learn More.
That cooler weather has started mixing its way in with the warm Indian summer weather. Fall is officially upon us! I spent some time switching out my home décor and I really love how it's looking. I have never been super into fall colors when it comes to decorating my home so I went with neutral fall décor mixed in with some greenery and wood to have a little color here and there. 
I am thinking I might want to add some more color with maybe some burgundy flowers or something, but I haven't figured out exactly what I want to use yet. I also still have a couple areas that feel like they're missing a little something so I'm still hunting for some other pieces while thrifting that I can transform or that will be perfect fits on their own. 
I'm thinking I might want to try to find some pumpkins that I can paint to look like those pastel green heirloom pumpkins. If you'd be interested in a post on that, let me know in the comments below!
I also have a design for an apple orchard sign that I'm currently working on which I plan on using on a wood sign I got on mega sale from Hobby Lobby when all their spring stuff was like 80% off. So keep a lookout for that finished product as well. 
I figured it might be fun to do a mini tour of my neutral fall décor in case you are looking for some inspiration for your own home. If you love fall colors in your home, then you can use this to inspire you and you can use colored pumpkins or add in some colored flowers or leaves. Whatever you like to use to add some color to your space. 
These items are a mix of thrift store finds, upcycled items, small business purchases, and clearance finds. There are a few items which I paid full price for, but not very many. You know your girl loves a good deal. I will try to list, as best as I can remember, where I got everything from and I will link anything that is still available.
Let's check it out!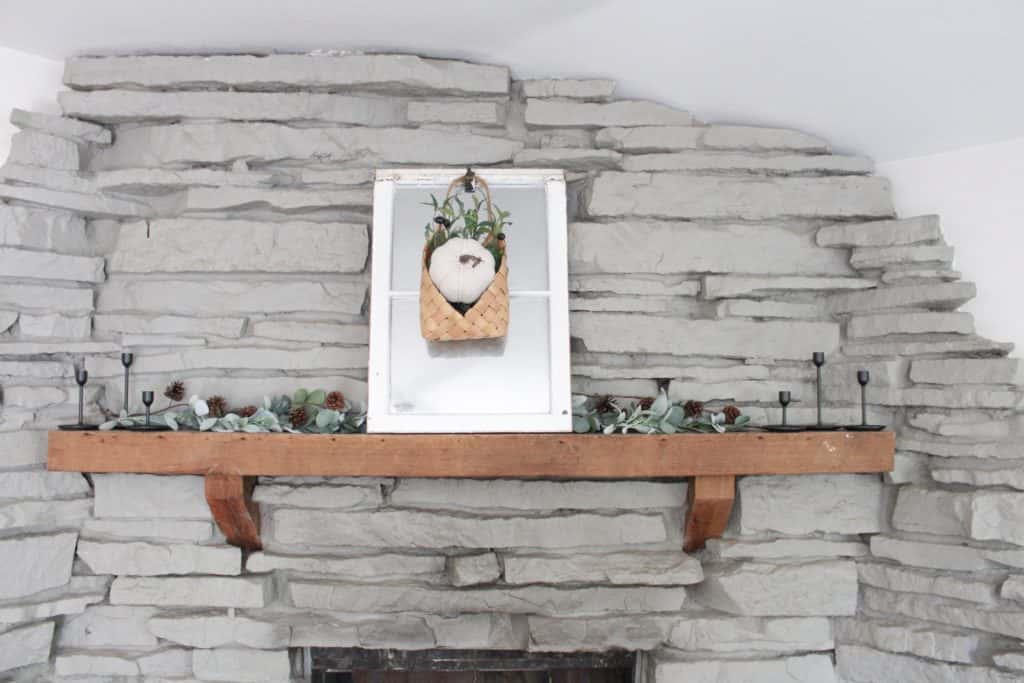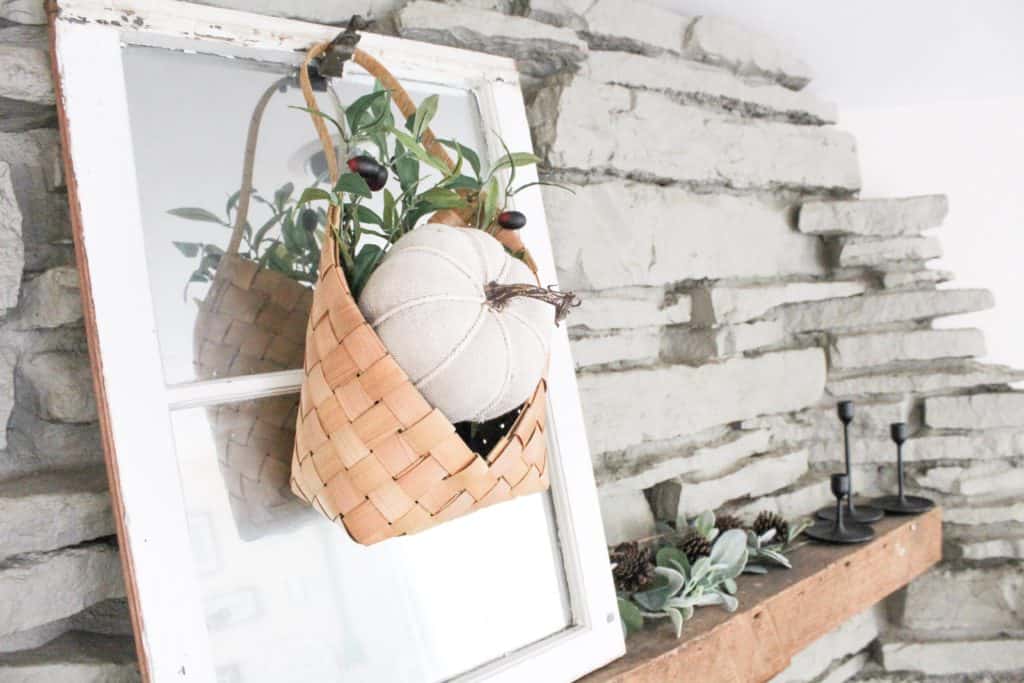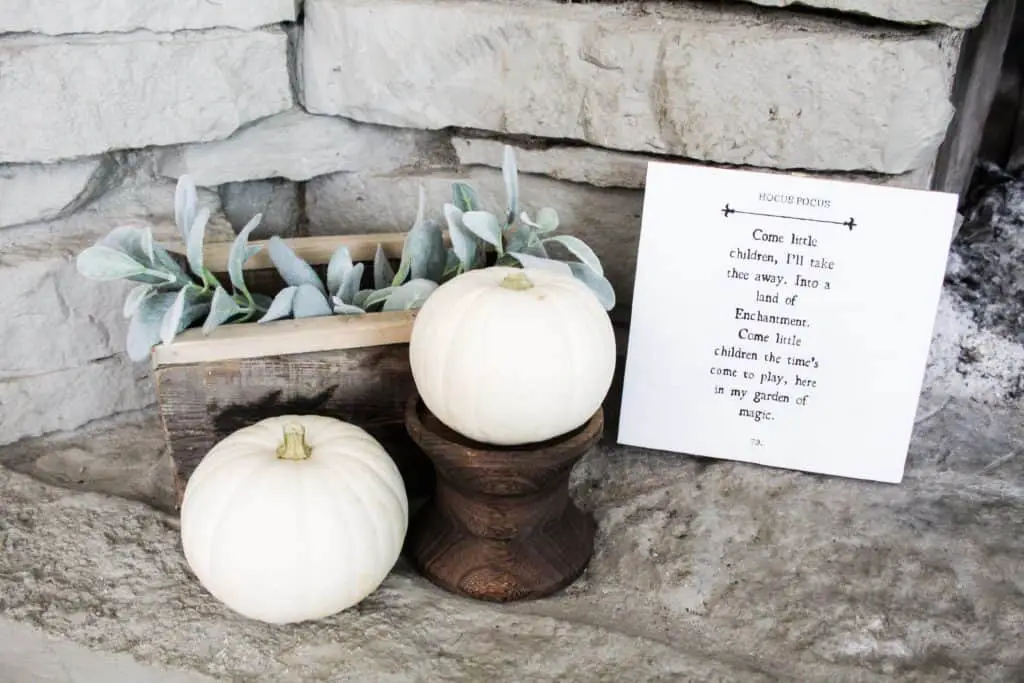 Starting off with our fireplace, I have mentioned before that this is one of my favorite places to decorate. I just love this gorgeous stone fireplace and that amazing wood mantle. This is one spot I feel like it is lacking. I definitely would love to add some color here. I am also thinking of getting some birch logs to put in that little wooden bin. 
That mirror I made from an old window a few years back, that was one of my first few blog posts! It's interesting to look back and see how much my decorating style has changed in just a few years. I've really figured out my style and what I like. Anyways, back from that little sidebar. I love this little hanging basket which was 50% off at Hobby Lobby. I put some faux olive branch stems from Target with that cute little fabric pumpkin which I believe I was also from Target. Both of these I purchased last year. 
The candlestick holders, which you can find in this post, are from Ikea. The garland is a mix of eucalyptus and lambs ear both were half off from Hobby Lobby. I added a little pinecone garland which was from Target last year as well.
The wooden crate I got a couple years ago from TJ Maxx. It usually holds wood which we use in our fireplace in winter but since we don't use it much in fall, we haven't gotten any wood just yet. I think the decorative birch logs would be super cute in there. 
That little Hocus Pocus sign is a DIY project I made from a wood sign I thrifted. I love how it turned out!
Those white pumpkins are real and the little wood stand was on clearance at Hobby Lobby. That wood box holding the lambs ear was as well. I think some flowers would be a good addition to that box as well. I also think I'd like to maybe incorporate my apple orchard sign here once it is done.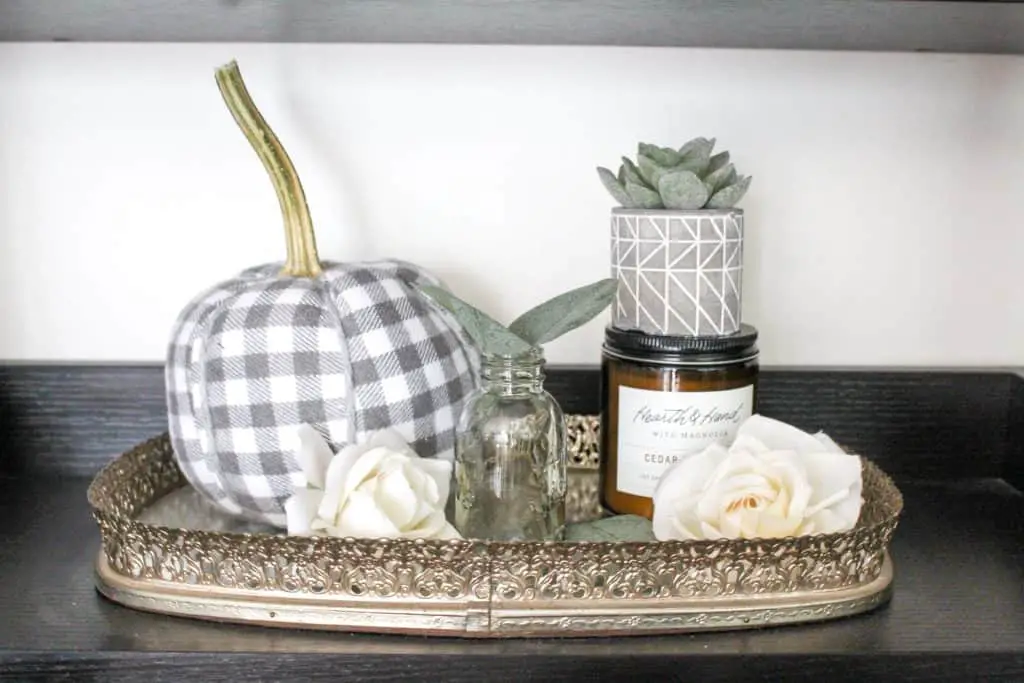 This little group is on one of my wall shelves. That mirrored tray is a thrift find, I love it. The grey and white gingham pumpkin I got from a small business near me that has so many amazing pieces. This was handmade by the owners mother, how cool is that?!
The flowers and eucalyptus are from Hobby Lobby, the candle is from the Hearth & Hand fall line at Target, that small glass bottle is a thrift find, and the succulent is from TJ Maxx.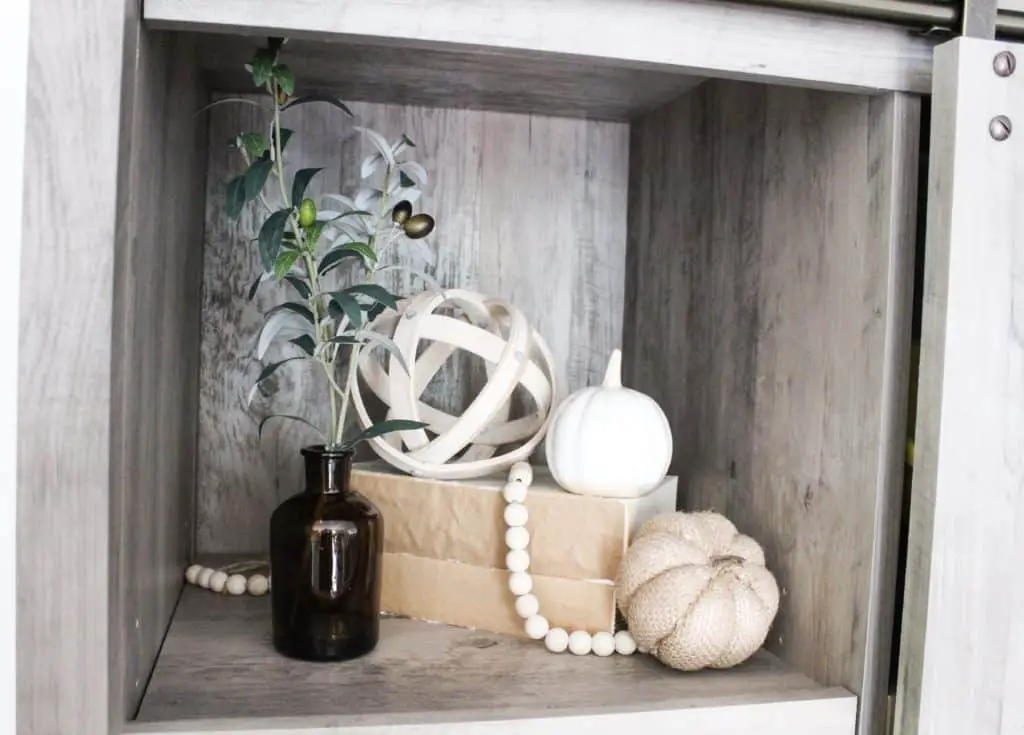 This next little spot is on my bookshelf. The books I got at the thrift store and just removed the covers. That amber bottle with the olive branch is also from the Hearth & Hand line at Target.
The glass pumpkin is from Target, the burlap one is from the Dollar Tree, the bead garland is from Hobby Lobby, and the wooden orb ball is from TJ Maxx.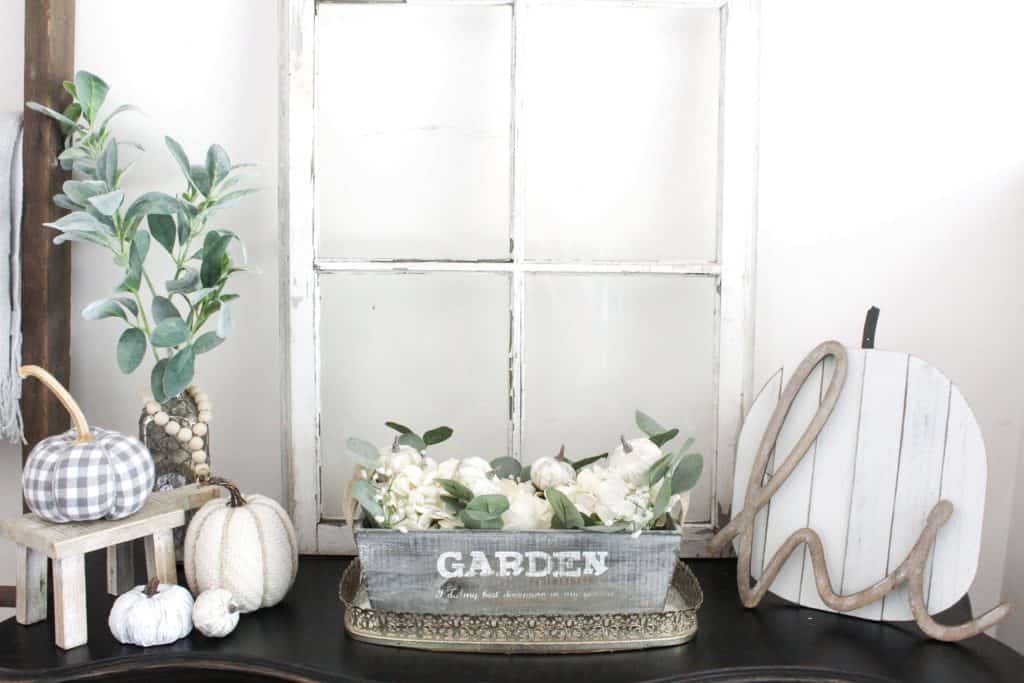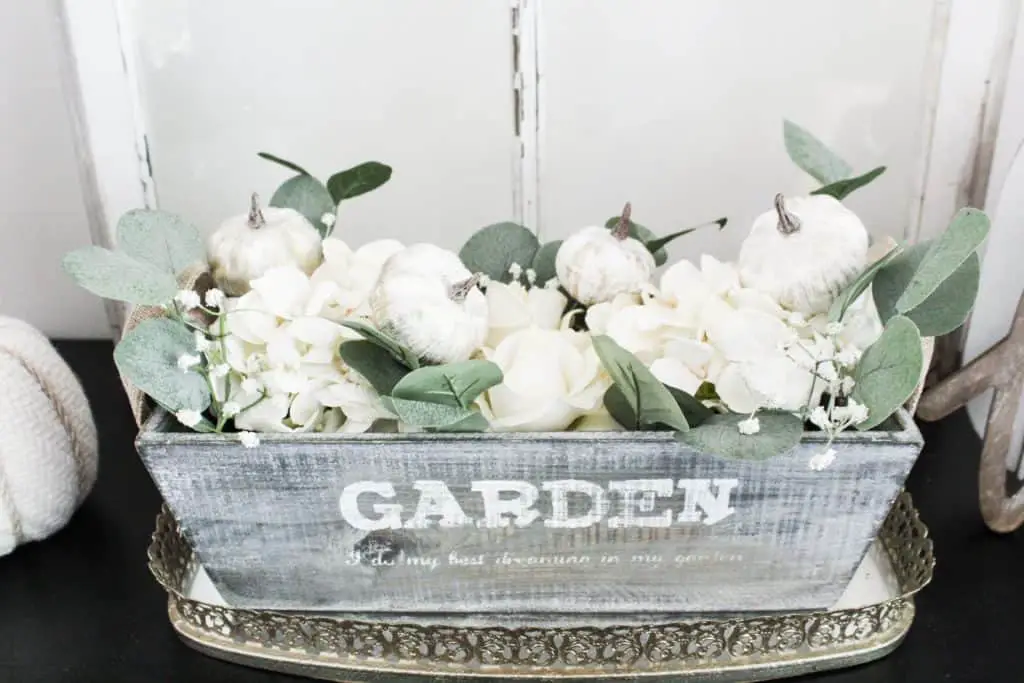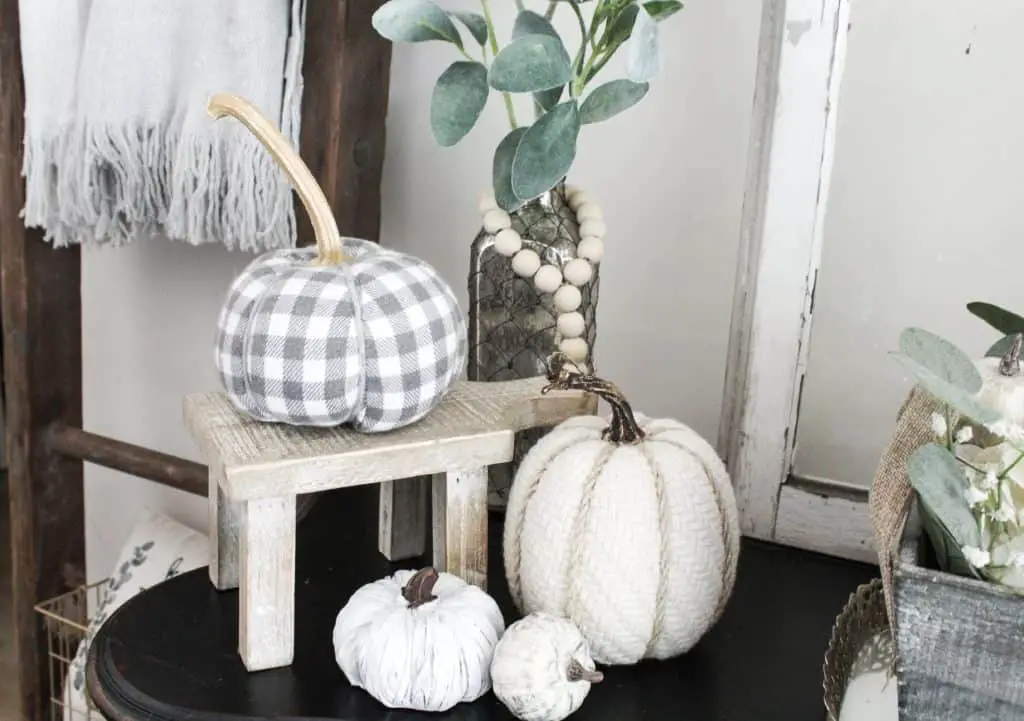 Then we have my second favorite spot to decorate. This is our entryway table, which is actually a dresser, but we use it as a table. Obviously. Anyways, that window I bought at a yard sale from this very sweet lady who collects all sorts of really cool old things. 
In front of the window is the larger mirrored tray that I thrifted along with that smaller one from the other shelf. They came as a set. That wood "garden" box is also thrifted. Inside is a little floral arrangement I did which I added some cute little ivory pumpkins to. The florals are from Hobby Lobby, Michaels, and Amazon. The pumpkins are from TJ Maxx. 
That large wood pumpkin I found in the Target dollar spot this year. I love it! I layered that wooden "hi" in front of it, it is from Hobby Lobby and I got it half off. 
On the other side are a couple glass bottles which are both thrifted, a second gingham pumpkin from that small shop, a collection of ivory pumpkins in different sizes and materials which are a mix of TJ Maxx, thrifting, and Target. 
That little wood stool is a clearance item from Hobby Lobby. How adorable right?? I love the added height it gives. The wood beads are from Hobby Lobby as are the lambs ear stems which I got for half off. 
The ladder I found on our anniversary weekend away when we went to this awesome antique mall. I got it for only $25! That blanket came in a Fab Fit Fun box from last year and the little wire basket and pillow are both from Target. 
That's about it for now! I have some other little nooks here and there where I added a little pumpkin or sign or something like that but these are my main areas I thought I would share. I hope you are inspired with new ideas to try in your own home, whether you're a fellow neutral fall décor person or more of a traditional fall décor person. Let me know your favorite spot and if you'd like to see that pumpkin upcycle I mentioned earlier! See you next time. ☺