10 Craft Arsenal Must Haves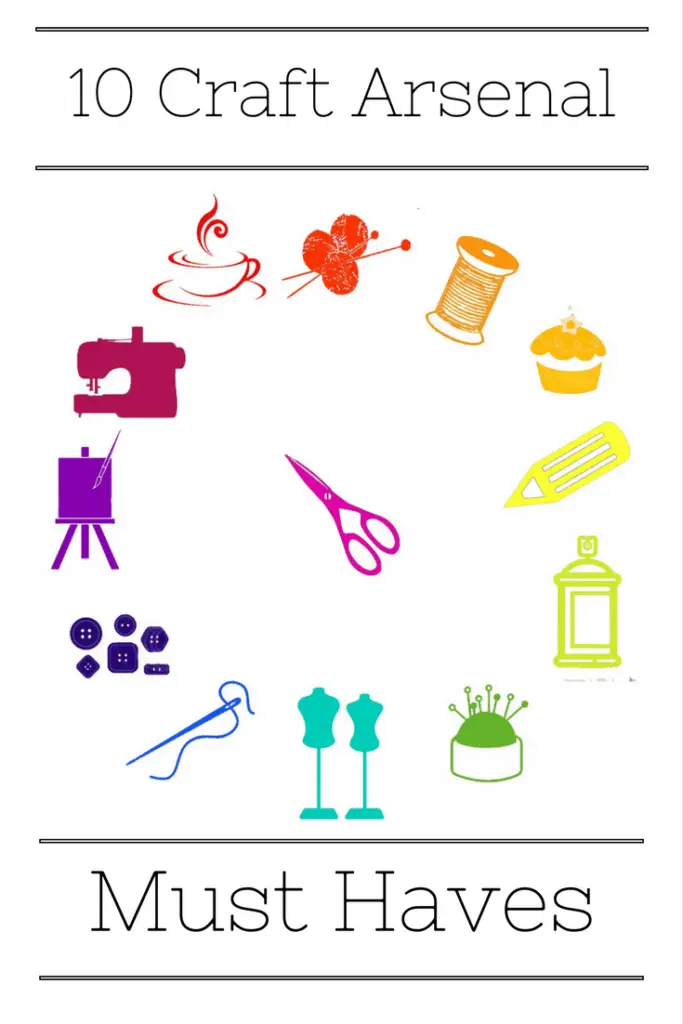 Crafting and DIY are most definitely one of my favorite hobbies. Other than thrifting of course.  I love making cute things to incorporate in a gift or even things for around the home. I also often DIY my clothing and thrift finds. If you have visited my blog I'm sure you have seen some of my projects. A couple favorites in case you haven't seen them are my milk jug vases and mirrored window. I find it incredibly useful and money saving to have a little stash of some of my favorite things to use when crafting. These are the things I constantly like to use or that are my all time go to's to get the job done.
If you like to craft I highly recommend having a little storage bin or if you're lucky enough to have some closet space, that can be used to keep your crafting go to's. I have come up with a list of my 10 items I regularly use. They are things I think anyone who crafts would find useful to have stashed away from those projects that you do often or maybe just a few times a year. If you're interested in getting your craft arsenal set up, just keep reading!
Let's start off with glues. There are two main ones that I always have on hand. E6000 is my favorite for heavy duty projects like when I used pieces I found at a thrift store to make cake stands for a bridal shower gift. For smaller or maybe more precise projects like my fall  pumpkins I made, I like to use a hot glue gun.
Next up let's talk paint. A little tip I have that saves a ton of money is to buy a sample size of wall paint in a color or colors you use the most. It saves you from having to repeatedly buy new paint for projects. In my case, I have white because that is my go to. Also spray paint. That's another big one. I spray paint everything! My favorites are white, turquoise, and mirrored. Best brand in my opinion is Krylon but I also really like Rust-Oleum. It is worth it to spend a little more on spray paint because cheap spray paint is not the same!!
As far as finish goes for your paint, that will be more of a preference thing. I tend to go for satin because it's right in the middle. If I am spray painting something like porcelain then I definitely prefer a glossy finish. I don't often use matte unless that is the specific look I am going for.
Obviously to be able to use our paint we need some brushes. Now I also paint furniture, for which I use Annie Sloan chalk paint. This is not something you necessarily need in your supply unless you like to paint wood or furniture pieces. So I included my favorite brush for painting furniture. For anything else I have a variety pack of brushes from Hobby Lobby that has several different sizes to fit any project I might have. Again you don't want to be super cheap when it comes to paint brushes because you will notice a difference. You also don't need super expensive artist brushes. Unless of course part of your crafting skills include painting.
Naturally you will need to have some painters tape in your box of crafting goodies. This comes in handy for many different things such as painting a mirror or picture frame. It's not just for walls! I also keep a roll of plastic tarp to lay down while painting or spray painting but that is not necessary if you don't do a lot of painting.
Next let's talk about some sealants. Polycrylic is my favorite for finishing furniture or wood pieces. It doesn't turn yellow like polyurethane does. For smaller craft projects another good option is good old Mod Podge. This is especially true for anything involving paper. As far as items that I have spray painted, I don't really find it necessary to seal them unless they are made of wood. They do make too coats for spray paint if you would like that extra measure of protection!
The last items all have to do with clothing or sewing projects. I always have a good pair of fabric scissors to be sure my cuts on fabric are precise and clean. They are incredibly sharp. A seam ripper is another must have. The easiest way to begin altering clothing pieces is to rip out a seam! And lastly, a little sewing kit. Mine consists of black, white, cream, and grey spools of thread, different sized needles, and pins.
That's it! Now you are all set to get crafting! I find these items all incredibly useful and hope you will too. Let me know in the comments below if you have any other must haves in your craft arsenal! Thanks for reading and don't forget to follow me on social media for posts you might not see here, updates, and inspiration. Just click the icons below.
FTC Disclaimer: This is not a sponsored post, some links are affiliate links. To learn more visit my "About" section.