Pottery Barn Looks for Less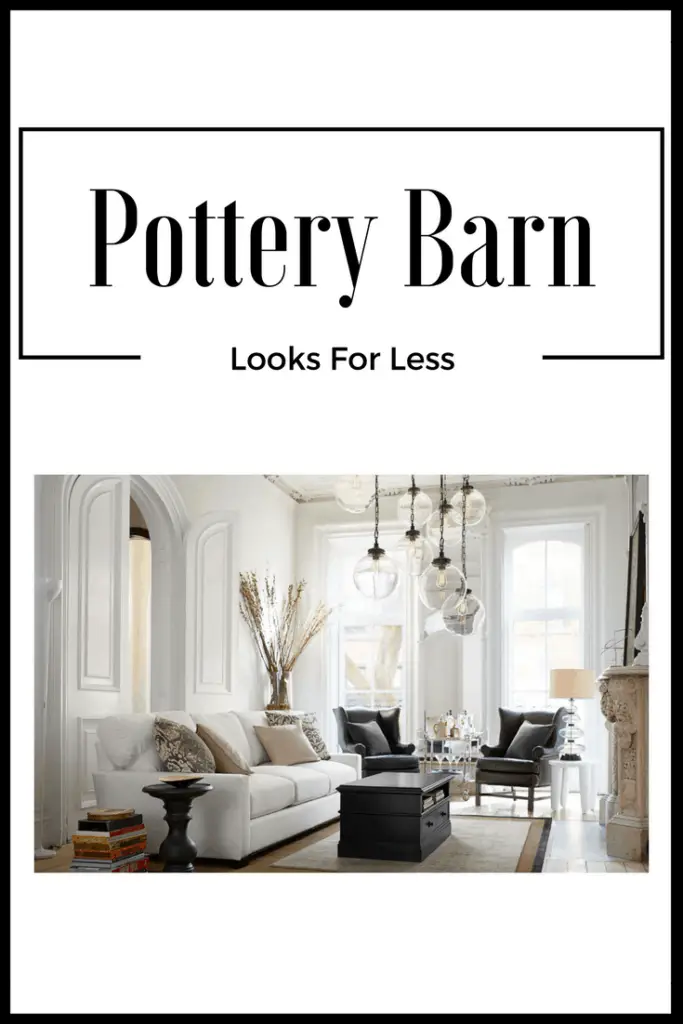 Anyone else lust over gorgeously decorated homes only to find nearly all the items used to decorate costs hundreds if not thousands of dollars? I mean I fully understand and support purchasing quality pieces but when your telling me a pillow is "quality" enough to warrant $100, I'm sorry but that just cannot be valid. A lot of the time they tack on a "paying for the name" tax, if you will. I love the aesthetics of places like Pottery Barn and Restoration Hardware but yikes can it get expensive!
Naturally being the bargain hunter that I am, I like the find the look for less. That includes in my home décor. So I am going to be doing two home décor looks for less for you guys. One featuring Pottery Barn and one featuring Restoration Hardware goods. I want to show you that more money doesn't necessarily always mean more quality. There are plenty of great quality pieces at affordable prices.
This post will be focusing on Pottery Barn (duh it's in the title Katie…) Stay tuned for the next post featuring Restoration Hardware later in the week. To see some great Pottery Barn looks for less, just keep reading!
As you will soon see I have a few favorite online places to find great steals. For in store finds my favorite is Homegoods hands down. I've also found some fun stuff at Ross but I find the quality often lacks there. To name a few online favorites there is Wayfair.com, Houzz.com, Overstock.com, Target.com, and Worldmarket.com. Now obviously you can also shop at Target and World Market in store but I like that there is often a bigger selection online.
So let's get into these goodies I found! Check out those headboards, both King size and made of linen fabric. That is a pretty great dupe wouldn't you say? Then we have that pillow, keep in mind that the Pottery Barn one is JUST a cover, that price is not for an entire pillow where as the other two are both for an entire pillow. Yikes. That World Market one is an absolute deal especially since it is on sale!
Ok now how about those adorable glass house terrariums?! They are pretty much spot on although I must be honest and say the Target one is just a little smaller but still that is a $50 price difference! Can we just mention how adorable old ladders are to decorate with. I love that one I found on Houzz that's made from reclaimed barn wood and what a steal at $200 less than the Pottery Barn one! I love that they are both made from found wood and even though the color and appearance is slightly different, they are still very similar and are of equal quality.
That just goes to show you how easy it can be to save some money while still achieving the look you desire for your home. Let me know in the comments below if you like these kinds of posts and I will do them more often! Also, if you have any requests or ideas for other look for less ideas feel free to leave those in the comments as well.
FTC Disclaimer: This is not a sponsored post. This post does contain affiliate links. To learn more visit my About section.