Restoration Hardware Looks For Less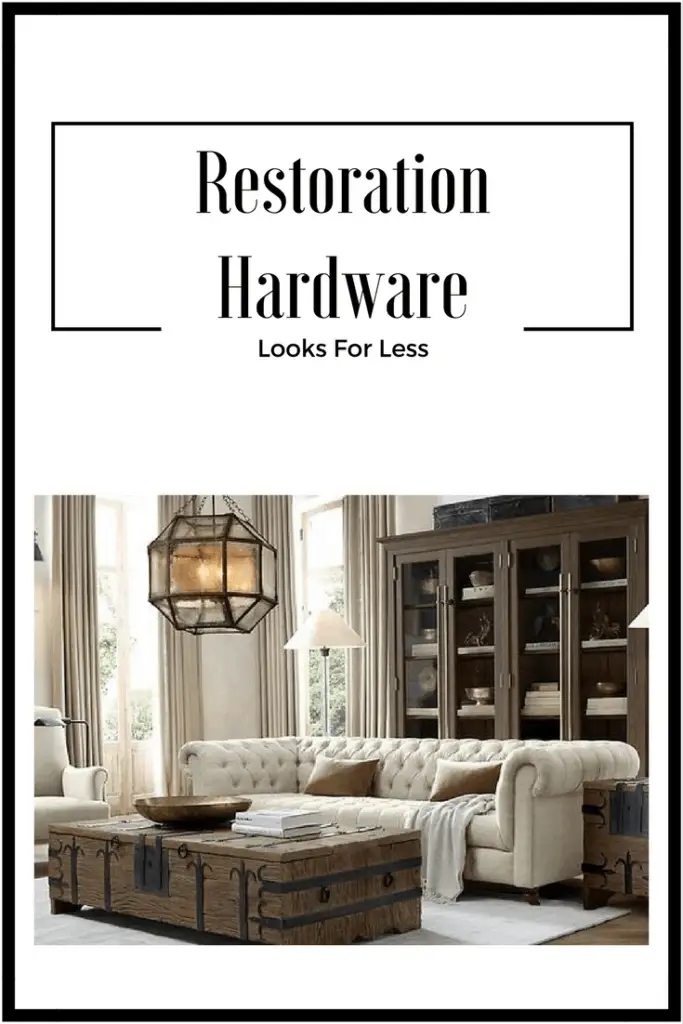 Oh Restoration Hardware, you are the perfect mix of modern and rustic and I just want all the things. Unfortunately, I don't have $200 to spend on a vase so alas I find myself once again on the hunt for those awesome look for less pieces. I mean, ok this is much easier to say when you aren't made of money, but I feel like I'm the type of person who wouldn't spend money like that whether I had it or not. I just think there are better and more important things to spend that kind of money on. Maybe it is just the avid bargain hunter in me.
I have nothing against anyone who does prefer to purchase these types of things for their home, they are high quality items made of amazing materials in many cases so it is perfectly understandable. I just prefer to spend my money differently. And if I can find something similar for a fraction of the cost, well that is just the icing on the cake. Either way, I have found some great looks for less that I am super excited to share with you guys. If you missed my Pottery Barn looks for less be sure to check that out as well!
So one other thing about Restoration Hardware that is different than many other stores and which I found kind of, I don't know, interesting I guess. They have a members only type of deal where if you pay $100 a year you get special pricing on every item (25% off to be exact), among a few other little perks. I just found that to be a different way of doing things.
Anyways, that was a bit of a digression but it was worth noting I thought. When I do my price comparisons, I will be using the regular price of the item as opposed to the RH member benefit pricing. Ready to dig in to some awesome Restoration Hardware looks for less? Go ahead!
As I did in my last post, if able, I chose fabrics, finishes, and/or sizes that were similar between the two stores to try to get the most accurate pricing references as possible. So let's check out these finds!
How comfortable do those chairs look?! And the nail head detailing!! That is a pretty good comparison if you ask me. They had just the tiniest difference in shape as the RH one has just slightly sharper edges while the Wayfair one is more curved, but come on! That's pretty darn close right??
Ok, ok but you cannot deny the fact that the two lighting options I found are basically spot on. I love those vintage factory pendant lights, such a cool element to add to your home! I picture a row of them hung over the dining room table or maybe a kitchen island. Yep, I can see it now. Love those. How cool are those old Edison bulbs too?!
Let's talk about those rugs! Maybe not a perfect match but that Rugs USA one is a great find to get that same look. Let's just chat about Rugs USA really quickly because it is a well kept secret (or maybe it's not and you already know and love it too?) that I would love to share with you. They have some unbelievably amazing rugs for a fraction of the cost, seriously go check it out!
You can see the difference in price on these two rugs, I mean that's unreal! Granted I know the quality would be different and you can't really expect rugs that are that different price wise to be exactly the same. But the Rugs USA rugs are still of great quality in and of themselves, they are discounted much like you would find at Homegoods. The original cost of the rug is $1040 so you know you are still getting a really nice quality rug.
I have purchased a couple of my rugs from there and was not let down. Anyways, I am all about these kind of faded looking rugs right now and they are pretty easy to find so you can definitely get that look for less we all love.
Finally look at those geometric little vessels. Perfect for a small plant or just on its own as décor. Other than the fact that one is metal and the other is ceramic, they are nearly identical. This will definitely achieve the desired look you were going for at a fraction of the price. Even better is that the Hobby Lobby one will undoubtedly be 50% off at one point or you can use the 40% coupon you can find on their website and score that bad boy for even less!
So that sums up this little look for less series. Be sure to leave some comments down below on some other stores you would like to see included in this series!
FTC Disclaimer: This is not a sponsored post. Some links are affiliate links. To learn more visit my "About" section.