Stocking Stuffers for Women Under $10
Welcome back! Or if it's your first visit, welcome! Go ahead and check out my men's stocking stuffers post from yesterday if you haven't already! I found some really awesome stocking stuffers that any gal would love. There are lots on this list that I definitely want. And just like yesterday, these are all under $10. Let's check them out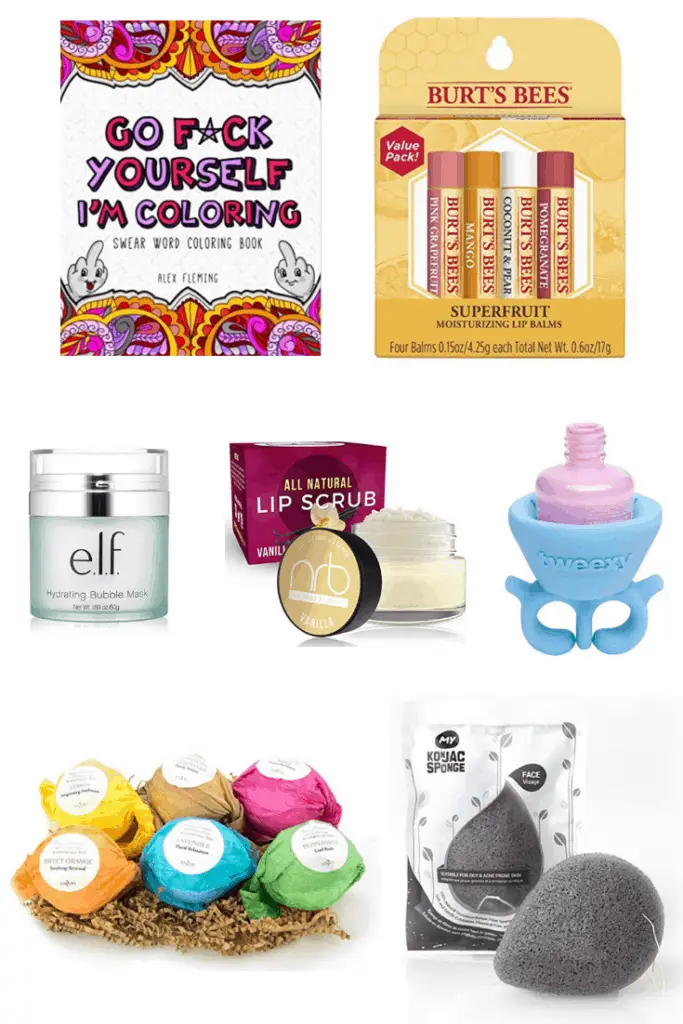 Ok, these swear word coloring books are amazing. And hilarious. Just keep in mind whom you're gifting this to first because maybe not everyone would find it as amusing.
Lip balm is one of those things that basically everyone would love and use. This 4 pack from Burt's Bees is amazing and the flavors sound delicious!
Face masks are always welcome. This one from e.l.f. is a bubble mask which is cool because it foams up on your face after you have it on.
This vanilla lip scrub sounds divine. I need to scoop this up for myself to give it a try. I love all things vanilla.
I thought this awesome nail polish bottle holder was way cool. You wear it like a ring while it holds the bottle for you making for less mess and easier nail polish application!
Bath bombs are always a yes. They make your bath game strong with their moisturizing abilities and delicious scents.
Last up is this really cool charcoal infused sponge for the face. It's an exfoliator and also cleans out the pores.
That sums up my stocking stuffers for women, you seriously can't go wrong with these. Let me know if you picked any of these up in the comments below. See you next time!