Creating A Virtual Learning Space in Your Home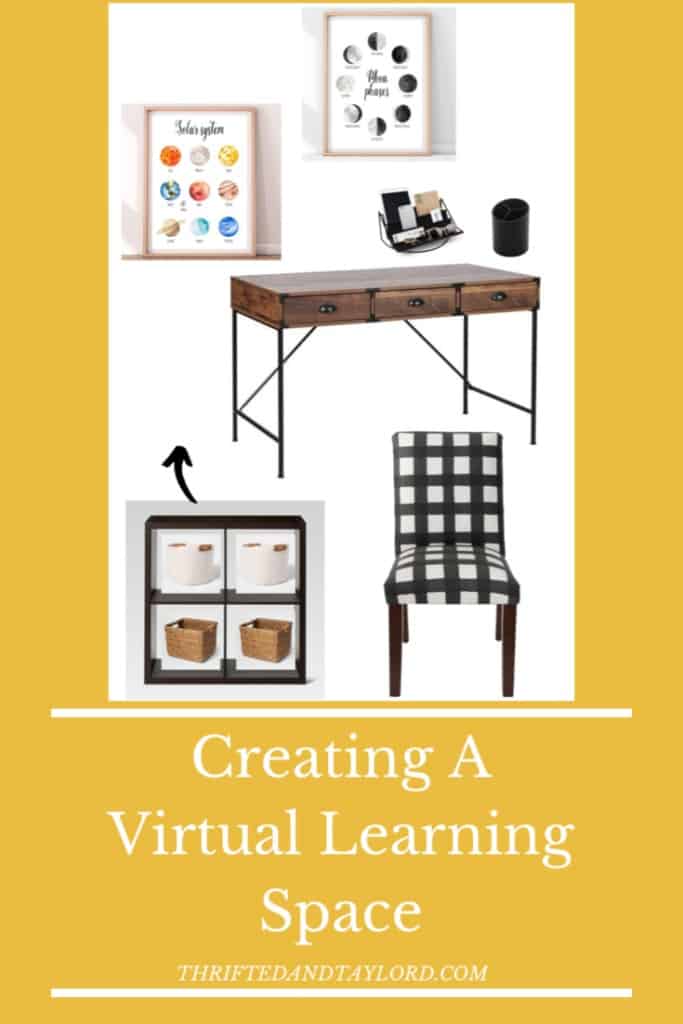 This post contains affiliate links for which I earn a small commission at no extra cost to you, should you purchase through them. Learn More.
Have your schools decided their plans for this school year? I know a good amount of schools in our area have decided to do virtual learning again. I also know from some of my friends and family with school aged children, that it is quite challenging. 
For those of you who are doing virtual learning, do you have a dedicated school space? I feel like having a virtual learning space where your kiddos can focus solely on their schooling without other distractions could be super beneficial. 
I found some great ladies who have homeschool rooms (most of them actually already homeschooled their children) to show you some examples of how you can set up your own virtual learning space. I also put together a few different designs for learning spaces you can make in your own homes. 
Virtual Learning Space Inspiration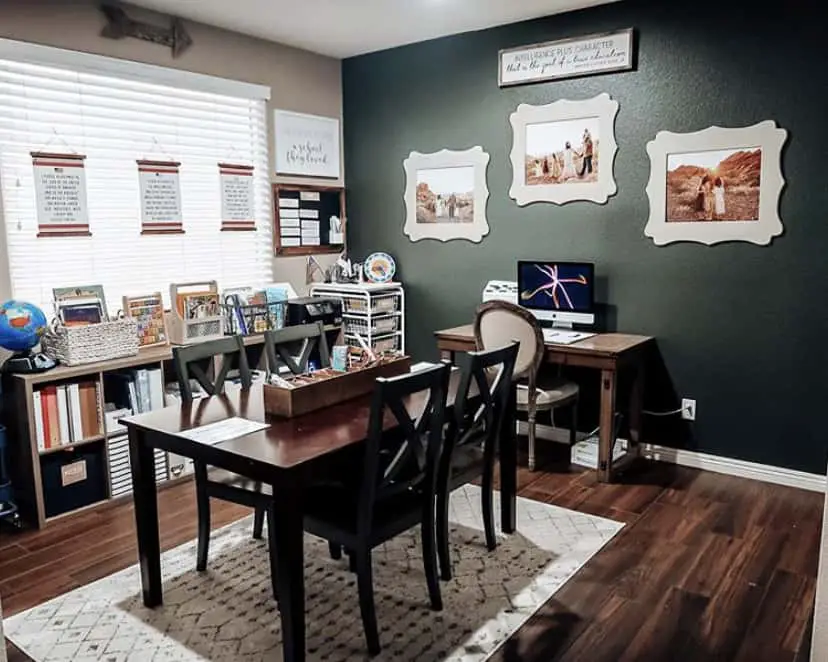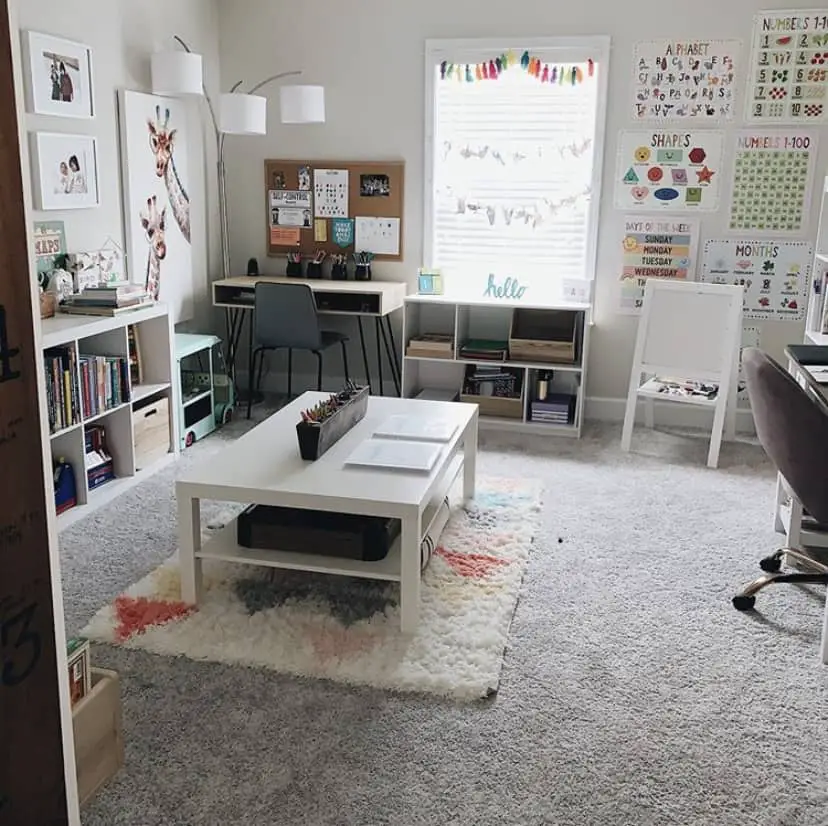 If you have an extra room that you can use as a school room, perhaps a playroom which could be used for school the first part of the day and then play the rest of the day. Or even an office that has enough room to add in a virtual learning space. Then something like this setup from Brittney at  @ourhomeschoolhaven on Instagram or this setup from Jessica at @love.mommy on Instagram would be great to use as inspiration.
Brittney's room is perfect for older children who need a dedicated room to do their schooling. Jessica's room is a great mix of school and play which would be ideal for younger children. The organization in both of these spaces is on point and the key to making these spaces work.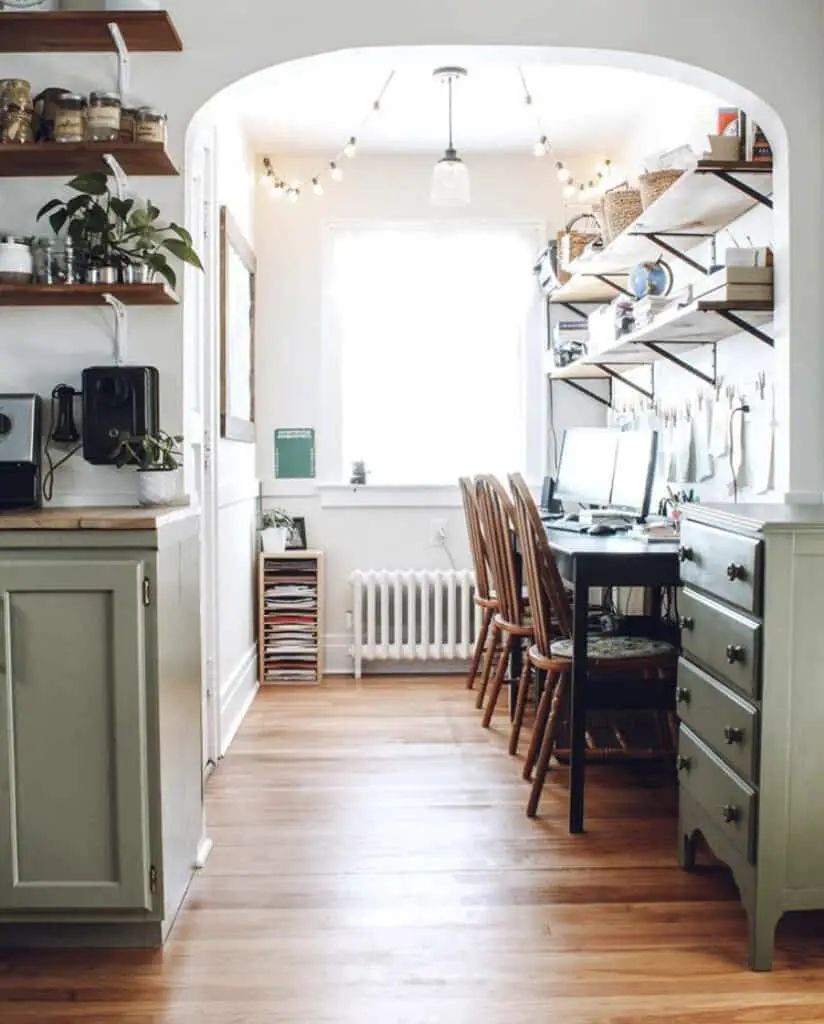 If you don't have an entire room to dedicate, but maybe have a little hallway or nook then you could get some great inspiration from these 2 ladies. First photo is this little nook that is bright and quiet from Melinda at @hawkes.landing on Instagram. I love the great use of space in here and all of the organization. 
The second photo is this hallway off the kitchen which Leigh at @thelittlebylittlehome_ on Instagram and The Little by Little Home blogger, has turned into her homeschooling space. She actually has an entire blog post about how she set up this area which you can check out here. Another really great use of space!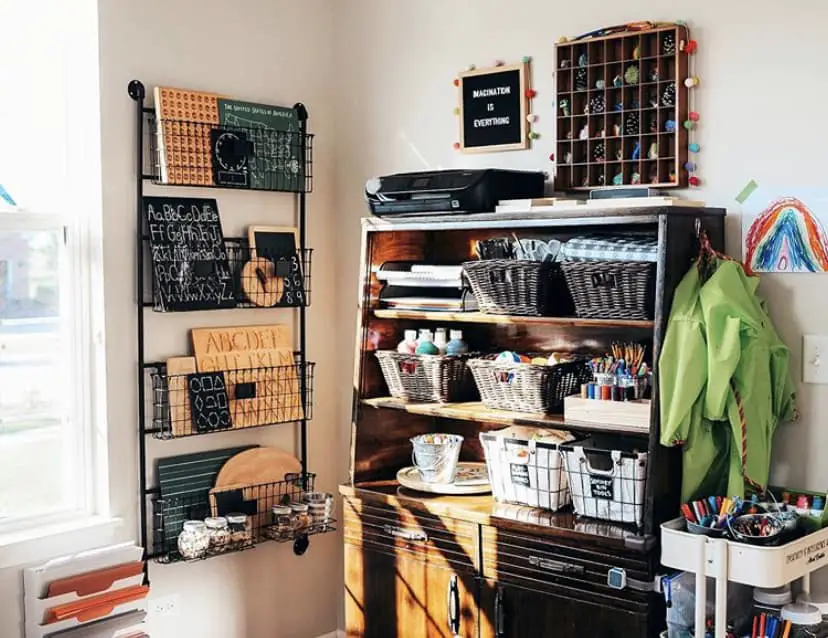 This last option is great if you don't have a ton of extra space. Find some small area which you can use to keep all your homeschooling or virtual learning tools and paperwork. You can have your kiddos sit at your kitchen table or wherever you plan to have them work and won't need an entire space to try to dedicate solely to a virtual learning space. 
Diana at @rainbowsandfireflieson Instagram has a great example of this in her homeschooling space. There is so much great use of this small spot to store everything her kids might need for schoolwork.
This is actually one corner of an entire room, they call it their unschool room because this is actually their creative learning space which is super cool. She has them do their curriculum work at their kitchen table and this space is meant to promote creativity. 
So I thought this corner was great inspiration for those of you who don't have a ton of extra space. If the kitchen table is the space you are planning on using as well, just know that it works just fine! You can find some small area like this to store all your necessities for school.
Virtual Learning Space Designs
So now you have some great inspiration, let's check out a couple virtual learning space designs I put together to give you an idea on how to set up your own learning spot. I kind of went with a similar design feel, as you will notice. But a few different options depending on the space you are working with and what your needs may be.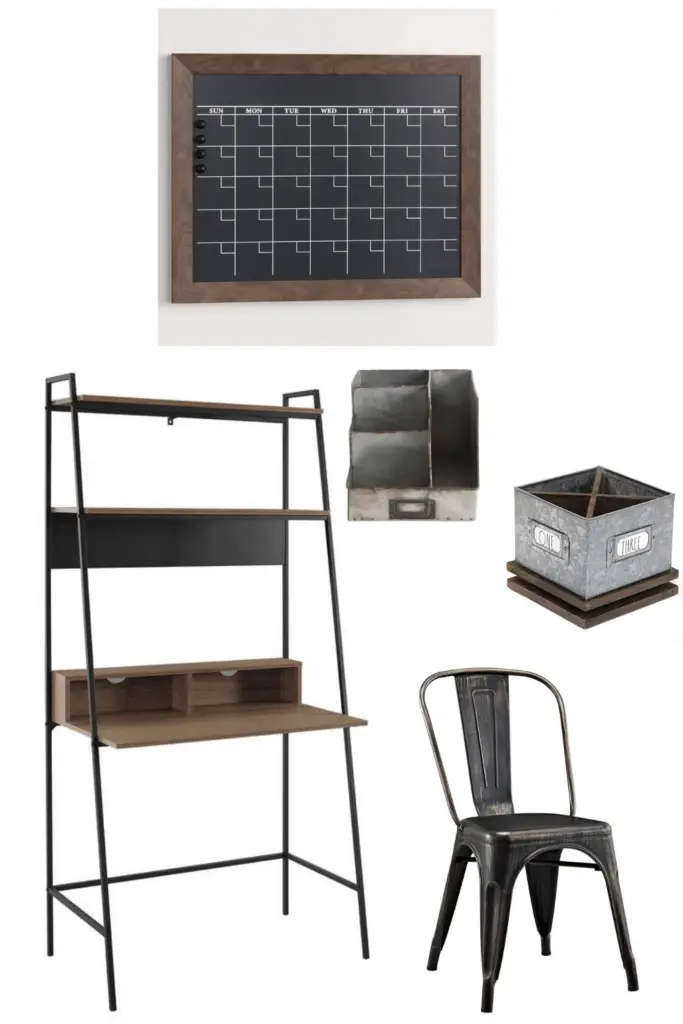 First up is this simple setup that would be great if you don't have a ton of space to dedicate to learning. This ladder style desk goes right up against the wall for a slimmer profile. And you can pick up a simple chair like this metal one.
Hang a chalkboard calendar on the wall to keep track of important school deadlines as well as being able to hang notes, reminders, or important paperwork. 
To keep the desktop organized, you could get an organizer like this metal one and this cool metal pen and pencil holder. It's nice that there are also some cubbies to use for storage.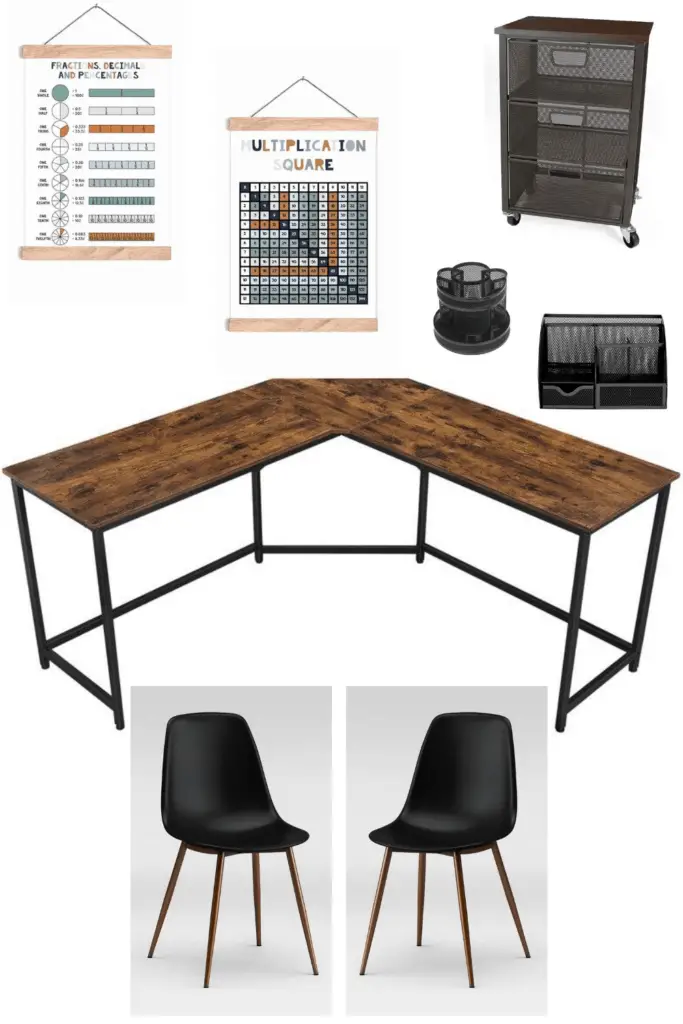 This second setup would be great if you have 2 children who will be learning from home. This L-shaped desk can seat 2 kids and won't take up as much space as a larger dining style table would. Pick up some chairs like these which come in a set of 2.
If you need a good amount of storage, you could get something like this metal set of drawers which would be great for keeping paperwork organized as well as housing school supplies. 
To keep the top of the desk clutter free I found this wire desk organizer and this rotary style pen/pencil holder. You could get a set for each kid to keep their stuff separate.
I thought it was a fun idea to decorate the space with some educational artwork. I found these awesome fractions/decimals and multiplication posters which would be perfect. For younger children you could do ABC's and numbers or seasons and weather.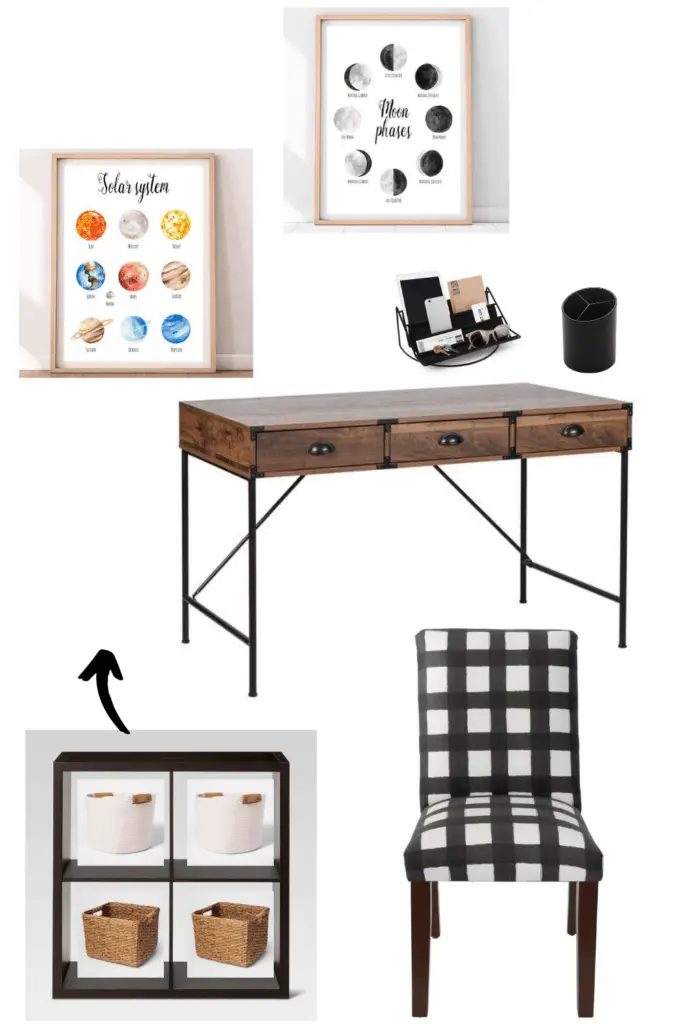 For the third virtual learning space I went with a smaller desk with a larger shelf for storage. This would fit in well with an already established play space.
This simple desk has 3 drawers to use for storing smaller school supplies. I found this fun patterned chair that looks super comfortable. To keep the top of the desk organized, this hammock style organizer and simple pencil and pen holder are perfect. The hammock organizer is great because it can also hold their iPad when it is not being used for learning.
In order to have lots of extra storage and organization, you could pick up one of these cube selves. They also have a 6 and 8 cube if you have space and need a larger storage system. I added these rope baskets (which I actually own and use in my son's play area) and these wicker baskets to use for closed storage. 
For the walls in this space I found these awesome solar system and moon phases posters. They also have a ton of other designs to choose from as well. 
I hope, if you are having to figure out learning from home, that this will serve as some great inspiration and will maybe take some of the stress out of it. There is a nice variety of virtual learning spaces here which will hopefully fit your needs.
If you are still struggling and need to bounce some ideas off someone feel free to leave me a comment below or send me an email through my contact form and I would love to help you find a solution! See you next time.