How to Clean Out Your Closet | Closet Organization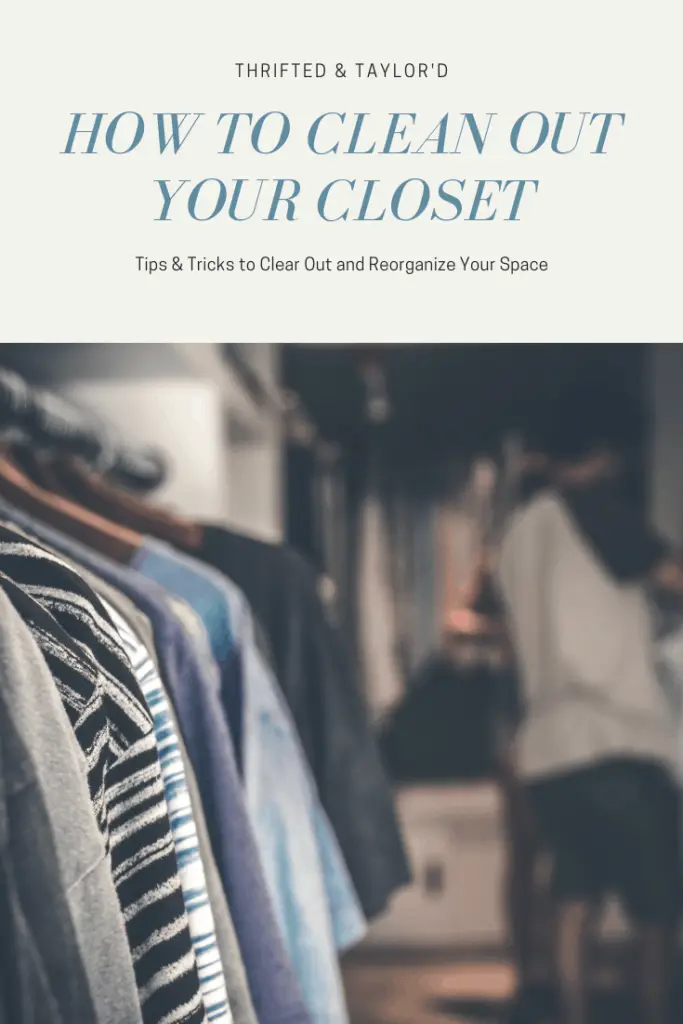 This post was updated 4/02/21.
Happy New Year! I am greatly looking forward to everything this year has in store and to start it off I like to refresh certain areas of my life such as the closet. I don't know about you guys but if you are anything like me you probably have a closet full of things, some of which you wear and some of which you have saved for that special occasion that will definitely, sometime in the future, happen. So today I want to share how to clean out your closet.
Having a neat and organized closet makes it easier to see what you own and thus easier to put outfits together without much effort. It will also help you determine any areas in which you may be lacking or in need of replacing.  This is especially helpful if you are trying to create a capsule wardrobe, which you can see my tips and tricks for doing so in that post.
If you have a giant, beautiful dream closet in mind like I do, you know how hard the reality slap is that it is a dream. For a lot of us that might be all it will ever be, a dream. I mean I'm talking an entire room that is purely a closet. It can be done, especially if you don't have children or perhaps are empty nesters. Maybe you just have an extra room with no real need for it, then go get that dream closet girl!
However, the rest of us who don't have those opportunities can still have beautiful, well organized closets that appeal to the eye. If you want some tips and tricks on how to edit and organize your closet, keep reading!
How To Clean Out Your Closet
There are many different methods you can when cleaning out your closet. I will give you a few pretty common methods to try if you find it hard to simply go through your closet and get rid of things. Before we move on to those methods let's first go over a few basic steps to take before you begin. 
Now you are ready to begin editing your clothing. Begin going through one by one and pull out pieces you know are for sure keepers and set them aside (you can begin placing them back in your closet so you can save some time, just follow my organizing tips below as you place them back in so you won't have to do double the work.) When you get down to the pieces you really aren't sure of you can try these methods to help you decide.
The first method I want to mention is really more of a helpful tip than a method but by the time you go to do this clean up next year, this tip will help greatly. All you have to do is simply turn your hangers around so the open end of the hook faces you as you put your clothes back in your closet.
As you pull items out to wear during the year, put the hanger back in the closet facing the normal way of the closed end of the hook facing you. Whatever hangers are still open faced by next year you know to donate because you won't wear them and they are just taking up space.
The next method you can use I call the Like New method. If you come across an article of clothing that you really can't decide on, ask yourself if you were in a store right now and picked up this piece would you buy it with no second thought? If the answer is no, donate it. 
Another method I like to use I call the Style It method. Try to make at least 5 different outfits using that piece of clothing. Make sure they are outfits you know you will actually wear. If you find yourself really struggling, it is a good indication to donate. 
The last method you can try I call the Repeat Offender. If the item you are trying to decide on bears a resemblance to another piece of clothing you own, donate it. Especially if you find yourself often reaching for its twin instead of the piece in question.
On to some storage solutions because odds are, you just don't have enough space for all your wonderful clothing! Professional closet systems are awesome options but are expensive. If you want a permanent fix that will instantly improve the look and organization of your closet, I definitely recommend making the investment, it is worth it!
You can also find closet systems like these ones which are on Amazon that you put together yourself which is another great solution and have a wide range of prices so you are sure to find something that fits into your budget.
If you don't need an entire storage system but would benefit from some shelving there are plenty of options to chose from. If you have space to fit a small bookshelf in your closet, you could fit a lot of folded pieces that way. 
These cube shelves are great because you can easily pick up some baskets or storage bins to keep your clothes in to have your closet maintain a neat appearance, rather than seeing piles of folded clothes.
They also come in a variety of finishes so you have options to best fit the rest of your closet.
If you have a larger closet and would like storage that is more closed off, try a small dresser or even a larger nightstand with several drawers. Again, you can pick something that fits with the style of your closet and\or bedroom to keep a clean and cohesive look. 
If you want to be even more organized, you could even go as far as getting drawer organizers to keep your folded items neatly placed in the drawers.
Lastly, lets talk about accessory storage. There are many options for your jewelry, scarves, belts, etc. that will help keep your space neat and organized. A great option for jewelry is one of these mirrors that opens up to a whole lot of jewelry storage. Or if you have drawers in your closet, try some of these trays. 
You can find some hangers like these scarf and belt hangers to keep those accessories organized and easily accessible. 
Shoes are another common mess maker in the closet. It can make an otherwise organized space look cluttered. A simple solution is to get some shoe shelving like this industrial style open shelf or this cube shelf.
If you have a small closet then an over the door shoe holder like this
 is perfect and will save space.
For even more storage, you could get a shelf organizer like these wire ones that slide onto the shelf or this white one that stacks on top. Perfect for hats, handbags, larger shoes, and even could be for more folded items.
There you have it, your freshly organized closet and your newly revived wardrobe just waiting to take on the new year with you! I suggest making a list of items you noticed you may need to replace or that you are lacking so next time you are out shopping you can buy things you know you will wear! 
Now you have the knowledge how to clean out your closet and can use these tips on every closet in your home for a super organized space. For kitchen organization feel free to check out this pantry organization post!
Be sure to leave me a comment if you have any other great tips when it comes to editing and organizing your closet! I will see you next time.