Light and Airy Master Bedroom Overhaul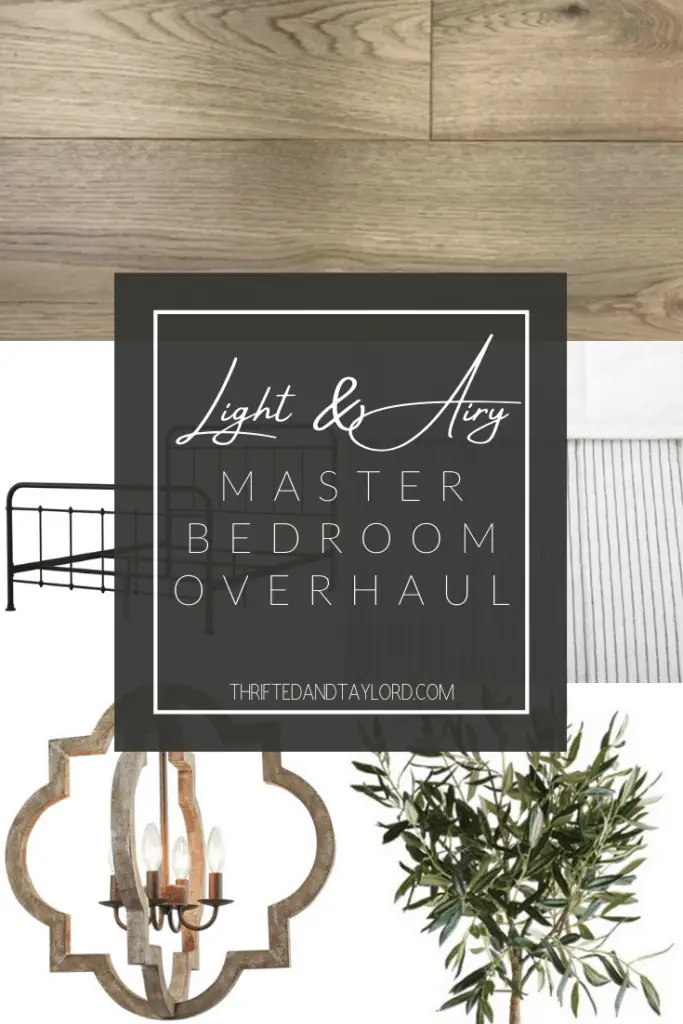 This post contains affiliate links for which I earn a small commission at no extra cost to you, should you purchase through them. Learn More.
I have been neglecting our master bedroom. I have an idea of what I want in a master bedroom but ours is nowhere near that idea. We also are planning to buy a new house within the next couple of years so that has put it even more on the back burner. So until we move, I don't actually plan on doing anything to our room. But I have put together a visual guide for what I want to do eventually.
So I am going to share my plan for a light and airy master bedroom overhaul even though I won't actually be doing this for a couple years. What can I say, I'm a planner. Haha 
And who knows, maybe one of you has been wanting to redo your master bedroom but don't know what you want.. until now! Get inspired by my plan and use these pieces in your own room. 
Let's check it out.
A Light and Airy Master Bedroom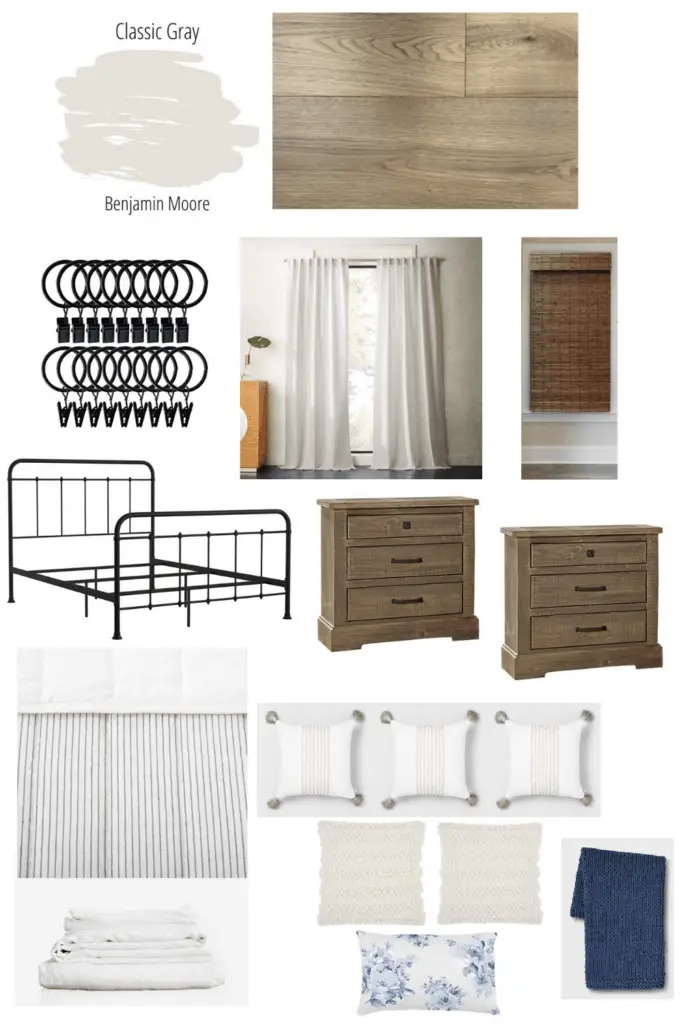 In a perfect world, our new home will come with the perfect beigey gray paint color and light wood floors. But we all know that this world is nowhere near perfect lol so I fully intend on adding these in if need be, to our master bedroom. My paint color of choice is Classic Gray by Benjamin Moore. As for floors, I really love these light colored, engineered oak floors. 
To really give that light and airy master bedroom feel, I love these white curtains which have a very subtle pinstripe. I would hang these on a black curtain rod using using these black clips from Amazon and for added privacy I would use these pretty bamboo Roman style shades. 
Our bed we want to completely replace. It's currently a queen, which is just too small. So we plan to upgrade to a king. I have been eyeing a black metal bed frame like this for so long. I love it. It is perfect for the vibe I'm going for. 
I want to invest in some linen bed sheets because it is amazing. So I found this white sheet set which is perfect. For the comforter I want something neutral but with a subtle pattern, slightly farmhouse but not too cutesy. So this striped quilt from the Hearth & Hand line at Target fits the bill perfectly. 
For the throw pillows, I know I want some texture, a pop of color, and a little pattern. I was going back and forth between a bunch of different pillows mixed together and sets of the same pillows for a neater vibe. I still am not 100% sold on these but I kind of love the way they look together so I'm going with it for now.  
I would do 3 of these striped pillows with cute little tassels from Target, mixed with 2 of these cool, textured cream pillows (also from Target), and then 1 of these pretty floral lumbar pillows which is actually from a baby bedding website. I don't know why, but I always have the hardest time settling on pillows. I think it's because there are way too many good options. Anyone else have that struggle??
For those colder nights in the winter, I definitely need another layer in bed so this chunky knit blanket is perfect. I love the touch of blue, again to add just a bit of color. 
As for our other bedroom furniture, I have a plan in mind to bleach it and add new hardware to it and I am currently in the process of painting our nightstands. But if I were to buy something new, this nightstand (which also has matching dressers if you wanted that) would be my choice. I love the color of the wood and the hardware.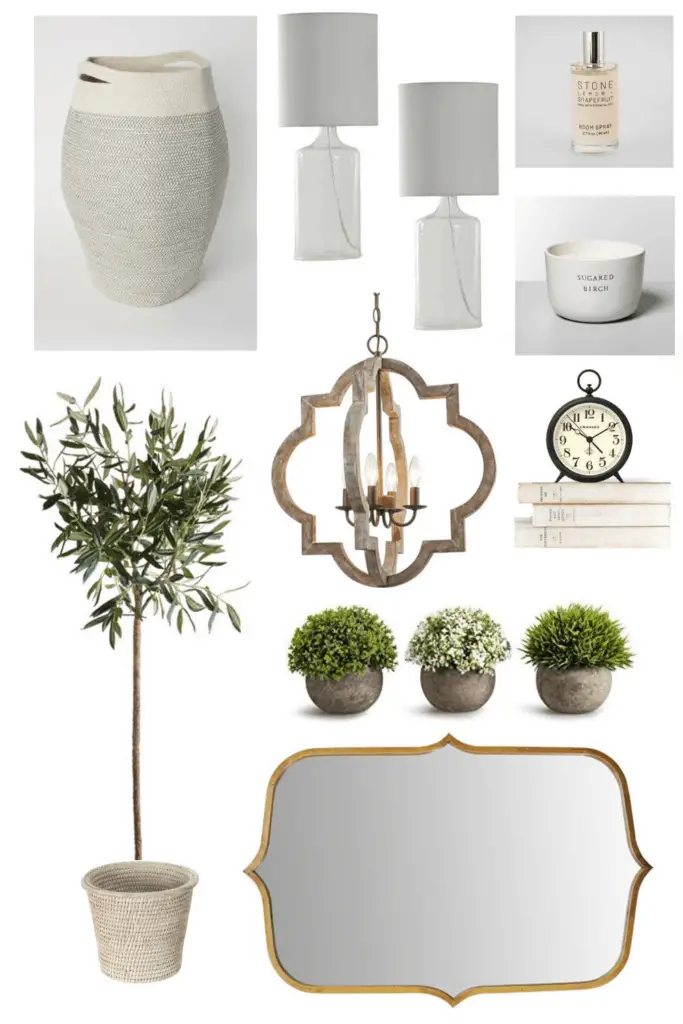 Let's move on to some décor pieces. In order to keep that light and airy master bedroom feeling, I am thinking light colored wood and white décor is the way to go. I also really want to add some greenery to our room. This (faux) olive tree in this gorgeous cream textured pot is exactly what I'd like to have. 
To go over our long dresser, I want something like this beautiful gold mirror. I love the shape of it. I talked about this laundry basket in my H&M home décor post as well, can you tell I'm obsessed with it? I should probably just go ahead and get it now before it's gone… But it will fit in perfectly with this light colored décor.
As for lighting I definitely want something like this wood chandelier for the ceiling lights. For the nightstands, I really like the look of this glass lamp. 
Speaking of nightstands, to add a little extra décor to those I am thinking some small potted plants like this set of 3 in these great cement pots. Maybe I would do like 2 plants one 1 night stand and 1 on the other, or even spread them out more and put a couple on a dresser and just use 1 on a nightstand. There's lots of options really. 
I love the look of this vintage style alarm clock perched on top of some old books. I bet I could even find one at an antique mall or while thrifting that would be perfect. 
This white candle bowl (also from Hearth & Hand… my fave… obvious? Probably.) comes in a few different scents and is the best little addition to a nightstand. I also would add some bed linen spray which I like to use in the morning before I make my bed so that when I pull down the sheets at night my bed smells amazing. Highly recommend. 
So that's my dream for a light and airy master bedroom. How would you describe your dream master bedroom? Let me know in the comments and I will see you next time. ☺