Decorating Kitchen Shelves | My Best Tips and Favorite Products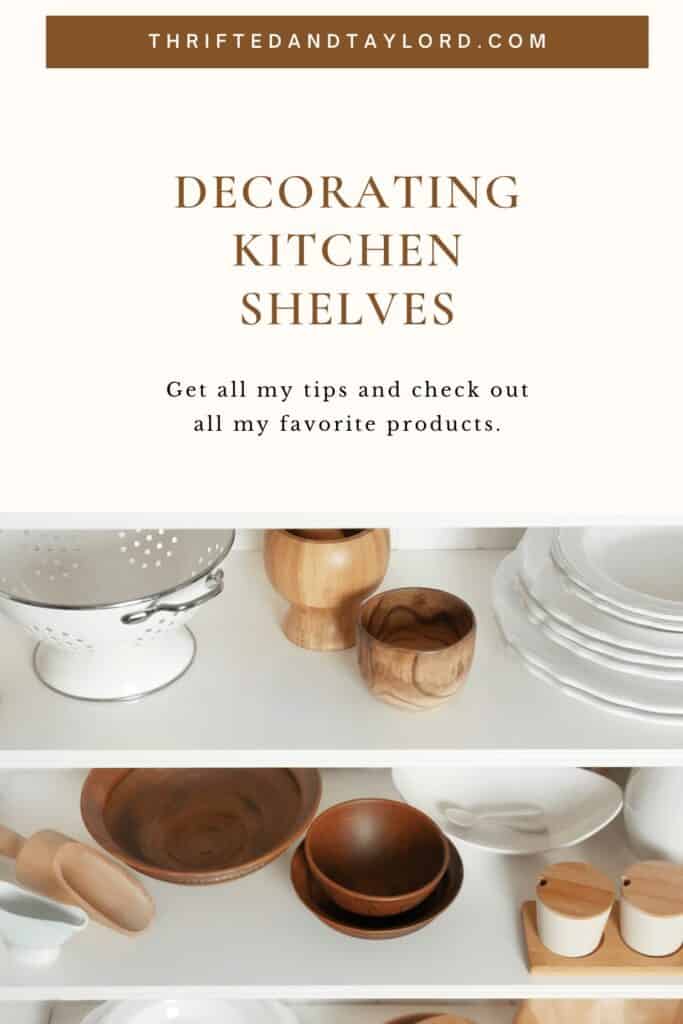 Hey Guys!
Open shelving has become more and more popular, especially in the kitchen. But you may find yourself unsure of what exactly to put on these types of shelves. Today I am sharing some tips for decorating kitchen shelves and some of my favorite products to use when decorating in the kitchen.
You might have noticed this increase in trend for open shelving throughout the home. It is a great way to add more character to a space. Choosing carefully curated pieces to display on these types of shelves will keep it looking uncluttered and cohesive.  
I personally enjoy finding special and unique items such as thrifted or antique items to mix in with more modern pieces to create shelf vignettes. I also make sure to add in some plants or flowers for a little color and life. This can also be applied to kitchen shelves. Let's get into some of my tips for decorating open kitchen shelving.
Tips For Decorating Kitchen Shelves
This post contains affiliate links for which I earn a small commission at no extra cost to you, should you purchase through them. Learn More.
1. Be Purposeful as Well as Decorative
Decorating kitchen shelves in a way that is both purposeful and decorative is the key. Include items that you actually use such as plates, cups, bowls, or utensils mixed in with more decorative items such as flowers, plants, or artwork. 
This helps keep your shelves looking clean and intentional and will save them from looking too cluttered. I always say it's best to start minimally and you can always add a few more pieces if they look too bare. 
Plus, you can find items that are both decorative and purposeful as well such as cake stands, jugs and jars, pitchers, antique or vintage inspired cutting boards, and other things like that.
2. Use Varying Heights
You want to make sure your shelves are not full of items that all stand about the same height. By varying heights it helps reduce the clutter effect which having things all the same height can create. You want some negative space in there. 
The best way to do that, without it looking like something is missing, is to have some shorter and some taller pieces and have the negative space be within the height. 
Balance can also be a useful tool here, but don't feel like your shelves need to be a mirror copy of itself. Try to keep balance by using a similar color palette and popping in similar textures throughout the selves.
3. Add A Variety of Textures
Speaking of textures, you want to have a variety of textures without going overboard. Too much pattern and texture can create that cluttered, unkempt kind of look. For example, mix glass, wood, ceramic, and greenery. 
You can add some subtle pattern like a patterned ceramic mixing bowl set next to a stack of white plates and then have a set of 2 antique wooden cutting boards set just off centered, behind the plates and a small potted plant in a subtle colored pot or small glass vase next to that. 
On the next shelf you could have a set of white bowls stacked on each other next to a stack of cookbooks with a potted plant on top, then a ceramic utensil holder filled with wooden cooking utensils and a set of drinking glasses on the end. 
By utilizing similar textures and colors it still creates balance without having to be super matchy matchy. Check out how to add texture to your home for even more details on this.   
4. Add Pops of Color
I kind of touched on this already, but make sure to add in some color (or lots of color if that's your thing!) when decorating your kitchen shelves. As I mentioned, stick within a set color palette to avoid looking too cluttered. 
I personally typically reach for more neutral colors when it comes to kitchen ware so I like to add color through natural materials such as wood, neutral colored ceramics, and plants or flowers. Having small potted herbs is a great way to add some green to your kitchen. 
Some other great ways to add color are through colored glass or plates, patterned or colorful mixing bowls, adding some small artwork, or using colorful food items such as lemons, in a glass fruit bowl.
What To Put On Open Kitchen Shelves
Check out some of my favorite kitchen shelf décor finds for each of these categories that are great for decorating and most are also purposeful. These are very much within my decorating style and can absolutely be mixed in with most any other decorating style, too! Also make sure to check out your local thrift stores, they are always full of really great kitchen items. Antique shops and malls as well as flea markets are also great places to find vintage treasures.
1. Plates, Cups, Bowls
2. Wooden Kitchenware
3. Different Kinds of Bowls
4. Decorative and Useful Items
5. Jars for Housing Dry Goods
6. Flowers and Plants
7. Cookbooks and Artwork
Use a variety of these items, you can even save a photo of each item you like and look at them all next to each other in your photo album to see how they'll look with each other. 
If you really like to plan things out, print out a small copy of each item and cut them out and have a piece of paper with however many shelves you have drawn on there and move your photos around to see the different ways you can decorate your shelves. 
Decorating kitchen shelves is a great way to display items you love and a great way to add some extra storage to your kitchen. Use these tips and products mixed with things you already own to create your own Pinterest worthy open shelves in your kitchen. Check out my Pinterest for even more open shelf inspiration and I will see you next time.